We test and review fitness products based on an independent, multi-point methodology. If you use our links to purchase something, we may earn a commission. Read our disclosures.
Creatine is arguably the granddaddy of sports nutrition supplements just because of the sheer amount of research behind its benefits relating to athletic performance, recovery from high-intensity training and its role in helping to build lean muscle mass1.
Should women take creatine? Absolutely! It's my opinion that there are no exercise supplements that are gender restrictive and women can reap the same health benefits from creatine that men can. You could even make the argument that women are even more incentivized to take creatine to help to increase muscle mass, since men's naturally high levels of testosterone give them a massive (no pun intended) advantage.
RELATED: Best Pre-Workout for Muscle Gain
Creatine is a supplement that could be taken pre-workout or post-workout, but I consider it as a post-workout supplement considering that studies suggest it may be slightly more optimal to take when the muscles are depleted from exercise as it may have better uptake2.
As a final note, if you're worried about creatine being bad for your kidneys, stop worrying. Science has pretty much debunked this claim in people with healthy kidney function3. That said, without further ado, here are our picks for the best creatine supplements for women.
Medical disclaimer: This article is intended for educational and informational purposes only. It is not intended as a substitute for medical advice. For health advice, contact a licensed healthcare provider.
Best Creatine for Women
Best Creatine for Women Overall: Transparent Labs Creatine HMB
Good for: People who want evidence-backed ingredients from a trusted brand
Transparent Labs has been making a splash in the sports nutrition space due to their vocal stance on providing scientifically formulated dietary supplements and clearly labeled ingredients. Their creatine HMB contains zero artificial sweeteners, artificial colors, fillers, or additives.
RELATED: Transparent Labs Protein Review
In Transparent Labs Creatine HMB, there are 5 grams of creatine, which means it contains the full amount of what studies have shown is the optimal amount of creatine, which is 3-5 grams per day4.
Something that's unconventional, but innovatively intuitive when it comes to the science of muscle gain is the combination of both creatine and HMB in this product.
One meta-analysis of dozens of studies showed that, out of hundreds of workout supplements studied in a meta-analysis, it was found that HMB and creatine had the most profound effects on muscle mass and increased strength5.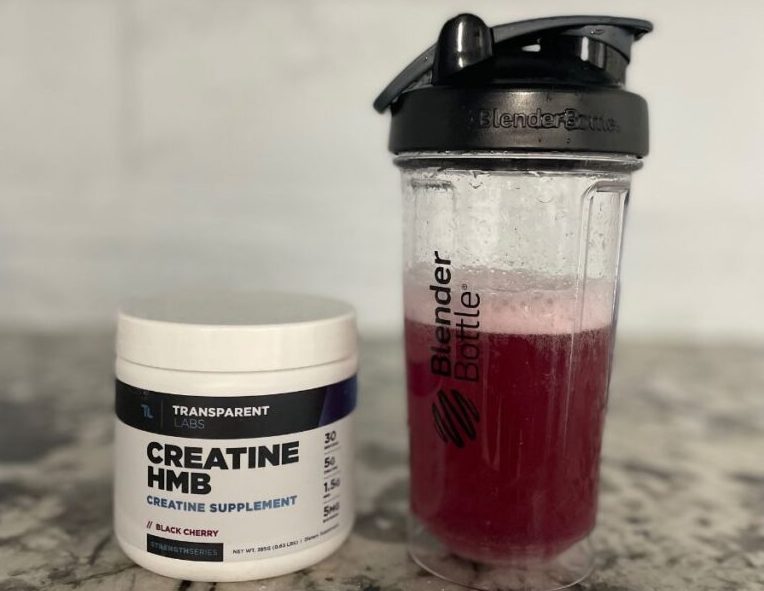 There are also 1.5 grams of β-Hydroxy β-Methylbutyrate (HMB) in this powder, but what does it do? HMB is a complex substance by chemical terms in that it's not an amino acid or hormone, or anything else you recognize. However, scientists somehow stumbled on its positive effects on lean muscle mass a few decades ago.
Since then, recent science has shown that supplementation can help increase lean body mass, increase strength (especially in the lower body), and even promote weight loss from fat when used in conjunction with a resistance training regimen. For this reason, even sports dietitians recommend HMB to athletes who are injured to help them maintain as much lean body mass as possible while they recover with no training6. Studies have also shown that HMB can help improve aerobic exercise performance in active college students7.
Finally, Transparent Labs Creatine HMB contains bioperine, a black pepper extract, which has been shown to optimize the absorption of the natural compounds contained in dietary supplements, like creatine8.
All of this considered, it wasn't difficult to consider Transparent Labs Creatine HMB among the best creatine supplements for women. It's an overall thoughtfully formulated supplement without any extra bells and whistles, just clinically effective ingredients and dosages.
GGR senior staff writer Amanda Capritto and GGR senior editor Nicole Davis both tried Transparent Labs Creatine HMB and neither were big fans of the taste. Nicole said, "I tried Black Cherry and I wasn't a huge fan of the taste of this one—it tasted a bit watered down, even with the right amount of water. Some people may prefer this though!"
Amanda added, "I got the Peach Mango flavor and there's something weird about it. The flavor itself is good and strong enough, but I think the BioPerine, which is a derivative of black pepper, is altering the taste. When you smell it, it smells spicy in a weird way. It's kind of off-putting. When mixed, it tastes a bit bitter unless mixed with more than the recommended amount of water."
They both also mentioned that it doesn't dissolve very well and you can expect some floaties.
| | |
| --- | --- |
| Price Per Serving | $1.67 |
| Creatine Per Serving | 5 g |
| Flavors | Unflavored, Blue Raspberry, Sour Grape, Tropical Punch, Fruit Punch, Watermelon, Black Cherry, Orange, Hawaiian Splash, Peach Mango, Strawberry Lemonade |
Best-Tasting Creatine for Women: Jacked Factory Growth Surge
Good for: People who value taste in their supplement and want a variety of flavors
A powder supplement is only as good as its taste, am I right? OK, that's not entirely true, but it's definitely a plus if the supplement you're planning on taking almost daily is a tasty one, and Growth Surge delivers in that department.
RELATED: Best-Tasting Protein Powder
Jacked Factory's Growth Surge comes in 10 fun flavors and is manufactured in the USA in a cGMP certified facility with no fillers or dyes added. The colors are provided using ingredients like beet root powder for the watermelon flavor. Though it is worth mentioning that sucralose, an artificial sweetener, is used to make the powder sweeter.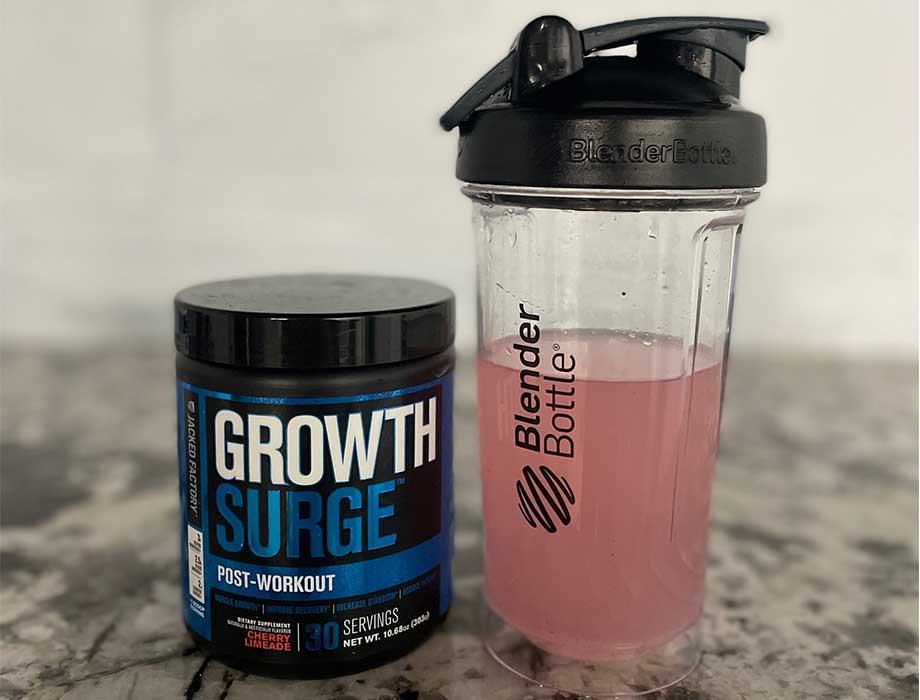 Growth Surge's creatine supplement also contains 2.5 grams of betaine anhydrous. A study conducted in active males who supplemented with betaine for two weeks showed that the betaine group performed significantly more reps than the placebo group, showing improved muscular endurance9.
Nicole Davis, our expert tester for this product, says, "The solubility of this one isn't great, but I tried Cherry Limeade and liked the flavor. I thought there was an aftertaste, though—not horrible, but super noticeable."
| | |
| --- | --- |
| Price Per Serving | $1.33 |
| Creatine Per Serving | 3 g |
| Flavors | Unflavored, Grape, Sour Peach Rings, Strawberry Lemonade, Cherry Limeade, Watermelon, Swoleberry, Blue Raspberry, Blueberry Lemonade, Black Cherry, Fruit Punch |
Best Creatine for Women Post-Workout: Legion Recharge
Good for: Those who want more of an all-in-one post-workout drink
Legion Recharge is more than just a creatine supplement, it's a multi-purpose post-workout supplement. Now I'm not saying you should ditch your protein shakes in favor of Recharge, but it's got nearly every other clinically researched compound that's commonly used for recovery.
Recharge contains 5 grams of micronized creatine monohydrate which is processed with smaller crystals that make for easier mixing. Along with the maximum efficacious dose of creatine monohydrate, Recharge also contains most of the other common compounds that are beneficial to take post-workout.
One of those compounds is l-carnitine which science has suggested can help reduce muscle damage and improve recovery when taken post-workout by promoting the repair of muscle cells10.
RELATED: Best Muscle Recovery Supplements
There are also 10 grams of corosolic acid, which is a pretty obscure compound I'm sure even some bodybuilders haven't heard of. That's probably because it still needs to be studied more long-term. According to the science we do have, corosolic acid appears to increase insulin signaling, thereby enhancing post-workout absorption of other nutrients like creatine and protein11.
Legion also consistently puts out high-quality products with high-quality ingredients. Recharge is also 100% naturally sweetened and flavored with no artificial dyes or chemicals. Also, not only has it been lab tested for potency and purity, you can even view the lab results on the product page. Not bad for only $0.90 per serving.
Nicole tried the Strawberry Lemonade flavor and said she liked it, calling it "pretty sweet, but also tart." She also said it dissolved well.
| | |
| --- | --- |
| Price Per Serving | $0.90 |
| Creatine Per Serving | 5 g |
| Flavors | Grape, Strawberry Lemonade, Fruit Punch, Blue Raspberry, Strawberry Kiwi, Watermelon |
Best Vegan Creatine for Women: XWERKS Lift
Good for: People who want a versatile, minimalist creatine formulation
Bad news for any women out there who like to experiment with new flavors: XWERKS Lift creatine only comes unflavored. However, that also means there are less ingredients to worry about. In fact, there's only one ingredient: creatine monohydrate. That's it! No sweeteners, artificial or otherwise, colors, flavors, nada—just pure creatine.
XWERKS is a brand we had to include on this list for its commitment to providing high-quality exercise supplements that are approachable. Not only is creatine the most-researched supplement on the market, but it also may help with hormonal changes women experience during menstruation, pregnancy, post-pregnancy, and menopause.
Creatine may be able to help close the gap between women and men in the hormonal advantage men have for better strength and exercise performance. Creatine may also help improve mood and cognition in women. All of this is positively supported by recent studies12.
This is also micronized creatine monohydrate and can be more easily mixed, which is good news considering it is unflavored. Plus, you get 80 servings per container so you'll have plenty of creatine on hand for a while after purchasing this.
| | |
| --- | --- |
| Price Per Serving | $0.61 |
| Creatine Per Serving | 5 g |
| Flavors | Unflavored |
Best Creatine for Women Athletes: Onnit Creatine
Good for: People looking for a simple, third-party tested creatine supplement
Onnit is a brand that I am well aware of as a dietitian who works with college and professional athletes. Having worked in this setting for the last six years, I also have to say that I've been brought hundreds of shady supplements from athletes seeking my seal of approval.
The first thing I always look for? A seal that proves a supplement has undergone third-party testing and Onnit is a brand I rarely have to worry about. LGC, a world-class anti-doping laboratory, tests Onnit's products as part of the Informed Sport certification.
In the world of sports nutrition products, it is widely regarded as the gold standard for detecting banned substances. Before being made available for purchase, all Onnit products bearing the Informed Sport logo have been thoroughly tested so that athletes can take it with the peace of mind that an accidentally positive drug test is not in their future.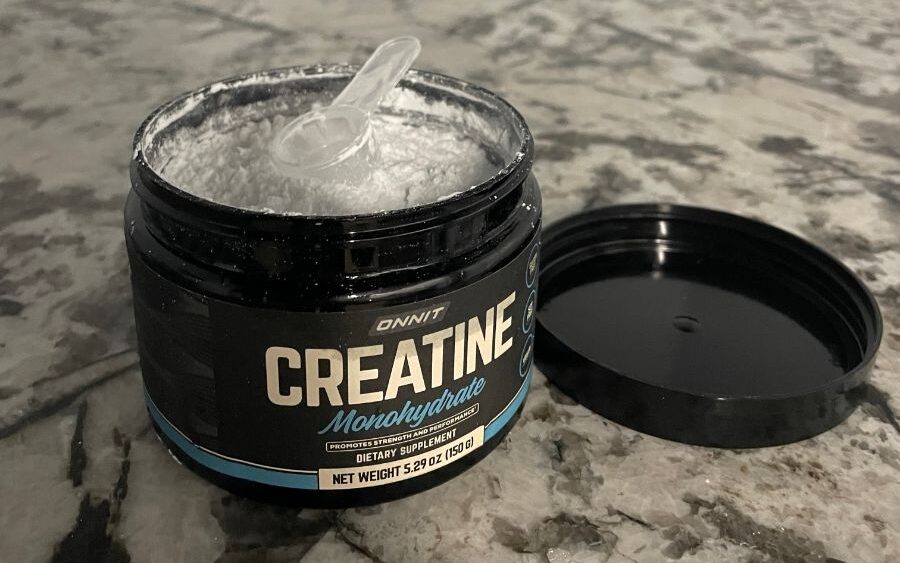 Here we have another unflavored brand of creatine, so keep that in mind before you buy. You should also know that you do need to take 2 scoops in order to get the full dose of 5 grams. This is important because, if you were to only take 1 scoop, you would only get 2.5 grams of the creatine monohydrate which is not enough to receive the performance and body composition benefits.
GGR editor Frieda Johnson said, "It has a little bit more of a bitter taste than some of the other unflavored creatine monohydrates I've tried over the years, but I still have no problem drinking it plain in water." She also noted that she thought it was odd that the product requires 2 scoops, saying, "I have forgotten to do 2 scoops a few times because every other kind of creatine I've taken just needs one scoop."
| | |
| --- | --- |
| Price Per Serving | $0.41 |
| Creatine Per Serving | 5 g |
| Flavors | Unflavored |
Best Budget Creatine for Women: Nutricost Creatine Monohydrate
Good for: People who use a lot of creatine at once, such as during a loading phase
Now, I'm sure anyone looking to supplement with creatine won't say no to $0.22 per serving, as that's affordable enough to fit almost anyone's budget. However, another great benefit to using a more cost-effective creatine powder is you won't break the bank if you use a lot of it. A good example of this is people who engage in a creatine loading phase.
Creatine loading is a strategy used to flood the body with an excess of creatine in order to increase the muscle creatine stores by taking high doses of creatine. Now, studies have shown that it doesn't really make a difference in terms of athletic performance or muscle gain if you load with creatine or not13.
However, there is a benefit for participating in a loading phase with creatine. For example, if an athlete needs to gain a ton of weight in a short period of time for a weight class sport or other similar competition in which weight is a qualifying factor, this method can work by pulling enough water into the muscle cells to inflate body weight numbers.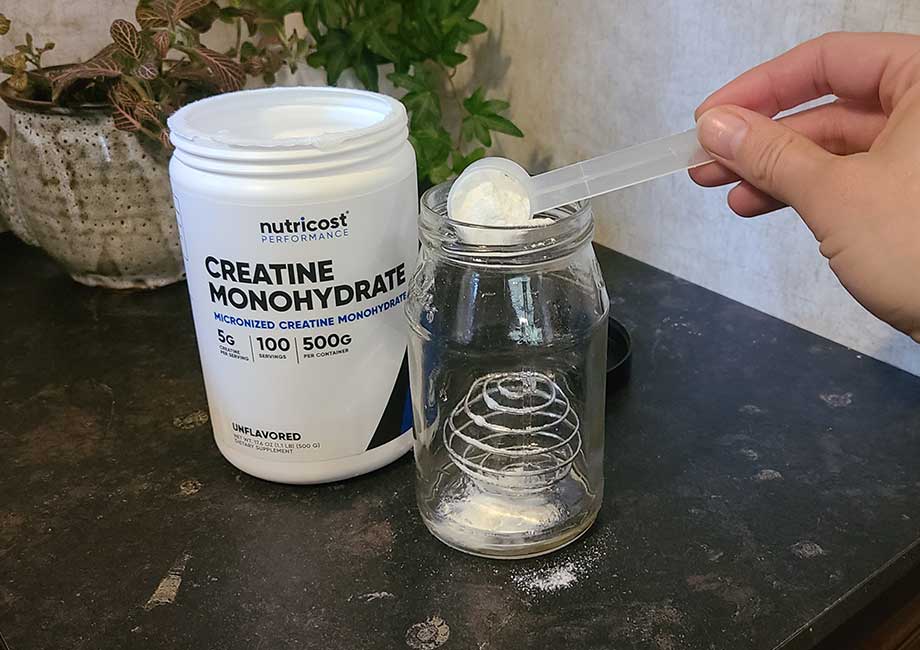 Athletes may also be able to benefit from very short-term (30 days or less), creatine-specific benefits by loading with high doses of 20-25 grams of creatine a day, which could be useful for an upcoming competition. Important note: If you decide to do this, studies say you should not consume more than 10 grams at once as it can cause significant GI distress.
In any case, the amount of creatine needed for a loading phase is a LOT of creatine and would add up to about 4-5 scoops per day of Nutricost. So, if the cost is low, this would be the smartest way to save your wallet from the pain of an expensive supplement regimen.
GGR editor Frieda tried this creatine and said that it was actually tasteless, even just mixed in water, and that, "it settles as much as every other kind of creatine monohydrate I've ever tried—which is to say, it settles quite a bit."
| | |
| --- | --- |
| Price Per Serving | $0.22 |
| Creatine Per Serving | 5 g |
| Flavors | Unflavored, Blue Raspberry, Fruit Punch |
Best Creatine Gummy for Women: Swoly Creatine Gummy
Good for: Those who want a tasty supplement they can chew on
Supplement candies? Yes, ladies, it is a reality. Get ready to look forward to taking your supplements every day, because these strawberry-flavored guys are well-reviewed for being just plain yummy.
Kate Meier, GGR head of content, tried these and was majorly impressed: "Friggin' delicious. Dangerously delicious. Like, need-to-make-sure-my-child-doesn't-find-these-or-she-will-eat-them-all kind of delicious! They remind me of the BEST fruit snacks ever (Annie's Homegrown Organic). I'd eat these as a snack every day."
One great thing about having your creatine in a gummy form is that you can make your creatine supplementation portable. No shaker or water chaser needed. Just throw the jar in your car you don't have to make that pit stop home from the gym on your way to brunch.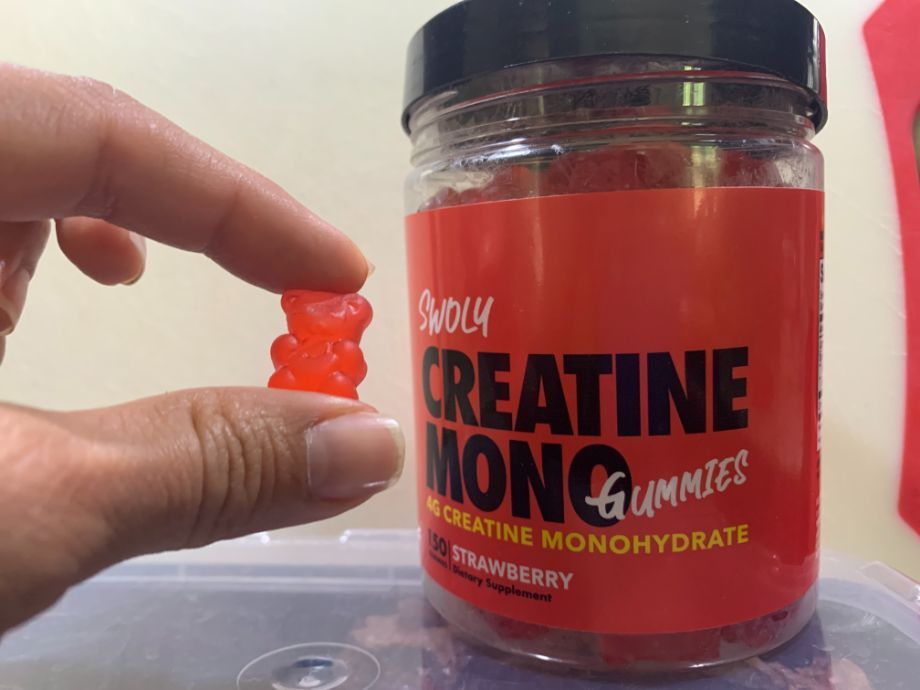 Swoly Creatine Gummies are 5 gummies per serving, with 4 grams of creatine in each serving. These gummies are gluten-free, gelatin-free, and are low in sugar for those who were immediately concerned about that detail. There are only 2.5 grams of sugar per serving, which adds up to the same amount of sugar as 5 tic-tacs, for perspective.
Finally, we looked into it and while there isn't any science that confirms or denies that creatine works any differently being in gummy form, it's likely safe to assume there is no difference—as long as the correct serving is consistently consumed.
| | |
| --- | --- |
| Price Per Serving | $1.00 |
| Creatine Per Serving | 4 g |
| Flavors | Strawberry |
Best Creatine for Women for Muscle Growth: RedCon1 Tango
Good for: Those who want to take their muscle mass to the next level with a multi-form supplement
For the women here who are hardcore about wanting to increase muscle mass, you'll want to give RedCon1 Tango a look. It contains not one, not two, but three different types of creatine. This supplement contains 5 grams of creatine monohydrate, 1 gram of magnesium creatine chelate, and 750 milligrams of creatine HCl or creatine hydrochloride. However, let's talk for a sec.
First off, creatine that has been chelated (the chemical word for "attached") to magnesium has been studied against creatine monohydrate and it was shown that it is not superior to creatine monohydrate. In fact, it works almost exactly the same way14. The good news is, though, that you get an extra gram of creatine per serving.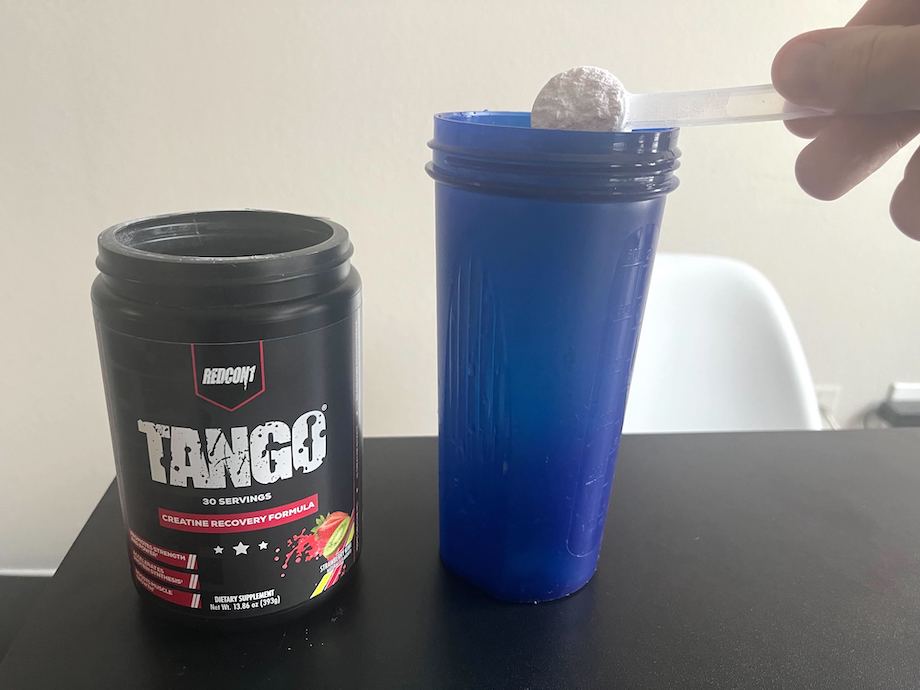 Creatine HCl, however, may have some additional benefits. There isn't much difference between creatine monohydrate and creatine HCl in terms of muscle gain and performance, according to studies15.
Nevertheless, the same study also found that creatine hydrochloride could be absorbed in the gut more favorably than creatine monohydrate. The form of creatine it provides may also promote weight loss more effectively than other types, as well.
This creatine powder also contains betaine, taurine, and l-ornithine, which can also provide health benefits and performance benefits, so it's safe to say you're getting a bigger bang for your buck than most creatine supplements with Redcon1.
Our tester for this product, GGR performance editor Anthony O'Reilly, was a big fan. "My biggest pro, personally speaking, is that this is one of the few creatines that hasn't made me feel overly bloated. Beyond that, I noticed an almost immediate improvement in my lifts and felt less sore after rigorous training sessions. I will be putting this on a subscription—it's that good."
| | |
| --- | --- |
| Price Per Serving | $1.33 |
| Creatine Per Serving | 5 g |
| Flavors | Unflavored, Strawberry Kiwi, Sour Gummy Bear, Fruit Punch, Grape |
Best Unflavored Creatine for Women: Swolverine Creatine Monohydrate
Good for: Those who want a tasteless supplement from a women-owned company
What can we say about Swolverine's creatine monohydrate? The formulation is as simple as they come with the only ingredient being 5 grams of just pure creatine monohydrate. These sorts of creatine supplements make it easier to build stacks without having to worry as much about side effects and other interactions, but you should still consult a physician before buying if you're concerned about that sort of thing.
RELATED: Best Supplement Stacks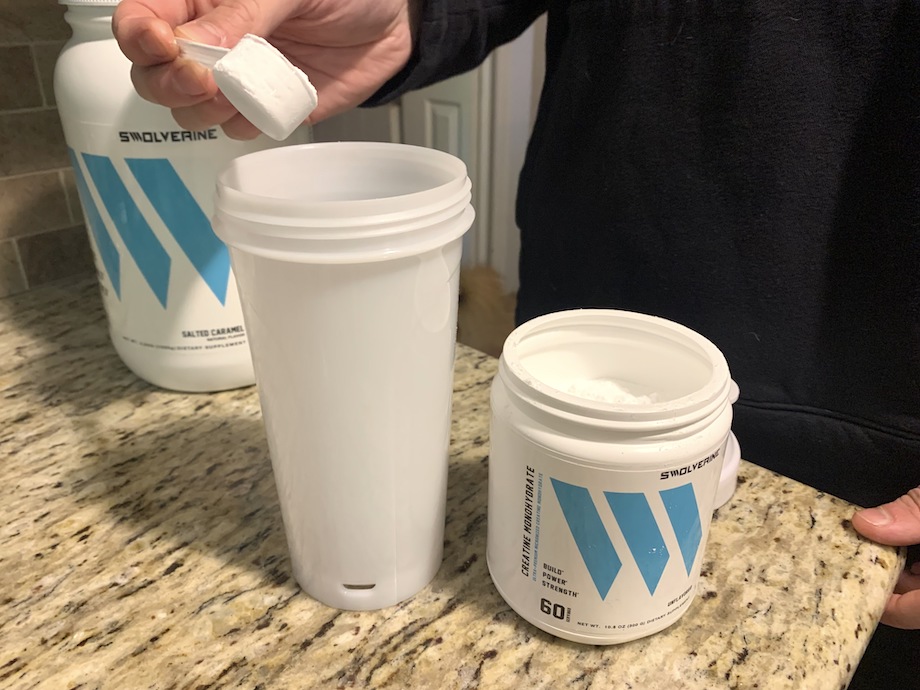 Also, when it comes to stacks that include multiple powders, if you do want some flavor in your life, you can mix this creatine with some BCAAs, your protein shakes or smoothies, and anything else you may be taking. Oh, and I saved the best part for last: Swolverine is a woman-owned supplement company, so we just had to give it a spot on our list.
Kate said that she had no issues or concerns with this creatine and it's a great option for a straight, unflavored creatine.
| | |
| --- | --- |
| Price Per Serving | $0.83 |
| Creatine Per Serving | 5 grams |
| Flavors | Unflavored |
Best Creatine Capsules for Women: Optimum Nutrition Micronized Creatine Capsules
Good for: Those who would rather get their creatine in capsule form instead of a powder
If you're not someone who particularly loves drinking a creatine concoction, blue raspberry-flavored or otherwise, then creatine capsules may be the way to go for you. Don't worry, they don't work any differently than the powder form. It's the same good stuff, just contained in a pill. Many people also prefer the capsule form if they don't want to have to taste their supplements.
Optimum Nutrition is another great brand for athletes, as most of its products, including these creatine capsules, are third-party tested by Informed Sport. Here's the thing though: nearly every creatine supplement I come across that is in capsule form has the weirdest recommendations for dosing.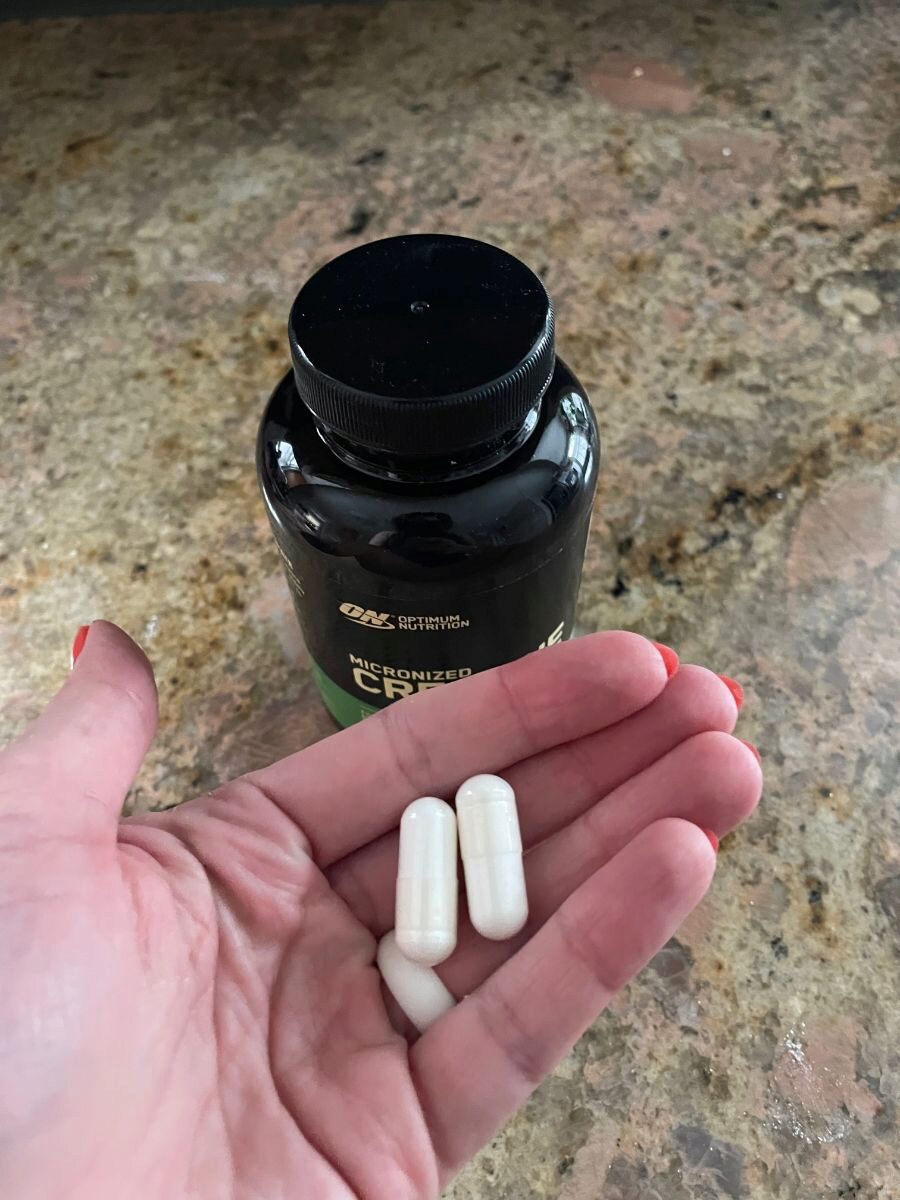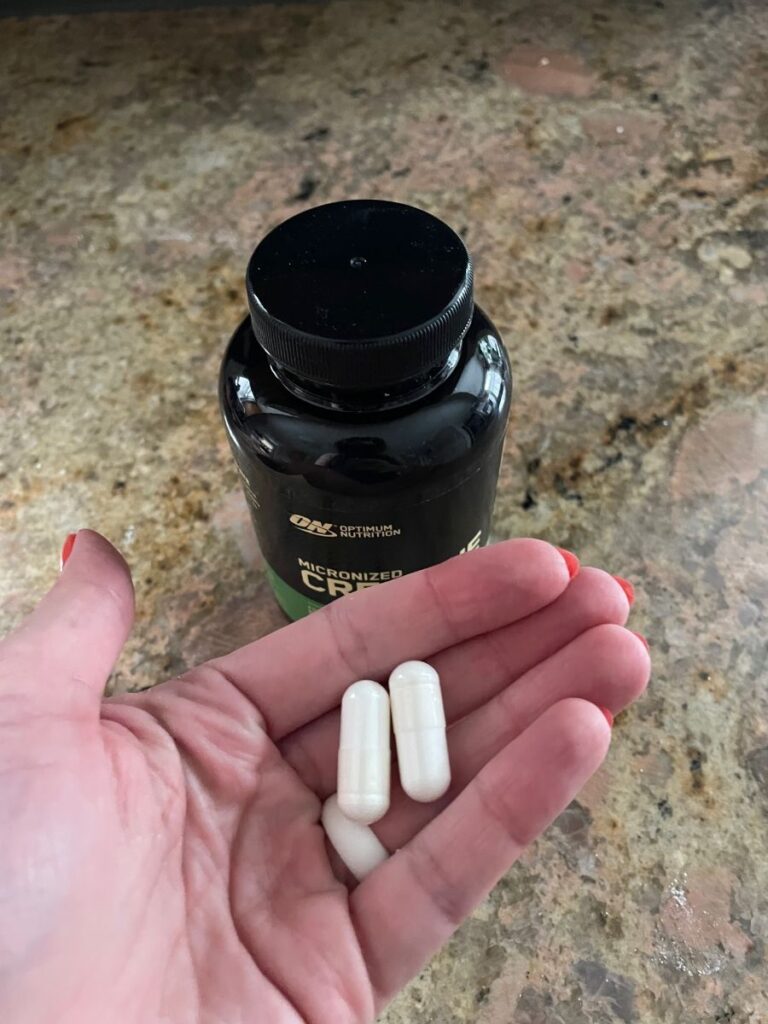 When it comes to this one from Optimum Nutrition, you'll have to take 2 capsules two times a day to get the maximum effective dose because each capsule only has enough space for about 1.25 grams of creatine. Nicole does note that these are fairly large capsules, so consider if taking four a day is something you're up for. We need to also note that the actual capsule is made from gelatin, so be warned that this is not a vegan-friendly supplement.
Check out our full Optimum Nutrition Creatine review.
| | |
| --- | --- |
| Price Per Serving | $1.03 |
| Creatine Per Serving | 2.5 g |
| Flavors | Unflavored |
Other Creatine We Tested
How We Picked and Tested the Best Creatine for Women
Our team of certified personal trainers, competitive triathletes, certified nutrition coaches, and registered dietitians spent countless hours developing our GGR supplement testing methodology. We look at factors such as:
Ingredients and formulation: Does the product contain strictly creatine, and how much? If there are other ingredients included, are they research-backed and included with a purpose? Also, consider the type of creatine—different forms have different benefits but may be more likely to cause digestive issues.
Taste: This is subjective, but based on the views of the internal testers, as well as what the general consensus is in customer reviews online. A lot of creatine is unflavored, but there are options that are flavored, or even in pill or gummy form.
Solubility: If powdered, how well does this product dissolve in the suggested amount of liquid? Are there floaties? Is it grainy? Is it super thick or super thin?
Side effects: This, again, is based on internal testers as well as customer reviews. Any digestive issues? Water retention? Any other issues? Also, take into account positive effects as well—has this been helping you make gains?
Transparency and third-party testing: Since dietary supplements are not approved by the FDA, having an independent third-party lab verify that what's on the label is what's in the creatine is super important, especially for athletes. Transparency also plays a part in this—does the company provide COAs, not use proprietary blends, and generally seem very upfront about what's in their creatine and why?
Benefits of Creatine for Women
So, why should women take creatine? For the same reason anyone should take creatine—the science says it works! Let's go over the highlights of what science has to say about the benefits that come with creatine and what we can expect from it:
Help Build Muscle
The majority of people take creatine because of this reason. However, as mentioned earlier, it may be more important for women to take creatine when they are engaging in resistance training if they are trying to put on lean muscle mass or build muscle. The amount of testosterone we produce is not always high enough to facilitate optimal muscle growth, as it is in the case of men.
Studies have shown that creatine can help people who engage in consistent resistance training to build muscle, especially when creatine is taken along with a diet high in carbohydrates and animal protein like red meat1.
Assist in Strength Gains
Studies conducted on athletes performing isometric exercises found that those who took creatine were able to generate more force than athletes who did not take creatine. In the same study, the athletes who supplemented with creatine experienced less muscle soreness and even were observed to have greater arm circumference1.
Great for Vegans
Given that creatine is highest in animal products like red meat, poultry and seafood, it's safe to say that vegans likely don't get a consistent dose of creatine from their diet. Therefore, it's not a surprise that studies have found that vegans have significantly less muscle creatine than omnivores who are equally as active.
Therefore, it seems that vegans supplementing with creatine may be more likely to see significant increases in muscle creatine levels than their omnivorous counterparts, but they are still able to experience the same performance benefits as omnivores1.
RELATED: Best Vegan Protein Powder
May Prevent Muscle Catabolism
Creatine is often recommended to athletes who are injured, recovering from surgery, or otherwise immobile. Due to the lack of training and the inflammatory state the body is in while healing from an injury, the rate of muscle breakdown is increased exponentially.
There is good evidence to suggest that supplementing with creatine can assist in attenuating the loss of muscle mass and strength following a period of upper arm immobilization in people who are otherwise healthy and active1.
Dosing and Interactions
Before starting any dietary supplement, talk to your doctor, especially if you take prescription medications. When it comes to creatine, it puts a particularly heavy load on the kidneys. So, if you have any sort of renal condition or impaired kidney function, you should not take creatine supplements, no matter how high-quality they are.
Also, creatine when combined with caffeine, such as if you are taking your creatine with a pre-workout, can increase the risk for dehydration. So, always be sure to stay up on your hydration when taking creatine, especially when you are stacking it.
Despite the myth that creatine increases the risk for muscle cramps, science has long since debunked this. In fact, some studies show that, due to its ability to induce water retention in the muscles, creatine powder could have favorable effects on hydration16.
Third-Party Testing
We at GGR recommend choosing third-party tested supplements when possible. Since the FDA does not regulate dietary supplements, it's one of the best ways to ensure purity, potency, and safety of the ingredients of your chosen supplement. This is especially important for athletes who can't afford to fail a drug test because of some "proprietary blend" that is adulterated with banned substances.
So, when shopping for your next creatine supplement, look for a certification from organizations like NSF Certified for Sport or Informed Choice if this is a concern for you.
Buying Guide: What to Look for in Creatine for Women
Some women may find themselves intimidated by looking for supplements casually inhaled by bodybuilders. Even if you don't fall under this category, allow us anyway to give some pro tips on the most important things to look for while shopping for creatine.
Creatine Dosage
The main thing you want to look for in any creatine supplement is the dose. Unfortunately, many supplement companies bank on consumers being oblivious to how much creatine they actually need to see benefits.
Just so you know up front, the optimal dose seems to be somewhere between 3 to 5 grams of creatine per day17. However, it may be listed on the label as 3,000 milligrams or 5,000 milligrams—please know this is the same amount, just in different units. Also, make sure the amount is for pure creatine and not a total of multiple ingredients that just add up to 3-5 grams of something.
Price Per Serving
Price is always something to look out for when shopping for supplements, but of course you should choose the right one according to your individual budget. When it comes to creatine specifically, the unflavored ones with minimal ingredients tend to be the cheapest.
However, those with less fillers and additives along with those that contain additional compounds that can be beneficial for post-workout can be on the higher end. Just make sure that what you choose provides the value for what you're paying for.
There is also a good rule of thumb to calculate the price per serving, rather than the price per scoop, as some supplements might look as if they offer a lot of scoops for the price, but one serving of the full dose of creatine could be equal to more than one scoop.
Form of Creatine
Creatine can come in so many forms, with the most common being creatine powder, capsules, or gummies. Be sure to choose the right form according to your taste preference, any other supplements you may be taking, and your lifestyle. For example, as mentioned earlier, if you want a good-tasting, portable creatine supplement that doesn't require you to add or take liquid with it, gummies would be a great choice.
The only thing you should be aware of is that if you choose a pill, since they can only fit a finite amount of powder in those little capsules, you'll have to get used to taking multiple capsules and usually multiple times a day.
Potential Side Effects
Although there are some creatine side effects you should be aware of it's very rare to experience any adverse side effects—you might experience some weight gain and bloating. It should be noted that most of these side effects, which can also include muscle cramps and digestive issues, were only experienced when people took high creatine doses. People who stuck to a 2-5 gram dose experienced no side effects.
FAQs About Creatine for Women
What brand of creatine is best for women?
Most brands of creatine powder are very similar, but may vary between flavors, forms, and additional ingredients. That said, the best creatine supplement for women is one that is high-quality and contains an effective dose of creatine.
Is creatine safe for females?
In short, yes. Creatine is generally safe for healthy individuals, regardless of their gender. However, if you are concerned about safety, consult your physician before beginning any supplement regimen.
Should women take creatine for weight loss?
Considering that people who are trying to achieve weight gain from building muscle often resort to taking creatine to assist with that goal, it is not advisable for women who are trying to lose weight to take creatine as it can lead to water retention.
Which creatine is best for beginners?
A flavored creatine monohydrate powder, the most common form of creatine, is probably best for beginners warming up to supplementing.
These statements have not been evaluated by the Food and Drug Administration. This product is not intended to diagnose, treat, cure, or prevent any diseases.
References