We test and review fitness products based on an independent, multi-point methodology. If you use our links to purchase something, we may earn a commission. Read our disclosures.
Picture this: You're browsing online, looking for the best treadmills for home that will take your home gym to the next level. You're exhausted and about to lose hope, but suddenly you come across the perfect model for you. Your eyes go wide, and visions of mad cardio gains flood into your brain.
Then your heart sinks as the model's price tag rears its ugly head. It seems almost cruel that the universe would have gotten your hopes up like that. You simply can't afford that perfect treadmill to complement your strength training…or can you?
Fortunately, there's another option if you don't have the cash to make a one-time payment covering your treadmill's full cost. There are plenty of ways to finance it, or pay for it with a series of monthly payments over an extended period. And fear not, GGR's guide to treadmill financing is here to take you through them all.
What Is Financing?
Financing is an alternative payment method in which you pay for a product (in this case a treadmill) in a series of installments rather than covering the entire cost up front.
For example, say you're buying a treadmill that costs $1,500 total. If you aren't able to or simply don't want to pay for the whole thing all at once, you might opt for a plan that allows you to pay $300 a month for five months instead (that is, if you don't have to pay interest).
Interest is one potential drawback to financing. Unless you find an offer for 0% financing, you'll likely have to pay interest on top of your payments throughout the payment period. You might have an interest rate of 10% on your payments, for example, which will mean you're actually paying more than the sticker price of your treadmill in the long run.
Even so, financing provides a viable option for those who want to buy a nice piece of gym equipment, whether that be a treadmill or an exercise bike or something else, but want to avoid sinking a ton of money into it right off the bat and keep their budget intact.
Financing Through Brand Websites
Fortunately, plenty of brand websites offer options to finance your purchases online. Usually, when you're nearing the checkout screen, you'll see a couple options: one to purchase with a one-time payment so your treadmill is paid in full, and one to opt for the financing process. If you do opt to finance your treadmill, you'll have to fill out an application and be approved to do so, which I'll get into more later.
There will be information detailing how much you'll have to pay each month, how many months the payment period will be along with what your APR will be. APR can be a tricky concept, so I'll give you a crash course on it in terms of financing an exercise machine: In this case, APR refers to the amount of interest that will be added to each payment you make as you finance your treadmill.
Many sites, like Sole, for example, offer 0% APR to begin with but then jump up to a higher percentage once you reach the middle stages of your payment plan. This is something to keep an eye on as it could result in you paying a higher total sum for your treadmill than if you made a one-time payment to cover all the expenses.
Big-name chain stores like Dick's Sporting Goods and Best Buy also offer financing plans on their websites. Similar to fitness brands, you'll find the option for financing near the checkout screen.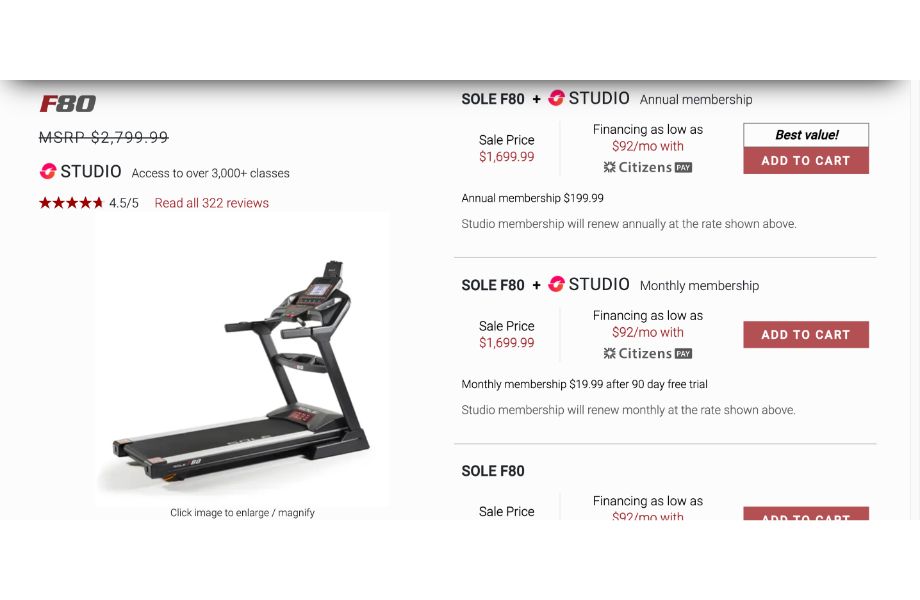 Financing Through Amazon
Most of the time, Amazon offers a financing option with fitness equipment. In many cases, they work with a platform called Affirm, which allows you to pay for products over time without any late fees.
If you use this service on Amazon, you have some flexibility as to what your plan will be. The payment plans available change depending what your purchase is, but they can range from three to 48 months. Your APR will fluctuate based on what you choose, ranging anywhere from 10 to 30%. Generally speaking, you'll be making monthly payments through this platform rather than weekly or biweekly.
To determine whether financing through Affirm is an option for you, you'll have to complete their eligibility check during the checkout process. This step is advertised as being brief, and Affirm claims that it won't affect your credit score.
It's worth mentioning that Amazon doesn't partner with Affirm for all products. In some cases, the site offers a fixed-rate payment plan as the only option available. For example, you could pay for a $1,000 treadmill with five equal payments of $200 over five months.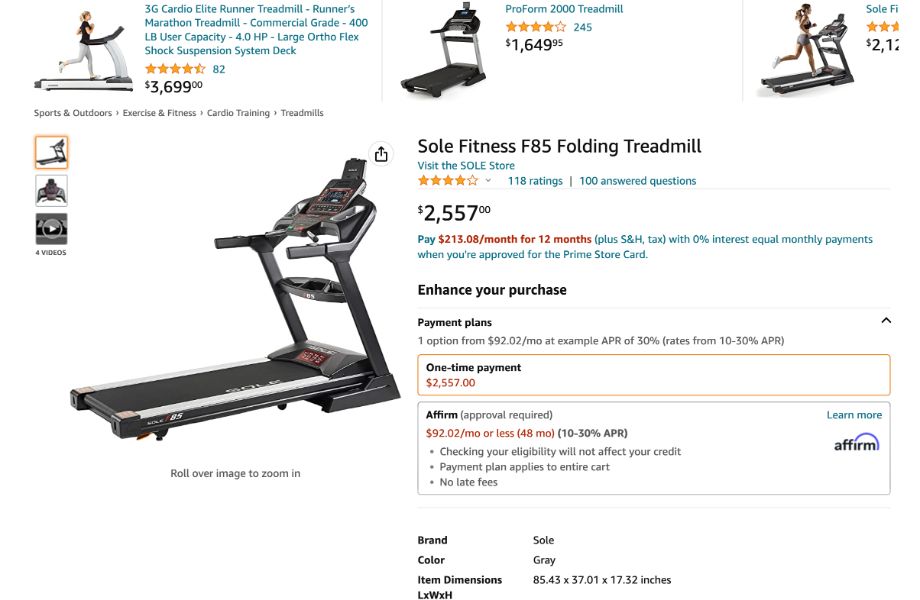 Filling out the Application
Oftentimes, especially on brand websites, you'll have to fill out an application in order to get approved for a long-term payment plan. I took a look at the NordicTrack financing application, which is a popular fitness brand that has a reputation for producing high-quality treadmills.
The application itself really isn't too daunting. It asks for the following information:
Name and address
Housing status (rent or own)
Social Security Number
Employer
Monthly income
Phone number and email address
These are all pretty basic fields I would expect to find on most payment applications. Once you submit this info, you'll be able to review the terms prior to submitting. Then, based on what you've entered, you'll receive a verdict regarding whether or not you're eligible for their financing plans.
Brands like NordicTrack, Bowflex, and ProForm all offer similar financing programs for their treadmills, which include the following and require credit approval:
Monthly payments
No money down
ProForm and NordicTrack both finance through TD Bank, while Bowflex uses Desjardins Financial Group. As of this writing, ProForm offers no interest charge for 12, 36, or 39 months, and NordicTrack offers no interest for either 12, 36, 39, 43, or 44 months. Bowflex offers no interest up to 18 months. It's worth noting that in order to finance your treadmill through BowFlex, you'll have to sign up for the BowFlex credit card first, which you can do online.
Horizon Fitness allows customers to finance, but not online. You'll have to inquire about it in person at a brick-and-mortar store or contact customer service.
Buying Used
While buying used isn't the same as financing a purchase, I do think it's a good way to save some money and therefore an option worth considering. In this section I'll take you through a couple of great places you can buy used treadmills, but for more info check out our guide on best places to buy a treadmill.
Facebook Marketplace
Facebook Marketplace is a very useful hub if you're looking to buy used exercise equipment in general. Once you log on, you can simply search "treadmills" and listings of sellers in your vicinity should pop up.
One of the things I like most about Facebook Marketplace is that it gives you the option to privately message sellers so you can ask questions about the product itself regarding price, condition, etc. Especially with something like a treadmill, you'll want to know exactly what you're getting.
Also, the prices are generally pretty good on Facebook Marketplace. When I logged on and researched treadmills available near me, I found a bunch of options available for under $500. However, as a general rule of thumb you should be aware that you might be sacrificing quality when you buy through a third-party site. So while you might be saving some money, you could also be investing in a product with a shorter shelf life than a brand new treadmill.
Play It Again Sports
Play It Again Sports is a solid retail option for buying used treadmill machines. When doing research on their site I found they have a number of quality treadmills available, more than I expected for a reseller like that.
They're all reasonably priced, with plenty of models from popular brands like Schwinn, NordicTrack, Horizon, Proform, Precor, Nautilus and more listed at under $1,000. Just beware that if you do choose to ship a treadmill from there, the shipping costs will vary based on the location of the brick and mortar store you're shipping from.
Pay in Cash
This isn't technically a special financing either, but I did want to talk about the benefits of paying in cash for your treadmill if you're able. Primarily, you can avoid putting a large purchase on your credit card and having to deal with excess fees or payments that might come with it.
Also, you won't be handcuffed by payments down the line if you're able to pay with cash up front. This could be helpful if unforeseen financial hurdles come up later on, as you'll have one less thing to worry about.
Take out a Loan
There are also a number of specific loans you can apply for that are meant to help cover gym equipment costs; these will be especially beneficial to you if you're a small business owner. Here are some of the loans and what they do:
SBA 7(a) loans:
This is a loan given to business owners on behalf of the Small Business Association that can be repaid over a period of up to 10 years, and offers interest rates under 10%. The requirements are a bit daunting, however: a 650 credit score, a minimum income of at least $100,000, and a minimum of two years in business.
SBA CDC/504 Loans
This is primarily a loan meant for purchasing commercial real estate, but you're also permitted to use it to buy equipment. However, whatever machinery you purchase is required to have a shelf life of at least 10 years. In order to qualify for this loan, there's a credit score requirement of at least 650, and your net worth can be no larger than $15 million with an annual income of lower than $5 million after federal taxes (at least for two years before you apply). This loan is also financed through the Small Business Association, so you'll have to meet their standards for what qualifies as a small business.
Final Thoughts
Financing a treadmill is a great way to chip away at what can seem like a daunting expense at first. The ability to pay in installments can give you some financial flexibility so you can get your HIIT treadmill workout in without overextending yourself.
Beyond that, there are a lot of ways you can go about financing your treadmill. Plenty of brand websites offer the service, and Amazon generally has a variety of plans available as well. Just beware of interest rates and APR, which can affect how much you're paying over time.
Other ways to tackle buying your treadmill include buying used, paying in cash, or taking out a loan. Whichever way you slice it, there are several effective ways to avoid letting cost get in the way of your home fitness goals.
RELATED: Elliptical vs Treadmill
FAQs About Treadmill Financing
Can you make payments on a treadmill?
There are many ways to finance a treadmill by making a series of payments on it. You can go through a specific brand like Bowflex or through Amazon or chain stores like Dick's Sporting Goods and Best Buy.
How do you finance a treadmill?
You can finance a treadmill by making a series of payments on it and paying interest on those payments. Financing offers are available through brand websites, Amazon, and major chain sporting goods stores.
What credit score is needed for NordicTrack financing?
There's no specific credit score required for NordicTrack financing, though your credit will need to be approved and you'll have to provide information such as your employer and monthly income.
Does Sole offer financing for treadmills?
Yes. You can finance your Sole Treadmill using a platform called Citizens Pay. The brand gives you the option to either pay in full or finance when you're buying on the site.