We test and review fitness products based on an independent, multi-point methodology. If you use our links to purchase something, we may earn a commission. Read our disclosures.
There are immense benefits with movement in general. Cardiovascular health, bone density, and mental well-being top the list for me. Treadmills offer a solution for when we need to move and can't get outside. With the best home treadmill, we may even find that we prefer it over being outside. 
Looking for a treadmill can be tough in such a saturated market. What is continuous horsepower? What belt size do I need? Keep reading our treadmill buying guide and you'll find your answers.
Why You Should Trust Us
After testing and researching countless treadmills, including the best budget treadmills over the years, our team knows that there is a treadmill out there for everyone–you just have to figure out what works best for you.
We have spent a significant amount of time running over the specifications of a quality treadmill: motor size, tread width, workout program options, construction, and weight capacity. Our teams consist of personal trainers, coaches, and other fitness professionals who know how to assess who would benefit from which features. Furthermore, we know the industry, so we can tell you if a treadmill warranty is good, or if it's just straight-up garbage.
Why Should You Add a Treadmill to Your Home Gym?
There are plenty of treadmill benefits regardless of your fitness level. Whether it's a 20-minute walk in the morning to get you up and moving, a run inside on a rainy day, or an intense HIIT treadmill workout to burn some fat, you can improve fitness and quality of life with a treadmill.
And here's the best part: it's right in your house. So no matter your lifestyle or fitness goals, a home treadmill may be the missing piece to your home gym.
RELATED: Best Home Treadmill for Running
Treadmill Types
There are a variety of types of treadmills on the market. Here's a quick breakdown of the main categories:
Motorized Treadmills
Motorized treadmills, which are the type of treadmill you often see in commercial gyms, are exactly what they sound like: an electricity-powered motor powers the belt. This allows the treadmill to work at a set speed that forces us, the users, to keep up with. These features also open the door for the treadmill to have preset workouts, which can eliminate the need for special programming or writing your own workouts.
On the other hand, the major drawback of motorized machines is the change in running mechanics.
"Since the belt moves itself, we don't use our back-side mechanics to push ourselves forward like we do on flat ground," explains Jacob Penner, personal trainer and former competitive track athlete. "There's still a demand for front-side mechanics, like lifting the knees and stepping forward, but there's an imbalance between front and back."
Therefore, treadmill running mechanics can make flat-ground running feel a bit different if you go back and forth between the two.
For the most part, unless you're looking at cheaper treadmills, motorized pieces also tend to come with all the fancy treadmill features you may have seen such as touchscreen displays, preset treadmill workouts, water bottle holders, and tablet holders.
RELATED: Best Treadmill Workout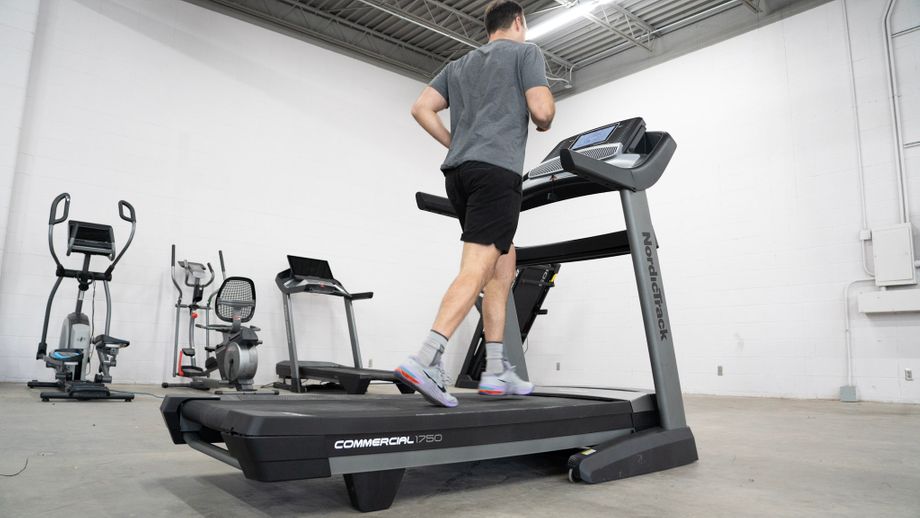 Hybrid Treadmills
Hybrid treadmills are here to kill two birds with one stone. These are often a combination of a treadmill and elliptical or other cardio piece. A major drawback is that these machines just aren't very common and often underperform for the cost, kinda like the whole "jack of all trades, master of none," idea. On top of that, the movement pattern can feel foreign which takes away from the experience.
Foldable Treadmills
Foldable treadmills have been a game-changer for the space-conscious crowd. They are meant to be easily folded up and stored wherever the layout of your space demands. Many folding treadmills don't exactly fold in half; instead, the lower deck may fold up to an angle. For example, the NordicTrack Commercial 1750 treadmill is foldable, but you'll see when it's folded that the deck still sits at an angle.
Other treadmills that fold, like the Echelon Stride Treadmill, have handlebars that collapse so the machine is entirely flat. This means you can store it vertically against a wall, or, in some cases, even under your bed.
One thing to think about with a folding treadmill is how easy the process is: is it just the push of a button, or will you manually have to lift a heavy treadmill deck and lock it into place?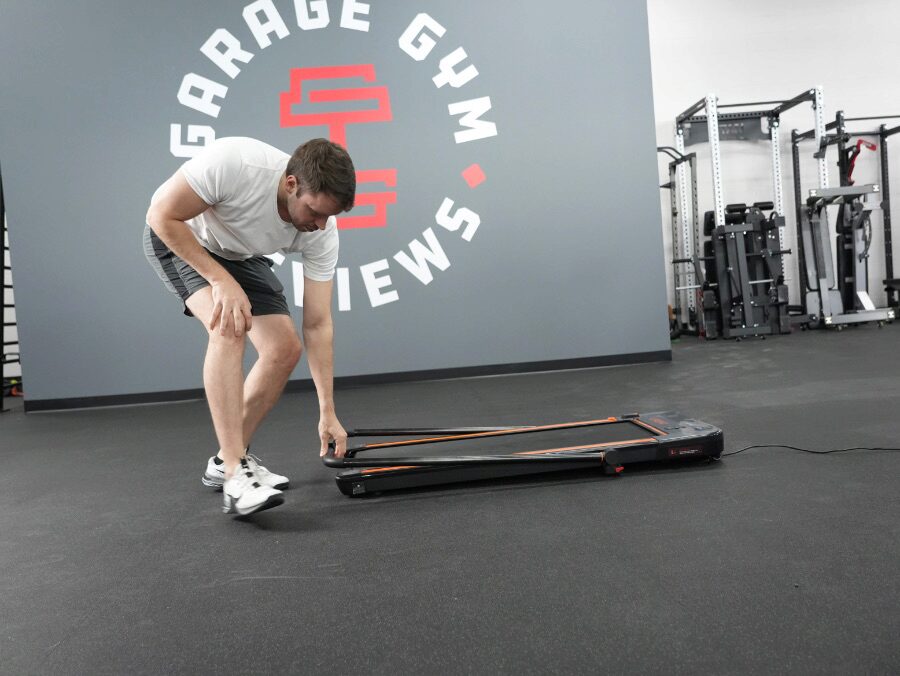 Non-Motorized Treadmills
Non-motorized treadmills, also referred to as manual treadmills, don't have any power moving the belt for you. This is the closest to natural running form that we can get on a treadmill, especially if the belt is curved. Manual treadmills also typically don't have a cord, meaning they can be placed anywhere space is available without concern for outlet location.
A downside to manual treadmills is that, for many people, they feel "harder" to run on than a motorized treadmill does. They are also very large and heavy and take up a considerable amount of space in your home without the option to fold.
That being said, some manuals like the AssaultRunner Pro still have a comparable footprint to many popular motorized treadmills. We love the curved manual treadmills for their ability to force you into a more natural running form (which might feel unnatural if you don't have great form!).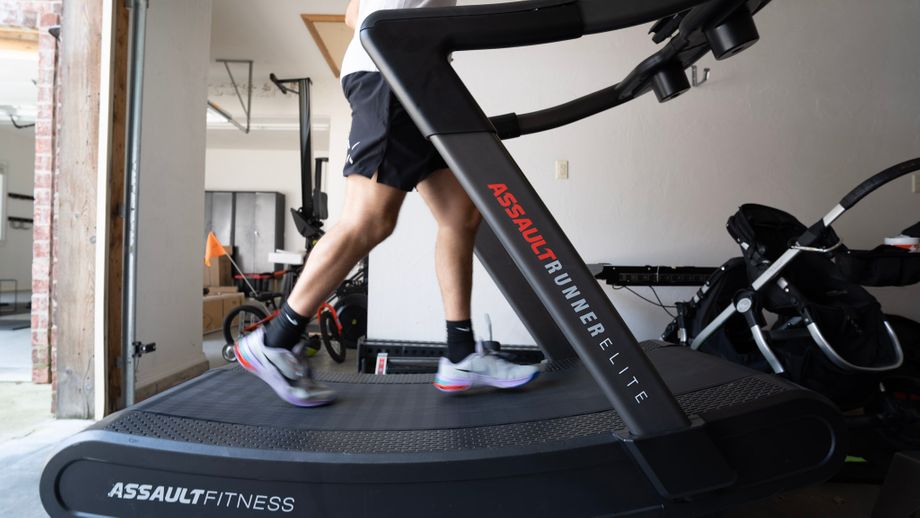 What to Look for When Buying a Treadmill
How do you know if you are getting the right treadmill? There are a few considerations to make:
Price
There's a huge range of prices from cheap, flat-belt manual treadmills for just $150 up to commercial-grade products that can be in excess of $10K. You get what you pay for. I don't recommend looking for the cheapest treadmill you can find, because it could mean you are looking for another treadmill again in a year when that "bargain" find breaks.
The treadmill's ability to meet your fitness needs is the No. 1 priority, and going for a cheap treadmill to save a few bucks now will cost you again later on. That being said, you don't necessarily have to shell out a lot of cash to find something great. There are many great budget-friendly options on the market; like treadmills from Horizon that are under $1,000.
Noise
Noise is almost always a factor in product selection when you work out of a home gym. Some forms of cushioning can help with the shock absorption of each step you take, such as stall mats or other vibration-reducing flooring options. Treadmill mats are often sold from the same companies that you'd buy a machine from, sometimes in package deals, too!
However, you may find that when you've exhausted all the external solutions, the treadmill itself is just loud and shaky. If this is a big concern, curved belt treadmills such as the Tru Grit Runner match better with your gait cycle to eliminate the loud striking of your feet. On top of that, there is no loud motor to worry about.
Size Constraints
Before buying anything, measure to see if you have enough space for it! Be sure to mark off a few extra inches on each dimension of the available space to account for movement of the machine and your own comfort.
Folding treadmills will help if you need to use the floor space when the treadmill is at rest, but remember to give yourself enough space to maneuver around the machine in order to fold it up. You might also find some under-desk treadmills that are meant to be stowed under furniture.
RELATED: How to move a treadmill
Warranty
Always read the warranty before buying. A lot of popular treadmills will actually void their warranty if they're used in a garage. However, even some of the lower-cost machines such as the Sole F63 Treadmill will carry a lifetime warranty for their frame regardless of where it is used.
RELATED: Sole F63 Treadmill Review
At the end of the day, warranties come down to your comfort level. If it's going to get a ton of use, opt for a product with a longer warranty. The industry standard is about 10 to 15 years on the frame, and a few years on labor and parts. And if the product itself is only warranted for a year or less, you should be concerned that it isn't going to last.
Interactive Programming
In recent years, it has become more popular to have interactive programming such as iFIT that accompanies the treadmill. This oftentimes comes at an additional price or monthly subscription and connects via Bluetooth or direct line.
These workouts will actually take you around the world–virtually, of course, and through apps like Google Maps. But you can "run" through mountain sides and along the beach if you want, with a "coach" who can even adjust your speed and incline as you go.
Before you buy, check to see what workouts are preset on the machine itself should you forgo any additional interactive programming. Plenty of treadmills come with workouts that sync with a chest strap heart rate monitor to enhance individualization. They may also include interval training workouts (HIIT), which tend to have a potent effect on fat burning.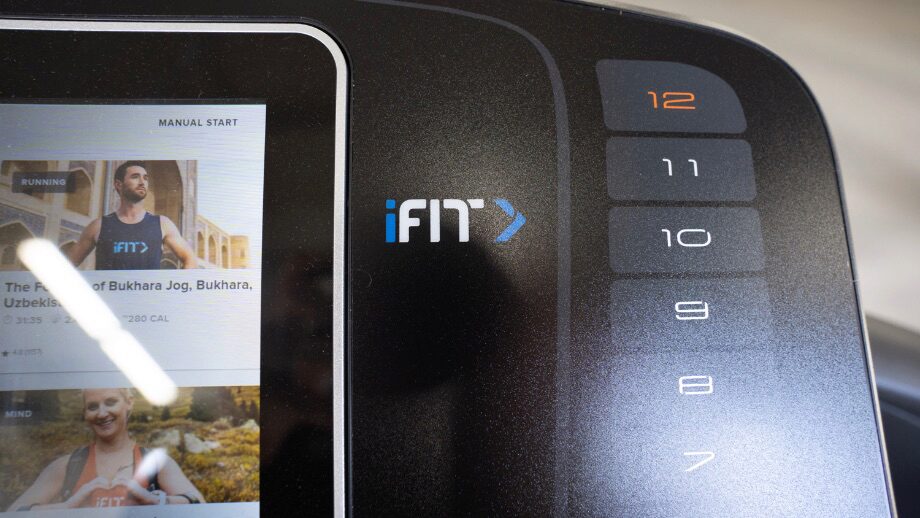 Deck Length
Deck length is often overlooked but can be important if you're a long-legged individual.
"For example, I'm 6'3" with longer legs, and I've felt like I had to deliberately shorten my stride on several treadmills," Jacob says. "That's not necessarily the worst thing and sometimes improves running technique, but it's something to consider."
The standard is that a 60-inch running deck can accommodate just about everyone, including those who are 6 feet or taller. A 55-inch deck fits most people, though taller runners may have to make adjustments. Anything less than that may not be great for running, unless you are on the shorter side.
If you are using the treadmill exclusively for walking, you can get away with a shorter size deck. Some, like the UREVO 2-in-1 Under Desk Treadmill, have a deck that is just 42.5 inches. While that sounds short, it is means to be used strictly for walking. Still, taller people like me might struggle on something that short.
RELATED: Best Treadmill for Walking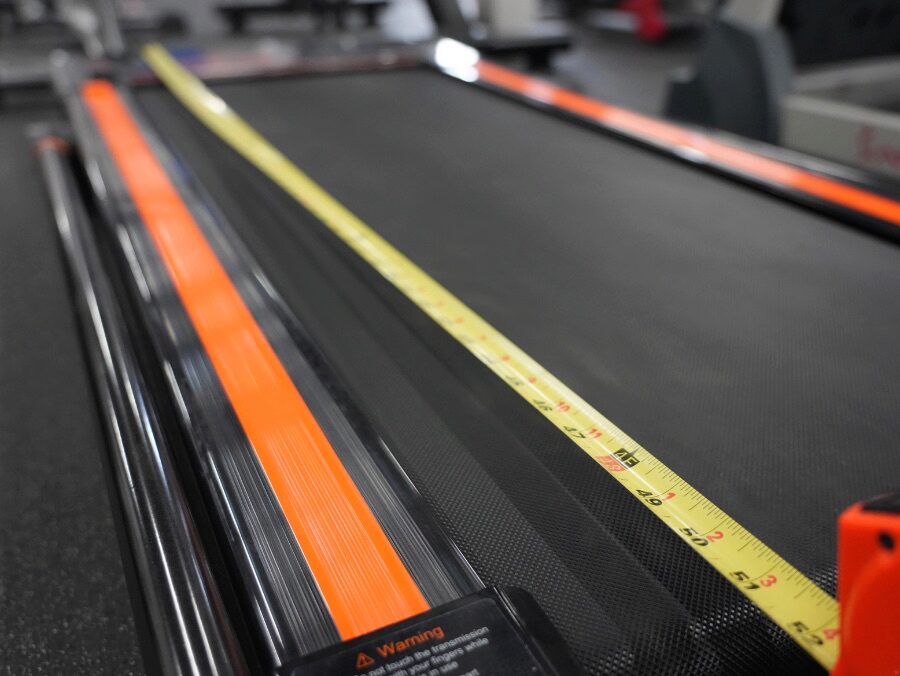 Horsepower
In general, we want to look at continuous horsepower (CHP). This is the measurement of the horsepower a treadmill can maintain as continuous duty. For joggers, we look for at least 2.5 horsepower, and we need more than 3.0 CHP for runners. Having a quality motor means the machine can support the activity you want to do. Sure, you can save your money by getting a motor with less horsepower, but you risk wearing out the machine.
Beware if you see these same numbers but listed under "peak duty." This is the maximum horsepower for that product and won't be sustainable–meaning you'll try to go fast and the treadmill motor may start to fail or deteriorate.
Weight Capacity
Industry standard tends to be a minimum of 300 pounds user weight, which you'll find on just about any treadmill in the mid-range to high end, or around $1,500-$3,000. This is something to pay close attention to if you're looking for a budget treadmill, as the structure can be weaker. Make sure you get a machine that can support anyone who might be using it.
Delivery and Assembly
If you're buying a treadmill, odds are it's going to come in some big boxes. You may have to schedule the delivery depending on the size of the boxes. When it comes to the assembly, be prepared to ask a friend for help! A few treadmills are easy to put together yourself, but some can be a real pain.
Depending on the retailer, you may also be able to schedule expert assembly. I highly recommend this for the more advanced machines that require you run wiring for the screens. Of course, this will cost extra, but it can save you a significant amount of work.
Buy a Treadmill Online
Buying a treadmill online is the more economical and pain-free method compared to purchasing one in-store. For one, you're likely spend less money. You can check out all your options online and find the cheapest price or take advantage of online-only sales. You'll be able to do all of this from the comfort of your couch without having to run around from store to store.
Secondly, shipping will likely be free or cheaper than arranging pick-up from your local store. Some companies bake the cost of shipping into the purchase price, which is still less than what it would cost to get a 300-pound treadmill into a box truck and take it to your home.
Lastly, shopping online relieves most shopping anxiety you may feel when interacting with in-person salespeople.
You'll be able to make a level-headed decision of your own volition without the input of a pushy salesperson.
Other Treadmill Elements
If you want to be thorough with your buying process, be sure to check out the specs of the product for information on the following topics:
Belt
Your treadmill belt will eventually wear out if you don't keep up maintenance with a lubricant. Before you buy, check to see if the company sells replacement belts or if they are included in the warranty. They may even have a recommended lubricant.
RELATED: How to fix a treadmill
Speed
Speed will matter most if you're looking to perform sprints or any interval training workouts. Most treadmills will go up to at least 10 miles per hour, with high-quality motors allowing you to get as fast as 15 miles per hour or more. Of course, if you're looking at manual treadmills, the sky's the limit when it comes to speed.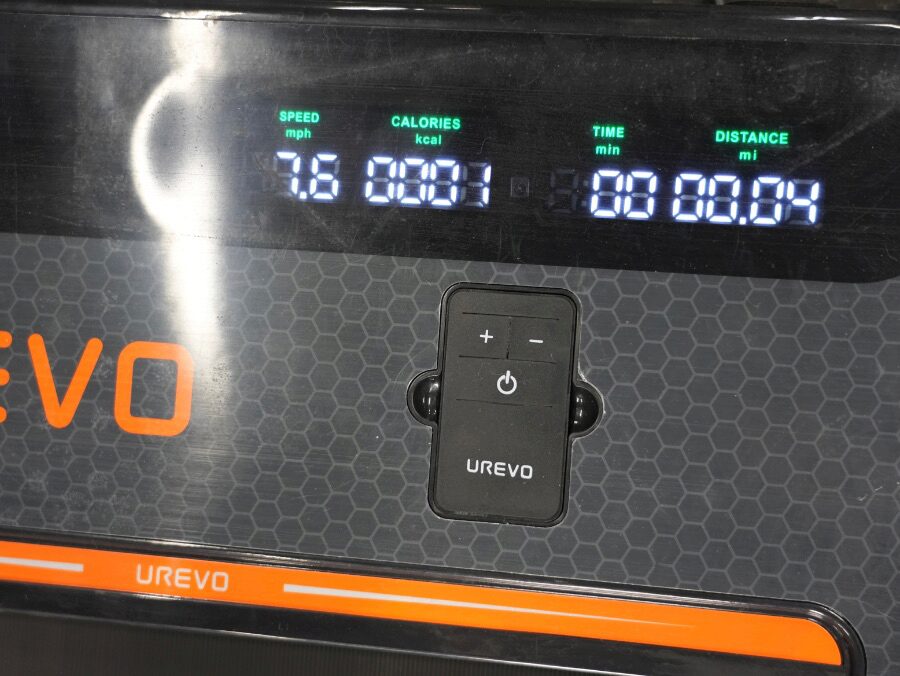 Cushioning
Cushioning can affect how stressed the joints of the lower leg may feel after a treadmill workout. Unfortunately there aren't any consistent, objective measurements of cushioning across all brands, so if it's a concern, look for treadmills that advertise cushioning as one of their main features. There are even machines that allow you to turn cushioning on and off, depending on if you want that "real road" feel or not.
Incline
Treadmill incline is a simple way to up the intensity. Bumping up the incline can take a casual walk to a tough glute burn in just a press of a button. If that's what you want, look for treadmills that go to at least a 5.0 incline. That tends to be where people start to notice the difference.
Safety Features
Motorized treadmills should have some sort of fail-safe or safety key system. This is often clipped to your clothes or accessories and comes off of the treadmill should you fall or go off the back of the treadmill belt without grabbing the hand rails. The key triggers an emergency stop to ensure no further damage from the piece of equipment.
If you opt for a folding treadmill, make sure you thoroughly examine the mechanism that locks the deck in place. There should be some sort of safety feature to prevent children or pets from accidentally unlocking the deck and suffering an injury.
Final Thoughts
This can be a lot to take in. At the end of the day, we have a huge variety of products to choose from, and there's one out there for you. To sum it up, buying a treadmill should involve:
Identifying your intended use for it
Determining which features are most important for the performance you want out of your treadmill
Selecting products that meet most/all of these features at a price you can afford, factoring in longevity and warranty.
FAQ About Buying Treadmills
Which brand of treadmill is best?
The best treadmill is the one that fits your needs when it comes to price, features, programming and safety features. We have summed up the best treadmills for home for most kinds of runners and walkers. This will help you find the best brand/model for your intended use.
What horsepower should a treadmill have?
A treadmill motor should have at least 2.5 CHP for home use. For heavy use, you'll want a more powerful motor with 3.0 or more.
How much do you need to spend to get a good treadmill?
Price range can be anywhere from $400 to several thousand dollars. In general, the cost of your new treadmill depends on what you value most. We have found great treadmills for under $1,000. Beware of going too cheap, as cutting costs often means sacrificing quality.
What time of year do treadmills go on sale?