We test and review fitness products based on an independent, multi-point methodology. If you use our links to purchase something, we may earn a commission. Read our disclosures.
A treadmill is a great investment for a home gym. Sure, some might say you can just run outside. But what about when it dumps rain for a week straight or the weather dips well below freezing? Outdoor runs just don't seem very appealing then.
Treadmills provide a way to run and walk year-round, at any time of day or night. There are tons of treadmill options available, including motorized and non-motorized options. In this Tru Grit Runner review, I divulge all the details about one of the newest—and cheapest—manual treadmills.
Why You Should Trust Us
Not only have I tested dozens of motorized treadmills, but I've also tested a handful of non-motorized treadmills. Because I've used the Assault Runner Elite, TrueForm Runner, TrueForm Trainer, Woodway Curve, and others, I'm able to see how the Tru Grit Grit Runner stacks up to other non-motorized treadmills.
Grit Runner by Tru Grit Fitness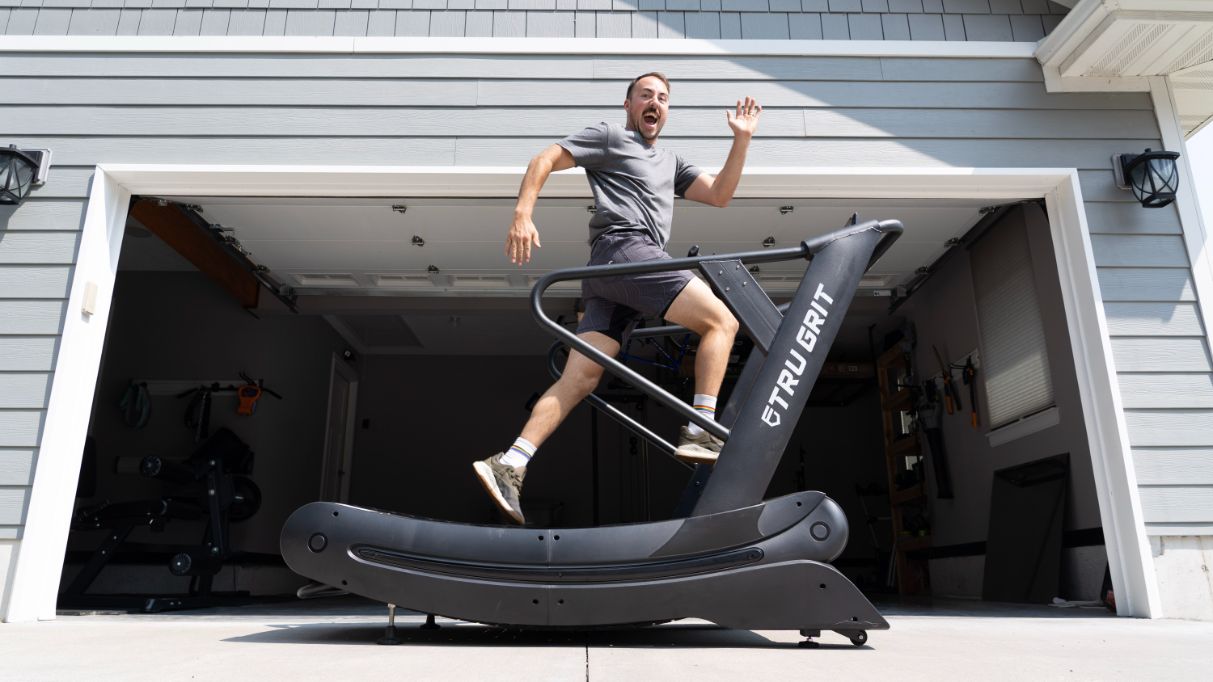 A Quick Look at the Tru Grit Runner
Okay, first things first: The name of this dang machine. It is the Tru Grit Grit Runner—not Tru Grit Runner—but the Grit Runner from Tru Grit Fitness. Therefore, the Tru Grit Grit Runner. Try saying that five times fast!
Anyway, I have received what seems like eleventeen million questions about the Grit Runner from the 100K+ members in our Home Gym Community group on Facebook. Everyone's interested in this manual treadmill because of one thing: the price.
For a hair over $2,000, including shipping costs and taxes, you can get the Grit Runner delivered to your door from Walmart, Best Buy, or Tru Grit. Compared to other non-motorized treadmills, $2K feels like a steal.
But, as the saying goes, you get what you pay for. Or do ya?
Coop's Tips
Like most products, you get what you pay for. This won't give you the experience or quality of higher end treadmills, but, for the price, it will get the job done until you decide to upgrade.
If you don't listen to my first tip, maintain accurate expectations. Even the delivery was less than delightful.
My Favorite Things:
It's the cheapest non-motorized treadmill on the market
Has six levels of resistance
Lifetime warranty on the belt
My Callouts:
Poor construction all around
Heavy and awkward to move
Super loud when sprinting
Is the Tru Grit Runner Worth It?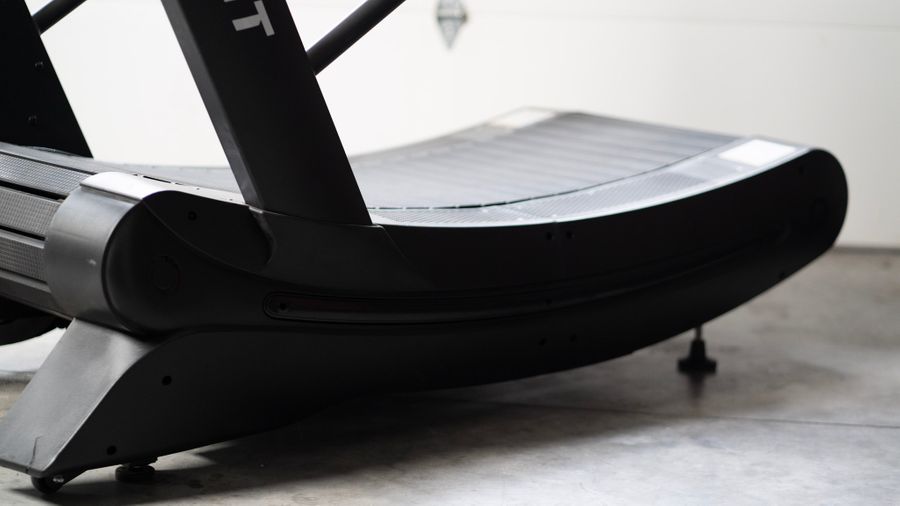 This is by far the cheapest non-motorized treadmill out there. Other options, such as the Assault Runner Elite, TrueForm Runner, TrueForm Trainer, and Woodway Curve, will run you at least $1,000 more than the Grit Runner. I believe the next least expensive option at the time of writing is the TrueForm Runner, which clocks in at $2,995.
While $995 is not chump change, you're better off saving up or looking at financing options if you really must have a non-motorized treadmill for home use. This is one of those situations where you'll be stoked at first to have saved a thousand bucks, but beyond mad in two years when you ultimately end up spending another $3,000 to replace it.
So to answer the question: No, I don't think the Grit Runner is worth the price, and I recommend investing in a high-quality alternative.
Great for:
Someone who really, really cares about short-term budget over all else
Someone who can prioritize and commit to maintenance on a piece of gym equipment of questionable quality
Not recommended for:
People who want to feel confident in their purchase of a manual treadmill, knowing it will last them a long time
Someone who wants more conveniences or tech capabilities in a treadmill
Home gym owners looking for a treadmill with built-in programming for easy home workouts
Running on the Tru Grit Manual Treadmill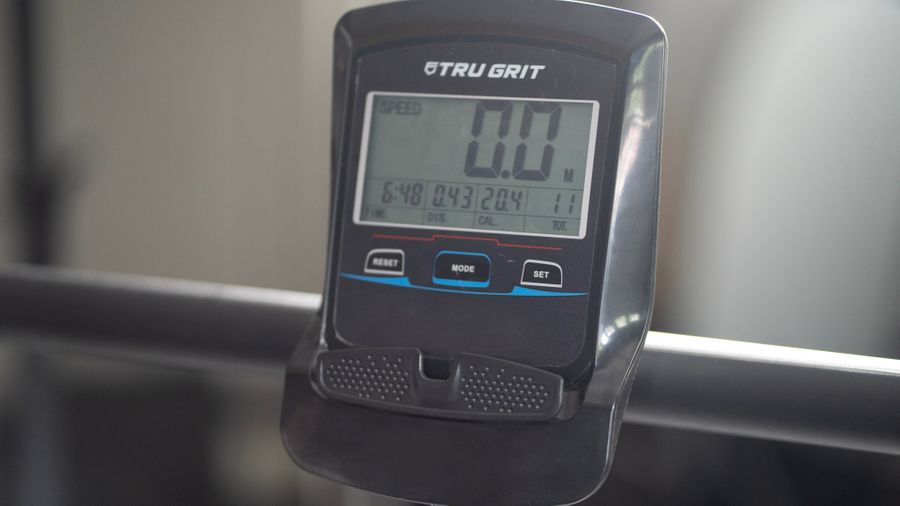 Running on the Grit Runner is not terrible. Because it has a bearing system similar to most other curved treadmills, the ergonomics while running feel pretty similar. One unique feature the Grit Runner has that most manual treadmills don't is the resistance dial. On the right handlebar, there's a dial that allows you to increase or decrease the resistance of the belt in six increments. I like this feature in theory, but practically, I feel like it's just another mechanism that will break.
Still, while they're working, the resistance options could be great for interval training or even strength training in some ways. If you turn the dial all the way up, the experience resembles hiking or walking at an incline.
When I'm working out on the Grit Runner, I feel like the midpoint of the belt is farther back than it should be. It's tough to see the monitor, partly because it's small and partly because of the apex of the running deck.
Manual treadmills have unlimited speed. You can walk, jog, run, and sprint on the Grit Runner. However, I don't recommend sprinting (especially if you're trying to avoid waking someone up or bothering your neighbors), because the belt becomes extremely loud during sprint work. The Grit Runner may be louder than any other curved treadmill I've tested.
Ordering and Assembling the Tru Grit Runner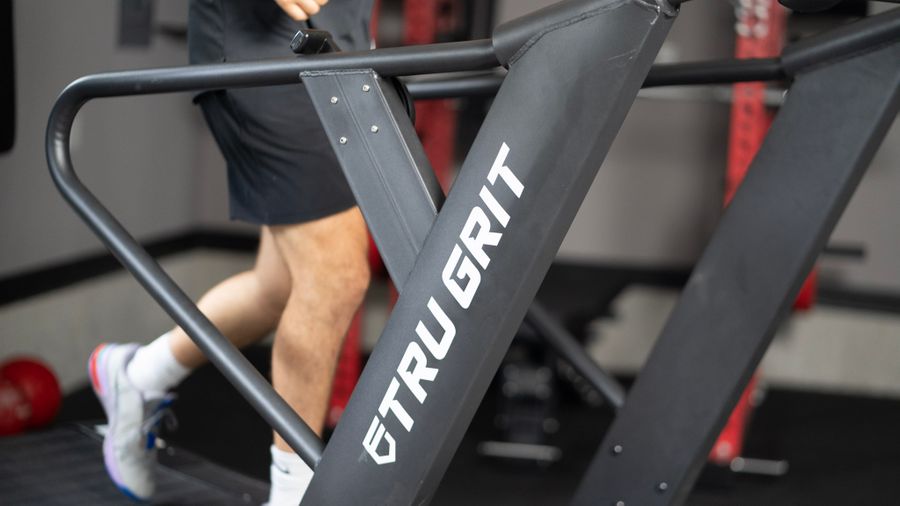 I rarely have complaints about the delivery of fitness equipment. Most things I order arrive in a timely manner, well-packaged, and in good shape.
Well, the delivery of the Grit Runner was not a good experience. Not only did the packaging arrive dirty and banged up, but the runner itself was extremely dirty. My team and I had to wipe iron sand, rust, and dirt off of the parts before we could assemble it.
I don't know about you, but first impressions mean a lot to me, and the Grit Runner did not impress upon delivery.
Once we got the machine cleaned up, assembly wasn't bad. It didn't take too long to put together, partly just because it's a manual treadmill, so there are no power cords or anything to deal with.
Footprint and Portability
The Grit Runner is a big boy. It's as if the Assault AirRunner upped its protein intake and started a bulk. It's wider than most non-motorized treadmills, which means it's not a good choice for someone with a small home gym.
The total dimensions are:
Depth: 79″
Width: 35″
Height: 60″
All manual treadmills are heavy, somewhat bulky, and can be frustrating to transport. The Grit Runner is by far the most awkward non-motorized treadmill I've ever had to move. The casters are laughably tiny, and they're covered by thick plastic shrouds that limit their movement.
Construction and Durability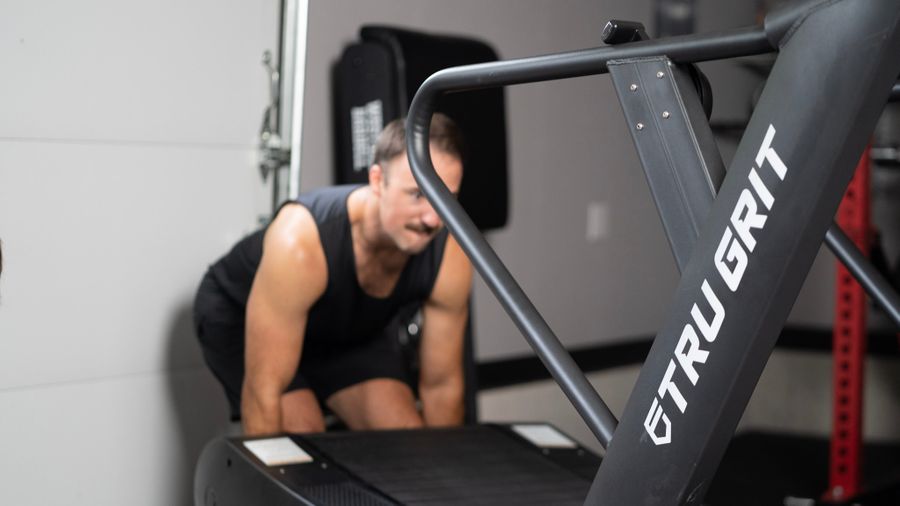 Look, if I'm going to pay $2,000 for a piece of home gym equipment, it should be well-built. A $2,000 treadmill should last a long time, especially when there are no electrical components that could potentially fizzle out.
It's worth pointing out, too, that some motorized treadmills with fancy bells and whistles, personalized programming, and nice Bluetooth speakers come in around that $2,000 price point. One of our favorites is the NordicTrack Commercial 1750 Treadmill. This is just something to keep in mind if your budget is around the $2,000 mark.
But I just don't have that sort of confidence in the Grit Runner. It's got lots of plastic and poor welds; the clip for the resistance piece has come off multiple times; and the shroud that wraps around the wheels on the front feels like a cheap body kit that gets in the way when you try to transport the machine.
The belt does seem more durable than the rest of the treadmill, and it uses a bearing system similar to what I've seen in other curved treadmills. The rubber on the tread is thick and should be durable.
Technology Benefits and Conveniences
To be frank, the Grit Runner is kind of archaic when it comes to treadmill tech. It sports a very basic LCD monitor that shows time, distance, pace, speed, calories, watts and interval training modes. This is not the treadmill to get if you want built-in programming or a screen for entertainment. It's bare bones for sure.
As for conveniences, the Grit Runner strikes me as average at best. There's no cup holder, which should be a basic convenience on treadmills in my opinion. There is a phone holder, and I'll give credit where credit is due—that's nice to have.
True Grit Runner Specs
| | |
| --- | --- |
| Footprint | Depth: 79″ / Width: 35″ / Height: 60″ |
| Weight | 415 pounds |
| Weight capacity | 400 pounds |
| Display | LCD |
| Stats | Time, Distance, Pace, Speed, Calories & Watts |
| Color | Black |
| Belt width | 19" |
| Warranty | 1 year frame, lifetime belt |
Customer Experience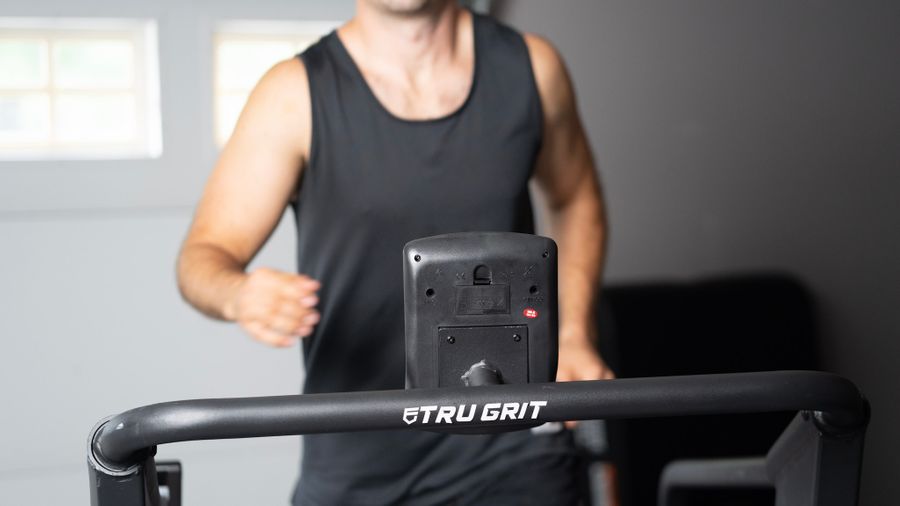 Not all is lost! If Tru Grit has one thing going for it, it's the customer service.
You can get in touch with Tru Grit by calling (855) 922-5181 or emailing support@trugrit-fitness.com. There's also a contact form on the website. Plus, you can track your orders and returns online.
Tru Grit warranties the Grit Runner against manufacturer defects for one year on the frame and for life on the belt. This is the same warranty that the Assault Runner Elite, my favorite manual treadmill, has.
I also love that Tru Grit is part of the GovX program, so active duty military and first responders get exclusive deals and offers.
Customer Reviews
Despite my experience with the Grit Runner, the customer reviews online seem positive. However, there aren't a ton, and I'm not sure how trustworthy the existing reviews are. I see nothing but five-star reviews, which seems shady given my experience.
Final Verdict of Our True Grit Runner Review
All things said and done, I don't think the Grit Runner is worth the money—you're better off saving up for a higher quality manual treadmill that will last a long time.
It is a cheaper treadmill. Set your expectations correctly and you won't be disappointed.
For this thing to last, it needs a dedicated home gym owner who will ensure it's maintained well.
Just save up and buy the TrueForm Runner. Please?
Full Rating
Tru Grit Runner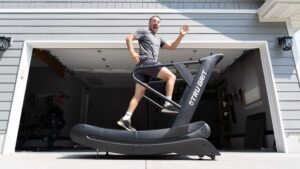 All things said and done, I don't think the Grit Runner is worth the money—you're better off saving up for a higher quality manual treadmill that will last a long time.
Product Brand: Tru Grit Fitness
Product Currency: $
Product Price: 1999
Product In-Stock: InStock
Tru Grit Runner FAQs
Why are curved treadmills so hard?
Due to the peculiar shape of curved treadmills, measuring forces on them is a tough task, as force plates are typically huge and visibly flat. While jogging on a curved treadmill is comparable to running on the ground, the two are not interchangeable.
Are curved treadmills better for knees?
The joints are less harmed by a curved treadmill. You don't have to give up running in order to save your knees. The rubber surface of a curved cushion absorbs the force on your joints and connective tissue, reducing the risk of injuries commonly linked with hitting the pavement.