We test and review fitness products based on an independent, multi-point methodology. If you use our links to purchase something, we may earn a commission. Read our disclosures.
Commercial treadmills ramp up the horsepower to keep running for hours on end. If you've got the budget, one of these models can last nearly a lifetime if well cared for and regularly serviced. If commercial-grade is within your budget, the TRM 835 has some unique and handy features that add extra comfort and safety.
When we're talking commercial-grade, we're looking at treadmills that cost well above $5,000. These machines are a serious investment in your home gym. With regular maintenance, most will last into the double digits even when used daily for intense workouts. The Precor packs quite a punch with incline and decline features, auto stop, and Integrated Footplant Technology that adjusts the belt speed to create a smoother ride. It's a model designed for the high training volumes of triathletes, marathoners, and ultra runners. In this Precor TRM 835 Treadmill review, we'll cover who this model might be for and who should look at a cheaper option. 
Related: Best treadmills for a home gym
We've Gone the (Treadmill) Distance So You Don't Have To
A treadmill isn't the type of fitness equipment you buy every day, so it's difficult to test several models before buying. At GGR, our team has put hundreds if not thousands of collective treadmill miles on everything from the budget-friendly to the high-tech and commercial-grade. We have personal trainers, nutrition coaches, CrossFit coaches, and professional athletes among our experienced testers.
We take fitness equipment seriously because we know the difference the right equipment can make to the success (or failure) of your health goals. While we haven't tested the Precor TRM 835 for ourselves, we've tested equipment in the same class at pro gyms. Plus, we've put in the miles on top residential models like the Peloton Tread and NordicTrack X22i, which are less expensive models that grant access to thousands of workouts with a subscription to a fitness app. Commercial models, like the TRM 835, typically focus more on durability.
If you're on the fence about a treadmill, we've also reviewed exercise bikes, ellipticals and rowing machines. We've also researched and tested power racks, weight plates and other gym equipment needed to create a well-rounded workout experience.
Precor TRM 835 Treadmill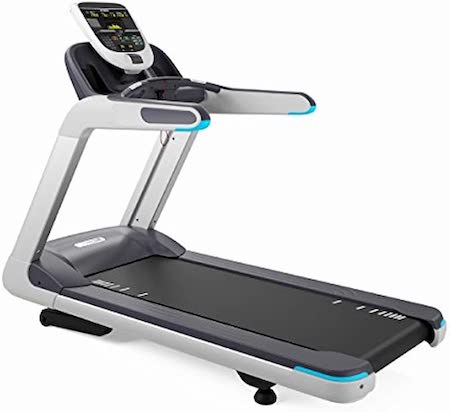 GGR Score: 3.5
Product Highlights
Commercial-grade treadmill
4.0 AC HP motor
400-lb user weight capacity
Max speed of 16 MPH
-3%-15% incline range
Weighs 420 lbs
Pros & Cons
Pros
4 HP motor
22"-by-60" deck
400-lb user weight capacity
-3% decline to 15% incline
Cons
Very expensive at around $10,000
No interactive programming capabilities
No touchscreen
Doesn't fold
Very heavy
High step-up height
A Quick Look at the Precor TRM 835 Treadmill
The Precor TRM 835 treadmill is a commercial-grade treadmill in the company's Experience Series. It has a solid build that includes a 4 HP motor (AC) that outshines the DC motors on a standard residential machine. That motor produces a top speed of 16 MPH, which is much higher than the average 10 mph to 12 MPH on many commercial or residential treadmills. It also offers an incline of up to 15% and declines to -3%.
However, it's the unique Integrated Footplant Technology (IFT) and deck design that adds something special. IFT adjusts the belt speed to match the user's footsteps, creating a smoother feel. IFT also reduces impact to go easier on the joints. The deck design features a GFX system that's separate from the frame to reduce noise and create a stable ride.
Before You Buy:
Know that this machine is expensive, clocking in at over $10,000, and there's no built-in touchscreen or tech compatibility.
There are 27 preset workout programs built into the machine so you'll have quite a few options despite there not being any interactive programming.
It weighs 420 pounds and doesn't fold, so you'll need a dedicated spot to store it, and a friend or two to help you move it.
Is the Precor TRM 835 Worth It?
For such an investment, there will be a particular buyer that's perfect for this machine, while a majority will find everything they need in a less expensive model.
Great for:
Those logging serious miles every week
People who have the dedicated space for this large machine
Not recommended for:
Those on a budget
Casual runners
Those who want interactive programming
Precor TRM 835 Treadmill Specs
Footprint
78" H x 82" L x 35" W
Weight
420 lbs
User weight capacity
400 lbs
Motor
4 HP AC motor
Incline/Decline
-3% to 15%
Speed
.5 – 16 mph
Display
15.6-inch LCD display
Running Surface
60" L x 22" W
Step Up Height
9.5"
Warranty
Commercial: 7-year warranty on frame and welds; 3 years on parts, 1 year on labor
Residential: Lifetime on frame and welds; 10 years on parts; 3 years on console; 1 year on labor
Special Features
Integrated Footplant Technology, Ground Effects Impact Control System
Customer Reviews
There are no customer reviews of the TRM 835 on Precor's website, and only two on Amazon, but both are 5-star. Seeing as how this is a machine that's most likely in professional settings, like gyms and rehab facilities, this isn't surprising. But just because there aren't a ton of reviews doesn't mean we can't dig a little deeper to help you decide if this machine is worth your cash.
Key Features of the Precor TRM 835 Treadmill
The TRM 835 has an impressive set of features, though it's missing some of the high-tech upgrades of popular residential treadmills—most notably, a built-in touchscreen for integrated programming. However, it makes up for that with its own extensive list of built-in programs. This treadmill is definitely designed for serious runners who regularly do long-distances and high-speed training.
Footprint, Portability, and Durability
The TRM 835 isn't small, with a 78-inch high by 82-inch long by 35-inch wide footprint. It's not a folding treadmill, so you'll need a dedicated space for use and storage. There are transport wheels. However, it weighs 420 pounds, which means you'll need a friend to reposition it successfully.
While it's not small or very portable, the TRM 835 rates high for durability with a 4 HP AC motor. Alternating current (AC) motors are more powerful and durable than DC motors, which are usually found in residential treadmills. The motor isn't the only place where this model impresses with durability. The frame and welds come with a seven-year warranty when used for commercial purposes and a lifetime warranty for home use. It's built to last but because it's discontinued, you might not be able to access replacement parts in the future.
The powerful AC motor can produce speeds up to 16 MPH for those super speedy runners who need more than the 12 MPH found on higher-end residential treadmills. The TRM 835 also has a wide incline/decline, reaching -3% to 15% grade. There's also the option to walk backward with a belt that can go in reverse.
Ergonomics
Treadmills aren't always the most ergonomic machines, but the TRM 835 has a few features that make it easier on the body. The Ground Effects Impact System is a shock absorption system that reduces heavy impact on the joints and soft tissue.
The impact system is fully complemented by Integrated Footplant Technology, which is a motor drive system that adjusts the belt speed to complement each user's natural running stride. This, too, reduces impact, creating a smoother ride.
Programming
One of the downsides of this model is that it doesn't have a large touchscreen that syncs with a fitness app to access a library of workouts. However, for those who don't want to mess with WiFi, This treadmill does have 27 preset programs controlled with six buttons. Programs include:
Heart rate training programs
Weight loss programs
Body parts-specific programs
Aerobic programs
Cross-country programs
Performance programs that include military and police training
There's also a Gerkin fitness test to check out your lung health. Needless to say, there are plenty of ways to get your cardio on this model.
There's a media shelf to watch streaming services on a separate device, but the treadmill cannot sync with the device to record metrics.
Display
This Precor treadmill can come with one of several consoles/displays, though the P31 and P30 consoles are the most common. The LED display on these models shows: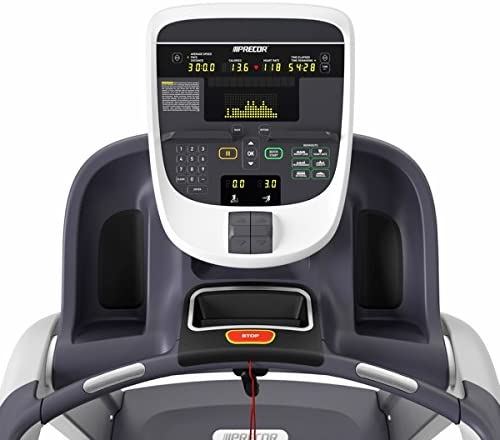 Speed
Incline
Distance
Pace
Average speed
Calories
Time elapsed
Time remaining
Percentage complete
Time in zone
Segment time
Calories per minute
Calories per hour
Watts
Mets
Target heart rate
Average heart rate
Elevation gain
While it may not have a big touchscreen, it provides plenty of metrics for your workout.
Technology Benefits and Conveniences
The motor and shock absorption features, which we've already discussed, are the primary technology benefits. However, this treadmill is also compatible with heart rate telemetry technology to keep track of heart rate zones and will display that information on the console. It also has heart rate touch sensors for heart rate monitoring if you don't have a chest strap or other fitness devices to monitor your heart rate.
High-tech upgrades are a place where this model is noticeably lacking. For the price, you don't have access to fitness apps or streaming services on a built-in screen. Many much less expensive home treadmills do. There is a media shelf so you can watch a separate device, but that's about it as far as entertainment.
Other conveniences include an accessories holder for water bottles and an emergency stop that's triggered by a magnetic pad attached to a lanyard. Noticeably missing are built-in fans.
Comparison to the Life Fitness Discover SE Treadmill
While we haven't tested the Precor TRM 835 treadmill, we have tested the Life Fitness Discover SE treadmill, another commercial-grade machine with specs to match.
The Discover SE also has a 4 HP AC motor, 15% incline, an impressive shock absorption system, and a large speed range (up to 14 MPH, compared to the Precor's 16). Our expert product testers felt very comfortable running on this thing, and to top it all off, the TRM 835 is packed with tech, making your run all the more enjoyable with access to WiFi and Bluetooth via the 19-inch touchscreen.
With pretty similar specs, plus upgraded tech options, the Discover SE is a good value—and at only $4,000, compared to the Precor TRM 835's $10,000, you'd be getting a steal.
Customer Experience
Taking a look at the warranty on the TRM 835, it's not too shabby. For residential use, you'll get a lifetime warranty on the frame, 10 years on parts, 3 years on the console, and 1 year on labor.
On the website it says delivery will arrive via freight handler, and will typically take two to three weeks. You'll have to set up a time to receive the treadmill from the delivery company.
Precor will accept returns 30 days from the date of purchase, and the treadmill must be in all of its original packaging.
Ordering and Assembling the Precor TRM 835 Treadmill
On Precor's website, you can finance the machine at purchase through a Freedom to Play credit card offer at $175 a month for 60 months.
Precor offers in-home assembly for an additional $199, which seems like the way to go for a machine of this size.
Final Verdict of Our Precor TRM 835 Treadmill Review
As far as gym equipment goes, the Precor TRM 835 has some impressive features, like the powerful motor, incline/decline quiet operation, speed range and impact reduction systems. It's pricey, especially for a model that doesn't offer a built-in screen of any kind, which has become common among much less expensive treadmills.
And then there's the matter of price. Even as a discontinued model, the TRM 835 will put a serious drain on your bank account. However, if you want a model that's close, the L8 offers the best price and is a good option because both of these treadmills are designed for:
Users who put on a high volume of miles
Users who need top speeds and high inclines
Those who need durable, powerful motor
Precor TRM 835 Treadmill Rating
Precor TRM 835 Treadmill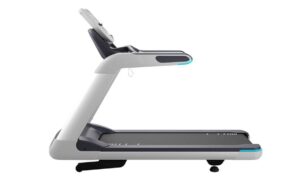 In this Precor TRM 835 treadmill review, we'll let you know if this expensive, commercial-grade machine is worth the moolah.
Product Currency: $
Product Price: 2499
Product In-Stock: InStock
Precor TRM 835 Treadmill FAQs
How long do Precor treadmills last? 
Precor treadmills, as a whole, typically last at least several years. However, how long any one model lasts depends on how much it's used and if it gets regularly serviced. The TRM 835 has the potential to last into the double digits if well cared for in a residential setting.
Is Precor a good brand? 
Precor is a good brand. They make residential treadmills, but they're better known for their commercial models, which are in professional gyms around the country.
How often does a treadmill need to be serviced? 
How often you service the treadmill depends on how often it's used and the volume of that use. A model that's used five or six times a week to run five to 10 miles each session will need servicing more often than one that's used once or twice a week for a 30-minute walk. In general, you should read through the manual and do any cleaning or servicing on the timetable recommended by the manufacturer. The manual should also have recommendations for professional servicing, which if followed, offers the best longevity for the treadmill.