We test and review fitness products based on an independent, multi-point methodology. If you use our links to purchase something, we may earn a commission. Read our disclosures.
If you have a home gym you are likely set up in either your garage or basement, which means you're probably on hard, concrete floors. Even if you have specific gym flooring or stall mats, it's still nice to have a little extra cushion when it comes to floor exercises.
Cue the exercise mat: It's a purchase that will not break the bank but can add comfort for movements that require you to lie down, kneel, or sit. It's also nice to get up from the floor without being covered in gym dirt—you can clean exercise mats and then roll them up and put them away when not in use.
Whether you're into HIIT training, hot yoga, or lifting weights, you'll find the perfect option for your home gym situation in this roundup of the best exercise mats.
Fitness Professionals Here To Help
Here at GGR, we think every purchase for your home gym—big or small—should be one you're happy with. Gym mats might not require as much forethought and research as a treadmill or squat rack, but we still tasked our expert product testers to find the best exercise mats.
Not all exercise mats are created equal, so that's why we had our expert product testers try out nearly a dozen different brands and styles so we could relay that information to you. Our product testers have years of collective industry experience as certified personal trainers, nutrition coaches, and CrossFit Level 1 Trainers.
5 Best Exercise Mats
Best Overall Exercise Mat: Nike Training Mat 2.0
Good for: Stretching, push-ups, and a multitude of floor exercises
The Nike Training Mat 2.0 provides a versatile surface for your home gym with anti-slip grip texture on the bottom and plenty of cushion for high-impact areas like feet, knees, hips, and hands.
The Nike Training Mat 2.0 is constructed from high-density foam and measures 8 millimeters thick. The material paired with the thick foam gives you a soft landing for floor exercises and kneeling movements. GGR writer and product tester Anthony O'Reilly finds that this mat compresses less than other workout mats he tested.
Anthony does not have any issues using this mat on hard surfaces or carpeted areas. He has tried a plethora of movements on this mat, too. "I've used this for stretching, yoga, balancing, and push-ups—I love the way it feels with both socks and bare feet," says Anthony.
The Nike Training Mat 2.0 comes with an adjustable carrying strap for easy transport to the gym or yoga class. The $60 price tag is a little more expensive than other foam mats on this list, but we think the thick foam is worth it for your knees.
| | |
| --- | --- |
| Price | $60 |
| Materials | 95% thermoplastic elastomer, 5% polyester |
| Footprint | 71.26″ L x 24.02" W |
| Thickness | 8 mm |
Best Non-Slip Exercise Mat: Gaiam Yoga Mat
Good for: Yoga at home or in the studio
The Gaiam Yoga Mat is perfect for pilates, yoga, and mobility. GGR's Head of Content Kate Meir tested the Gaiam Yoga Mat and loved the grippy texture for a locked-down feeling whether you're barefoot or in socks.

The Gaiam mat is reversible with interesting colors and prints on each side in addition to the brand's signature sticky, slip-resistant texture. This makes it ideal for moving between yoga poses without slipping or sliding (even during hot yoga). The polyvinyl chloride (PVC) material not only grips to the floor, it also grips to itself and makes for a nice tight roll when you're storing it away.
Although this mat is perfect for bodyweight exercises and yoga, Kate notes that it lacks cushioning. "I'm not sure it will be the most comfortable for things like handstand push-ups or kneeling movements," says Kate.
| | |
| --- | --- |
| Price | Under $40 on Amazon |
| Materials | Polyvinyl Chloride |
| Footprint | 68″ L x 24″ W |
| Thickness | 5 mm |
Best Budget Exercise Mat: Mind Reader All-Purpose Exercise Mat
Good for: Anyone looking for an inexpensive workout mat to get the job done
The Mind Reader All-Purpose Exercise Mat will not disappoint if you're looking for a basic exercise mat for mobility drills and core exercises. You will also like that this mat is priced under $20.
I personally tested this mat and I like that it didn't slip underfoot when changing positions during my mobility routine or when I stepped on just crossing the room. I mention that because some exercise mat material slips just from stepping on it.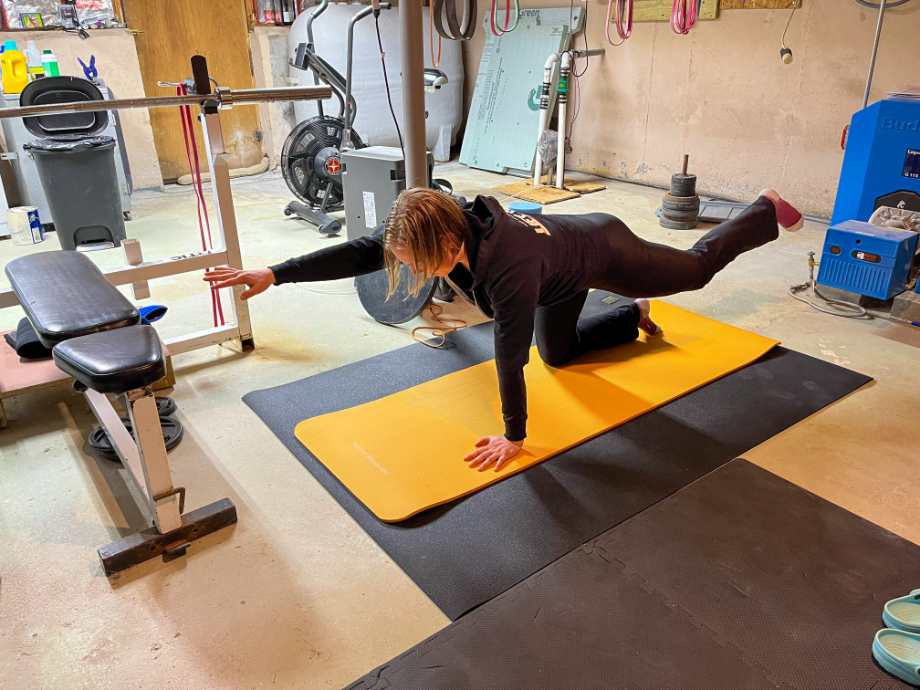 This Mind Reader mat is soft and provides a half-inch of rubber and foam cushioning. One side is smooth and the other side features a corrugated pattern. The one thing I noticed about this exercise mat was that when I was in a kneeling or half-kneeling position the weight of my body compressed the rubber and foam cushioning.
After a set or two of any kneeling movement, I changed where I placed my knees to get fresh cushioning. I don't think this is a dealbreaker and I will admit, this is pretty common in exercise mats so it didn't surprise me at all.
| | |
| --- | --- |
| Price | Less than $20 on Amazon |
| Materials | Foam, Nitrile Butadiene Rubber |
| Footprint | 74" L x 24" W |
| Thickness | 0.5" |
Best Large Exercise Mat: Gxmmat Oversized Mat
Good for: Anyone who wants a cross between gym flooring and an exercise mat
The Gxmmat Oversized Mat is a large fitness mat that blends the pliability of a foam mat with the durability of gym flooring. I personally tested this mat and loved the oversized footprint, dense PVC material, non-slip texture, and the 7-millimeter thick exercise mat.
Although the material is dense, it still offers enough cushion for kneeling exercises and high-impact movements like jumping lunges.
The Gxmmat offers a 24-square feet of space, which is perfect for different types of workouts including HIIT training, gymnastics, dumbbell workouts, and banded resistance. I partially love this mat for performing Turkish get-ups because you have so much room to move. I also enjoy doing floor presses because my elbows stay on the mat.
This mat is perfect for home workouts and can even just provide a space to get off your hard floors for any exercise. I even tested the Gxmmat as an equipment mat and rolled my under-desk treadmill on top of it. I wouldn't recommend that: it left impressions on the surface. It's best to use this as a gym mat and leave your heavy exercise equipment elsewhere.
| | |
| --- | --- |
| Price | About $110 on Amazon |
| Materials | Polyvinyl Chloride |
| Footprint | 72″ L x 48″ W |
| Thickness | 7 mm |
Best Cushioned Exercise Mat: REP Exercise Mat
Good for: Anyone who wants extra cushion for handstand push-up or kneeling exercises
The REP Exercise Mat is not your typical foam mat that rolls up and gets tucked away. This mat is 1.5 inches thick with a PVC exterior, which encases an inch of foam. This REP mat doesn't fold either, but it does have a nice carrying handle so you can prop it upright or store it under a couch or bed.
The cushioning on this mat is far greater than any other exercise mat we tested and will be ideal for practicing gymnastic progressions (like handstand push-ups), kneeling exercises, and extra cushioning for the tailbone in seated positions.
GGR editor Nicole Davis tested the REP Exercise Mat and notes that it doesn't have as much versatility as other workout mats she's tested. "It is a bit slippery, so activities like yoga might be difficult," says Nicole. "It's also quite a bit shorter than a yoga mat, so you're not fully supported on the mat when you lie down."
Although this mat won't be suited for everyone (especially tall people), if it's cushioning you're after, this is the mat for you. "It's a good price for what it is, and REP is a very reputable brand," Nicole adds.
For $70 more, REP offers a larger, folding exercise mat made from the same thick foam construction if you want the space to lie down fully.
| | |
| --- | --- |
| Price | $25.99 |
| Materials | Foam internal; PVC external |
| Footprint | 48" L x 24" W |
| Thickness | 1.5" |
Other Exercise Mats We Tested
Lululemon The Mat 5mm: Although this exercise mat is reversible and features cool colors and designs, it didn't seem worth the nearly $100 price tag. GGR writer and product tester Caroline Lubinksy tested this mat and likes the fact it has an antimicrobial additive to prevent mold and mildew building up on the mat.
BalanceFrom 1/2″ Mat: I personally tested this BalanceFrom mat and thought it was nearly identical to the Mind Reader exercise mat, which is priced a few dollars cheaper.
Rogue Yoga Mat: This was too thin (even for a yoga-specific mat) to wholeheartedly include on this list. The Rogue website says this mat is 0.125 inches tall, which equals about 3 millimeters. That is about half the height you see on most exercise mats.
How We Picked and Tested the Best Exercise Mats
Our top picks were based on these factors:
Price: We wanted our choices for the best workout mats to also be reasonably priced and not exceed $100—and we delivered!
Material: Our product testers are certainly not chemical engineers with a deep understanding of plastics and composite materials. However, we do know gym equipment and what types of materials usually hold up in the home gym.
Versatility: We tried to choose exercise mats that can be used for more than one style of training.
Easy to stow: We tried to pick gym mats that are easy to roll up, fold, or store.
Benefits of an Exercise Mat
I have a variety of floor mat options in my home gym, including interlocking tiles, yoga mats, and stall mats. With all these options, I have to admit that my all-purpose exercise mat might be the most used option—it gets pulled out almost every day for mobility. Other than potentially using your exercise mat every day, here are some other benefits:
Easy to Clean
Exercise mats are typically easy to wipe down and disinfect after use. That means you have the chance to clean sweat and dirt off the mat so you can start on a clean surface every time you unroll. Because you can clean your mat independently from your gym flooring, you can also stay clear of dirt and debris that build up on your gym floors.
Small and Compact
Another benefit to purchasing an exercise mat is the fact that most styles are small, compact, and easy to roll up and store out of sight. Why not have one around?
Multi-Purpose
Exercise mats can be used for a variety of exercises or even just as a comfy place to sit. Families with young kids can even use exercise mats as cushioning for playing on the floor.
Buying Guide For Exercise Mats
An exercise mat might not be a high-ticket item, but it's still important to purchase a mat that suits your fitness style and works with your space. Here are some things to consider when buying an exercise mat for your home gym:
Purpose
If your highest priority is finding a yoga mat with non-slip qualities, that will be a different search than a mat with extra-thick cushioning to support your tailbone.
An exercise mat that is specific to yoga likely won't provide the cushioning you want for core and kneeling exercises. That's not to say you can't modify or roll it over twice, but just know that not all mats are the same.
Size
Most exercise mats and yoga mats will measure about 2 feet wide and typically roll out to 6 feet in length. I recommend confirming the measurements before you make your purchase because some of the gym mats I covered in this roundup are smaller and some are bigger.
Thickness
You'll want to know how thick your gym mat is to reinforce the purpose for buying. A thick mat won't work the best for yoga and a really thin mat might not work for general training. I recommend double checking before you click add to cart.
FAQs on Best Exercise Mats
What thickness mat is best for exercise?
This will depend on your needs. We've found that 6 to 8 millimeters usually does the trick for supporting the knees, hips, and back through a variety of exercises.
Is there a difference between a yoga mat and an exercise mat?
Yoga mats are often thinner, grippier, and textured. Exercise mats tend to have the same footprint but are often a little thicker, have more cushion, and are not as grippy.
Is an exercise mat worth it?
Our product testers certainly think that adding an exercise mat to your home gym is worth it. It's nice to roll out a cushioned surface when it's time to take your fitness routine to the floor. We also like the fact it's easy to disinfect, wipe away sweat, and shake off dirt from your exercise mat so you can always meet a clean surface.