We test and review fitness products based on an independent, multi-point methodology. If you use our links to purchase something, we may earn a commission. Read our disclosures.
If you want to improve your home gym exponentially, add a dumbbell set. While I generally recommend a barbell and a set of the best weight plates to start, I'm not sure my garage gym would ever feel complete without a rack full of hex-head dumbbells.
To find the best dumbbells, our team has researched more than 100 pairs and sets. We then got our hands on dozens of traditional dumbbells, the best adjustable dumbbells, and loadable dumbbells, testing for factors such as:
Durability: Can they withstand use after use in a garage gym?
Functionality: Do they feel good in the hand? Do they get the job done?
Value: Are they reasonably priced?
The Best Dumbbells for 2023
Best Dumbbells Overall: REP Fitness Rubber Hex Dumbbells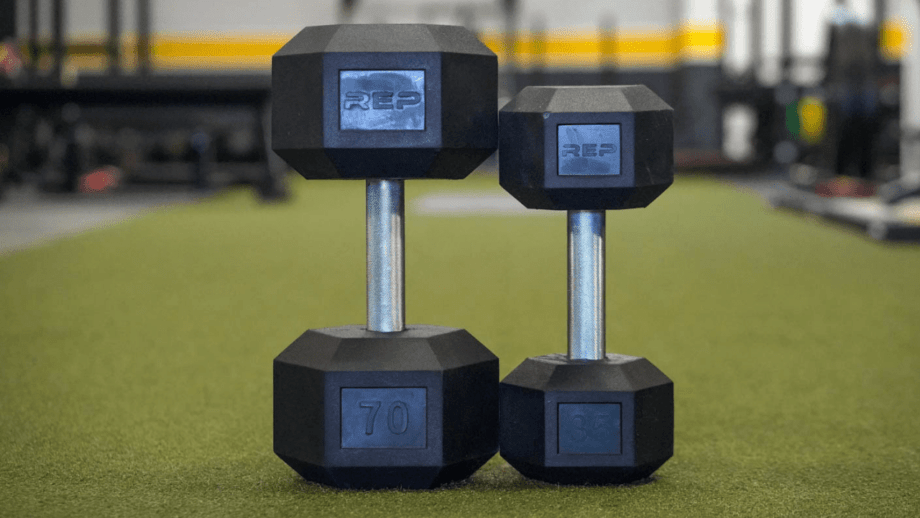 Other than that, these REP dumbbells come equipped with pretty standard features: steel dumbbell head construction, hex design, rubber coating, and a chrome-plated steel handle. If I could suggest any improvement to these dumbbells, it would be that the handle is shorter or more compact. The heavier weights can feel somewhat unwieldy due to the handle length.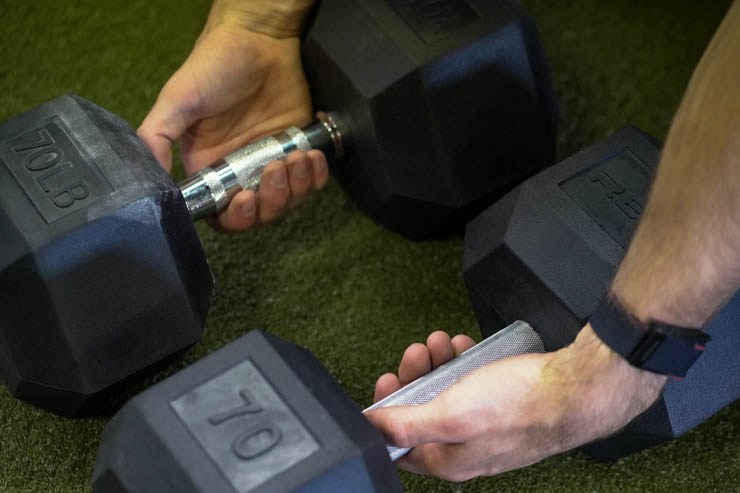 For some, the extra cost is worth the improvements to the grip. For others, it's not. However, once you factor in the free shipping from REP, these actually aren't much more expensive than other options out there, like Rogue dumbbells. REP also offers a lifetime warranty on these dumbbells for residential use.
RELATED: Rogue Dumbbells vs REP Dumbbells
You can safely drop these from any position and get a minimal bounce, but be prepared for a dumbbell chase if the bell lands the wrong way on your floor. I personally wouldn't recommend dropping any dumbbells from overhead, but if you plan to, these shouldn't damage your flooring.
For more details, read my REP Fitness Rubber Coated Hex Dumbbells review.
| | |
| --- | --- |
| Price | $2.50 to $4 per pound, depending on the dumbbell size |
| Handle Material | Rubber hex |
| Head Material | Knurled chrome |
Best Dumbbell Set: Living.Fit Dumbbell Sets
Good for: Those who want an entire set of adjustable dumbbells at a reasonable price
Some people still like the idea of having an entire dumbbell set in their home gym or training facility. If you fall into that category, you might want to check out the Living.Fit Dumbbell Sets. The pricing is as good as you're going to get for a high-quality dumbbells, they're covered in rubber to protect your floors and the weight, you get free shipping and a lifetime warranty as long as they're only used in home gyms.
I own several pairs of the Living.Fit dumbbells, which I use myself and for my personal training clients. They are like most rubber hex dumbbells in terms of grip, shape, and quality. I think what sets them apart is that they tend to have a lower price point (for example, they are cheaper than REP dumbbells).
One other detail that separates these dumbbell sets is the wider handle to better accommodate the shape of your hand. Most dumbbells, fixed or adjustable, have a uniform handle that might be hard for some people to grip, particularly those with larger hands. Grabbing a Living.Fit dumbbell feels more like slipping your hand into a pair of gloves made just for you.
The knurling is OK, though they don't have it from edge-to-edge like the REP Fitness hex dumbbells.
In terms of durability, I have had these in my garage gym for more than a year, and I haven't had any issues with them. There is some slight corrosion on the handles, but it's barely noticeable. I give them a 4.5 out of 5 for durability, especially because these free weights come with a lifetime warranty.
| | |
| --- | --- |
| Price | Starts at $300 for 5- to 25-pound set |
| Handle Material | Center knurling on steel |
| Head Material | Rubber hex |
Best Loadable Dumbbells: Titan Fitness Loadable Dumbbell Pair
Good for: Most people who like to lift really heavy weights.
Loadable dumbbells were once the best thing since sliced bread. Now, there are tons of quick-change adjustable dumbbells on the market, but if you still want loadable dumbbells, you can't go wrong with these from Titan Fitness.
I love these chrome-plated steel dumbbell handles because they're incredibly versatile. I bought a pair of the 15-inch handles during a Black Friday sale a few years ago. I'd recommend buying the 20-inch pair, however, because I can only get a few of my change plates on these with the barbell collars I have (if I used spring collars, I could probably get a third plate on here).
RELATED: Black Friday Dumbbell Deals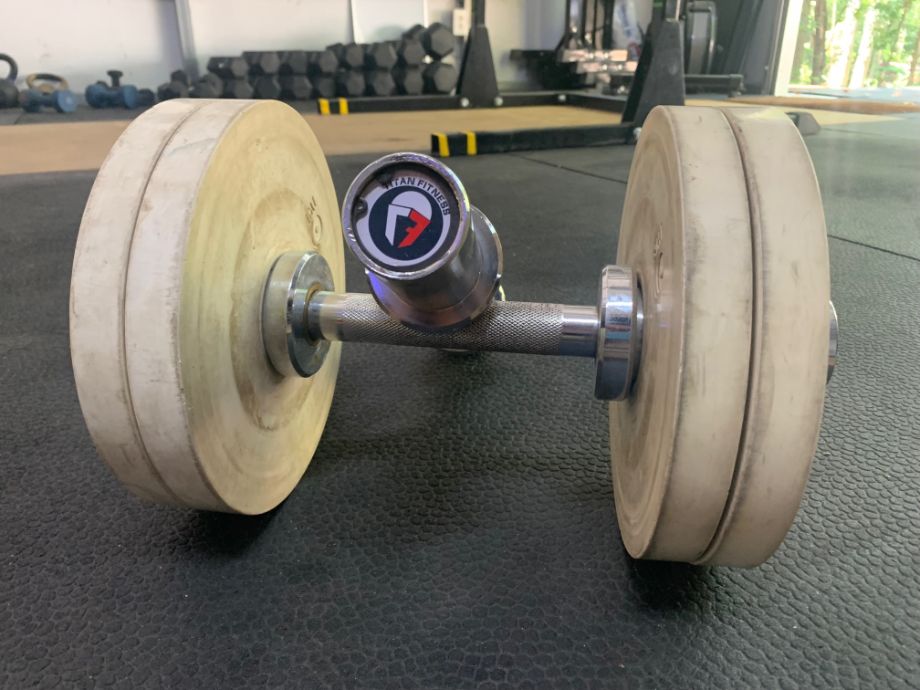 When it comes to loadable dumbbells, there's no shortage of these on the market, but I think the Titan ones are the best value (I give them a 5 out of 5 in that category). For under $100 with free shipping (and often cheaper during sales periods), you can get two of the loadable handles. For comparison's sake, the loadable dumbbell handles from Rogue are $175 for a single handle, and Fringe Sport has pairs for $154. So really, Titan's are a steal, and they're still good quality.
These loadable dumbbells meet some of the same IWF specifications as Olympic barbells: The sleeves are 50 millimeters in diameter and the shaft is 28 millimeters in diameter, just like a 20-kilogram barbell. In all honesty, I'd say these really are just tiny barbells. And I love that.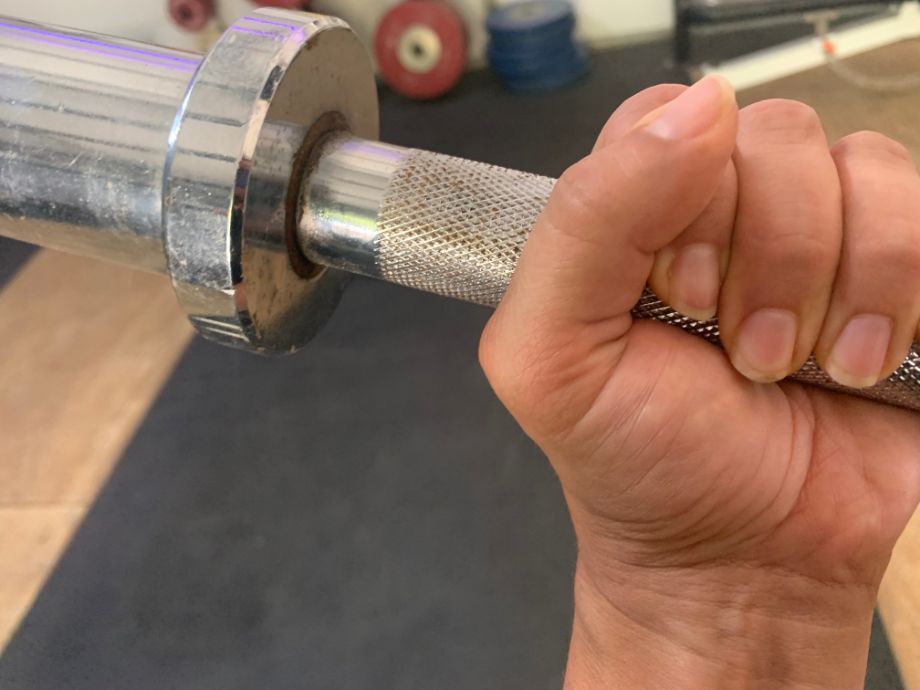 You can load these with regular Olympic weight plates, although that might not be the most comfortable or efficient option. I'd like to see some people try doing biceps curls with standard-sized bumper plates on a dumbbell handle! The better option for most exercises is to load them up with change plates or cylindrical plates, which I wish Titan offered. (Rogue does have some dumbbell bumpers though.)
The Titan Fitness loadable dumbbells have a weight capacity of 400 pounds, yet the handles themselves only weigh 12.1 pounds each (if you get the 20-inch pair). That speaks to the quality construction of the handles. These are also fully knurled and have a bushing rotation system, which adds to the barbell element.
After a few years, there is some slight corrosion on these. I keep them in my garage gym, which is not climate-controlled, and which is in the very hot South. Overall, I give the construction a 4.5 out of 5, because they have lasted so long and are still in great shape.
| | |
| --- | --- |
| Price | $100 per pair |
| Handle Material | Knurled steel |
| Compatible With | Olympic-sized plates |
Best Rotating Dumbbells: Eleiko Evo Dumbbells
Good for: Anyone who wants their dumbbells to have a barbell-like feel.
Eleiko Evo Dumbbells are easily one of the best dumbbell options out there, but because of the pricing and super niche design, I can't recommend them as my top pick. If everyone could afford a single $300 dumbbell, sure, but alas, that's not the case.
Don't get me wrong: If you want an absurdly high-quality set of weights in your home gym, Eleiko Evo Dumbbells are it. But you'll have to pay up. What you're paying for is a patented rotating handle design that mimics the spin of one of the best Olympic barbells.
The Evos range from 12.5 to 150 pounds and you can buy them in singles, pairs, or sets. Lifters will love the premium construction, from the fully knurled dumbbell handle to the sloped head shape and multi-sided design. "I'm usually a fan of stainless steel, but for the price you're paying for these dumbbells, the rubberized heads make sense," says Coop Mitchell, GGR's founder and the person on our team who has used these dumbbells the most.
Eleiko does make the Evos in 2.5 to 10 pounds, but the rotating functionality doesn't start until the 12.5-pound weight increment. Eleiko claims they tested these by dropping them thousands of times from just 4 inches high to 16.5 feet.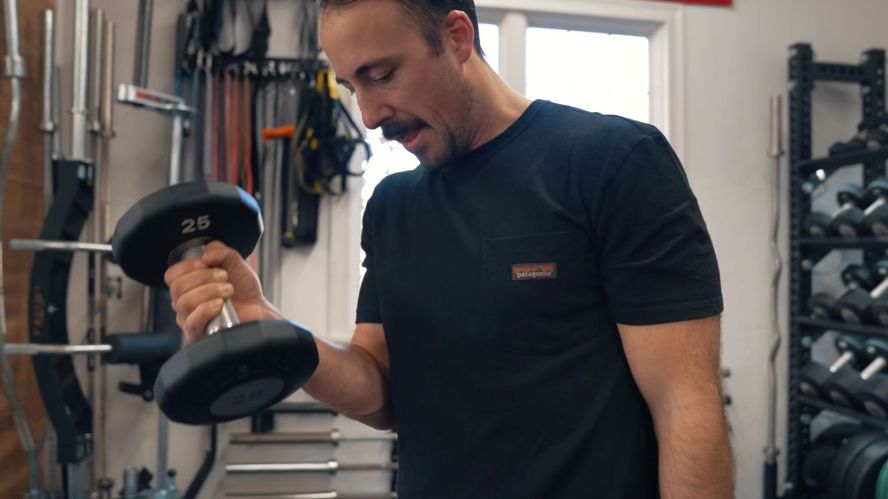 Because they rotate, the Evo dumbbells are naturally more ergonomic than fixed dumbbells. This gives them more versatility, making exercises like dumbbell snatches and power cleans more comfortable. They also feature a smaller diameter of 1.5 inches on the handle compared to other Eleiko dumbbells, which could be a good or bad thing depending on your preferences.
For more, check out our Eleiko Evo Dumbbell review.
| | |
| --- | --- |
| Price | About $240 for one 20-pound dumbbell |
| Handle Material | Knurled stainless steel |
| Head Material | Polyurethane head to mimic rubber |
Best Adjustable Dumbbells: Snode AD80 Adjustable Dumbbells
Good for: People who want an easily adjustable dumbbell pair that feels more like a traditional fixed dumbbell
The Snode AD80 adjustable dumbbells are our pick for the best adjustable dumbbells. Coop Mitchell, GGR's founder, has used these multiple times, and admits, "I'm more impressed with these than I thought I would be."
We love the insanely easy quick-change design, giving it a 4.5 out of 5—one of the highest scores of any adjustable dumbbell we have tested. Also, it's great that these have a more traditional dumbbell shape. Unlike many other adjustable dumbbells, your hand won't be surrounded by a cage when using these—you can use them exactly like you'd use a regular ol' cast iron dumbbell.
One of our favorite features about the Snode Dumbbells is the knurled handle (just like the REP ones above). The knurling really helps with grip, though Snode's is a bit more on the passive side while still providing good grip. Also, the pancake-like stack of plates is super aesthetically pleasing and allows them to lie flat on your thighs during moves like shoulder presses.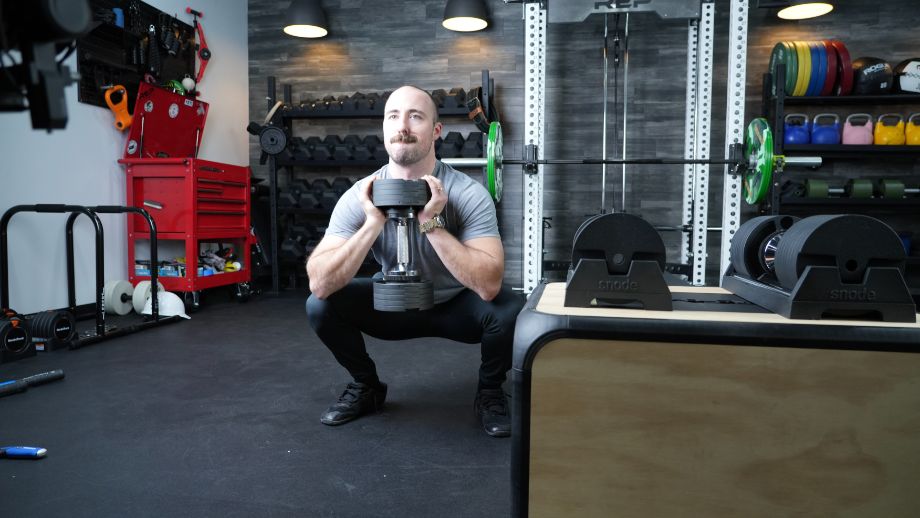 These are also the only adjustable dumbbells that are protected against drops. The plates are made entirely of cast iron and offer the same level of protection at 10 pounds as they do at 80. There is some plastic, but it's in the adjustment gears. So while they're fine if dropped once in a blue moon we wouldn't recommend making a habit out of it.
The one annoying thing about these dumbbells is that they jump in 10-pound increments, rather than 5 pounds like our prior best adjustable dumbbell pick, the SMRTFT NÜOBELL. They're also a bit pricier, though the superior construction and warranty against falls (up to 32 inches) push these past NÜOBELL in our humble opinion.
Read more in our Snode adjustable dumbbell review.
| | |
| --- | --- |
| Price | $795/pair |
| Handle Material | Knurled steel handle |
| Head Material | Cast iron plates |
Best Round Dumbbells: REP Fitness Urethane Coated Round Dumbbells
Good for: People who want ultra-durable dumbbells with fully knurled handles.
I love urethane bumper plates so it's no surprise that I love urethane dumbbells as well. Urethane is a type of rubber that's more durable than the rubber compounds on most dumbbells. The Titan urethane bumper plates in my garage gym are in perfect condition two years in, and they are used and dropped every day, over and over.
Urethane has a higher load-bearing capacity and better resistance to grease, oils, and dirt. It's also harder than most rubbers and generally built to outlast and outperform typical rubber products.
So basically, if you want to drop a pair of these REP Fitness Urethane Coated Round Dumbbells from your rooftop, go for it. Just kidding. They do have a lifetime warranty, but they're probably not warrantied for 30-foot drops.
I do recommend that before buying these, you check to see if your floors are really level. Otherwise, thanks to the round head design, you'll spend a lifetime chasing these across your floor in between sets. Or you'll just have to re-rack them every time.
Underneath the urethane coating is solid steel dumbbell heads. The handle is also solid steel, chrome-plated, and fully knurled for a non-slip grip. Instead of a contoured handle, REP uses a straight handle that's very barbell-like. I personally love this but recognize that many people prefer a contoured handle.
The current pricing might give you some sticker shock, but remember you're getting a longer-lasting dumbbell and REP's free shipping. All things considered, these aren't that much pricier than standard hex head rubber dumbbells.
| | |
| --- | --- |
| Price | $3 to $5 per pound, depending on the size |
| Handle Material | Knurled steel |
| Head Material | CPU urethane |
Best Dumbbells on Amazon: CAP Barbell 150-Pound Dumbbell Set
Good for: Anyone looking for the best dumbbells for beginners.
These are the best dumbbells for beginners who are just starting to build their home gym, or are at a beginner fitness level. The dumbbells start at five pounds and only go up to 25 pounds, so I wouldn't recommend this set for anyone who can throw down the big weights.
But for those who don't need more than 25 pounds per hand, I think these are a great choice, especially if you love shopping on Amazon. They aren't next-level dumbbells, but they'll do the trick. The hex heads are made of solid cast iron and coated with a durable rubber outer layer. The handles are cold-rolled solid steel, although not stainless steel, so they are prone to corrosion.
You can choose from a vertical or horizontal dumbbell rack. Both versions have a powder-coated finish to prevent rusting.
For the amount of weight you get, plus the rack, this isn't a bad deal at all. However, after reading a lot of reviews on Amazon, I recommend keeping your eye on the product page because it seems the price fluctuates quite often. For example, some people got it on Prime Day for under $200, but at the time of writing, the cost for this set is $380.
Keep in mind that this specific set of dumbbells has shipping limitations: You'll get your set in three different packages weighing 50 pounds each. If you're lucky, they'll all come on the same day.
RELATED: How to Build a Budget Home Gym on Amazon
| | |
| --- | --- |
| Price | Around $380 |
| Handle Material | Alloy steel |
| Head Material | Cast iron |
Best Value Dumbbells: PowerBlock Elite Series Dumbbells
Good for: Most people seeking a durable adjustable dumbbell option that has a high weight capacity.
PowerBlocks have been one of GGR founder Coop Mitchell's favorites since he built his first garage gym nearly a decade ago, largely because the PowerBlock Elite Series offers the best price-to-performance ratio of any adjustable dumbbell he has tested. He says he considers these the best value adjustable dumbbells for three main reasons: they utilize a quick-change system, they have a wide weight range, and they're as durable as many fixed dumbbells we've tested, whereas durability is usually the primary issue with other adjustable dumbbells.
We particularly like that you can change the weight in both 2.5- and 5-pound increments, and with added accessories, you can go up to 90 pounds. Without the add-ons, the weight limit is 70 pounds, which is still more than sufficient for a lot of home gym owners.
The Powerblock Elite dumbbells are priced competitively at $419 for a pair up to 50 pounds. If you want the 70- or 90-pounders, you're looking at an additional $149 for each dumbbell, for each additional set (up to a price tag of about $630).
RELATED: Powerblock Coupon
These dumbbells work via a magnetic selector pin, which quickly changes the weight for 10-pound jumps. For 2.5- or 5-pound jumps, the adjustment works a little differently and takes a little longer: You pull out the selector pin, pull out the handle and slide in one of the metal cylinders and then reverse the process.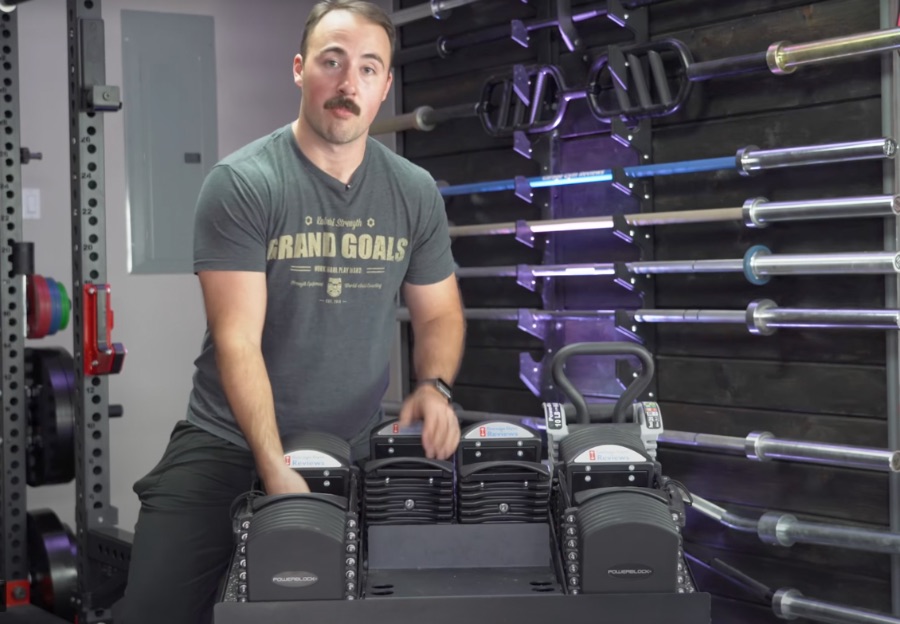 "I've never had a PowerBlock handle separate from the weight stack, and I've never experienced any issues with the pin or magnets either—even during movements like dumbbell snatches," Coop says. For being made in the U.S., the value is unbeatable.
As much as we like the PowerBlocks, we realize the rectangular shape can be tough to get used to. This is the biggest issue for most people. And because the handles are caged, there will inevitably be some contact between your hand and the posts on the bell. This can take some getting used to.
If you're looking for a more traditionally-shaped adjustable dumbbell, our pick would be the NÜOBELL Adjustable Dumbbells, described above.
See our full PowerBlock Dumbbells review for all of the details on these dumbbells.
| | |
| --- | --- |
| Price | Starting at $419/pair |
| Handle Material | Caged handle |
| Head Material | Welded steel |
Best Budget Dumbbells: CAP Barbell Solid Cast Iron Hex Dumbbells
Good for: People looking for bare-bones dumbbells at a good price.
If you're hunting for dumbbells on a budget, check out the CAP Barbell Solid Cast Iron Hex Dumbbells. While I wouldn't normally recommend CAP over other gym equipment brands, you really can't beat the value you get in these cast iron dumbbells. The price fluctuates depending on when and where you buy them, but for the most part, these come out to be less expensive than dumbbells from Rogue, REP Fitness, Titan Fitness, and other popular brands.
They have many of the same features as higher-end dumbbells, including a fully knurled handle and a hexagonal head to prevent the dumbbells from rolling around in between sets. The baked enamel finish looks nice when new, but if you leave these dumbbells out in the elements (including the humidity that plagues your garage gym), the coating will eventually crack and chip, leaving iron exposed.
You can get these CAP dumbbells in weight options from a measly one pound all the way up to 120 pounds. They're available in increments of 2 to 3 pounds up to the 15-pound dumbbell, at which point they come in 5-pound increments. However, they only come in pairs up to 25 pounds. If you want to go heavier, you'll have to buy them as a single dumbbell.
Many people are familiar with CAP Barbell dumbbells even if they think they aren't: Walk into any Walmart or Academy Sports & Outdoors store and you'll likely see some in the fitness equipment section. But I think the best place to get these is on Amazon since you can get them shipped right to your door within a few days with free shipping.
While these are decent dumbbells all around, remember that you can't drop them—especially not from overhead. They don't have a protective rubber coating of any kind, so you risk damage to your floors and the dumbbells themselves if you drop them.
| | |
| --- | --- |
| Price | Around $2/pound |
| Handle Material | Cast iron |
| Head Material | Cast iron |
Other Dumbbells We Researched and Tested
To be frank, a lot of dumbbells in each category are exactly the same aside from branding. Many of these are made in the same factories in the same places, with the only differences being logos, price, shipping, and warranty. But in case you're curious, here's a look at most of the dumbbells worth mentioning.
Rubber Hex Dumbbells
Rogue Fitness Poly Hex Dumbbell: These are an unbranded version of rubber hex dumbbells that Rogue is retailing while supplies last. The difference is the coating: The regular rubber hex dumbbells have a full virgin rubber coating. On the poly hex dumbbells, the coating is a mixture of rubber and vinyl. This makes the coating slightly harder.
REP Rubber Grip Hex Dumbbells: Another great dumbbell option from REP Fitness, these are similar to the REP hex dumbbells in our top pick list. There are two big differentiators, both having to do with the grip: The handle on these dumbbells is rubber-coated and contoured, which makes for a totally different grip feel.
Titan Fitness Rubber Hex Chrome Grip Dumbbells: Another typical rubber hex dumbbell, these pairs from Titan Fitness don't necessarily stand out, other than the chrome handle, which is a nice touch.
Fringe Sport Rubber Hex Dumbbells: These compare to the Rogue, REP, and Titan rubber hex dumbbells. Nothing overtly special here, other than the free shipping which is always clutch.
Round Dumbbells
Rogue Urethane Dumbbells: These are super similar to the REP urethane dumbbells that we recommend, but they don't have free shipping.
Titan Fitness Urethane Round Dumbbells: Another standard urethane round dumbbell. Nothing spectacularly great or bad about them.
Loadable Dumbbells
Fringe Sport Loadable Dumbbells: Just like the Titan loadable dumbbell handles, these are compatible with Olympic weight plates. The difference is that the handles have a black zinc finish and they're much more expensive.
Rogue DB-15 Loadable Dumbbells: I like these just as much as I like the Titan Fitness loadable dumbbell handles, but the pricing on these is crazy at more than $150 for a single empty handle.
Titan Fitness Chrome Loadable Dumbbells: These would look phenomenal in any home gym. They're fully chrome and shine like the stars. Unlike the Olympic dumbbell handles I recommend, these come as a full set with plates and collars—but they aren't compatible with Olympic plates.
Titan Fitness Cast Iron Spinlock Dumbbells: I'm not a huge fan of traditional spin-lock style dumbbells since they take a long time to change compared to today's quick-change and loadable dumbbells. But these spinlock dumbbells from Titan are a great value, as you get 200 pounds of weight for about $250.
CAP Barbell Adjustable Dumbbell Set: I don't like the baked enamel coating on the plates that come with this set, but other than that, these are a decent value for anyone building a home gym on budget.
REP Fitness Adjustable Dumbbells: There's nothing special about these spinlock dumbbells. LIke most, the plates are solid cast iron and the handles are straight.
Adjustable Dumbbells
Ironmaster Quick-Lock Adjustable Dumbbell System: I recommend these for people who want heavy weights but also want to retain the feel of a traditional dumbbell. They come standard up to 75 pounds, but with add-ons, they can go up to 165 pounds.
PowerBlock Pro Series Adjustable Dumbbells: This is an upgrade from the PowerBlock Elite Series Adjustable Dumbbells I recommend for most people. You can't be afraid of sticker shock if you want these. They clock in at just under $500, but they do account for 2,565 pounds of free weight.
NÜOBELL Adjustable Dumbbells: If you want super quick-change adjustable dumbbells, look no further than the NÜOBELL adjustable dumbbell from SMRTFT. They only go up to 80 pounds, but that's more than enough for most home gym owners. These are the definition of luxury home gym equipment.
MX Select MX55 Rapid Change Dumbbell System: A great set for beginners, the MX Select MX55s come with a range of five to 55 pounds and they have a super smooth weight change system. These aren't my favorite and I think they're pricier than some other options I like better.
Bowflex SelectTech 552 Adjustable Dumbbells: If you're not sure if you'll like adjustable dumbbells, go with this pair from Bowflex. It's a great value option that costs less than $350 but still allows you to reach more than 50 pounds for each dumbbell.
HAVAK Adjustable Triad: These are a somewhat underground adjustable dumbbell featuring three different handles at different diameters to increase grip strength. I'm a big fan of these, but they're honestly somewhat of their own category..
ATIVAFIT Adjustable Dumbbells: You can find a ton of versions of these same dumbbells online because they're white-labeled by many brands importing from eastern companies. They're cheap dumbbells that won't last and I don't recommend them.
Pepin Adjustable Dumbbells: The Pepin Adjustable Dumbbells are great. The problem is that they can't be dropped and take a long time to change compared to Ironmasters. That said, we do recommend them, especially to those that want a spin-lock style dumbbell with a great handle.
BaadAss Adjustable Dumbbells: BaadAss Adjustable Dumbbells and Pepin Dumbbells are very similar in style. However, I'm not a fan of the finish or the price.
How We Picked and Tested the Best Dumbbells
Our team of certified personal trainers, elite-level athletes, competitive weightlifters, and hard-core gym goers has researched more than 100 dumbbells. We have personally tested roughly 50 types of dumbbells. Using our in-depth fitness equipment testing methodology, we put dozens of dumbbells to work, using them for our own workouts.
We evaluate and rate dumbbells on criteria that include several factors.
Durability
Do dumbbells pass the drop test? When we drop them, do they break? Aside from that, how would they withstand the elements of a garage gym?
Warranty
We like to see brands stand behind their products. So we look at if dumbbells come with at least a one-year warranty against defects. Bonus points to dumbbells that come with a lifetime warranty.
Value
Are the dumbbells competitively priced? For iron cast dumbbells, you typically expect to see around $2 per pound, higher for dumbbells that are rubber hex.
Workout Performance
How do the dumbbells feel as we exercise? Do they get the job done? Can they rest comfortably on our legs between bench sets?
Construction
We assign a rating to dumbbells based on the materials used. For example, we love to see a knurled, steel handle for great grip. We don't love to see a lot of plastic, because that can lead to durability issues.
Optionality
The more options a home gym owner has, the better. We look for dumbbells that offer a range of weights to accommodate beginner and experienced lifters. We especially love to see small jumps of 2.5 to 5 pounds between sets.
Why Your Home Gym Should Have Dumbbells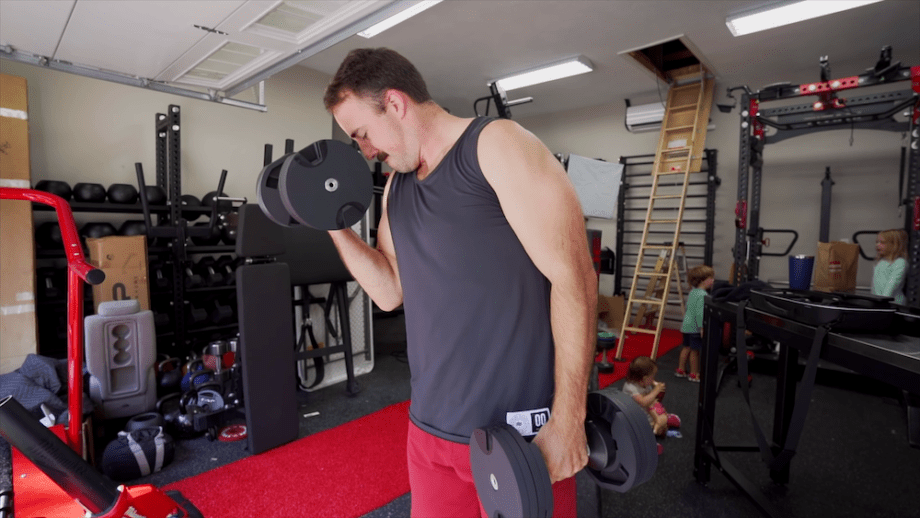 Dumbbells are very versatile strength training tools. With a range of weights, you can use dumbbells to do the big lifts (like squats, deadlifts, and bench press) as well as classic movements like biceps curls. Dumbbells are also great to have around for unilateral (single-side) exercises like split squats, single-leg Romanian deadlifts, single-arm overhead press, and back exercises.
Basically, anything you can do with a barbell, you can do a modified version with a pair of dumbbells. All that to say, they're a foundational tool for making gains.
RELATED: Barbells vs Dumbells
How to Choose the Best Dumbbells for Your Garage Gym
If you're looking for a good dumbbell, there are a few things to consider.
Your Home Gym Setup
First and foremost, how much space do you have to house dumbbells? If you're working with a small home gym, consider getting a set of adjustable dumbbells instead of taking up floor space with a dumbbell rack and fixed dumbbell weights from five to 100 pounds. If you have the space and prefer fixed dumbbells, go for it.
RELATED: Best Dumbbell Exercises
Durability
This ties right in with materials and construction. For the functional fitness type who drops dumbbells, drags them across the floor, and does who knows what else with them, sturdy rubber hex dumbbells are best. They're the most durable and can make the most use compared to uncoated iron dumbbells and adjustable dumbbells.
Adjustable or Standard
For most home gym owners, we'd recommend a set of adjustable dumbbells because they take up less space and end up costing just as much, if not a little less than an entire rack fo standard dumbbells. Standard dumbbells, however, tend to be more durable and have better features like knurling.
Your Training Goals
The type of exercises you do should influence your decision to buy dumbbells. For those who do mainly bodybuilding-style training or just want dumbbells to do accessory work in addition to powerlifting, regular iron dumbbells or adjustable dumbbells can be a good fit. For those who want to do dumbbell versions of the Olympic lifts, however, rubber hex dumbbells are best.
Ease of Use
Does the dumbbell feel natural in your hand? Can you get a good range of motion with it? Make sure you feel comfortable lifting with the dumbbell you pick no matter what movement you're doing.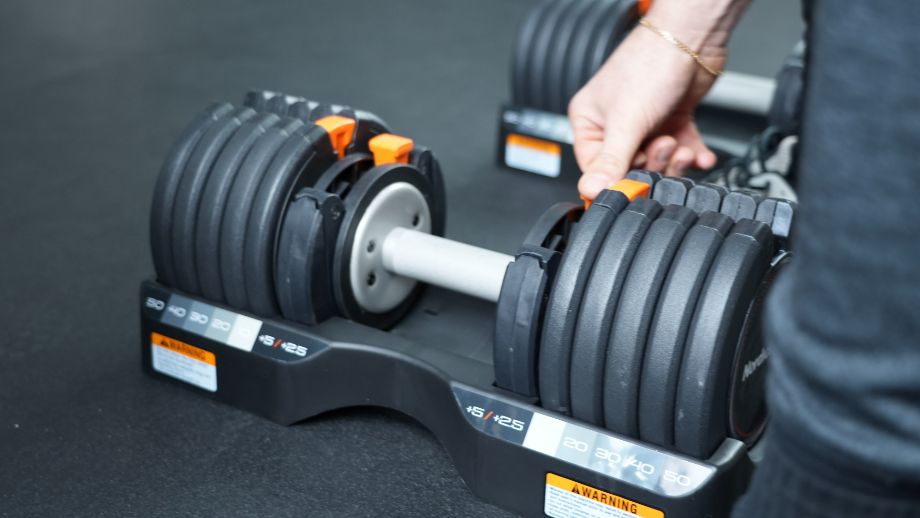 Grip
In addition to the dumbbell head, the dumbbell grip is also an important factor to consider. Some people are surprised to learn that many dumbbells don't have a knurled handle. This can be a problem if you're using very heavy dumbbells or if you're working out in a hot, humid environment. Without knurling, you'll probably need to chalk up at some point.
RELATED: Best CrossFit Grips
Budget
Budget is a huge factor in every home gym buying decision. In fact, it's usually the starting point for most people. Looking at your budget, determine if a single set of adjustable dumbbells will best meet your needs, or if you can splurge on a full set of iron or rubber hex dumbbells in different weight increments. At that point, you can start looking at different brands to see which offers the best combination of quality, shipping, customer service, and price for your preferences.
RELATED: Best Budget Home Gym Equipment
Dumbbell Materials
Not all dumbbells are made the same. Here are the different types of materials that they can be made with, and the pros and cons of each one.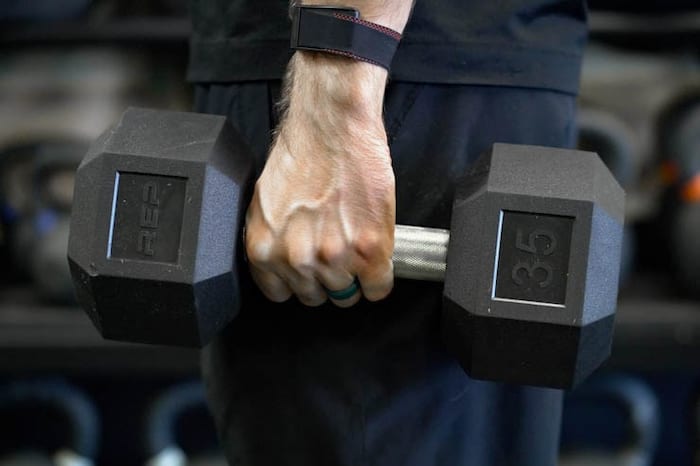 Rubber
Rubber is incredibly durable, and should protect your dumbbells no matter what you put them through. Some, however, come with a strong rubber smell.
Urethane
Urethane is a type of rubber that's odorless, and also much more durable than regular rubber. While it'll protect your dumbbells, it also means an increase in overall price.
Steel
Steel dumbbells typically have no protective coating on them, and unless they're made with stainless steel (which would be incredibly expensive) they won't provide much corrosion or rust resistance.
Cast Iron
These are your typical clang and bang dumbbells, and will probably feel much heavier in the hand compared to other materials.
Plastic
We really wouldn't recommend plastic dumbbells, as they're not very durable and don't feel quite as good in use compared to cast iron or steel.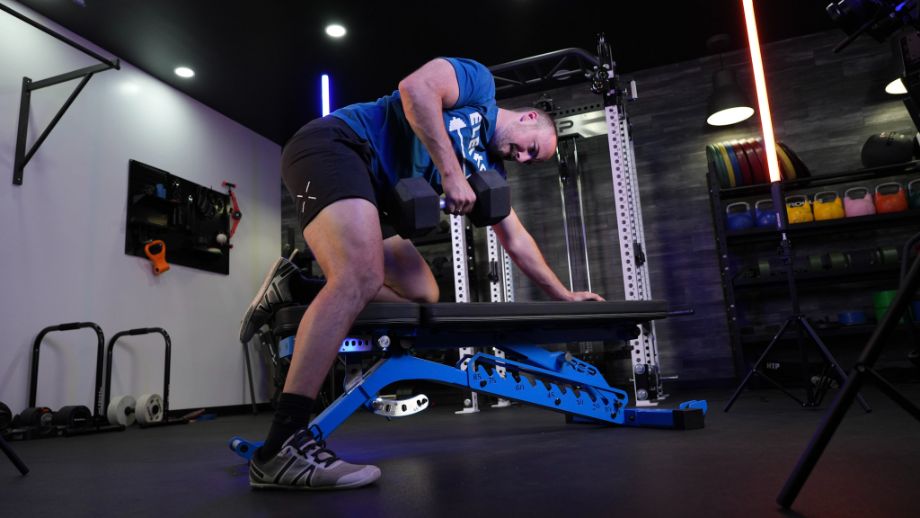 Additional Dumbbell Features
Besides their weight, here are some things to look out for when considering a pair of dumbbells for your home gym.
Knurling
This is the cross-hatch pattern found on dumbbell handles that helps provide grip. There's passive and aggressive knurling, and which one you want on your dumbbell is going to be up to you. Passive is good for people who workout with high volume sets, and aggressive is good for heavy lifts.
Rotating Handles
Unless you're paying top dollar for your dumbbell, this is quite rare. That said, some have rotating handles to help complete the spin on a bicep curl or snatch.
Diameter
This is especially important if you have smaller or bigger hands. You'll want to make sure your hand can fit around the dumbbell handle comfortably, and this will depend on the diameter of the handle.
FAQs About the Best Dumbbells
What are the best dumbbells for home gyms?

For a lot of people, the best dumbbells for a home gym are adjustable dumbbells. These dumbbells offer a lot more bang for your buck even if they seem expensive for a set. You'll wind up paying a lot more for an entire set of standard dumbbells. However, some home gym owners prefer a full set and don't care about the price. The decision ultimately comes down to your budget, space, and preferences.
What are the best dumbbells for CrossFit?

Anyone who does CrossFit or similar functional fitness training should invest in a few pairs of rubber hex dumbbells. These will best withstand the high-impact use that happens during CrossFit WODs, such as dropping the dumbbell after a set of dumbbell snatches.
At the very least, female athletes should get a pair of 35-pound rubber hex dumbbells and male athletes should get a pair of 50-pound dumbbells. These are the typically prescribed weights for dumbbells in CrossFit workouts.
Should I get dumbbells or a barbell for my home gym?

If you can get both, get both. Dumbbells and barbells both have their place in a well-rounded home gym setup. While a barbell and weight plates are better suited to heavy deadlifts, squats, bench presses, snatches, and cleans, dumbbells tend to be better for accessory work and unilateral (single-arm or single-leg) work.
If you can only choose one, I'd go with a barbell and plates if you like to lift heavier weights and dumbbells if you prefer high-volume training. Truthfully, though, both are a good form of weight training and either will help you build muscle.
Are dumbbells or kettlebells better?

Just like a barbell isn't necessarily better than a dumbbell, neither is a kettlebell vs dumbbell. Kettlebells and dumbbells actually have a lot of similar uses, with the primary difference being grip position and weight distribution. Both are valuable tools for home workouts.
RELATED: Best Kettlebells

What exercises can you do with dumbbells?

The possibilities are pretty much endless. With a pair of dumbbells, you can do dumbbell rows, snatches, clean and jerks, squats, lunges, biceps curls, triceps extensions, and more. Dumbbells are also great for incorporating in cardio workouts as a form of conditioning.
What type of dumbbell is the most durable?

Rubber hex dumbbells are the most durable type of dumbbell. The rubber coating allows them to resist damage even when dropped from overhead; it also wards off the scuffing of the metal underneath, so the dumbbells resist rusting. Neoprene coatings are known to peel and flake; powder and paint coats will also peel over time, and bare metal rusts super easily.