We test and review fitness products based on an independent, multi-point methodology. If you use our links to purchase something, we may earn a commission. Read our disclosures.
Titan Fitness has been successful in creating quality products with good value. From their Titan Open Trap Bar to their squat racks, they provide great equipment at a low price point, making them one of our favorite brands for the best budget home gym equipment.
RELATED: Titan Squat Rack Reviews
How do their Olympic dumbbell handles fare? Well, I don't want to immediately spoil it, but if you're looking for one of the best adjustable dumbbells on the market within budget, the Titan Olympic dumbbell handles might present some of the best value available, especially if you already have your home gym up and running.
We had a chance to test out these dumbbell handles and give our honest opinion. In our Titan Loadable Olympic Dumbbell Handles review, we'll go into the build and durability of these dumbbells, as well as how these dumbbells should perform during workouts over a couple of years time. Read on to see if these dumbbells are for you.
On A Mission to Test Every Adjustable Dumbbell
In our endeavor to test out all the products we talk about, we at Garage Gym Reviews have had our hands on just about every adjustable dumbbell on the market over the past decade. If we haven't tried one yet, it's most likely on our to-do list.
Not only does our team have years of experience testing fitness equipment, we're a team of product testers consisting of certified personal trainers, coaches, and athletes with expertise in the fitness industry. We know what to look for when testing equipment, and you can trust our opinions on the best home gym equipment available.
GGR head of content and certified personal trainer (CPT, USAW-L1, CF-L1) Kate Meier has had the Titan Olympic dumbbell handles for about two years, and uses them herself regularly, as well as with personal training clients and weightlifting team members. She's used them plenty enough to give her opinion on their construction, durability, and overall value.
Titan Loadable Dumbbells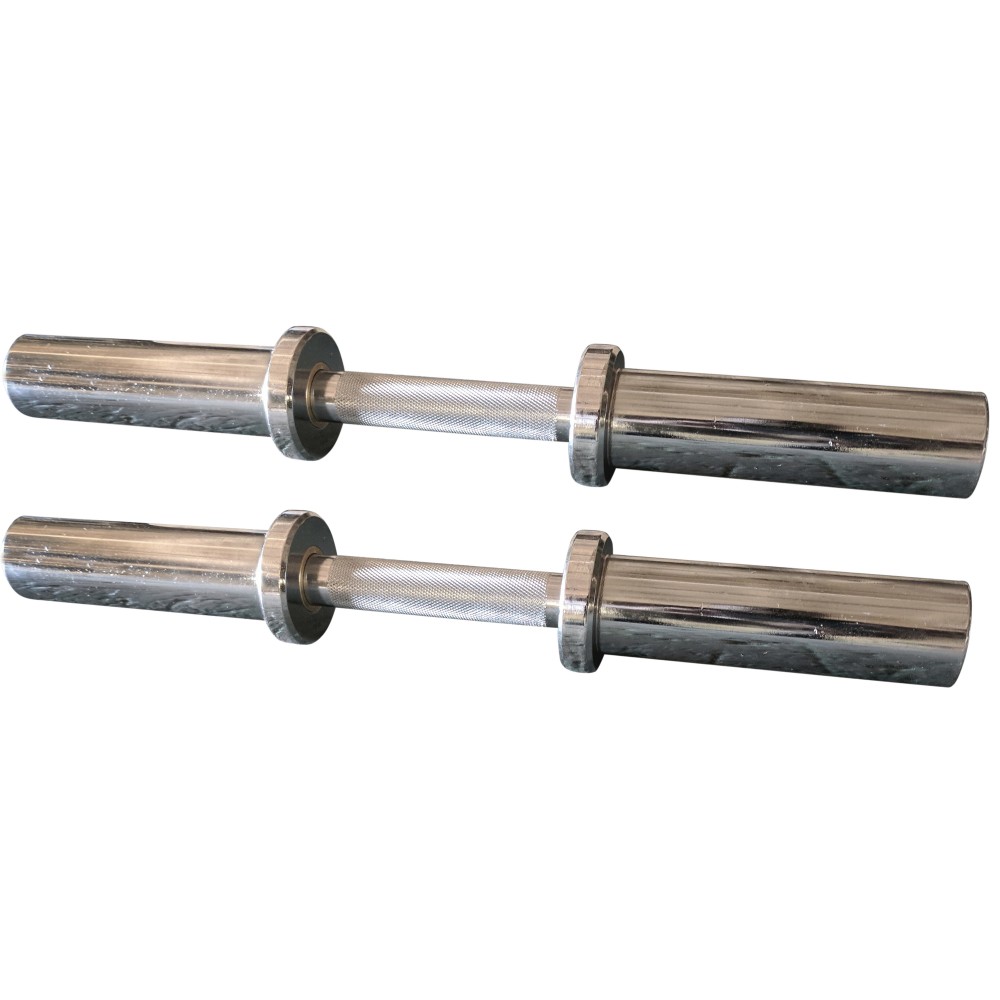 GGR Score: 4.3
Community Score: 4.3
Product Highlights
High-quality steel material

Knurling for better grip

Target multiple muscle groups

Compatible with Olympic plates

Sold as a pair

15- and 20-in options
Pros & Cons
Pros
Excellent universal workout tool
Compact design makes easily portable for a great addition to any at home gym
Quality material
Durable
Knurled grip gives better resistance to slipping after sweating
Great alternative to preset weighted dumbbells they allow maximum strength training achievement and room for growth
Cons
Not everyone likes a hard knurled grip
If you do not have Olympic-style plates already, this option could be pricey
Heavy lifters may want/need more loadable sleeve length
Bottom Line
The Titan Loadable Olympic Dumbbell Handles are a great addition to any at home gym as a universal tool to target many muscle groups. They are built to last, and their added knurled grip is great for pushing through the end of a workout preventing any slipping. Would not recommend it for a beginner. These dumbbells are built for compound weight and are best for someone with more experience in strength training that may already have Olympic style weights on hand.
A Quick Look at the Titan Loadable Olympic Dumbbell Handles
Most people with a home gym setup are probably familiar with Titan Fitness. This company began in 2007 with the goal of providing quality equipment at affordable, budget-friendly prices. Early on, there were missteps in consistency, but in recent years, Titan has changed up their quality control to provide a high-value product—check out our Titan T-3 Power Rack review for an example.
The Titan Olympic dumbbell handles are nothing fancy, but they don't need to be. Made out of steel material and with a chrome finish, the dumbbells have sleeves that are the same diameter as the best Olympic barbells, meaning any Olympic plates and collars you have in your home gym can be used.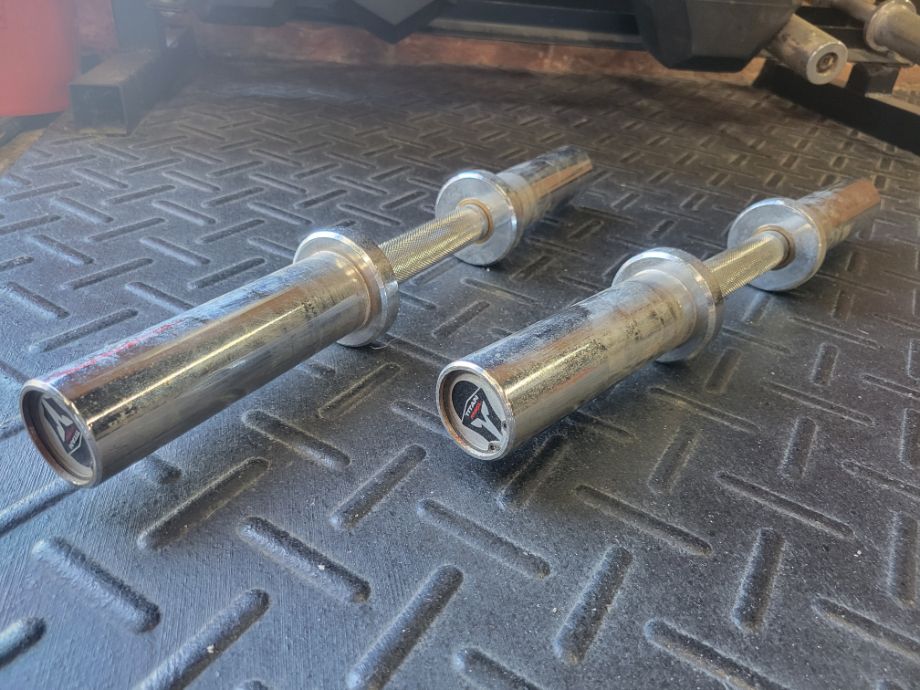 How heavy you go depends on the size of your weight plates and how strong you are, as the dumbbells are rated to hold 400 pounds of weight. They come in three different overall lengths, which affect its starting weight and loadable sleeve length:
15 inches
20 inches
36 inches (sold in singles, not a pair)
The longer the dumbbell, the more loadable sleeve length you have to work with.
RELATED: Best Weight Plates
Before You Buy
The 36-inch dumbbell handle is long. It'll obviously hold more weight than the 15- or 20-inch handles, but keep in mind that you'll more than likely have to rotate your grip to adequately perform the bench press without the dumbbells clanking into each other. Also, the 36-inch dumbbells are sold in singles, not as a pair.
I'm not trying to retell the story of Goldilocks and the three bears, but in our experience, the 20-inch handles are just right for most people. Kate Meier, CPT, USAW-L1, CF-L1 says, "I have the 15-inch pair, but I wish I had gotten the 20-inch because I don't have many thin change plates." The 20-inch dumbbells have a good balance with loading weights and still being a manageable size while in use.
Are the Titan Loadable Olympic Dumbbell Handles Worth It?
At just under $100 dollars for the 20-inch dumbbell handles, the Titan loadable dumbbells provide great value, which Kate rated a 5 out of 5. Not only are they a budget-friendly alternative to those interested in adjustable dumbbells, but when compared to other loadable dumbbells—like Rogue's DB-15—they come out around $50 cheaper, plus free shipping.
Kate says, "I bought these for my home gym two years ago because I thought they were the best option, and I still believe that two years later, with the exception being that I would have gotten the 20-in pair instead." With the 15-inch pair only being $5 cheaper than the 20-inch variation, I think the 20-inch handle is probably the way to go, too.
They won't be for everyone, though; if you're looking for a pair of adjustable dumbbells that can change weights on the fly, you'd probably do better with the Snode adjustable dumbbells instead…although that'll also increase your cost by about eightfold, too.
Also, as with most adjustable dumbbells, these are long, so a set of fixed hex dumbbells might feel more comfortable during certain movements.
RELATED: Hex, Round, Square: Does Dumbbell Shape Actually Matter?
Great for:
Home gym users with plenty of Olympic weight plates but no dumbbells
People looking for an affordable set of adjustable dumbbells that'll go heavy
Fitness lovers that like a good knurled handle
Not recommended for:
People looking for adjustable dumbbells that change weights quickly
Home gym users who only have 1-inch standard weight plates
Anyone who prefers shorter dumbbells
Titan Fitness Loadable Olympic Dumbbell Handles Specs
| | |
| --- | --- |
| Length Options | 15", 20", and 36" |
| Price | $94.99 (15"), $99.99 (20"), $74.99 (36", sold individually) |
| Weight of each dumbbell | 8 lbs (15"), 12 lbs (20"), 24 lbs (36") |
| Weight capacity | 400 lbs |
| Coating | Chrome |
| Loadable sleeve length | 3.5" (15"), 6.5" (20"), 13.5" (36") |
| Rotation system | Bushing |
| Material | Steel |
| Warranty | 1-year |
Using the Titan Loadable Olympic Dumbbell Handles
In our opinion, adjustable dumbbells are a necessity in a home gym, and can provide amazing versatility to your strength training. The Titan Olympic dumbbell handles are no different, and perform well in most full-body workouts. Kate Meier, CPT, USAW-L1, CF-L1, and GGR Head of Content, gives the dumbbells a 4 out of 5 for their feel in use, saying, "Generally, these get the job done. Just slap plates on and go."
RELATED: 30-Minute Full-Body Workout at Home with Dumbbells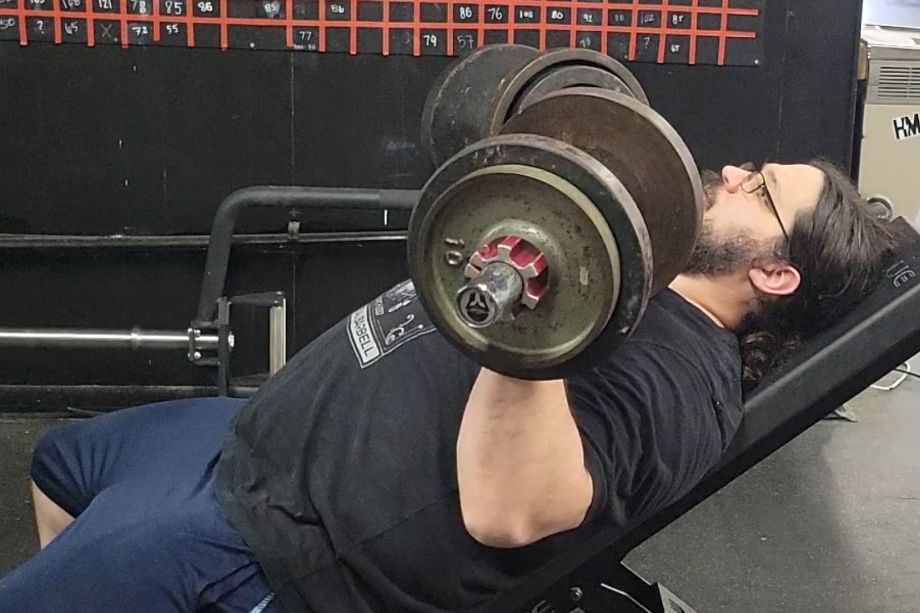 These handle like most other dumbbells, although the length and plate size can be somewhat cumbersome in some movements. "With loadable dumbbells, you're victim to the plates you have, both in increments and thickness," Kate says. "Sometimes, it's a little uncomfortable to use loadable dumbbells for things like shoulder presses because the plates never hit you right. But for exercises like rows and flyes and snatches, these are great."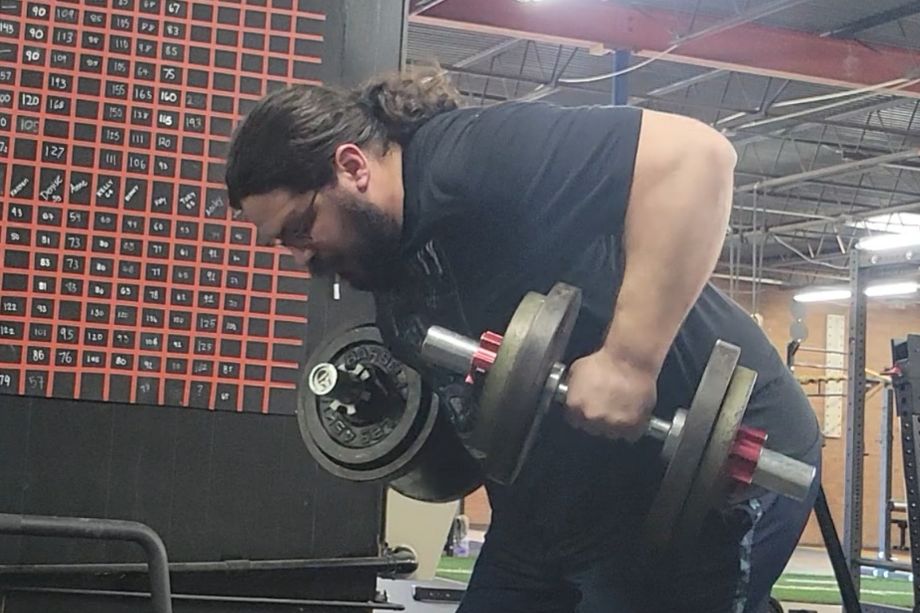 A lot of the feel of these dumbbells will depend on the Olympic plates that you have available. Larger bumper plates will feel awkward and limit your range of motion, and thicker plates will limit the amount of weights you can load. The longer length of these dumbbells might require you to rotate the wrists to keep the dumbbells from clanking together on presses. Overall, they perform great for a variety of movements and exercises.
Construction and Durability
The loadable sleeve length varies on the size of the dumbbell, with the 15-inch dumbbells having 3.5 inches of sleeve length and the 20-inch handle having 6.5 inches. The sleeves use bushing to have spin, which won't provide the most spin on these dumbbells, but you'll rarely want or need spin on dumbbell exercises.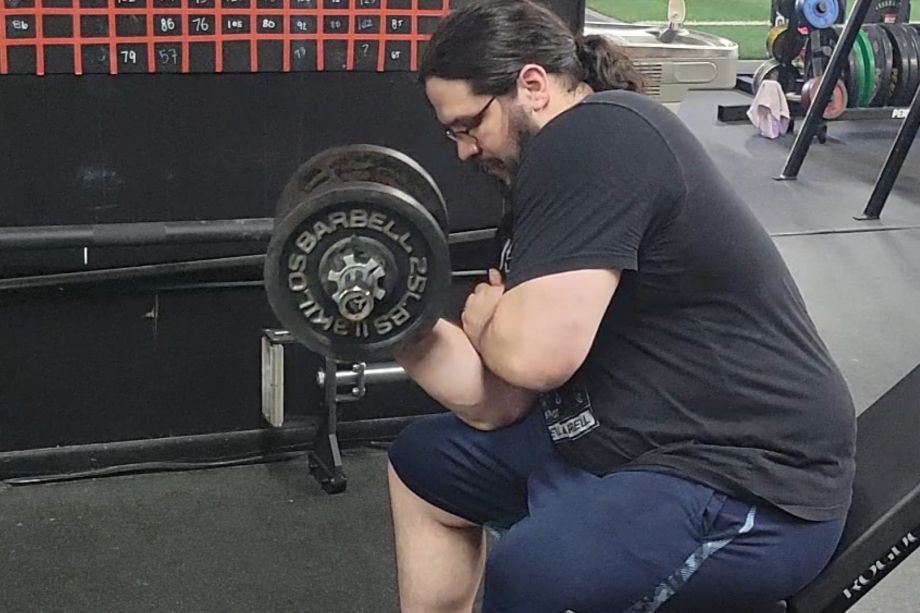 The set of dumbbells is constructed of steel and rated for up to 400 pounds on each handle, though, with most weight plates, you'll rarely be able to get that heavy. Coated with chrome, Kate gives the durability of the dumbbells a 4.5 out of 5, and they've lasted over the last few years she's used them.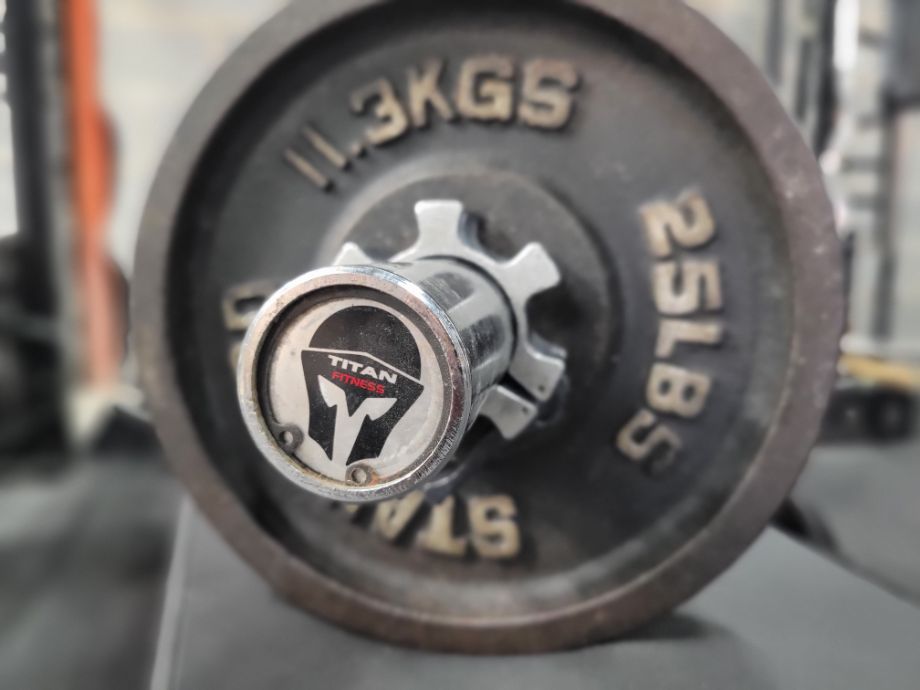 Kate also mentions that the steel dumbbells are supposed to be rust-resistant, but in her experience, that may not be entirely true over time. "Well, mine do have a little rust or corrosion on them. They have been in my non-climate-controlled garage gym in the hot and humid South for a few years, so I think some of that is unavoidable." She adds, "They have actually weathered better than some of my rubber hex dumbbells, though!"
Optionality and Weight Sizing
The dumbbells are available in 15-, 20-, and 36-inch long handles, which allows lifters to choose a dumbbell length that will suit their needs for workouts. Each length has a higher weight load (depending on the size of your cast iron or bumper plates), as well as a higher starting weight. One thing to consider, though, is that you'll need collars to secure weight plates, which aren't included with these dumbbells and will take up precious sleeve length.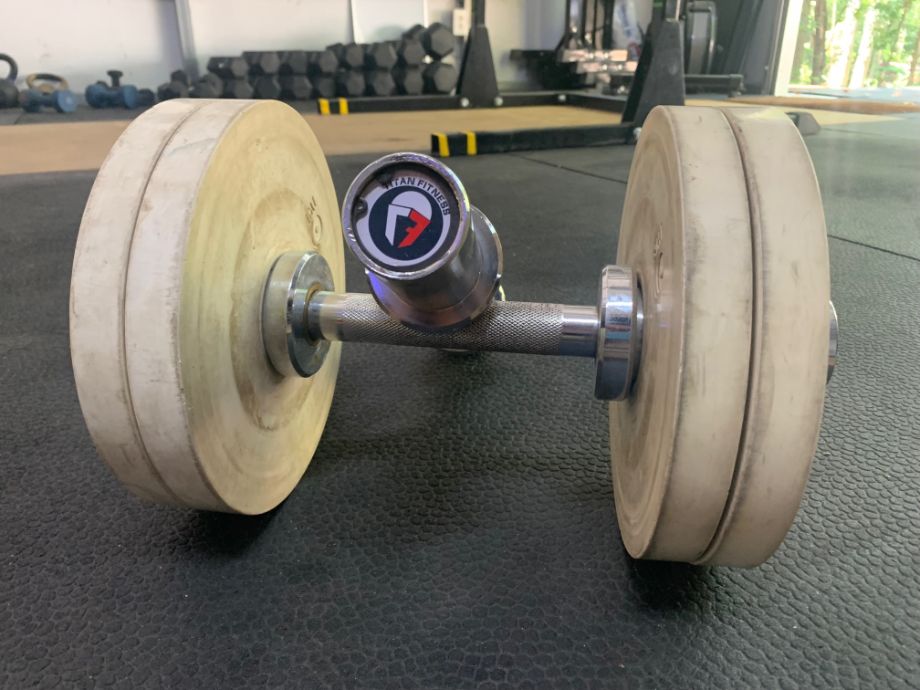 For the dumbbell weights and sizing, Kate rates the dumbbell handles a 4.5 out of 5, as you are only limited to the weight plates you have available in your home gym. The sleeve diameter accepts 2-inch Olympic plates, however, which means if you only have standard weight plates (a 1-inch diameter), you're out of luck with these dumbbells.
Handle
The handle is knurled with a diamond pattern which makes them grippy, but not too grippy because of the chrome coating. This will probably be a good balance between a good grip and a passive grip for those who don't like knurling on their handle.
RELATED: What is Barbell Knurling?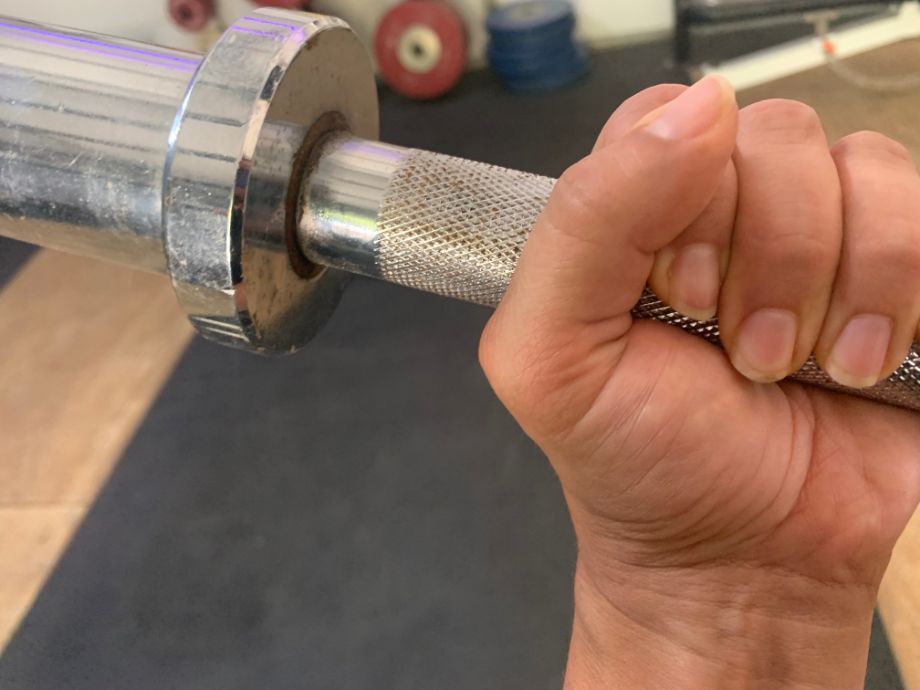 Kate shared the same sentiment, giving the handle a 4 out of 5 and remarking, "The handles are easy to grip but won't eat your hands. They're definitely not the grippiest dumbbells I've ever used, but good enough to get the job done."
Comparison to Rogue Loadable Dumbbells and Kensui AdjustaBELLs
Rogue Loadable Dumbbells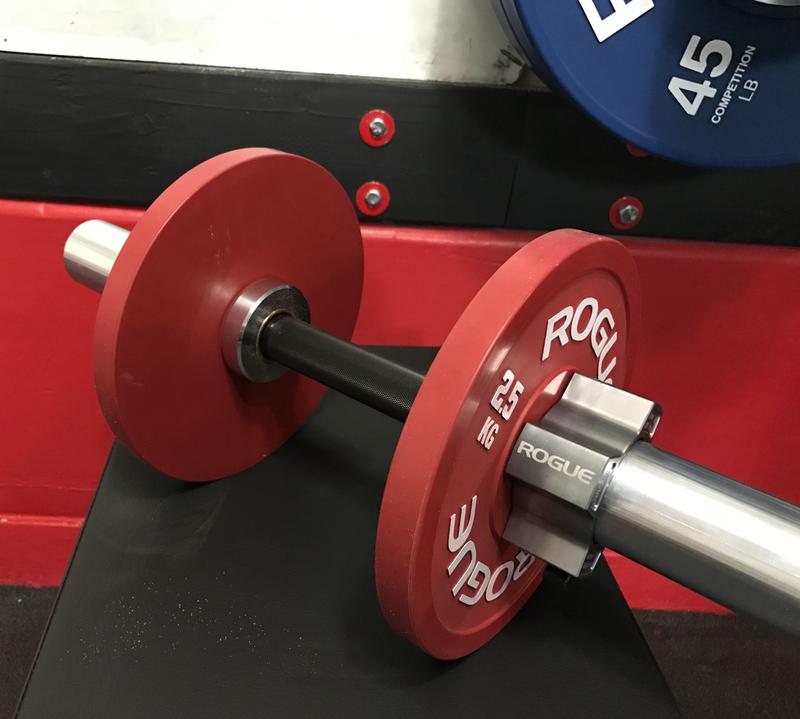 GGR Score: 4.1
Community Score: 4.4
Product Highlights
Additional Olympic change plates necessary
Long loadable sleeve length
Solid construction
Made in USA
Pros & Cons
Pros
Use your existing weight plates
Long, 6.75-in loadable sleeve
Same quality as Rogue Ohio Bar
Cons
$270 for a pair
Weights not included in price
Can buy in a package with weighted collars
Bottom Line
These handles are a great option for people who have change plates already.
Kensui AdjustaBELLS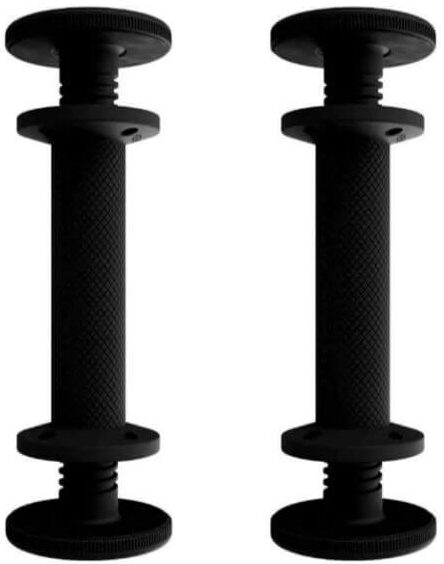 GGR Score: 4.25
Community Score: 3
Product Highlights
Loadable dumbbell 

Compatible with 1" and 2" plates 

Slip-resistant rubber guard 

No overhang
Pros & Cons
Pros
Money-back guarantee
No overhang when you add weights
Can use both 1" and 2" plates together
Lifetime warranty
Cons
Made of nylon
Customers complained using 2" plates could be tricky without adapter
Only available via company website
Bottom Line
The AdjustaBELL is a compact, affordable loadable dumbbell with a unique design that doesn't have any overhang.
When compared to similar dumbbell handles, you can really begin to see the value behind the Titan Fitness Olympic dumbbell handles. For one, Rogue has loadable dumbbell handles as well—the DB-10 and DB-15, differentiated by the handle weight—and the cost is a bit more. These dumbbells are made in the USA, and their price reflects that, at $150 for the Rogue DB-15 Loadable Dumbbells. Titan's 20-inch handle is $50 less and also has free shipping, saving you even more money.
Another pair of budget-friendly dumbbell handles are the Kensui AdjustaBELLs, which start at about $40. These dumbbells are made of a heavy-duty nylon and also use a spin lock to secure weights, giving the dumbbells a flat head with plates loaded, providing a nice feel when the weights are resting on your legs between sets. The weight limit is not as high on these, but for most, it should support more than enough weight.
The AdjustaBELLs have a short loadable sleeve, though, which to add on to, you'll need to purchase extra long spin locks…plus adapters for Olympic plates. Those add-ons really start to add up, too, to where the Titan dumbbells might be a viable option for the Kensui dumbbells, too.
| | | | |
| --- | --- | --- | --- |
| | Titan Olympic Dumbbell Handles | Rogue Loadable Dumbbells | Kensui AdjustaBELLS |
| Length | 15", 20", or 36" | 14.25", 20.5" | Varies with weights |
| Price | $94.99 (15"), $99.99 (20"), $74.99 (36", sold individually) | $135 (DB-10) an $150 (DB-15) | $39.95 |
| Weight of each dumbbell | 8 lbs (15"), 12 lbs (20"), 24 lbs (36") | 10 lbs or 15 lbs (with collars) | 2 lbs |
| Weight capacity | 400 lbs | Not disclosed | 140 lbs |
| Shaft diameter | 28 mm | 28.5 mm | 34 mm |
| Coating | Chrome | Black Zinc or stainless steel shaft, bright zinc sleeves | N/A |
| Loadable sleeve length | 3.5" (15"), 6.5" (20"), 13.5" (36") | 3.625" (DB-10), 6.75" (DB-15) | 2.75" |
| Rotation system | Bushing | Bushing | N/A |
| Material | Steel | Steel | Nylon |
| Warranty | 1-year | Lifetime | Lifetime |
Customer Experience
Kate gives the customer service experience a 4 out of 5, saying, "Titan's customer service is always hit or miss; I've had some good experiences and some less-than-stellar experiences." Titan can be contacted through their website by phone, email, or a live chat. You can also submit an inquiry through a contact form. Titan claims emails are read and responded to in one day, although it can take up to three.
Titan only offers a 1-year warranty on their dumbbell handles—as well as most everything on their website. While 1 year can make sense for some items, it seems a bit short for dumbbells. By comparison, the Rogue Fitness loadable dumbbells are covered by a lifetime warranty. Kate shared the same sentiment, giving the warranty and policies a 3 out of 5.
Titan Fitness offers 30-day returns on any items that are unused and in the original condition and packaging. Be careful, though, as you're responsible for shipping costs—plus a 20% restocking fee that'll be deducted from your refund.
Ordering the Titan Loadable Olympic Dumbbell Handles
Kate had ease ordering and receiving these dumbbells from Titan, giving them a 5 out of 5. "They arrived in great shape," she says, adding, "I've had issues with some Titan products before, but only things I need to assemble (like a weight plate tree I got whose pieces didn't line up correctly and therefore was unusable completely). That's not the case with these handles or items like the Titan urethane plates I have."
Titan does offer financing options on orders through Bread Pay.
Customer Reviews
As of this writing, the 20-inch pair of dumbbell handles from Titan has 18 reviews on its page, averaging a fairly impressive rating of 4.8 stars out of 5. The lowest rating was 3 stars, saying that loading weights onto the handles is awkward—an issue you might get from any dumbbell handle, really. Most reviews reported a quality pair of dumbbells constructed well, and they also remarked on how well the dumbbell handles were packaged and shipped.
Final Verdict of Our Titan Loadable Olympic Dumbbell Handles Review
If you're open to getting a set of dumbbells for your home gym but aren't looking to spend too much on it, the Titan Loadable Olympic Dumbbell Handles are a great choice with high value, especially if you already have Olympic weight plates.
At $100 for the 20-inch dumbbells, they'll save you money compared to other budget-friendly adjustable dumbbell options like Bowflex or NordicTrack dumbbells. Granted, the longer length of these handles can make lifting awkward with some movements. But in our experience, these dumbbell handles will last for years, making them easily worth the price.
RELATED: NordicTrack Dumbbell Review
Titan Loadable Olympic Dumbbell Handles Rating
Titan Loadable Olympic Dumbbells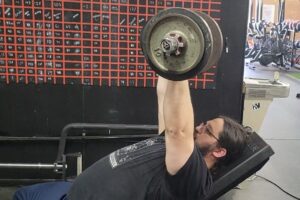 If you've already got Olympic weight plates, check out our Titan Loadable Olympic Dumbbell Handles review, to see if these handles could work in your home gym.
Product Brand: Titan Fitness
Product Currency: USD
Product Price: 99.99
Product In-Stock: InStock
Titan Loadable Olympic Dumbbell Handles FAQs
Are Olympic dumbbell handles good?
Olympic dumbbell handles can be a great addition to any garage gym, as the dumbbell sleeves allow for Olympic weight plates to be loaded onto the handle. For this reason, dumbbell handles are affordable and flexible in the amount of weight they can hold: you're basically limited to the weights you have at your gym already. The dumbbell handles can be longer than traditional dumbbells though, and may feel a little awkward during a bench press or other exercises.
How much do Titan loadable dumbbells weigh?
The 15-inch loadable dumbbells from Titan weigh 8 pounds each, while the 20-inch dumbbells are 12 pounds each. The largest dumbbell handle, 36 inches, is sold individually and weighs 24 pounds.
Are loadable dumbbells good?
Loadable dumbbells are inexpensive, and save space in a home gym by eliminating the room needed for an entire set of fixed dumbbells. Most can be loaded with weight plates you have around your gym, also making them convenient. Your experience with loadable dumbbells may be altered by the weights you have, though, as thicker plates will limit the amount of weight you can add, and larger plates can limit your range of motion.
How much do the Titan Olympic dumbbell handles cost?
The Titan Olympic dumbbell handles are about $95 for a pair of the 15-inch handles or $100 for the 20-inch pair. The 36-inch pair is $75, but it's sold as a single dumbbell. To get a pair of those would cost about $150. Titan also offers free shipping on all items, meaning there won't be any extra charges to these dumbbells.