We test and review fitness products based on an independent, multi-point methodology. If you use our links to purchase something, we may earn a commission. Read our disclosures.
I'm a fan of adjustable dumbbells; they're a vital asset to most home gyms. The best adjustable dumbbells can save space by replacing multiple sets of fixed dumbbells, leaving room for other gym equipment.
I also thoroughly enjoy dropping and dumping dumbbells after a heavy set of bench presses, but you can't—or shouldn't—drop adjustable dumbbells if it can be avoided. Adjustable dumbbells can be fragile, due to all the internal workings and gears used to adjust the weights.
Snode might have fixed this problem with their latest adjustable dumbbells: the AD80, an adjustable dumbbell that has a two-year warranty that includes drops, up to 32 inches. This is a first for these types of dumbbells, but how durable are they really? In our Snode adjustable dumbbell review, we'll go over their durability and how they compare to other adjustable dumbbells on the market.
We Got the Drop on Adjustable Dumbbells
Our testers have gotten a lot of experience with adjustable dumbbells over the years at Garage Gym Reviews, testing and reviewing each and every one we can get our hands on. For the Snode AD80 adjustable dumbbells, GGR Founder Coop was able to test them out, noting aspects of their construction and feel. He even did some drop tests to see how durable they were.
With our team of certified personal trainers, CrossFit-L1 Trainers, lifting coaches, and competitive athletes, we base our reviews on our experience and knowledge in the fitness industry to give you the best information possible for your next purchase for your garage gym.
Snode AD80 Adjustable Dumbbells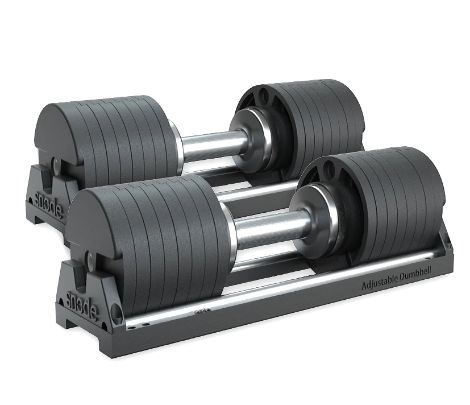 GGR Score: 4.2
Product Highlights
Weight ranges from 10 to 80 lbs

10-lb weight increments

36mm handle diameter

Cast iron dumbbell cradle

Feels like a pro-style dumbbell
Pros & Cons
Pros
Cast iron cradles
Drop-proof design from up to 32"
Solid cast iron dumbbell plates with dovetail design
Flat dumbbell heads
Knurled handle
Cons
Expensive
Longer dumbbell
Only jumps in 10-lb increments
Bottom Line
The Snode AD80 Adjustable Dumbbells are a durable pair of adjustable dumbbells that cover a broad range of dumbbell weights. If only having 10-pound increments is alright with you, these are a solid choice of dumbbell, strong enough to withstand drops from up to 32 inches.
A Quick Look at the Snode Adjustable Dumbbell
According to the company website, Snode Sport focuses on their slogan "Health Driving Force." While Coop called out their motto a little bit in his video review of the AD80s ("…but, for real, like, why?") Snode says that they focus on providing high-quality, innovative products to customers with the end goal of helping people become healthier and better. They use a "less is more" approach on their equipment, and the AD80s are no exception.
The Snode adjustable dumbbells are made with quality in mind. The cast iron plates lock in together with a dovetail groove pattern. The metal handle has a decent, albeit passive, knurling on the handle. Along with this, the design is built to be durable and withstand drops.
There is only one adjustment dial on one side of the handles, and rotating it adjusts the weights on both sides. This can make for quick adjustments, although not as quick as the NÜOBELL, which just needs a quick crank on the handle to make adjustments.
Before You Buy
Seriously, don't be afraid to drop them. You get a two-year warranty on these dumbbells, which includes drops up to 32 inches.
The dumbbells range from 10 to 80 pounds, which is a great range, but the dumbbells can only make 10-pound jumps. Snode is planning on offering magnetic plate adders to make smaller jumps, but says on its website that it won't happen anytime soon. You can use PlateMates in the meantime, though.
Even the weight trays, like the dumbbell plates, are made of cast iron. The plastic trays on other adjustable dumbbells work fine, but these trays will withstand 80 pounds easily. It's a nice touch that will spoil you.
There are two smaller weight versions of the adjustable dumbbell set, the Snode AD50s and AD28s, which have maximum weights of 50 pounds and 28 pounds, respectively. If you aren't looking for a broad range in your dumbbell weight set, these options may work for you.
Video Review
Is the Snode Adjustable Dumbbell Worth It?
The Snode AD80s are very nice. In Coop's testing of the cast iron adjustable dumbbells, he remarked that "I'm more impressed with these than I thought I'd be." The dumbbell handle is nice and thick to work on grip strength, and the plates are extremely innovative by working their dovetail design into their cast iron molds. The flat heads and knurled handle give the feel of a traditional dumbbell as well.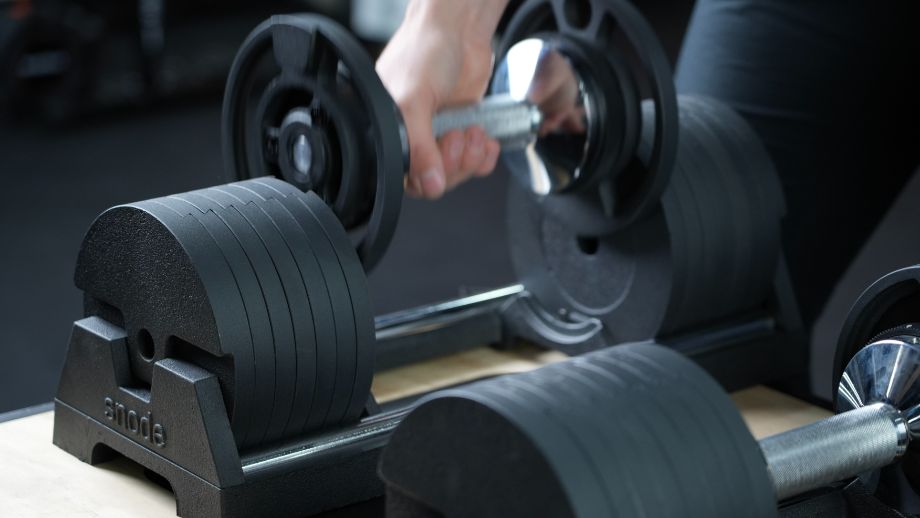 As of this writing, the dumbbells are currently priced at $994, although they are marked down by 20%, making them $795. This discounted price makes them just $50 more than the NÜOBELL adjustable dumbbells, a reasonable price for this weight range that Coop suggests may be their actual price down the road.
The main drawback on these dumbbells is that they only jump in 10-pound increments, which may be too big of a jump for some users. If you want the smaller increments, these aren't the dumbbells for you, unless you are okay with using magnetic weight plates to make smaller weight adjustments.
Great for:
People wanting to drop their adjustable dumbbells without worrying about damage
Those looking for heavier adjustable dumbbells
Anyone looking for a space-saving adjustable dumbbell that still has the feel of a pro-style fixed dumbbell
Not recommended for:
People needing smaller weight increments than 10 pounds
Someone who isn't looking for adjustable weights that go as heavy as 80 pounds
Those looking for a budget-friendly set of dumbbells
Snode Adjustable Dumbbell Specs
| | |
| --- | --- |
| Dumbbell dimensions | 18.11" L x 6.68" W x 6.68" H |
| Weight range | 10-80 lbs |
| Weight increments | 10-lb increments |
| Handle length | 4.53" |
| Handle diameter | 36 mm |
| Material | Cast iron, aluminum, plastic |
| Warranty | 2 year, includes drops |
Using the Snode Adjustable Dumbbell
Using the dumbbells feels just like a pro-style dumbbell. The flat head makes it convenient to rest the dumbbell on your legs before a set of incline presses. Along with that, the thick handle—thicker than the best Olympic barbells—feels good and will help develop your grip strength. The knurling is a little passive, which Coop wasn't a huge fan of, but the knurling should be good enough for most people.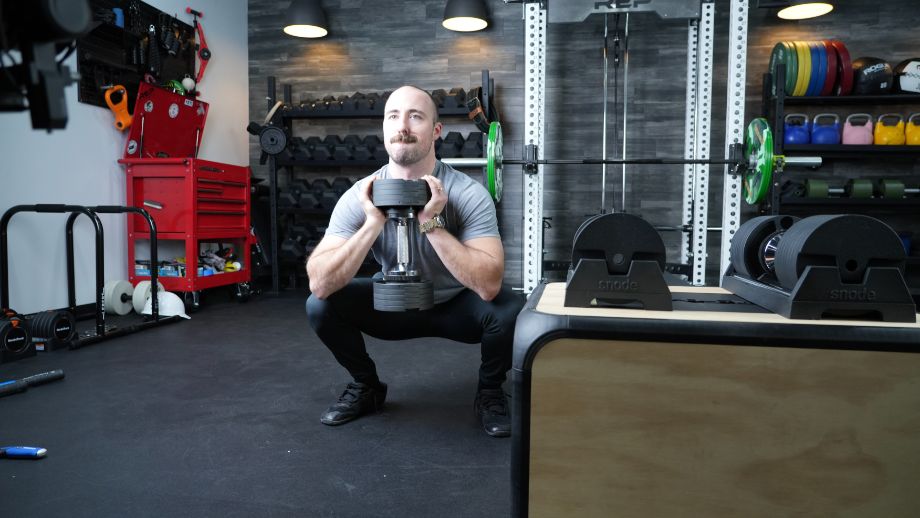 Adjusting the weights is pretty simple and one of the faster ways we've seen from adjustable dumbbells. The adjustment knob is on the side of the dumbbell handle, and a quick turn of the knob pushes aluminum rods out of both sides of the handle to select your weight plates. The knob has a number displayed as well, so you won't lose track of what weight is on the dumbbell.
It's not as quick as the NÜOBELLs, but one knob certainly makes adjustments quick and easy.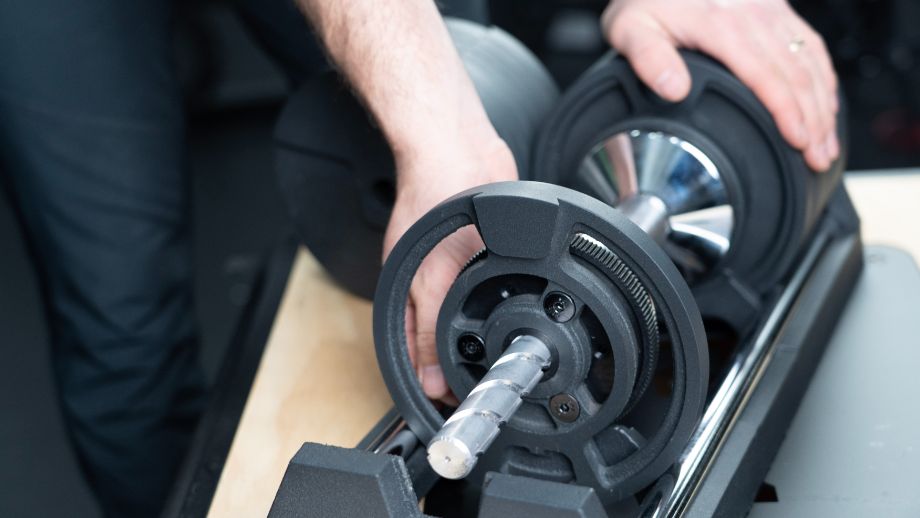 Durability
While durable isn't the Snode AD80s' middle name, it should have been. In our testing of the adjustable dumbbells, Coop tested out the AD80's drop-proof design by rolling the weights off a 30-inch plyo box. He dropped the dumbbells at the maximum weight for the most impact, and also tried with the minimum of 10 pounds, as that had the least protection for the inner workings of the dumbbell. The dumbbell worked perfectly after both tests.
It's confirmed: You can drop them. Snode's durable design is definitely one-of-a-kind in the adjustable dumbbells market.
Construction
Most everything on these adjustable dumbbells screams heavy-duty. The cradles for the AD80s are cast iron, meaning they are heavy duty and can take a little bit of abuse if you place the dumbbells on the cradles a little haphazardly. The plates are also cast iron, and molded into a single piece for a strong, durable weight plate. The metal handle is solid and knurled, too.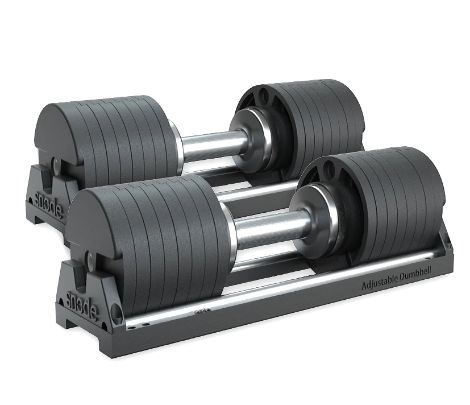 I say "most" everything because of the adjustment system. Instead of metal like the rest of the dumbbell, the inner gears and workings of the Snode adjustable dumbbells are constructed of plastic. Don't get me wrong: the plastic is durable just like the rest of the dumbbell. It's mostly just an annoyance that the same quality material is not used throughout the piece.
Comparison to NÜOBELL Adjustable Dumbbells
NÜOBELL Adjustable Dumbbells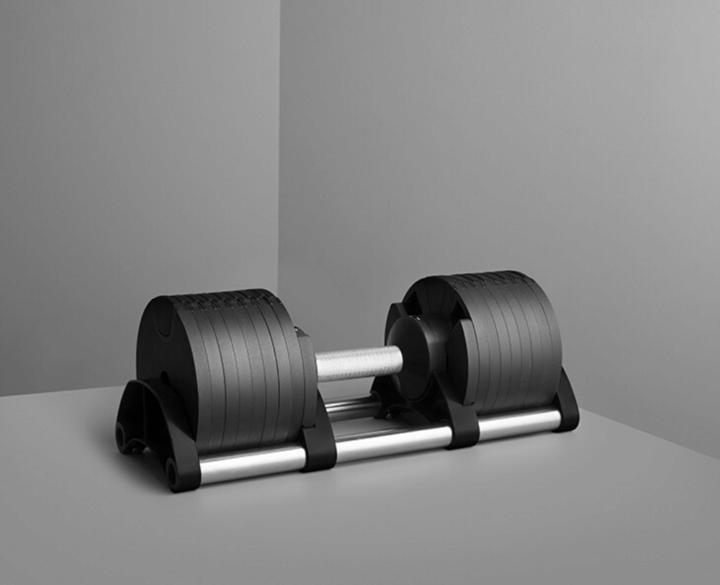 GGR Score: 4.5
Product Highlights
All-in-one adjustable dumbbell
Weight ranges from 5 to 80 lbs
Easy to use
Feels like a standard dumbbell
Pros & Cons
Pros
Feels like a regular dumbbell in hand
Easy quick-change adjustments
Knurled handle
Comes with a stand
Cons
Can be tricky to get in the stand
Unsure of structural integrity
Pricey
Bottom Line
These are great for people who want an easily adjustable dumbbell pair that feels more like a traditional fixed dumbbell
The direct competition for the Snode AD80 isn't going to be the NordicTrack adjustable dumbbells or the popular Bowflex SelectTech 552s, as those are more budget-friendly options. So for our comparison, we'll look at the NÜOBELL Adjustable Dumbbells, both similar in look, build, and price.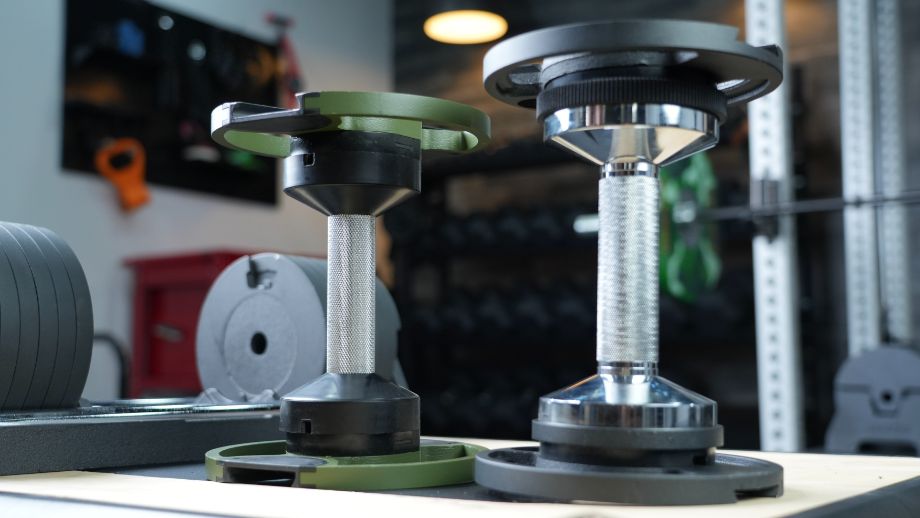 One thing that Snode does better than NÜOBELL is the design of their dovetail grooves. Whereas NÜOBELL uses plastic inserts to create their dovetails, Snode added the design to their cast iron mold, making each plate solid and much more durable.
The knurling on the NÜOBELLs is better than the Snode, although the thicker handle on the AD80s will be a little better if you are looking to build your grip strength through weight lifting with these dumbbells. Both are thicker than an Olympic barbell, but the 36 millimeters of the Snode is eight more than the typical barbell diameter of 28 millimeters.
Where the NÜOBELLs really trump the Snode AD80s is in the weight increments. NÜOBELL provides five-pound jumps to the Snode's 10-pound jumps, replacing double the amount of dumbbell weights. This in itself might be a dealbreaker if you are looking for smaller increments. If you are looking for smaller weight increments, then the NÜOBELLs might be the better choice.
However, if you're looking for durable free weights for strength training, the Snode AD80s offer superior durability and only $50 above the cost of the NÜOBELLs.
RELATED: NÜOBELL Adjustable Dumbbells Review
| | | |
| --- | --- | --- |
| | Snode AD 80 Adjustable Dumbbells | NÜOBELL Adjustable Dumbbells |
| Dumbbell dimensions | 18.11" L x 6.68" W x 6.68" H | 17" L x 7.5" W x 7.5" H |
| Weight range | 10-80 lbs | 5-80 lbs |
| Weight increments | 10-lb increments | 5lb increments |
| Handle length | 4.53" | Not disclosed |
| Handle diameter | 36 mm | 32 mm |
| Material | Cast iron, aluminum, plastic | Metal, plastic |
| Warranty | 2 year, includes drops | 2 years |
Customer Experience
I've mentioned it already, but Snode offers a two-year warranty on their adjustable dumbbells which includes drops, all the way up to 32 inches. This should cover most drops done from a weight bench after seated presses or one arm rows, and the dumbbells are made to handle it. With that said, you'll get the most longevity out of your equipment by taking care of it, so be smart about dropping your dumbbells.
Snode also offers returns for up to 30 days after delivery. The item doesn't have to be unused or in the original packaging, but be mindful though: additional charges may be applied for any wear or damage to the product. Also, if you send it back missing parts, you could incur a restocking fee.
The shipping cost for returning an item will be covered by Snode if the return was caused by their error. This includes shipping out a wrong, defective, or duplicate item, or if it was shipped to the wrong address.
To reach out to Snode for questions or customer service, they have emails available to contact, as well as a live chat box on their website.
Ordering and Assembling the Snode Adjustable Dumbbells
The AD80 adjustable dumbbells can be purchased directly from Snode Sport's website (not yet on Amazon), and they're priced at $994. Typically, there is a discount of 20% off, making the price right at $795, with free shipping, too. Coop thinks this price will be the normal price in the foreseeable future, which will make it more competitive with other premium, heavy choices like NÜOBELL and Powerblock adjustable dumbbells.
They are pricey, but Snode does offer financing options with Affirm. Plans can range from six weeks to 24 months.
Each dumbbell is shipped separately in its own box with plenty of foam to keep the dumbbell parts from shifting too much. There is a little bit of assembly required, mostly just how to properly install the plates and dumbbell handles into the cast iron cradle.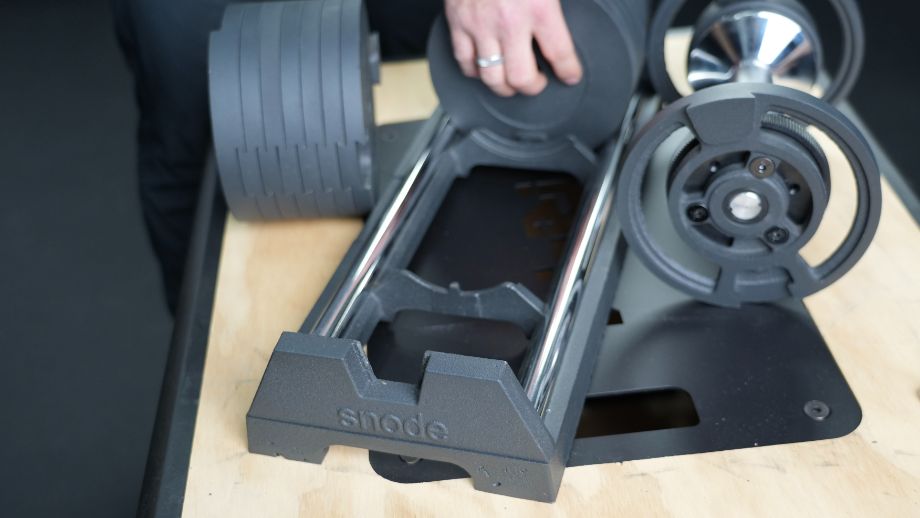 Coop properly installed the weights into the cradle while refusing to look at the instructions. While it's easy enough to put together, we'd recommend following the instructions to save time and keep your warranty intact!
Customer Reviews
As of this writing, there are 213 customer reviews on Snode's website for the AD80 adjustable dumbbells, averaging at a very high 4.95 stars out of 5. Most speak very positively on the product, with the only issues being that the dumbbells were sometimes sent with defective or missing items. In all of the cases I found, customer service helped replace items swiftly.

Final Verdict of Our Snode Adjustable Dumbbell Review
The Snode AD80s are some of the most durable adjustable dumbbells out on the market today. Built out of heavy-duty cast iron and with a strong dovetail groove to lock plates together, they are made to last. And with the knurled handle and flat heads, it gives the feel of a traditional dumbbell that few adjustable dumbbells get right.
With that said, we would have liked to have seen the adjustment system made with the same quality materials instead of plastic. Also, the 10-pound increments between weight adjustments might be enough to deter some people from purchasing these dumbbells. However, if you have the budget, and don't mind the jumps or using fractional magnetic plates, these dumbbells are a great space saver that will last you through all your bodybuilding or strength training workouts.
Snode Adjustable Dumbbell Rating
Snode Adjustable Dumbbell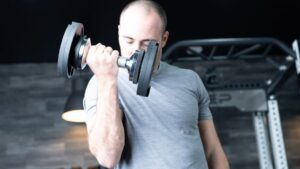 An adjustable dumbbell that you can drop? Check out our Snode Adjustable Dumbbell review to read more about this durable dumbbell.
Product Currency: $
Product In-Stock: InStock
Snode Adjustable Dumbbell FAQs
Are adjustable dumbbells a good idea?
Adjustable dumbbells are a great piece of home gym equipment in that it saves you space and money. Although buying one pair of these dumbbells can be pricey, you are essentially replacing the need for several other fixed dumbbells of varying weights and costs. The main thing is to make sure you purchase a set right for you, based on the weight range and cost.
RELATED: Adjustable Dumbbells vs Fixed
Can you drop Snode dumbbells?
Snode adjustable dumbbells—particularly the AD28s, AD50s, and AD80s—all are guaranteed to withstand a drop from 32 inches without damaging the dumbbell, and have a two-year warranty that covers drops.
How much do Snode adjustable dumbbells cost?
The Snode AD80 Adjustable Dumbbells cost $994, although they are having an early bird pre-sale currently, taking 20% off the price. With this discount, the dumbbells are $795.