We test and review fitness products based on an independent, multi-point methodology. If you use our links to purchase something, we may earn a commission. Read our disclosures.
The NÜOBELL Adjustable Dumbbells are the quickest adjusting dumbbells we've ever tested or reviewed (and we've used a lot of them). There are many great options on the market with more products being created every day, but there's no doubt that the NÜOBELL Adjustable Dumbbells stand out as some of the best adjustable dumbbells out there.
In this review, I'll give you my honest thoughts on the overall value, ease of adjustment, and weight options for these adjustable dumbbells. I'll also give you comparisons between the NÜOBELLs and the competition, so you can make the best buying decision.
Quick Adjustable Dumbbells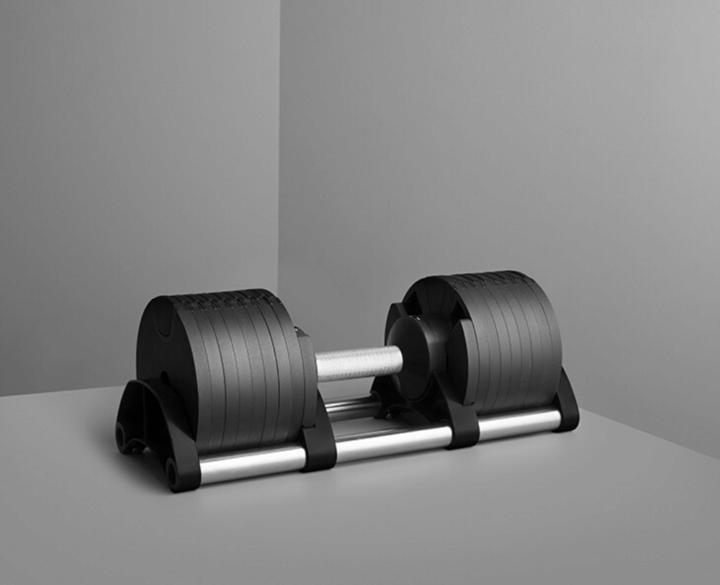 NÜOBELL Adjustable Dumbbells
NÜOBELL give you the convenience of all-in-one adjustable 5-80lb dumbbells that are easy to use and have superior durability thanks to its machined steel weight plates. This set of innovative dumbbells will quickly become your go to favorites.These are sold as a set of 2 x 80lb dumbbellsWeight Range lb5-10-15-20-25-30-35-40-45-50-55-60-65-70-75-80The material is steel and plastic Net weight: 80lbIncludes portable cradles for both adjustable dumbbells.
Why You Should Trust Us
The NÜOBELL Adjustable Dumbbells are far from being the first adjustable dumbbells to hit the market for home gym owners. We've been recommending adjustable dumbbells for years and even view them as some of the best home gym equipment you can buy.
We're tested close to a dozen adjustable dumbbells – including the Pepin Adjustable Dumbbells, MX Select Adjustable Dumbbells, and the Bowflex SelectTech 560, to name a few.
What NÜOBELL has done is created an adjustable dumbbell that can change weight in a flash. It's not perfect and there are certain things we'd change, but there is not a set of adjustable dumbbells that changes between weight increments faster than these.
Related: The NÜOBELL Adjustable Dumbbells made our Best Fitness Gifts list!
A Quick Look at the NÜOBELL Adjustable Dumbbells
Adjustable dumbbells are a great option for those who are limited on space. Instead of buying 16 sets of dumbbells for your garage gym, getting one set that does it all can be a smart (and surprisingly economical) decision.
Coop's Tips:
Everyone says you shouldn't drop your dumbbells, but seriously, don't freaking drop these.
These adjustable dumbbells are great for partner workouts because of how easy it is to change the weight used.
My Favorite Things:
Super quick adjustable weight
Traditional dumbbell shape
Knurled handle is like that of a barbell
Superior functional design
My Callouts:
Uses lots of plastic
Need to perfectly slide it into the stand, otherwise it will get stuck
Less structural integrity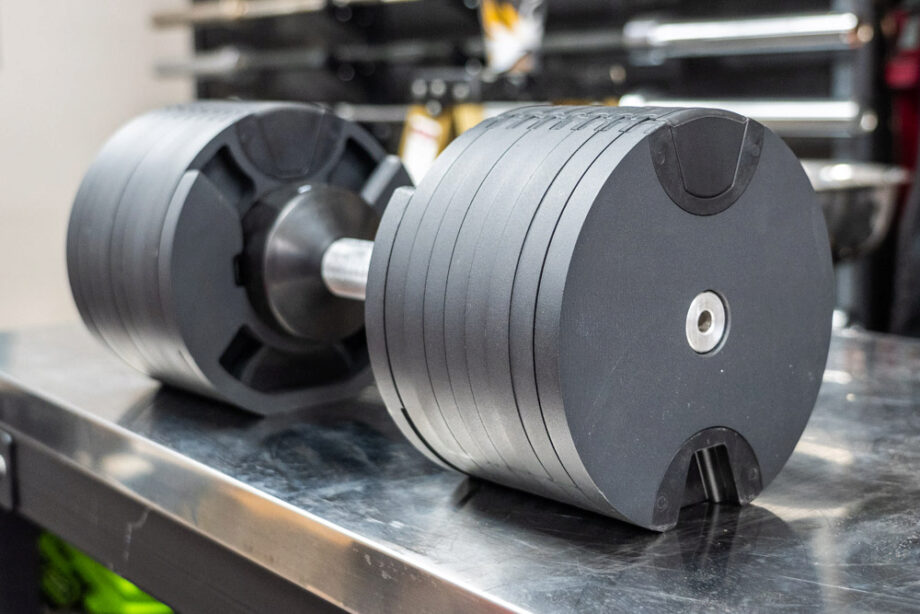 Video Review
Are the NÜOBELL Adjustable Dumbbells Worth It?
The NÜOBELL Adjustable Dumbbells are a great option for many people, but some would be better off with something different. Check out who I think should pick these up:
Great for:
High volume sets or accessory movements
People who like the traditional style of a dumbbell
Those who want to quickly change their weights between sets
Home gym owners that love a knurled handle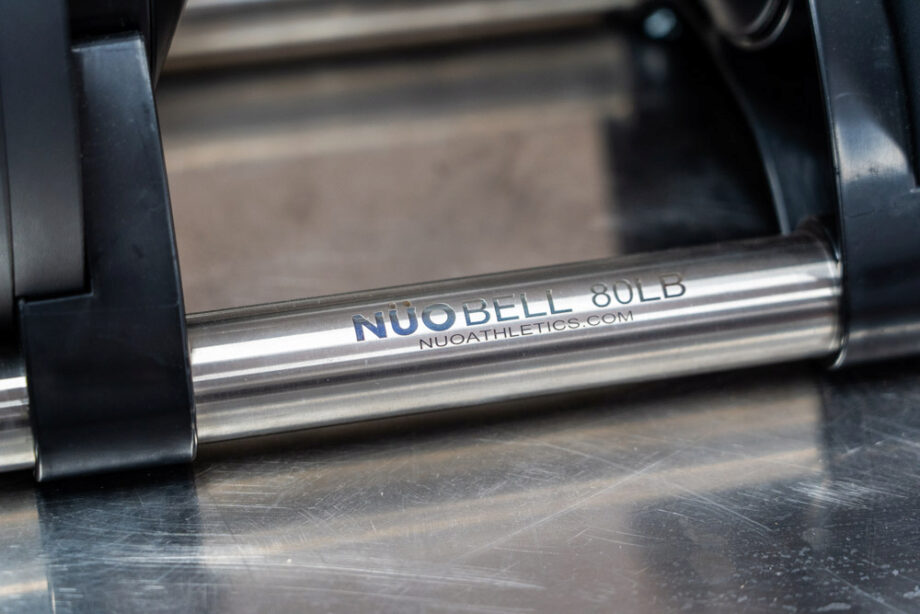 Not recommended for:
People who lift over 80 pounds
People who drop their dumbbells
Those who are on a tight budget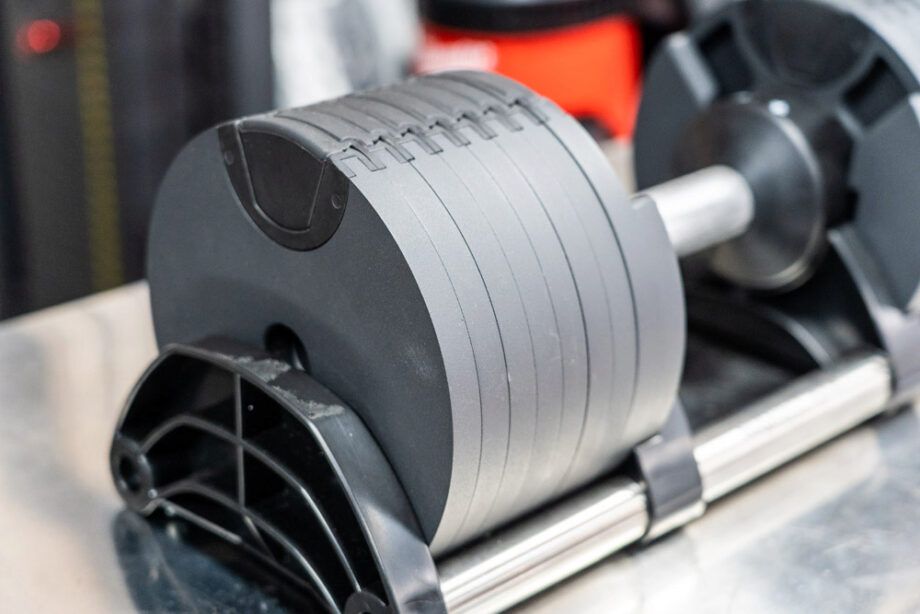 NÜOBELL Adjustable Dumbbells Specs
| | |
| --- | --- |
| Material: | Plastic and metal |
| Total Weight: | 80 pounds |
| Brand: | SMRTFT |
| Warranty: | 2 years |
| Color of Plates: | Black |
| Weight: | 5-80 pounds |
| Sold in: | Pairs |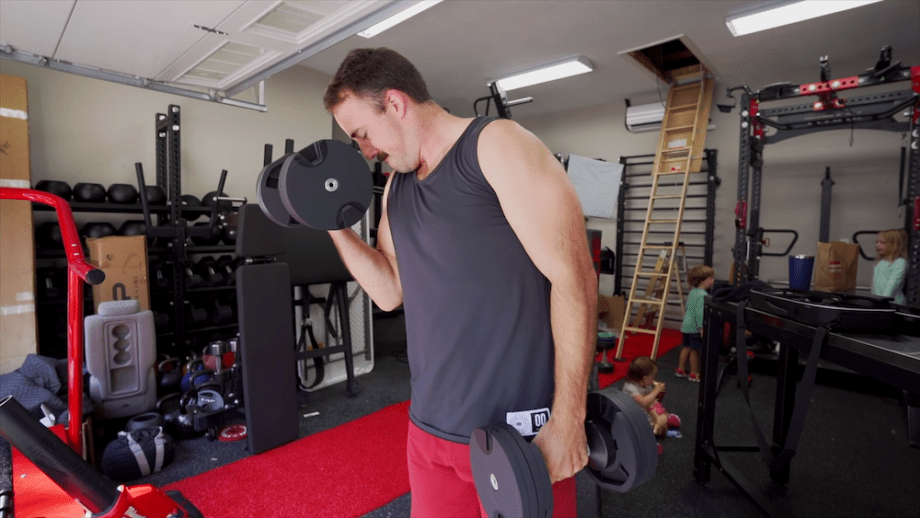 Using the NÜOBELL Adjustable Dumbbells
The NÜOBELL Adjustable Dumbbells are one of the newest options for people looking to save space in their home gym while retaining the functionality of an entire set of dumbbells. These traditionally shaped iron dumbbells replace 1,360+ pounds of normal dumbbells, which allows you to save space and money when building your personal setup.
With an easy click-lock handle, you simply rotate until you see the desired weight on the indicator, then pull the weight out and do your dumbbell exercises. The pancake-style disks remind me of pro-style iron dumbbells that could be found in most commercial weightlifting gyms.
Coming in both 50 and 80 pound options, this dumbbell by SMRTFT looks to challenge their adjustable competitors like Powerblock and IronMaster that have been on the market forever.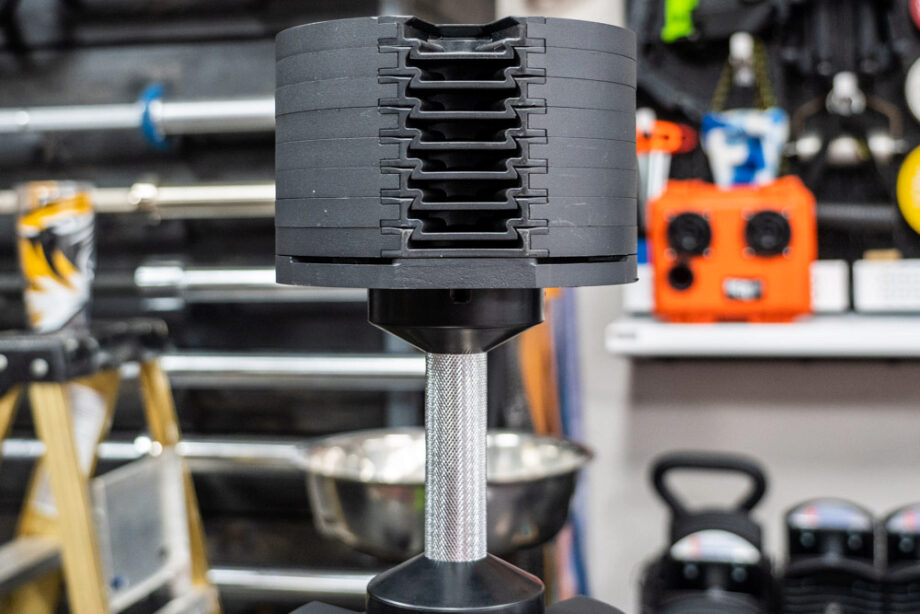 I have yet to see any other dumbbells that are as quick and easy to adjust as the NÜOBELLs. With a quick twist, changing the weights takes seconds at most and the easy-to-read dial makes it simple to know which weight you have switched to. Perfect for drop sets or working out with your significant other, these dumbbells may be the most "adjustable" dumbbells on the planet.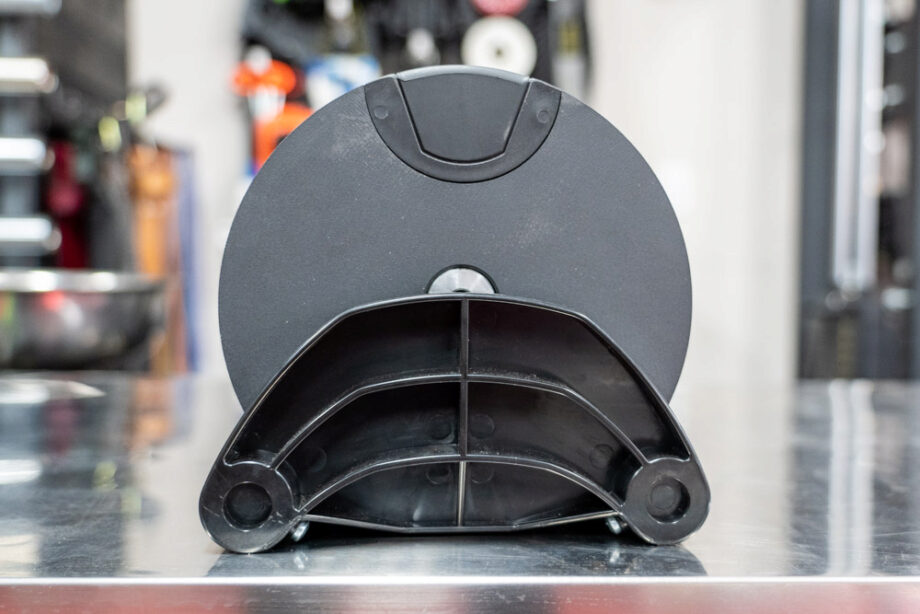 The more I think about it, the more I realize how silly a full set of dumbbells is in a home gym. Similar to some of the best adjustable kettlebells, whether you have a gym in your house or in your garage, adjustable dumbbells are simply a great option.
The thing I disliked the most about the NÜOBELL is that you need to be very precise upon replacing the dumbbell into the holder otherwise, it could get stuck. If you don't exactly line up the ridges on top of the weight plates, the dumbbells will get stuck in the holder and you have to go back to the original weight to pull it out. This seems like no big deal but if you're sweaty and out of breath, you don't really want to stop and have to line up dumbbells and struggle to get them out if you make a mistake racking them.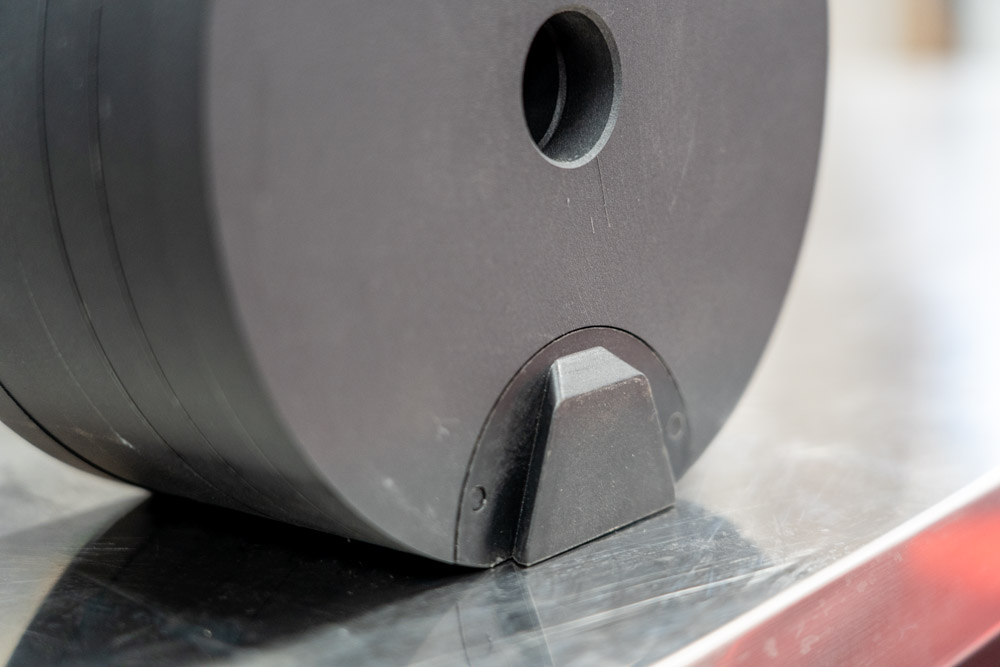 Durability and Construction
With some initial concern over the quality of the NÜOBELL's, I was pleasantly surprised by the partial steel construction. Whereas many similar shaped adjustable dumbbells have mostly plastic designs, SMRTFT was able to construct these with the aesthetically pleasing stack of pancake plate designs.
The mostly metal construction is nice, but hard plastic connecting pieces raise serious questions about long-term use. In activities where lots of weight is being moved at any speed, the hard plastic that connects the iron plates serves as a major weak point. It would not be unthinkable that these parts could crack if the dumbbells were dropped from normal heights. With so many important pieces being made from plastic, I would be very interested to see how they function a couple of years down the road.
The connecting pieces, locking mechanism, and weight selection device are all made with quite a bit of plastic. These don't seem at risk of breaking, but it seems that over time, they could see wear that prevents them from functioning properly.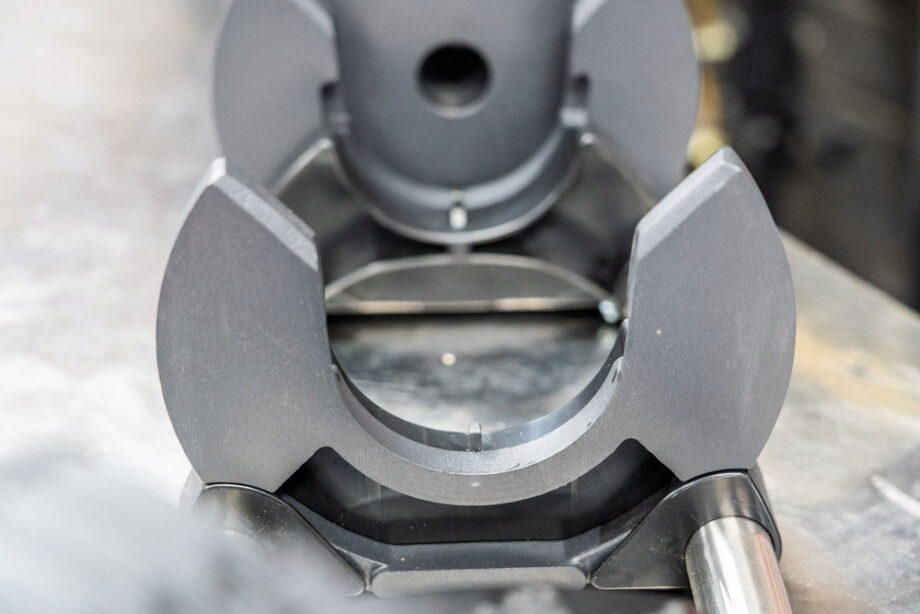 In any high-traffic gym, you would engage the weight selecting mechanism in these dumbbells thousands of times over, which could lead to some issues with performance. This is a problem I see a lot in the Bowflex 552 and 1090 models. The plastic selector would often break after long-term use and you would be left with a non-adjustable dumbbell unless you knew how to disassemble and replace the broken parts.
Handle
A feature that I really like is the knurled handle that the company used for these dumbbells. Unlike many dumbbells that used contoured handles with rubber or foam grips, the NÜOBELLs use a barbell-type handle with a quality knurled finish. This handle makes these dumbbells really appealing to people who normally do barbell movements because you will get to train with something familiar.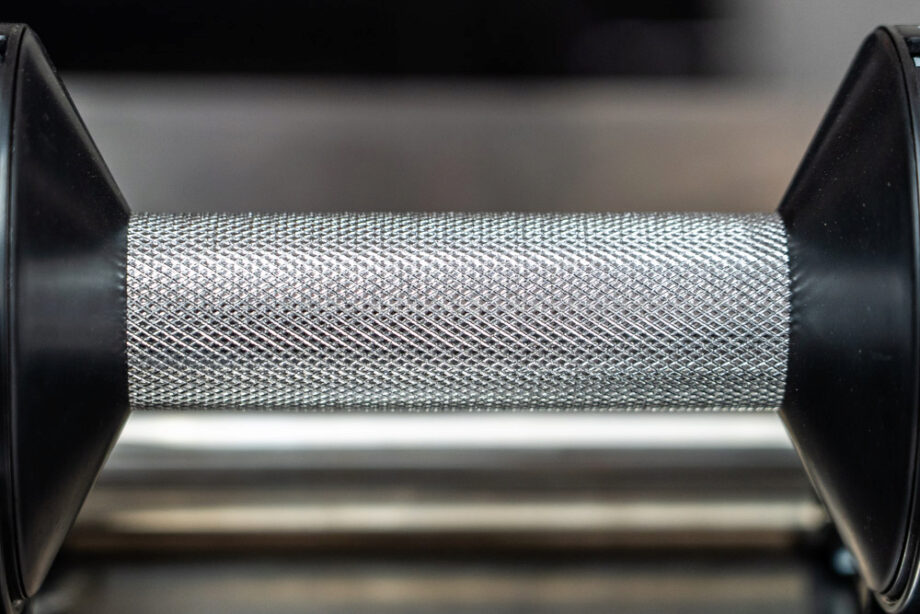 Aesthetics
With a really clean finish and some very aesthetically pleasing stands available on the website, these dumbbells could sit in your living room without sticking out like a sore thumb. The design that the company went with really keeps the feel of these dumbbells quite natural as you feel like you're still using a traditional dumbbell. This is highly appealing for those who don't want to deal with more square-shaped blocks like the Powerblock or Ironmaster models.
NÜOBELL Adjustable Dumbbells vs. Powerblock Dumbbells
Powerblocks vs NUOBELL's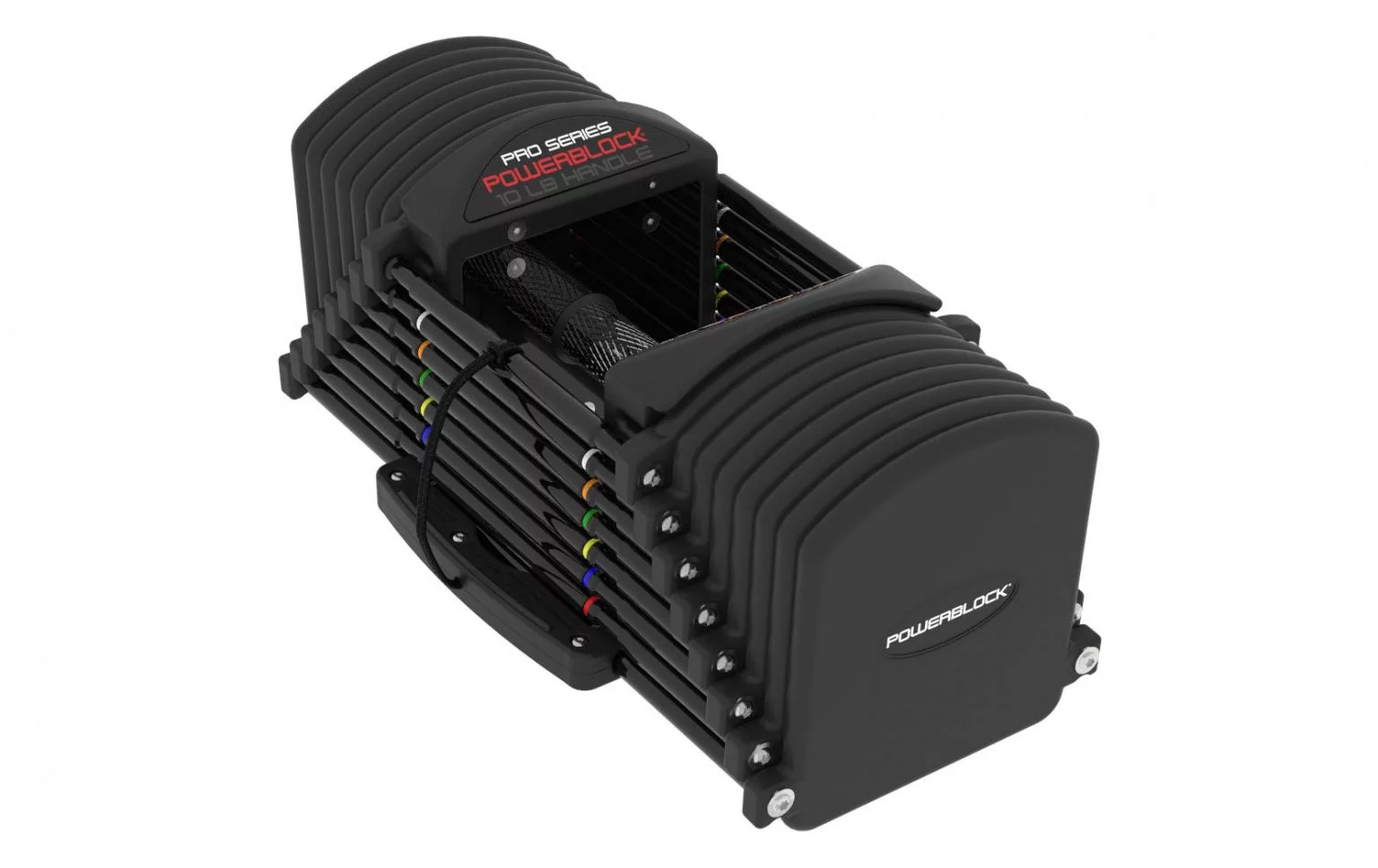 PowerBlock Pro Series Adjustable Dumbbells
From the company that pioneered the selectorized dumbbell, PowerBlock's new and improved Commercial Series Dumbbells set a new standard for efficiency, versatility, and ease of use. Whether you're equipping a small home gym or a large pro facility, any training space can benefit from the use of adjustable dumbbells, as just one set of PowerBlocks can serve the equivalent function of dozens of traditional dumbbells, saving you on both costs and storage space.Each PowerBlock has color-coded side rails on the weight plates that correspond to an easy reference weight chart on the handle. The weight plates are nested, which means the handle fits inside weight plate 1, which fits inside weight plate 2, etc. To change the weight in just seconds, slide the selector pin into the blocks at the weight you want. Then reach inside the "core" and grab the handle. When you lift the handle, the weight you selected is lifted along with the handle.Rogue offers all five PowerBlock Commercial Dumbbell Sets: the Pro 32, Pro 50, Pro 90, Pro 125, and Pro 175. All versions include an updated, sleek design, ergonomic handles (TPR grip for the 32, 125 and 175; knurled steel for the 50 and 90), and Black Urethane Coated Weight Plates for smooth, quiet performance. Compatible stands comes standard with all sizes except the Pro 32.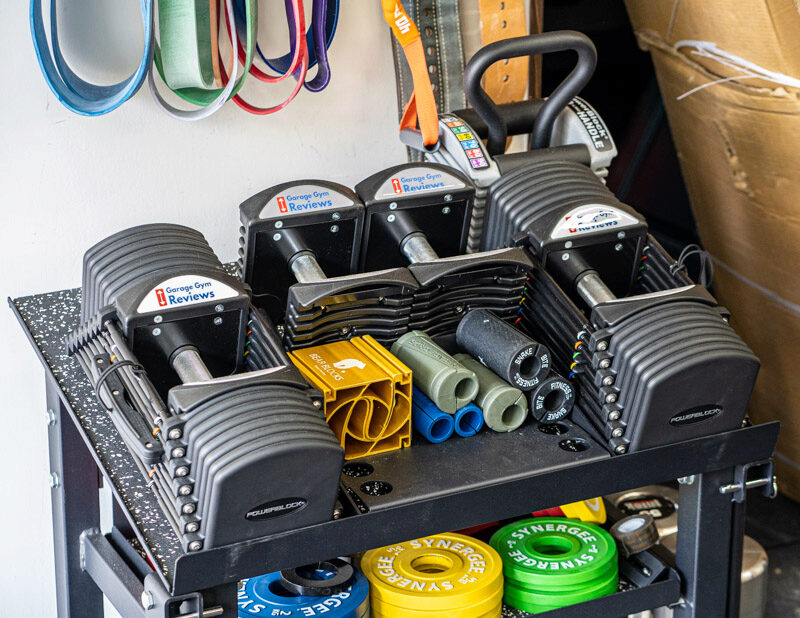 The NÜOBELL Adjustable Dumbbells vs Powerblock Dumbbells is an age-old story of challenger vs. champ. The Powerblock Dumbbells have been around since the early 1990s and have stood the test of time. I have an ancient pair that has held up to pretty much every movement and is still fully functional. You cannot go wrong with any kind of Powerblock.
An important difference–Powerblock dumbbells can be expanded up to 175 pounds, 2.5x heavier than the NÜOBELLs. This weight disparity allows Powerblocks to serve everyone while the NÜOBELLs will cater specifically towards the above-average joe.
The NÜOBELLs triumph in some areas. They have a much quicker selection method, (not to say that the Powerblocks are slow to change,) but the NÜOBELLs are especially quick to adjust. You turn, and boom, new weight. However, the Powerblocks have a plastic/metal (depending on model) pin system that can get out of place or stuck, making adjustments not as fast.
Last but not least, Powerblocks are significantly cheaper than the NÜOBELLs; you can get 0 to 90-pound Powerblocks for around $550 whereas 0 to 80 pound NÜOBELLs will run you $750. I think that the lower price point, more weight expansions available, and a better long-term build make the Powerblocks the favorite over the new NÜOBELL Adjustables. It will be interesting to see if SMRTFT makes any new expansion kits going forward.
NÜOBELL Adjustable Dumbbells vs. Ironmaster Adjustable Dumbbells
Ironmasters vs. NUOBELL's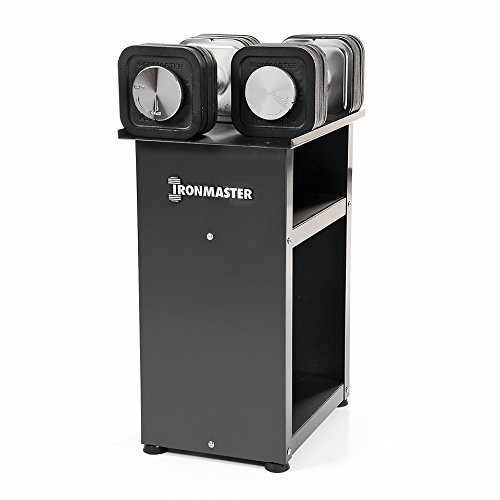 Ironmaster Quick-Lock Adjustable Dumbbells
The Quick-Lock Dumbbell system is the latest iteration of Ironmaster's adjustable dumbbells. The dumbbells can be quickly adjusted in under 15 seconds due to the Ironmaster quick-lock design. The dumbbells adjustable weights range from 5 to 75 pounds. With your purchase of these dumbbells, you also get the stand for no extra charge. These give you a complete set of free weight dumbbells that feel like traditional dumbbells without restrictions, rattling, or safety concerns. This set includes two handles with four locking screws. Each weight has 24 5-pound plates and 4 2.5-pound plates. Included with purchase is a dumbbell stand. Since the handles are 5 pounds when empty and the locking screw is 2.5 pounds, the starting weight is 10 pounds for each dumbbell before you add plates. You can load up to 65 pounds of plates to each handle. You can also purchase an add-on kit that goes up to 120 pounds for each dumbbell. The dimensions are 6.5 x 6.5 x 14.5 inches at the 75-pound size. The Quick-Lock design adjusts from 5 to 75 lbs in 2.5-lb increments They are constructed with welded steel and chrome-plated handles  The system has two adjustable dumbbells at 75 lbs each (150 lbs total) and a dumbbell stand  Space efficient design that takes up less than 2 sq. ft.  Limited lifetime warranty 
The NÜOBELLs are very similar in build to another long-standing adjustable dumbbell, the Ironmaster Adjustable Dumbbells. With both utilizing a traditional shape and iron pancake plates, each of these dumbbells have an authentic feel.
However, with a time-tested screw system for adjustments, I just feel like the Ironmasters will be much more solid in the long run. With no plastic and no mechanical adjusting systems, there seem to be no weak points and I have never had an issue with them. I have yet to have an issue with my NÜOBELLs, but I feel like after a year or two they may no longer function as well.
The Ironmasters, like the Powerblocks, readily go above a weight of 100 pounds with a cheap expansion kit. This makes them more appealing for all because once again, not everyone will be fine using 0 to 80-pound dumbbells for all exercises. Also, like the Powerblocks, you get more weight per dollar, as the IronMasters are only $699 and come with a high-quality stand that makes them easier to access. A similar stand from SMRTFT would be an additional $200 on top of the $750 for dumbbells.
Unsurprisingly, the NÜOBELLs are superior in ease of adjustability. The Ironmasters are not easy to adjust since you have to unscrew them and then stack the plates you want to use. Compared to the NÜOBELLs quick turn and lock, this takes ages.
Overall, I would have to favor the Ironmasters as they are highly durable and more affordable than the NÜOBELLs. Their expansion kits also make them more functional for a wider group of people.
NÜOBELL Adjustable Dumbbells vs. BowFlex SelectTech 552 Adjustable Dumbbells
Bowflex SelectTech's vs. NUOBELL's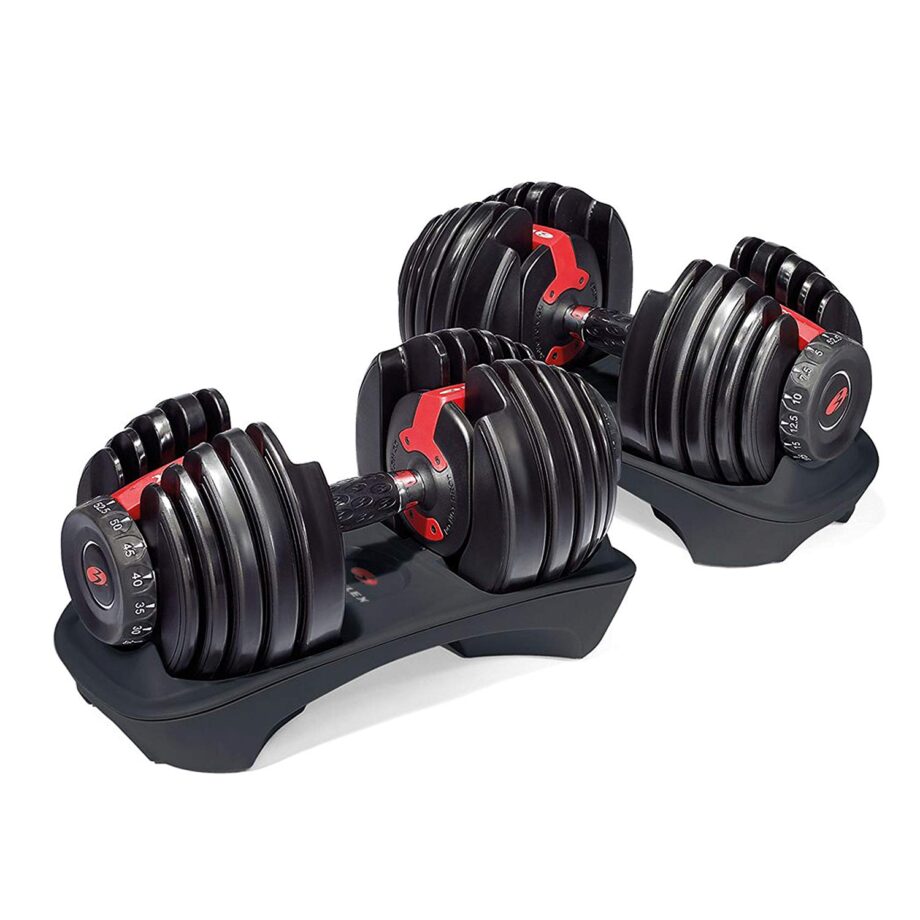 Bowflex SelectTech 552 Adjustable Dumbbells
These adjustable dumbbells replace 15 sets of weights. Weights adjust from 5 to 52.5 lbs in 2.5 lb increments up to the first 25 lbs. Easy-to-use selection dials for adjusting weights. They are sold as a pair. Easily switch from one exercise to next and with the turn of a dial you can change your resistance, enabling you to gradually increase your strength. Versatile workout for your legs, back, chest, abs, shoulders and arms. Compatible with the free Bowflex SelectTech® training App for iOS and Android.No more picking up 30 different dumbbells to give you the results you want! Say goodbye to 15 sets of dumbbells cluttering your workout space. With weight that adjusts from 5 to 52.5 lbs., you'll continue to see results as your fitness level improves. Durable molding around metal plates provides for a smooth lift-off and quieter workouts...no clanging metal plates! With the wider weight range you can do heavy exercises such as shrugs and lunges as well as lighter exercises such as curls and raises.
The Bowflex Adjustable Dumbbells have been some of the most affordable dumbbells on the market for a long time. With two options, the 552 and 1090, these Bowflex Dumbbells are used and loved by many. However, the biggest problems we see on the NÜOBELLs are also the same issues with the Bowflex variants.
The Bowflex dumbbells have a long history of cracking at weak points if slammed or adjusted incorrectly. But for around $350 for the 552 and around $700 for the 1090s, the Bowflexes are the cheapest options on the market. For a bit more, I feel like the NÜOBELLs are an upgraded version of the Bowflex dumbbells. With a cylindrical knurled handle as opposed to the shaped rubber grip on the Bowflex, I believe the NÜOBELLs feel way more traditional than the Bowflex option.
I would recommend the NÜOBELLs over the Bowflex 1090 model as they are similar in price and the NÜOBELLs give you a much smoother and more aesthetically pleasing setup. However, if you are not really in need of heavier weights, I would say the Bowflex 552 are your best bet as the 50 pound variant from NÜOBELLs costs quite a bit more than the 552's from Bowflex, which at the same weight, give you way more for your buck.
Customer Experience
The warranty on the NÜOBELL Adjustable Dumbbells is fairly average at two years. You can purchase additional years of protection at checkout for either $29 (extra year) or $69 (three years).
If you have questions about your purchase, customer service is very accessible. There is a live chat option in the bottom left hand corner of the website. If you prefer, you can also use the provided email form (they'll respond within a day) or call 323-859-6968 during regular business hours.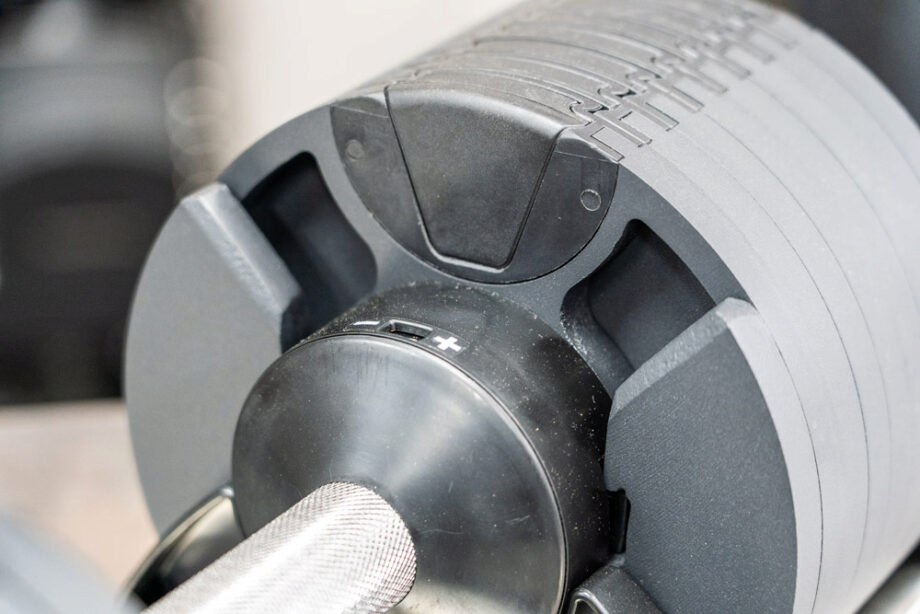 If you're not loving your purchase, you have 30 days to return it in the original condition for a refund. It is worth noting that you will be responsible for paying return shipping if you choose to send your dumbbells back.
Ordering the NÜOBELL Adjustable Dumbbells
When ordering these adjustable dumbbells, you'll get complimentary free shipping within the United States. I received my set within about a week, which is apparently pretty standard based on what it says on the website.
These dumbbells are not cheap. At almost $750, these may be out of some people's budgets. However, they do offer financing options through Affirm for three, six, or 12 months. If you choose the three-month option for example, you'll pay $248.33 per month with 0% APR. Keep in mind you will be subject to interest for choosing the six- or 12-month options.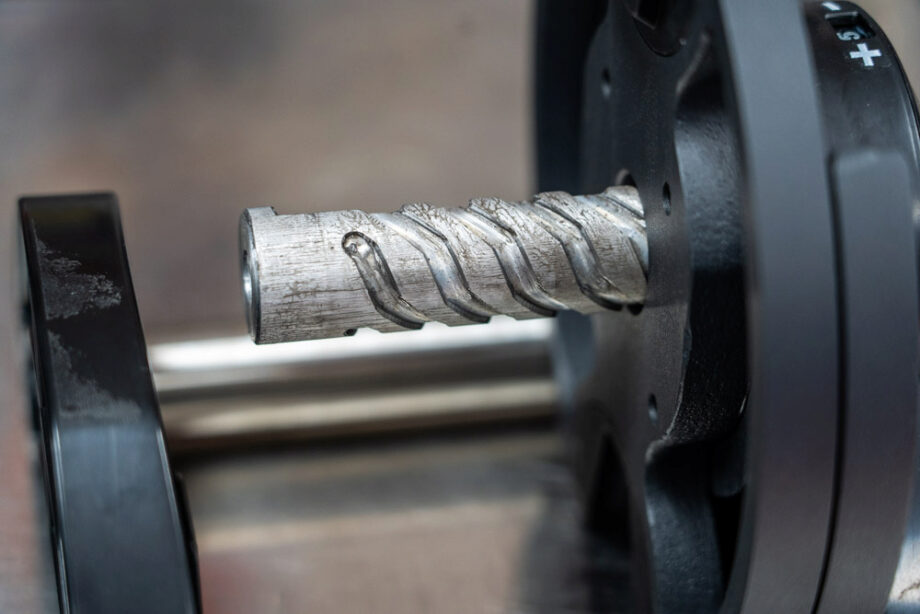 Customer Reviews
On the SMRTFT website, the NÜOBELL Adjustable Dumbbells have a whopping 5 stars out of 5 possible, although I would take a company's rating on their site with a grain of salt when it's perfect. What is impressive, however, is that the dumbbells have almost 450 reviews. Customers seem to love that they feel like traditional dumbbells, the knurling is high quality, and it's super easy to change the weight.
On the negative side, people aren't thrilled about the plastic portable cradle that the weights go in as it seems less than durable over time.
The Home Gym Community on Facebook also has lots of opinions on the NÜOBELLs. The sentiments generally echo what I've already said; they change weight super quickly but some people are curious to see how long they end up lasting since there is a decent amount of plastic.
Final Verdict of Our NÜOBELL Adjustable Dumbbells Review
In the grand scheme of things, the NÜOBELL Adjustable Dumbbells have a lot going for them. I'm a huge fan of how quickly you're able to change the weights you're using, along with the traditional dumbbell shape complete with awesome knurling (swoon). However, I am interested to see how well these hold up over time due to the amount of plastic used. I will say, after nearly a year of use, I haven't had any issues yet.
NÜOBELL Adjustable Dumbbells Rating
NÜOBELL Adjustable Dumbbells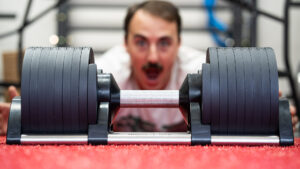 The NÜOBELL Adjustable Dumbbells are the quickest adjusting dumbbells we've ever tested or reviewed (and we've used a lot of them).
Product Brand: SMRTFT
Product Currency: $
Product Price: 745
Product In-Stock: InStock
FAQs About the NÜOBELL Adjustable Dumbbells
What are NÜOBELL Adjustable Dumbbells?
SMRTFT designed Nüobell Adjustable Dumbbells to be the smartest and most functional dumbbells in the industry. These adjustable dumbbells range from 5-80 lbs. and provide greater strength and longevity due to their machine steel weight plates.
How do NÜOBELL Adjustable Dumbbells work?
With a quick twist, Nüobell Adjustable Dumbbells allow you to change your weight. The weight you've selected is indicated on a straightforward dial. Your weights are kept in a compact carrier cradle for easier adjustments and mobility.
Are adjustable dumbbells any good?
In the long run, owning an adjustable dumbbell set is less costly, which makes it a solid option for anyone looking for a great home workout. Adjustable dumbbells are much more space efficient than traditional free weights, so if you're tight on space, this is your best bet.
Can you drop NÜOBELL Adjustable Dumbbells?
No. The NÜOBELL adjustable dumbbells are not designed to be thrown or flung on the ground like a traditional cast iron dumbbell. After you finish the last few reps of a challenging weight set, you might be tempted to drop the weights. Don't – you'll probably end up breaking them.
What is a good weight range on a pair of dumbbells for a beginner?
It depends – getting adjustable dumbbells that go up by 5-10 pound increments might be a smart way to go. This way, as you progress and get stronger, you'll be able to use different weights without having to run and buy new dumbbells all the time. Try to pick up adjustable dumbbells that will meet you where you are right now, but also allow you to progress.