We test and review fitness products based on an independent, multi-point methodology. If you use our links to purchase something, we may earn a commission. Read our disclosures.
There's a lot to love about the Bowflex SelectTech 552 Adjustable Dumbbells. You get 15 different weight settings in a very compact set of dumbbells, and an easy-to-use dial system and loading dock that allows you to change plates with ease. Simple to use and budget-friendly at $429, the 552s could be a great value option for your home gym. To get an even better idea of what these weights are like, I personally tested them so you don't leave anything to chance. Check out my thoughts in the remainder of my Bowflex SelectTech 552 review below.
Why You Should Trust Us
In my quest to help you find the best adjustable dumbbells for your home workouts, I have personally tested nearly 20 different products. I have in-depth reviews on a number of sets, like Powerblocks and Ironmasters.
When I test these dumbbells, I use them in my own everyday workouts: I'll bench, do rows, presses, squats. I'll even swing 'em and snatch 'em. During that process, I'm assessing factors unique to adjustable dumbbells, like how easily and quickly you can switch the weight. And of course, like with all home gym equipment I test, I'm always looking at durability, materials used and the overall value.
Bowflex Dumbbell Review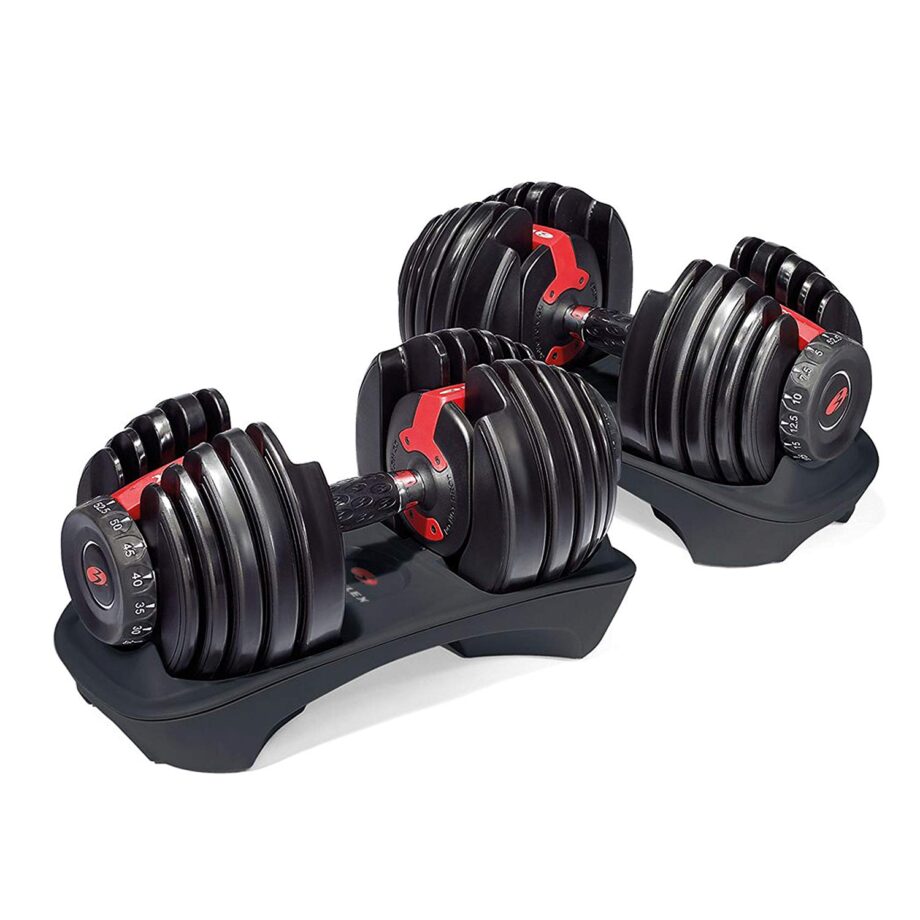 Bowflex SelectTech 552 Adjustable Dumbbells
These adjustable dumbbells replace 15 sets of weights. Weights adjust from 5 to 52.5 lbs in 2.5 lb increments up to the first 25 lbs. Easy-to-use selection dials for adjusting weights. They are sold as a pair. Easily switch from one exercise to next and with the turn of a dial you can change your resistance, enabling you to gradually increase your strength. Versatile workout for your legs, back, chest, abs, shoulders and arms. Compatible with the free Bowflex SelectTech® training App for iOS and Android.No more picking up 30 different dumbbells to give you the results you want! Say goodbye to 15 sets of dumbbells cluttering your workout space. With weight that adjusts from 5 to 52.5 lbs., you'll continue to see results as your fitness level improves. Durable molding around metal plates provides for a smooth lift-off and quieter workouts...no clanging metal plates! With the wider weight range you can do heavy exercises such as shrugs and lunges as well as lighter exercises such as curls and raises.
A Quick Look at the Bowflex SelectTech 552 Adjustable Dumbbells
I'd be remiss to not review the Bowflex SelectTech 552 dumbbells, which are a prime example of the company's focus on budget home gym equipment. They are extremely popular, largely because they're priced so competitively. I love how quick they are to change in weight and how cheap they are, but there are definitely some issues with durability.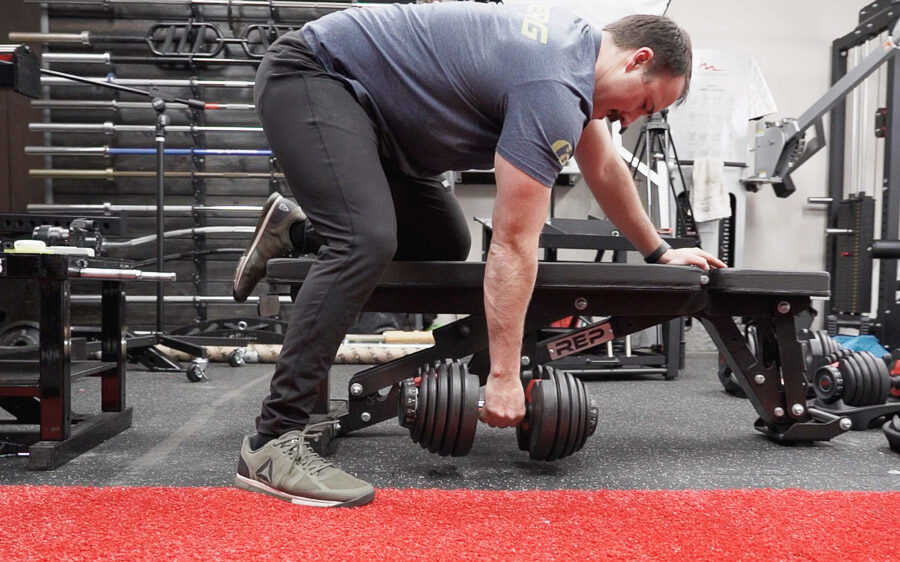 Coop's Tips:
Handle with care: The construction of these dumbbells means they shouldn't be dropped or slammed.
Max weight is 52.5 pounds, so look at the Bowflex SelectTech 1090s or other options if you need more.
Pros:
Priced affordably at under $400
Replaces 15 pairs of dumbbells
Very quick and easy to change weight increments
Come with dumbbell stands
Cons:
Made with a lot of plastic
Not upgradeable
Max out at 52.5 pounds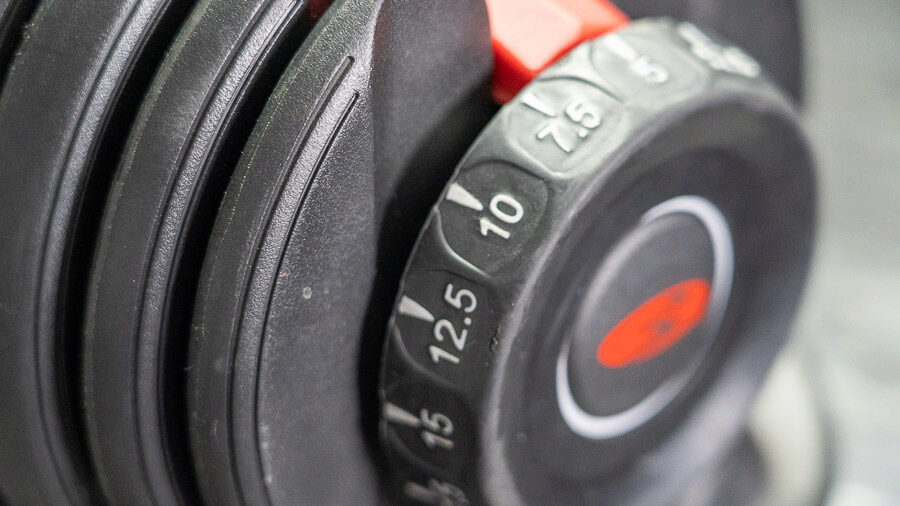 Are the Bowflex SelectTech 552 Adjustable Dumbbells Worth It?
Although a bit unique in their design in comparison to traditional fixed dumbbells, the Bowflex 552 Adjustable Dumbbells do a lot well when you compare them to their price and their competition. Out of all the adjustable dumbbells I've tested and reviewed (I currently have 12 in my garage gym and more elsewhere), I'd say that these are among the best value adjustable dumbbells for those one a budget.
Available for less than $400 (shipping costs extra), they represent compact exercise equipment that can provide a ton of fitness in a small package for a great value (which is kind of the value proposition of all adjustable dumbbells). When it comes to price, the value of the 552's are pretty hard to beat.
All that said, you get what you pay for. At 52.5 pounds max weight, these may be too light for heavy lifters. Also, the Bowflex 552's aren't upgradeable. Dumbbells like Powerblocks and Ironmasters can increase in weight over time through purchasing expansion kits, but the 552s don't offer anything like that.
Based on all that, here are my recommendations:
Great for:
People on a budget
Those who don't have a need for anything heavier than 52.5 lb. dumbbells
Home gym owners looking to save space
Not recommended for:
People who want to lift heavy
Anyone who plans on dropping or otherwise abusing dumbbells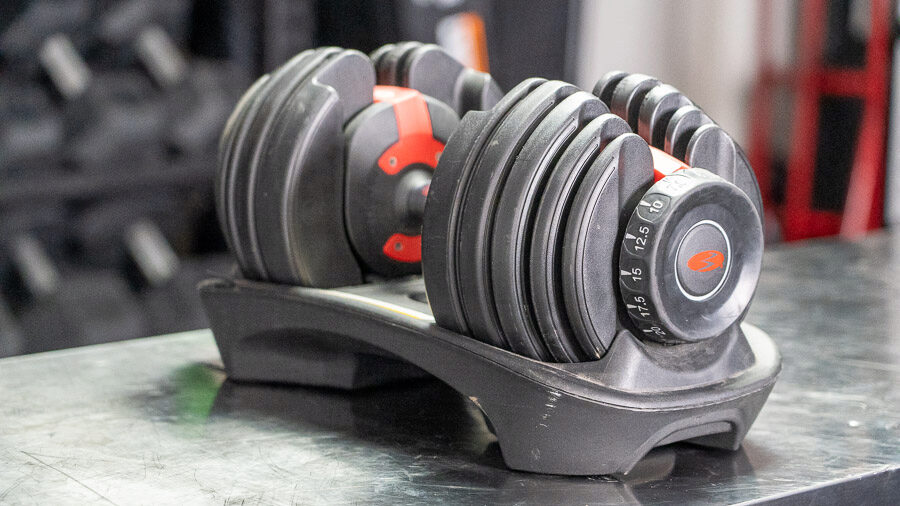 Bowflex SelectTech 552 Adjustable Dumbbells Specs
| | |
| --- | --- |
| Weight Range | 5 to 52.5lbs in each dumbbell |
| Materials | Plastic, metal |
| Adjustment Increments | 2.5lbs up to 25lbs, then 5lb adjustments to 50lbs, then one more 2.5lb adjustment |
| Replaces | 15 sets of dumbbells |
| Colors | Black |
| Adjusting Mechanism | Dial |
| Warranty | 2 years |
| Type | Selectorized |
| Dimensions | 16.9" L x 8.3" W x 9" H |
| Price | $429 |
Working Out With the Bowflex SelectTech 552s
There really is a lot to like about the Bowflex adjustable dumbbells: They save space in your home gym, they are affordable, and they are easy to use.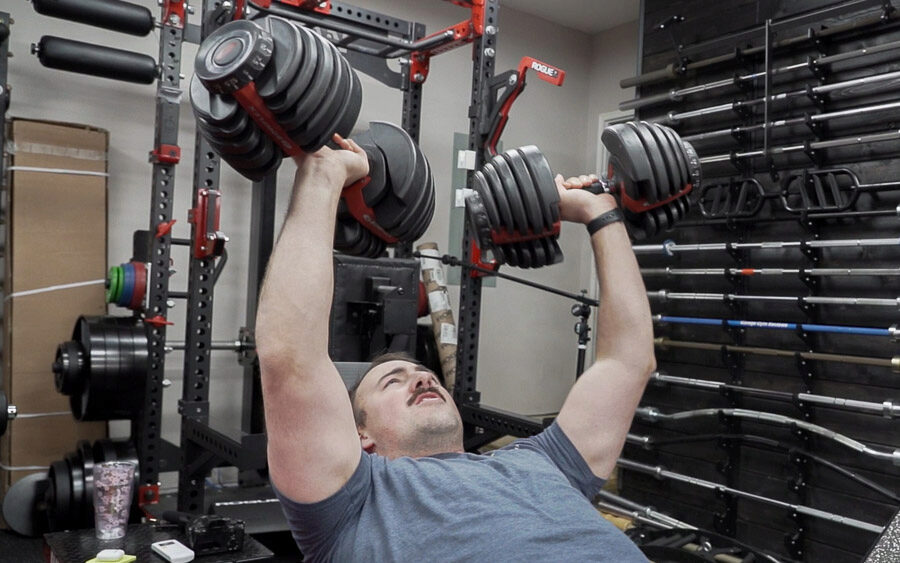 Changing the Weight
I've found that most people using Bowflex dumbbells are looking more at general fitness training or bodybuilding type of movements. This makes the ability to adjust the weight quickly imperative.
Outside of the price point, the greatest feature on the 552s is the ease of adjustment. In my opinion, the only pair of dumbbells that's easier to adjust is the NÜOBELL Adjustable Dumbbells. On the SelectTech, it took me around 7 seconds to adjust from the base weight of 5 pounds up to the max of 52.5 pounds.
The selector dials on the ends of the dumbbells are smooth and adjust very quickly. They give an audible noise that the weight has changed that, as silly as it sounds, is extremely satisfying. I've found myself turning them more than necessary just because it feels and sounds good (I'm aware that's ridiculous).
In terms of versatility, switching from various dumbbell exercises to another is pretty straightforward: all you need to do is turn the dial to make your weight selection. This quick weight adjustment allows supersets to happen much quicker than loadable dumbbells or even some other adjustable dumbbells.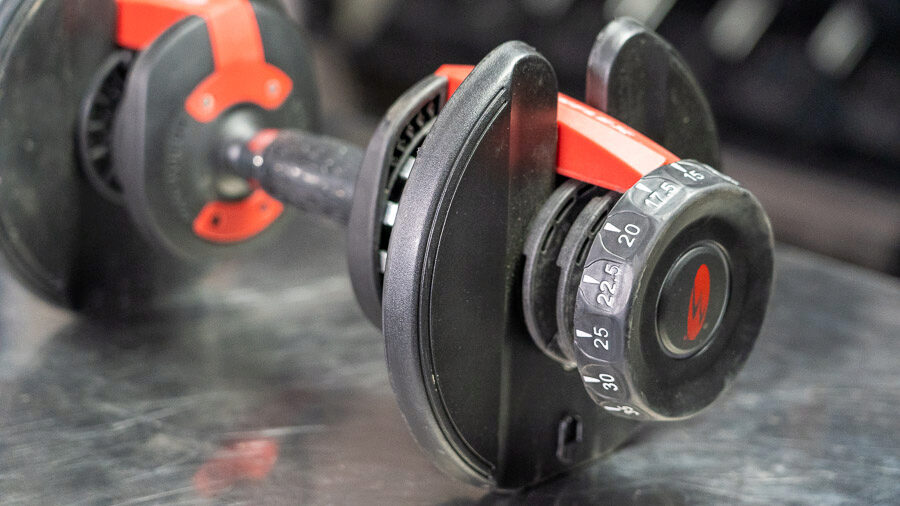 Weight Increments
One thing that SelectTechs allow that not even most dumbbell racks in commercial gyms is offering weight increments in 2.5-pound increments. To be more specific: The weights adjust in increments of 2.5 pounds from the lower weights up to 25 pounds. From 25 to 50 pounds, the weight changes in increments of 5 pounds, and then there is one last 2.5-pound change to get to the top weight of 52.5 pounds.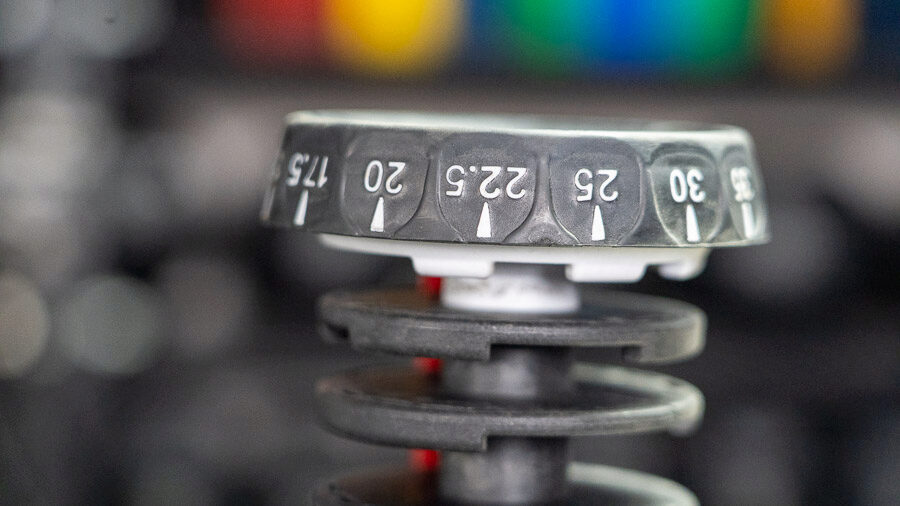 The ability to increase the weight in finer detail allows the trainee to increase the weight slower, prolonging an oncoming plateau on their way to their fitness goals. A primary component of strength training is linear progression, essentially adding more weight to your lifts each workout. Therefore, the more refined progression, the better.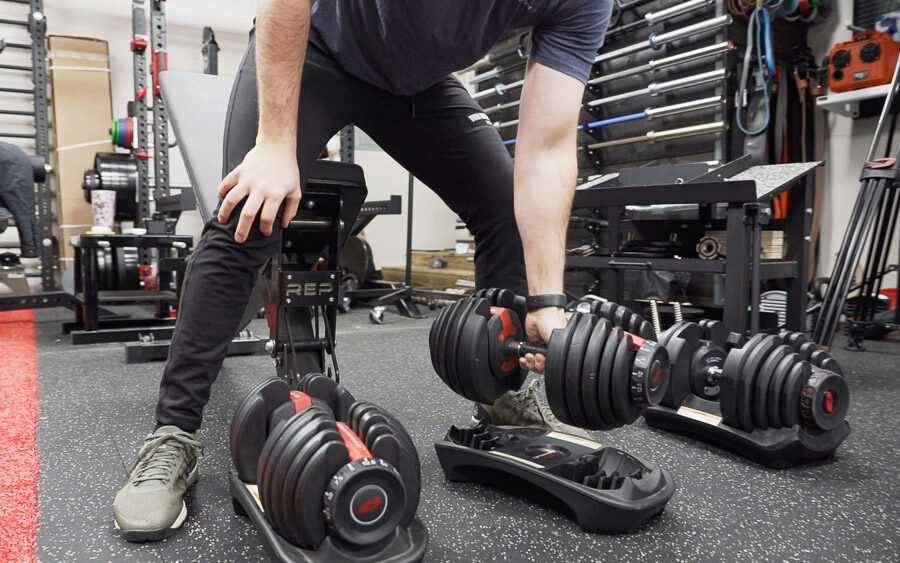 Storage
The SelectTech series of dumbbells include the 552's and the 1090's. Both sit in a plastic stand that allows the excess weights that aren't in use to be left in the tray when the dumbbells are used (just like the Bowflex SelectTech 840 Adjustable Kettlebell.
RELATED: Check out our list of the best kettlebells.
If the dial is placed between weight increments, the entire carriage can be moved by holding the dumbbell handle. This is ideal for those who move their equipment from, say, a closet where they store equipment to their workout area.
Again, it's all about that convenience factor when it comes to working out from home, and you can tell that this is something Bowflex has taken into account. Placing it in the tray is pretty fast and doesn't require a ton of time to line up after you've done it a few times.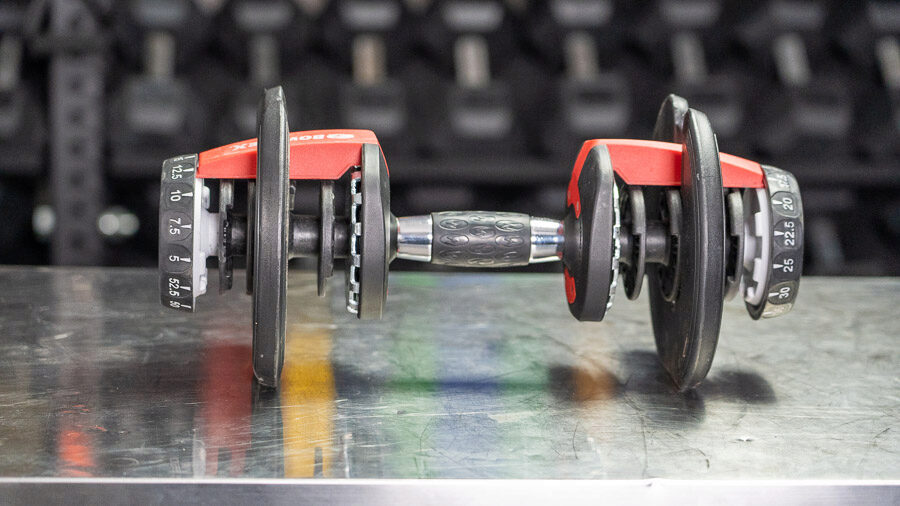 Construction
At first glance, the Bowflex SelectTech 552s have a cool design and they are very compact compared to a full set of dumbbells, which means they won't take up a lot of your workout space. Boasting a sleek red-and-black design, the dumbbells look great as well, which is always a nice touch as the equipment you enjoy looking at, will be used more often.
One thing that isn't a dealbreaker, but you should know, is that the 552's (as well as the 1090's) are very bulky, even at a lighter weight. The dumbbell is the same length no matter the weight used, so it's always pretty wide. This makes it difficult on certain movements like weight bench presses, rows, and curls. When you compare the length of the 5-pound SelectTech 552 Dumbbell and a 5-pound fixed dumbbell, it's quite comical to see the difference.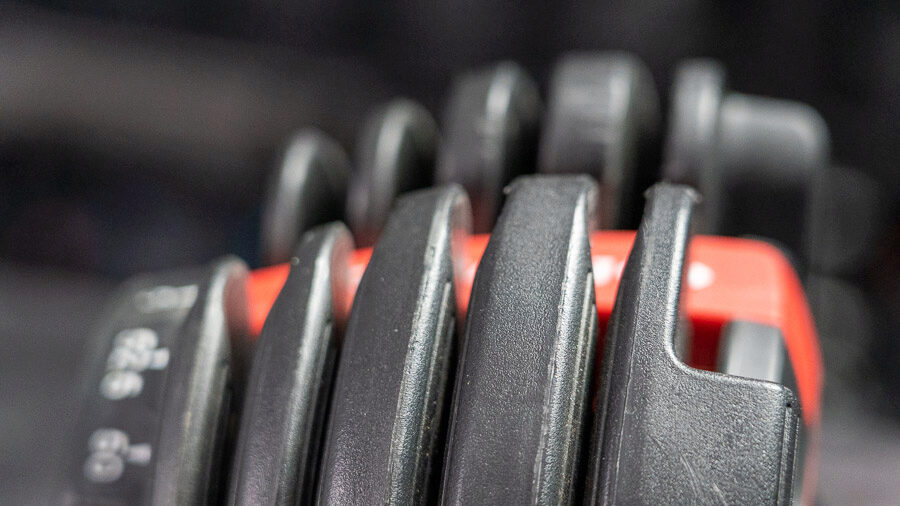 Weights and Handle
One feature that Bowflex markets that doesn't matter much to me, but may to you, is that the dumbbells are also quiet during use. That's because there are no metal plates clanking together. The plates themselves are made of metal, but they are encased in a molding. This can be beneficial if you workout early in the morning and you don't want to wake up others in the house.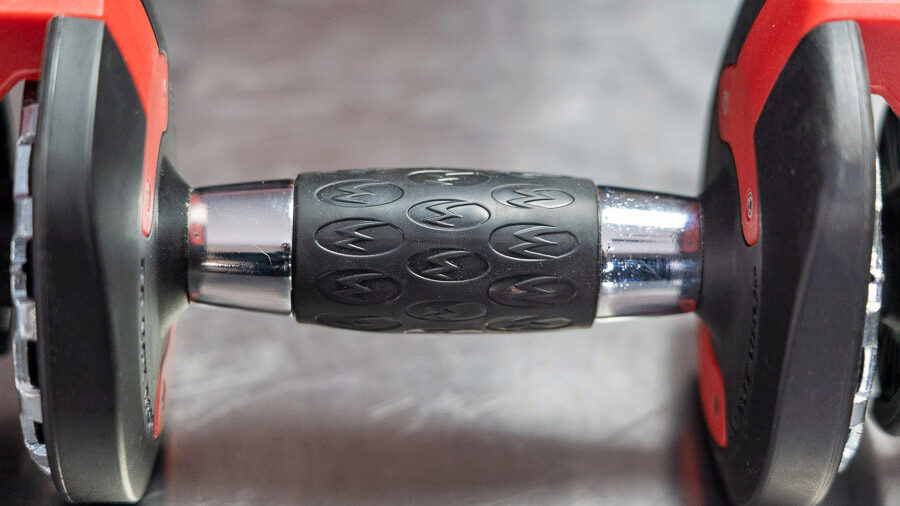 The handle is about 5 inches, which is similar to fixed dumbbells and makes it feel balanced in the hand. The rubber grip on the handle ends up spinning and can be pulled off. I won't lie: It's very annoying. Knurling would be a marked improvement, and not the nippling "knurl" found on the 1090's handles, as it's no good, either.
The Plastic
One thing about the 552's that we're not fans of is the amount of plastic used, which leads to a shortened lifespan and obviously is not great in terms of the environment, either. The inside connector pieces are plastic and have shown that they can crack, potentially dropping a weight plate and causing injury, so please do be mindful regarding this. The stand is also plastic and can crack.
Because of all the plastic, the SelectTech Dumbbells will break if you drop them. Of course, no one intends to drop their dumbbells, but it can happen, especially if you're pushing yourself. However, if you do this, they could break, and it will void your warranty.
Ease of Use
Much of the appeal for these weights comes from the fact that they're so easy to adjust. By utilizing the loading tray and dial systems on the end of either weight, you should be able to change weights in a matter of seconds, which is always a huge plus for any adjustable dumbbell.
This simple designs gives you more leeway in your workouts, allowing you to try out some faster-paced workouts if you want.
Price
At $429, the Bowflex 552s are a great value pair of adjustable dumbbells. You're getting a lot if you decide to buy: 15 sets of weights, an easy weight-change system, and a compact product that won't be too bulky or bog you down during your workout.
The one callout here is the plastic, which raises questions about durability. Any product made with a lot of plastic over metal can be more prone to damage, which is something to consider before you buy.
Performance
The Bowflex SelectTech 552s are pretty high-performing for the amount you're paying. The quick weight change process is key here, allowing you to navigate between various exercises with ease without really slowing your workout down. The dial system is intuitive, and the storage tray keeps all the spare plates neatly arranged in one place.
You can't drop or slam these dumbbells due to the plastic, though, which is worth noting. Also, the fact that the 552s cap out at 52.5 lbs can be a limitation for those looking to do some heavier dumbbell weightlifting.
Design
The Bowflex 552s are designed with simplicity in mind. By turning the dials found at either end of the dumbbells to whatever weight increment you desire, this model will shed the unnecessary plates and lock in the ones that need to be used. The storage rack makes this even easier, as you can rest the unused plates there for easy pickup when you need them again.
In terms of material, the plates of the 552s are plastic, which makes sense considering the price point. They're pretty compact and look sleek with the red and black color combo, although the one callout here is that they stay the same width no matter what weight increment you choose. This could end up affecting your ability to perform certain exercises.
Features
The selector dial system is one of the nicest features of the Bowflex SelectTech 552s. By turning the dial you can change weights in seconds, leaving the unused plates behind in the storage tray.
The 552s are also pretty compact, boasting a small footprint that makes them easy to store. This is helpful for those dealing with a space constraint in their home gyms.
The quickness to change weights opens the door for supersets and other fast-paced dumbbell workouts right in your home gym.
RELATED: Dumbbell Leg Workout
Bowflex SelectTech 552 Adjustable Dumbbells vs The Competition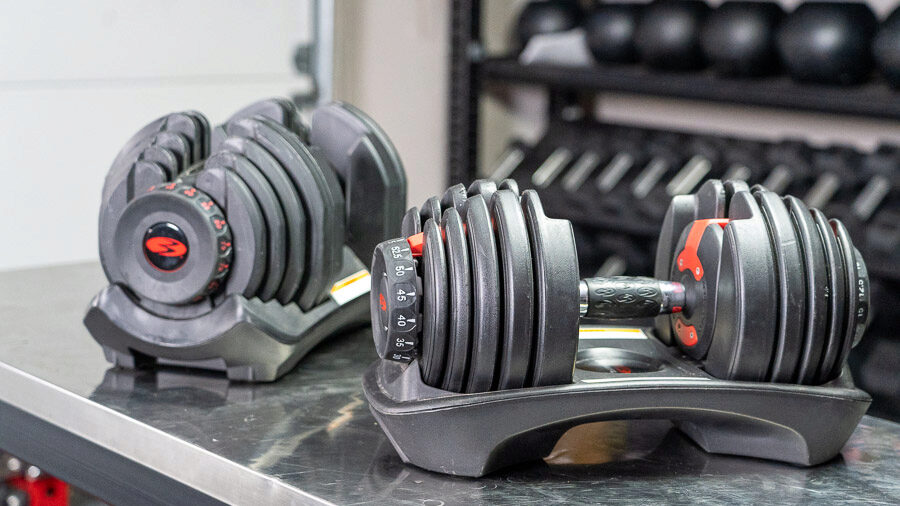 The three main competitors of the Bowflex SelectTech 552s are the Powerblock Elite dumbbells, the Ironmaster Quick-Lock dumbbells, and the Nuobell adjustable dumbbells. The 552s are lacking compared to the other models in the maximum weight category, as all three have max weights of at least 75 pounds (some with extension kits available) compared to 52.5 pounds on the 552s.
Aside from the Nuobells, however, the 552s have the quickest weight change process. In addition, the 552s are more affordable than the other three options, giving them the edge as a value product. It's all about preference, but if you need an affordable, easy-to-use adjustable dumbbell and aren't hung up on maximum weight, the 552s could be right for you.
Customer Experience
I haven't had many issues ordering and receiving products from Bowflex. The brand gives you up to six weeks to return a product if you change your mind. You can even use the product before returning, but you will only get a refund if the item isn't damaged or in obviously used condition, so keep that in mind.
Warranty
The 552s have a two-year warranty, which, in my opinion, is pretty fair. Just keep in mind that if you drop the dumbbells, you risk voiding your warranty if they break.
Customer Reviews
The SelectTech 552's have been on the market for over a decade with thousands of positive reviews, and many people who are big fans of the design. On the Bowflex website, they have a 4.8/5 rating from more than 5,000 reviews.
The biggest criticisms come down to the quality of the materials. There are complaints of the plastic breaking, which doesn't surprise me in the least.
Final Verdict of Our Bowflex SelectTech 552 Adjustable Dumbbells Review
I strongly believe that the 552s are some of the best value adjustable dumbbells out there. You get 15 sets of weights for under $400, and the dial system makes adjusting the resistance easy. Keep in mind that they aren't meant to be dropped, and they have a limited amount of weight, only going up to 52.5 pounds on each dumbbell.
Still, for a lot of people who do weight training at home, these are a great option.
Bowflex SelectTech 552 Adjustable Dumbbell Rating
Bowflex SelectTech 552 Adjustable Dumbbells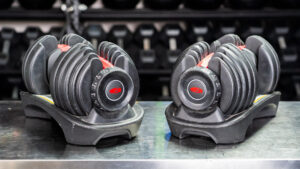 The Bowflex SelectTech 552 Adjustable Dumbbellsare arguably the most popular adjustable dumbbellsin the world. They're quick to change, available everywhere, have a decent max weight, and are priced extremely affordably. Although I prefer other adjustables above these for various reasons, if you're on a budget, the 552's are a tremendous value, although not without some quirks.
Product Brand: Bowflex
Product Currency: $
Product Price: 399
Product In-Stock: InStock
Bowflex SelectTech 552 Adjustable Dumbbells FAQs
Is Bowflex 552 worth it?
Priced under $400, the Bowflex SelectTech 552 Adjustable Dumbbells present a great value for a full body workout. They adjust easily, feel balanced in the hand and replace 15 sets of dumbbells. I will say that they don't have the highest quality construction, but as long as you take care of them, they should last you a few years. 
How heavy is Bowflex 552?
There are 15 different weight options from 5 to 52.5 pounds. You can find your desired weight in 2.5-pound increments up to the first 25 pounds. After this, the increments are 5 pounds.
Is it worth getting adjustable dumbbells?
Absolutely! Adjustable dumbbells give you the same weight range as an entire set of fixed dumbbells and take up much less space, all while being cheaper than an entire rack of traditional weights.
Can you add weight to Bowflex 552?
No, the Bowflex 552 do not come with expansion kits so the maximum weight of 52.5 pounds is as heavy as these dumbbells will get.