We review free products that we receive and participate in affiliate programs, where we may be compensated for items purchased through links from our site.
See our disclosures page for more information.
The Bowflex SelectTech 552 Adjustable Dumbbellsare arguably the most popular adjustable dumbbellsin the world. They're quick to change, available everywhere, have a decent max weight, and are priced extremely affordably. Although I prefer other adjustables above these for various reasons, if you're on a budget, the 552's are a tremendous value, although not without some quirks.
Bowflex Dumbbell Review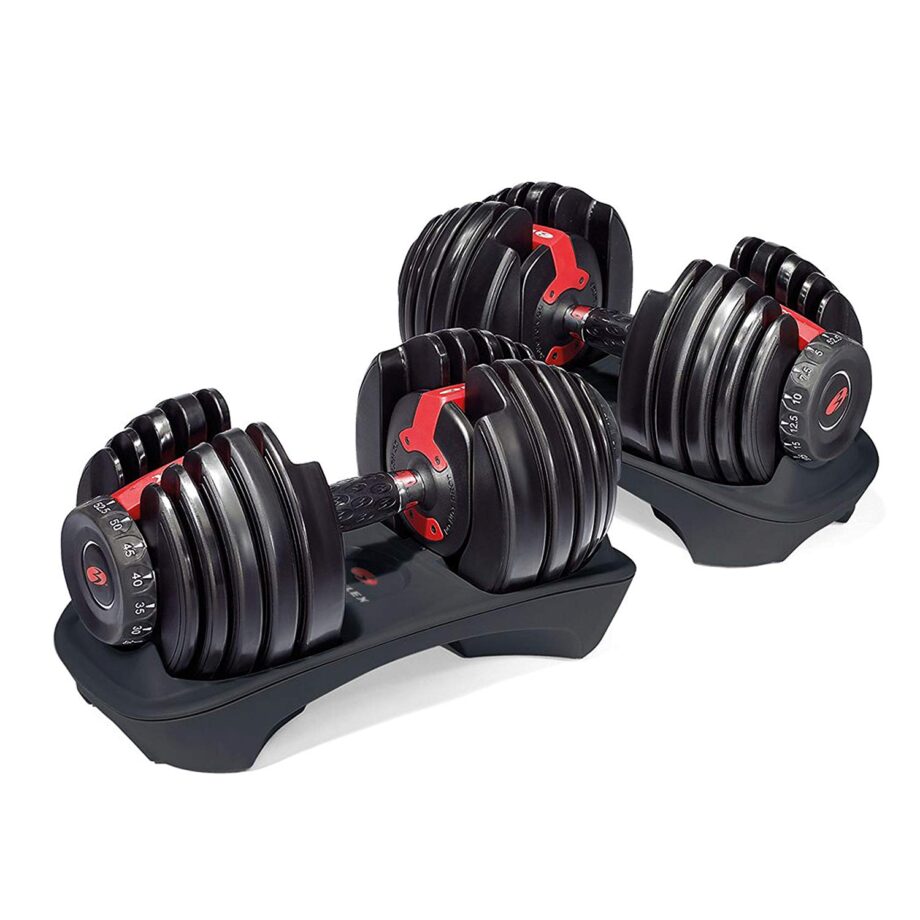 Bowflex SelectTech 552 Adjustable Dumbbells
These adjustable dumbbells replace 15 sets of weights. Weights adjust from 5 to 52.5 lbs in 2.5 lb increments up to the first 25 lbs. Easy-to-use selection dials for adjusting weights. They are sold as a pair. Easily switch from one exercise to next and with the turn of a dial you can change your resistance, enabling you to gradually increase your strength. Versatile workout for your legs, back, chest, abs, shoulders and arms. Compatible with the free Bowflex SelectTech® training App for iOS and Android.No more picking up 30 different dumbbells to give you the results you want!Say goodbye to 15 sets of dumbbells cluttering your workout space.With weight that adjusts from 5 to 52.5 lbs., you'll continue to see results as your fitness level improves.Durable molding around metal plates provides for a smooth lift-off and quieter workouts...no clanging metal plates!With the wider weight range you can do heavy exercises such as shrugs and lunges as well as lighter exercises such as curls and raises.
In my quest to help home gym owners find the best adjustable dumbbells for their training, I'd be remiss to not review the Bowflex SelectTech 552's. These dumbbells areextremelypopular, largely because they're priced so competitively. I love how quick they are to change in weight and how cheap they are, but there are definitely some issues with durability and the lack of upgradeability that causes them to be beat out by competitors that we'vereviewed like Powerblocks as well asIronmasters. Let's get into the review.
What Are the Bowflex SelectTech 552 Adjustable Dumbbells?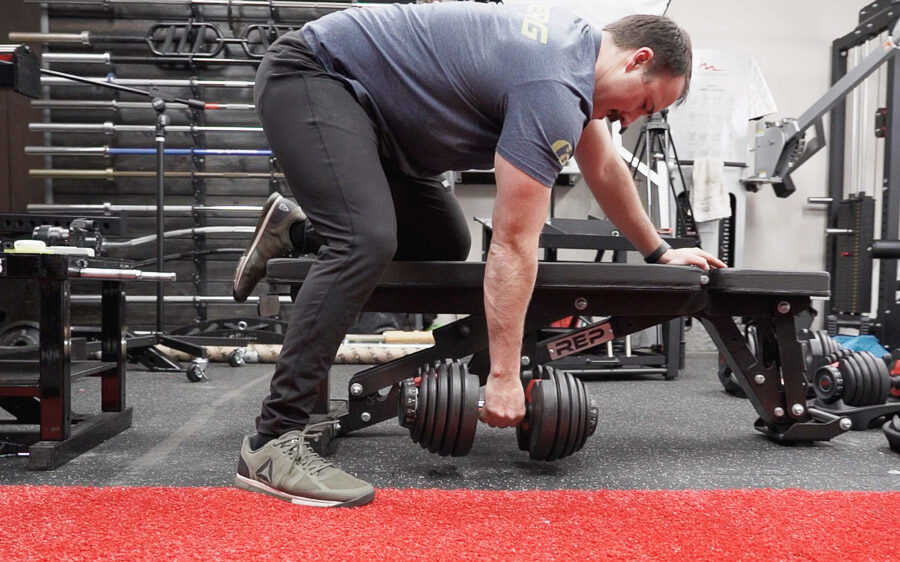 The Bowflex SelectTech 552 Adjustable Dumbbells are a prime example of the company's focus on budget home gym equipment for the home gym owner. The 552's are not the best adjustable dumbbells on the market, but, for the price point, they're a tremendous value.Some of the specs…The weights can be adjusted from 5 to 52.5 pounds in increments of 2.5 pounds up to 25-pound increments and then more random weight adjustments after that.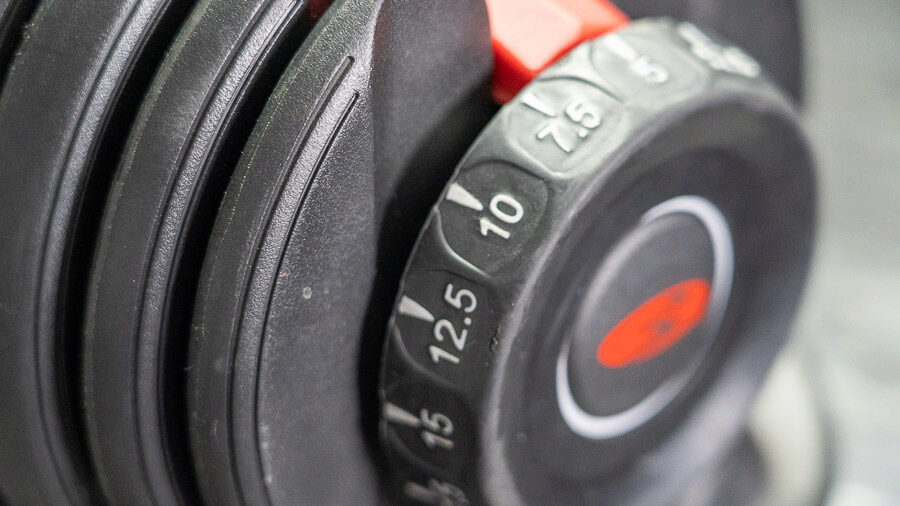 The Bowflex SelectTech 552 Adjustable Dumbbells come with selection dials, which enable you to adjust the weights with ease. This means that switching from one exercise to another is pretty straightforward; all you need to do is turn the dial and you can amend the resistance so the weight can be gradually increased (think progressive overloading and linear progression.)
The SelectTech series of dumbbells include the 552's (this review) and the 1090's. Both sit in a plastic stand that allows the excess weights that aren't in use to be left in the tray when the dumbbells are used. This is the same for the 840 Adjustable Kettlebell which we've reviewed.
RELATED: Best Kettlebells
Adjustable dumbbells are the obvious choice for a home gym and the 552's are a proven model, although with some quirks. Let's discuss what I like…
What We Like About The Bowflex 552's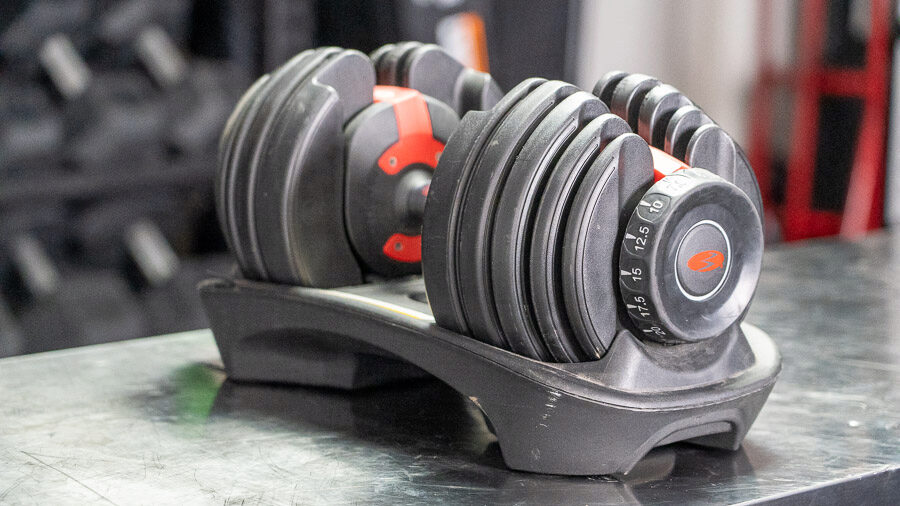 Although a bit unique in their design in comparison to traditional fixed dumbbells, the Bowflex 552 Adjustable Dumbbells do a lot well when you compare them to their price and their competition.
Out of all the adjustable dumbbells I've tested and reviewed (I currently have 12 in my garage gym and more elsewhere) I'd say that these are among the best value adjustable dumbbells for those one a budget. When it comes to price, the value of the 552's are pretty hard to beat (which is kind of Bowflex's sweet spot, anyways.)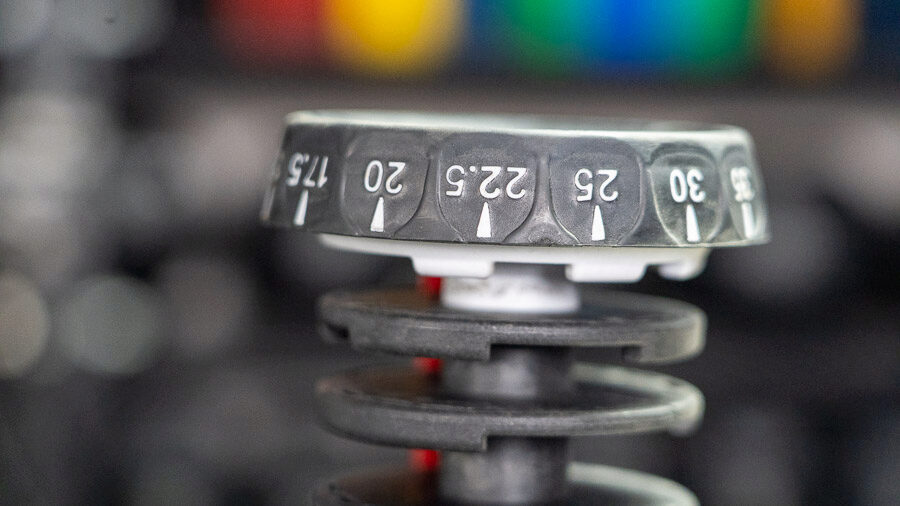 Available for less than $350, shipped, they represent a piece of equipment that can provide a ton of fitness in a small package for a great value(which is kind of the value proposition of all adjustable db's.) When compared with the competition, the price savings are evident. For example,Ironmaster Quick-Lok Adjustable Dumbbells are priced at $429 for a lighter weight set and the Powerbock Sport Series is $350, but without the cost of shipping.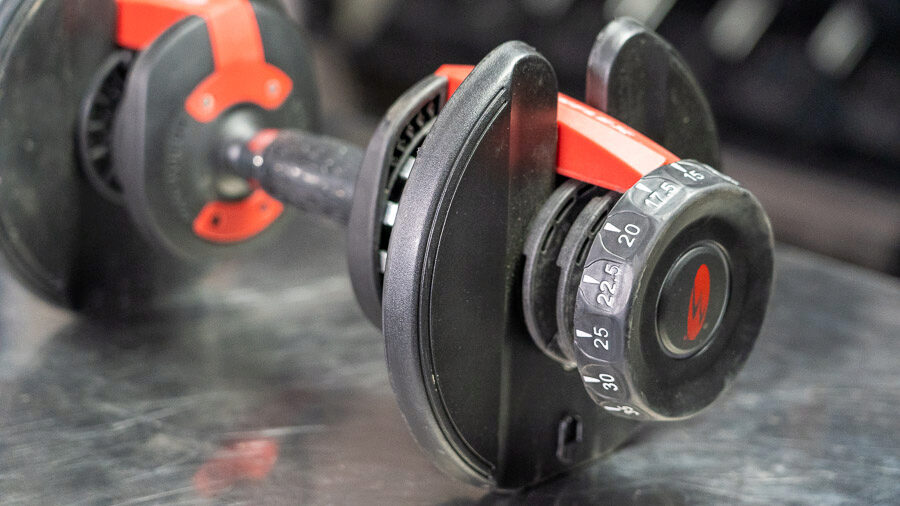 Outside of the price point, the greatest feature is their ease of adjustment. In our opinion, the only pair of dumbbells that's easier to adjust is the NÜOBELL Adjustable Dumbbells which we've reviewed. It took around 7 seconds to adjust from the base weight of 5 LB up to the max of 52.5 LB.
This is one of the best features of the entire SelectTech series including the 1090's and the Bowflex 840 Kettlebell that we've reviewed. The selector dials on the ends of the dumbbells are smooth and adjust very quickly. They give an audible noise that they weight has changed that, as silly as it sounds, is extremely satisfying. I've found myself turning them more than necessary just because it feels and sounds good (I'm aware that's ridiculous.)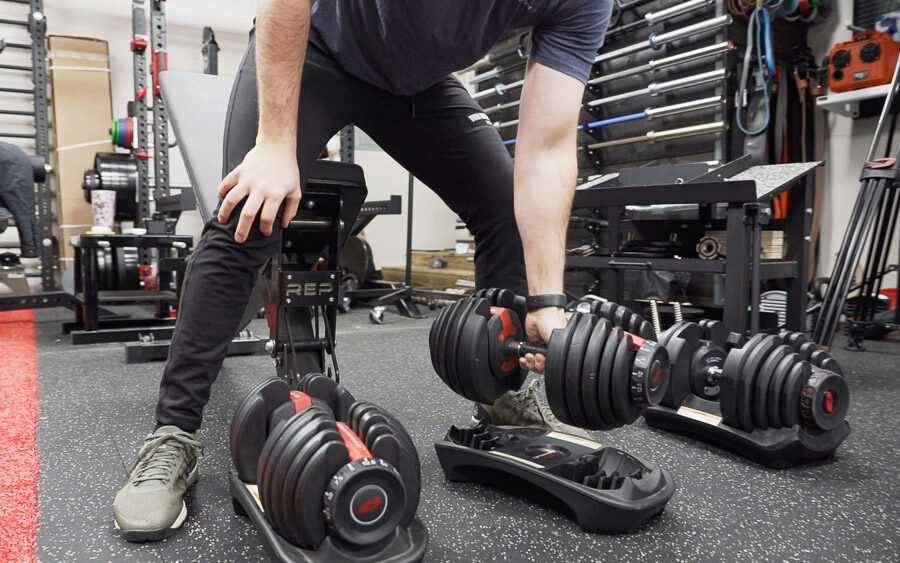 This quick changing of the weight allows supersets to happen much quicker than loadable dumbbells or even some adjustable dumbbells like Ironmaster Quick-Lock Dumbbells allow.
I've found that most people using Bowflex dumbbells are looking more at general fitness training or bodybuilding type of movements. This makes the ability to adjust the weight quickly imperative.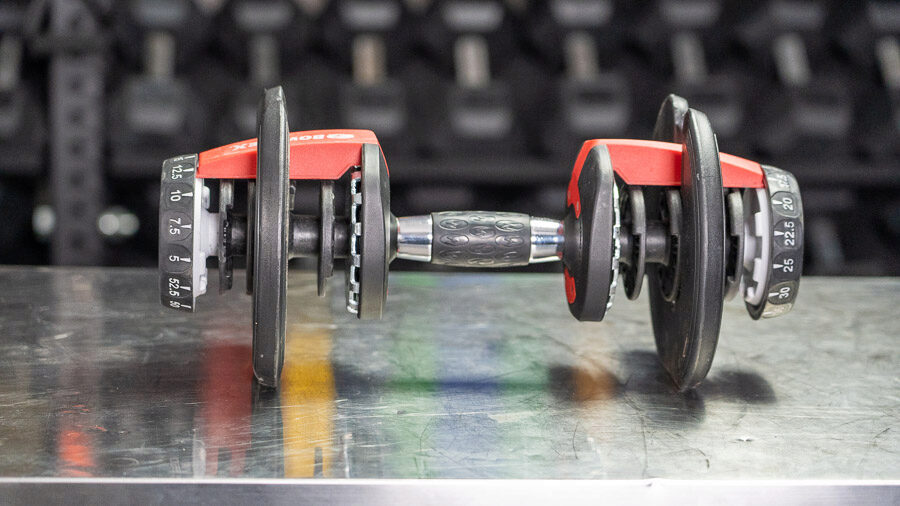 One thing that SelectTech's allow that not even most dumbbell racks in commercial gyms is offering weight increments in 2.5 LB. The 552's adjust by 2.5 lbs every click of the dial for the first 25 lbs and then 5 LB thereafter.
The ability to increase the weight in finer detail allows the trainee to increase the weight slower prolonging an oncoming plateau. A primary component of strength training is linear progression, essentially adding more weight to your lifts each workout, so the more refined progression, the better.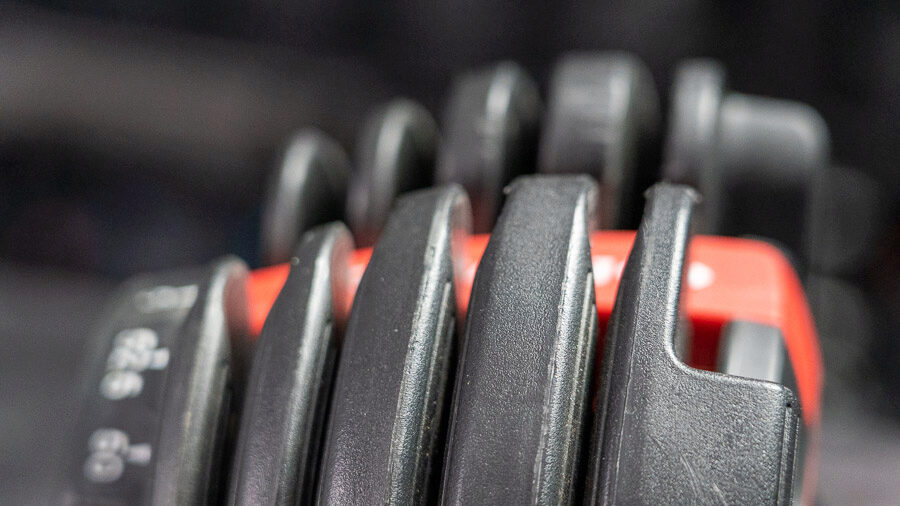 They have a cool design and they are very compact compared to a full set of dumbbells, which means they won't take up a lot of space in your home. Boasting a sleek red and black design, the dumbbells look great as well, which is always a nice touch as the equipment you enjoy looking at, will be used more often.
The trays allow the dumbbells to be placed in many different places and if the dial is placed between weight increments, the entire carriage can be moved by holding the dumbbell handle. Something we think is ideal for those that move their equipment from say a closet where they store equipment to their workout area.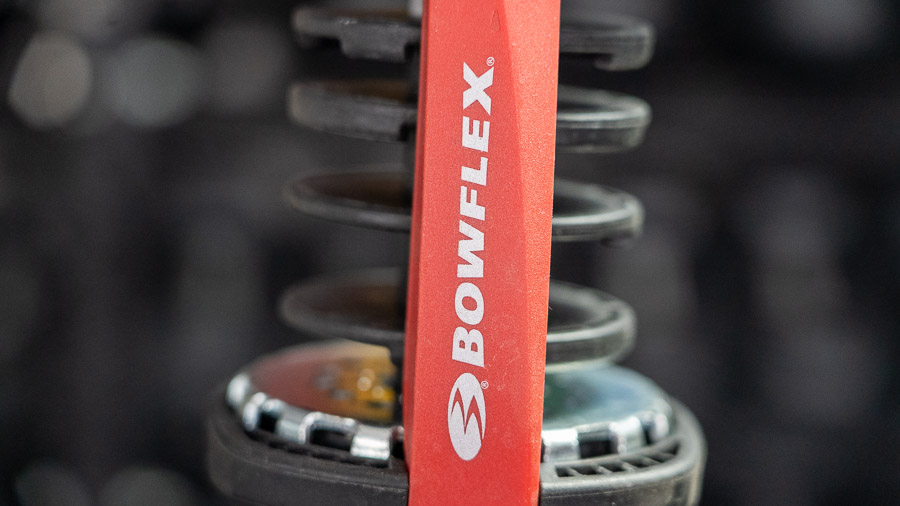 Again, it's all about that convenience factor when it comes to working out from home, and you can tell that this is something Bowflex has taken into account. Placing it in the tray is pretty fast and doesn't require a ton of time to line up after you've done it a few times.
The handle is about 5", which is similar to fixed dumbbells and makes it feel balanced in the hand. One feature that Bowflex markets that doesn't matter much to me, but may to you is that the dumbbells are also quiet during use because there are no metal weight plates clanking. This can be beneficial though if you workout early in the morning and you don't want to wake up others in the house.
The SelectTech 552's have been on the market for over a decade with thousands of positive reviews and many people that are big fans of the design.
Things We Dislike
As is the case with most of the home equipment that we try out, we do feel that there are some areas where the Bowflex SelectTech 552 Adjustable Dumbbells could improve. So, here are some of the things that we weren't big fans of:
The 552's (as well as the 1090's) are very bulky, even at a lighter weight. It's the same length no matter the weight used, so it's always pretty wide. This makes it difficult on certain movements like weight bench presses, rows, and curls. When you compare the length of the 5 LB SelectTech 552 Dumbbell and a 5 LB fixed dumbbell, it's quite comical to see the difference. This isn't a deal-breaker, but be aware that it can be annoying.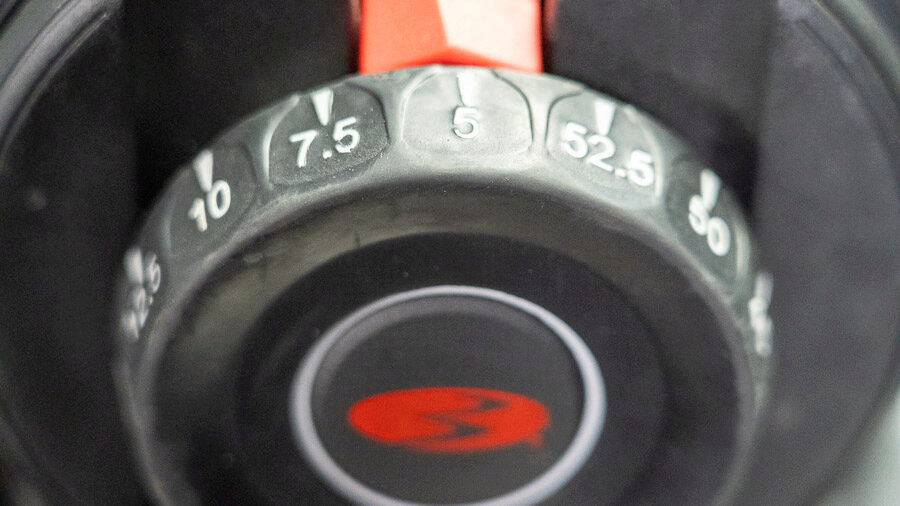 In addition to the length, at 52.5 LB max weight, it's still too light for many. A lot of people will find that it's better for accessory movements or high reps. I think this is a given as you'll know before buying if it's too light, but for many men I talk to, they find they outgrow the set. This brings me to another downside…
The Bowflex 552's aren't upgradeable. Dumbbells like Powerblocks and Ironmasters can increase in weight over time as your strength and pocketbook increases. The 552's are 52.5 LB at their max weight and can never be heavier.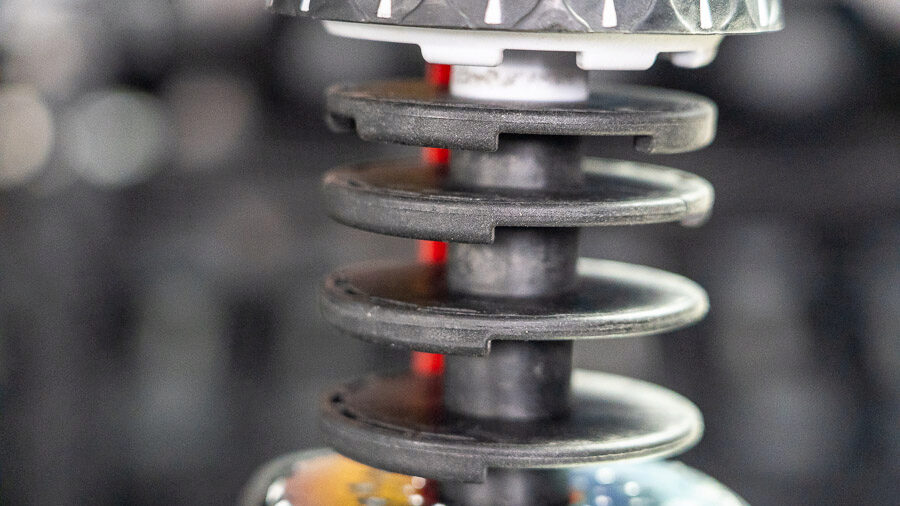 Another part of the 552's that we're not fans of is the amount of plastic used, which leads to a shortened lifespan and obviously is not great in terms of the environment either. The inside connector pieces are plastic and have shown that they can crack, potentially dropping a weight plate and causing injury, so please do be mindful regarding this. The stand is also plastic and can crack. While there is no denying that this is one of the most affordable products on the market, this has come at a cost of using plastic, so durability is compromised to a degree.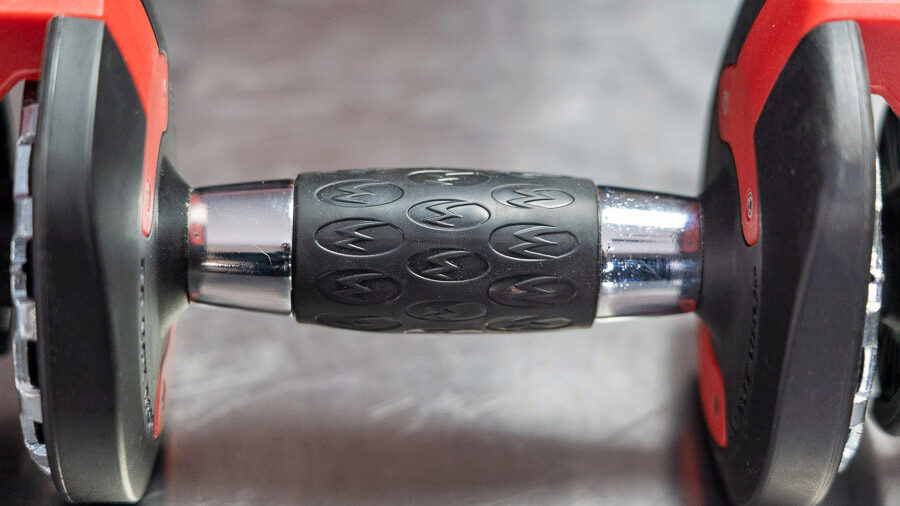 The handle has a rubber grip that ends up spinning and can be pulled off. It's very annoying. Knurling would be a marked improvement and not the nippling "knurl" found on the 1090's handles as it's no good either.
Lastly, the SelectTech Dumbbells will break if you drop them. Of course, no one intends to drop their dumbbells, but it can happen, especially if you're pushing yourself. However, if you do this, they could break and it will void your warranty.
Who Should Add The Bowflex SelectTech 552 Adjustable Dumbbells to Their Home Gym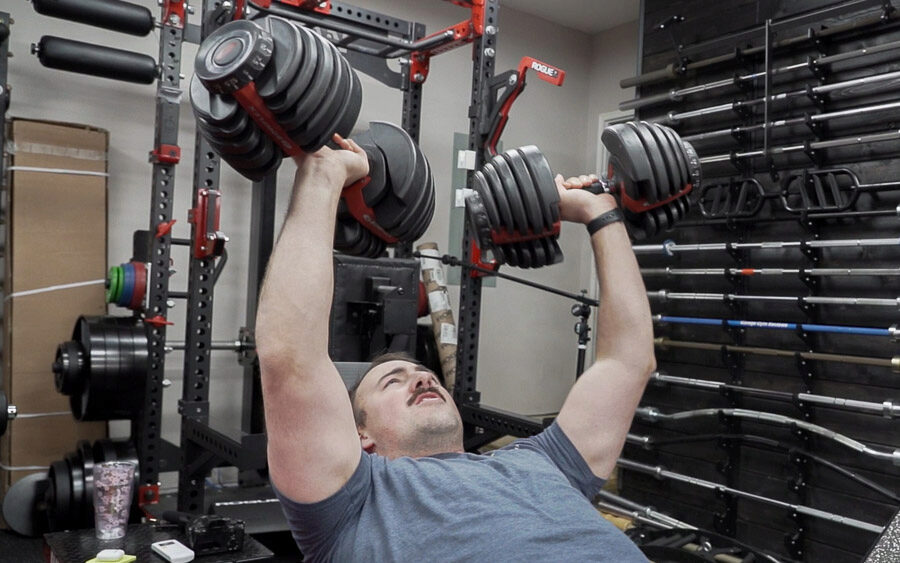 If you're on a budget and don't plan on ever lifting more than 52.5 LB, the SelectTech 552's are a tremendous value.
Although I've pointed out a lot of things I'm not a big fan of, there's still a lot to like. The weight is quick to change, the price is very affordable, and they are somewhat durable if you treat them with care.
I am a fan of 552's, just know that you get what you pay for.
Bowflex SelectTech 552 Adjustable Dumbbells vs The Competition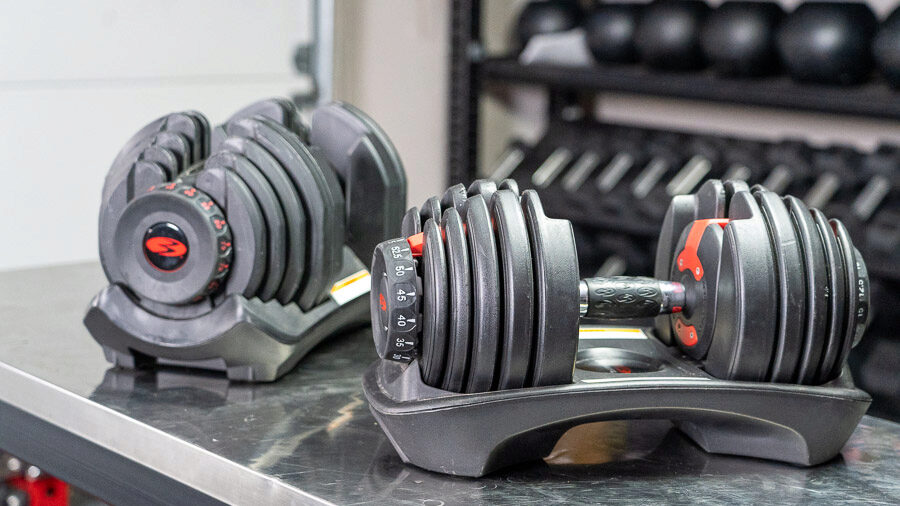 Finally, we will round off by taking a look at how the Bowflex SelectTech 552 Adjustable Dumbbells shapes up against the competition:
Bowflex vs. Powerblocks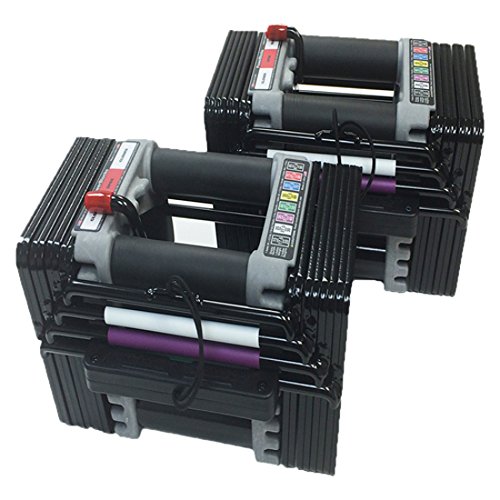 PowerBlock Elite Series Adjustable Dumbbells
PowerBlock was an innovator in this category and has been making adjustable dumbbells since 1991. This means they have had over 25 years of production and refinement to create the ultimately adjustable dumbbells set, and they truly have. The PowerBlock Elite dumbbells are one of the highest-rated and best-selling sets of all time. This is one of the last adjustable dumbbells sets to still be made in the USA, and PowerBlock uses only premium-quality materials. Thanks to their smart and economical design, the PowerBlocks are extremely tough and can withstand all sorts of regular gym abuse.Has a weight range of 5-50 lbs per hand and increments- 2.5 (adder weight), 5, 7.5, 10,15, 17.5, 20 25, 27.5, 30, 35, 37.5, 40, 45, 47.5, 50 pounds per handIs expandable later to 70 and again to 90 pounds per hand.Made in USA10 year home use warrantyReplaces 16 pairs of dumbbells in the space of 1
Bowflex SelectTech 552 Adjustable Dumbbells vs Powerblock Dumbbells
The Powerblock Dumbbells are very easy to adjust, just like the Bowflex SelectTech 552 Adjustable Dumbbells are. They use a unique, patented click system, which works very well. The Powerblocks Elite set, however, will go up to 90 lbs and is upgradeable.
The Bowflex SelectTech 552 Adjustable Dumbbells also offer quieter use, as the Powerblocks dumbbells can rattle a little bit.
However, I prefer the Powerblocks Elite Set for most.
Check out my in-depth Powerblock Dumbbells review here.
Bowflex vs Ironmasters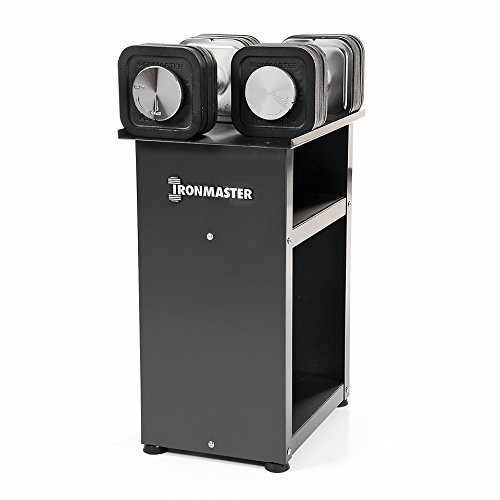 Ironmaster Quick-Lock Adjustable Dumbbells
Ironmaster Quick-Lock Dumbell system is the latest generation of our adjustable dumbbells. You can quickly adjust each dumbbell from 5-75 lbs with our patented quick lock design in under 15 seconds! The set includes the Stand at no extra charge. Now you can have a complete set of free weight dumbbells at home that feel just like traditional dumbbells with no restrictions, rattling or safety concerns! Set includes two handles with four locking screws, 24 ea. 5 lb plates and 4 ea. 2.5 lb plates and dumbbell stand. Handles weigh 5 lbs empty and each locking screw weighs 2.5 lbs so the starting weight is 10 lbs each dumbbell before plates are added. 65 lbs of plates can be put loaded on each handle. Add-on kit available to go up to 120 lbs each dumbbell. Dimensions are just 6.5" x 6.5" x 14.5" at the 75lb size. Heavy Duty - go ahead and drop them. No plastic or fragile parts!Quick-Lock design adjusts from 5-75 lbs in 2 1/2 lb increments in just seconds!Super heavy duty construction with welded steel, chrome plated handles.System includes two adjustable dumbbells at 75 lbs each (150 lbs total) and Dumbbell Stand.Super space efficient design. Takes up less than 2 square feet.Limited lifetime warranty.
Bowflex SelectTech 552 Adjustable Dumbbells vs Ironmaster Quick-Lock Dumbbells
Ironmaster Adjustable Dumbells are more suitable if you're looking for a larger weight range, as they go from 5 lbs to 75 lbs standard. There are also additional kits available, which can bring the maximum up to 120lbs and 165 lbs. They also have the 2.5 lbs increments, like the Bowflex SelectTech 552 Adjustable Dumbbells.
On the flip side, the Bowflex SelectTech 552 Adjustable Dumbbells are more affordable and you do not need to go through the hassle of working out how much metal to add every time. For those that lift heavy, I recommend the Ironmasters.
You can find our full, in-depth review on Ironmaster Quick-Lock Dumbbells here.
Bowflex vs NUOBELLS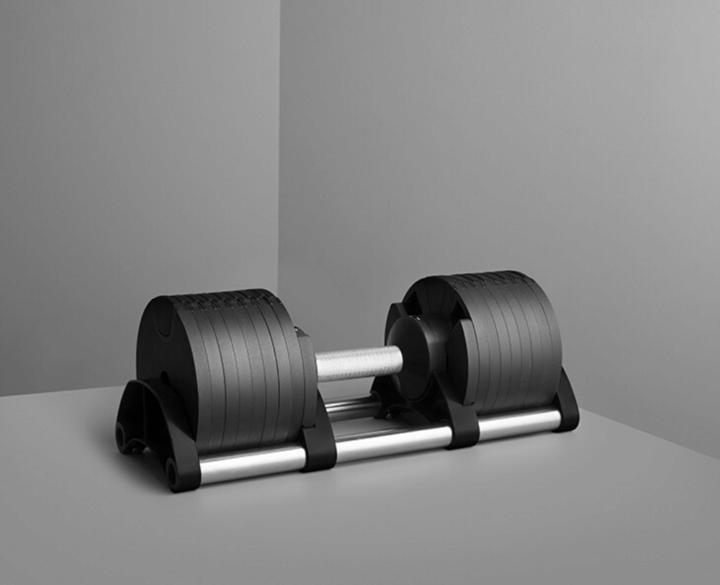 NÜOBELL Adjustable Dumbbells
NÜOBELL give you the convenience of all-in-one adjustable 5-80lb dumbbells that are easy to use and have superior durability thanks to its machined steel weight plates. This set of innovative dumbbells will quickly become your go to favorites. These are sold as a set of 2 x 80lb dumbbells Weight Range lb 5-10-15-20-25-30-35-40-45-50-55-60-65-70-75-80 The material is steel and plastic Net weight: 80lb Includes portable cradles for both adjustable dumbbells.
Bowflex SelectTech 552 Adjustable Dumbbells vs NUOBELL Dumbbells
Finally, the NUOBELL Dumbbells boast a strong, steel construction, which appeals to many, yet they are a lot more expensive than the Bowflex SelectTech 552 Adjustable Dumbbells. The NUOBELL has a maximum weight of 80 lbs.
The NUOBELL's are also the only dumbbells that are faster to change the weight than the Bowflex's. I think the SelectTechs are a better value, although they're very different dumbbells as their price points and max weight are vastly different.
Check out our detailed review on theNUOBELL Adjustable Dumbbells here.
Bowflex 552 Dumbbells FAQ
How does the Bowflex SelectTech 552 Adjustable Dumbbell feel versus a traditional dumbbell?
Fixed dumbbells are a lot more compact and are quieter to use. The 552's aren't as well balanced as they're a lot longer than fixed dumbbells, like the REP Rubber Hex Head Dumbbellsin my garage gym, but you'll get used to it after a few workouts.
How heavy do the Bowflex 552 Dumbbells go?
The weights can be adjusted from 5 to 52.5 lbs.
Is the handle grippy?
Yes, the handle features a rubber grip. However, do be mindful that the grip is prone to ending up spinning and can be pulled off. I would prefer metal knurling like is found on a barbell.
What weight increments are possible with the Bowflex 552 Dumbbell?
The weights can be adjusted from 5 to 52.5 lbs in increments of 2.5 lbs up to the first 25 lbs. After this, the increments are 5 lbs.
Are they durable?
To a degree; they are made from plastic, which shortens their lifespan, so you do need to be mindful of this when using the Bowflex SelectTech 552 Adjustable Dumbbells. However, I would avoid dropping them at all costs and if you treat them carefully, they should prove to last a long time. Do expect some scuffs and scratches on the plastic weights that attach to the handles though.
Full Rating