We test and review fitness products based on an independent, multi-point methodology. If you use our links to purchase something, we may earn a commission. Read our disclosures.
Wait, NordicTrack does dumbbells? They do, and it's okay: I had to do a double take, too. Typically known more for their cardio equipment—treadmills, bikes, and ellipticals, amongst other machines—NordicTrack does have strength equipment, including dumbbells.
NordicTrack offers their adjustable Select-A-Weight Dumbbells in a lighter 25-pound model and a heavier 55-pound version, and after having our hands on them, we have to say that these adjustable dumbbells offer great value compared to other adjustable dumbbells. In our NordicTrack dumbbell review, we will take a closer look at these dumbbells, and give you our take on if NordicTrack is the real deal when it comes to this piece of gym equipment.
No Matter How You Adjust Them, We Know Dumbbells
Our team has tested a lot of dumbbells, both fixed and adjustable. Particularly when it comes to adjustable dumbbells, we have had our hands on almost every brand and type out there. We look at aspects like comfort level, how heavy a dumbbell can adjust, as well as ease of use when selecting weights. Additionally, we are a team of personal trainers, CrossFit coaches, and competitive athletes who have used and been around this equipment for years; so we know what to look for in a good dumbbell.
A Quick Look at the NordicTrack Dumbbells
Starting with its classic skier way back in the 1970s, NordicTrack has branched out mostly in cardio fitness equipment, as well as smart home gyms. One of their less-marketed items is their adjustable dumbbells. They have a few different models to choose from, including the NordicTrack iSelect Adjustable Dumbbells, featuring voice activation to adjust the weights through Alexa (definitely the smartest dumbbells I've ever seen).
However, we'll be looking at the NordicTrack Select-A-Weight Adjustable Dumbbells, which come with a maximum weight of either 25 or 55 pounds. These dumbbells are a great value, especially looking at the 55-pound versions. Compared to other adjustable dumbbells around the 50-pound range, these come in at a great price; they also have a nice feel comparable to traditional dumbbells, without the clutter of multiple pairs and a dumbbell rack.
Before You Buy
Currently, there is no price difference between the 25-pound version and the 55-pound adjustable dumbbells; both sit at $349 with free shipping. Unless that price point shifts, we'd recommend the 55-pound dumbbells for a far greater value.
There are four weight selectors on each dumbbell, two for 10-pound weight increments, and two for 2.5- or 5-pound increments. Although the storage tray clearly labels how much each 10-pound selection is, there is no marker to determine which way slides to 2.5 pounds, and which slides to 5 pounds. While it's not a deal breaker for us, it can be annoying to be in the middle of a workout and make the wrong selection on the dumbbells.
While this has 15 different weight selections, the jumps are either 2.5 or 5 pounds, because you cannot add a 7.5-pound increment. So the pattern goes 10 pounds, to 12.5 pounds, to 15, then to 20 pounds, then repeats with those increments. For most people, this shouldn't be a problem, but is something to be mindful of.
Video Review
Are the NordicTrack Dumbbells Worth It?
Simply put, the 55-pound dumbbells bring a lot of value to the table. Compared to other adjustable dumbbells at this weight and price range, these are well-made with easy-to-use weight pins to make weight adjustments on the fly.
A couple things to look out for are that these dumbbells only go up to 55 pounds, with no option to increase or add on weight, except maybe a small magnetic weight plate on each end. If you are looking for more weight in your adjustable dumbbells, we'd recommend Nuobell dumbbells or PowerBlock, which can go up to 80 and 90 pounds respectively.
Another thing to consider whenever using adjustable dumbbells is that they should not be dropped. So if you like dropping your weights after a heavy set of bicep curls, think again.
There are heavier pairs of dumbbells, and more high-quality ones, but at this price these are hard to beat.
Great for:
Anyone looking for great value in a 55-pound adjustable dumbbell set
Those wanting a classic dumbbell look and feel in their adjustable dumbbells
People looking for a space-saving adjustable dumbbell for their home gym
Not recommended for:
Those looking for a higher max dumbbell weight than 55 pounds
Any lifter who tends to drop their dumbbells
People wanting to eventually add on to their adjustable dumbbells
NordicTrack Dumbbell Specs
| | | |
| --- | --- | --- |
| | NordicTrack 25-lb Select-A-Weight Dumbbells | NordicTrack 55-lb Select-A-Weight Dumbbells |
| Price | $349 (pair) | $349 (pair) |
| Weight Range | 5 – 25 lbs | 10 – 55 lbs |
| Change Increment | 5 lbs | 2.5/5 lbs |
| Weight Options | 5, 10, 15, 20, 25 | 10, 12.5, 15, 20, 22.5, 25, 30, 32.5, 35, 40, 42.5, 45, 50, 52.5, 55 |
| Replaces | 5 sets of dumbbells | 15 sets of dumbbells |
| Dumbbell Length | 14.6" | 16.5" L |
| Storage Tray Footprint with Dumbbell | Not disclosed | 19.4" L x 11.4" W x 8.5" H |
Using the NordicTrack Dumbbells
We really enjoyed the feel of these NordicTrack adjustable dumbbells. With a knurled handle and flat, round dumbbell plates, it mimics a lot of traditional fixed dumbbells, and rests easily on your thighs during exercises, like in between sets of incline bench. They are built to accommodate most home workouts and have a lot of functionality, unless of course you need heavier dumbbells in your strength training, like for a dumbbell deadlift or squat.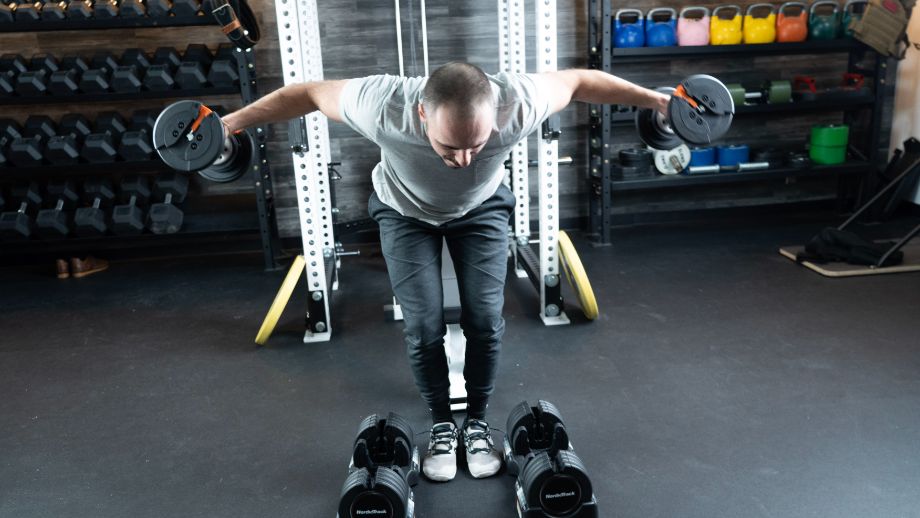 Construction
The NordicTrack Select-A-Weight Adjustable Dumbbells have weight pin selectors on each head of the dumbbell to make quick adjustments. The 25-pound version has one selector on each side to adjust 5-pound increments at a time, while the 55-pound pair of dumbbells have a second selector on each side to make a 2.5- or 5-pound adjustment (the other selector makes 10 pound adjustments).
The pins are easy enough to move; just pick up and slide to the desired weight. Having the two pins on each side of each dumbbell can be a problem if you are wanting to change the adjustable weights quickly in between sets or reps, but for most weightlifting workouts, they will adjust quickly enough. There is also no clear marking on the dumbbell or storage tray to differentiate the 2.5- or 5-pound adjustments, which could be frustrating in the middle of a workout.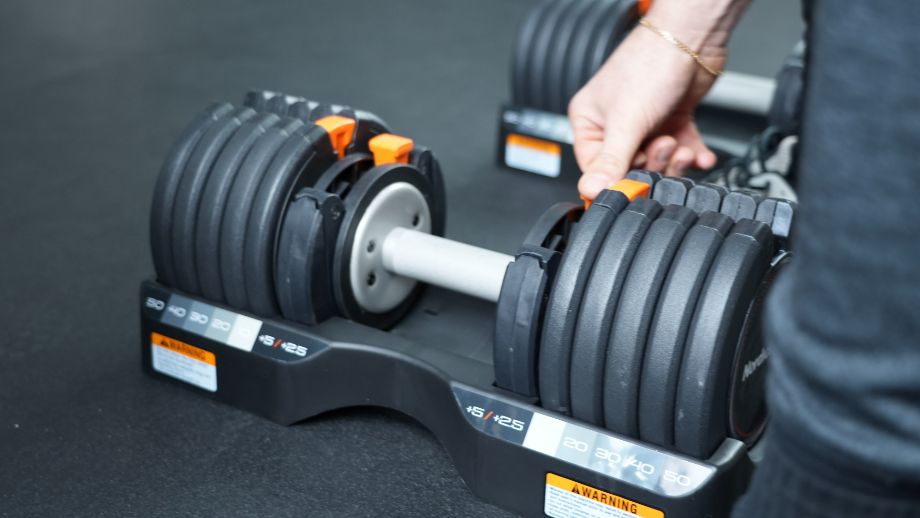 Adjustable dumbbells can be wildly off in the weights they claim, but the Nordictrack dumbbells were one of the more accurate ones we've handled. The dumbbells were consistently a pound heavy, starting at 11 pounds instead of 10, and 56 instead of 55 at its heaviest.
The metal handle on the dumbbells has a light knurling on it. This is passive enough to not bother anyone not used to knurled handles, but also is a good feel for any home fitness enthusiasts that enjoy a good knurled grip. At this price, it's a nice touch. Garage Gym Reviews founder Coop says on these dumbbells, "Most dumbbells with this type of marketing are not metal knurled handles…At this price point, a knurled handle—yeah, it's nice."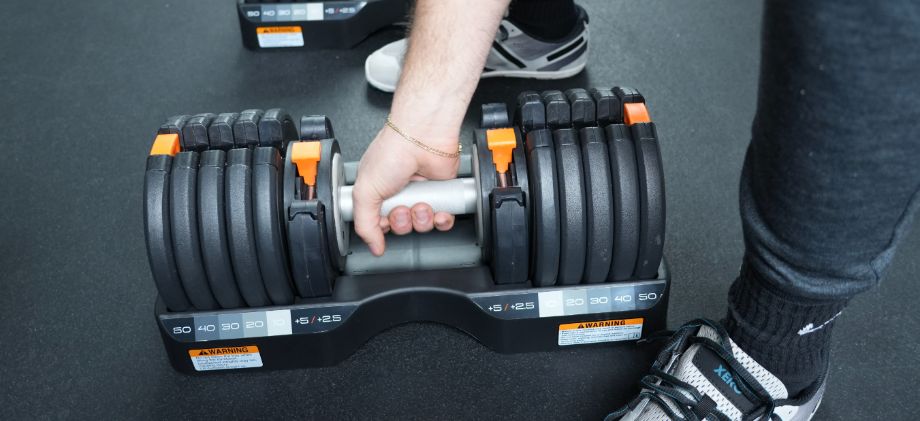 Additionally, the dumbbells are constructed with flat weight plates, which make it easy to rest on the floor, or on your thigh to bring the dumbbells up to the chest. This is a little thing that made our use with the dumbbell much more comfortable. The round design of the dumbbells, however, can be problematic if your garage gym has a slanted floor. Look out for rolling weights!
Durability
The NordicTrack dumbbells are made pretty well, but as with most adjustable dumbbells, with the selector weight pins, there are a lot of moving parts. To make these dumbbells last, I'd recommend never dropping them.
The dumbbells also come with a storage tray, which is clearly marked with stickers as to what weights each adjustment makes—aside from the 2.5- and 5-pound markers. The tray is plastic, so the dumbbells should not just be dropped into them, to allow for longevity in the trays as well.
Footprint & Portability
Obviously, adjustable dumbbells are going to save you a lot of space in any garage gym, as the alternative is to have several pairs of fixed dumbbells on a big rack. Weights not used are easily stored in the plastic tray, and the dumbbell slides in and out of the tray pretty well too.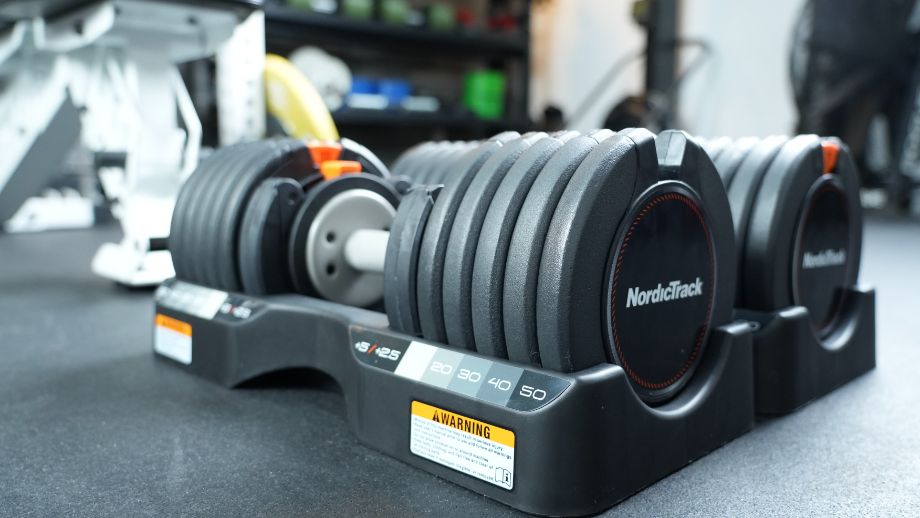 As far as the size of these dumbbells compared to other brands at the 50 to 55 pound range, they proved to be the middle of the road. The 55-pound Nordictrack dumbbells were right around 16.5 inches long, while other adjustable dumbbells can be between 15 and 17 inches at this weight range.
Technology Conveniences
Every NordicTrack purchase comes with a free 30-day trial iFIT membership. While these dumbbells aren't as smart as the iSelect dumbbells, iFIT gives you access to a lot of different programs and trainer-led workouts. It's worth trying out the trial period. iFIT offers strength training workouts led by personal trainers, which means you can put your dumbbells to good use via the app.
Comparison to Bowflex 552s & Nuobell Adjustable Dumbbells
The NordicTrack Select-A-Weight Adjustable Dumbbells are comparable to a lot of other adjustable dumbbells in the 50-pound range. Here, we compare it to the BowFlex SelectTech 552 Adjustable Dumbbells and the Nuobell Classic 50-pound dumbbells.
There are minor differences in weight adjustments and weight range between the three brands, but the main difference is pricing, with NordicTrack being the lowest at only $349 with free shipping. Because of that, if you are looking for a dumbbell in that weight range, this is probably the best adjustable dumbbell choice for that value.
With that said, the Nuobells are high-quality dumbbells with knurling and a flat head like the NordicTrack, and also have an 80-pound option. If you are wanting a heavier adjustable dumbbell, we'd recommend getting the Nuobells, as they are not much more than the 50-pound version, at $745.
| | | | |
| --- | --- | --- | --- |
| | NordicTrack 55-lb Select-A-Weight Adjustable Dumbbells | Bowflex SelectTech 552 Adjustable Dumbbells | Nuobell Classic 50-lb Adjustable Dumbbells |
| Price | $349 | $429 | $595 |
| Weight Range | 10 – 55 lbs | 5 – 52.5 lbs | 5 – 50 lbs |
| Change Increment | 2.5 & 5 lbs | 2.5 & 5 lbs | 5 lbs |
| Weight Options | 10, 12.5, 15, 20, 22.5, 25, 30, 32.5, 35, 40, 42.5, 45, 50, 52.5, 55 | 5, 7.5, 10, 12.5, 15, 17.5, 20, 22.5, 25, 30, 35, 40, 45, 50, 52.5 | 5, 10, 15, 20, 25, 30, 35, 40, 45, 50 |
| Replaces | 15 sets of dumbbells | 15 sets of dumbbells | 10 sets of dumbbells |
| Dumbbell Length | 16.5" | 16.9" | 15.5" |
| Storage Tray Footprint with Dumbbell | 19.4" x 11.4" x 8.5" | 16.9" L x 8.3" W x 9" H | Not disclosed |
Customer Experience
NordicTrack customer service can be reached through a phone number as well as a live chat on the website.
There was no information on warranties for the 55-pound adjustable dumbbells on NordicTrack's website; however, they do offer returns. There is a 30-day return policy site-wide, but returns also include a non-refundable $250 return shipping charge and 10% processing fee.
Ordering and Assembling the NordicTrack Dumbbells
All non-UPS shipments will require a signature upon delivery, so make sure you are around to pick up your shipment!
The NordicTrack dumbbells come already assembled and ready to go in their shipments. Open the box and you are ready for your dumbbell workout!
Customer Reviews
There were no reviews on NordicTrack's website; however, these dumbbells are sold on Amazon, where there are a total of 1,445 reviews as of this writing. The ratings average 4.6 stars.
One point of contention was the shipping experience. Reviews ranged from the package arriving undamaged and fine, to the package being destroyed and damaging the plates. Most reviews talked highly of the value of the dumbbells.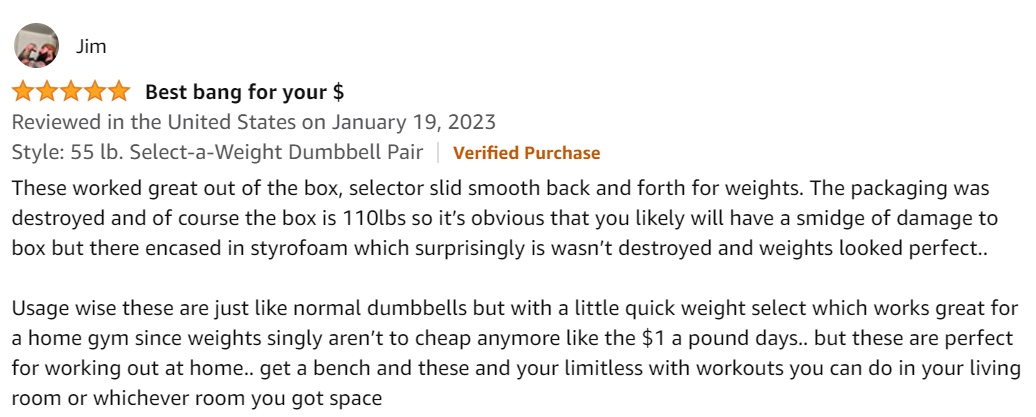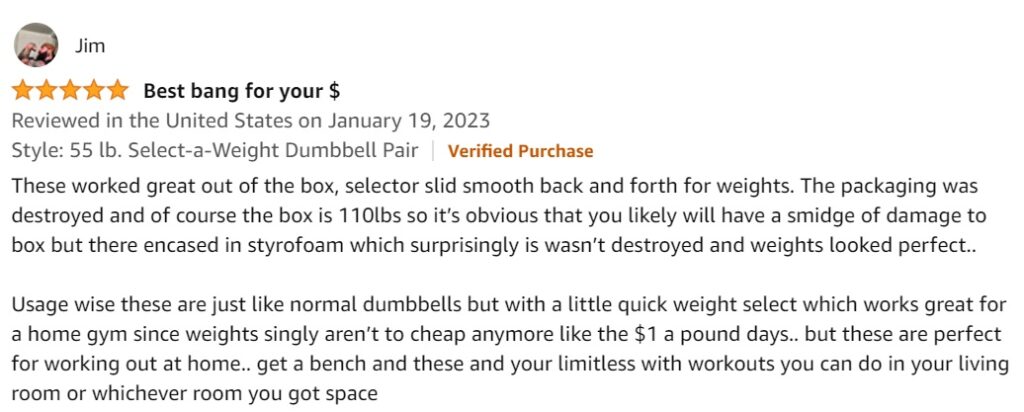 Final Verdict of Our NordicTrack Dumbbell Review
NordicTrack's Select-A-Weight Adjustable Dumbbells are simply a great value. At under $350 for 55 pounds of knurled adjustable goodness, it is one of the best choices at this price range. There are better-quality adjustable dumbbells, as well as ones that go heavier, but if you are looking for a good mid weight dumbbell that won't break the bank, this might just be the one.
NordicTrack Dumbbell Rating
NordicTrack Dumbbell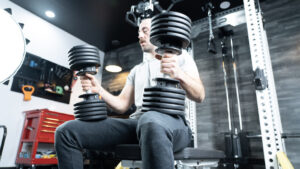 We look at these low-price, high-value adjustable dumbbells in our NordicTrack Dumbbell review.
Product Currency: $
Product In-Stock: InStock
NordicTrack Dumbbell FAQs
Are NordicTrack dumbbells good?
For their price point, NordicTrack Dumbbells are a great option for adjustable dumbbells. They can save space in your home gym, and cost less than having to get several different pairs of traditional dumbbells.
Do adjustable dumbbells break easily?
Adjustable dumbbells use weight pins and knobs to adjust the weights. Because of all these moving parts, they can easily break when dropped like a traditional fixed dumbbell. These types of dumbbells should never be dropped to help them last longer.
How much should I pay for dumbbells?
Dumbbell prices can vary a lot, but typically range between $1 and $4 per pound. There are different factors in dumbbell price both in the quality and type of dumbbell. For example, fixed dumbbells will cost less, but you will also have to buy a pair for every set you want. Most adjustable dumbbells will cost more per pound, but will also save you money by being able to adjust to 10 or more different sets of weights.