We test and review fitness products based on an independent, multi-point methodology. If you use our links to purchase something, we may earn a commission. Read our disclosures.
I love a good showdown between two pieces of the best home gym equipment. It makes me feel like I'm John Cena or in the WWE. A man can dream, ok? Anyway, I'm sharing with you, the lovely readers of Garage Gym Reviews, my thoughts on two of the best adjustable dumbbells in the game: the Ironmaster Quick-Lock Adjustable Dumbbells and the PowerBlock USA Elite Series Adjustable Dumbbells.
In this showdown, you'll hear my thoughts on the great Ironmaster vs. PowerBlock debate and what I think you really need to know. Neither of these products are exactly monetarily equivalent to picking up a sausage biscuit at McDonald's, so I know you want to get this purchase right. I'll help by giving you all the details on price, warranty, customer reviews, and workout experience.
PowerBlock Elite Series Adjustable Dumbbells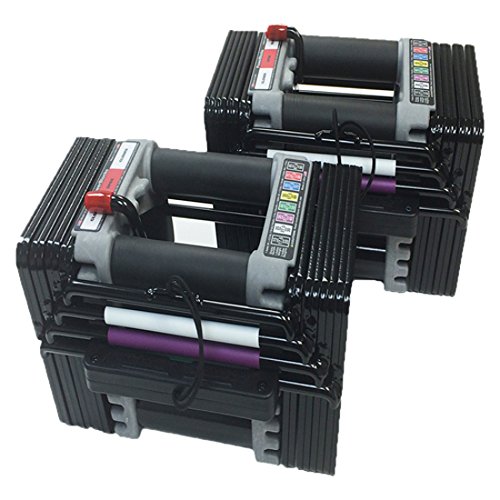 PowerBlock Elite Series Adjustable Dumbbells
PowerBlock was an innovator in this category and has been making adjustable dumbbells since 1991. This means they have had over 25 years of production and refinement to create the ultimately adjustable dumbbells set, and they truly have. The PowerBlock Elite dumbbells are one of the highest-rated and best-selling sets of all time. This is one of the last adjustable dumbbells sets to still be made in the USA, and PowerBlock uses only premium-quality materials. Thanks to their smart and economical design, the PowerBlocks are extremely tough and can withstand all sorts of regular gym abuse.Has a weight range of 5-50 lbs per hand and increments- 2.5 (adder weight), 5, 7.5, 10,15, 17.5, 20 25, 27.5, 30, 35, 37.5, 40, 45, 47.5, 50 pounds per hand Is expandable later to 70 and again to 90 pounds per hand. Made in USA 10 year home use warranty Replaces 16 pairs of dumbbells in the space of 1
Ironmaster Quick-Lock Adjustable Dumbbells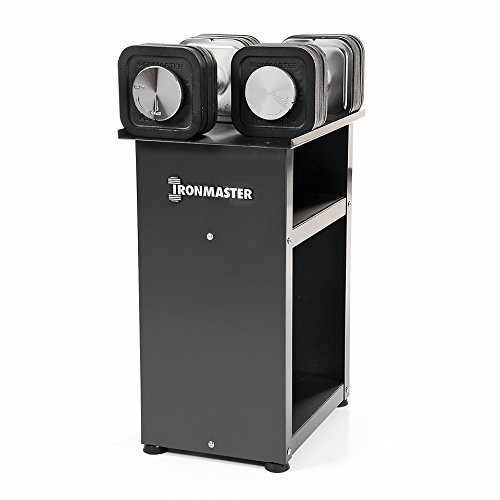 Ironmaster Quick-Lock Adjustable Dumbbells
The Quick-Lock Dumbbell system is the latest iteration of Ironmaster's adjustable dumbbells. The dumbbells can be quickly adjusted in under 15 seconds due to the Ironmaster quick-lock design. The dumbbells adjustable weights range from 5 to 75 pounds. With your purchase of these dumbbells, you also get the stand for no extra charge. These give you a complete set of free weight dumbbells that feel like traditional dumbbells without restrictions, rattling, or safety concerns. This set includes two handles with four locking screws. Each weight has 24 5-pound plates and 4 2.5-pound plates. Included with purchase is a dumbbell stand. Since the handles are 5 pounds when empty and the locking screw is 2.5 pounds, the starting weight is 10 pounds for each dumbbell before you add plates. You can load up to 65 pounds of plates to each handle. You can also purchase an add-on kit that goes up to 120 pounds for each dumbbell. The dimensions are 6.5 x 6.5 x 14.5 inches at the 75-pound size. The Quick-Lock design adjusts from 5 to 75 lbs in 2.5-lb increments They are constructed with welded steel and chrome-plated handles  The system has two adjustable dumbbells at 75 lbs each (150 lbs total) and a dumbbell stand  Space efficient design that takes up less than 2 sq. ft.  Limited lifetime warranty 
PowerBlock vs. Ironmaster Comparison Chart
| | | |
| --- | --- | --- |
| | PowerBlock USA Elite Series Adjustable Dumbbells | Ironmaster Quick-Lock Adjustable Dumbbell System |
| Price | $329.00 | $749.00 |
| Weight | 50 lbs per dumbbell | 75 lbs per dumbbell |
| Warranty | 10 year warranty | Lifetime warranty |
| Dimensions | 12″L x 6″ W x 6″ H | 6.7″ square x 14.5″ long |
| Materials | Welded Steel Construction | Chrome plated steel handles with knurled grips |
| Expansion Kits | Up to 90 lbs per dumbbell | Up to 165 lbs per dumbbell |
| Increments | 2.5 -5 lb increments | 2.5 -5 lb increments |
| How to Adjust | Dial lock | Quick-lock handle design |
Who Should Buy Ironmaster Adjustable Dumbbells?
As with almost anything, people are looking for different things in their exercise equipment. Adjustable dumbbells are no exception to this. Some people prefer the traditional knurling that comes with many dumbbells, while others just want to sling around the heaviest weight possible using whatever means necessary. That's why I think it's important to tell you who I think these competing adjustable dumbbells are best for.
Good for:
Home gym owners who prefer the feeling of a regular dumbbell while weight training
People who want their adjustable dumbbells made of materials like steel and iron
People who want to do bodybuilding exercises
Lifters who want a lifetime warranty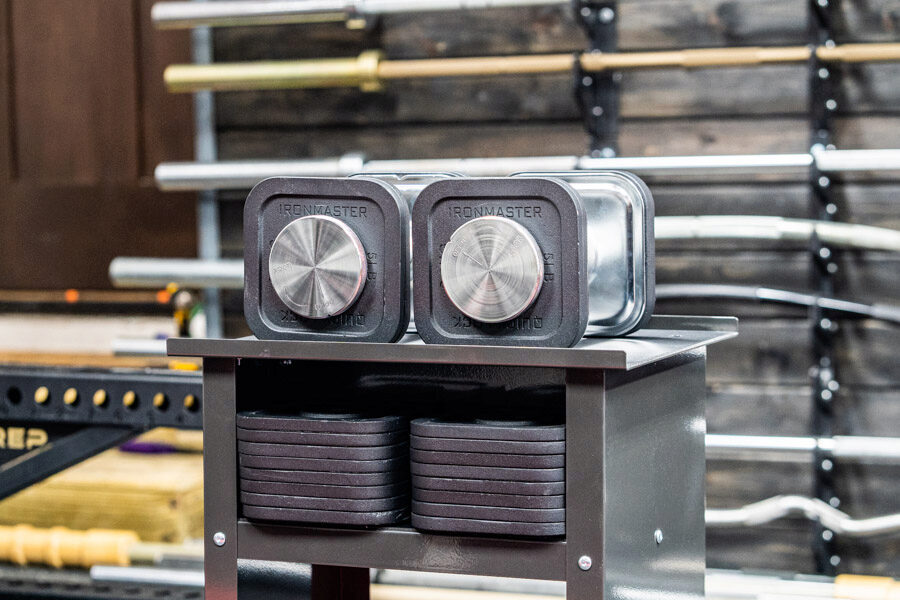 Who Should Buy PowerBlock Adjustable Dumbbells?
Good for:
People who want to quickly change their weight in between sets
Individuals who are tight on space
People who want their adjustable dumbbells to look the same over time
People who want to easily superset or drop set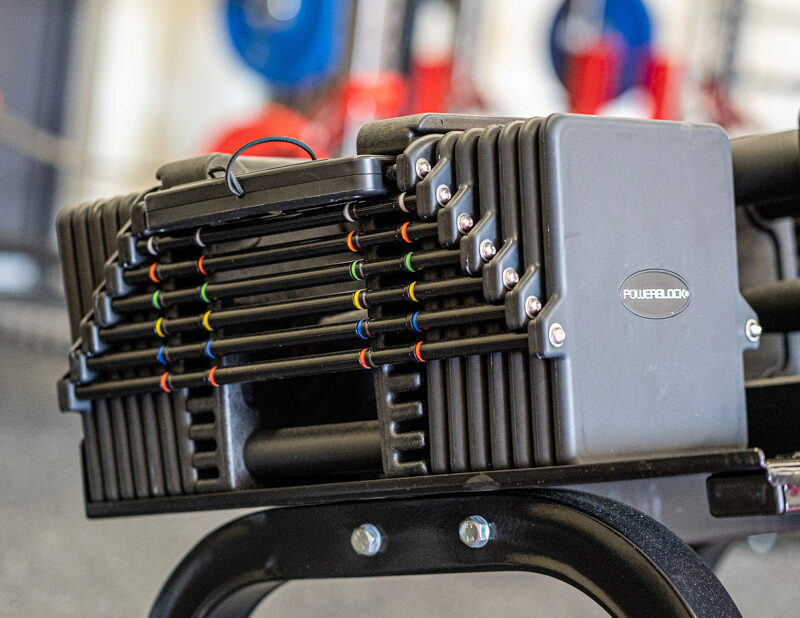 Key Similarities & Differences
These two products actually have a lot in common, and a lot of what they have in common are some of the things that I really like to see on dumbbells:
Both are high-quality adjustable dumbbells
Knurled handles on the Ironmaster and the Pro Series PowerBlock adjustable dumbbells (however, the USA Elite Series does NOT have a knurled handle)
Both are sold as a set of adjustable dumbbells
Both can replace large sets of traditional dumbbells (The PowerBlock Elite Series boasts it can replace 16 pairs of traditional dumbbells of up to 825 pounds)
Both can go up in small weight increments (5 lbs)
PowerBlock makes a variety of adjustable dumbbells including the Pro Series, Sport Series, and the PowerBlock Elite Series. I actually own all of them (for science, duh) but I'll mostly be referencing the USA Elite Series because it is the version from PowerBlock that I would recommend for most people.
Besides the obvious differences in price and weight add-ons available, the Ironmasters look and feel more like a traditional dumbbell than any of the options from the PowerBlock adjustable dumbbell series. The PowerBlock adjustable dumbbells are more rectangular with a selector pin that keeps your weight in place while strength training.
RELATED: Powerblock Coupon
According to the PowerBlock website, the selector pin can hold up to 500 pounds. I've found this to be pretty accurate. In all the years I have owned PowerBlock adjustable dumbbells, I've only had one snafu with the selector pin and it was a user error (I didn't insert the pin completely).
The Ironmaster's weight is definitely adjustable, but I wouldn't say it's as quick to change as any in the PowerBlock series. Since you have to load the plates, it takes an extra minute to adjust and figure out how much weight you want to add. Think of it as loading a mini olympic barbell.
The materials used for both are also different. I find that the Ironmaster adjustable dumbbells can rust over time whereas the PowerBlock ones seem to have longevity looks-wise. I'm surprised I'm saying this because there are parts made of plastic and I'm usually not the biggest fan of that.
Ironmaster Quick Lock Adjustable Dumbbell Summary
Base set weight range of 5-75 pounds on each dumbbell
$749 for base set up to 75 pounds each
Extra $349 for 120 pound each dumbbell add on
Extra $349 for maximum weight 165 pound each dumbbell add on
PowerBlock USA Elite Series Adjustable Dumbbell Summary
Base set weight range of 5-50 pounds on each dumbbell
$329 for base set up to 50 pounds each
Extra $149 for 70 pound each dumbbell add on
Extra $149 for maximum weight 90 pound each dumbbell add on
Dumbbell Comparison: Powerblock vs Ironmaster
Design and Style
Powerblock: Welded steel with powdered coating
Ironmaster: Solid cast iron with powdered coating
Quality and Durability
Powerblock: Durable
Ironmaster: Made of iron and steel
Adjustment System
Powerblock: Magnetic selector
Ironmaster: Patent screw lock
Symmetry
Powerblock: Both sides are the same weight
Ironmaster: Can be different weights on each side
Workout Experience: Ironmaster Adjustable Dumbbells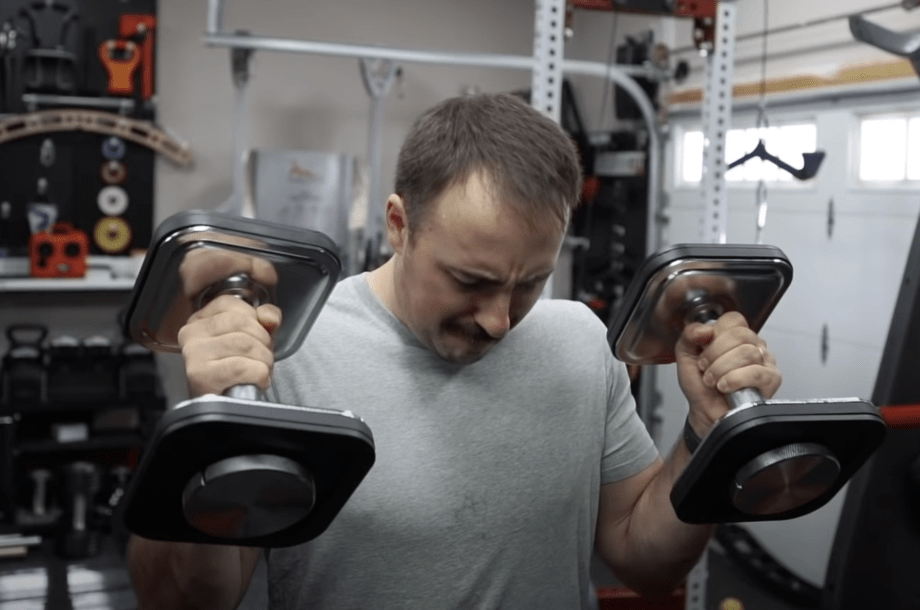 The Ironmaster adjustable dumbbells can be used for a variety of movements and are really very versatile. Any exercise you might consider doing can pretty much easily be performed with these since they feel very similar to traditional free weights. I personally used them for skull crushers, overhead presses, and hammer curls.
RELATED: Free Weight Workouts
I like using the Ironmaster dumbbells, but I don't think they are the best choice if you like supersets. The patented quick-lock system is easy enough to use as you simply unscrew the knurled end cap to add or take away weight, but I don't love that you have to do some mental math to figure out how much is currently on your dumbbells. With the PowerBlock dumbbells, there is a color-coded system to let you know how much weight you're using. I find it challenging to constantly switch the weights on and off while mentally adding everything up.
When you add weight, the plates do connect easily due to the slightly grooved nature of the surface. I like that the weight feels even and not bulky when in use. The handle is a bit longer than I'm personally used to at 6.5 inches. For reference, a traditional dumbbell has a handle of about 5 inches, so this may throw you off at first. To be fair, the long handle is in place to be able to properly use the quick-lock system.
With the purchase of the Ironmaster adjustable dumbbells, you get a metal stand to hold your weights. It's okay, but it definitely isn't the highest quality. The stand is made of thin sheet metal and does somewhat rock back and forth.
Overall, I think the Ironmaster dumbbells can be a great option for certain home gym owners. You're able to get pretty heavy with the purchase of additional add-on kits without sacrificing the traditional dumbbell feeling.
Workout Experience: PowerBlock Adjustable Dumbbells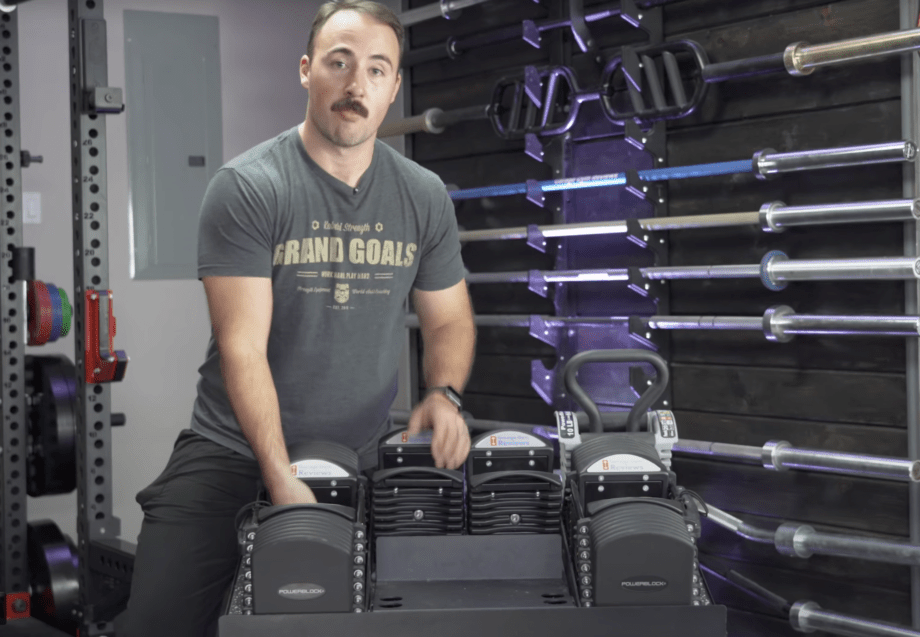 I've been a proud PowerBlock adjustable dumbbell owner for almost a decade now. I can say with certainty that they are known for their durability. However, their unique design might not be the best option for everyone. The square shape with the side rails can be a slight adjustment if you're used to a traditional dumbbell.
I love how easy and quick it is to make weight changes with the PowerBlock dumbbells. There is a plastic magnetic clip that you can use to switch between different weight plates in mere seconds. The color-coded weight helps you know exactly the amount you're using without mental math.
I will say, the PowerBlock dumbbells can get HUGE when the added kits are on. They already have a pretty bulky shape to them so the extra weight can make them look slightly comical. I do appreciate the options though when doing drop sets or supersets because it is so easy to change.
The Pro-Series has a Urethane coating and aggressive metal knurling on the handle. However, this is a more expensive PowerBlock option compared to the Elite Series which has a rubber handle. I don't hate the handle on the Elite Series but would definitely prefer the knurled option personally.
The PowerBlock adjustable dumbbell can be used for things like bench press, curls, and front raises. PowerBlock also has options to transform your adjustable dumbbells into a kettlebell (with a separately purchased handle) or even a barbell for weightlifting. I appreciate that there are options, but they are a little awkward and not the best for cleans or snatches.
Customer Reviews
Both the Ironmaster and the PowerBlock adjustable dumbbells are well-regarded by customers. On Amazon, PowerBlock's adjustable dumbbells have over 1,000 ratings with an overall score of 4.7/5 stars.
On the Ironmaster website, there are over 150 reviews with an overall rating of 4.82/5 stars.
Company Policies
For the PowerBlock adjustable dumbbells, you receive a 10-year limited warranty on weights, handle assembly, and side rails with purchase. In order to have the option to utilize the warranty, you'll have to register your product here. After you've done that, if you need a replacement part or repair, you can call 507-451-5152 to make use of your warranty.
On the other hand, the Ironmaster adjustable dumbbells have a lifetime warranty for "structural and functional components." You can call customer service at 360-217-7780 for information on the replacement or repair of your dumbbells.
Return Policy
I love that you can try the Ironmaster adjustable dumbbells for 30 days and, if you're not satisfied, return them for a full refund. You're essentially getting a free trial period to determine if you love them or not. If you decide to return them, Ironmaster will refund you for any shipping charges, which is good since shipping 150 pounds of dumbbells back wouldn't be cheap.
PowerBlock also gives you 30 days to return the dumbbells after purchase. However, they must be in original condition and you are responsible for return shipping costs, plus you're subject to a 20% restocking fee. If you want to return the dumbbells, you have to request a return authorization number by emailing questions@powerblock.com.
Financing
There is currently no option to finance the Ironmaster dumbbells, which is a shame if you can't fork over almost $800 all at once. Luckily, PowerBlock does have the option to finance the adjustable dumbbells through Affirm. You can choose to make payments over 3, 6, or 12 months.
*Editor's Note: Due to the shortage of the raw material, you can only currently purchase Ironmaster adjustable dumbbells if you "win" their monthly lottery system. To sign up to be entered for the next lottery, click here.
Final Thoughts on PowerBlock vs Ironmaster Dumbbells
Overall, I think both the PowerBlock and the Ironmaster adjustable dumbbells are solid options and people are generally really happy with both options. However, my personal pick goes to the PowerBlock Adjustable Dumbbells. They are the easiest to quickly change the weight and the original pair I got off of Craigslist (almost 10 years ago) looks pretty much the same as the day I bought it.
I know a lot of people are looking for budget alternatives and the Bowflex SelectTech 552 Adjustable Dumbbells are a decent choice. However, I don't like them as much as the PowerBlock adjustable ones because they are a max 52-pound weight dumbbell with no options to upgrade. They are also extremely bulky for not having a lot of weight on board so I personally prefer the PowerBlock dumbbells.
PowerBlock vs Ironmaster Adjustable Dumbbells FAQs
Can I drop the PowerBlock Adjustable Dumbbells?

I would not recommend routinely dropping your PowerBlock Adjustable Dumbbells. They aren't bumper plates so they're not made to be frequently slammed down or dropped.
Where are Ironmaster Adjustable Dumbbells manufactured?

The Ironmaster Adjustable Dumbbells are manufactured in the USA.
How long is the PowerBlock Adjustable Dumbbell warranty?

The PowerBlock USA Elite Series Adjustable Dumbbells have a warranty of 10 years.
How much do Ironmaster Adjustable Dumbbells cost?

The Ironmaster Quick-Lock Adjustable Dumbbell System costs $749 and goes up to 75 pounds on each dumbbell. You can purchase an additional expansion pack for $349 to make each dumbbell hold up to 165 pounds.
Are Ironmaster dumbbells worth it?
They are of excellent quality, well-constructed, and incredibly long-lasting. The weight is simple to adjust, and the dumbbells are comfortable to hold. They may be a little more expensive than other comparable adjustable dumbbell sets, but I promise they are of far superior quality and well worth the extra money.
Are PowerBlock dumbbells worth it?
Despite the competition, which all provide solid solutions, I believe Powerblocks are the greatest adjustable dumbbells because of their ease of use, precise weight ratings, variety of choices, and low price point.