We test and review fitness products based on an independent, multi-point methodology. If you use our links to purchase something, we may earn a commission. Read our disclosures.
Find ways to save on some of our favorite adjustable dumbbells, kettlebells and more
Our Garage Gym Reviews team has used and loved PowerBlock products for years. The brand makes great space-saving adjustable dumbbells as well as kettlebells and accessories. If you're looking for a PowerBlock coupon, we have ideas on how you can save.
Where to Find PowerBlock Coupons and Discounts
There isn't a PowerBlock discount code that lasts all year; instead, you'll often find the brand offers sales around holidays (more on that below). We recognize that pricing on some of the products may be expensive, and PowerBlock does offer financing options.
How to Apply for PowerBlock Financing
Step One: Head over to PowerBlock using the link provided below.
Step Two: Pick the item(s) that you would like to purchase and put them in your cart.
Step Three: At checkout select "Affirm Monthly" payments.
Step Four: Select three-, six-, or 12-month financing (note: APR varies depending on length of financing)
When Does PowerBlock Go on Sale?
Although PowerBlock's adjustable options will save you a considerable amount of money over buying the equivalent amount of weight in traditional dumbbells or kettlebells, they can still be a hefty investment.
We have found that the best time to get discounted PowerBlock dumbbells and kettlebells is around the holidays.
For example, for Black Friday in 2021, PowerBlock knocked 10% off sitewide. Use our links below to navigate to the most recent holiday sales:
What We Love About PowerBlock
PowerBlock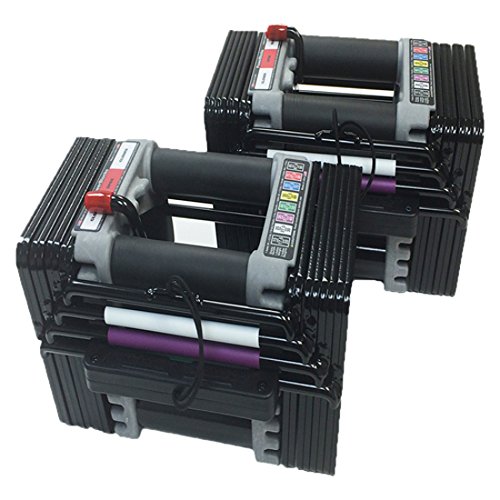 PowerBlock Elite Series Adjustable Dumbbells
PowerBlock was an innovator in this category and has been making adjustable dumbbells since 1991. This means they have had over 25 years of production and refinement to create the ultimately adjustable dumbbells set, and they truly have. The PowerBlock Elite dumbbells are one of the highest-rated and best-selling sets of all time. This is one of the last adjustable dumbbells sets to still be made in the USA, and PowerBlock uses only premium-quality materials. Thanks to their smart and economical design, the PowerBlocks are extremely tough and can withstand all sorts of regular gym abuse.Has a weight range of 5-50 lbs per hand and increments- 2.5 (adder weight), 5, 7.5, 10,15, 17.5, 20 25, 27.5, 30, 35, 37.5, 40, 45, 47.5, 50 pounds per hand Is expandable later to 70 and again to 90 pounds per hand. Made in USA 10 year home use warranty Replaces 16 pairs of dumbbells in the space of 1
There is a lot to like about PowerBlock Adjustable Dumbbells:
Space-saving,
Take the place of several sets of dumbbells/kettlebells
Budget-friendly
Easy to use
Large range of weights
For more, check out our PowerBlock Adjustable Dumbbells review.
PowerBlock also makes an adjustable kettlebell that is compact and one of our favorites. It comes in two different weight options and uses a powder coat to give you a great grip on the bar.
Why Buy From PowerBlock?
We have owned PowerBlock products for years and stand by our recommendations for them.
Financing available
Offers limited warranty
30-day window for returns