We test and review fitness products based on an independent, multi-point methodology. If you use our links to purchase something, we may earn a commission. Read our disclosures.
A Titan Fitness coupon code can help make building your home gym even easier by helping you save money on some of the best budget home gym equipment. Since we created the guide to building a home gym with Titan Fitness products, there's nobody better suited to show you all the ways to save money than us.
Our team of certified personal trainers and home gym equipment shopping experts spent hours tracking down the best Titan Fitness discounts. Plus, we have personally used and tested dozens of products from Titan, so we know the entire Titan experience from ordering products to putting them in our own home gyms.
Discounts on Titan Fitness Equipment
While there is no specific Titan coupon code, and there isn't a Titan military discount, there are a few ways to save on Titan Fitness home gym equipment:
Flash sales: Log onto Titan's home page and look for flash sales.
Shop around the holidays: Titan nearly always offers sales year-round near major holidays.
Check out the brand's sales page for all kinds of discounted items
Enjoy free shipping: Titan Fitness always (yes, always) offers free shipping!
Join the loyalty program: When you sign up, you earn points on purchases (one point is equal to 5 cents).
Finance big purchases: While it won't save you money, financing may make larger pieces of equipment a little easier on your budget. Titan offers financing on its website.
How to Score Other Titan Discounts
Step One: First, go join the loyalty program to start earning points on your purchase.
Step Two: Next, check the sales page to see if any items you are looking for have been listed.
Step Three: Add items to your cart, and free shipping is automatically applied!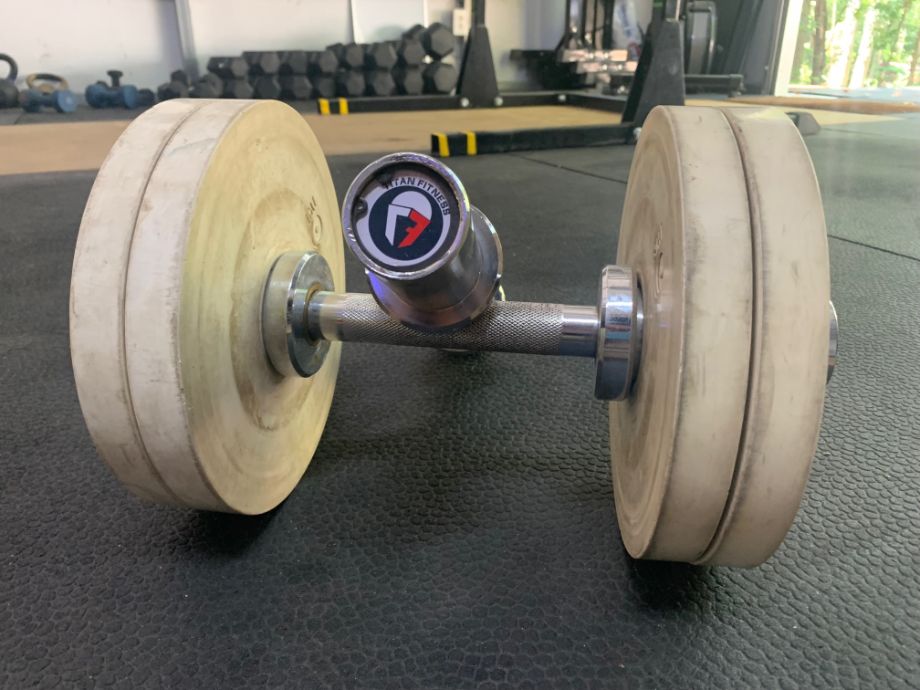 When Does Titan Fitness Equipment Go on Sale?
We really love that Titan nearly always participates in sales around the holiday. Check our pages to see what the brand is offering:
What We Love About Titan Fitness
Titan Fitness T-3 Power Rack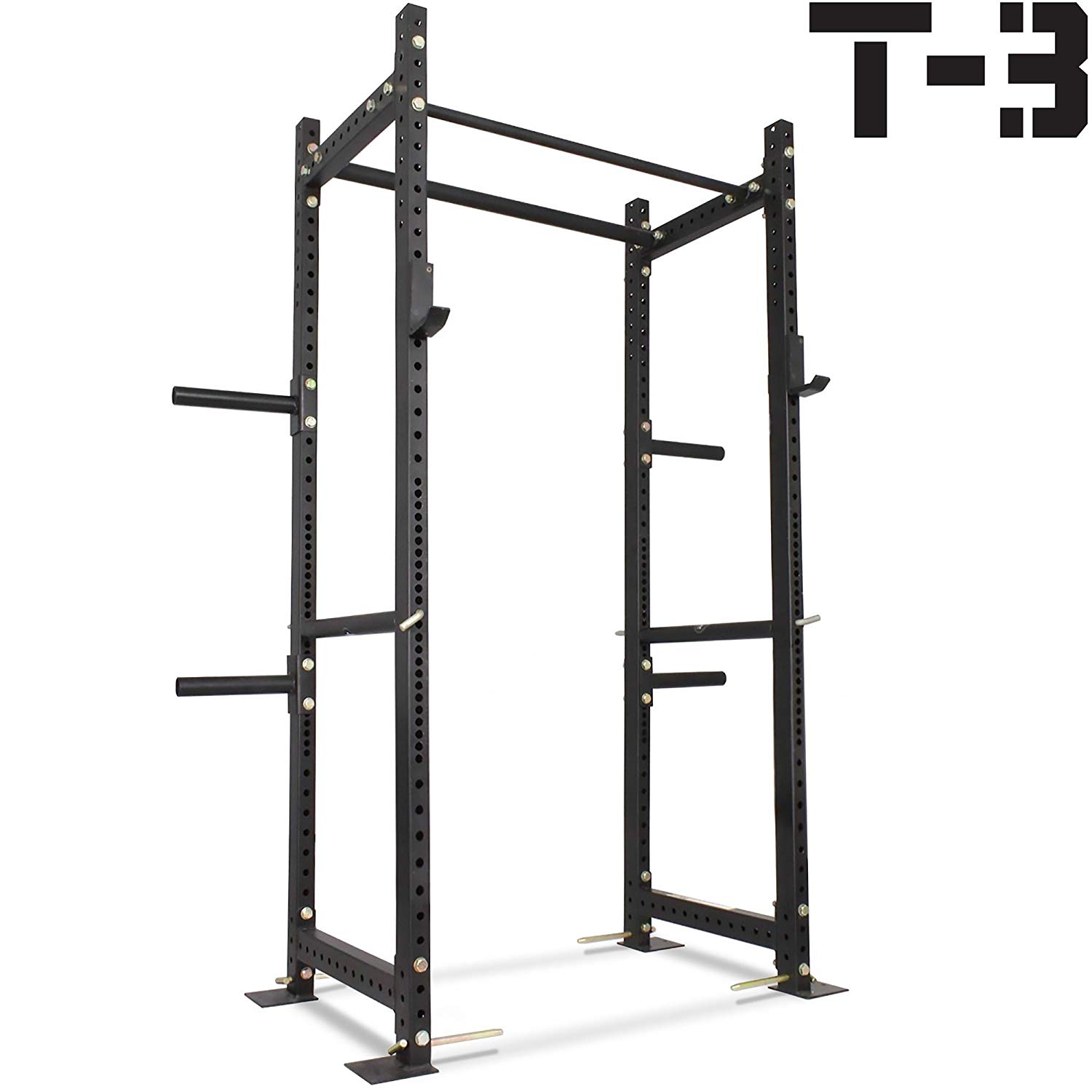 GGR Score: 4.8
Community Score: 3.4
Product Highlights
2x3" 11-gauge steel tubing
Weight capacity of 1,000 lbs
Westside spacing
Bolt-together construction
Includes J-hooks and weight holders
Pros & Cons
Pros
More affordable than competitors
Stable when bolted down
Bolted panels easier to adjust on uneven surface
V2 of the T-3 comes in a variety of colors
V2 of the T-3 has laser-cut holes on the side and front of uprights
Westside spacing
Pin/pipe safeties
2x3" tubing allows for Titan and other competitors' attachments and add-ons
Cons
Known for delays and mixing up orders
Imported materials
Not the best welds
J-cups are average at best
Bolted panels makes for a weaker joint
Cheaper bolts used
Bottom Line
The Titan T-3 is a good, budget-friendly power rack. It's very similar to one of our favorite racks, the Rogue R-3, but at a much cheaper price thanks to it's imported nature. If you have the ability to bolt down your rack to a platform or concrete foundation and want a rack that won't break the bank, this is a good option.
Titan is known for offering some of our favorite budget-friendly home fitness equipment. Titan delivers great value, which is to say the products are a great value for not that much money. The Titan Fan Bike, for example, delivers a workout experience similar to the Rogue Echo Bike but with cheaper materials.
In full honesty, Titan Fitness doesn't have the best track record when it comes to perfect shipping and delivery experiences, but that seems to be something they've fixed in recent years (we still see complaints about it, though it's less frequent).
They also offer free shipping on all its products and has a 30-day return policy (though all products must be in new condition).
We have reviewed dozens of products from the brand, including:
Titan Adjustable Dumbbells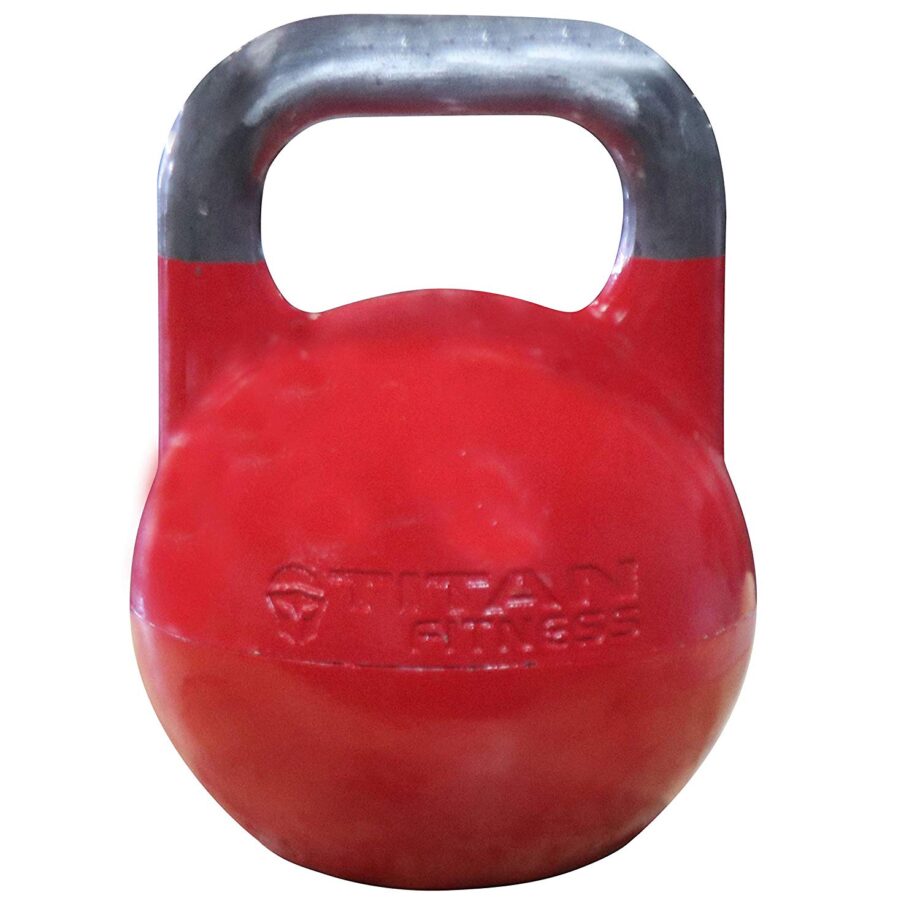 GGR Score: 5
Community Score: 5
Product Highlights
Adjustable competition-style kettlebell
Goes up to 70.5 lbs
Kettlebell and handle diameter remain the same as weight goes up (or down)
Looks and feels just like a competition kettlebell
Pros & Cons
Pros
More budget-friendly than other adjustable competition kettlebells
Goes up to 32kg (70.5 lbs)
Looks and feels just like a competition kettlebell
Cons
Requires an Allen key to adjust the weights
Powder coat showing premature corrosion
Still quite pricey
Bottom Line
One of the best adjustable competition-style kettlebells that takes some time to adjust.
Why Buy From Titan Fitness?
Free shipping
Budget-friendly home gym equipment
Great loyalty program
30-day return policy (must be in new condition)
Any extras
FAQs
Does Titan Fitness Have Coupon Codes?
While there may not be a specific Titan Fitness promo code, we have identified a number of ways you can save on this great equipment.
Does Titan Fitness Have Free Shipping?
Titan offers free shipping on all of its products.
Does Titan Fitness Offer a Military Discount?
Titan does not currently offer a military discount.
How to get discount on Titan Fitness?