We test and review fitness products based on an independent, multi-point methodology. If you use our links to purchase something, we may earn a commission. Read our disclosures.
Titan Fitness makes a wide variety of equipment to build out your home gym and help you accomplish your goals. If you've read our guide on building a home gym from Titan Fitness and decided their products are the right choice for your home gym, you can use our guide to figure out how to find the best Titan Fitness coupon codes.
Exclusive Sale through 8/14/22 on select products
Use code GGR10 to save an

additional

10%
To see all Titan Sale items (including some favorites such as the Fan Bike and Leg Extensions/Curl Machine) > Click Here <
Discounts on Titan Fitness Equipment
There are a few ways to save on Titan Fitness home gym equipment:
Check out Garage Gym Review's exclusive discount links to save up to $200!
Flash sales: Log onto Titan's home page and look for flash sales.
Shop around the holidays: Titan nearly always offers sales year-round near major holidays.
Check out the brand's sales page for all kinds of discounted items
Enjoy free shipping: Titan Fitness always (yes, always) offers free shipping!
Join the loyalty program: When you sign up, you earn points on purchases (one point is equal to 5 cents).
Finance big purchases: While it won't save you money, financing may make larger pieces of equipment a little easier on your budget. Titan offers financing on its website.
How to Score Other Titan Fitness Deals
Step One: First, go join the loyalty program to start earning points on your purchase.
Step Two: Next, check the sales page to see if any items you are looking for have been listed.
Step Three: Add items to your cart, and free shipping is automatically applied!
When Does Titan Fitness Equipment Go on Sale?
We really love that Titan nearly always participates in sales around the holiday. Check our pages to see what the brand is offering:
What We Love About Titan Fitness
Titan Fitness T-3 Power Rack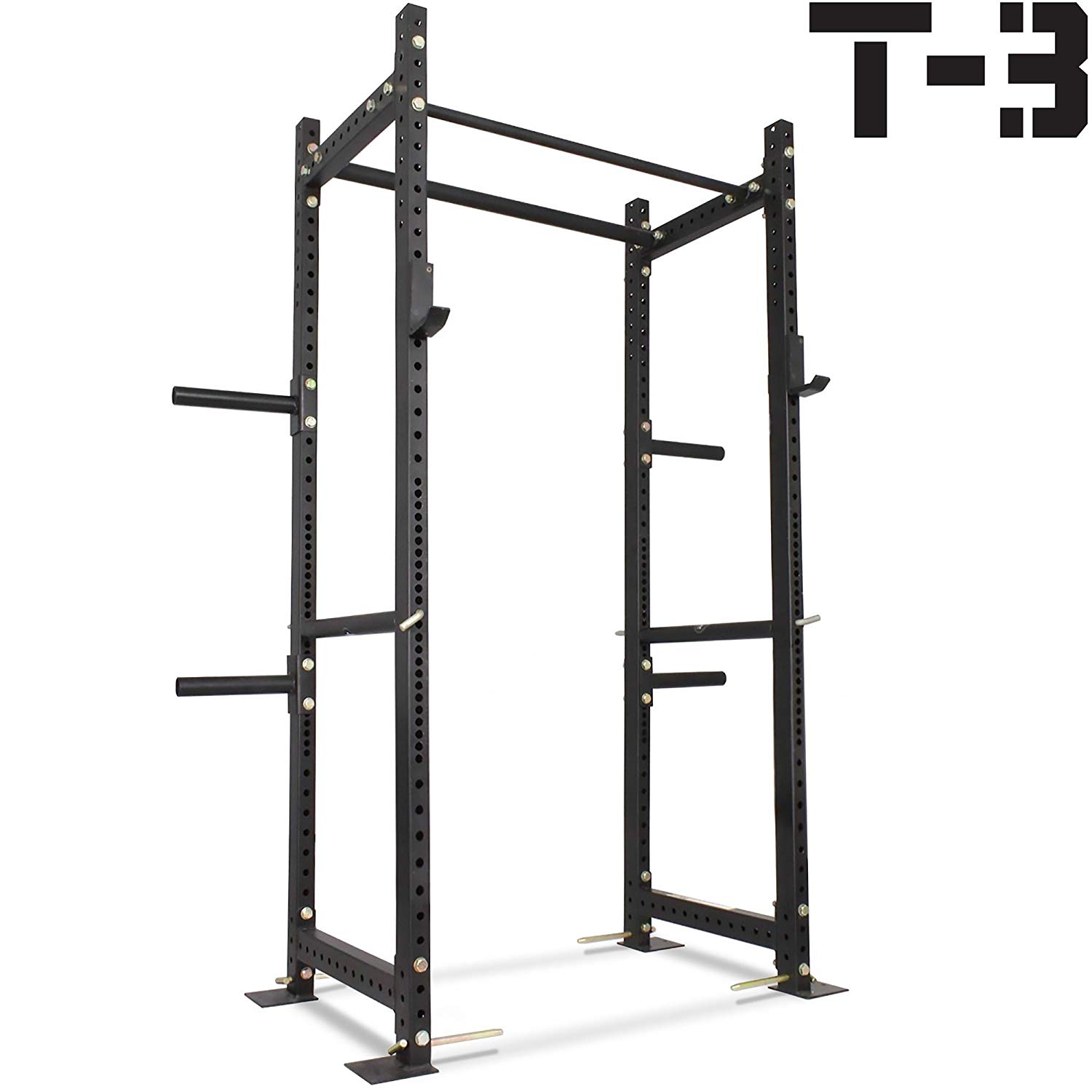 Titan T-3 Series Power Rack
The Titan T-3 Series Heavy Duty Power Rack is perfect for any professional or at home gym!Built using heavy 11ga (3.25mm) steel, this rack will not ever give way or back down. T-3 Power Racks use heavy duty 2"x 3" steel tubes– you'll most likely notice right away how every piece is heavy and solid.These power racks are the perfect fit for dips, bench press, curls, pull ups, and much more. The pre-drilled holes follow the popular "West Side" hold pattern, allowing you to move the bar up or down in 1" increments when using a bench.The weight holder attachments and J-hooks are included, and are easily installed. The 5/8" hardware also provides maximum security, even when the rack is completely maxed out. The bolt-together construction allows you to easily transport and fit the rack in to any room or basement!Features: - T-3 Series of Power Racks contain 2"x3" steel tubes - Capacity: 1000 lbs - 1" round steel j-hooks - Chin up bars: 1 1/4" & 2" diameter - Includes J-Hooks and weight holders
Titan is known for offering some of our favorite budget-friendly home fitness equipment. We have reviewed dozens of products from the brand, including:
Titan Adjustable Dumbbells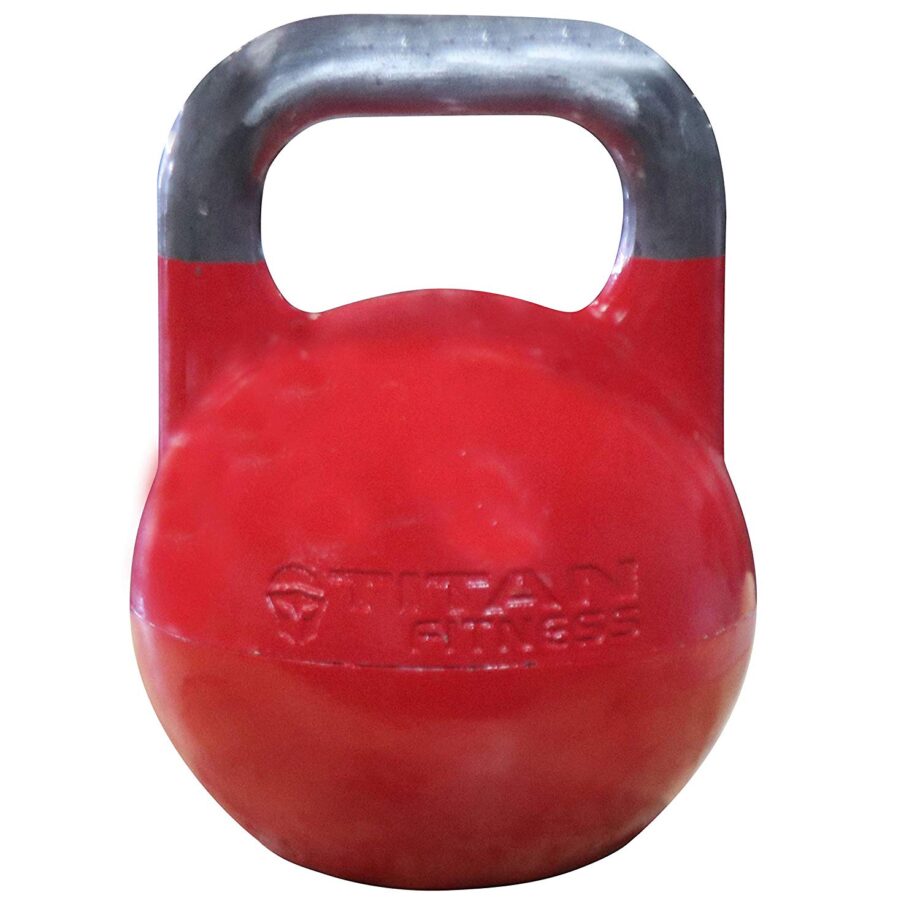 Titan Adjustable Competition Style Kettlebell
This adjustable version of our popular Competition Style Kettlebell allows you to adjust your weight from 12 KG up to 32 KG. Simply loosen and remove the screw to adjust your weight, fix back in place, and you are ready to go.This unit features a 12 KG shell with 6 cast iron plates weighing 2, 2, 3, 3, 4, and 6 kg. Using different combinations of plates you can set the weight of this kettlebell to the following: 12, 14, 15, 16, 17, 18, 19, 20, 21, 22, 23, 24, 25, 26, 27, 28, 29, 30, and 32 kg.Features: - Adjustable weight from 12 KG - 32 KG with 6 cast iron plates. - Easy adjustment with included allen wrench. - Cast steel with non-welded handles for maximum durability. - Smooth finish for a great hand feel and grip while performing various exercises. - Using different combinations of plates you can set the weight of this kettlebell to the following: 12, 14, 15, 16, 17, 18, 19, 20, 21, 22, 23, 24, 25, 26, 27, 28, 29, 30, and 32 kg.Specifications: - Handle Diameter: 35 mm | 1.38" - Handle Width: 190 mm | 7.48" - Total Diameter: 210 mm | 8.27" - Total Height: 290 mm | 11.42" - Color: Red - Shell Weight: 12 KG - Weight Discs: 2 KG, 2 KG, 3 KG, 3 KG, 4 KG, and 6 KG - Weight: 32 KG
Why Buy From Titan Fitness?
Free shipping
Budget-friendly home gym equipment
Great loyalty program
30-day return policy (must be in new condition)
Any extras
FAQs
Does Titan Fitness Have Coupon Codes?
While there may not be a specific coupon code for Titan Fitness, we have identified a number of ways you can save on this great equipment.
Does Titan Fitness Have Free Shipping?
Titan offers free shipping on all of its products.
Does Titan Fitness Offer a Military Discount?
Titan does not currently offer a military discount.