We review free products that we receive and participate in affiliate programs, where we may be compensated for items purchased through links from our site.
See our disclosures page for more information.
Titan Fitness makes a wide variety of equipment to build out your home gym and help you accomplish your goals.
If you've read our Titan Fitness reviews and decided their products are the right choice for your home gym, use coupon code GGR5 to save 5% on Titan Fitness equipment all the way through the end of October!
Titan Fitness T-3 Power Rack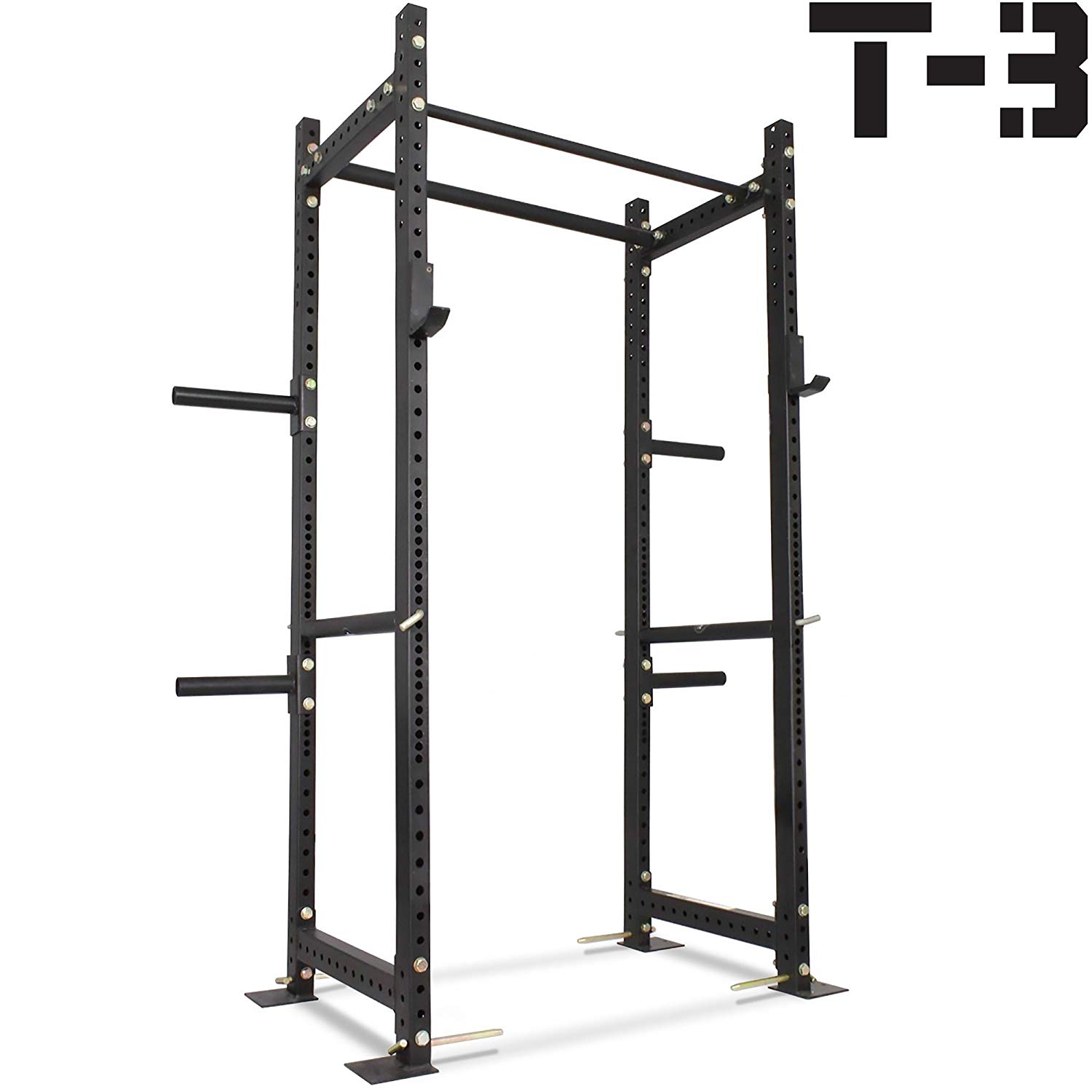 Titan T-3 Series Power Rack
The Titan T-3 Series Heavy Duty Power Rack is perfect for any professional or at home gym! Built using heavy 11ga (3.25mm) steel, this rack will not ever give way or back down. T-3 Power Racks use heavy duty 2"x 3" steel tubes– you'll most likely notice right away how every piece is heavy and solid. These power racks are the perfect fit for dips, bench press, curls, pull ups, and much more. The pre-drilled holes follow the popular "West Side" hold pattern, allowing you to move the bar up or down in 1" increments when using a bench. The weight holder attachments and J-hooks are included, and are easily installed. The 5/8" hardware also provides maximum security, even when the rack is completely maxed out. The bolt-together construction allows you to easily transport and fit the rack in to any room or basement! Features: - T-3 Series of Power Racks contain 2"x3" steel tubes - Capacity: 1000 lbs - 1" round steel j-hooks - Chin up bars: 1 1/4" & 2" diameter - Includes J-Hooks and weight holders
FAQs
Does Titan Fitness Have Coupon Codes?
Titan does not normally have coupon codes but is running a Garage Gym Reviews exclusive sale through the month of October. Use the coupon code GGR5 to save 5%!
Does Titan Fitness Have Free Shipping?
Titan offers free shipping on all of its products.
Does Titan Fitness Offer a Military Discount?
Titan does not currently offer a military discount.
Titan Adjustable Dumbbells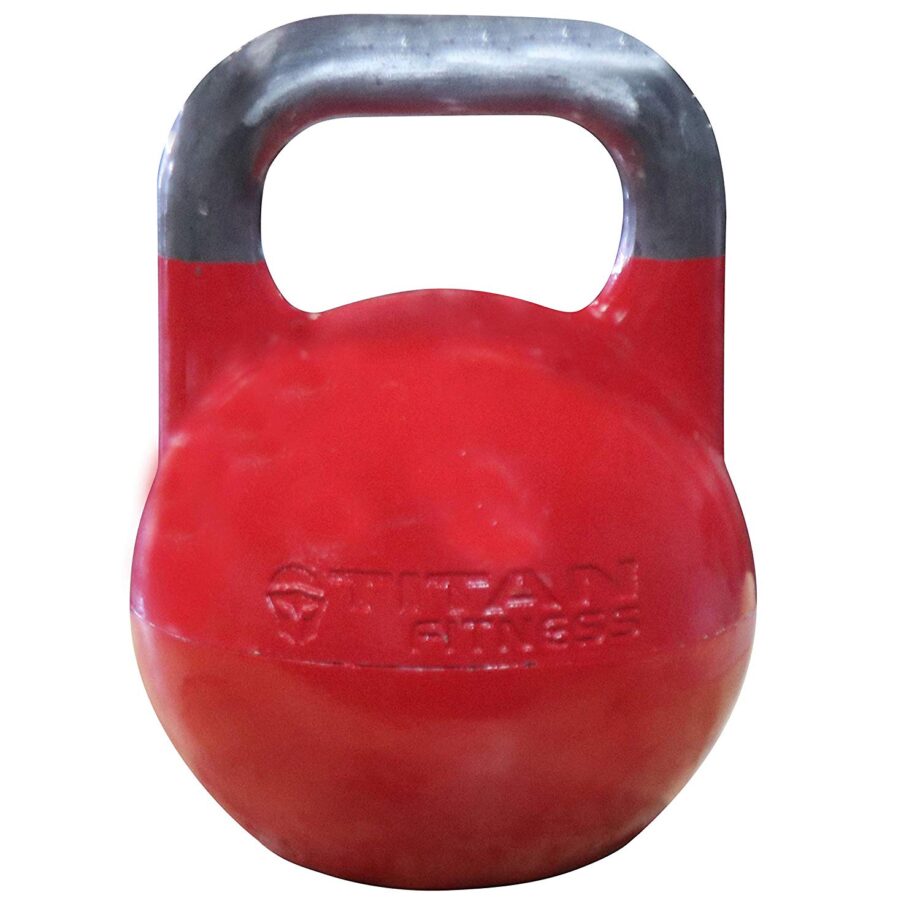 Titan Adjustable Competition Style Kettlebell
This adjustable version of our popular Competition Style Kettlebell allows you to adjust your weight from 12 KG up to 32 KG. Simply loosen and remove the screw to adjust your weight, fix back in place, and you are ready to go. This unit features a 12 KG shell with 6 cast iron plates weighing 2, 2, 3, 3, 4, and 6 kg. Using different combinations of plates you can set the weight of this kettlebell to the following: 12, 14, 15, 16, 17, 18, 19, 20, 21, 22, 23, 24, 25, 26, 27, 28, 29, 30, and 32 kg. Features: - Adjustable weight from 12 KG - 32 KG with 6 cast iron plates. - Easy adjustment with included allen wrench. - Cast steel with non-welded handles for maximum durability. - Smooth finish for a great hand feel and grip while performing various exercises. - Using different combinations of plates you can set the weight of this kettlebell to the following: 12, 14, 15, 16, 17, 18, 19, 20, 21, 22, 23, 24, 25, 26, 27, 28, 29, 30, and 32 kg. Specifications: - Handle Diameter: 35 mm | 1.38" - Handle Width: 190 mm | 7.48" - Total Diameter: 210 mm | 8.27" - Total Height: 290 mm | 11.42" - Color: Red - Shell Weight: 12 KG - Weight Discs: 2 KG, 2 KG, 3 KG, 3 KG, 4 KG, and 6 KG - Weight: 32 KG
Titan Fitness Reviews
Take a look at just a few of our in-depth reviews of available Titan Fitness products:
Titan T-3 vs Rogue R-3 Power Rack comparison
Titan Plate Loadable Lat Tower review
Titan Fan Bike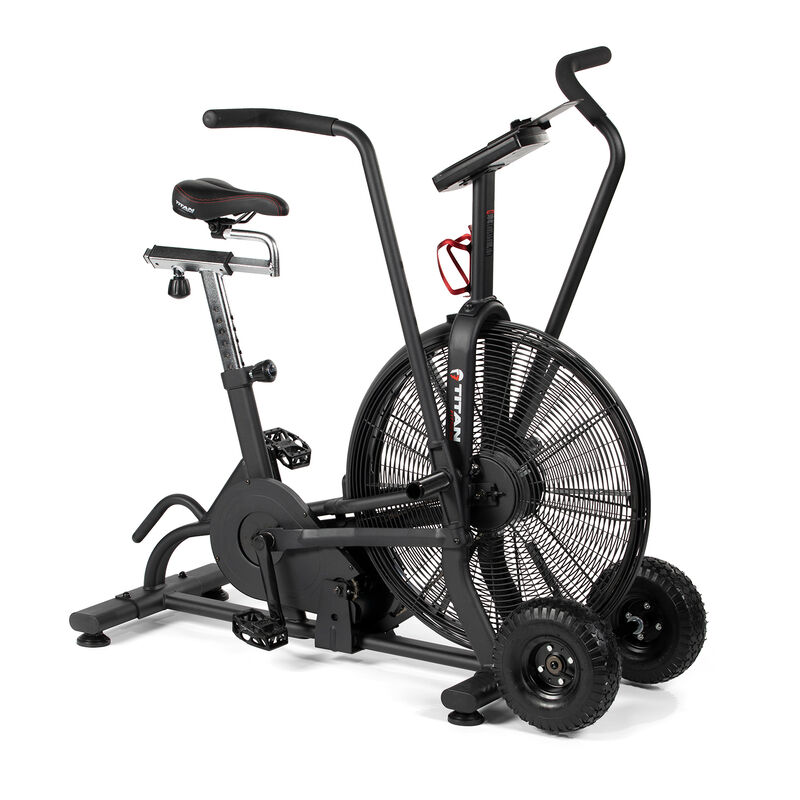 Titan Fan Bike
The Titan Fitness® Fan Bike is bigger and brawnier made with 111-pounds of heavy-gauge steel to help take your workout to the next level. This bike is integrated with sealed cartridge bearings in every pivot, reinforced pedals, and cranks, and is fashioned around a heavy-duty steel frame with a powder-coated finish. Additionally, the Fan Bike features a high contrast LCD console tailored to fit your specific goals. From endurance and stamina training to HIIT and Tabata — choose from a range of interval training programs for a total body workout. This Fan Bike's compact design makes it easy to use anywhere and with durable 10-inch turf tires, moving this bike is easy across any terrain. Plus, it's loaded with all the extras that come standard: fan guard, water bottle holder, phone holder, and a built-in back handle for easy maneuverability.