We test and review fitness products based on an independent, multi-point methodology. If you use our links to purchase something, we may earn a commission. Read our disclosures.
The Titan Fitness Fan Bike is the most complete piece of cardio equipment Titan has released to date. To be frank, it's essentially a tricked-out Assault Bike. Nearly every part of it–from the color to the monitor, even down to the less than desirable chain drive–reminds me of the ever-popular Assault Bike.
It also borrows elements from the Rogue Echo Bike. Although I prefer the Echo Bike, the Titan Fan Bike is one of the best options we've tested for budget home gym owners. In this Titan Fan Bike review, I'll give you all the details on this air bike, with a comprehensive look on how it compares to others on the market.
RELATED: Rogue Echo Bike review
Titan Fan Bike Review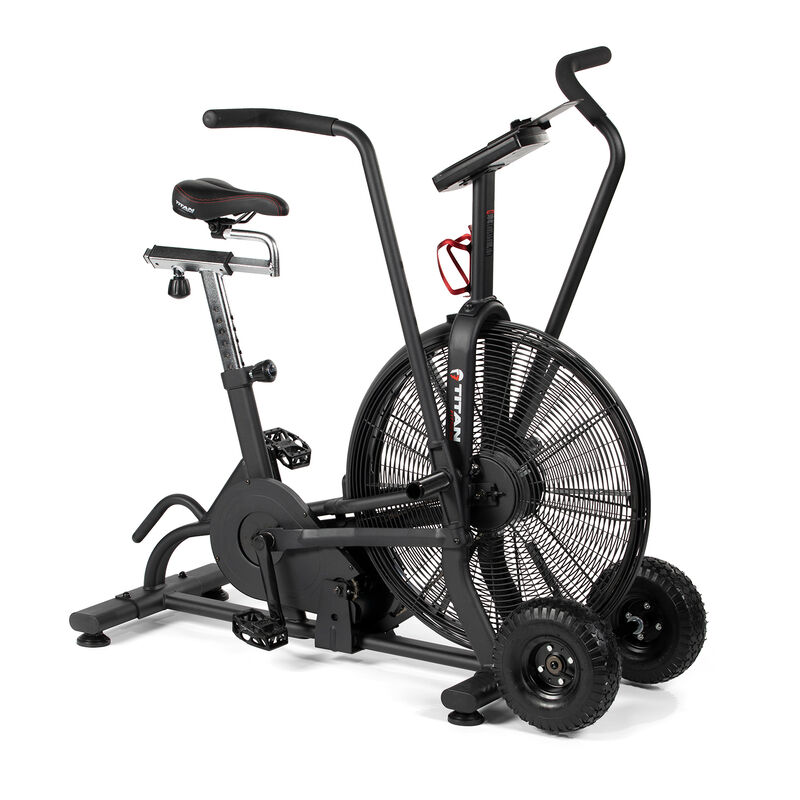 Why You Should Trust Us
Disclaimer: I'm no stranger to an air bike–I've tested the Get RXd Xebex Air Bike, Rogue Echo Bike, Assault Air Bike, Schwinn Airdyne Pro, and a host of others. I evaluate each one based on value, durability, accessories, features, type of drive system, and monitor. When testing an air bike like the Titan Fan bike, I make sure to put it through a variety of situations, including slow, long distance cardio, quick sprints, and even just using the handlebars while resting my feet on the pegs. This helps me determine what each bike is best used for and who it might ideally suit.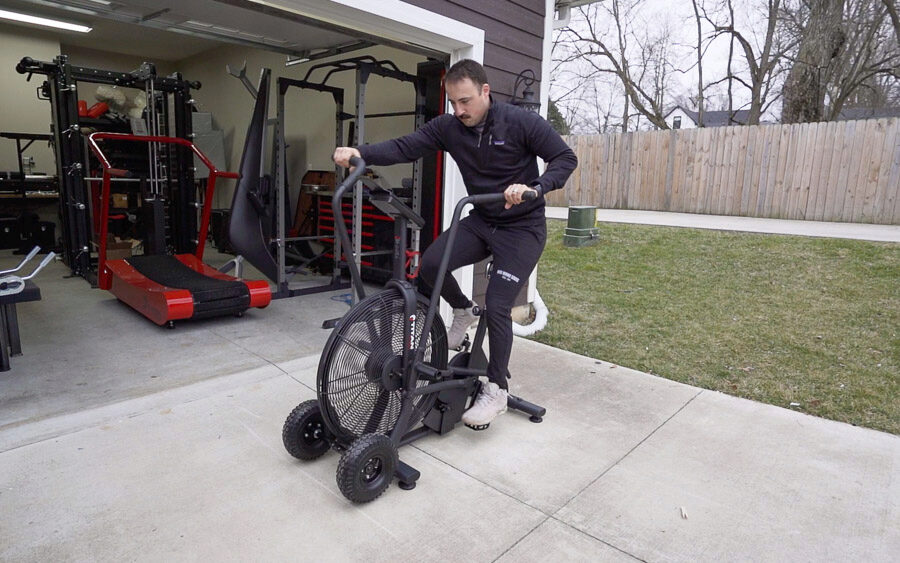 A Quick Look at the Titan Fan Bike
Titan Fitness is known for creating some of the best home gym equipment for the value and that's evident in the Titan Fan Bike. It's not the best air bike we've used or recommended, however, it comes in at a tremendously affordable price with a lot of features you'd ordinarily have to pay extra for. Like is often the case with Titan products, they combine many of the best features from competitors and put them into their product. If the Echo Bike and Assault Bike had a baby, this would be that air bike… and to be honest, it's quite good, especially when you consider the price point. (RELATED: Check out the differences between the Echo Bike vs Assault Bike here.)
Coop's Tips:
With the attached tires, you can (fairly) easily drag your Titan Fan Bike outside to get your sweat on instead of being always stuck inside.
You'll need to occasionally do maintenance on this bike, like greasing or lubing the chain so be prepared for that.
My Favorite Things:
Easy and quick to assemble
Budget-friendly price point
Lots of included accessories that come standard
My Callouts:
Chain-drive system requires more maintenance over time than a belt-drive system
Subpar monitor
Fairly noisy
Is the Titan Fan Bike Right for Me?
There was a time when the only option for a fan bike was a Schwinn Airdyne available at the local sporting goods store. Now, the Titan Fan Bike is just one among dozens of others. Here's who I recommend this bike to:
Great for:
A budget home gym owner that would like a quality air bike, but wants the most bang for their buck.
CrossFit athletes that like a chain-drive system, which is similar to that of the Assault Air Bike.
Those that would find a water bottle holder, phone holder, and off-road wheels beneficial.
Not recommended for:
People who aren't handy, as chain-driven air bikes generally require maintenance.
Those who like to do long-duration cycling–I'd suggest something with arms like the Concept2 BikeErg.
People who want a super quiet bike – I'd suggest looking at an exercise bike such as a Peloton alternative if noise is a concern.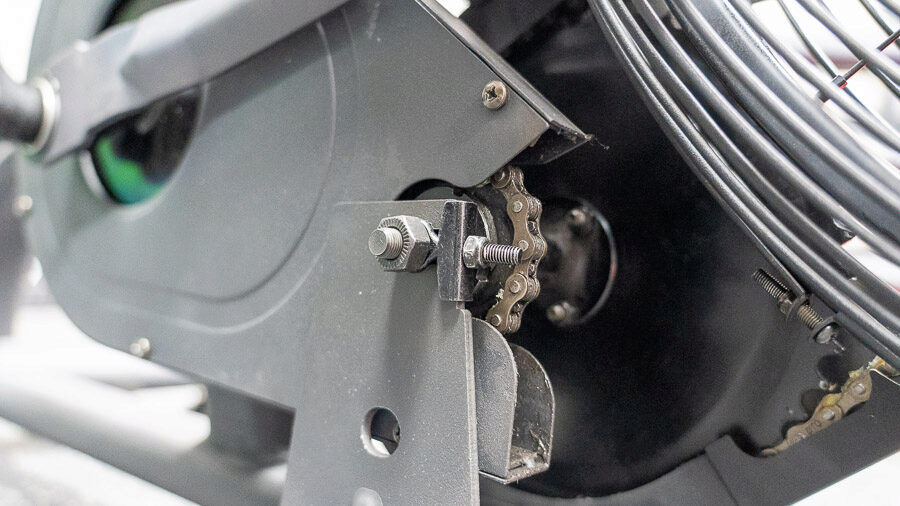 Titan Fan Bike Specs
| | |
| --- | --- |
| Material | Heavy-duty steel |
| Weight Capacity | 330 lbs. |
| Product Weight | 111 lbs. |
| Finish | Black Powder-Coating |
| Footprint | 50.25" x 20.375" |
| Warranty | 1 year warranty |
| Adjustable Seat Height | 33" – 42.75" |
| Handle Diameter | 38 mm |
| Monitor | LCD screen |
| Display Has | Watts, odometer, heart rate, calories, RPM, time |
| Drive Mechanism | Chain drive system |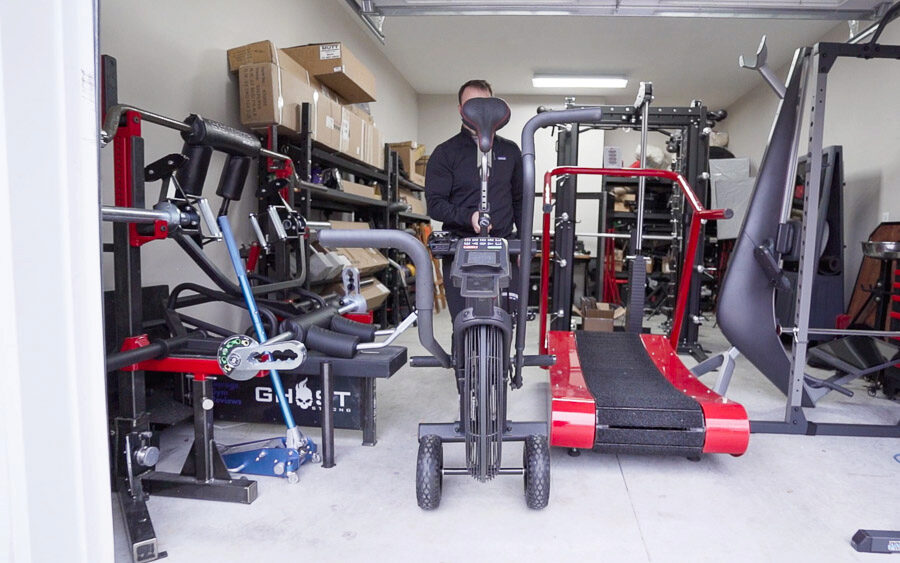 Get Your Sweat On
The Titan Fan Bike, like all air bikes, is a piece of equipment I have a love/hate relationship with. Similar to some of the best exercise bikes, I love the results that come from doing HIIT conditioning on an air bike, but I hate how bloodsucking difficult it can be. However, this is what gym equipment should be, so I'm not complaining too much.
The first time I hopped on the bike, I was reminded of the piece of equipment (I believe) it was designed after–the Assault AirBike. The Assault Bike is the air bike that was formerly used in the CrossFit Games and was the first modern take on the older Schwinn Airdyne. It has its flaws, but overall, it's a good bike and better than anything that came before it.
The resemblance between the two bikes is uncanny and if I didn't know any better, I wouldn't be surprised to find out if they were made in the same factory.
The similarities and the features that are prevalent in both start with the drive system. The Titan Fan Bike uses a chain drive similar to what you see on bicycles. Metal chains that wrap around sprockets and then connect to crank arms are what drive the fan on the front of the bike. Chains are, in my and many others opinions inferior to belts, like what is seen on the Rogue Echo Bike.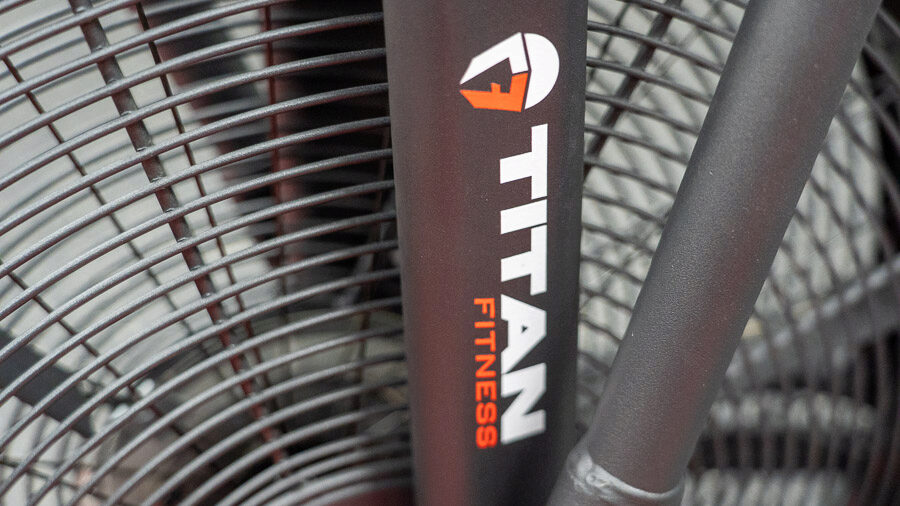 The good thing about chains is that they're cheap and familiar. The bad thing is they require much more maintenance including lubing and tightening over time.
However, when combined with the retro-fitted bicycle wheel made into a fan on the front of the bike, you get a system that is overall easier to pedal than a belt-drive. Starting a belt-drive bike like the Echo Bike from Rogue Fitness is harder and can also stop more abruptly. A chain drive makes it possible to "ghost-ride" as my friend and CrossFit Games champion Jason Khalipa coined. This means that when you're finished pushing the bike, you can put your feet on the knurled footpegs and let the bike continue to rack up calories and meters.
The arms on the Fan Bike are again, similar to the Assault Bike. When pushed, you feel connected to the system and although there is some play, it's not a ton and allows for a nice experience.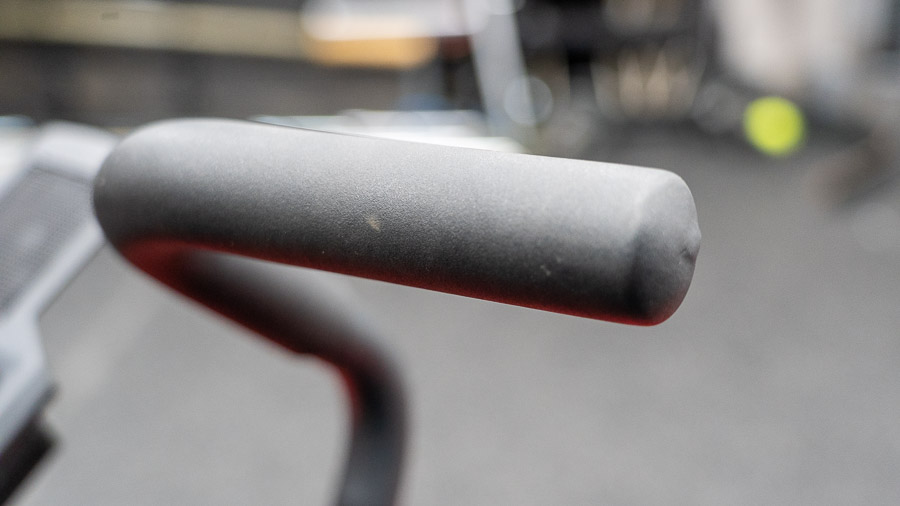 While cranking on the bike, the piece most interacted with is the monitor. If I'm to be frank, the monitor on the Titan Fan Bike is not good. The buttons are too small, it asks for my age for some odd reason every time I press start, and it's not very intuitive. This is the only glaring miss of the entire bike.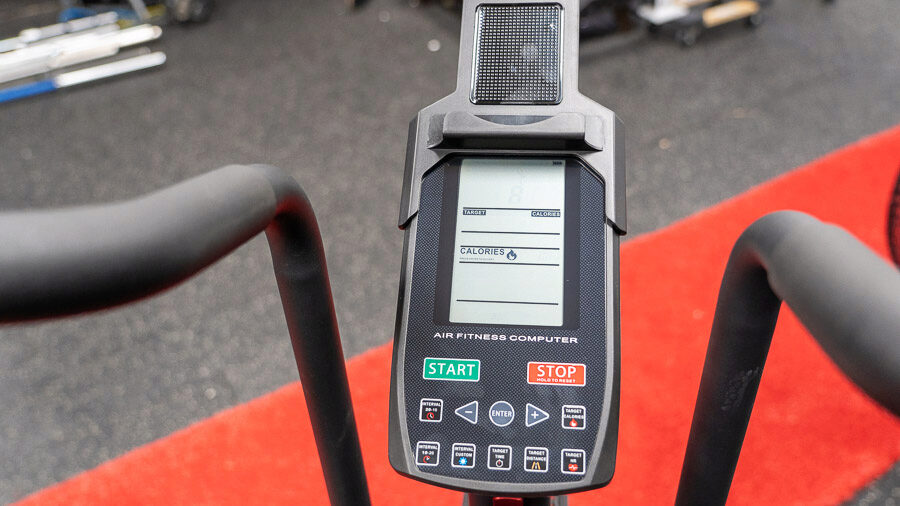 Accessories and Extras
One of the biggest benefits of the Titan Fan Bike in comparison to its competitors is the number of accessories included standard with the bike.
The accessory that most hits the box for "I didn't know I needed that" is the phone holder with a grippy pad that sits on top of the monitor. It slides up and down so it's out of the way when not in use. Plus, it holds my phone so I can watch YouTube videos while doing longer, steady-state cardio.
An accessory that requires an upcharge from other companies, if it's even offered, is a fan guard that prevents the air from the bike cooling your body off. This is a nice thing in the summer, but when I go out to the garage in the winter, the last thing I want is cold air blowing on me. This, again, comes standard on the Titan Fan Bike.
The other accessory that comes included is the turf tires and back handle (that's also knurled, thank you very much) that allows the bike to be easily maneuvered on all surfaces, including grass. I didn't realize how much convenience these would add to my life until I tried them. They also don't increase the footprint of the bike, which was cool to see.
Although I prefer fan bikes for EMOM's and shorter duration, max effort training, they also work well for longer duration, consistent effort training. I will often switch from using both legs and arms to just arms on the Titan Fan Bike and it requires no thought, just varied endurance.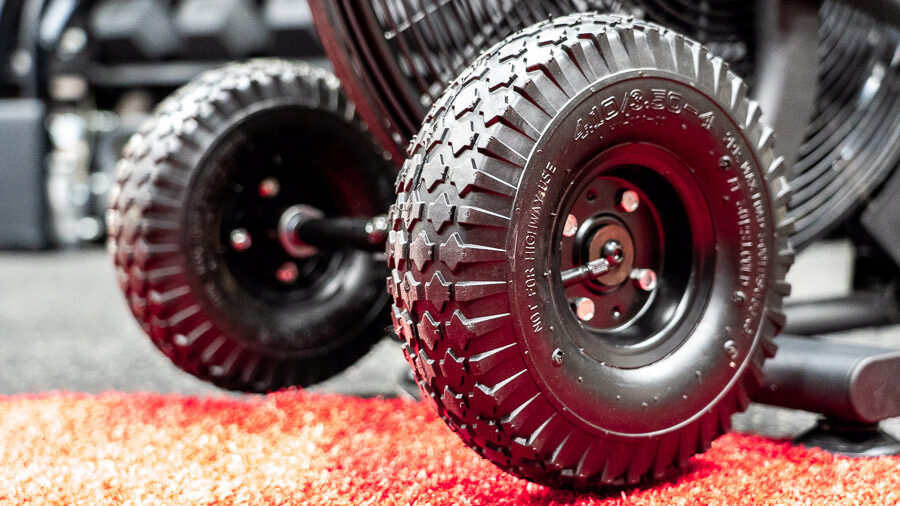 LCD Console
The biggest downside to the Titan Fan Bike is its monitor. The price, accessories, and overall build quality of the bike presents a great value. In fact, for a gen 1 product, this is one of Titan's best showings. However, the monitor should be reworked and improved.
This isn't the first time this has been an issue with the first rendition of a piece of cardio equipment. The original Echo Bikes that Rogue sold required a 3, 2, 1 countdown with jarring beeps on the monitor every time it started. They've since fixed this. I'd love to see Titan improve the monitor as well.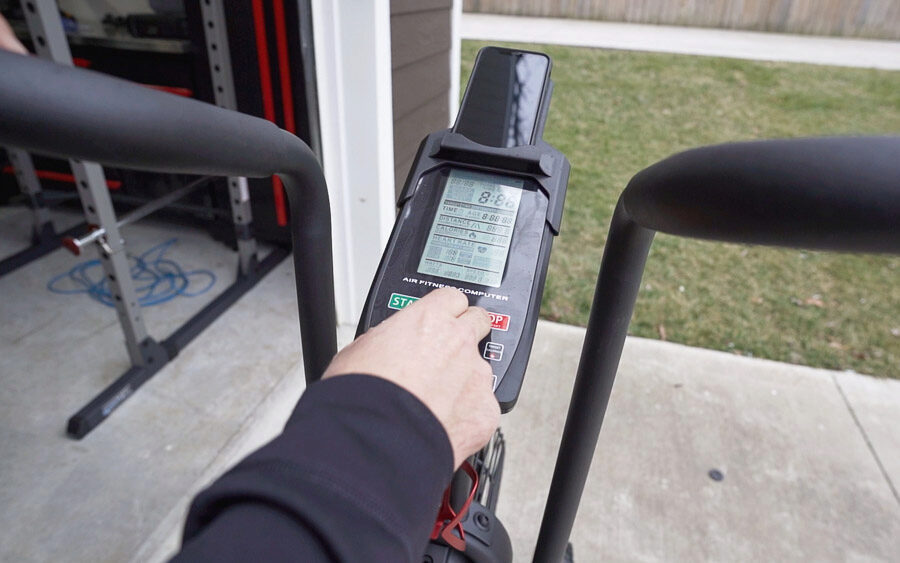 RELATED: Best Cardio Machines
Titan Fan Bike Vs. The Competition
The most notable competitor to the Titan Fan Bike and our Top Pick is the Rogue Echo Bike. The Rogue Echo Bike is bigger, more stable, and less prone to maintenance issues. Thanks to its belt drive system, it's also somewhat quieter.
This said, the Titan Fan Bike is cheaper and includes many accessories that Rogue Fitness charges extra for. Although we prefer the Echo Bike for most people, if you're on a budget and looking for the best budget home gym equipment, we certainly could understand why you'd pick up the Titan Fitness Bike.
The other stationary air bike you're likely interested in when looking at Titan's Fan Bike is the Assault Air Bike. For most people, I'd recommend the Titan Fan Bike first as they're extremely similar, but the only thing Assault does better is with its monitor, while Titan's is less expensive and includes many accessories.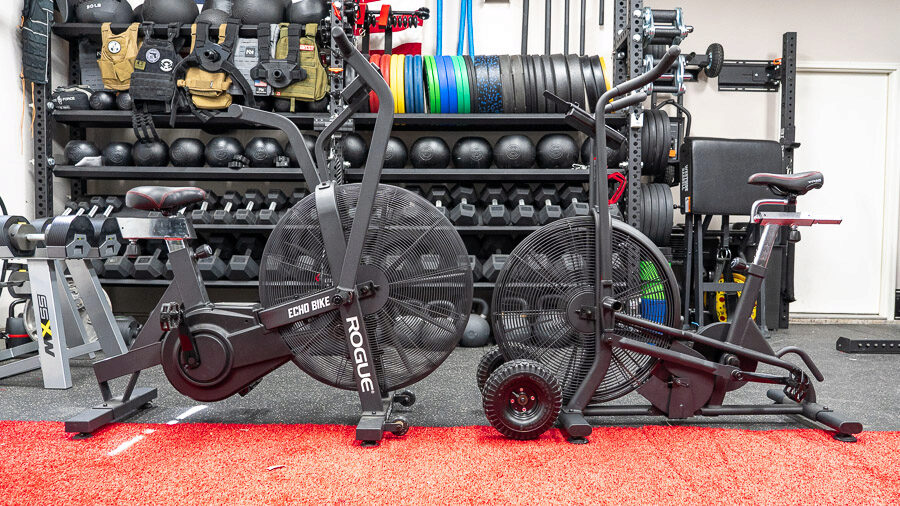 Customer Experience
If you have a question for Titan Fitness, you can click the bottom right hand corner support button to speak with a bot. I do wish there was a real person to talk to through live chat, but if the bot cannot answer your questions, there is a contact page. Through that page, you're able to send an email and a real human will send you a response back during the regular business week.
Warranty and Returns
The Titan Fan Bike has a one-year limited warranty. This isn't great, but it is better than nothing.
However, the real winner is Titan's Return policy. You can return any Titan product within 30 days of purchase for any reason. They will refund you your purchase price, but you will be responsible for covering the return shipping cost.
Easy-Peasy Assembly
The Fan Bike was delivered from Titan Fitness in a large, dual-ply cardboard box wrapped in poly straps and tape. The box was big and cumbersome weighing over 120 pounds but only had some minor scrapes.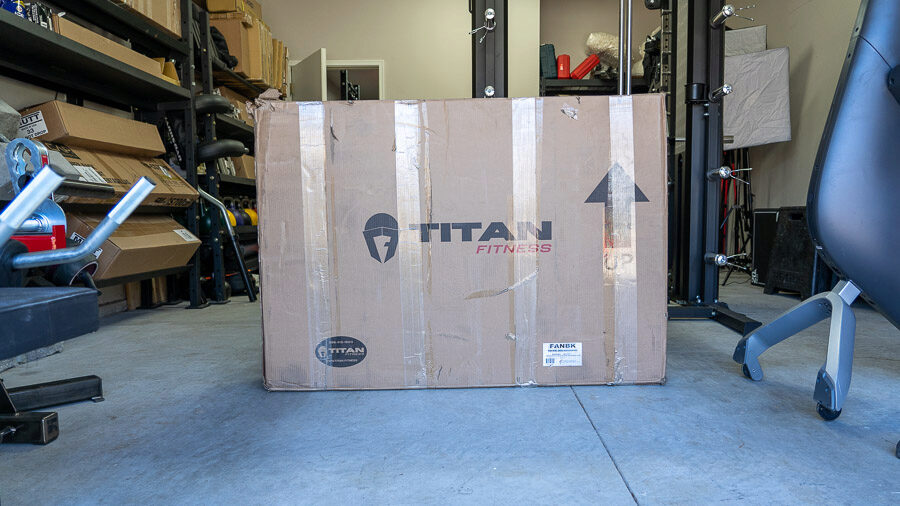 There are a couple of things to note about the assembly. One, the bike comes mostly pre-assembled. This is something that isn't often done with imported products and I was thankful to see it. Two, there were extra metal parts included in the box to keep things from shifting during transit. This is an extra cost to Titan but shows they've taken customer concerns over shipping issues in the past seriously.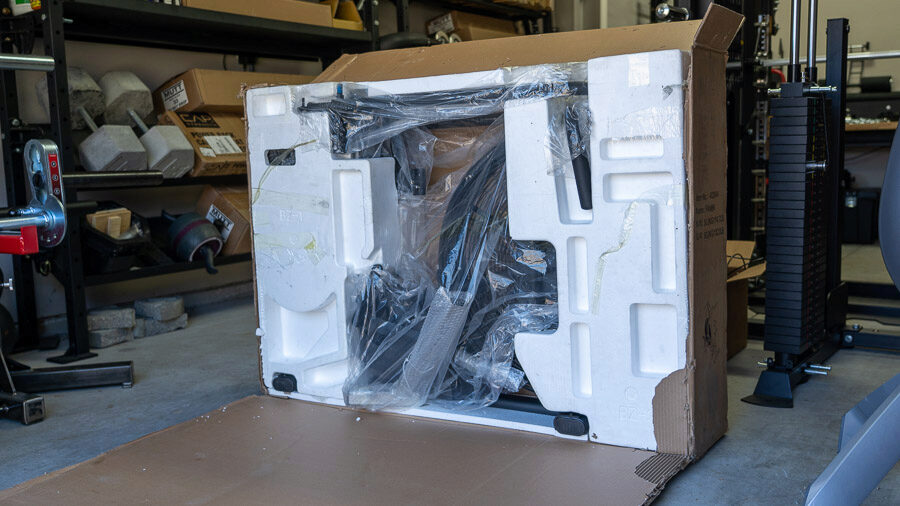 Over the course of 30 minutes, we assembled the Fan Bike and leveled it out on the garage gym floor.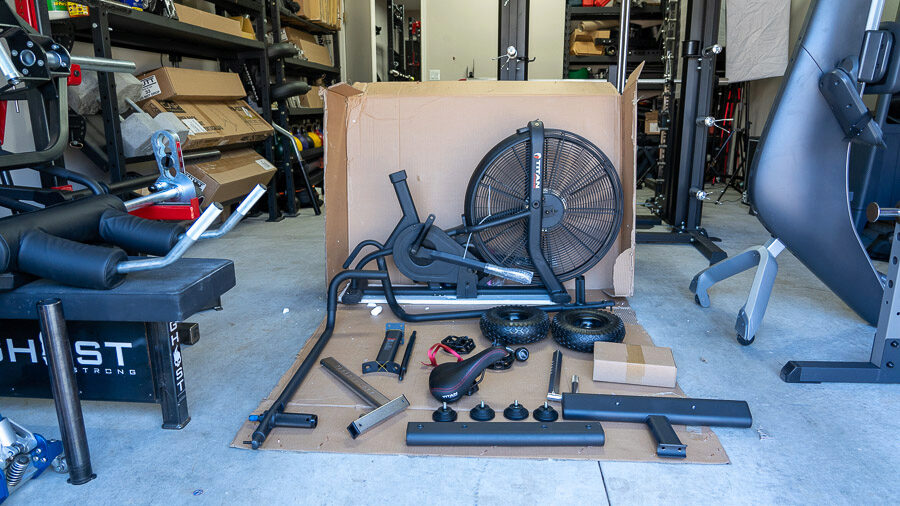 Customer Reviews
On the Titan Fitness website, people have generally very positive things to say about the Fan Bike – it has a rating of 4.5 out of 5 stars. Some of the reviews mentioned they were able to easily assemble their bike and the metal construction was very durable.
Although there weren't many negative reviews, a few customers mentioned they found the seat to be uncomfortable and that the resistance seemed less intense than comparable air bikes.
Final Verdict of Our Titan Fan Bike Review
Overall, the Titan Fan Bike is a solid option if you're looking for an air bike on a budget. If you're looking for a tricked out monitor with insane Bluetooth, you'll be disappointed. However, if you want a durable, solidly-constructed air bike for a reasonable price with great accessories, you'll want to pick up the Titan Fan Bike for your home gym.
RELATED: How to choose an exercise bike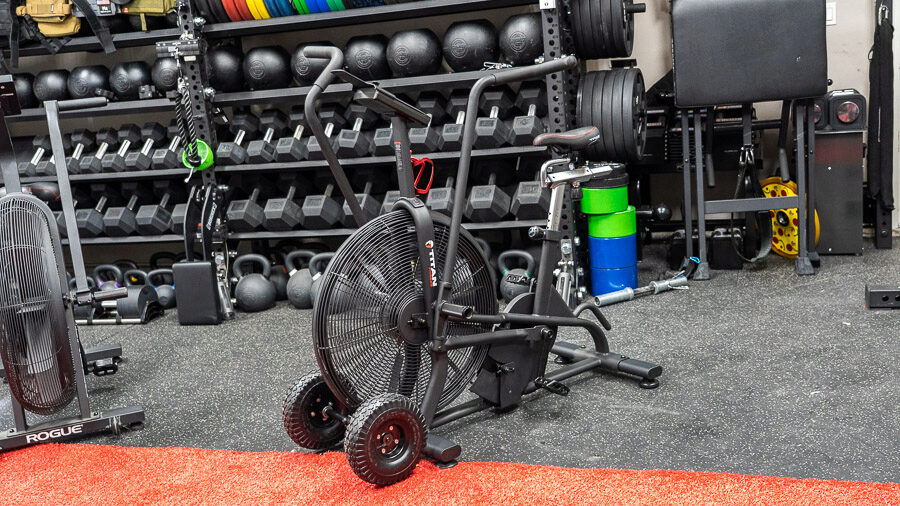 Titan Fan Bike Full Rating
Titan Fan Bike
The Titan Fitness Fan Bike is a great bike for people looking for a budget option.
Product Brand: Titan Fitness
Product Currency: USD
Product Price: 699.99
Product In-Stock: InStock
Titan Fan Bike FAQs
Are fan bikes loud?
If you're looking for a super quiet addition to your home gym, a fan bike might not be your best bet, as they tend to be on the noisy side. However, you could always store your fan bike in the garage, or wheel it out into the driveway if you're worried about disturbing family members inside the home.
Are fan bikes good?
Fan bikes are a great way to get a full-body workout. Since you're both pedaling and moving your arms, you're working a variety of muscles. They're also a great option for anyone who enjoys interval training or spiking their heart rate.
Can the Titan Fan Bike be adjusted?
The seat on the Titan Fan Bike has adjustability and can be lowered or moved upwards within a span of almost 10 inches.
Why should I get a fan bike instead of a treadmill?
Unless you're purchasing one of the best compact treadmills, a fan bike will take up far less space in your home or garage gym. Plus, good treadmills are generally more expensive than a good air bike. A fan bike also takes your cardio to the next level since you're working your heart, legs, and arms all at once.
If I'm into weightlifting, do I need something like a fan bike?
Whether you're into crushing dumbbell sets or enjoy tabata style workouts, everyone can benefit from using something like a fan or stationary bike. Getting heart-healthy cardio in is an important part of working out, even if you'd rather be slinging heavy weights.
RELATED: Stationary Bike Benefits