We test and review fitness products based on an independent, multi-point methodology. If you use our links to purchase something, we may earn a commission. Read our disclosures.
We know your home gym is filled with the best home gym equipment on the market, and you're putting in the work day in and day out to get stronger, faster, and better. Have you ever wondered about nutritional supplementation to take your results up a notch?
Pre-workout supplements are multi-ingredient products designed to boost energy and improve exercise performance1. Given how popular these products are, and the countless formulas that exist, it's worth knowing which ones contain research-backed ingredients and are worth your money.
Choosing the right pre-workout can be overwhelming, so we've rounded up the 14 best pre-workouts on the market today to help you find the right product for your performance goals.
A Lecturer + Expert Product Testers Walk Into A Room
The Garage Gym Reviews team is a leader in the pre-workout supplement review space—the team of expert product testers is full of certified personal trainers, CrossFit Level 1 coaches, and weightlifting coaches. They know a thing or two about working out and using the best supplements to improve their overall performance and recovery.
Together, they've tested and researched more than 30 pre-workouts—and that's not even counting all the supplements they've taken outside of their roles as expert product testers.
Personally, I'm a lecturer in Exercise and Sports Sciences within the School of Medical and Health Sciences at Edith Cowan University in Perth, Western Australia. I've published 60 peer-reviewed journal articles and six book chapters in areas related to exercise, body composition, nutrition, and recovery.
My research areas and interests include dietary supplement interventions to enhance the effects of exercise, and the effects of creatine monohydrate—all this to say, I know a thing or two about supplements.
Best Pre-Workout Supplements of 2023
Best Pre-Workout for Muscle Gain: Transparent Labs BULK
Good for: Men looking for a product to support testosterone levels and to promote increased muscle growth*
As the name would suggest, BULK pre-workout is marketed to individuals who are looking to bulk up and gain muscle mass. It's got an impressive line-up of ingredients, transparent labeling, and is free from artificial preservatives, sweeteners, and gluten.
Each serving contains 6 grams of citrulline malate, a staple in most pre-workouts these days as it can improve strength, aerobic performance, and ease temporary muscle soreness following intense exercise, according to a 2021 metanalysis2. Kudos to Transparent Labs for including the research-backed dose of this ingredient. *
Next on the list is beta-alanine, which BULK has a whopping 4 grams per serving. Although that's the recommended dose to take in a day to support improvements in muscular endurance3, it's a hefty serving to take all at once. Just be aware you may be experiencing some tingles in your face and hands due to a condition called paresthesia. *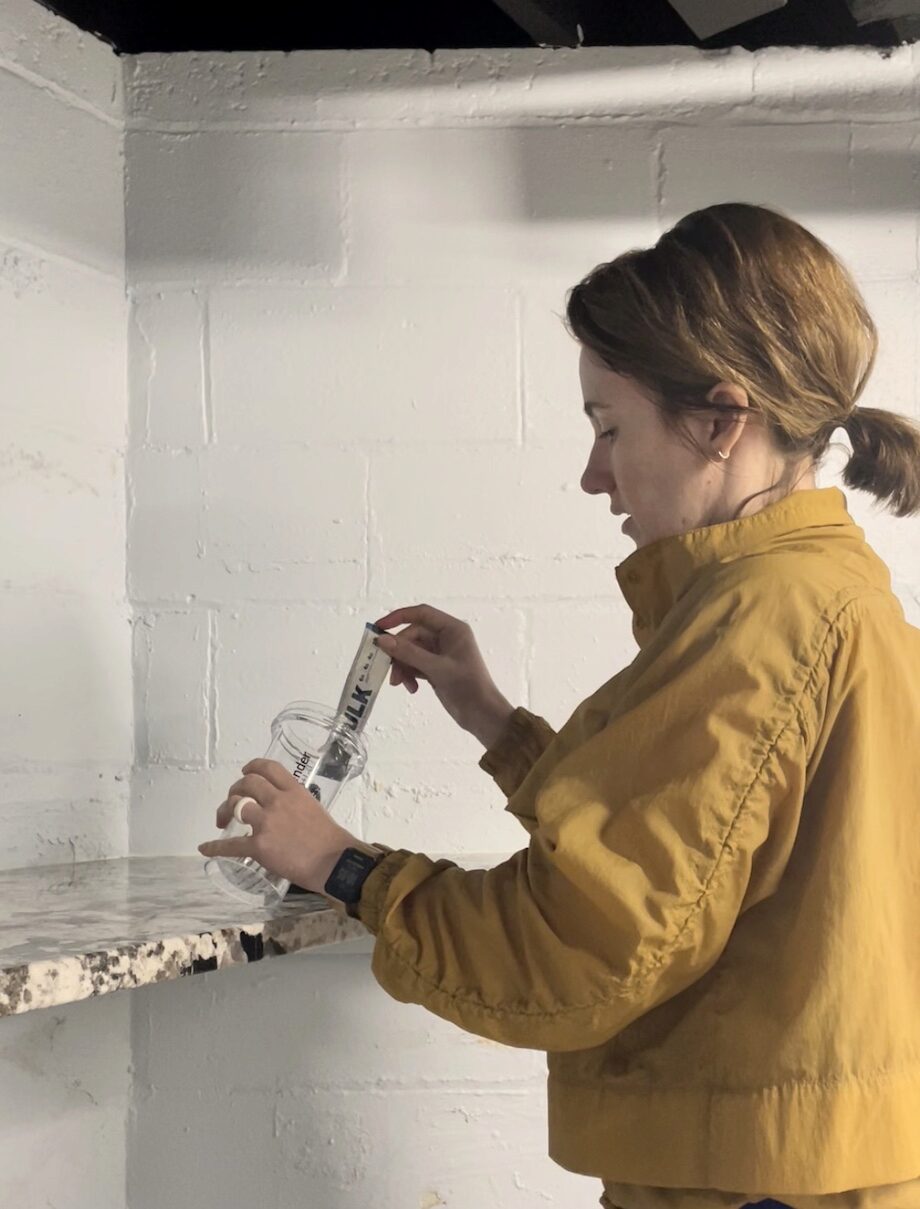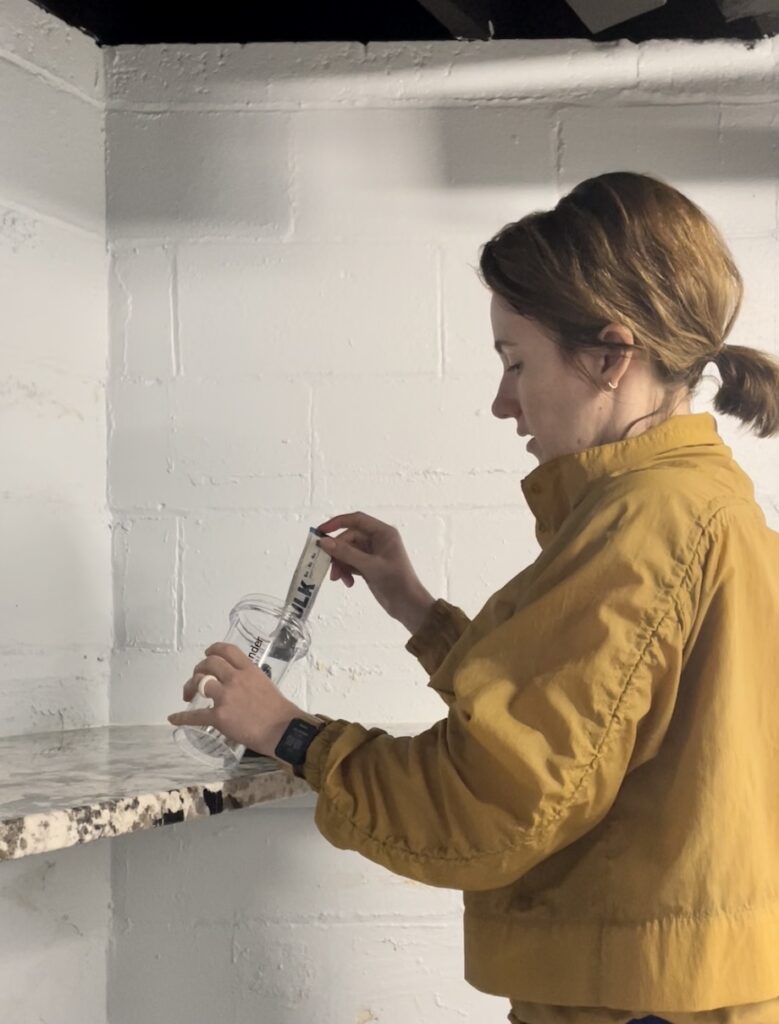 Like other Transparent Labs products, BULK contains a blend of caffeine and L-Theanine—a combination shown to promote increased energy and reaction time4. Add in the L-Tyrosine5 and Alpha GPC6 and you've got yourself a nice little cocktail to support increased mental focus. *
Besides the omission of creatine, the most researched supplement known to increase muscle strength and size7, there aren't too many cons with this product. Based on reviews, the flavor appears to be less than desirable, and the 4 grams of BCAAs add nothing but "bulk" (no pun intended) to the product. *
RELATED: Best Creatine
But overall, this is a product that contains research-backed ingredients to enhance strength, stamina, focus, and energy, and could be suitable for bodybuilders or those just looking to pack on muscle. *
Want to learn more? Check out our Transparent Labs BULK Pre-workout review
Nicole, GGR Editor and our expert product tester, says:
"Blue Raspberry was tasty, and it mixed well. I experienced significant tingling and only took half a serving, so there's something to be said of that mega dose of beta-alanine." *
| | |
| --- | --- |
| Price per serving | $1.66 |
| Key ingredients | Citrulline-malate, beta-alanine, caffeine |
| Flavors | Watermelon, Sour Grape, Green Apple, Orange, Blue Raspberry, Strawberry Lemonade, Tropical Punch, Lemon Lime |
Best All-in-One Pre-Workout: Kaged Pre-Kaged
Good for: People looking for the all-in-one pre-workout supplement to train harder, build muscle, and support increased strength *
Pre-Kaged is the one-stop shop when it comes to pre-workouts. It's fully loaded with all the ingredients you'd want in a pre-workout and has 100% transparency on the label so you know exactly what active ingredients (and how much of each) you're putting in your body.
It's one of the most popular pre-workouts on the market, and for good reason. It's formulated with research-backed ingredients, and because it contains good dosages for key ingredients (e.g. caffeine, creatine, citrulline), you won't need to purchase additional dietary supplements to fill any pre-workout gaps. That's good, because Pre-Kaged is expensive, costing $2.25 per serving—the most expensive on our list.
Pre-Kaged gets a gold star for being third-party tested, as well as Informed Sport-certified. This is a must-have for me—I won't recommend any product that hasn't been batch-tested to ensure quality.
The only thing I'm not a fan of is the large scoop size. Perhaps if they took out the 6.5 grams of BCAAs (because let's face it, they don't really do much for you), you could easily mix it with 6 ounces of water and have it down in no time.
Overall, this is one of the best pre-workout in 2023 and worth the money. You can get our full thoughts by reading our Kaged Pre-Kaged review.
Nicole, GGR Editor and our expert product tester, says:
"I tried the Krisp Apple flavor, and definitely noticed the smell of apples as soon as I opened my shaker. It wasn't too sweet and I liked the flavor, but found that there was an unpleasant mouth-feel after each sip. It also didn't mix super well." *
| | |
| --- | --- |
| Price per serving | $2.25 |
| Key ingredients | Citrulline, beta-alanine, creatine, caffeine |
| Flavors | Grape, Fruit Punch, Pink Lemonade, Berry Blast, Krisp Apple, Orange Crush, Cherry Bomb |
Best Pre-Workout for Weight Loss: Transparent Labs LEAN
Good for: Individuals looking to support fat burning while maintaining muscle mass *
LEAN pre-workout is a supplement designed for individuals who want to lose body fat (as part of a healthy diet and exercise plan) and maintain muscle mass. The product's biggest selling point is that it contains key vitamins and minerals to help maintain healthy thyroid function and support weight loss. *
It contains both iodine8 and zinc9, which can be beneficial for supporting thyroid function, as well as selenium, which is required by the thyroid for antioxidant function and metabolism of hormones9. While these ingredients are safe to use, the benefits are usually only seen in individuals who are deficient in them. The verdict is still out there on whether or not they can aid in weight loss for otherwise healthy adults.
At 180 milligrams of caffeine per serving in LEAN, you'll get a decent boost in energy and focus support10. This product also contains L-theanine, which when combined with caffeine, can provide a synergistic effect in promoting cognition and attention4. *
The recommended dose of beta-alanine is 3 grams a day, so at only 2 grams per serving, LEAN is hitting just under the mark. However, there are 6 grams of citrulline malate per serving, which is the research-backed dose shown to help reduce fatigue and support improved performance in the gym2. *
At about $1.65 per scoop, it's in the mid to upper range of price. That being said, you are getting a quality product free from artificial sweeteners and colors, so you may find the price is worth it. Plus, with almost 10 flavors to choose from, including Blue Raspberry, Watermelon, and Green Apple, you'll have a nice variety available.
This is a solid pre-workout for beginners or for someone who doesn't want a ton of caffeine in their supplement. I wouldn't purchase this product solely for its fat loss support claims, however it can certainly be added to a balanced diet and regular exercise to enhance its effects. *
Nicole, GGR Editor and our expert product tester, says:
"Tropical Punch LEAN was slightly bitter and not too sweet—an okay combination. It didn't dissolve completely, but that didn't affect the experience in my opinion. I didn't notice any jitters, and just a bit of tingling."
| | |
| --- | --- |
| Price per serving | $1.66 |
| Key ingredients | Citrulline-malate, beta-alanine, caffeine |
| Flavors | Watermelon, Sour Grape, Green Apple, Orange, Blue Raspberry, Strawberry Lemonade, Tropical Punch, Lemon Lime, Sour Peach |
Best Pre-Workout for Men: Xwerks Ignite
Good for: Men looking for a quality pre-workout to help increase muscle strength and size
Xwerks Ignite is a naturally and artificially sweetened pre-workout chock full of ingredients shown to support increased performance and focus during workouts. *
What I love most about this product is its combination of nootropics to support brain function and focus. If you're What I love most about this product is its combination of nootropics to support brain function and focus11. If you're new to the world of nootropics, they are a group of ingredients known as "cognitive enhancers," which claim to promote increased mental alertness, as well as boost energy levels11. Ignite's formula contains Rhodiola Rosea12, DMAE Bitartrate13, caffeine10, and L-Tyrosine5—all scientifically backed ingredients that can aid in memory and concentration, while easing minor daily stress. *
RELATED: Best Pre-Workout for Men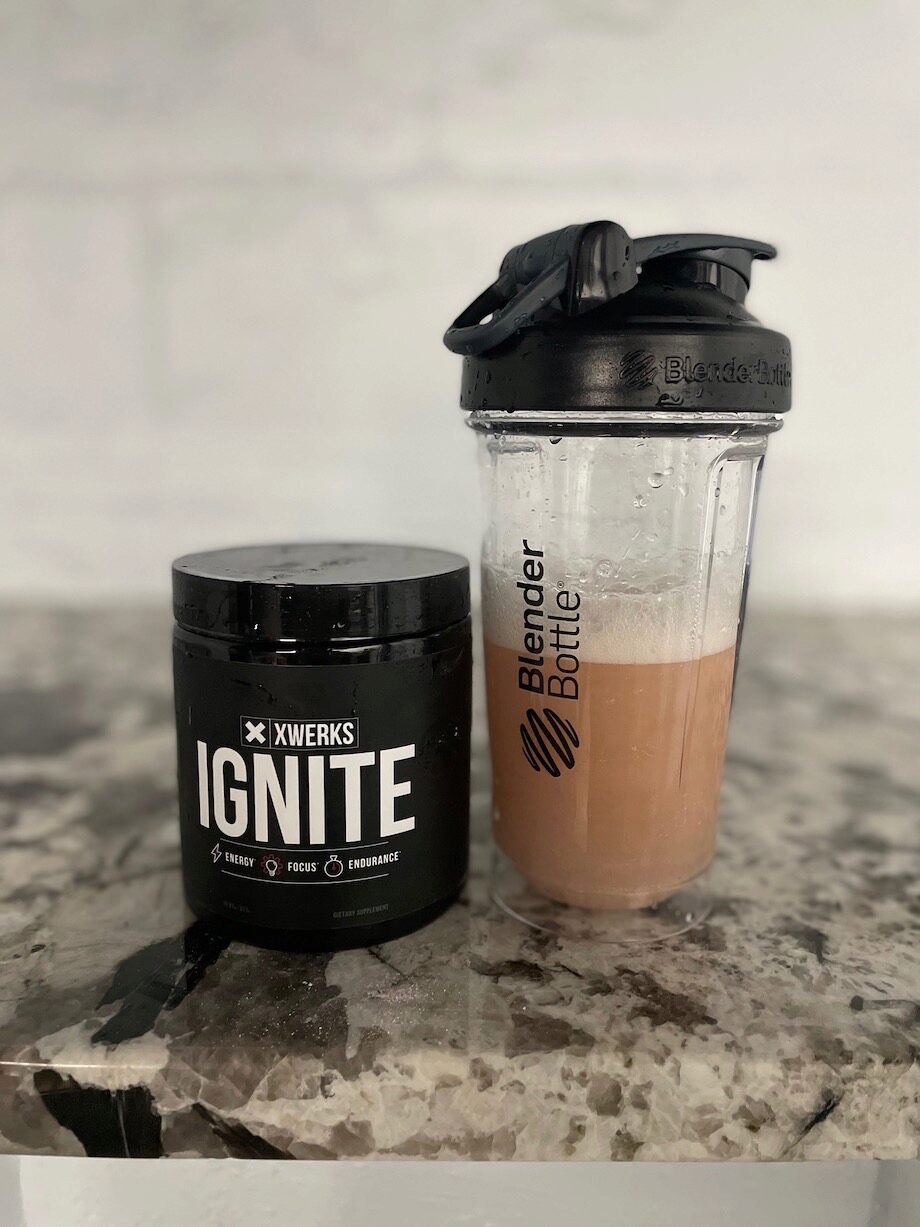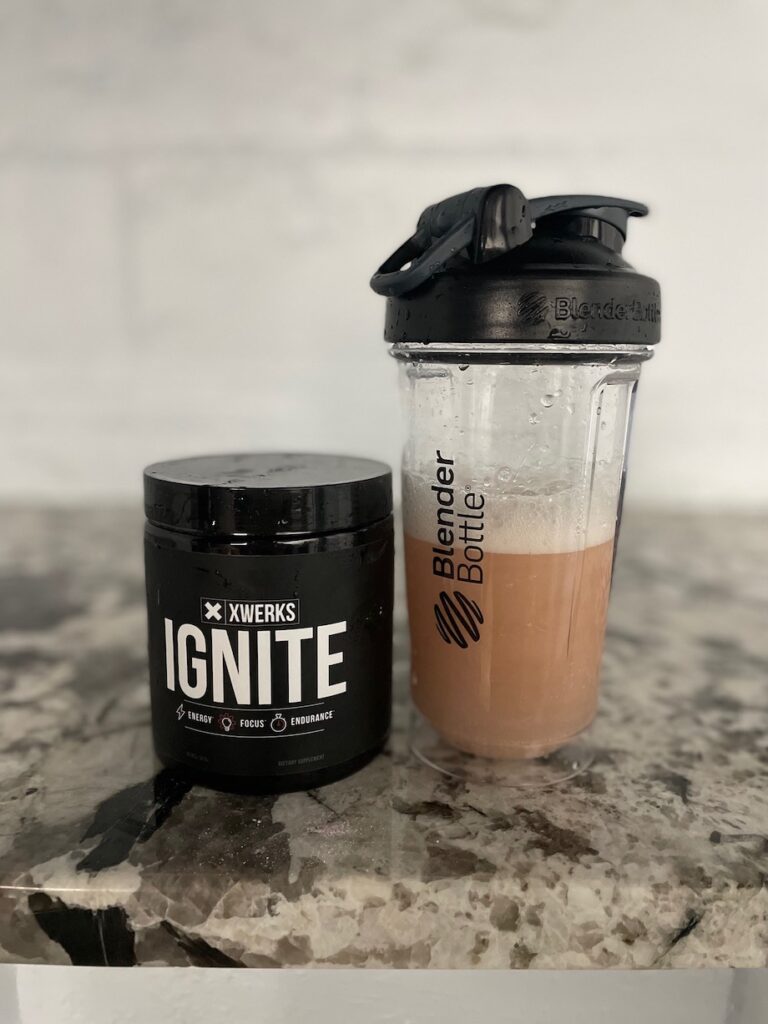 Ignite also contains beta-alanine, which can enhance muscular endurance and help regulate muscular pH.3 The 1.5-gram dose is half the recommended daily dose; however, if taken regularly, you may still see a benefit. *
The 150-milligram dose of caffeine may be a little low for habitual caffeine users; however, it's the perfect starting point for anyone new or sensitive to the effects of caffeine.
Ignite does contain sucralose (an artificial sweetener). This isn't much of a dealbreaker for me, as I'd prefer to drink a pre-workout that doesn't taste like grass. However, if you're on the lookout for a product free from anything artificial, you'll want to steer clear of this one.
Nicole, GGR Editor and our expert product tester, says:
"Of all the pre-workouts I tried, this one gave me the best energy boost and helped with my focus, but I did experience tingling—win some, lose some. This powder is very soluble, but I did think the Watermelon flavor was pretty artificial-tasting and too sweet for my liking." *
Related: Best pre-workout for men
| | |
| --- | --- |
| Price per serving | $1.66 |
| Key ingredients | Caffeine, beta-alanine, citrulline malate, Rhodiola Rosea, DMAE Bitartrate |
| Flavors | Green Apple, Orange, Blue Raspberry, Watermelon |
Best Pre-Workout for Women: Cira Pre-Game
Good for: Women looking for a solid pick-me-up in the gym, without a post-workout energy crash*
Cira Pre-Game is a pre-workout designed specifically with women in mind. It's formulated to support increased energy, endurance, focus, and strength, and it's a great product for both women and any first-time pre-workout user.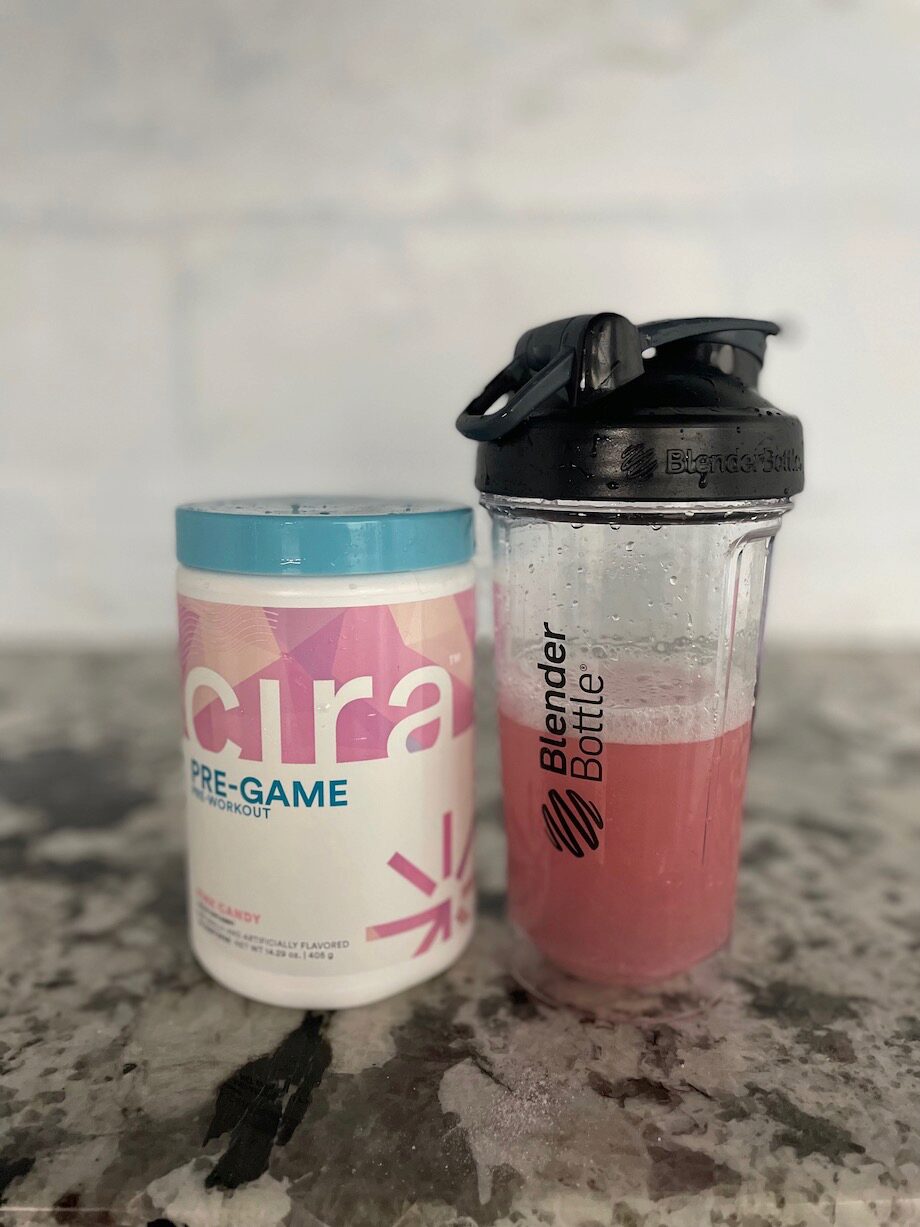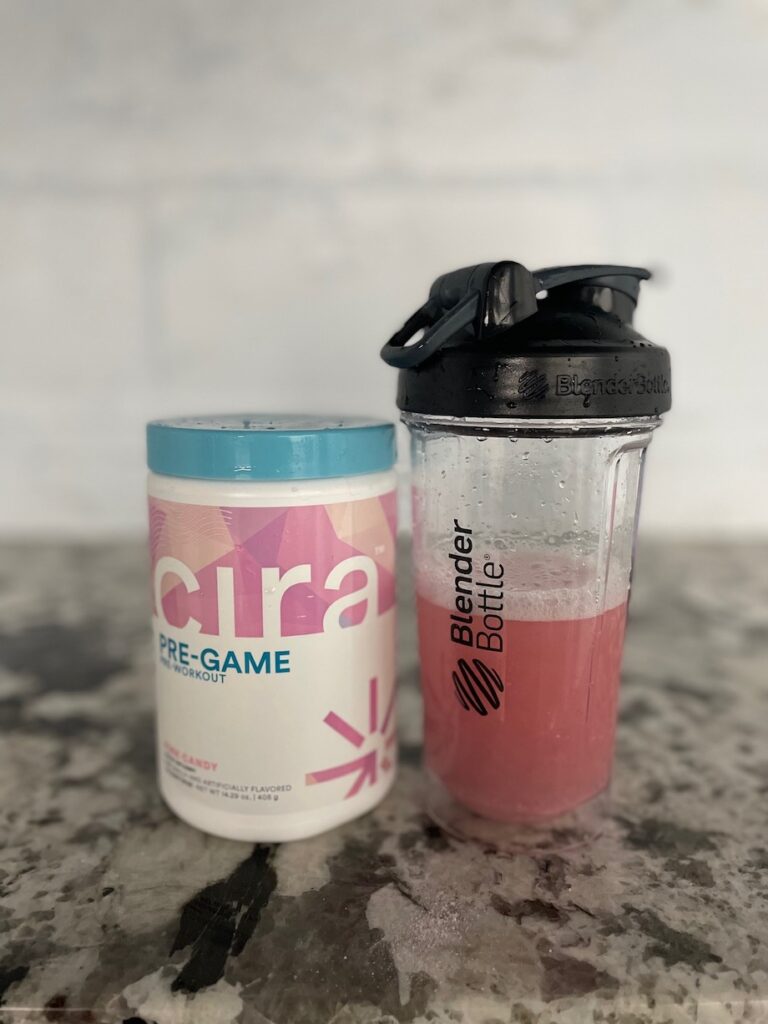 Overall, Cira did a nice job with their product formulation. A couple of the ingredients, like betaine anhydrous and L-Tyrosine, are slightly underdosed; however, it does deliver an adequate dose of caffeine10 (200 milligrams), L-citrulline14 (6,000 milligrams), L-Theanine4 (100 milligrams), and beta-alanine3 (1,600 milligrams)—all ingredients that can promote increased energy, focus, and drive during your workouts.*
The only con for me is the omission of creatine, an ingredient shown to increase strength and enhance recovery in both men and women7. Despite this, Cira is an affordable, beginner-friendly pre-workout that comes in fun flavors.
Related: Best pre-workout for women
Nicole, our expert product tester, says:
"Yummy! I tried Pink Candy, and actually really liked it. The consistency is a bit thicker than some other pre-workouts, but it really does taste like cotton candy. I took this on my way to CrossFit—I definitely felt energized, but there was no crash and no tinglies, which I appreciated." *
| | |
| --- | --- |
| Price per serving | $1.16 |
| Key ingredients | Citrulline, beta-alanine, caffeine |
| Flavors | Pink Candy, Peach Bellini, Glow-Jito, Strawberry Margarita |
Best Natural Pre-Workout: Legion Athletics Pulse Pre-Workout
Good for: People looking for a 100% nature-based pre-workout that delivers a hefty dose of caffeine
Pulse pre-workout has been specifically designed to boost energy levels, support increased strength and endurance, and help reduce fatigue. The reason it's so effective is because each ingredient is backed by scientific research and dosed at research-backed levels. *
Pulse contains 8 grams of citrulline malate, which is the exact dose used in research studies showing improvements in muscular endurance and strength performance in both men and women2. Each serving also has 3.6 grams of beta-alanine, which is the recommended daily dose to lead to support improvements in muscular endurance and reduce fatigue during high-intensity exercise3. *
If you've never taken beta-alanine before, just be aware that it can cause paresthesia—a harmless prickling sensation usually felt in the hands, arms, or legs. This typically only happens the first week or so taking beta-alanine.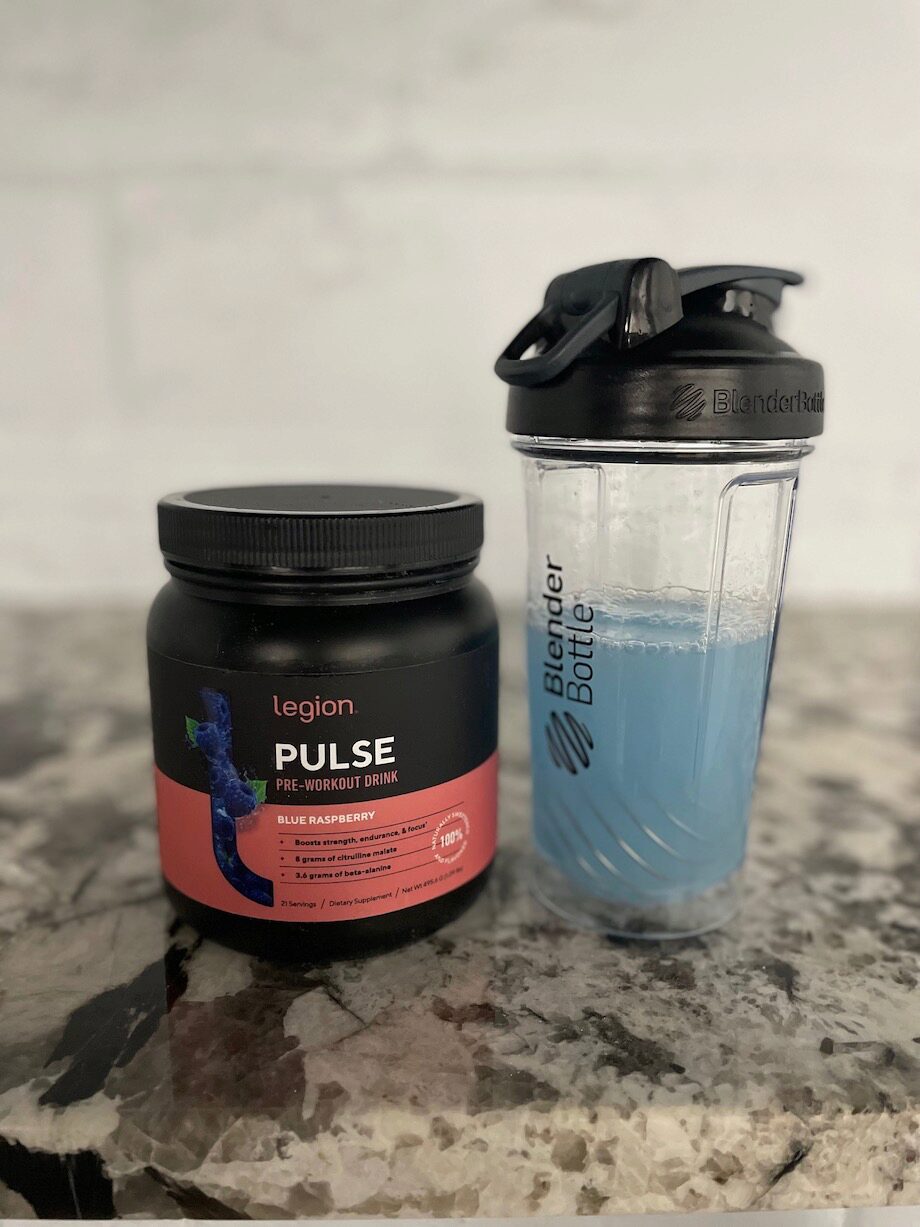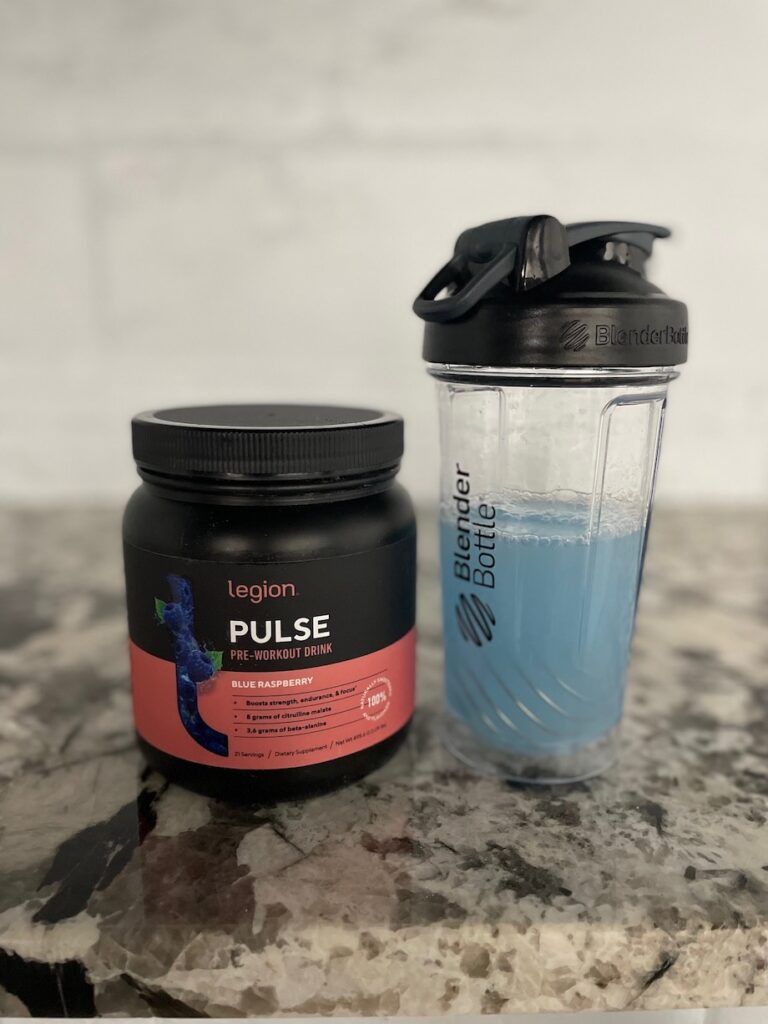 We can't talk about Pulse without mentioning the 350 milligrams of caffeine! It's a hefty dose that will surely give you enough energy to fuel your workouts10. This dose can be overwhelming to those who are sensitive to caffeine, but you can always just take half. To help prevent a potential energy crash post-workout, there's 350mg of L-theanine, which can help ease some of the effects associated with caffeine use4.
The only downside: Each serving is two scoops and there's only 21 servings in a bottle—meaning if you take pre-workout every day you'll run through this product pretty quickly. Regardless, I'm giving Pulse an A+.
Related: Legion Pulse pre-workout review
Nicole, GGR Editor and our expert product tester, says:
"I tried Blue Raspberry and boy, is it blue! While it mixes well, it does have a bitter taste and an unpleasant aftertaste. I think Pulse is an acquired taste, but I will say, I got this down before a strength training workout and felt all the positive effects—a good energy boost with no jitters." *
| | |
| --- | --- |
| Price per serving | $1.71 |
| Key ingredients | Citrulline malate, beta-alanine, caffeine |
| Flavors | Fruit Punch, Blue Raspberry, Green Apple, Tropical Punch |
Best-Tasting Pre-Workout: Cellucor C4
Good for: Anyone looking for a no-frills, good-tasting, energy-supporting pre-workout*
C4 is the flagship product for Cellucor, and is considered by many as the No. 1 pre-workout in the country. It's carbohydrate-free and contains 150 milligrams of caffeine per serving—a similar dose found in about 1.5 cups of coffee.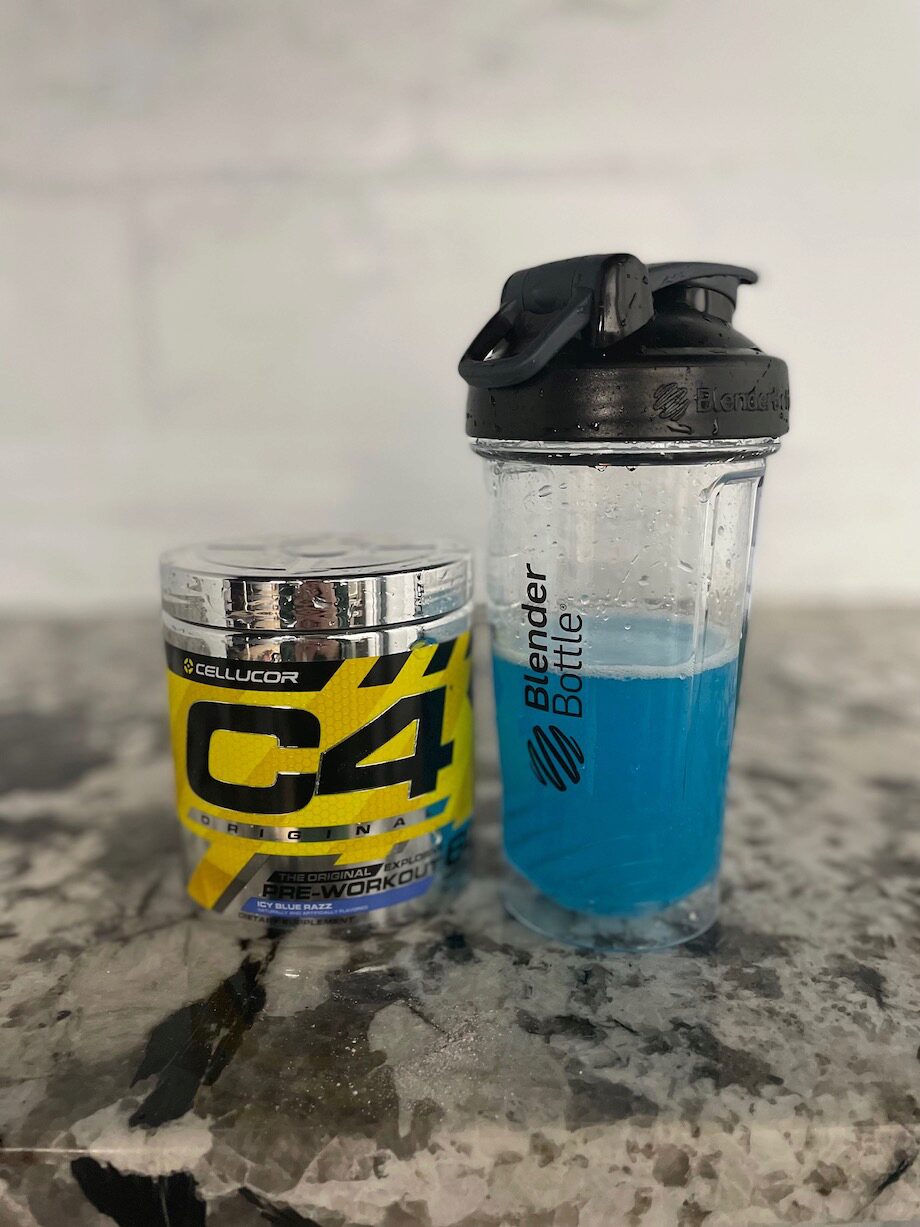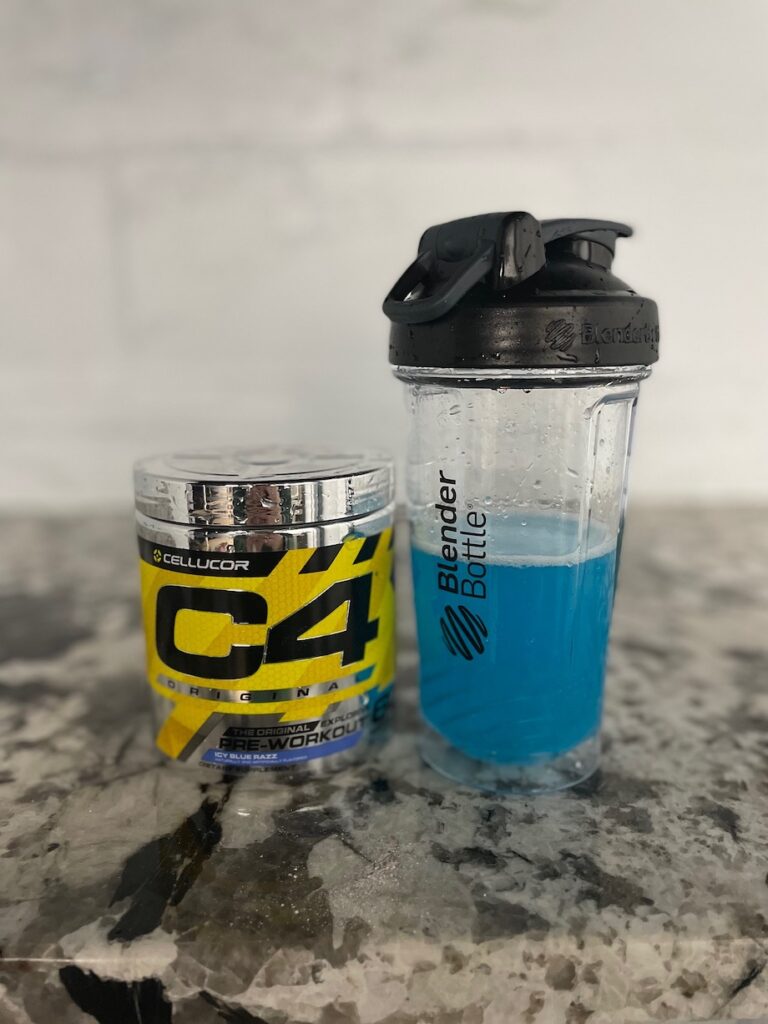 It also contains 1.6 grams of beta-alanine, which, if taken consistently, can help reduce the accumulation of metabolic waste productions (like hydrogen ions) and help prevent muscular fatigue3. *
As a bonus, this just tastes good—with flavors like Fruit Punch, Icy Blue Razz, and Cherry Limeade, it's a cult favorite with 4.7 out of 5 stars after nearly 6,500 ratings on Amazon.
Check out our full C4 pre-workout review for more.
Our expert product tester says:
"C4 was the first pre-workout I tried, probably seven years ago now. Icy Blue Razz never fails! And actually, I've liked every flavor of C4 I've tried. Good energy, and if you can give the tingles a pass, it's a solid pre-workout." *
| | |
| --- | --- |
| Price per serving | $0.78 |
| Key ingredients | Caffeine, beta-alanine, creatine, nitrates |
| Flavors | Fruit Punch, Cherry Limeade, Icy Blue Razz, Watermelon, Pink Lemonade, Strawberry Margarita |
Best Pre-Workout With Creatine: Gorilla Mode
Good for: People who want to maximize muscle size and strength gains
Gorilla Mode has been formulated specifically to support increased energy, focus, muscle strength, and endurance. The combination of L-Citrulline14, GlycerPump15, and Agmatine16 can boost nitric oxide production, promote increased blood flow, and improve intramuscular hydration.
Moving down the ingredient list, we see a unique blend of nootropics designed to support enhanced focus and mood11. The combination of L-Tyrosine5, Kanna17, and Huperzine A18 are known for their cognitive-supporting properties and their ability to help ease daily stress. *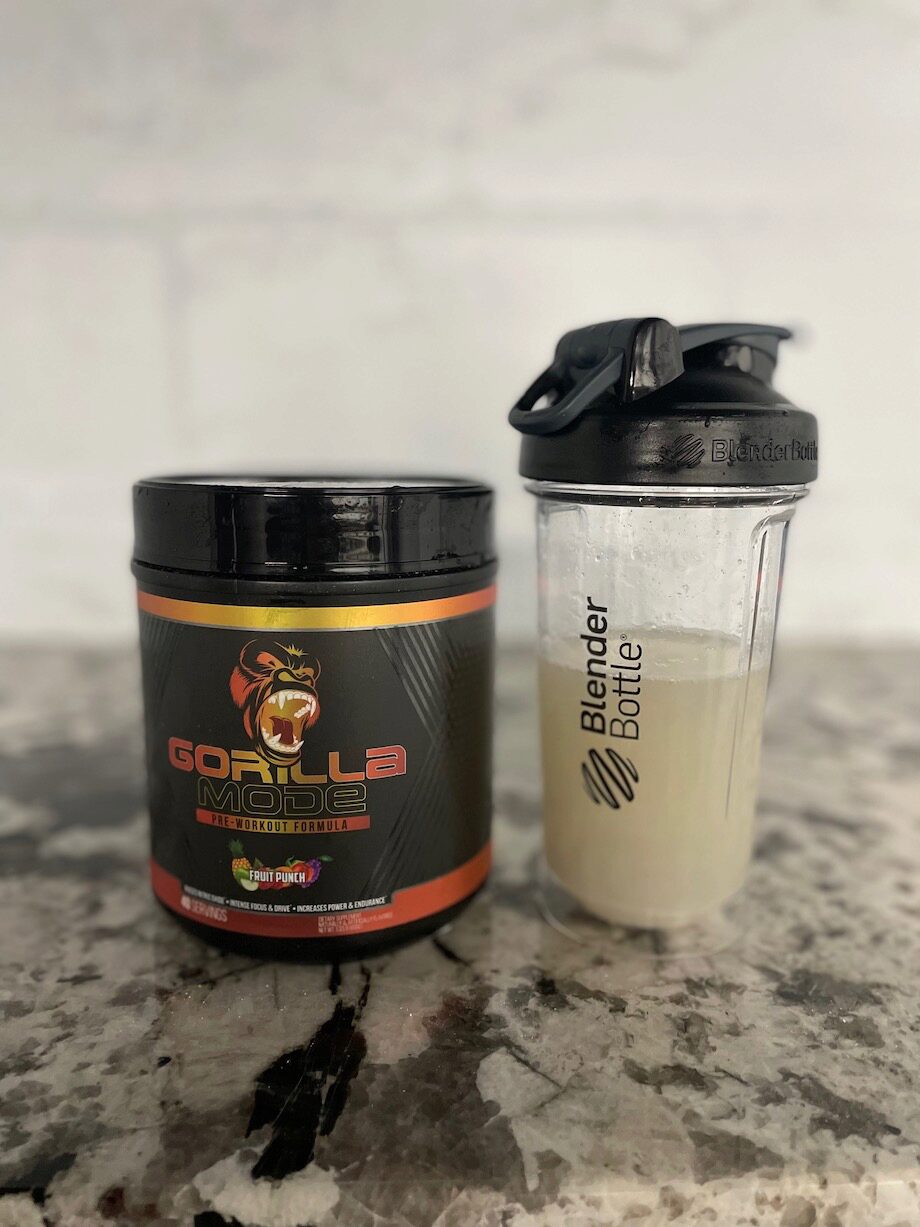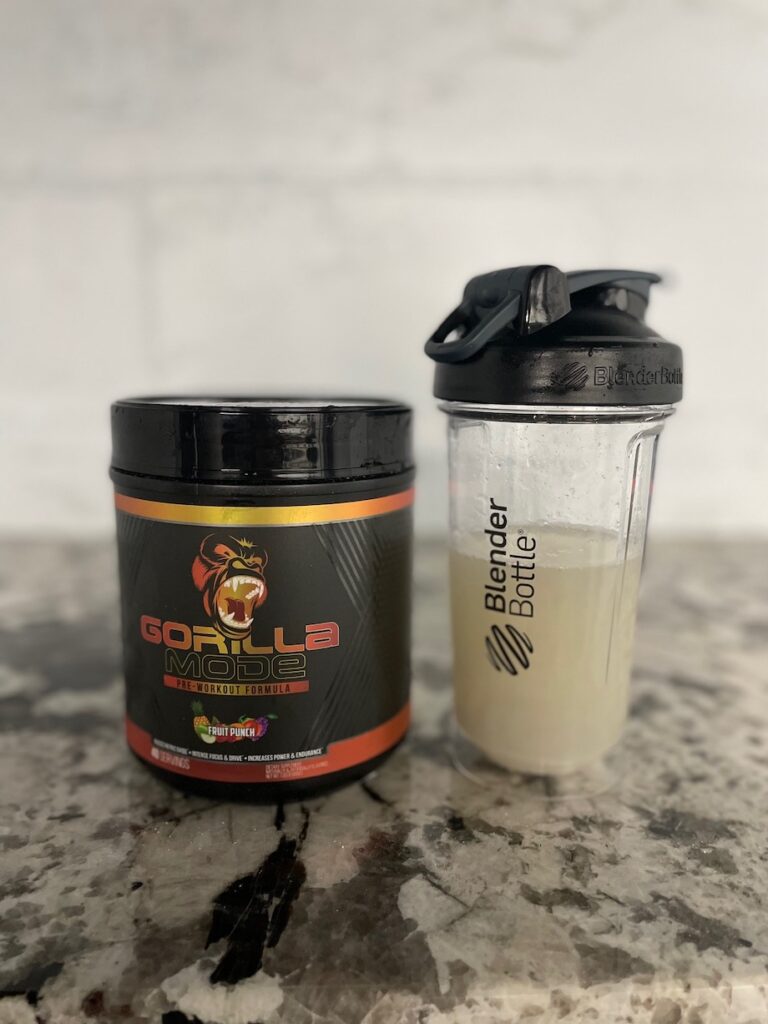 Add in the 160 milligrams of caffeine and 2,500 milligrams of creatine per serving and you have yourself a pre-workout cocktail that could help get you closer to your goal of bigger, stronger muscles7. *
If you're an athlete, or undergo regular drug testing, you may need to check if N-Phenethyl Dimethylamine Citrate (also known as Eria Jarensis extract) is an approved ingredient to take. There are some countries, like Australia, and some sports associations where the stimulant is banned.
Nicole, GGR Editor and our expert product tester, says:
"The Fruit Punch flavor smells and tastes like Hawaiian Punch, so I was instantly transported to childhood. I'll be honest and say the full two-scoop dose scared me so I halved it, and that was the perfect amount of energy." *
| | |
| --- | --- |
| Price per serving | $1.23 |
| Key ingredients | Citrulline, creatine, caffeine, GlycerPump, Huperzine A |
| Flavors | Bombsicle, Firefly Lemonade, Fruit Punch, Mojo Mojito, Volcano Burst, Mango Peach, Tiger's Blood, Cherry Blackout, Mouth Watering Watermelon, Jungle Juice, Lemon Lime |
Best Pre-Workout For Running: MyProtein THE Pre-Workout
Good for: Endurance athletes looking for more energy during their cardio workouts and quicker recovery times afterwards*
MyProtein manufactures a range of dietary supplements including protein powders and bars, BCAAs, and of course, pre-workouts. THE Pre-Workout is their premium pre-workout product containing research-backed ingredients shown to enhance muscular endurance and speed up the recovery process after a tough treadmill workout. *
Let's take a closer look at the specific ingredients that make this product an excellent pre-workout choice for endurance athletes. Each serving packs in a healthy dose of vitamin B3 (niacin), vitamin B9 (folic acid,) and vitamin B12 (cobalamin) to support a healthy metabolism, as well as immune function and health19. It also contains 4 grams of L-citrulline, which can assist with blood flow and nutrient delivery to working muscles14. *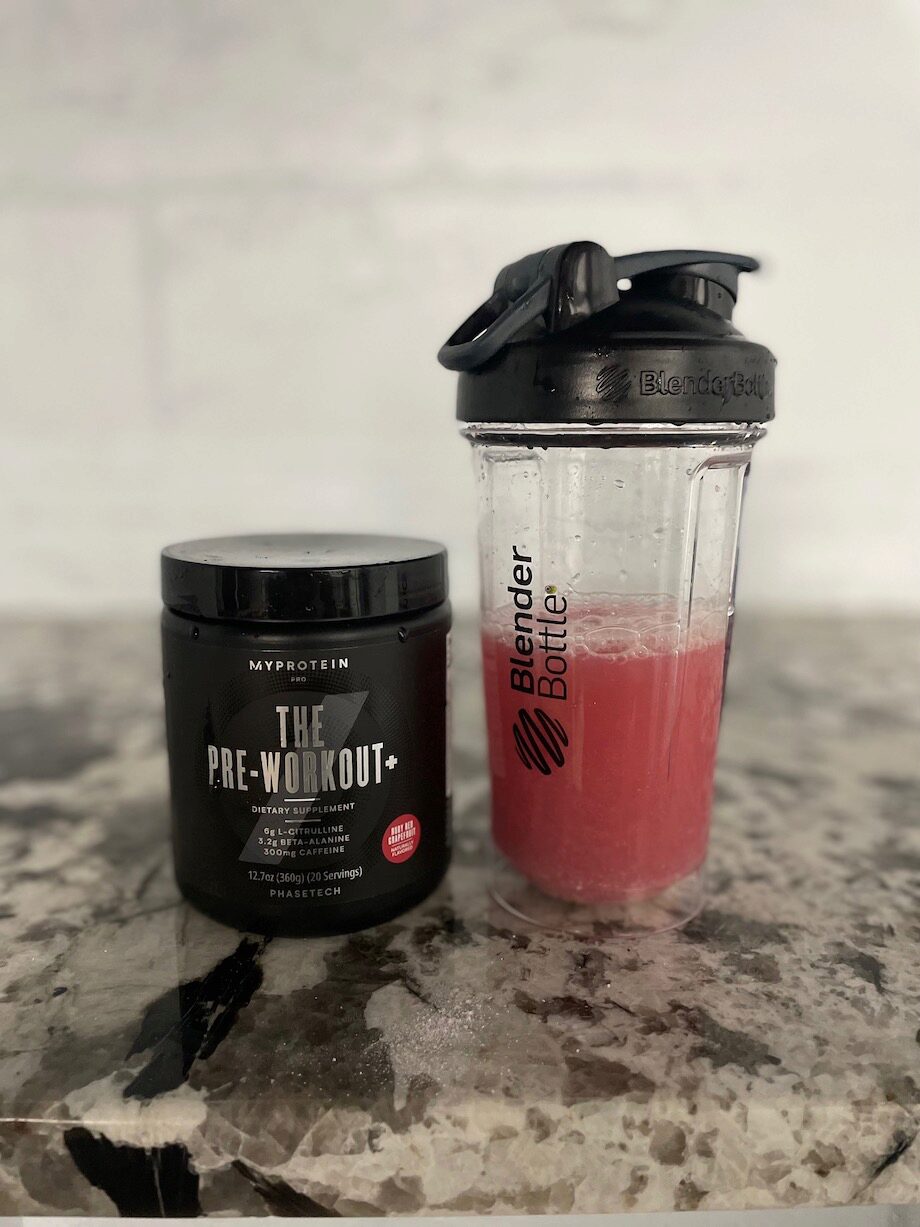 We can't talk about a pre-workout without mentioning caffeine, and with 150 milligrams of caffeine, this product has just the right amount to help boost energy levels without leaving you with the jitters or post-workout energy crash10. *
Other notable ingredients include beta-alanine, which has been shown to improve time to exhaustion when taken continuously for a period of four weeks3, and creatine7, which can help your body recover faster from high-intensity workouts. *
It's worth noting that MyProtein uses full transparency on their labels, so you know exactly which ingredients, and at what dose, you are receiving in your supplements. Although this product is one of the more expensive pre-workouts currently on the market, you're likely to find one of the nine flavors that suits your taste buds best.
Nicole, GGR Editor and our expert product tester, says:
"The Ruby Red Grapefruit flavor was absolutely delicious! Not too sweet with just a tinge of sour. There were some floaties in there after I mixed it, but it wasn't offputting. I did get a tingling sensation after I took this, but it definitely boosted me through my CrossFit workout." *
| | |
| --- | --- |
| Price per serving | $1.50 |
| Key ingredients | Citrulline, caffeine, beta-alanine, creatine, vitamins B3, B9, and B12 |
| Flavors | Watermelon, Peach Ring, Orange Paradise, Lemonade Green Apple, Grape, Blue Raspberry, Blueberry Pomegranate, Black Cherry Vanilla |
Best Pre-Workout For A Pump: 4 Gauge
Good for: People looking for the perfect mix of muscle pumps and enhanced performance out of their pre-workout *
According to their website, 4 Gauge is an "explosive" pre-workout designed to be one of the strongest pre-workouts on the market. The product claims to increase muscle pumps, support improved focus and motivation, promote blood flow, and increase stamina so you can work out longer and harder. Taking a closer look at the ingredient label, I can see that 4 Gauge uses research-backed ingredients to provide a balance between strength, focus, energy, and muscle pumps. *
4 Gauge provides 150 milligrams of caffeine per serving—not the highest amount we've seen in pre-workouts, but enough to provide a small boost of energy10. Perhaps more impressive is the combination of caffeine and L-Theanine found in the product. When taken together, this dynamic duo can support increased energy levels, enhance cognitive function, and help ease levels of daily stress4. *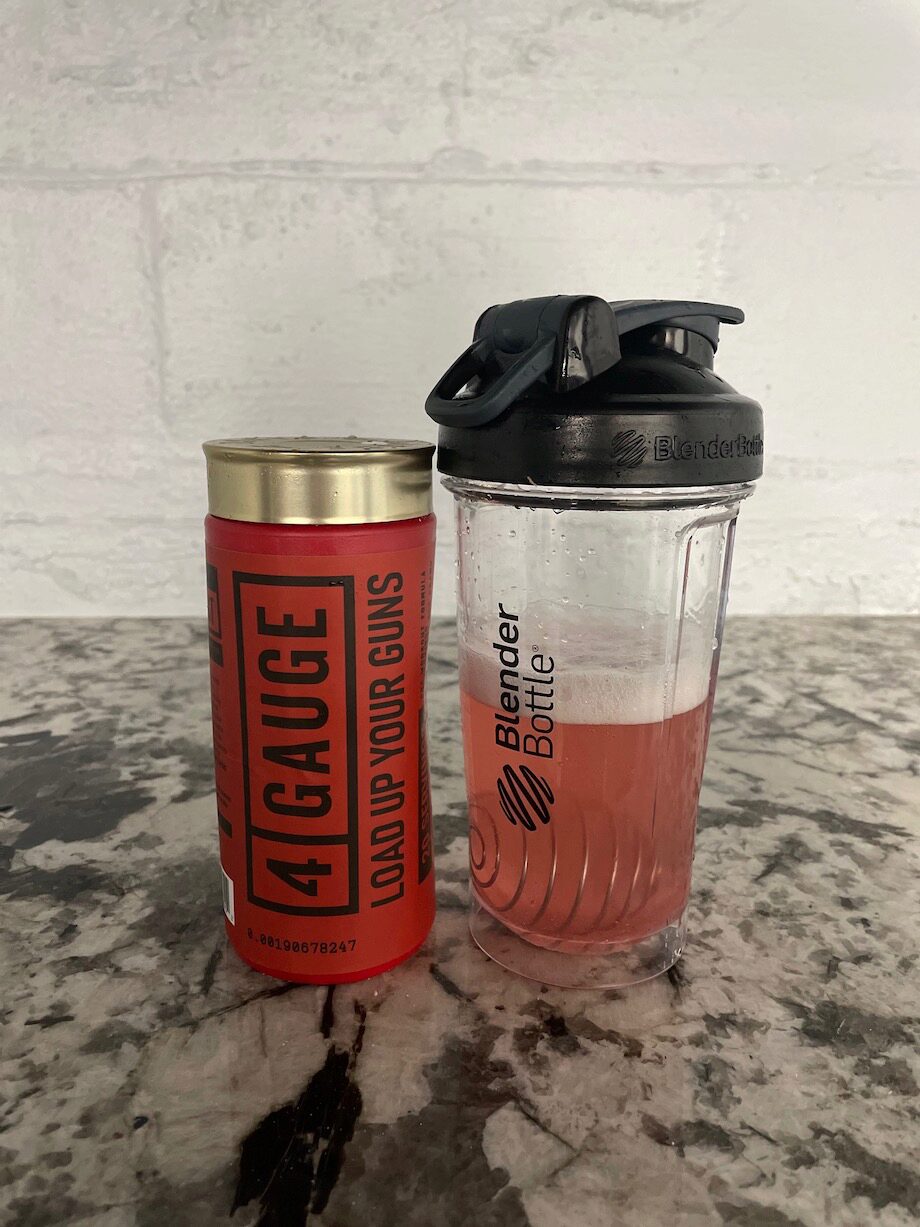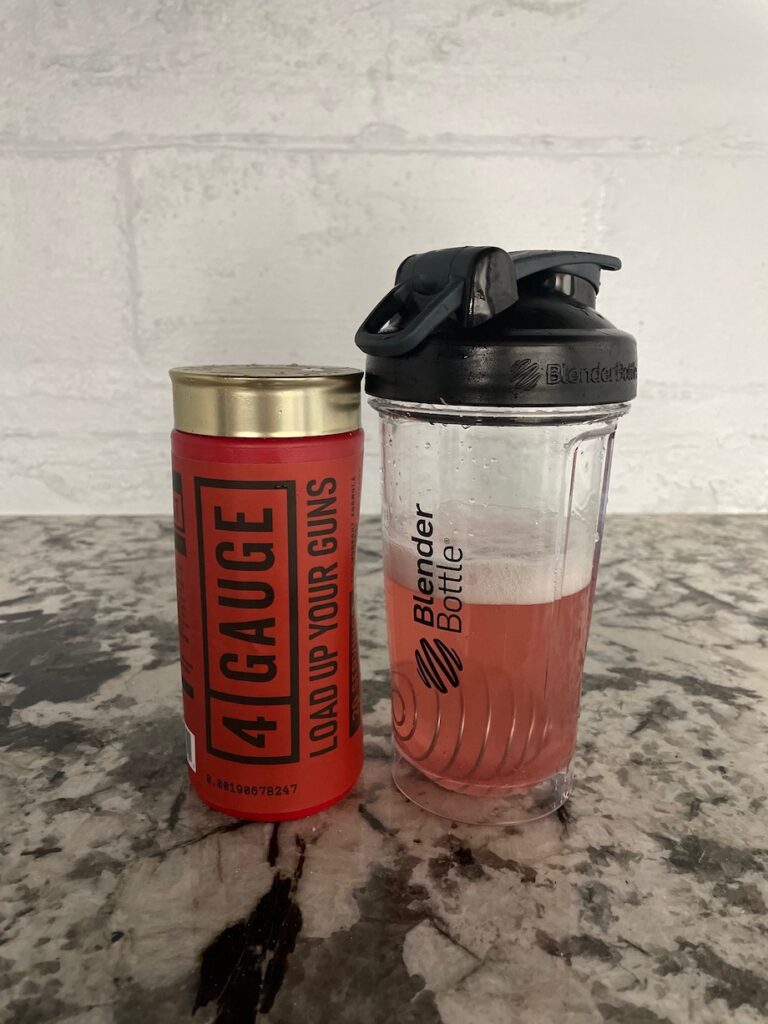 If you came looking for incredible muscle pumps, grab your dumbbells (or adjustable dumbbells) and listen up. The research-backed combination of citrulline malate2 and beetroot extract20 can contribute to significant increases in nitric oxide production, supporting blood flow and nutrient delivery to your muscles. *
Throw in 100 milligrams of Rhodiola rosea12 to promote improved focus and 500 milligrams of L-carnitine21 to curb temporary muscle soreness, and you've got yourself a research-backed supplement sure to deliver on its claims. *
The downside? It only comes in one flavor, so you might be out of luck if Fruit Punch isn't your jam. And at $2.25 per serving, it can get quite pricey if you use pre-workout even multiple times per week.
Nicole, GGR Editor and our expert product tester, says:
"4 Gauge mixes really well, but I wasn't a huge fan of the flavor. If you're someone who doesn't like overly sweet pre-workouts, this might be a great option for you though. We gave this one the "best pre-workout for a pump" title and I agree with that—I felt pretty jacked during and after my workout!" *
| | |
| --- | --- |
| Price per serving | $2.25 |
| Key ingredients | Caffeine, theanine, creatine, citrulline-malate, Rhodiola Rosea |
| Flavors | Fruit Blast |
Best Pre-Workout for Beginners: Optimum Nutrition Gold Standard
Good for: Individuals looking for a beginner-friendly pre-workout to enhance energy and support focus in the gym*
Optimum Nutrition is one of the biggest names in the supplement industry, and they're well-known for developing quality products designed to fuel your workouts. Gold Standard Pre-Workout has been around for decades, and like most pre-workouts, it contains caffeine, creatine, beta-alanine, and citrulline. Despite using a couple proprietary blends, I can see that it has 3 grams of creatine and 1.5 grams of beta-alanine per serving, which hit the mark when it comes to adequately dosing these ingredients. *
Some may find that its caffeine content is a bit low. At 175 milligrams per serving, it's about what you would find in a couple cups of coffee and is on the lower end for pre-workouts. If your tolerance to caffeine is low, this might actually be a great product for you. If, however, you are a habitual caffeine user, it's unlikely you'll feel much of an effect from a single serving.
Additionally, there's only 750 milligrams of citrulline per serving, which is far below the recommended 6,000 milligrams to support an increase in blood flow14. Lastly, this product contains N-Acetyl L-Tyrosine, the less desirable form of L-Tyrosine as your body doesn't absorb it as well. *
You'll still get plenty of benefits out of this product though: The addition of beta-alanine3, creatine7, and vitamins can have a positive effect on endurance and focus during your workouts. Where Gold Standard Pre-Workout does come out on top is in the flavor department. It's often praised for its taste and texture when mixed with water.
Nicole, GGR Editor and our expert product tester, didn't get to taste this one yet. When she does, we'll update this text.
| | |
| --- | --- |
| Price per serving | $1.00 |
| Key ingredients | Caffeine, beta-alanine, creatine, citrulline |
| Flavors | Flavors: Blueberry Lemonade, Fruit Punch, Green Apple, Watermelon |
Best Non-Stimulant Pre-Workout: Blackwolf Pre-Workout
Good for: People who prefer to train in the afternoons or evening, or want to avoid caffeine altogether
Containing 11 key ingredients and no proprietary blends, Blackwolf pre-workout is formulated to provide you with heightened focus support and maximal endurance to improve overall athletic performance. Whether you enjoy training in the evening, or just looking for a stimulant-free pre-workout, the fruit-flavored version of Blackwolf pre-workout is designed to support and enhance your performance without caffeine. *
Each serving contains 6 grams of citrulline malate, which has been shown to promote increased blood flow2. This can contribute to improved oxygen delivery to your muscles during workouts, as well as faster removal of metabolic byproducts caused by intense training sessions. Similar to citrulline, L-Arginine Alpha-Ketoglutarate works as a nitric oxide booster22 to help you get more out of your workouts. *
The 3.2 grams of beta-alanine is a clinically effective dose shown to support increased carnosine levels in the muscle, ultimately help delay muscle fatigue3. This product also contains creatine monohydrate7 and betaine anhydrous23, both of which can assist with muscle strength and exercise performance. Despite the absence of caffeine, you can still expect support for focus and concentration due to the addition of DMAE13 and Huperzine A18. These powerful nootropics can enhance cognitive function during workouts. *
Apart from the pricier cost per serving ($2.05), this is a top-rated supplement sure to give you more drive and focus during your workouts.
Nicole, GGR Editor and our expert product tester, says:
"I tried Green Apple, and thought the taste and solubility was just fine—not my favorite, but not horrible. I like that it's stimulant-free—I still noticed a boost, but different from what caffeine does to you." *
| | |
| --- | --- |
| Price per serving | $2.05 |
| Key ingredients | Citrulline malate, beta-alanine, creatine, caffeine, DMAE, Huperzine |
| Flavors | Green Apple, Blue Raspberry, Fruit Punch |
Best Caffeine-Free Pre-Workout: Onnit Total Strength + Performance
Good for: Individuals looking for a nature-based, caffeine-free pre-workout *
Onnit's Total Strength + Performance pre workout is formulated to support improved physical performance, and prompt strength and power gains. The main ingredients are divided into three proprietary blend categories, so while I can't tell the exact dosage of each ingredient, we can take a closer look at what each ingredient/category is intended to do.
The Performance Blend is a combination of BCAAs, glutamine, and beta-alanine. Out of those three, beta-alanine has the most research backing up its use as a performance aid. When taken consistently for four weeks, beta-alanine can increase muscular endurance and help delay fatigue3. *
The second category is the Power Blend, and contains a handful of ingredients linked to maintaining hormone health. The combination of d-aspartic acid24, longjack extract25, and nettle root extract26 may assist with supporting testosterone production. Without knowing the exact dose of each ingredient, it's difficult to say whether or not you'll see a noticeable effect. *
The Support Blend is the third category and contains red clover extract, luteolin, and resveratrol. These ingredients can support mood when consumed in an adequate dose.
While this product contains ingredients with a decent amount of evidence to suggest they could positively affect your workout, the use of proprietary blends makes it difficult to know how effective the doses are.
Our list of the best stim-free pre-workouts has more recommendations for anyone trying to steer clear of caffeine or other stimulants.
Nicole, GGR Editor and our expert product tester, didn't get to taste this one yet. When she does, we'll update this text.
| | |
| --- | --- |
| Price per serving | $1.99 |
| Key ingredients | Beta-alanine, longjack extract, nettle root extract |
| Flavors | Strawberry Lemonade |
Best Vegan Pre-Workout: Naked Nutrition Naked Energy
Good for: Vegans who want to get their sweat on
Naked Energy is a vegan pre-workout from the company Naked Nutrition. According to their website, it's designed to enhance your energy, strength, and power using nature-based, vegan-friendly ingredients. Like all Naked Nutrition products, their pre-workout is third-party tested to ensure quality and safety, and it's suitable for both men and women. *
The formulation of Naked Energy is simple: It only contains 10 ingredients, but that doesn't make it any less effective.
It combines vitamins B3, B6, B9 (folate), and B12—a group of vitamins that do a variety of jobs for your body, including converting food to energy, transporting oxygen to active tissue, and maintaining healthy skin and nails19. Naked Energy also contains a healthy dose of Vitamin C to help support healthy immune system function27. *
The addition of beta-alanine3 and creatine7 to the mix can promote quicker recovery from intense workouts, meaning less downtime between workouts and better performance at the gym. Last, but certainly not least, the 200 milligrams of caffeine per serving is the perfect dose to provide you with extra motivation during your workouts, but without the post-workout energy crash10.
Related: Best muscle recovery supplements
Some reviews claim the taste is less than desirable, but the potential benefits far outweigh the taste profile and at less than a dollar per serving, it's worth giving it a go.
Nicole, GGR Editor and our expert product tester, says:
"I tried the plain flavor and mixed it with water, which in hindsight, probably should've been a sports drink. It doesn't taste like much—just slightly bitter—but it's nice that you can mix it with another drink. Also, it comes with the tiniest scooper ever!"
| | |
| --- | --- |
| Price per serving | $0.90 |
| Key ingredients | Beta-alanine, creatine, caffeine, vitamins B3, B6, B9, and B12 |
| Flavors | Unflavored, Fruit Punch, Citrus |
Other Pre-Workouts We Researched
There are lots and lots of pre-workouts on the market. We liked plenty more than just 14, but some just didn't make the cut.
Pre Lab Pro: If you're going to charge a premium price for a pre-workout (nearly $3.00 per serving), I'm expecting it to be loaded with all the bells and whistles. Despite using research-backed ingredients, the majority are underdosed. Additionally, Pre Lab Pro only comes in one flavor (Fruit Punch), and only contains 20 servings per tub.
HugeSupplements Wrecked: While we can agree that caffeine can boost energy levels and provide focus to a workout10, too much caffeine can have the opposite effect28. Wrecked contains a combination of four different stimulants: caffeine anhydrous (250 milligrams), Di-caffeine malate (100 milligrams), Eria Jarensis extract (250 milligrams) and Theobromine (150 milligrams). Individuals who are sensitive to caffeine may experience less than desirable side effects, like rapid heart rate, and jitteriness. Not to mention, Eria Jarensis Extract (N-phenethyl dimethylamine) is a banned substance in some countries and by some sports associations.
BPI Sports One More Rep: One More Rep is an inexpensive pre-workout with a decent dose of caffeine (300 milligrams) per serving…and that's about it. Some of the other ingredients, like L-Citrulline, are underdosed, and each serving only has 6 grams of active ingredients. Additionally, the product contains a proprietary energy blend, so it is difficult to know how much Theobromine, Phosphatidylcholine, or Yohimbe extract is actually in the product.
Jacked Factory Nitrosurge: Nitrosurge is described as a "powerhouse pre-workout that promotes enhanced body composition for both men and women." Unfortunately, the formulation is underdosed and is missing key ingredients, like creatine monohydrate, which has been shown to increase strength7. *
BPN Flight Pre-Workout: Although it contains more than 300 milligrams of stimulants, BPN's Flight only has 2 grams of L-Citruline and the recommended dose is closer to 6-8 grams.
How We Picked and Tested
Deciding on the 14 best pre-workouts was no easy feat. We weighed the pros and cons of each product after analyzing these factors:
Ingredients
Are important ingredients like caffeine, creatine, citrulline, citrulline malate, and beta-alanine included? Some pre-workouts may try to entice you with their long ingredients list, but if the basics aren't in there then it's not worth testing.
Formulation
Are research-backed dosages of each ingredient included to ensure that you're getting the maximum potential benefit?
Flavors
Are a variety of flavors available for varied palettes? Are unflavored options available?
Cost
Is there a pick for a variety of budgets? What's the per-scoop cost?
Customer Reviews
What do customers think of the product?
Pre-Workout Supplement Ingredients
When you're on the search for a good pre-workout formula, make sure it contains a majority—if not all—of the common pre-workout ingredients below.
Caffeine
Caffeine is a stimulant that targets the central nervous system, helping to support increased mental alertness while reducing the perception of fatigue10. Additionally, it can increase fat oxidation and spare muscle glycogen levels29. *
Creatine
Creatine is a naturally occurring substrate that aids in energy production. When taken as a dietary supplement, creatine has been shown to promote increased muscle strength, muscle size, speed, and high-intensity exercise capacity7. *
Citrulline
L-citrulline is an amino acid that helps increase the body's production of nitric oxide. Nitric oxide supports improved blood flow via vasodilation (widening of blood vessels)14. *
Citrulline Malate
Citrulline malate is a compound that combines citrulline with malate, a substrate essential for the production of energy needed for muscle contractions. Citrulline malate has been shown to help delay muscle fatigue and increase oxygen delivery to muscles2. *
Beta-alanine
Beta-alanine is a non-essential amino acid that binds with histidine to form carnosine. In your muscles, carnosine acts as a hydrogen ion buffer to help delay fatigue and improve high-intensity exercise performance3. *
Benefits of Pre-Workout
Wondering why you should consider drinking a pre-workout before your next sweat session? Some benefits include:
Promotes Increased Energy
Pre-workouts are probably best known for their ability to support increased energy and focus during workouts. Caffeine is well-known for its ability to boost energy and endurance levels during intense workouts10, and nitric oxide boosters (like citrulline14 and beetroot extract20) can promote blood flow, which may result in more oxygen and nutrients being delivered to your muscles to maximize performance. *
Improves Muscle Strength
Pre-workouts can enhance strength in several ways. For one, they can provide you with more energy so that you hit your workouts harder and increase your training volume. Pre-workouts can also help you recover faster in between sessions so you're taking less time off. *
But, perhaps the most important ingredient for increasing strength is creatine. Creatine, which is present in some pre-workouts, aids in energy production during short, intense efforts and has been shown to increase strength when combined with resistance training in numerous research studies7. *
Supports Enhanced Cognition
Ingredients like L-Theanine4, Rhodiola rosea12, and L-Tyrosine5 can help you stay focused and motivated throughout your workout. Nootropics like these have also been shown to enhance memory, attention, and concentration11.
Combat Fatigue
One way to boost stamina during your workouts is to combat feelings of fatigue. Caffeine has been shown to stimulate the release of endorphins, which in turn can lower one's perception of effort and muscle pain associated with exercise10. Supplementation with beta-alanine3 has been shown to increase intramuscular stores of carnosine. Carnosine works as an intracellular buffer to reduce the accumulation of hydrogen ions–ultimately delaying fatigue30.
What To Look For in Pre-Workout
When you're ready to purchase a pre-workout, keep these factors in mind.
Look For Key Ingredients
Caffeine10, citrulline14, beta-alanine3, and creatine7 can help maximize your energy and strength while reducing fatigue. *
Try To Avoid Proprietary Blends
These blends will make it difficult to know the exact dosages used. A detailed ingredient list that clearly states the dose of each ingredient will ensure you know exactly what you are consuming.
Choose Products That Are Third-Party Tested
This means that a company, not affiliated with the supplement manufacturer, evaluates the dietary supplement to ensure what is printed on the label is actually inside the product.
Check Twice If You're An Athlete
If you're an athlete, it's critical that your pre-workout is free from any banned substance. Look for the Informed Sport, NSF, or Banned Substance Control Group (BSCG) logos on the product's packaging to ensure the product has been batch-tested.
Is Pre-Workout Dangerous?
When taken as directed, pre-workouts are generally considered safe to use for healthy individuals. There are special populations, like pregnant women and adolescents, who should avoid them altogether though. Always check with your doctor before taking a new supplement.
If you're taking a new pre-workout, it's recommended that you start with half the dose to see how your body reacts and then gradually increase from there. You should never consume more than the recommended dose, especially if the product contains stimulants like caffeine.
Dry Scooping
Dry scooping refers to consuming a pre-workout powder dry, and then chasing it down with water. Although this practice has been around for years, it can be quite dangerous as it may lead to choking or a sudden increase in heart rate.
Traditionally, pre-workouts are added to water and consumed 30 minutes before a workout. Diluting the pre-workout not only allows for easier consumption of the product, but it also means a slower absorption of ingredients. Dry scooping can lead to a concentrated hit of caffeine31 to your system.
A dose of 150 milligrams to 300 milligrams of caffeine all at once can cause a sudden increase in heart rate and blood pressure. It can also lead to an accidental inhale of powder, which may cause choking. If you are planning to use a pre-workout, follow the directions and mix it with water.
When Should I Take Pre-Workout?
The name pretty much gives it away—pre-workouts should be taken before your training session, with most people downing their supplement 20-30 minutes before they intend to start seriously training. The key phrase there is "seriously" training because you don't want the caffeine to hit while you're stretching or warming up and wear off before you even hit the weights.
If you're someone who works out in the afternoons or evenings, you should know that caffeine can sometimes stay in your system several hours after you take it. That means if you down a pre-workout even at 1 p.m., the caffeine can cause disruptions in your sleep cycle or make it hard for you to fall asleep in the first place. Consider using one of the best stim-free pre-workouts or moving your workout to earlier in the day.
FAQs About the Best Pre-Workouts
Which pre-workout is most effective?
Is pre-workout OK to take every day?
Pre-workouts are okay to take on a regular basis, but keep in mind that you can build up tolerance to stimulants, like caffeine. It's recommended that you cycle off stimulant-containing supplements every couple of months for 6 to 8 weeks. This will give your body some time to reset. Stimulant-free pre-workouts can be taken every day without cycling on/off. 
Is C4 a good pre-workout?
C4 is manufactured by Cellucor, a well-known and established company in the supplement space, and is one of the most popular pre-workouts on the market. It's affordable and no-frills, but still contains important ingredients like caffeine and beta-alanine. We recommend it on our list of best pre-workouts because of these attributes. GGR readers get an exclusive discount at C4energy.com, so be sure to check it out.
What is dry scooping and is it effective?
Dry scooping is a term used to describe taking a pre-workout powder without dissolving it in a fluid. It is no more effective than mixing a pre-workout in water, and can be potentially dangerous. Dry scooping can cause choking if the powder is accidentally inhaled, and can even cause a sudden increase in heart and blood pressure due to the immediate hit of caffeine to your system. It is recommended that you follow the instructions listed on the product label and mix your pre-workout powder in 8 to 12 ounces of water. 
* These statements have not been evaluated by the Food and Drug Administration. This product is not intended to diagnose, treat, cure, or prevent any disease.
References
Harty PS, Zabriskie HA, Erickson JL, Molling PE, Kerksick CM, Jagim AR. Multi-ingredient pre-workout supplements, safety implications, and performance outcomes: a brief review. J Int Soc Sports Nutr. 2018;15(1):41. Published 2018 Aug 8. doi:10.1186/s12970-018-0247-6
Gough LA, Sparks SA, McNaughton LR, et al. A critical review of citrulline malate supplementation and exercise performance. Eur J Appl Physiol. 2021;121(12):3283-3295. doi:10.1007/s00421-021-04774-6
Hobson RM, Saunders B, Ball G, Harris RC, Sale C. Effects of β-alanine supplementation on exercise performance: a meta-analysis. Amino Acids. 2012;43(1):25-37. doi:10.1007/s00726-011-1200-z
Owen GN, Parnell H, De Bruin EA, Rycroft JA. The combined effects of L-theanine and caffeine on cognitive performance and mood. Nutr Neurosci. 2008;11(4):193-198. doi:10.1179/147683008X301513
Jongkees BJ, Hommel B, Kühn S, Colzato LS. Effect of tyrosine supplementation on clinical and healthy populations under stress or cognitive demands–A review. J Psychiatr Res. 2015;70:50-57. doi:10.1016/j.jpsychires.2015.08.014
Marcus L, Soileau J, Judge LW, Bellar D. Evaluation of the effects of two doses of alpha glycerylphosphorylcholine on physical and psychomotor performance. J Int Soc Sports Nutr. 2017;14:39. Published 2017 Oct 5. doi:10.1186/s12970-017-0196-5
Kreider RB, Kalman DS, Antonio J, et al. International Society of Sports Nutrition position stand: safety and efficacy of creatine supplementation in exercise, sport, and medicine. J Int Soc Sports Nutr. 2017;14:18. Published 2017 Jun 13. doi:10.1186/s12970-017-0173-z
Chung HR. Iodine and thyroid function. Ann Pediatr Endocrinol Metab. 2014;19(1):8-12. doi:10.6065/apem.2014.19.1.8
Betsy A, Binitha M, Sarita S. Zinc deficiency associated with hypothyroidism: an overlooked cause of severe alopecia. Int J Trichology. 2013;5(1):40-42. doi:10.4103/0974-7753.114714
Fiani B, Zhu L, Musch BL, et al. The Neurophysiology of Caffeine as a Central Nervous System Stimulant and the Resultant Effects on Cognitive Function. Cureus. 2021;13(5):e15032. Published 2021 May 14. doi:10.7759/cureus.15032
Lorca C, Mulet M, Arévalo-Caro C, et al. Plant-derived nootropics and human cognition: A systematic review [published online ahead of print, 2022 Jan 3]. Crit Rev Food Sci Nutr. 2022;1-25. doi:10.1080/10408398.2021.2021137
Ma GP, Zheng Q, Xu MB, et al. Rhodiola rosea L. Improves Learning and Memory Function: Preclinical Evidence and Possible Mechanisms. Front Pharmacol. 2018;9:1415. Published 2018 Dec 4. doi:10.3389/fphar.2018.01415
Malanga G, Aguiar MB, Martinez HD, Puntarulo S. New insights on dimethylaminoethanol (DMAE) features as a free radical scavenger. Drug Metab Lett. 2012;6(1):54-59. doi:10.2174/187231212800229282
Gonzalez AM, Trexler ET. Effects of Citrulline Supplementation on Exercise Performance in Humans: A Review of the Current Literature. J Strength Cond Res. 2020;34(5):1480-1495. doi:10.1519/JSC.0000000000003426
Patlar S, Yalçin H, Boyali E. The effect of glycerol supplements on aerobic and anaerobic performance of athletes and sedentary subjects. J Hum Kinet. 2012;34:69-79. doi:10.2478/v10078-012-0065-x
Nissim I, Horyn O, Daikhin Y, et al. The molecular and metabolic influence of long term agmatine consumption. J Biol Chem. 2014;289(14):9710-9729. doi:10.1074/jbc.M113.544726
Manganyi MC, Bezuidenhout CC, Regnier T, Ateba CN. A Chewable Cure "Kanna": Biological and Pharmaceutical Properties of Sceletium tortuosum. Molecules. 2021;26(9):2557. Published 2021 Apr 28. doi:10.3390/molecules26092557
Wang BS, Wang H, Wei ZH, Song YY, Zhang L, Chen HZ. Efficacy and safety of natural acetylcholinesterase inhibitor huperzine A in the treatment of Alzheimer's disease: an updated meta-analysis. J Neural Transm (Vienna). 2009;116(4):457-465. doi:10.1007/s00702-009-0189-x
Mikkelsen K, Apostolopoulos V. B Vitamins and Ageing. Subcell Biochem. 2018;90:451-470. doi:10.1007/978-981-13-2835-0_15
Domínguez R, Cuenca E, Maté-Muñoz JL, et al. Effects of Beetroot Juice Supplementation on Cardiorespiratory Endurance in Athletes. A Systematic Review. Nutrients. 2017;9(1):43. Published 2017 Jan 6. doi:10.3390/nu9010043
Yarizadh H, Shab-Bidar S, Zamani B, Vanani AN, Baharlooi H, Djafarian K. The Effect of L-Carnitine Supplementation on Exercise-Induced Muscle Damage: A Systematic Review and Meta-Analysis of Randomized Clinical Trials. J Am Coll Nutr. 2020;39(5):457-468. doi:10.1080/07315724.2019.1661804
Wax, B; Webb, H E; Harris, M C; Hilton, L A; Russell, J M; Miller, J D; Youmans, D A; Mobley, M L. Effect of L-Arginine Alpha-Ketoglutarate Ingestion on Muscular Strength and Endurance. Journal of Strength and Conditioning Research 25():p S111, March 2011. | DOI: 10.1097/01.JSC.0000395756.12955.a0
Hoffman JR, Ratamess NA, Kang J, Rashti SL, Faigenbaum AD. Effect of betaine supplementation on power performance and fatigue. J Int Soc Sports Nutr. 2009;6:7. Published 2009 Feb 27. doi:10.1186/1550-2783-6-7
Topo E, Soricelli A, D'Aniello A, Ronsini S, D'Aniello G. The role and molecular mechanism of D-aspartic acid in the release and synthesis of LH and testosterone in humans and rats. Reprod Biol Endocrinol. 2009;7:120. Published 2009 Oct 27. doi:10.1186/1477-7827-7-120
Thu HE, Mohamed IN, Hussain Z, Jayusman PA, Shuid AN. Eurycoma Longifolia as a potential adoptogen of male sexual health: a systematic review on clinical studies. Chin J Nat Med. 2017;15(1):71-80. doi:10.1016/S1875-5364(17)30010-9
Hirano T, Homma M, Oka K. Effects of stinging nettle root extracts and their steroidal components on the Na+,K(+)-ATPase of the benign prostatic hyperplasia. Planta Med. 1994;60(1):30-33. doi:10.1055/s-2006-959402
Carr AC, Maggini S. Vitamin C and Immune Function. Nutrients. 2017;9(11):1211. Published 2017 Nov 3. doi:10.3390/nu9111211
Dworzański W, Opielak G, Burdan F. Niepozadane działania kofeiny [Side effects of caffeine]. Pol Merkur Lekarski. 2009;27(161):357-361.
Loureiro LMR, Dos Santos Neto E, Molina GE, et al. Coffee Increases Post-Exercise Muscle Glycogen Recovery in Endurance Athletes: A Randomized Clinical Trial. Nutrients. 2021;13(10):3335. Published 2021 Sep 23. doi:10.3390/nu13103335
Varanoske AN, Hoffman JR, Church DD, et al. Influence of Skeletal Muscle Carnosine Content on Fatigue during Repeated Resistance Exercise in Recreationally Active Women. Nutrients. 2017;9(9):988. Published 2017 Sep 7. doi:10.3390/nu9090988
Allison Lin, Nelson Chow, Mary O'Connor, Setu Mehta, Reta Behnam, Duy Pham, Claudia Hatef, Hannah E. Rosenthal, Ruth Milanaik; Dry Scooping and Other Dangerous Pre-workout Consumption Methods: A Quantitative Analysis. Pediatrics February 2022; 149 (1 Meeting Abstracts February 2022): 204.