We test and review fitness products based on an independent, multi-point methodology. If you use our links to purchase something, we may earn a commission. Read our disclosures.
Pre-workout is generally regarded as an important part of a good supplement stack and as one of the best supplements for muscle growth and workout performance on its own. With so many available, it can be overwhelming to try to choose one—especially if you're unsure what the various ingredients do. In my Redcon1 Total War Pre-Workout Review, I break down the supplements facts label so you know exactly what you're getting with this popular powder.
Medical disclaimer: This article is intended for educational and informational purposes only. It is not intended as a substitute for medical advice. For health advice, contact a licensed healthcare provider. GGR also recommends choosing a product that has been third-party tested for quality.
Nearly 50 Pre-Workout Powders Tested
We're a team of certified personal trainers, certified nutrition coaches, athletes, and recreational exercisers, so we know a thing or two about workout supplements. Regarding pre-workout specifically, our product testers have now tried nearly 50 products to bring you our guides to the best pre-workout supplements.
Redcon1 Total War Pre-Workout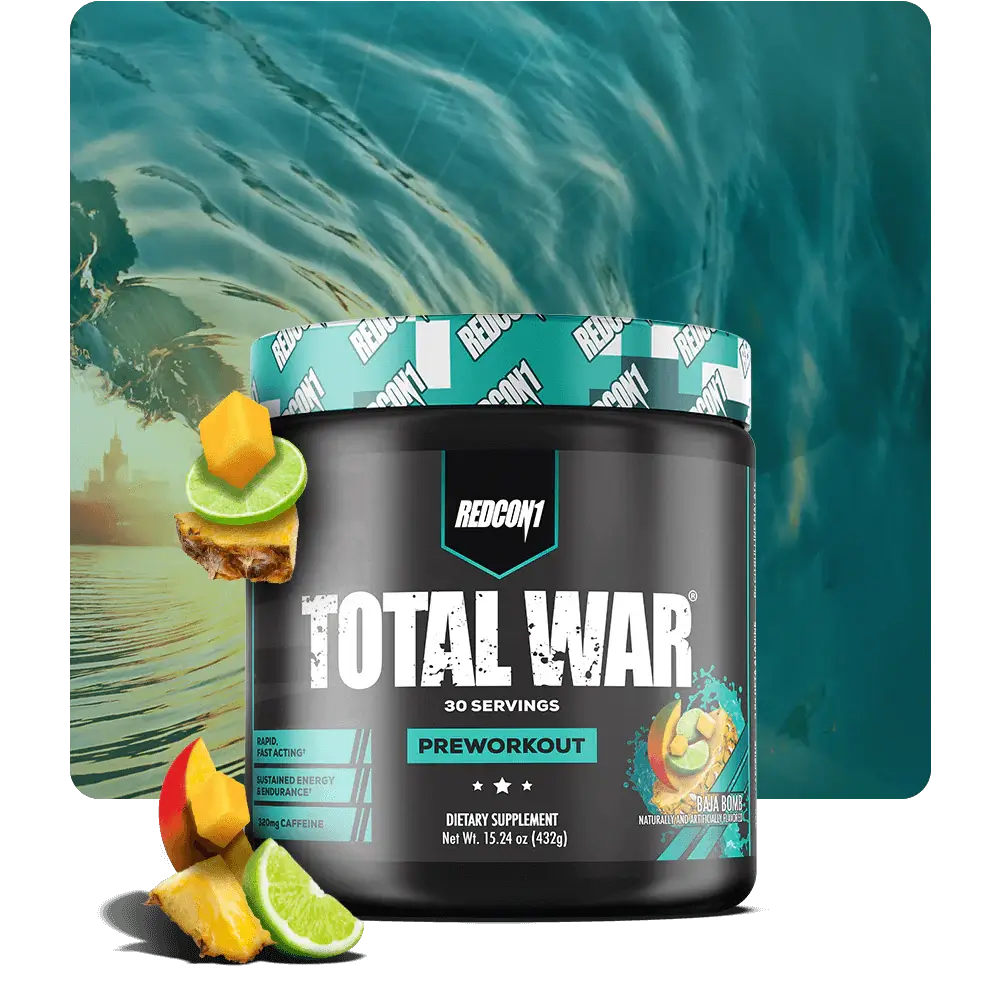 GGR Score: 3.9
Product Highlights
Original, long-standing Total War formula

20+ unique flavors

Full, effective dosages in every scoop

Caffeine from multiple sources for longer-lasting effects
Pros & Cons
Pros
Fully transparent label
No proprietary blends
Ingredients targeting pump, energy, and focus
Effective dosages of ingredients
320 mg of caffeine per scoop
Dicaffeine malate for long-lasting energy
Competitively priced at $1.43/serving
Cons
High dosage of caffeine can be too much for some users
Beta-alanine may cause uncomfortable itchiness
Bottom Line
Total War is a complete pre-workout with effective dosages, a transparent label, and flavors galore. This is a great overall option for any gym-goer, though the caffeine-sensitive may need to start with a half dosage.
A Quick Look at Redcon1 Total War Pre-Workout
Redcon1 calls Total War an "all-in-one pre-workout" that supports endurance, energy, and focus. According to Redcon1, this pre-workout is supposed to boost energy, enhance focus, increase blood flow, create a great muscle pump, and keep you working harder for longer.
Total War is a high-stimulant pre-workout with more than 300 milligrams of caffeine per serving. It also contains a variety of other ingredients known to improve workout performance.
It's very popular among bodybuilders, as is its big sibling Total War Big Noise, which contains even more (!) stimulants.
RELATED: Best Creatine Supplement
Before You Buy
This is a high-stimulant pre-workout. If you have a low tolerance to caffeine, this probably isn't a good choice.
Redcon1 tests products for efficacy, but it's unclear if they are tested for banned substances in sports.
Is Total War Pre-Workout Worth It?
At about $1.40 per serving, Redcon1 Total War Pre-Workout falls in the middle of the price spectrum, so we think it's worthwhile for the right person.
Great for:
People who can tolerate a lot of caffeine
Those who like strong, fruity flavors
Individuals who prefer a smaller serving size/scoop
Not recommended for:
People who want a pre-workout with creatine
Individuals who want a pre-workout with branched-chain amino acids
Athletes (because this product is not NSF Certified for Sport)
Total War Pre-Workout Specs
| | |
| --- | --- |
| Price per serving | $1.43 |
| Flavor(s) | 27 options |
| Calories per serving | Not listed |
| Caffeine per serving | 320 mg |
| Key ingredients | Sodium, caffeine anhydrous, citrulline malate, beta-alanine, taurine, agmatine sulfate, juniper berry extract, green tea extract, theobromine, naringin extract, BioPerine |
Experience Using Total War Pre-Workout
Anthony O'Reilly, GGR performance editor and product tester, has used Redcon1 Total War Pre-Workout sporadically throughout his training.
"This is a pretty standard high-stim pre-workout," he says. "It has good dosages of solid ingredients such as citrulline and beta alanine, and you can definitely feel the stimulants within the first 30 minutes of drinking it."
Anthony never felt a crash from Total War, but he points out that he has a really high caffeine tolerance.
He gives it an A+ when it comes to the energy boost, but says it's "pretty good but nothing special" regarding strength, power, and endurance.
"It's better than a C4 or Optimum Nutrition," he clarifies, " but I've experienced similar strength gains on similarly priced pre-workouts, so I give it a B+ in this category."
RELATED: Best Whey Protein Powder
Price Per Serving
Anthony says Total War comes at a "decent price" of around $1.40 per serving. "It's not the most affordable, but it's not as pricey as some more 'boutique' pre-workouts," he says.
Formulation
Here's what you'll get in a scoop of Redcon1 Total War Pre-Workout:
Sodium, 310 mg, 13% DV: Hydration and muscle contraction1
Citrulline malate (2:1 L-citrulline and malic acid), 6g: nitric oxide booster2
Beta-alanine, 3.2 g: helps the body produce carnosine, which is important for muscular endurance3
Taurine, 1 g: May support endurance4
Agmatine sulfate, 1 g: agmatine is an important neurotransmitter in the brain5
Caffeine anhydrous, 250 mg: energy and focus
Juniper berry extract (juniperus communis), 150 mg: known for antioxidant effects6
Di-caffeine malate (providing 70 mg caffeine), 100 mg: energy and focus
Theobromine, 50 mg: performance enhancer7
Green tea leaf extract, 45 mg: energy and focus
Naringin extract, 25 mg: believed to work as a fat burner and assist with weight loss (anti-adipogenic)8
BioPerine (black pepper extract), 10 mg: bioavailability agent that helps your body absorb more of the nutrients you consume9
Caffeine, beta-alanine, and citrulline malate are some of the best pre-workout ingredients money can buy, although this pre-workout lacks in pump ingredients and nootropics compared to many other options available today.
To be frank, the inclusions of agmatine sulfate, juniper berry extract, and naringin extract aren't common across pre-workouts, and based on existing scientific literature, as a sports nutrition coach, I'm not convinced that their inclusion is worthwhile. In my research, I came across little to no evidence that these ingredients support workout performance. They've been studied for various benefits, but the literature on their relationship to performance enhancement is lacking.
Total War also doesn't contain creatine, which is becoming more commonplace in pre-workout supplements. However, we don't consider creatine a must-have in pre-workout, since its benefits have been exhibited when taken intra- and post-workout, and when taken generally.
RELATED: Creatine vs Pre-Workout: Should You Take Both?
Taste and Solubility
Total War Pre-Workout is available in nearly 30 flavors (27 to be exact). Some of the more popular flavors include:
Sour Gummy Bear
Rainbow Candy
Tiger's Blood
Green Apple
Orange Crush
Strawberry Mango
Blue Raspberry
Pineapple Juice
Blue Lemonade
Anthony has tried this in multiple flavors and says the taste is good, punchy, and strong, especially when mixed with the recommended 4 to 6 ounces of water. You can dilute it with more water if needed.
One serving size is 14.7 grams, making this a smaller scoop than many other top pre-workouts. This will be a positive for many people, since less powder generally means better solubility. Anthony says the solubility is good, nothing special nor terrible.
Side Effects
You might experience a few side effects after taking Total War Pre-Workout.
High doses of caffeine can cause GI upset10 in some people, although research on this matter is mixed. What isn't disputable, though, is that caffeine can cause jitters, nervousness, anxiety, increased heart rate, and increased blood pressure, according to MedlinePlus11. This is especially true in individuals who have a low caffeine tolerance.
Consuming caffeine late in the day can set you up for a sleepless night, and high doses like you'll find in Total War are known to cause a crash-and-burn effect.
Beta-alanine is known for the side effect of paresthesia12, which is the sensation of tingling or pins and needles, often in the lips, face, skin, fingers, and toes. Paresthesia is harmless, but it can be a bit jarring to people who've never experienced it.
Third-Party Testing
Redcon1 states that it complies by full label transparency, and says its products are tested for "ingredient level verification, heavy metals, prop 65 compliance."
When a product has undergone third-party testing, it means that an independent laboratory has vetted the products for safety and efficacy.
At GGR, we think third-party testing is extremely important given the lax FDA regulations for supplement manufacturing. A lack of a third-party verification doesn't mean you can't or shouldn't take a product, but it is an indication that you should do further research into the company and its values, products, and manufacturing processes.
If you're an athlete, it's really important to buy from a supplement company that ensures its products are verified to be free of banned substances. It's unclear if Redcon1 products are tested for this.
Total War Pre-Workout vs JYM Pre-Workout
Pre-JYM Pre-Workout from JYM Supplement Science was formulated by Dr. Jim Stoppani, and it's another very popular pre-workout among bodybuilders and general weight-training enthusiasts.
Total War has slightly more caffeine, while Pre-JYM has a greater amount of pump ingredients and nootropics for focus. Both contain BioPerine for nutrient absorption.
| | | |
| --- | --- | --- |
| | Redcon1 Total War | Pre-JYM High-Performance |
| Price per serving | $1.43 | $1.83-$2.24 (depending on size) |
| Flavors | 27 options | Orange Mango, Rainbow Sherbet, Tangerine, Grape Candy, Pink Lemonade, Pineapple Strawberry, Black Cherry, Strawberry Kiwi, Cherry Limeade, Raspberry Lemonade |
| Caffeine | 320 mg | 300 mg |
| Other key ingredients | Sodium, citrulline malate, beta-alanine, taurine, agmatine sulfate, juniper berry extract, green tea extract, theobromine, naringin extract, BioPerine | Citrulline malate, betaine anhydrous, BCAA, creatine HCl, beta-alanine, beet root extract, alpha-GPC, Huperzine A, BioPerine |
| Third-party testing | No | No |
Read my full JYM Pre-Workout review to learn more.
Customer Experience
For those who choose to order Total War Pre-Workout directly from the Redcon1 website, you can expect a two-to-four-day processing time and another two to six days for delivery. You may be able to get the product faster through Amazon or another third-party retailer.
If you buy from the website, you may return the product within 30 days of receipt, but Redcon1 reserves the right to refuse a refund if items from the original package are missing. The company recommends emailing customer support before requesting a return and refund, since "most issues can be resolved very easily."
Ordering Total War Pre-Workout
You can order Redcon1 Total War Pre-Workout easily through the Redcon1 website or through Amazon. It's also available at Vitamin Shoppe and GNC, although your best bet at grabbing the exact flavor you want is ordering from the Redcon1 website.
Customer Reviews
People love this stuff. Seriously—with more than 22,000 customer reviews on Amazon, Redcon1 Total War Pre-Workout has an average rating of 4.3 out of 5 stars.
One reviewer had a pretty GGR-esque take on the powder: "I felt more endurance with this pre-workout than a cheaper alternative, but I'm not a fan of the Rainbow Candy flavor that I purchased. Expected it to be sweeter. If they cut back on the caffeine, added 5 grams of creatine, and added more sweetness to the flavor, I would give it a 5, but for now it's a 4."
Another reviewer wrote that it gets the job done, but isn't "transformative" like some other customer reviews say.
In general, it seems that most customers are at least fine with their purchase, if not ecstatic.
Final Verdict of Our Total War Pre-Workout Review
Redcon1 Total War Pre-Workout could be the right choice for people who are very tolerant to caffeine. I wouldn't recommend this to people who are wanting to try pre-workout for the first time—for that, try one of the best stim-free pre-workouts and work your way up to something with more stimulants if you want.
Total War Pre-Workout Full Rating
Total War Pre-Workout
Our Total War Pre-Workout review covers this high-stim pre-workout supplement in detail.
Product Currency: $
Product Price: 43
Product In-Stock: InStock
Total War Pre-Workout FAQs
Finally, here are some additional questions about Total War pre-workout.
Is Total War a good pre-workout?
Redcon1 Total War Pre-Workout might be a good option for people with a high caffeine tolerance, but those looking for something with less caffeine should look elsewhere. Check out our guides to the best pre-workout for men and the best pre-workout for women for more pre-workout options.
Does Total War pre-workout have too much caffeine?
For individuals with lower stimulant tolerances, Total War probably does contain too much caffeine. With 320 milligrams in total from different sources, such individuals will likely experience the negative effects of caffeine like jitters and nervousness.
Does Total War pre-workout have creatine?
No, Total War pre-workout does not contain any creatine.
These statements have not been evaluated by the Food and Drug Administration (FDA). This product is not intended to diagnose, treat, cure, or prevent any diseases.
References
Nielsen OB, Clausen T. The Na+/K(+)-pump protects muscle excitability and contractility during exercise. Exerc Sport Sci Rev. 2000;28(4):159-164.
Figueroa, Arturo; Wong, Alexei; Jaime, Salvador J.; Gonzales, Joaquin U. Influence of L-citrulline and watermelon supplementation on vascular function and exercise performance. Current Opinion in Clinical Nutrition and Metabolic Care 20(1):p 92-98, January 2017. | DOI: 10.1097/MCO.0000000000000340
Saunders B, Elliott-Sale K, Artioli GG, et al. β-alanine supplementation to improve exercise capacity and performance: a systematic review and meta-analysis. British Journal of Sports Medicine 2017;51:658-669.
Waldron, M., Patterson, S.D., Tallent, J. et al. The Effects of an Oral Taurine Dose and Supplementation Period on Endurance Exercise Performance in Humans: A Meta-Analysis. Sports Med 48, 1247–1253 (2018). https://doi.org/10.1007/s40279-018-0896-2
Uzbay TI. The pharmacological importance of agmatine in the brain. Neurosci Biobehav Rev. 2012;36(1):502-519. doi:10.1016/j.neubiorev.2011.08.006
Höferl M, Stoilova I, Schmidt E, et al. Chemical Composition and Antioxidant Properties of Juniper Berry (Juniperus communis L.) Essential Oil. Action of the Essential Oil on the Antioxidant Protection of Saccharomyces cerevisiae Model Organism. Antioxidants (Basel). 2014;3(1):81-98. Published 2014 Feb 24. doi:10.3390/antiox3010081
Kennedy, M. Effects of theophylline and theobromine on exercise performance and implications for competition sport: A systematic review. Drug Testing and Analysis. 2021; 13: 36– 43. https://doi.org/10.1002/dta.2970
Salehi B, Fokou PVT, Sharifi-Rad M, et al. The Therapeutic Potential of Naringenin: A Review of Clinical Trials. Pharmaceuticals (Basel). 2019;12(1):11. Published 2019 Jan 10. doi:10.3390/ph12010011
Kesarwani K, Gupta R, Mukerjee A. Bioavailability enhancers of herbal origin: an overview. Asian Pac J Trop Biomed. 2013;3(4):253-266. doi:10.1016/S2221-1691(13)60060-X
Evans J, Richards JR, Battisti AS. Caffeine. [Updated 2022 Nov 28]. In: StatPearls [Internet]. Treasure Island (FL): StatPearls Publishing; 2023 Jan-. Available from: https://www.ncbi.nlm.nih.gov/books/NBK519490/
Caffeine. Medline Plus. National Library of Medicine.
Liu Q, Sikand P, Ma C, et al. Mechanisms of itch evoked by β-alanine. J Neurosci. 2012;32(42):14532-14537. doi:10.1523/JNEUROSCI.3509-12.2012