We test and review fitness products based on an independent, multi-point methodology. If you use our links to purchase something, we may earn a commission. Read our disclosures.
When something remains popular for many years I have to ask myself, "Self, is this popular because it's actually good or because the vast majority of people tend to go along with what's trending?" This usually applies to things like TV shows (*cough* "Game of Thrones" *cough*), but it can also be true for things like the best pre-workouts.
This C4 pre-workout review takes a close look at a supplement that's been beloved by millions for more than 15 years. As a certified personal trainer and nutrition coach, I wanted to test this pre-workout's effects on my energy, pumps, and focus—and I think I've found out why it's America's best-selling pre-workout powder.
Medical disclaimer: This article is intended for educational and informational purposes only. It is not intended as a substitute for medical advice. For health advice, contact a licensed healthcare provider.
C4 Yourself Why We Have the Best Pre-Workout Reviews
Garage Gym Reviews became a fitness industry powerhouse thanks to our in-depth, hands-on reviews of barbells, weight benches, and dumbbells. We took that same testing methodology and the principle of being brutally honest with everything we test and applied it to pre-workouts, creatine, protein powders, and more.
RELATED: Best Creatine
We're also certified personal trainers, nutrition coaches, and weightlifting coaches who would only recommend supplements that we'd either take ourselves or recommend to our clients.
Cellucor C4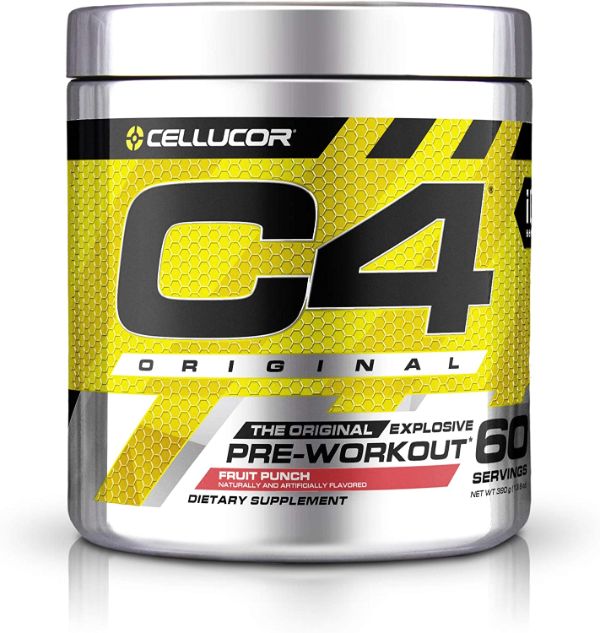 GGR Score: 3.9
Product Highlights
Powerful ingredients
Gives a solid boost of energy
Dissolves well
Affordable price per serving
Pros & Cons
Pros
Powerful ingredients
Gives a solid boost of energy
Can aid in training performance
Dissolves well
Affordable price per serving
Cons
Some users report unpleasant aftertaste
Gives some people headaches
Some experience tingling in the face
Bottom Line
If you're looking for an affordable pre-workout drink from a big-name supplement company, give C4 a look.
A Quick Look at the C4 Pre-Workout
Cellucor launched their first C4 pre-workout in 2011 and has since had a stronghold on the supplement industry. It is the official energy drink of the South by Southwest festival, has partnered with Skittles and Starbursts for energy drink collaborations, and can be spotted in supplement and grocery stores just about everywhere.
RELATED: Best protein bars
The C4 original pre-workout is only one of the pre-workouts they offer and is its most basic formula in that it has all the vital active ingredients needed in a pre-workout (mainly caffeine, beta-alanine, and citrulline), but the dosages are minimal, to say the least. There are other versions of C4 pre-workout with different dosages, such as C4 Extreme and C4 Ultimate.
But as the age-old saying goes, you can't judge a product by its nutrition label.
Before You Buy
There's a 60-day money-back guarantee if you don't like the pre-workout
You can save even more money by ordering C4 pre-workout on a subscription basis
RELATED: Best whey protein
Is the C4 Pre-Workout Worth It?
The C4 Original Pre-Workout is one of the most budget-friendly supplements out there, and it's not even close. A 30-serving tub costs just under $1 per serving and a 60-serving tub is just 83 cents per serving—and those prices drop drastically if you order them on a subscription basis.
But there are times when it might be worth spending just a little more to get a bigger bang for your buck. Is this one of those times? I'll say it depends on your goals.
General gym-goers or home gym athletes just looking for an extra energy boost will be happy with C4, but if you're an aspiring strength athlete, you might want a supplement with a little more oomph than this offers.
Great for:
Beginners
Those with low caffeine tolerance
Anyone who's on a budget
Not recommended for:
People with high caffeine tolerance
Aspiring bodybuilders or powerlifters
Anyone looking for the best of the best
C4 Pre-Workout Specs
Price per serving
30-serving tub: $0.99

60-serving tub: $0.83
Flavors
30 servings: Cherry Limeade, Strawberry Watermelon, Grape, Watermelon, Frozen Bombsicle, Icy Blue Razz, Fruit Punch

60 servings: Icy Blue Razz, Fruit Punch, Pink Lemonade, Strawberry Margarita
Key Ingredients
Caffeine, CarnoSyn Beta-Alanine, Creatine Nitrate, Citrulline Malate, Vitamin C, B Vitamins
Third-party tested?
No
Benefits
Energy, Muscular Endurance, Pumps
Serving Size
One scoop (6 grams)
Experience Using C4 Pre-Workout
I won't bury the lede: I was pleasantly surprised by how well C4 pre-workout boosted my energy and muscular endurance. I say "pleasantly surprised" because several of its ingredients are under-dosed, meaning the amount is less than the clinically-recommended doses usually required to boost athletic performance.
I took C4 original pre-workout for several days before writing this review to get a true gauge on how it impacted my workouts, and I'll be breaking down my thoughts on how well it delivered on its three main promises: explosive energy, improved muscular endurance, and enhanced pumps.
Energy
Let me just start off by saying that I've taken some of the strongest pre-workouts on the market and I have been known to drink enough cold brew to take down a baby elephant, so I didn't think C4 pre-workouts 150 milligrams of caffeine (the equivalent of a grande hot Starbucks coffee) was going to have much of an impact on my energy levels. 
I was wrong. I definitely felt more energized after taking C4, though not so much that I wanted to launch out of my Nike Metcon 8s as I sometimes feel with stronger pre-workouts.
In a classic example of "Do as I say and not as I do," I should warn you that excessive caffeine intake can lead to heart issues, poor sleep, and caffeine dependence. It's great to have a product like C4 in your pantry to help cut down on the amount of caffeine you take everyday.
Caffeine, however, isn't just for waking people up—many studies have shown it can potentially decrease your rate of perceived exertion (or how hard you have to push yourself to complete an exercise) and increase muscle power, as illustrated by a December 2020 review article1 published in the Frontiers of Sports and Active Living journal.
In a March 2018 review and meta-analysis2, researchers agree that more studies should be done to explore this link, especially in women, and that future studies should do a better job at ensuring test subjects and data analyzers are unaware of who's receiving caffeine and who's receiving a placebo.
How Much Caffeine Should I Take Before My Workouts?
According to a 2001 report3 from the Committee on Military Nutrition Research that reviewed numerous studies, most studies agree that people looking to take advantage of caffeine's strength-training benefits should take anywhere from 2-9 milligrams per kilogram of body weight. So a 200-pound person would need around 180 milligrams of caffeine to get the best effects.
In other words, the answer to this question is the same as how much protein you need—it depends.
The U.S. Food and Drug Administration recommends most adults take no more than 400 milligrams of caffeine per day.
Muscular Endurance
Muscular endurance refers to your muscles' abilities to perform the same exercise for an extended period of time—in plain English, it's a test of how many reps you can eke out, which means you can build muscle much quicker.
I definitely felt like I was able to do more bench press, lat pull-down, and goblet squat reps on the days I took C4 pre-workout. The pre-workout contains an ingredient called CarnoSyn Beta-Alanine, which is a special form of the amino acid beta-alanine to help delay muscle fatigue, increase muscular endurance, and regulate acid buildup in muscles.
The problem is C4 only contains 1.6 grams of CarnoSyn, despite the fact that its creators state on their website that at least 3.2 grams are needed per day to "get the edge over the competition."
Beta-alanine has been known to cause a slight itching sensation known as paresthesia, which can be felt even at lower doses (this sensation will usually only last a few minutes).
Pumps
In my opinion this is where C4 underperformed. I tried this on several back and biceps days and while I felt a pump, it wasn't anything that made my shirt feel overly tight.
Cellucor C4 has one gram each of creatine and citrulline malate, both of which have been connected with increased pumps, though they're usually required in larger amounts. For instance, several studies, such as this April 2011 randomized trial4, called 2-3 grams of creatine per day a "low dose," and most studies use around 8 grams of citrulline malate, as cited by this December 2021 critical review5.
Price Per Serving
C4 Original pre-workout is one of the most, if not the most, affordable pre-workout supplements currently on the market. The 30-serving tub comes out to just 99 cents per serving (before taxes and shipping and handling) and the 60-serving tub only costs 83 cents per serving.
You can get further savings by ordering your pre-workout on a subscription basis, which not only drops the price by 35% but also gives you free shipping. A 30-serving tub delivered every month costs 65 cents per serving and a 60-serving tub is only 54 cents per serving.
C4 Pre-Workout Ingredients and Formulation
Cellucor C4 does a pretty good job of listing its ingredients and their quantities. There's only one case of them using a proprietary blend, which they call an "explosive energy blend," but in that case there are only two ingredients with undisclosed amounts—velvet bean seed extract, which, according to a June 2020 study6 published in the journal 3 Biotech, has been connected to improved motivation, and theacrine, a naturally occurring, low-release stimulant that gives an energy boost like caffeine.
Citrulline Malate
Citrulline malate can be found in many pre-workouts, including stimulant-free supplements, because it's been shown in a May 2010 study7 to increase blood flow and nitric oxide and oxygen delivery to the muscles, which can boost your athletic performance, give you better pumps, and help improve post-workout recovery.
The C4 Original pre-workout only has one gram of citrulline malate, well below the 8 grams used in most studies5 (most pre-workout use around 6 grams, which has still been linked to improved performance in the gym).
Caffeine
We don't have to tell you about caffeine's benefits—but here's a refresher: increased alertness, power output, and metabolism.
C4 has 150 milligrams of caffeine anhydrous, which despite being on the lower end can still benefit some people.
Beta-Alanine
This amino acid is linked with decreased muscle fatigue, which is why many pre-workouts have the clinically-recommended dose of 3.2 grams of the stuff. C4, however, only has half that amount.
It might be a good idea for beginners or those new to taking pre-workout to start with something like C4 to get used to the itching sensation known as paresthesia.
Creatine
Not all pre-workouts contain creatine, so it's nice to see that C4 has included 1 gram of it in their pre-workout. Creatine, one of the most-researched dietary supplement ingredients, can increase muscle strength, improve recovery, and boost muscle growth, according to this November 2003 review of studies8.
C4 Flavors: Taste and Solubility
Cellucor C4 original pre-workout comes in nine flavors:
Cherry Limeade
Strawberry Watermelon
Grape
Watermelon
Frozen Bombsicle
Icy Blue Razz
Fruit Punch
Pink Lemonade (60 servings only)
Strawberry Margarita (60 servings only)
I went with the Pink Lemonade flavor, and while it didn't transport me back to hot summer days by the pool, it still tasted pretty good and wasn't overly sweet. I shook one scoop with 6 ounces of water in my shaker bottle and there were no clumps.
RELATED: Best protein chips
Side Effects
There was a slight itching sensation due to the beta-alanine, but other than that the only side effect I felt from C4 was increased energy.
Third-Party Testing
Some of Cellucor's C4 products are certified by the National Sanitation Foundation as banned substance-free, but the C4 Original Pre-Workout does not have that certification (or at least it's not advertised on the website or tub).
That said, C4 Original pre-workout doesn't contain any controversial pre-workout ingredients and should be good for most athletes.
C4 Pre-Workout vs Optimum Nutrition Gold Standard
Optimum Pre-Workout
Product Highlights
Reputable brand 

Combines 175 milligrams of caffeine with 3 grams of creatine monohydrate and 1.5 grams beta-alanine

Available in 4 flavors

Mixes well

Tastes good
Pros & Cons
Pros
Contains creatine
A slew of vitamins in this formula
Reputable brand
Tastes good
Affordable
Mixes well
Cons
Some flavors reported to have a synthetic aftertaste
Bottom Line
Made with simple yet effective ingredients, Optimum Nutrition Gold Standard Pre-Workout provides users with a good boost of energy, improved focus, and enhanced performance.
If you're looking for a beginner-friendly pre-workout with a little more of a kick, we'd recommend Optimum Nutrition Gold Standard. It has 175 milligrams of caffeine (slightly higher than C4), 3 grams of creatine, and 1.5 grams of beta-alanine per serving (still below the recommended dose).
If you're looking for a pump, you should know Optimum Nutrition Gold Standard only has 0.75 grams of citrulline in it, which is below C4's 1-gram dose.
| | | |
| --- | --- | --- |
| | C4 Original Pre-Workout* | Optimum Nutrition Gold Standard |
| Price per serving | $0.99 | $1.09 |
| Key ingredients | Caffeine, CarnoSyn Beta-Alanine, Creatine Nitrate, Citrulline Malate, Vitamin C | Creatine Monohydrate, Beta-Alanine, L-Citrulline, Caffeine |
| Flavors | Cherry Limeade, Strawberry Watermelon, Grape, Watermelon, Frozen Bombsicle, Icy Blue Razz, Fruit Punch | Blueberry Lemonade, Fruit Punch, Green Apple, Watermelon |
* Based on 30-serving container
RELATED: Best pre-workout for men
C4 Pre-Workout vs Transparent Labs BULK
BULK Up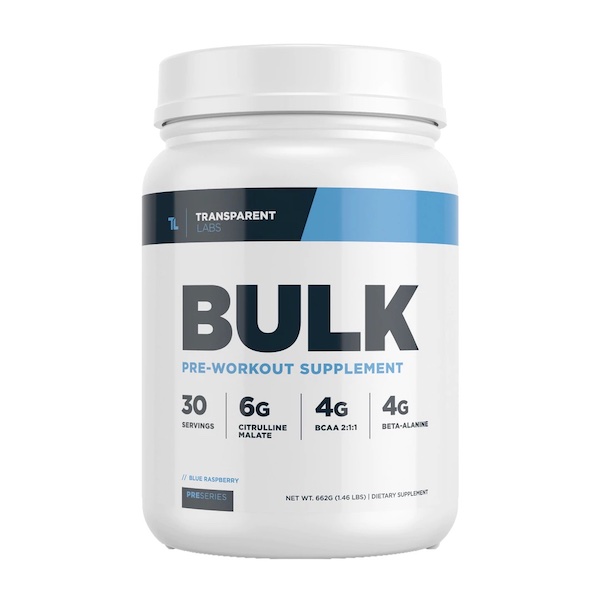 Product Highlights
Formulated to help support muscle gain 

20 grams of research-based active ingredients per serving 

8 flavor variations are available
Pros & Cons
Pros
Transparent ingredient list
No artificial sweetener or color
Moderate dose of caffeine
8 flavor options
60-day money-back assurance
Cons
No creatine
Some users report it tastes bad
Bottom Line
Transparent Labs' BULK supplement is attractive to those whose primary focus is split between potential muscle gain and a pre-workout pump. While the taste is questionable, the product works well for most users.
Transparent Labs BULK pre-workout is similar to C4 in that it also contains a low caffeine dose (only 180 milligrams), but it blows C4 out of the water with its other ingredients. It has 4 grams of beta-alanine (more than the clinically-recommended dose) and 8 grams of citrulline.
It is more expensive than C4, but if you're looking for a pre-workout with ingredients in clinically-backed doses, then this is one of the best picks for your money.
Transparent Labs also sells a LEAN pre-workout, which is formulated to support weight loss and thyroid function.
| | | |
| --- | --- | --- |
| | C4 Original Pre-Workout* | Transparent Labs BULK |
| Price per serving | $0.99 | $1.66 |
| Key ingredients | Caffeine, CarnoSyn Beta-Alanine, Creatine Nitrate, Citrulline Malate, Vitamin C | Branched-Chain Amino Acids, Beta-Alanine, Betaine, Citrulline Malate, Caffeine, Alpha GPC, Astragin |
| Flavors | Cherry Limeade, Strawberry Watermelon, Grape, Watermelon, Frozen Bombsicle, Icy Blue Razz, Fruit Punch | Blue Raspberry, Watermelon, Piña Colada, Black Cherry, Strawberry Kiwi, Sour Grape, Green Apple, Orange, Strawberry Lemonade, Tropical Punch, Lemon Lime, Peach Mango |
* Based on 30-serving container
Financing and Money-Back Guarantee
Cellucor's checkout process doesn't appear to have a financing option, though you can choose to pay via credit card or PayPal if you wish.
RELATED: Best organic protein powder
If you don't like C4 for any reason, there's a 60-day money-back guarantee that allows you to get a full refund (minus shipping and handling).
Ordering Cellucor C4 Pre-Workout
Once you choose your serving size and desired flavor, you simply choose how quickly you want to receive your C4 pre-workout (there's an option for next day delivery) and then wait for it to arrive.
Customer Reviews
C4 Original pre-workout has a 4.7 average rating (the same score it has on Amazon) with more than 570 customer reviews as of this writing.
Some customers complained they had negative side effects after taking the supplement.
Final Verdict of Our C4 Pre-Workout Review
The C4 Original pre-workout has a lot going for it: it's affordable and provides a good amount of energy. If you're curious about pre-workouts and have never taken them before, this is a good place to start.
If you're a supplement veteran who's looking for something with a little bit of a kick, we'd recommend something that contains clinically-backed doses of citrulline and beta-alanine. We're actually OK with the low caffeine amount, as that's something many people might prefer in their pre-workout.
RELATED: Best protein powder for men
C4 Pre-Workout Rating
C4 Pre-Workout
Our C4 pre-workout review examines why this has been one of the most popular supplements for more than a decade.
Product Currency: $
Product Price: 29.99
Product In-Stock: InStock
C4 Pre-Workout FAQs
Does C4 pre-workout actually work?
It does! C4 pre-workout contains caffeine and creatine to help boost your energy levels and muscular endurance, though people with a high caffeine tolerance might find it a bit lacking since it only contains 150 milligrams of caffeine (about one and a half cups of coffee).
What are the side effects of C4 pre-workout?
C4 pre-workout will give you more energy because of its caffeine content and a slight itching sensation due to the beta-alanine (though that will pass). Some customer reviewers noted digestive issues when taking it, which might be due to the caffeine.
Why is C4 so strong?
C4 contains caffeine and other stimulants and may not be for everyone. Check with your physician to determine if this supplement is right for you or if it might cause any digestive problems. 
Does C4 pre-workout contain creatine?
C4 Original Pre-Workout contains 1 gram of creatine nitrate, a compound that's been linked to increased muscular endurance and decreased muscle pain. That said, the minimal creatine dose needed for muscle-boosting effects is 3 grams so we recommend further creatine supplementation for full effects.
These statements have not been evaluated by the Food and Drug Administration. This product is not intended to diagnose, treat, cure, or prevent any diseases.
References