We test and review fitness products based on an independent, multi-point methodology. If you use our links to purchase something, we may earn a commission. Read our disclosures.
The humble kettlebell may look unassuming in a lineup of barbells and dumbbells, but this trendy piece of workout equipment is also one of the most versatile tools around — if you know, you know. A set of kettlebells is a wise addition to any home gym, but adjustable kettlebells come with their own set of benefits.
When deciding between buying an adjustable kettlebell vs standard kettlebells, you have a number of factors to keep in mind. One isn't necessarily better than the other, so the best kettlebell for you will be the option that fits your workout space, training goals, budget, and any personal preferences as far as aesthetics.
Below, we break down the pros and cons of standard kettlebells and adjustable kettlebells to make your decision a little bit easier, allowing you to press on with your strength training goals.
Quick Look: Adjustable Kettlebell vs Standard
The main difference between an adjustable kettlebell vs standard is that an adjustable kettlebell can be adjusted to a variety of weights, while standard kettlebells cannot be made heavier or lighter than what they are when you purchase them. Each type has pros and cons, and both can support you on your quest to build muscle, so the best option for you will depend on your individual kettlebell workout needs.
What is an Adjustable Kettlebell?
An adjustable kettlebell is a kettlebell that you can make heavier or lighter, typically either by turning a dial or moving a pin to choose from incremental weight settings or by adding external weights to a handle. Some options, such as the REP Fitness Adjustable Kettlebell, look and feel like a traditional kettlebell. Others, like the Bowflex SelectTech 840 Adjustable Kettlebell or Ironmaster Quick-Lock Adjustable Kettlebell Handle, are more obviously different from a physical standpoint but still function like a standard kettlebell.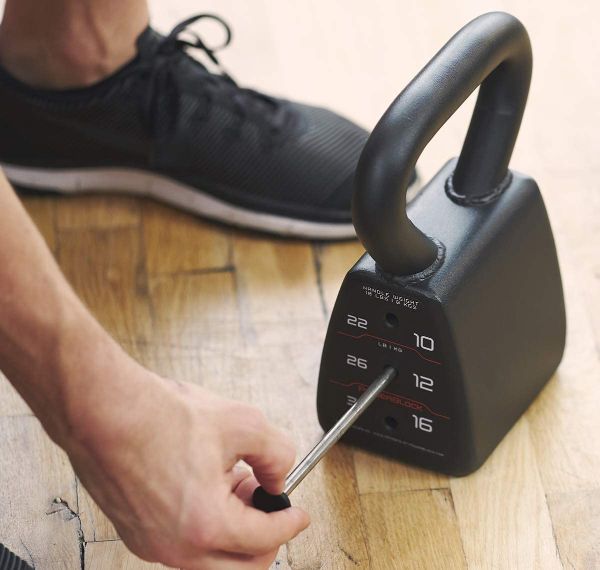 The number of weight increments on an adjustable kettlebell with a dial or pin system varies between models, but you can generally expect up to a 20- or 30-pound weight range with this type of kettlebell. With weight plate-loaded models, the range may be greater. When you buy an adjustable kettlebell, this is something to keep in mind to make sure your new equipment aligns with your needs. Either way, an adjustable kettlebell provides versatility, saves space, and potentially costs less compared to a set of traditional kettlebells.
And of course, adjustable kettlebells still require adjusting between sets. Depending on the adjustment and locking mechanism, it may still be a hassle to switch between lighter weights and heavier weights during a timed circuit or if you plan performing a superset with two different weights. If you think adjusting the weight between sets would get in the way during an intense workout or your favorite CrossFit WOD, take that into consideration.
Another distinct feature of some adjustable kettlebells vs standard models is the material — while traditional kettlebells are usually made of either cast iron or steel, many adjustable options either have plastic shells or plastic adjusting mechanisms. This may be an issue for some lifters, depending on how often and how intensely you plan to train with the kettlebell. Because adjustable models with dials or pins have multiple weight plates housed inside the shell, some may shift slightly during workouts with movements like kettlebell swings or snatches, so keep that in mind if you feel like it would be a deal-breaker.
Adjustable kettlebells may also be shaped differently than standard kettlebells, like the Powerblock Adjustable Kettlebell. There are also far fewer adjustable kettlebell vs standard kettlebell options designed for competition training, which is a factor that athletes who plan to compete should consider.
What is a Standard Kettlebell?
A standard kettlebell is the most common type of kettlebell, and each kettlebell has a set weight that cannot be adjusted. Kettlebells are distinctly shaped, with a handle attached to the top of a weight that is typically nearly spherical with a flat base, although there can be variation in the shape of the weight. Some even come in unique designs so you can hoist Bigfoot or a gorilla's likeness during your workouts if you so choose.
Traditionally, kettlebells are made from cast iron, but steel has become the go-to option for competition kettlebells. Kettlebells designed for competition are typically cast in one piece, so the handle and base are a single piece of metal. Non-competition kettlebells can either be cast as one piece or be made from a weight and handle welded together.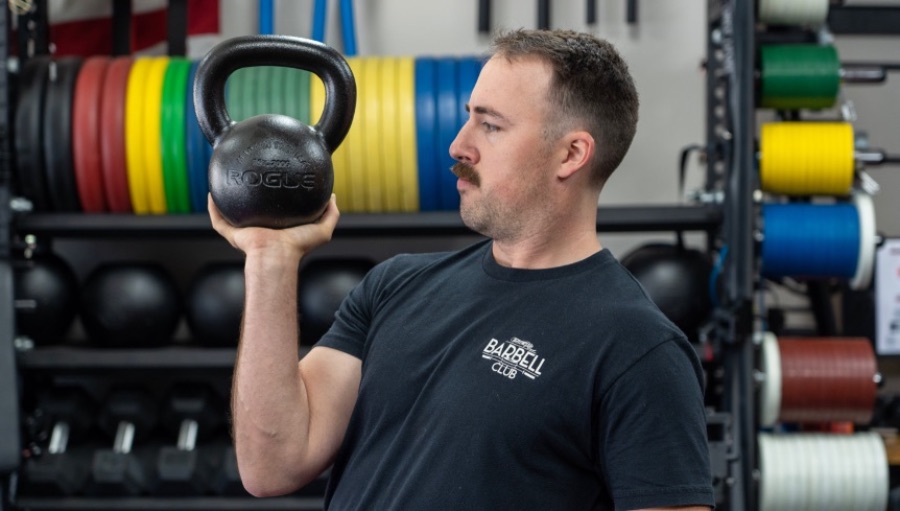 There's also more variety in standard kettlebells versus competition kettlebells or adjustable models — while most are cast iron kettlebells, they can be powder-coated, painted, rubber coated, e-coated, or even unfinished. Each type of coating provides different benefits.
Typical kettlebells and competition kettlebells also differ in their sizing. While kettlebells used in competitions all have a 5.5-inch base diameter, 11.1-inch height, and 35-millimeter handle diameter, regardless of weight, non-competition kettlebells vary in size depending on their weight. For competition lifters, there are fewer adjustable kettlebell vs standard options, although the Titan Adjustable Competition Style Kettlebell is a favorite of ours.
Standard kettlebells have a wider range of weight options compared with adjustable kettlebells, although you'd be limited by the space you have available to keep multiple kettlebells and the budget you're looking to stay in.
What Kind of Kettlebell Should I Buy?
The best kettlebell for you depends on a number of things, including the amount of space you're able to dedicate to kettlebells, your target budget, the type of training you're doing, and personal preference. When it comes down to it, one isn't objectively better than the other, and either will allow you to perform kettlebell exercises in your workouts.
If you don't have much storage in your home gym or if you don't have a dedicated home gym space, adjustable kettlebells are a solid space-saving option that take up little room compared with a set of standard kettlebells. Even if you opted to buy multiple adjustable kettlebells to cover a wider weight range, they would take up less space than a full set of standard kettlebells covering the same weight range.
Adjustable kettlebells can also be more affordable than standard kettlebells, making them the better option in most cases if you're looking to save money. A budget adjustable kettlebell that ranges from 10 to 40 lbs will run you about $100, while a full set of budget-friendly standard kettlebells ranging from 15 to 50 lbs costs around $150.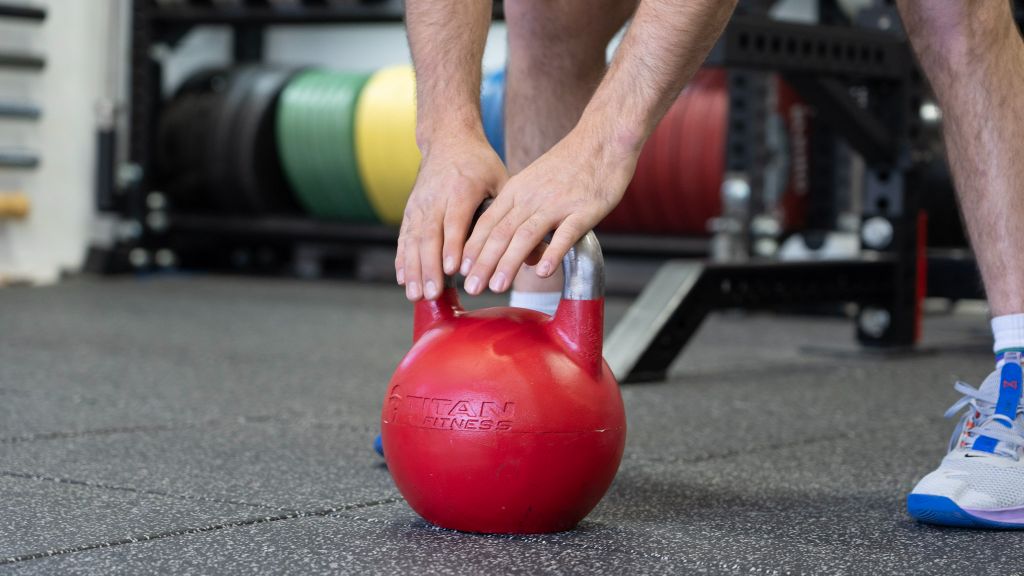 Another thing to consider is your style of training. If you're serious about kettlebell training and plan to compete, the no-brainer option is to get your hands on some standard kettlebells if you can. If budget is a concern, one of the few adjustable options designed to competition dimensions and weight increments would also work. That said, even the adjustable options in this category are quite pricey. Even for advanced trainees who aren't competing but need heavier weights for intense workouts, standard kettlebells will provide more options.
If you plan to train hard and often, regardless of whether you intend to compete, standard kettlebells will be more durable in the long run. And if you're that serious about your training, investing in some standard kettlebells is likely to pay off over time. Since a typical kettlebell is simply a solid piece of metal with no dials or pins to mess with, it will last a lifetime if you treat it properly and store it in a clean, dry place. Some even come with a lifetime warranty.
Much of the decision also comes down to personal preference. If you like the look of standard kettlebells versus adjustable models or if you have a preferred handle width or shape, those are important factors to consider before you purchase an adjustable kettlebell vs standard kettlebell set.
What To Look for in a Kettlebell
When you're perusing Amazon or another retailer to add a kettlebell to your home gym arsenal, here are some factors to consider:
Price
Once you're set on buying a kettlebell (or a set of kettlebells), price is an important part of the equation. If you have a specific budget you're looking to stick to, start comparing adjustable kettlebell vs standard options within that price range. Directly comparing the cost per pound by calculating the range of the adjustable weight versus the total weight of a similar set is one way to suss out the better pound-per-dollar deal.
Weight
This one's a given, but you need to determine what weight or weight range you actually need and will use regularly. If you purchase something too light or too heavy for your experience level and the type of exercise you plan to do, you'll have wasted money that could've been invested in another area. If you'll be doing mostly lighter weight or cardio exercise, you won't get much use out of kettlebell weights more suited to lower rep sets of squats or Olympic weightlifting. Also consider the weight increments you typically use and make sure an adjustable weight is in line with them.
Handle and Grip Width
When sifting through the many kettlebell options on the market, pay attention to the style of handle and grip. The standard 35-millimeter grip width on a competition kettlebell may be a bit thick if your hands are on the smaller side, so look for options with handles thinner than 35 millimeters in diameter if you've found a particular type of kettlebell handle to be uncomfortable.
Even a slightly smaller handle can prove more ergonomic depending on the size of your hands. If you do a lot of two-handed kettlebell exercises, keep in mind that the width of competition kettlebell handles can be no wider than the bell itself, so you may want to opt for non-competition models if you like a wide handle.
Shell coating
Many athletes prefer powder-coated kettlebells because they are easier to grip and hold more chalk thanks to their matte coating. Rubber-coated kettlebells will cause less scuffing to their surroundings and often come in more colors, but these coatings can be prone to peeling or cracking. E-coatings are extremely durable but also expensive. All coating options offer at least some added durability and protection.
Durability
When weighing the pros and cons of an adjustable kettlebell vs standard kettlebells, durability is a key factor to consider. Well-made adjustable models are certainly durable, but will likely not last as long as a solid piece of cast iron. When thinking about price points, durability is important to consider. When in doubt, making sure a product has a solid warranty is always a good idea.
Adjustable Kettlebell vs Standard: Final Thoughts
Overall, both adjustable and traditional kettlebells can be great additions to your home gym, and there's no shortage of factors to consider while deciding which type works best for you.
Adjustable kettlebells can offer wide weight ranges, are often more wallet-friendly, and can be a useful tool for beginners who aren't quite sold on investing in a full set of standard kettlebells yet.
Standard kettlebells are the ideal option for those looking to participate in competitions and those who want a piece of workout equipment that will almost certainly last for years to come when used and stored properly.
Adjustable Kettlebell vs Standard: Q&A
Which kettlebell is best for beginners?
Beginners may benefit most from a budget adjustable kettlebell with a weight range on the lighter end. Because you'll likely be doing more basic moves and may progress quickly, having the flexibility to adjust the weight will help you get more out of a single piece of equipment. Choosing a lower budget yet still quality product is wise until you figure out if kettlebell training will be a mainstay in your fitness regimen.  
Are adjustable kettlebells worth it?
Just like with adjustable dumbbells, an adjustable kettlebell could be worth it if you're tight on space or have a smaller budget.
What type of kettlebell is best?
The best kettlebell for you depends on your specific preferences and goals. For those with minimal space for exercise equipment or those looking to stay within a lower budget, an adjustable kettlebell might be the way to go. For athletes training to compete in a kettlebell competition or for casual athletes who are serious about kettlebell training and have the space and budget for a set of standard kettlebells, they will likely be more durable.
Why are competition-style kettlebells the same size?
Competition kettlebells are all the same size to make switching between weights easier during a competition. Although the weights get heavier, the kettlebells are the same size and therefore the movements are exactly the same no matter what weight you're working with.