We test and review fitness products based on an independent, multi-point methodology. If you use our links to purchase something, we may earn a commission. Read our disclosures.
There's nothing humerus about injuring your elbow, especially when it's such a vital body part for things like lifting, writing, and just about every action during our day-to-day life. And I don't know about you, but in my opinion, some of the best muscle recovery tools don't seem to do a good job of healing the elbow to the point where it feels normal again…until now, maybe.
Our Fiix Elbow review looks at a device specifically made for those who suffer from what's known as tennis elbow or golfer's elbow, but it can also be used by anyone who experiences deep muscle pain in this region, such as construction workers, butchers, painters, and even writers.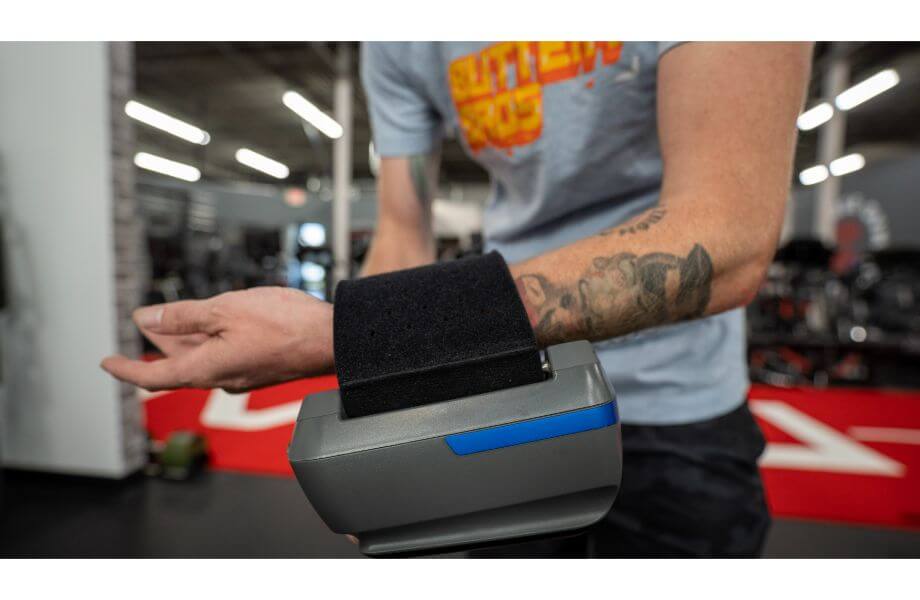 Elbow Recovery is a Joint Effort, And We're Here to Help
Recovery tools can be tricky to write about for a number of reasons, with one of the biggest being that companies often use clever marketing and self-funded studies to convince you their product works. So how do we give you the truth, the whole truth, and nothing but the truth? 
By digging deep into independent research to find out whether these things work, and using our expertise as certified personal trainers and CrossFit L-1 coaches to determine what impact they can have on recovery. We also happen to have a recovery tool expert on hand, who's tested everything from the Theragun to ice baths to see if they're worth your time and money.
Fiix Elbow
FIIXBODY The Fiix Elbow
The Fiix Elbow device is designed to provide physical therapy treatment for tennis and golfer's elbow all done from the convenience of your home. By applying a deep tissue massage to the injured area, The Fiix Elbow breaks down scar tissue and promotes blood flow to remodel the tissue and stimulate healing.According to the manufacturer, in phase two trials, 96% of participants had a reduction in pain, 76% of participants saw improvement in functional activities, and 85% saw an increase in grip strength.This at-home solution allows you to treat your elbow injury without dealing with commuting to a physical therapy appointment. It is recommended to use The Fiix Elbow for 10 minutes, three times a week along with regular strengthening exercises for a period of eight weeks.That said, there are some reviewers who stated the product did not provide them any relief. And, for close to $500, it certainly isn't cheap. The Fiix Elbow does, however, come with a 90-day money back guarantee which makes the cost a little less daunting. If it does not work for you within that time, simply return it for your money back.
A Quick Look at the Fiix Elbow
The Fiix Elbow is a wearable device that seeks to replace regular physical therapist visits for those experiencing muscle pain in their elbow. You simply put the device on your arm, hit a few buttons to set the pressure, and it starts administering what's known as instrument-assisted soft tissue mobilization therapy, or IASTM, to help with blood flow and muscle tissue recovery.
This is done by little knobs on the device that roll over the affected area. It's meant to be worn for eight weeks for complete recovery, and comes with an app for you to track your program.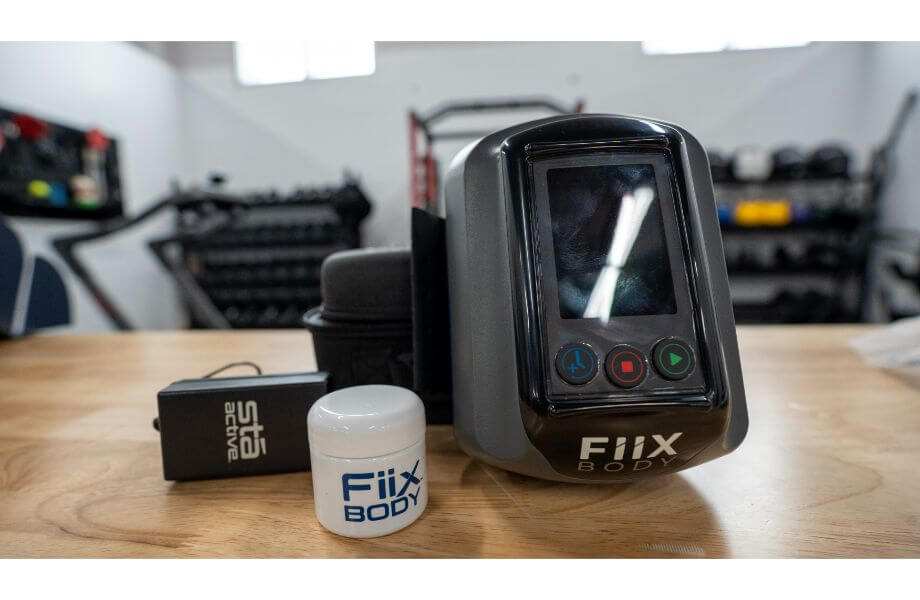 My Tips
Don't expect instant recovery—FiixBody and our experts recommend going through the full eight-week Fiix Elbow program
You don't necessarily need the app, but it's a nice way to track your progress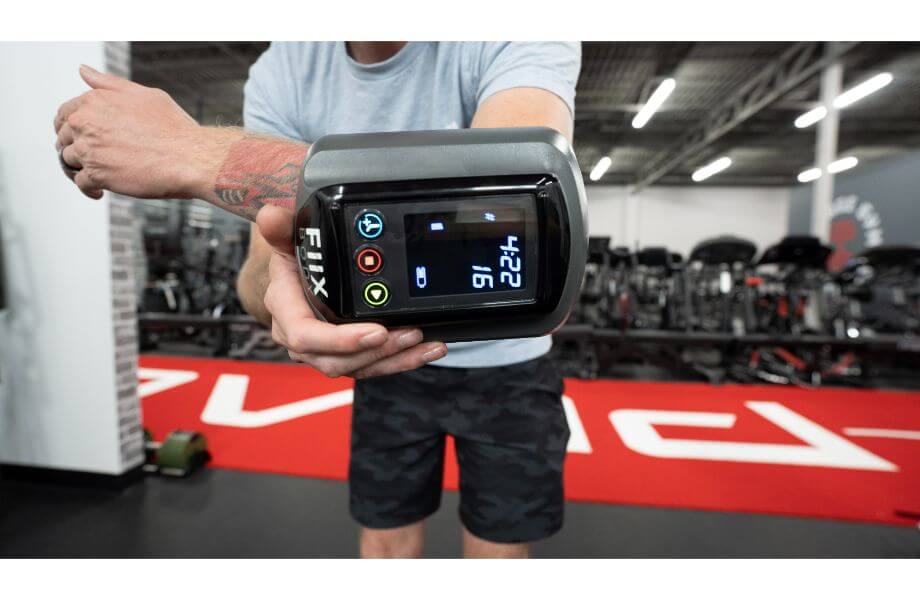 Pros:
Can be done at home
Compact and portable
90-day money-back guarantee
Can be purchased with FSA/HSA funds since it's an FDA-registered medical device
Cons:
Only works on one body part
At $399, it's not the most affordable recovery tool
Some reviews state the pain gets worse before it gets better
Is the Fiix Elbow Worth It?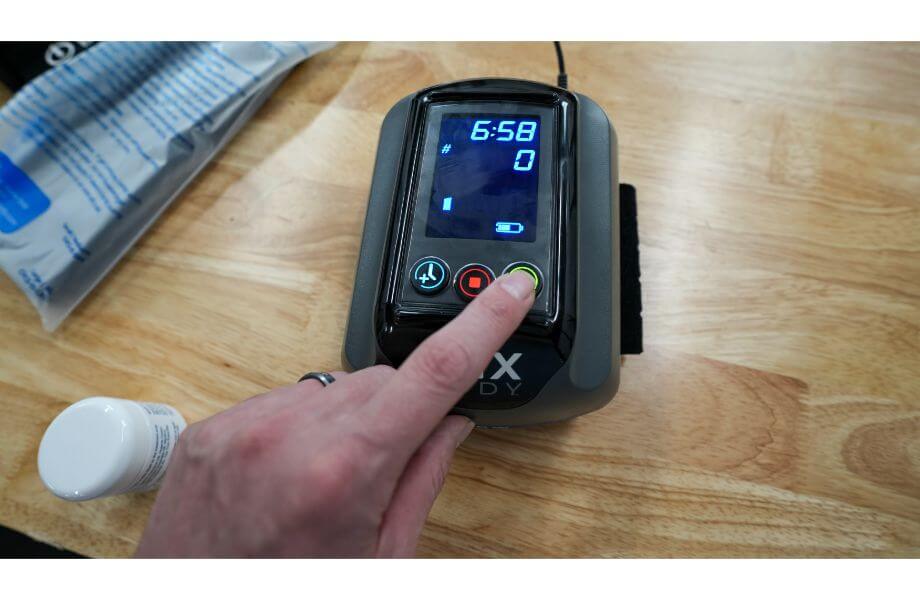 It should go without saying, but the Fiix Elbow device is meant for a small group of people. According to the Cleveland Clinic, only one to three percent of Americans need tennis elbow treatment every year. If you're one of those people and are wondering if the Fiix Elbow is the right device for you, the answer appears to be yes!
It got a stamp of approval from Garage Gym Reviews founder Cooper Mitchell, who used it for several weeks to treat his elbow, as well as rave reviews from others on the internet, and it's even been named the Official Tennis Elbow Recovery Device of the United States Professional Tennis Association (USPTA).
Another big plus is they published scientific studies backing up the machine's efficacy. So yes, this is a specialty device, but it's one that works for its target audience.
Great for:
Golfers, tennis players, or anyone who needs elbow pain relief
Those who don't have time, or don't wish to go to physical therapy treatments
Anyone looking for a well-researched, medically backed recovery device
Not recommended for:
Most general athletes
Those on a budget (though financing plans are available)
People with circulation issues (consult your doctor first)
Will the Fiix Elbow Actually Fix My Elbow?
To answer this question, I asked Garage Gym Reviews Fitness Editor and certified personal trainer Amanda Capritto what she thought of the Fiix Elbow. And if you're wondering, "Who died and made her queen of recovery tools?" you should know that she's tested, reviewed, and written about more massage guns, muscle balms, and rollers than I ever knew existed.
She told me that the instrument-assisted soft tissue mobilization therapy used by the FIIX elbow is similar to what's known as the Graston Technique, also called "scraping," which is used by many professional sports teams to identify and treat injured muscle fibers.
"This will help relieve pain if your problem is a soft-tissue problem, specifically fascia adhesions (muscle knots) or inflammation," she says.
Essentially, the Graston Technique works by a practitioner using a tool to provide pressure to the affected area to increase blood flow and break up scar tissue.
The Fiix Elbow does exactly that, but without the need to see a professional at their office. Again, one of the main appeals of this device is that you can use it while sitting down on your couch. No appointment needed.
And if you're like me and wondering, "Why can't I just use my massage gun?" there's two answers to that: Massage guns are for percussive therapy, which can help alleviate muscle soreness and treat muscle tissues, but it's not as effective in treating the pain associated with golfer's elbow pain or elbow tendinitis.
And two, you risk further injury. "You'd be using your other arm and possibly creating inflammation there," Coop said about the idea of using a massage gun on the elbow. "Fiix is nice because you literally just strap it to your arm and it does the work for you, rather than you having to do so with a massage gun or rubbing it up against something else."
How Long Does the Fiix Elbow Take to Work?
Amanda and Coop both said this isn't something you can use just once. "It's a temporary solution unless you use it everyday, probably multiple times per day," Amanda says.
FiixBody, formerly known as Sta Active, has an eight-week therapy program that you can follow to treat your pain, and Coop recommends sticking to it. "It's not just the machine, but their program they recommend for strengthening and healing the inflammation," he says.
A couple of other online reviewers noted that if you have serious tennis elbow, the pain might get worse before it gets better (but that's what ibuprofen is for). Still beats having to go to a physical therapist and get a cortisone shot every time you want relief from your tennis elbow pain.
The studies conducted on the Fiix Elbow noted that users experienced improved performance in their grip strength and reduced pain after following the eight-week program.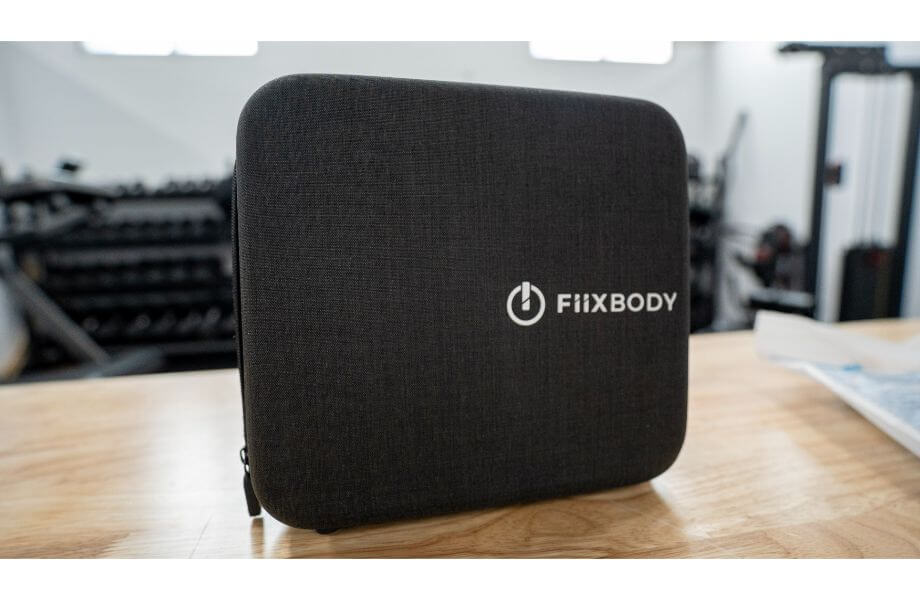 Warranty, Financing, Returns
The Fiix Elbow only comes with a one-year warranty, and it must be registered with the company. You can opt for an extended warranty by visiting the company's website.
FiixBody offers financing plans through Affirm, which you can apply for at checkout.
FiixBody has a 90-day money-back guarantee, but you must receive a return number from the company before sending it back to them.
Customer Reviews
The Fiix Elbow has a 4.8 average rating with 53 reviews, as of this writing. Most of the testimonials say the treatment was pain-free, and in some cases gave them lasting relief before the eight-week program was up.
The few negative reviews were from people who found that the device provided some relief, but not enough to warrant its $399 asking price.
Final Verdict of Our Fiix Elbow Review
We understand that the Fiix Elbow is not for everyone, but if you're not a fan of being in an elbow brace for long periods of time, we think this is worth a shot. Just understand that it won't bring instant relief, and that you truly have to stick with the program to notice any results.
Would we recommend this for weightlifters or general athletes? No. Those people should check out our other mobility and recovery reviews.
Fiix Elbow Rating
Fiix Elbow
Our Fiix Elbow review will let you know if this specialty device is the right fit for your recovery needs.
Product Brand: Fiix Elbow
Product Currency: USD
Product Price: 499.99
Product In-Stock: InStock
How does Fiix Elbow work?
The Fiix Elbow utilizes rollers that mimic a physical therapy technique known as instrument-assisted soft tissue mobilization, which helps improve blood flow and heals scarred muscle tissue in the affected areas. To use it, you simply slip it onto your arm and tighten the strap in place, then click a few buttons to set the pressure. All you have to do after that is sit back and relax.
Does electrical stimulation help tennis elbow?
Electrical stimulation has been shown to be an effective muscle therapy treatment option, and could help alleviate the pain associated with tennis elbow. However, a more physical-based approach like the Fiix Elbow has been shown to be more effective in providing lasting relief.
How do you heal tennis elbow fast?
You can't. You may get fast pain relief, but that won't stop symptoms from resurfacing if you don't address the root of the problem.