We test and review fitness products based on an independent, multi-point methodology. If you use our links to purchase something, we may earn a commission. Read our disclosures.
Theragun is a household name among fitness enthusiasts. It's one of the OG massage guns—and one of the best. Therabody as a brand can feel a bit fancy-pants and cavalier, which doesn't land well with everyone, but no one can make a case for poor production: Therabody makes good stuff. My Theragun review takes a hard look at all four Theragun models currently available.
Why You Should Trust Us
I've been reviewing massage guns since 2018 when the technology first became popular. From Theragun to Hypervolt to TimTam, I've had my hands on most of the big-name products out there, as well as dozens of massagers from lesser known brands. While the massage experience is 100% subjective, I know what specs to look for in a percussive massage device that'll suit most people.
Theragun Comparison
| | | | | |
| --- | --- | --- | --- | --- |
| | Mini | Prime | Elite | Pro |
| Price | $199 | $299 | $399 | $599 |
| Weight | 1.4 lbs | 2.2 lbs | 2.2 lbs | 2.8 lbs |
| Amplitude | 12mm | 16mm | 16mm | 16mm |
| Stall Force | 20 lbs | 30 lbs | 40 lbs | 60 lbs |
| Speeds | 1750, 2100, 2400 PPMs | 1750-2400 PPMs | 1750-2400 PPMs | 1750-2400 PPMs |
| Motor | QX35 | QX65 | QX65 | QX150 |
| Attachments | 1 | 4 | 5 | 6 |
| Battery Life | 150 min | 120 min | 120 min | 300 min |
Edior's note: The prices in the above table are for the most current generation of Thereabody massage guns, so you might find some models for cheaper if they're still selling previous generations.
A Quick Look at Therabody and the Theraguns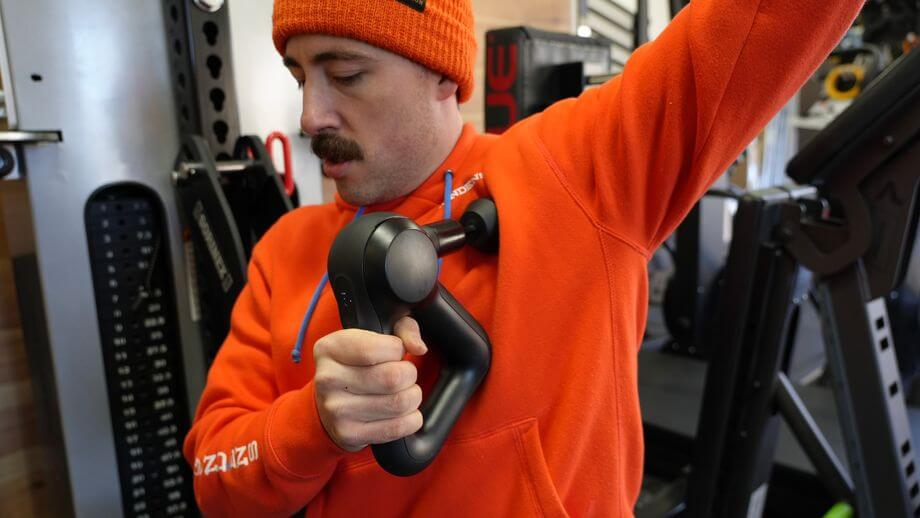 Theragun was once the name of both a brand and a set of products. In 2020, Theragun rebranded as Therabody to encompass a larger suite of products and position itself as a holistic fitness recovery brand.
Therabody sells Theragun massage guns, of course, but also CBD products, foam rollers, compression systems, and electric muscle stimulators. All those things are cool, but I'm here to talk about the various Theraguns available today and let you decide whether or not they're worth the price tag.
My Tips:
Do your research. Theraguns are good products, but you might find something that meets your needs for less money.
Ask people in your circle if they've tried a Theragun. People usually either really love them or really don't like them; try to understand what camp you might fall into before buying.
Great For:
Athletes and avid exercisers who need deep-tissue massage treatment
Anyone who wants powerful massage therapy on the go
People who have the money to pay for household brand names, regardless of whether it's the best product for them or not
Not Recommended For:
People on a tight budget
People who prefer gentler massages
Are Theraguns Worth the Money?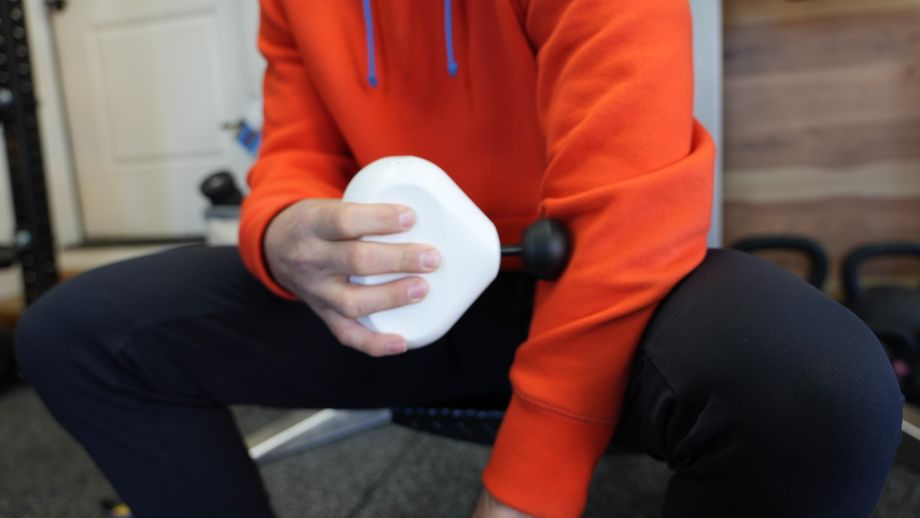 "Is it worth it?" is my favorite question to answer because unless a product is astronomically horrendous, the answer is always "it depends"—regardless of the brand or product at hand. Whether or not a piece of fitness equipment is worth it is totally subjective, and everyone will give you a different answer based on a combination of their values, needs, wants, and budget.
Rant over.
Anyway, my view on the value of a Theragun has changed over the years. As of this writing, I do think Theraguns are worth the money (at least, I think certain models are). Had someone asked me two or three years ago if a Theragun was worth the price tag, I would have given a flat no.
That's an ode to positive product development.
Years ago, I compared the first available Theraguns to a car buffer: maybe as effective at giving a massage and certainly as loud. Gen one, gen two, and even gen three Theraguns were heavy, loud, and hard to handle. Heaven forbid using one on your neck, unless you wanted to feel your brain liquefying.
Today, though, if someone asks me if Theraguns are worth it, I'll give a resounding yes and tell them that, in fact, one Theragun model is actually one of my favorite massage guns I've ever used.
Theragun Mini Review
Therabody's newest massage gun is the mini, which comes at a great price point for a powerful product.
The Theragun Mini is the least expensive massage gun that Therabody offers, but it's still one of the more expensive mini massage guns I've tested. You can find lots of full-sized massage guns at its price point of about $200, including some pretty decent ones. However, when you look at specs, the Theragun Mini is easily one of the most powerful massage guns for its size.
Most, if not all, mini massage guns have amplitudes that stop short of 10 millimeters, meaning they don't dig deep into the muscle tissue. The Theragun Mini has an amplitude of 12 millimeters, which tops all of the other mini percussion massagers I've tried. Even some full-sized massage guns don't reach 12 millimeters into muscle tissue.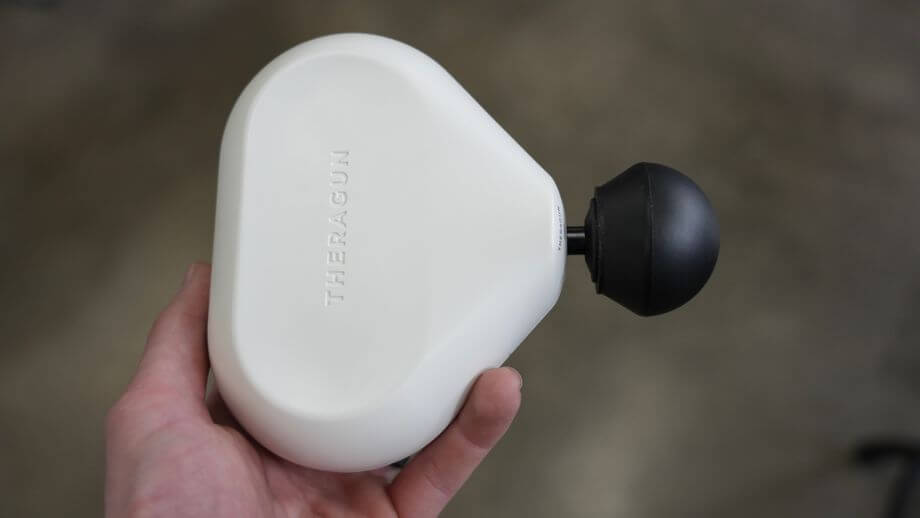 The Theragun Mini also has a unique grip compared to other portable massagers. It's a play on Theragun's patented triangular grip, although I'm not convinced that the grip on this thing is inherently better than a regular cylindrical massage gun handle.
Weighing a hair over 1 pound, the Mini is ultra-portable and can fit in anything from a small purse to a backpack. It has a two-hour battery life, which is pretty good for a mini massage gun.
What I don't love about the Mini is that it only comes with one massage attachment. It is compatible with all fourth-generation Theragun massage head attachments, but they must all be purchased separately for $20 to $30 per attachment.
Or, you can buy the Mini Booster Bundle, which includes the Theragun Mini plus all six attachments for $329… at which point, you should probably just buy the $300 Theragun Prime.
Read my full guide to the best mini massage guns.
Theragun Prime Review
This is Theragun's full-sized entry-level percussive massage gun, and probably the best Theragun option for most people.
The Theragun Prime topped my list of the best massage guns as the best overall massage gun in 2023. I truly think that the Theragun Prime is the most feature-packed, powerful option at its price point of $299. Coop would argue that the Hypervolt Hyperice Plus (or 2, or 2 Pro) should take that place, but he didn't write the article, so: in your face, Coop.
The Prime is simply too good to beat, in my opinion: It has an amplitude of 16 millimeters just like the more expensive Theragun Prime and Pro, it has a 30-pound stall force, and programmable speeds between 1750 and 2400 percussions per minute.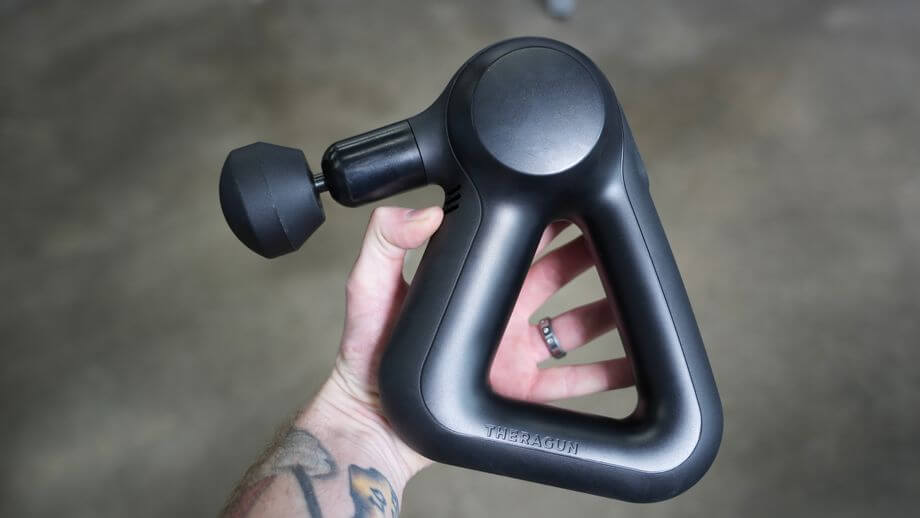 All this, plus the iconic triangular ergonomic grip, four interchangeable heads, the QX65 motor, and QuietForce technology, make the Prime well worth its price tag. I haven't come across a massage gun that works as well as the Prime (and is as feature-rich) for a better price.
At 2.2 pounds, it's easy to transport. It comes in a soft drawstring bag rather than a zippered case, which makes it easy to toss into a backpack or carry-on.
Its two-hour battery life isn't the most impressive. Many other full-sized massage guns have a longer battery life, but two hours is plenty to get the average person through a week of percussive therapy treatment, if not more.
The bottom line: The Prime is simple yet elegant and effective, prioritizing essential percussive therapy features without being bogged down by excessive tech specs or clunky extras.
Theragun Elite Review
The Elite straddles the line between professional-grade and entry-level percussive therapy.
My first impression of the Theragun Elite was that it's a very "meh" in-between of the Prime and the Pro. It's almost like Therabody wanted to offer a mid-level massage gun just for the price point, but I don't see too much value in this middle tier.
For me, there's nothing noticeably impressive about the Elite compared to the Prime, which is why I recommend the Prime to everyone who wants a high-quality massage gun for a reasonable price. The Elite costs $100 more than the Prime, and for that extra hundred, you're essentially getting:
An additional 10 pounds of stall force (most people won't ever exceed the Prime's 30)
The same 120-minute battery life
The same speed range, device speed presets, and customization options
Identical 16-millimeter amplitude
One extra massage attachment
The same QX65 motor
Wireless charging
None of that feels worth an extra Benjamin to me. If you're looking for more power or additional features, I recommend you skip this model and go on ahead to the Pro. After all, if you can afford to spend $400 on a massage gun, I'm willing to bet you can afford to spend $600 on one.
Related: Best Budget Massage Guns
Theragun Pro Review
The Theragun Pro is Therabody's top-of-the-line model used by elite athletes all over the globe.
Theragun Pro: The crème de la crème of massage guns. It's powerful and packed with features. Almost no one (and it can be argued that literally no one) needs this massage gun, but dang, it sure is fun to use.
I usually call the Theragun Pro the "best massage gun for people with disposable income" or "best for professional athletes," which basically mean the same thing. Honestly, if you're strictly looking for the best percussive therapy experience available to any ol' consumer, I can't lead you astray from the Theragun Pro. If you have the funds, this is the way to go.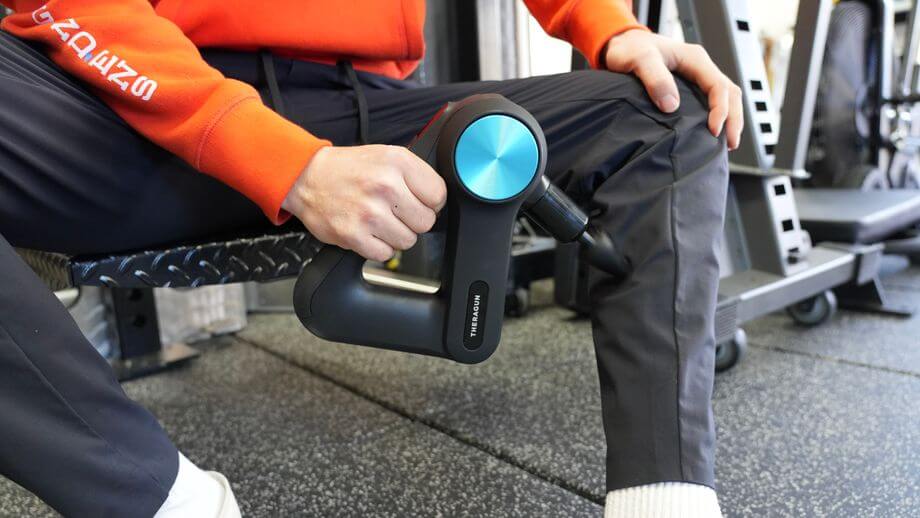 With a 60-pound stall force and five-hour battery life, the Pro boasts some of the most impressive specs you can find in massage guns. Of course, the Pro retains the same 16-millimeter amplitude as the Prime and Elite.
Exclusive to the Pro is a QX150 motor, the most powerful of all the Theragun models. The removable lithium ion battery (and extra battery with your purchase) is also a Pro-only feature. Perhaps the coolest unshared feature is the rotating arm, which allows you to comfortably access more muscles than you can with the Prime or Elite.
The Pro also has an OLED screen with a responsive force meter, so you can visualize how much pressure you're applying to your muscles. It's kind of fun to see how hard you can press into your muscle tissue to inch the number up.
Like the Prime and Elite, the Pro has Bluetooth and connects to the Therabody app so you can control your speed ranges and automate recovery protocols. The Pro comes with six massage attachments, the most of any Theragun model.
Benefits of Using a Theragun
The Theragun models offer the same benefits as most of the other massage guns on the market today. Here are a few reasons why you might consider one:
Improved Blood Flow
When a muscle feels the percussion of a massage gun, it sends a signal to your brain to increase the amount of blood, oxygen, and vital nutrients to that muscle.
Alleviate Muscle Pain
Of course, one of the many reasons you sign up for a massage is that it takes away the pain and a Theragun is no different. Massage guns, when used properly, have been connected with decreased muscle fatigue.
Increased Range of Motion
Although researchers have not yet reached a consensus, there are some studies that have shown massage guns could support an increased range of motion, though the effects are generally not long-lasting.
Customer Experience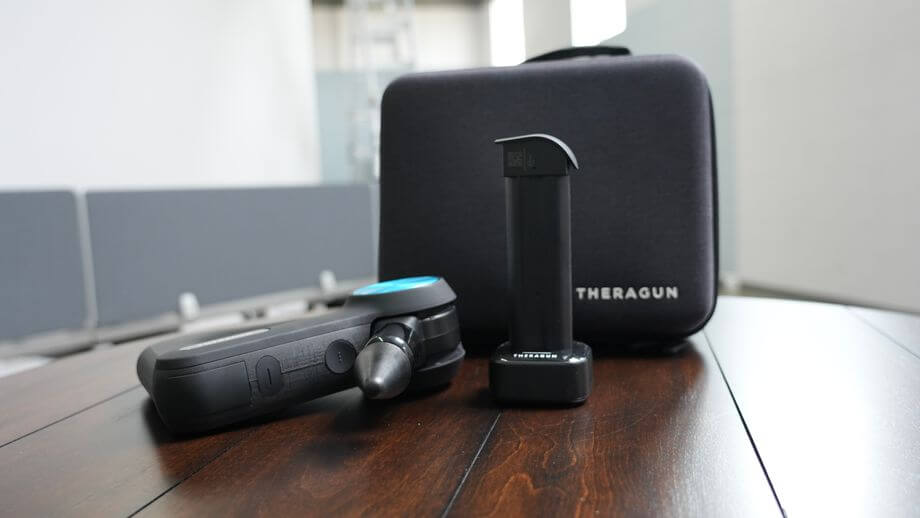 I've never had a bad experience with Theragun customer support.
You can contact them in one of three ways: through email, phone, or 24/7 online chat. You can also browse the robust support section on the website, where Therabody provides information about product order status, cancellations, returns, exchanges, warranty, and more.
Speaking of warranty, I'm not a fan of the limited warranties on Theraguns. They're rather lukewarm, in my opinion, for products that cost so much and are marketed as luxury items. The Theragun Pro has a two-year limited warranty, while the Elite, Prime, and Mini only benefit from a one-year limited warranty.
To be fair, you're lucky if you get a one-year warranty on a lot of other massage guns, but I would think Therabody would stand by its products for more than a year or two.
Customer Reviews
Theragun reviews tend to swing wildly. They're just one of those "love 'em or hate 'em" products (kinda like NOBULL shoes). Lots of customer reviews, as well as in-depth Theragun reviews, say the devices aren't worth it. But just as many say Theraguns are well worth the cost and are by far the best massage guns available. It really does come down to your personal preference and budget.
Theragun vs. Hypervolt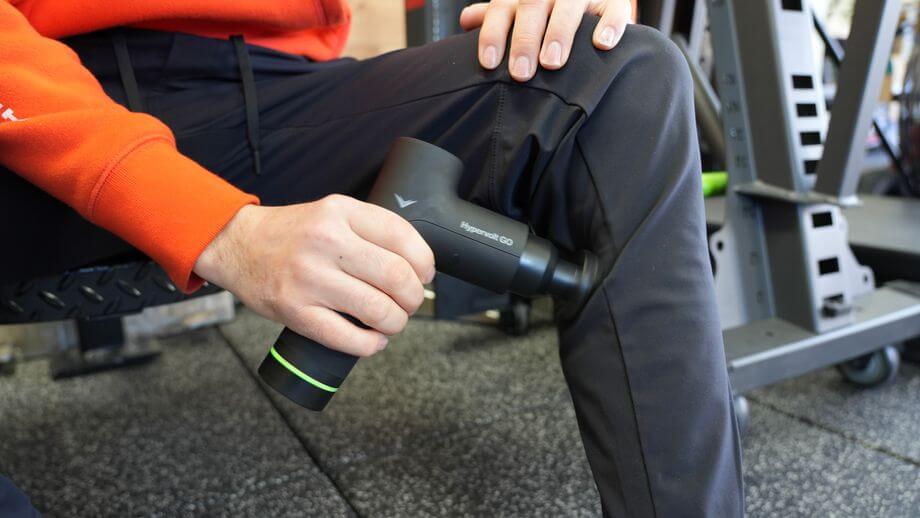 Aside from comparing Theraguns to Theraguns, people also often compare Theraguns to Hypervolts. Rightfully so: Hypervolt is the other big name brand in the workout recovery space. The two brands make massage guns that are somehow very similar but very different at the same time.
If you look strictly at specs, Theraguns and Hypervolts don't seem too different: They have similar price points, noise levels, speed ranges, and amplitudes. Theraguns do reach slightly deeper into muscle tissue with a 16-millimeter amplitude compared to Hypervolt's 13 to 14 millimeters.
Yet somehow, the experience using each gun feels very different, at least to me. It may solely be the difference in amplitude that creates the difference, or perhaps the handle design. I think I'll always be a Theragun girl, but I do think it's worth exploring the different options and determining which brand makes the better product for your needs.
Read my full Theragun vs. Hypervolt comparison to learn more about the two brands.
Final Verdict of Our Theragun Review
Theraguns are high-quality, powerful, effective massage guns. But they are also very expensive. While I personally like Theraguns the best out of all of the massage guns I've tried, I'm aware that they're out of budget for most people. I encourage people who want a massage gun to research other options and see if something less expensive would suit their needs.
Therabody offers four Theraguns: the Pro, Elite, Prime, and Mini. The former three are very similar in nature, while the mini is a more entry-level option.
When using a Theragun, you'll know you're using a luxury product. It feels nice in hand and it does what Therabody claims it does: relieves pain from soreness and tightness, and helps the body prepare for exercise as well as cool down from exercise.
Theragun FAQs
Here are some of the most commonly asked questions about Therabody, Theraguns, and percussive therapy in general:
Are Theraguns good for muscles?
Theraguns are great for temporarily relieving muscle pain and soreness after exercise. A Theragun can also help improve mobility before exercise by improving blood flow to areas with tight muscle tissue.
Can a Theragun injure you?
It's unlikely you'll hurt your muscles with a Theragun, although using one at the higher speeds for long periods of time may result in some tenderness where it was used.
Why are Theraguns so expensive?
It could be argued that Theraguns are expensive because they're the best massage guns on the market. Theraguns do have more patented technology and characteristics than any other massage gun available, including the ergonomic handle design. This probably plays a role in the price of Theraguns, but it could also be argued that Theraguns are expensive largely due to brand recognition.
Does Theragun get rid of knots?
There's no high-quality scientific evidence that massage guns, including Theraguns, can actually get rid of knots in muscles. Muscle knots are hard, sensitive areas of muscle that occur when a muscle tightens even when it's at rest. It's essentially a bundle of tense muscle fibers. Using a Theragun on a muscle knot may temporarily relieve pain from a muscle knot, but scientists don't know yet if massage guns are a good treatment option for actually removing muscle knots.
Why does my Theragun bounce?
When your Theragun bounces during use, it means you've exceeded the stall force of the device. Stall force refers to how many pounds of pressure the Theragun can withstand before its function is impaired. To stop your Theragun from bouncing, simply reduce the force with which you're pressing it into your muscles.
Can you use a Theragun on your neck?
You can use a Theragun on your neck, but take caution. Theragun makes a specific attachment for use on the neck (the fork attachment). This attachment can treat the muscles on both sides of your spine without affecting the vertebrae.
Who should not use a Theragun?
Anyone with any blood disorders or serious inflammation should steer clear of Theragun, or any other massage device unless they've cleared it with a medical professional.