We test and review fitness products based on an independent, multi-point methodology. If you use our links to purchase something, we may earn a commission. Read our disclosures.
When we talk about strength training here at Garage Gym Reviews, there are a lot of barbells and dumbbells in the conversation. However, strength training is not limited to just free weights—functional trainers can provide a unique method for resistance and athletic training.
In this Life Fitness G7 review, we'll cover the pros and cons of this functional trainer and discuss who will benefit from this home fitness machine with a hefty price tag.
Putting The Functional In Functional Trainers
The expert product testers here at GGR are not only enthusiastic about gym equipment, we're also a group of fitness industry professionals with varying expertise to back up our claims—ranging from Olympic athletes to certified nutrition coaches.
For this Life Fitness G7 home gym system, GGR's founder and OG product tester Coop Mitchell put the cable machine to the test with a variety of full-body exercises for back, chest, and legs.
Life Fitness G7
GGR Score: 3.0
Product Highlights
Dual adjustable pulley 

2:1 weight ratio

160 pounds on each stacks 

20 different height positions

Multi grip padded pull-up bar

Comes with handles, foot strap, thigh strap, straight bar, and stability ball
Pros & Cons
Pros
Good warranty
Enables a full-body workout on one machine
Comes with several attachments and a collapsible bench
Does not need to be bolted to the ground
Pulley system is smooth
Cons
Expensive
Not ideal for someone looking to hit some heavy lifts
Replacement parts are expensive
Large footprint
Bottom Line
The Life Fitness G7 Home Gym is a quality functional trainer that allows for a great variety of exercises. But, it comes with a hefty price tag and large footprint that may not work for many home gym spaces.
A Quick Look at the Life Fitness G7 Home Gym
If you're familiar with Life Fitness, it's probably because you've seen the brand featured in hotel or commercial gyms on equipment from ellipticals and treadmills to plate-loaded leg press and smith machines.
Although price ranges for Life Fitness equipment feel more commercial-grade than residential, the brand does offer a wide array of home-use cardio and strength equipment. And while you're browsing the Life Fitness website for your next piece of equipment, you'll also notice a smattering of other brands like Hammer Strength and Cybex—that's because Life Fitness is the parent company for a handful of other popular fitness brands.
Before You Buy
The adjustable bench that is shown in the website's product photos is not included but can be purchased for an additional $650.
The 2:1 cable weight ratio means that you're essentially pulling and exercising with half the weight you selected. For example, if you select 60 pounds on the weight stack, you're really only using about 30 pounds of resistance.
Due to the 2:1 ratio, the G7 home gym will not be the best choice for anyone looking for effective resistance over 80 pounds.
Is the Life Fitness G7 Worth It?
The G7 is a pricey option for a cable machine considering the amount of weight you get per weight stack. However, this just means it's not designed for folks who want to train super heavy.

That said, the Life Fitness G7 functional trainer could work for your home gym if you're not concerned about lifting the heaviest weight possible and just looking for a way to incorporate more exercises into your home fitness routine. I especially like the G7 for back exercises—both with the pulley system and the multi-grip pull-up bar.
Great for:
Anyone who plans to perform high rep ranges with moderate to low weight ranges
Folks who want pull-up and chin-up options in addition to a functional trainer
Anyone looking for a space-saving, angled home cable system
Not recommended for:
People who prefer plate-loaded cable machines
Individuals who need more than 80 lbs of resistance
Anyone limited on space in their home gym
Life Fitness G7 Specs
| | |
| --- | --- |
| Price | $3,899 + shipping/assembly |
| Footprint | 48.5" L x 69.5" W x 83" H |
| Weight | 980 lbs |
| Weight stacks | Dual 160-lb weight stacks |
| Weight capacity | 300 lbs |
| Cable travel length | 84" |
| Effective resistance | 80 lbs |
| Pulley ratio | 2:1 |
| Accessories | Straight bar, foot strap, thigh strap, stability ball, soft-strap handles |
| Warranty | Lifetime on frame, welds, pulleys and parts; three years on upholstery, pads, and cables |
Using the Life Fitness G7 Home Gym Trainer
The G7 comes with 160 pounds of resistance per stack and 20 different pulley adjustments on each upright. This means you can adjust the pulley according to the chosen exercise or the height you need for a certain movement.
The thing I need to mention about the cables is that the pulley has a 2:1 ratio, which means that what you're lifting is about half as much as the weight stack. Let's say you use the pin to select 30 pounds for a tricep overhead extension; the resistance will actually be about 15 pounds. Although this is not uncommon, I think it's necessary to know that you won't be able to truly load your exercises up to 160 pounds.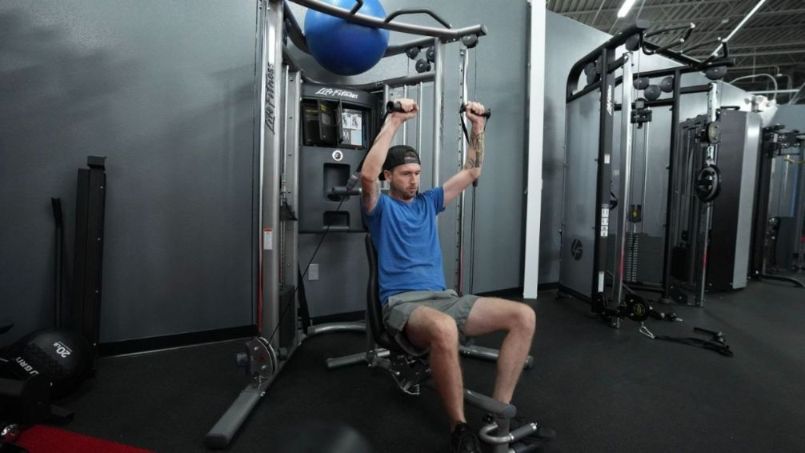 When testing the G7, Coop noticed that this model is a basically a smaller version of the Life Fitness Signature Series Dual Adjustable Pulley machine. Although the two machines are similar, Coop notes he likes "the addition of the multi-grip pull-up bar as well as the robust pulleys," on the G7 trainer.
Speaking of robust pulleys, the cable motion is smooth and can travel up to 84 inches to accommodate rotational movements, glute kickbacks, and all sorts of rowing variations.
Overall, the Life Fitness G7 is a sizable piece of equipment for a home gym. And at nearly $4,000 it's an investment, too. After testing this machine, it turns out Coop thinks it won't make the cut for many home gym owners, mentioning that it will be a pretty specific type of person who will enjoy this piece of equipment.
"It will be good for someone who wants a basic functional trainer that feels like it belongs in a hotel but isn't high-enough quality to do so," says Coop. Ouch! That's a zinger for a machine that can deliver a full-body workout ranging from glute pull-throughs to pull-ups.
"It's just an OK machine," says Coop about the underwhelming load you get from the dual weight stacks. "The price is higher than it should be in my opinion," he adds.
Coop also mentions that the optional weight bench "does not dock, even though it's designed especially for the unit," he says. "Plus the stacks are numbered sequentially and not based on weight, which I find annoying," Coop adds.
Functional Design and Footprint
The Life Fitness G7 offers a fairly compact functional training option for anyone who wants to train with cables and doesn't have the space to accommodate a full-blown cable crossover machine.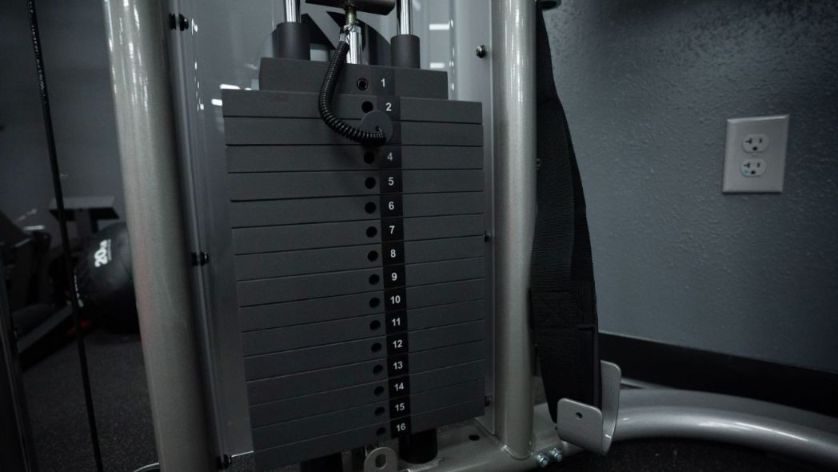 Instead of a cable crossover design you might see in a commercial gym, functional trainers reduce the floor space needed for a cable machine with their V-shape, which houses a weight stack on either end. The machine is also complemented by a top crossbar featuring a multi-grip pull-up station.
Although compact, the website recommends giving yourself about 10 feet in length and 8 feet in width to accommodate this machine. This will give you plenty of room around the entire functional trainer, which is only about 4 feet in length and under 6 feet wide.
Durability and Construction
Although this functional trainer is not Coop's favorite, he does not deny it's a solid machine. "It's high-quality and will last a long time for home gym owners," he says.
We like the fact the uprights are constructed from sturdy 11-gauge steel, and the ultra-smooth motion of the pulleys. That said, Coop does note, "I wish the pulleys were aluminum."
Although there are plastic parts featured in the design of the G7, the frame and pulleys have a lifetime warranty to back up your purchase in addition to a three-year warranty on the cables.
In addition to the overall construction of this machine, you will also get a few conveniences like 20 different adjustable height options for a variety of exercises in addition to a water bottle holder.
Comparison to the REP FT-5000
REP FT-500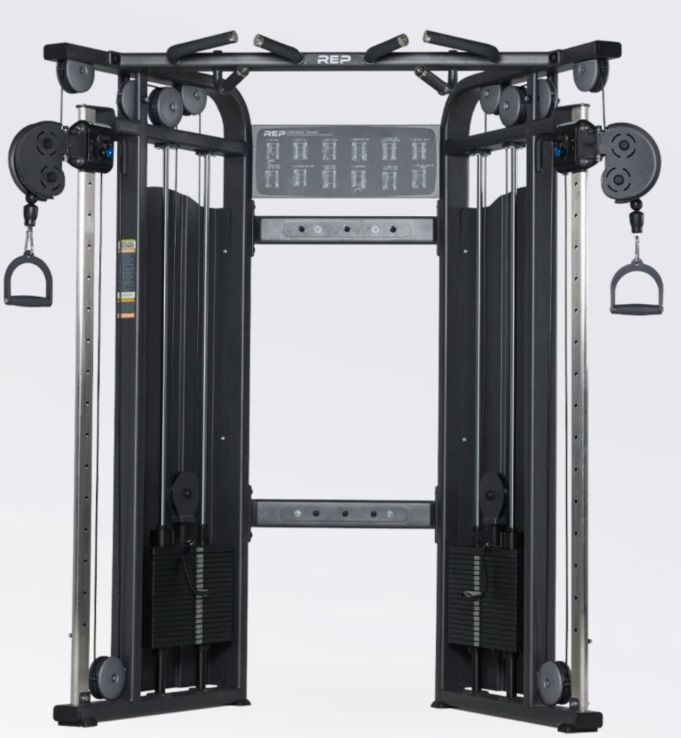 GGR Score: 4.6
Product Highlights
Frame constructed with 11-guage steel

Chip-resistant powder coating
Dual 220-pound weight stacks
Multi-grip pullup/chin-up options
Ships partially assembled
Lifetime frame warranty
Pros & Cons
Pros
Multi-grip pullup/chin-up grip options
Ships partially assembled
Lifetime frame warranty
Dual 224-lb weight stacks
Cons
There have been some complaints of inconsistent craftsmanship
Starting weight may be too heavy for some isolation exercises
Bottom Line
The REP FT-5000 is a great choice for anyone looking for a functional trainer in their home gym.
When I asked Coop what the most comparable functional trainer is to the G7, he immediately said the REP FT-5000. Both functional trainers are heavy-duty machines, with similar size footprints, and a triangular design allowing you to wedge them in the corner of your home gym.
However, where these machines really differ (and this is one of Coop's biggest concerns) is how much effective resistance you can gain from each. Both machines offer a 2:1 pulley ratio, but the REP FT-5000 has over 60 pounds more resistance than the G7.
And for about $1,500 less, the FT-5000 would definitely be a machine worth considering.At the end of the day, think about your space, your goals, and how much weight you want (and need) on an adjustable pulley machine.
| | | |
| --- | --- | --- |
| | Life Fitness G7 | REP FT-5000 |
| Price | About $3,889 | $2,499 |
| Footprint (L x W x H) | 48.5" L x 69.5" W x 83" H | 36" L x 68" W x 85.5" H |
| Weight | 980 lbs | 875 lbs |
| Resistance | Dual 160-lb weight stacks | Dual 224-lb weight stacks |
| Pulley ratio | 2:1 | 2:1 |
| Warranty | Lifetime on frame, welds, pulleys and parts; three years on upholstery, pads, and cables | Limited lifetime warranty, 1-year cable |
Customer Experience
Each Life Fitness product has a unique warranty in place depending on the type of equipment and components. For the G7 functional trainer, the brand upholds a lifetime warranty on the frame, welds, pulleys, and general parts. Additionally, you'll get a three-year warranty on the cables.
According to the Life Fitness website, if problems were to arise, the brand will ship you new or rebuilt parts, and replace the product when the brand deems it necessary. To make a warranty claim however, you will need to retain proof of purchase and notify the company within 10 days of discovering the issue. The company also holds you responsible for performing proper routine maintenance and using the machine for its intended use.
If you purchase a Life Fitness product and you're not totally thrilled with it, you can make a return within the first 30 days of delivery. The brand will refund nearly the entire purchase, with the exception of a 20% restocking fee for both strength and cardio equipment.
It's also worth mentioning that your original shipping fees are not refundable and you'll also have to pay for shipping back any unwanted fitness products. To make a return, you will be required to email customer support at consumerorders@lifefitness.com or call 800-527-6065 (prompt 5, then prompt 2) to initiate your return process.
For other general questions, you can use the green icon on the bottom right corner of the website to activate the live chat function.
Ordering and Assembling the Life Fitness G7
Life Fitness offers financing options through Affirm. To utilize this option, at checkout you'll be able to choose between entering your credit card information for a one-time payment or choose the pay-over-time option.
Using Affirm leads you through a short application process with a few personal questions. Based on your credit history, you could be qualified for 0% APR for up to 36 months. If you don't qualify for 0% the rate can reach 30% depending on your credit.
It's worth noting that I noticed during the checkout process, the only delivery option available is the white glove delivery and installation. This means the machine is not only delivered inside your home, but set up and fully assembled exactly where you want it. Although this service is not optional, it's also not free—it will cost you an additional $499 at checkout.
Life Fitness G7 Customer Reviews
When it comes to reviews on the Life Fitness website, there are plenty of happy customers. It took me a while to scroll through and find some less-than-stellar reviews. None of the low-rated reviews were horrendous, and were much to the effect of Coop's reaction that it's just an OK machine.
Overall, Life Fitness customers rate the G7 at 4.7-out-of-5 stars. Additionally, it's worth mentioning that when I went to Amazon to find more reviews, there weren't any.
Final Verdict of Our Life Fitness G7 Review
The Life Fitness G7 could be an option if you're looking to have a fairly compact functional trainer for home use and you're not concerned about the price. Although this is a heavy machine featuring sturdy construction and a smooth pulley system, the weight stacks are unimpressive and will leave seasoned lifters with much to be desired.
If you do choose the G7, you will have 20 different height adjustments that allow you to customize the pulleys to your height or make adjustments for both upper and lower-body exercises. It also comes with an exercise ball and the option to purchase a removable bench, which we found was just OK.
At the end of the day, we all have different wants and needs when it comes to health and fitness. If the G7 functional trainer appeals to you and your training routine, just keep in mind it doesn't offer a ton of resistance—for beginners and recreational exercisers, it might be a suitable option.
Life Fitness G7 Rating
Life Fitness G7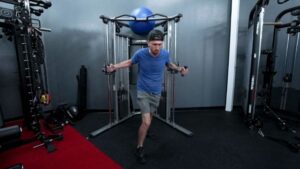 Should this bulky piece of fitness equipment make it into your home gym? Find out in this Life Fitness G7 review.
Product Brand: Life Fitness
Product Currency: $
Product Price: 3889.00
Product In-Stock: InStock