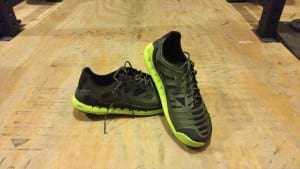 The shoes looks like you could run over anything in them; and that's probably because you can.
The have a forward lean that is reminiscent of a hot rod and combine a lot of different materials and textures that add to the unique look and nature of the Zodiac Recon.
It certainly doesn't look like most shoes on the market.
I like how the shoe is subdued, yet has flashes of color in various areas. Pairing the dark and light colors allow the brightness of the yellow to stand out that much more.
The cushion of the sole is absolutely ginormous. However, from the outside, you really can't tell too much, but when you look on the inside of the shoe you can tell its quite massive.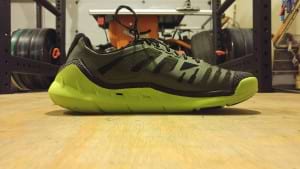 Overall, I think Lalo Tactical did a good job of taking an ultra cushion(y) shoe and not making it look like something a space cadet would wear.
Similar to the Lalo Tactical Bloodbird the Zodiac Recon utilizes lots of different materials that you don't ordinarily see used in the footwear industry.
The toe cap of the shoe uses what's known as "Super Fabric" which from what I've seen is puncture resistant and just overall very durable. This will keep the toe from becoming damaged should you stub it while running the long distances this shoe is designed for.
Often times when companies use lots of materials you will find spots of the shoe with sloppy construction and excess glue. I didn't see this with the Zodiac Recon which shows they have a good attention to detail and should equate to a longer lasting shoe.
The outsole is what Lalo Tactical calls a Tri-Density Zodiac foam. I believe this means the foam is similar to a McDonalds Triple-Thick Shake. It's dense, but not so dense that you can't enjoy it.
I like the sound of that.
On the bottom of the shoe, Lalo Tactical included drainage ports allowing this shoe to be ran in all sorts of conditions and be able to quickly dry. This is a wonderful idea, especially for those in military training who face many adverse scenarios where the weather does not always cooperate.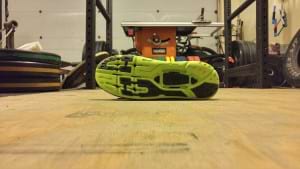 Once again, I must make a caveat that I typically run in very minimalist shoes.
In fact, I will sometimes even use Huarache Sandals such as the Luna Mono, Earth Runners, or Shamma Sandals all reviewed previously.
However, I do see a place for a shoe with this much cushion to be used.
One such scenario is for those who do a lot of races back to back. So a triathalon athlete that has three weekends in a row of races. The beating that athletes feet will take is beyond measure and being able to use something with this much cusion can be very helpful in recovery.
These would also be great when going over very rocky terrain such as trail running. It will feel as if you're floating on a cloud going over rocks in these things, think of a Jeep with monster tires. That's what this shoe is akin to.
In my own experience, the shoes fit great. They stayed snug to my feet and although I did experience some rolling of the ankle now and again when going over a large rock or tree limb, it wasn't terribly noticeable.
It's important to say that these shoes are made for running. I would not suggest someone use them for heavy lifting or CrossFit Metcons UNLESS the workout was very running intensive.
Due to the foam being just that, foam, it doesn't provide a stable enough base for lifting the heavy iron that cellar dwellers like to hoist.
But, that's not what this shoe was designed for anyway.