We test and review fitness products based on an independent, multi-point methodology. If you use our links to purchase something, we may earn a commission. Read our disclosures.
Here's how to save on Concept2 fitness equipment.
So you're looking at Concept2 to outfit your home gym with cardio equipment. Good choice. We love Concept2, as evidenced in our best cardio equipment guide. If you're looking for a Concept2 coupon code or Concept2 promo codes, we have you covered. Here's how to get the best prices on Concept2 cardio equipment.
Concept2 Coupons
There are two ways to get bargains on Concept2 equipment: shopping on Amazon or buying from Rogue Fitness. You can buy directly from the manufacturer on their website, but you're less likely to find discounts there.
Concept2 Discount Code on Amazon
It's common to check Amazon when you're looking for a special offer on a specific product. Shopping on Amazon is probably your best bet for finding a deal on Concept2 equipment, but even then, you might have to be patient and wait for a big sale day like Cyber Monday.
Here are a few ways to dig for deals on Amazon:
It's worth noting that sometimes, the list price on Amazon might be cheaper than what's listed on concept2.com, but shipping and handling fees may cost more. Make sure to add up all of the related costs before choosing to buy from one retailer over another.
Concept2 Promotion Code on Rogue Fitness
Similar to other retailer's sites, you aren't likely to find a cut-and-dry verified coupon code for Concept2 on RogueFitness.com, either. Concept2 doesn't typically discount products and Rogue almost never runs sales, so it's a double whammy that will probably result in you paying full price—unless you're patient and have a keen eye.
To save money on Concept2 products, monitor Rogue Fitness discounts and deals on their Hot Deals, Boneyard, and Closeout deals pages. You have to be willing to wait to score deals on Rogue items: Your Concept2 Model D might be in your shopping cart for a long time before it goes on sale. Patience is a virtue, they say.
When Does Concept2 Equipment Go On Sale?
The Concept2 online store itself does not typically offer sitewide sales at any time of year. However, Concept2 is available from a variety of retailers, including Rogue Fitness and Amazon. When these sites have sales (which isn't often, in the case of Rogue), you may be able to get deals on indoor rowers and other Concept2 products. Getting the best discount might just be a matter of time. At Garage Gym Reviews, we frequently keep up with sales, especially around holiday periods. Be sure to keep an eye on our deals pages year round:
What We Love About Concept2
Concept2 is one of our favorite brands for cardio equipment. They make long-lasting equipment with no other purpose than to make you fit. If you walk into any random CrossFit gym, you'll probably find a piece of Concept2 equipment from years ago that's still in great condition. This brand just makes good stuff, point blank.
One of our favorite Concept2 products is the RowErg, which is our top pick on our guide to the best rowing machines.
Concept2 Model E Rower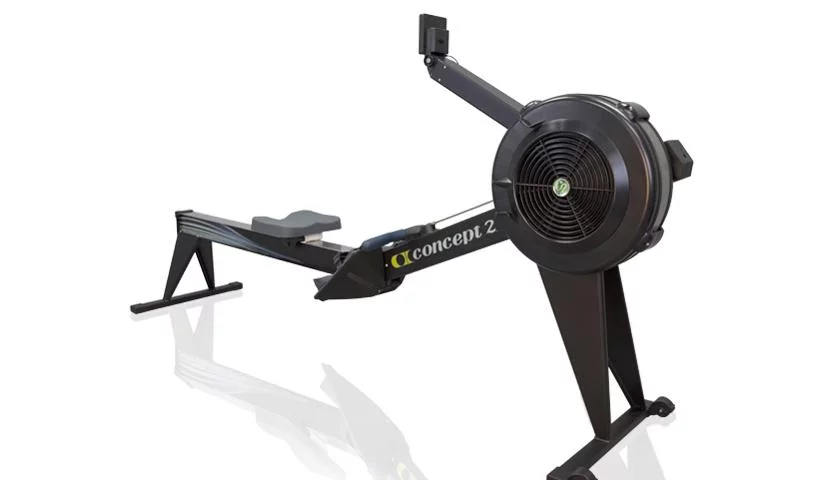 Concept 2 Model E Rower
The Concept 2 Model E Rower is a slight adaptation of the Model D, featuring the same PM5 Performance Monitor (with a longer arm), ergonomically designed handles, adjustable foot-rests, and efficient flywheel design. One of the key differences is the Model E's raised 20" (seat height), 6" above the Model D position, which can allow athletes with balance or mobility concerns to get on and off the machine with less effort. The chain housing on the Model E Rower is also fully inclosed, helping keep the nickel-plated chain clean and out of harm's way.During use, the rower's seat moves on an aluminum rail with a stainless steel track, creating a consistent back-and-forth slide without any sudden starts or stops. To change how much air enters the flywheel housing on each stroke, you can adjust the machine's spiral damper to any setting from 1 to 10. This functions much like the gears on a bike, affecting how much energy will be needed to accelerate from one stroke to the next. When done training, you can quickly break down the rower into two segments for storage or use the included caster wheels for easy transport.While some might associate traditional rowing exercises with upper arm strength, the Concept 2 Rower actually produces one of the more comprehensive, full-body workouts of any fitness machine in the industry—developing efficient core power and leg strength without over-taxing the back.Specifications:Includes PM5 Performance Monitor* (arm is longer than Model D and cannot pivot) Flywheel design for smooth feel, minimal noise Nickel plated steel chain with fully inclosed housing Spiral Damper with adjustable 1-10 settings Monorail length: 54" Welded steel support legs Ergonomic handle promotes natural arm and hand position 20" (seat height) for easier access, moves smoothly on aluminum rail / stainless steel track Simple two-part separation for compact storage Flexfoot footrests adjust for quick and easy sizing Easy assembly with tools and illustrated instructions included Caster wheels for mobility Color: Light Gray w/ high gloss finish on metal frame
Why Buy From Concept2
When you buy from Concept2, you know you're getting some of the best, most durable fitness equipment with a long lifespan. Concept2 may not manufacture the flashiest, most high-tech home gym equipment, but that's not what they're here for: Concept2 is here to produce high-quality and effective cardio equipment to help you become the fittest version of yourself.
If you're looking to completely outfit your home gym with cardio equipment from one brand, you can do that if you shop Concept2.
Concept2 offers:
Indoor rowing machines
Stationary bikes
Ski machines