We review free products that we receive and participate in affiliate programs, where we may be compensated for items purchased through links from our site.
See our disclosures page for more information.
On Memorial Day, we honor those who have given the greatest sacrifice for our country. In the fitness world, many gyms, like CrossFit boxes, do workouts specifically commemorating fallen men and women.
Over the weekend, several companies, like FringeSport, Titan and Fitbit, will offer some of the best exercise equipment Memorial Day sales. Included below are some of my favorite products from these brands as well as items to check out if you're looking for a deal.
The Best Memorial Day Fitness Deals
Rep Fitness: Up to 25% off
Bowflex: Save up to $300
FringeSport: Up to 20% off select equipment
Titan Fitness: Up to $80 off and dozens of products discounted
Rogue: Up to $100 off
Schwinn: Up to $100 off
Fitbit: Select sales
Garmin: Up to $100 off
Hydrow: Up to $350 in savings with free shipping
Horizon: Up to $1,000 off
Amazon: Select sales
Tempo: Up to $400 off
Get RxD: Up to 15% off
MYX Fitness: Up to $300 off
REP Fitness
REP Fitness has some of my favorite power racks, and now they are even more affordable. I have tested and reviewed a lot of products from REP. The REP Fitness Memorial Day Sales include:
15% off power racks
25% off flat benches
25% off medicine balls
15% off kettlebells
20% off barbells
Get REP Fitness Memorial Day Deals
Bowflex
There are some great Bowflex Memorial Day sales going on. Many of these are all "bundle" deals, but you can save a substantial amount of money if you're looking to build out your home gym.
Save up to $300 when you buy the X2SE Home Gym, 310 Weight Upgrade and Cardio Mat bundle
Save $300 when you bundle the Max Trainer M9, 840 Kettlebell & 5.1s Bench
Save $50 when you bundle two Adjustable SelectTech 840 Kettlebells
Save $50 when you purchase the C6 Bike
Save $100 + Free Shipping when you buy the C6 Bike, 840 Kettlebell and Cardio Mat
Get Bowflex Memorial Day Deals
FringeSport
FringeSport has some great deals on fitness equipment for Memorial Day, including 15% off Wonder Bars and 20% off Milspec bumper plates and Milspec bumper plate sets. One cool thing about the Milspec plates is that, as FringeSport states, they are created to meet the durability and tolerance requirements of the U.S. Army. FringeSport notes that soldiers training for the U.S. Army Combat Fitness Test use these plates for that reason.
Get FringeSport Memorial Day Deals
Titan
When it comes to affordable, quality equipment, I really like Titan Fitness. I have reviewed countless products of theirs and even wrote an article on how to build a budget home gym with Titan products. This weekend, Titan is discounting dozens of items.
Some of the Titan Fitness Memorial Day Sales include:
$40 off the T-3 Series Power Rack
$65 off the Titan Fitness Fan Bike
$80 off the MAXXUM Stainless Steel Power Bar
Get Titan Fitness Memorial Day Deals
Rogue
The name "Rogue" consistently appears on my "best of" lists for good reason: Rogue Fitness makes great equipment. The Rogue 2.0 barbell is one of my absolute favorites, and the E-coat Kettlebells are some of the best around. While the company may not have a huge sale, I do like pointing people to Rogue's "Deals" page because you can find all sorts of hidden treasures there, like dumbbells, barbells, apparel and recovery gear.
Get RxD
The Get RX'd Memorial Day Sale features literally hundreds of fitness products, like power racks, Xebex cardio equipment, barbells and more. In short, their sale includes:
5% off when you spend $500 or more
7% off when you spend $1,000 or more
10% off when you spend $3,000 or more
12% off when you spend $5000 or more
15% off when you spend $10,000 or more
Get the Get RX'd Memorial Day Deals
Schwinn
When you think of bikes, you think of Schwinn. For a limited time, Schwinn is taking $100 off the IC4 indoor cycling bike, which can sync with apps like Peloton and Zwift. Use the code "ICSAVE" at checkout. Schwinn is also offering free shipping on all of its indoor exercise bikes, like upright, cycle and recumbent bikes.
Get Schwinn Memorial Day Deals
Fitbit
Fitbit runs a Memorial Day sale on fitness trackers yearly. I personally really like the Charge 4 and the Inspire 2. Seeing as how Fitbit is synonymous with activity trackers, you can't really go wrong with any of the bands and smartwatches offered.
Garmin
Speaking of fitness trackers, Garmin has a large sale going with discounts on the Forerunner 245 and the Forerunner 945. Serious runners looking for metrics really can't go wrong by getting a Garmin. Both the 245 and 945 offer Garmin Coach as well as GPS tracking and running form checks.
MYX Fitness
MYX Fitness makes The MYX, a studio cycle bike that in many ways rivals the Peloton. This weekend, you can take $300 off your purchase and get free shipping and assembly by using the code MEMORIAL300.
Get MYX Fitness Memorial Day Deals
Looking for a new rowing machine and a full-body workout? Hydrow might be the answer. They are knocking $350 off the Memorial Day package, which features:
Hydrow Rower
Free Under Machine Mat
Free Jaybird Tarah Pro Wireless Headphones (color may vary)
Free Standard Shipping
1 Year Home Use Warranty Included
Unlimited Profiles with One Membership*
The Hydrow is a beautiful machine with a fancy touchscreen. It features guided workouts ranging from short, HIIT-style sufferfests to long endurance pieces.
Horizon
Horizon makes affordable cardio equipment like treadmills, elliptical machines and exercise bikes. The company is offering significant discounts on its advanced treadmills, like the 7.0 AT and the 7.4 AT Tread, knocking up to $1,000 off. You can also get an extra $50 off the T101 Treadmill and the EX-59 elliptical trainer over the holiday weekend.
Get Horizon Memorial Day Deals
Tempo
From May 28 to May 31, Tempo is offering up to $400 off any bundle deal. Tempo is an advanced home gym system that features interactive virtual coaching. It uses artificial intelligence to actually scan your movements to give you instant feedback.
Amazon
It's always a good idea to check Amazon for fitness equipment because you can find affordable options. However, be careful not to get too swept up in a cheap price tag, as you want to find equipment that lasts. That said, I'll share some products below that I know and trust that you can find on Amazon. I have also written an article on how to build a home gym on Amazon.
Barbell on Amazon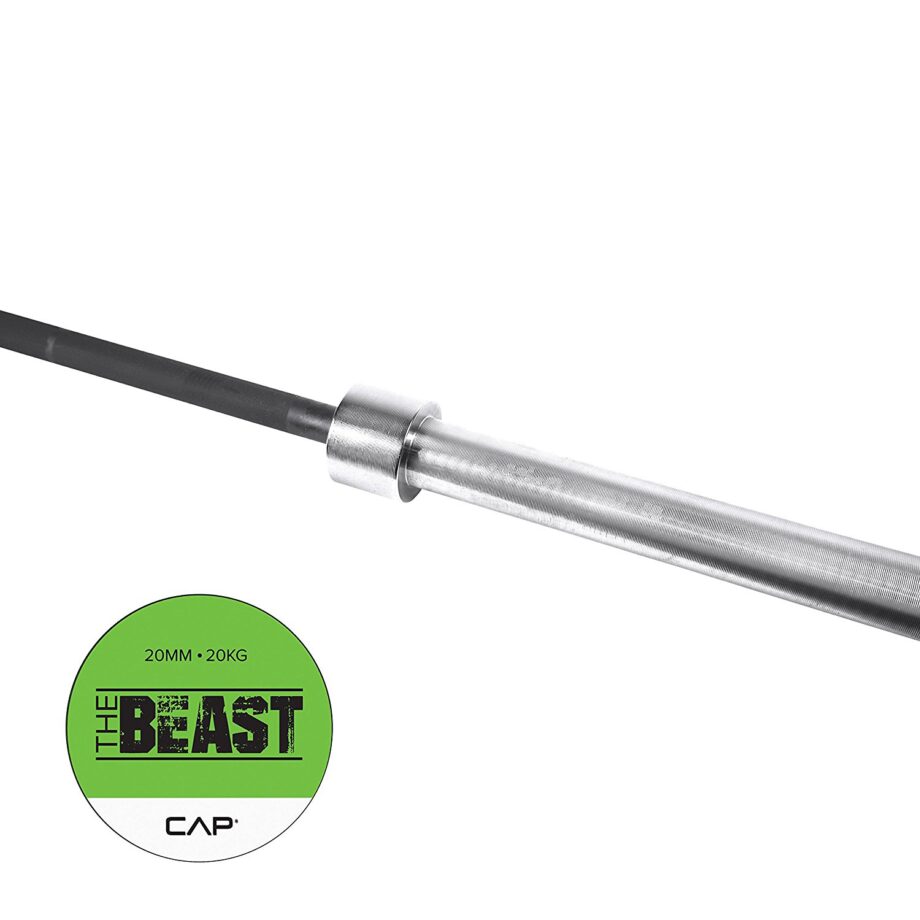 CAP OB-86B Barbell
CAP Barbell is pleased to offer a series of special custom coated colored weightlifting bars in anticipation of its 30th year in business. We have taken one of the best selling bars available and added unique/ proprietary coatings to create a one of a kind product available exclusively from CAP Barbell. As the world's largest provider of weightlifting products and accessories, CAP works diligently toward offering new quality products that can withstand any environment in which they are used. CAP's Customized Beast Bar utilizes the same specs as the standard Beast bar, but goes one step further by adding Accu-Coat specialty coatings. Make no mistake, this is not just a painted bar. Each of CAP's Customized Beast Bars is coated in the USA by Accu-Coat, Inc. utilizing their proprietary coating processes and specialty finishes. These coatings are high performance, exceptionally durable and rust resistant with proper use and care. They are easy to clean and manufactured to last for years. Feel confident in using these bars in your box, home gym or any institutional/professional setting.Accomodates 2-Inch Olympic plates1000-Pound weight capacityBlack oxide finish with polished steel sleevesMedium-depth diamond knurl
Squat Rack on Amazon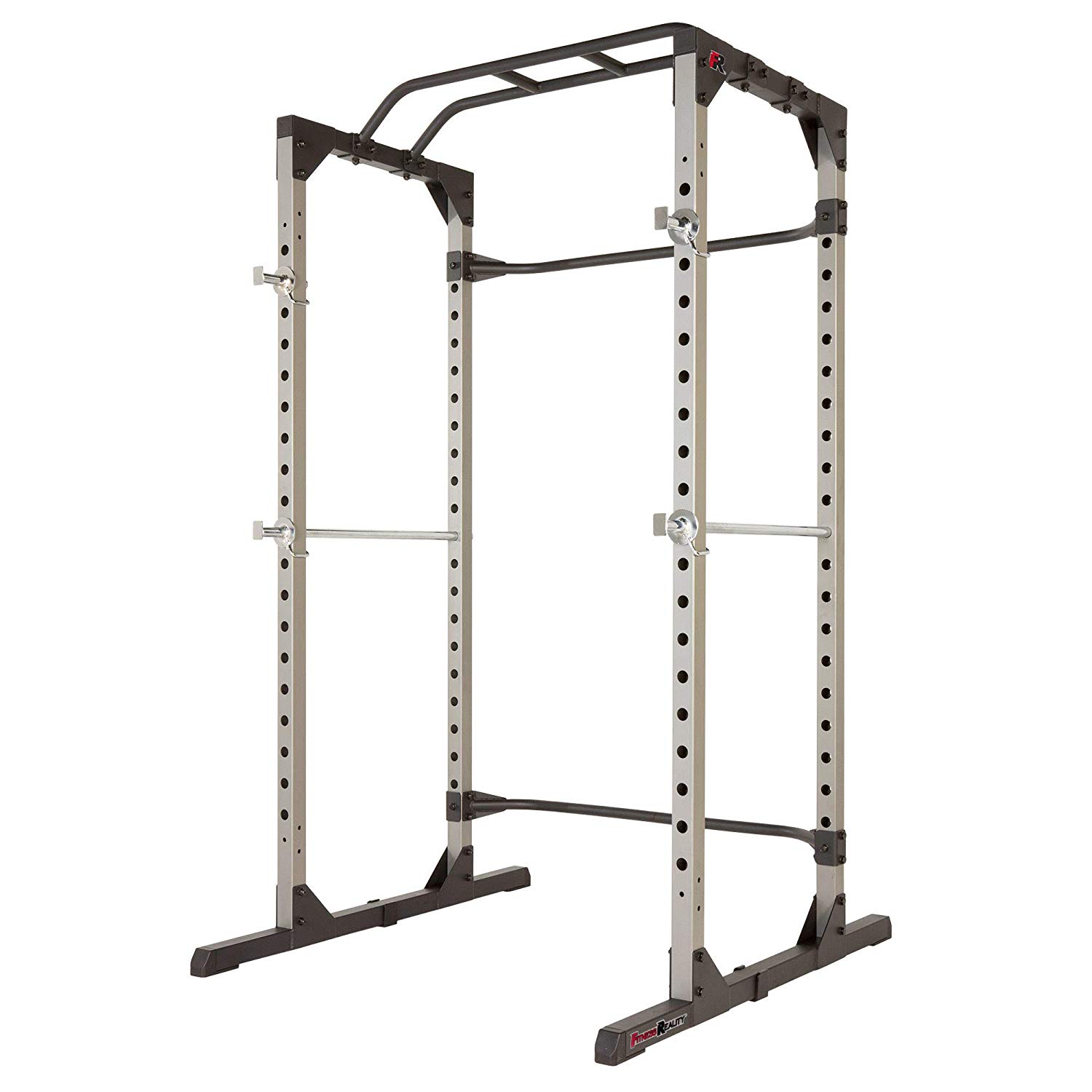 Fitness Reality 810XLT Super Max Power Cage
NOTE: 800 lbs weight capacity. Large walk in space providing easy side to side movement. New OPTIONAL Attachments for J-Hooks, Dip Bars, Weight Plate Holders and Landmine (Sold Separately) 2" x 2" square steel frame construction. Two 3 1/4" long chrome lock on safety bars. Two 23" long chrome dual mounted safety bars 19 adjustable height levels for the safety bars. Safety bars are Compatible with 7' Olympic bars, User height up to 6'4" Multi-position over head chin up/pull up grip bars. Olympic bar and weight plates not included Can be combined with the Fitness Reality 1000 Super max 800 lb capacity 12-position weight bench. Can be folded for storage New OPTIONAL Attachments for J-Hooks, Dip Bars, Weight Plate Holders and Landmine (Sold Separately)
Kettlebell on Amazon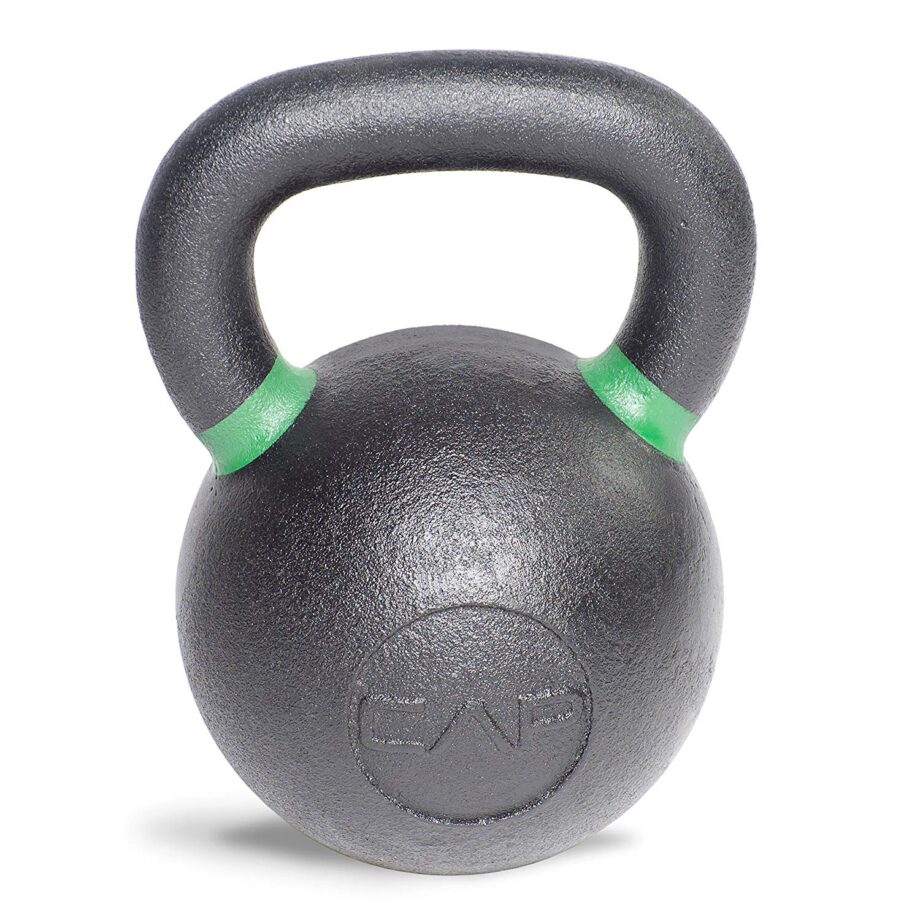 CAP Barbell Competition Cast Iron Kettlebell
A quality kettlebell is a must in any gym. Whether you are just starting out with kettlebells or using them to train for a competition, these Cast Iron Competition Kettlebells will get the job done! These kettlebells are engineered and built to be safe, durable and dependable. CAP uses only quality cast iron and enduring finishes with a proper proportioned grip that is comfortable and gives the safety and confidence while being used. The CAP Competition Kettlebells are available in many sizes and are color coded for easy identification. Whether you are just beginning to workout or are a fitness enthusiast, CAP has the size kettlebell you are looking for. This kettlebell group from CAP is available in the following lb: 9, 13, 18, 26, 35, 44, 53, 62, 70, 80, 88. VERSATILE – Kettlebells offer the ability to target specific muscle group exercises or a full body workout. Flat bottom allows ability to be used in specific flat bottom kettlebell exercises such as renegade rows, mounted pistol squats and handstands. CONSTRUCTION – Made of solid high-quality cast iron with no weld, no seam casting and coated in an industrial powder coated finish for enduring protection. FEATURES – Generous wide opening handle ensures a comfortable, secure grip with one hand or two. Size markers around the base of the handle allow the kettlebell size to be clearly identified. The flat bottom allows for easy, safe storage. FUNCTIONAL – Perfect for swings, deadlifts, squats, get-ups, snatches and other athletic or cross training workouts. CHOICES – This kettlebell group from CAP is available in the following lb: 9, 13, 18, 26, 35, 44, 53, 62, 70, 80, 88.
How to Find Memorial Day Sales on Fitness Equipment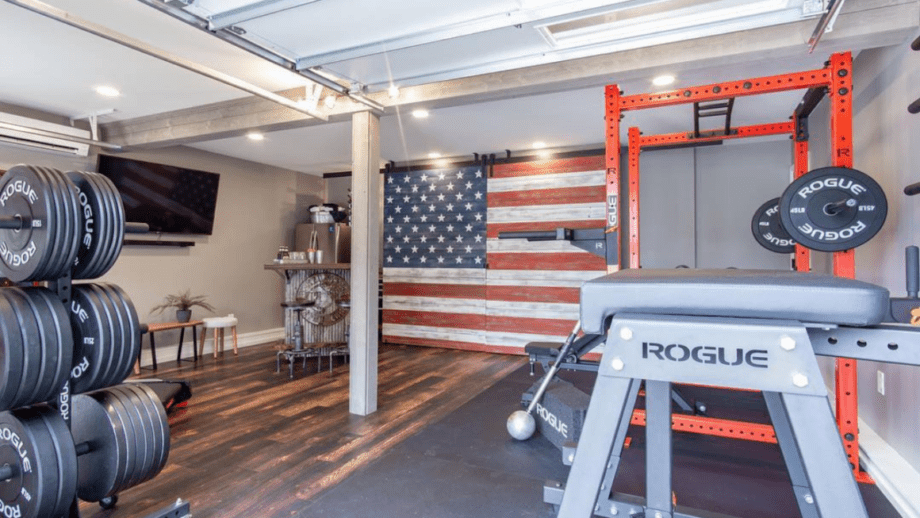 Exercise equipment can be expensive, but it's typically a great investment. Still, finding fitness gear on sale is a nice break for your wallet. Here are my tips for finding the best exercise equipment Memorial Day sales:
Make a Wish List
What exactly are you looking for with your home workout? I have a great list of thebest home gym equipment if you need help getting started working toward your fitness goals. Jot down the things you really want and be open to possibilities. For example, you might be looking for a pair of dumbbells, but purchasing adjustable dumbbells may be the smarter way to go in terms of the most bang for your buck.
Do Your Research
If you know you want a treadmill or a barbell, you can start researching what exactly you need. For example, you may not need a super high-powered (read: expensive) folding treadmill if you'll just be using it for walking indoors. When it comes to barbells, FringeSport has its Wonder Bar on sale, which comes in 20kg and 15kg options as well as bushing or bearing. Be prepared to know exactly what you need out of your equipment, whether it's the size of a flywheel on a bike, or whether or not the heart rate monitor comes with that elliptical.
Look for Sales
Many retailers have already launched spring and holiday sales. This page will be updated as more fitness equipment Memorial Day sales pop up! Keep it bookmarked and check back often.
RELATED: Best 4th of July fitness equipment sales
Trust the Experts
Still a little lost? I have a number of guides on how to pick the best equipment for a home gym. Check out my lists for the following:
Best budget home gym equipment
Pay Attention to Details
Sometimes, brands mark discounted gear as "final sale." Be aware of all fine print you come across when looking for deals. That includes:
Warranty: Big-ticket items should have a longer warranty period so you feel more at ease when dropping a significant amount of dough. Cardio equipment, for example, should have at least a five-year warranty on frame and about a year or so on parts.
Return Policy: Many products come with a 30-day trial period. However, if you return it, many brands hold you responsible for shipping costs and potential restocking fees.
Financing:Even with a sales price, a lot of home gym equipment can still cost you thousands of dollars. Many companies offer financing options.
Memorial Day Fitness Sales FAQ
Is Memorial Day weekend a good time to buy fitness equipment?
It sure is! Many brands offer sales on fitness machines at this time of year. Even if the brand you like doesn't necessarily have a sale just for Memorial Day weekend, like Rogue, it still might have a "deals" page where you can find the equipment you want at a more affordable price.
When is the best time to buy fitness equipment?
There are several times a year when fitness companies offer discounted exercise machines and equipment: January for the New Year, Memorial Day as summer approaches, and Black Friday, the biggest shopping day of the year.
What fitness equipment is on sale for Memorial Day deals?
Brands across the industry discount fitness equipment over the holiday weekend. You can find treadmills, barbells, dumbbells, recovery gear, upright exercise bikes, apparel, and more on sale.