We test and review fitness products based on an independent, multi-point methodology. If you use our links to purchase something, we may earn a commission. Read our disclosures.
For a great cardio workout that's easy on the joints, the elliptical machine tops the list. Running on pavement or even the best treadmill can be painful for many people because of the force it creates on the knees and hips. Using an elliptical trainer forces the body into more of a gliding pattern as opposed to picking up the feet and putting them down on a hard surface.
Our Garage Gym Reviews team has tested more than 24 elliptical machines on the market to create a list of the best elliptical for your home gym. As certified personal trainers, endurance athletes, and fitness enthusiasts ourselves, we evaluate and rate these products based on our in-depth equipment testing methodology that includes factors such as:
Workout performance: How does the machine feel while in use?
Programming: Is there a variety of workouts to choose from?
Value: Does the machine's quality match the price?
Durability: Is this an elliptical you can count on for years to come?
After using each machine for a number of workouts, we landed on the top ellipticals below.
The 11 Best Elliptical Machines
Best Elliptical Machine Overall: NordicTrack AirGlide 14i
Good for: Those looking for personalized workout options on a commercial-grade machine
The AirGlide is the new kid on the block; sort of. In summer of 2023, NordicTrack released an upgrade to our previous best overall the Commercial 14.9 elliptical, which our team has used and reviewed at length. We got to test the AirGlide for several workouts, and are pleased to note that it is even better than the 14.9 in terms of features and price. First, it's priced around $1,799 (the Commercial 14.9 was priced at $2K when it was released).
Also, we are thrilled to see that this elliptical has decline capabilities. That's rare on ellipticals, but the AirGlide has a range of -5% decline to 15% incline. We rated this machine a perfect 5 out of 5 in five of 14 rated categories: durability, customizations, ergonomics, programming, and tech capabilities.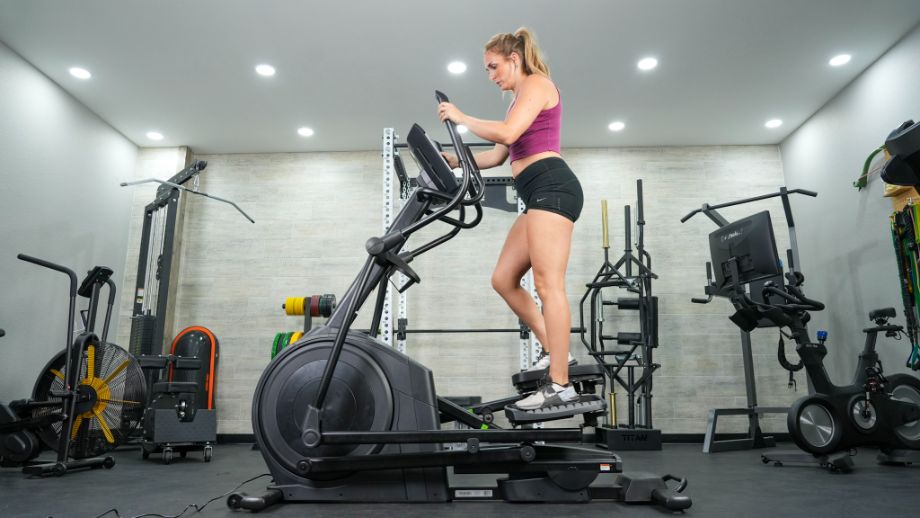 Lindsay Scheele, lead reviewer for our YouTube Channel GGR Everything, did a 25-minute "Climbing Pyramids" class using iFIT on the AirGlide 14i. She says, "This is such a solid machine, there was no shaking to it and felt super smooth throughout the workout."
However, Lindsay does note that even at a 0 setting, the AirGlide feels like it's set to a higher resistance than other ellipticals she has tested.
The iFIT programming is one of the main selling points of this elliptical. iFIT is interactive, and it plays out on a 14-inch, full-color HD touchscreen (just like it did on the Commercial 14.9). You can pick on-demand, HIIT, or live classes, or go exploring all over the world with runs through countrysides, mountains, and beaches. What I really like is the personal training aspect of iFIT, which can cater workouts to help you meet your specific fitness goals. The more we use the program (which we have used on the best NordicTrack treadmills as well), the more the program learns our fitness levels and adjusts incline and resistance accordingly.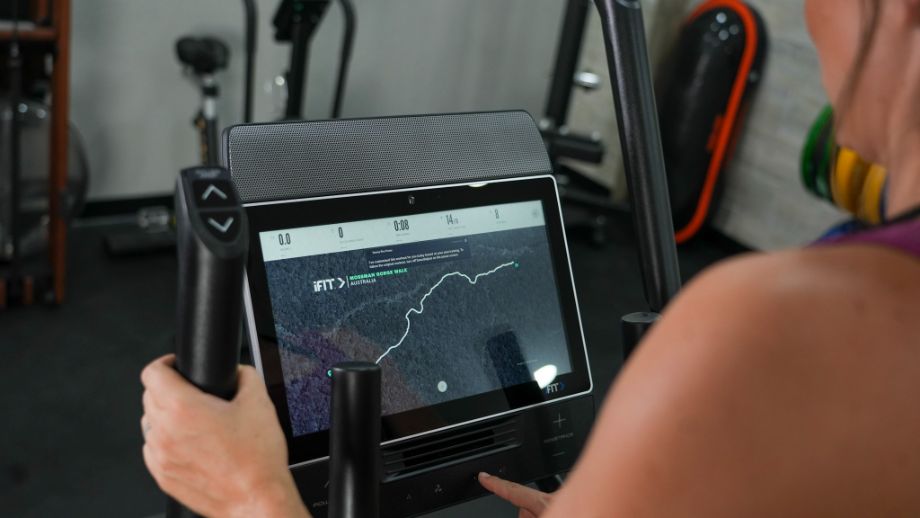 When you buy this machine, you get an iFIT family membership free for 30 days. This means you and up to four other people can access your own profiles on the machine. After a year, if you want to keep iFIT, you'll have to fork over about $39/month to keep that family member. Without the iFIT subscription, you can still access a few free workouts, but honestly, I would just point you to a more affordable machine at that point.
NordicTrack pretty much throws everything at you with this one: Bluetooth speakers, cooling fan, heart rate monitoring, and cushioned foot pedals. There are also fixed and moving handles; though Lindsay points out that due to where the grips are on the moving handles, there is essentially only one place to put your hands, and she would have liked more options.
RELATED: Best Elliptical Workout
One unique aspect of the 14i that you don't find on many of the best ellipticals is the adjustable stride length. You can set the stride to either 17.8 or 18.5 inches. This is another key difference between this and the previous iteration, the Commercial 14.9, which allowed a stride length of up to 20 inches, which is more ideal for people over 6 feet tall. Another "downgrade" we found between the two machines is that the AirGlide's weight capacity is just 300 pounds, compared to the Commercial 14.9's 350 pounds.
We assembled the Commercial 14.9, and it took a few hours. With the AirGlide, we chose white glove assembly, but it was a bit of a disaster due to missing parts. If you put this together by yourself, keep in mind that you have to do the wiring and lift some fairly heavy pieces. Also, the AirGlide weighs more than 240 pounds and isn't easy to move, so assemble it where you plan to keep it.
For more on this great machine, check out our full NordicTrack AirGlide 14i review.
| | |
| --- | --- |
| Dimensions | 69″ L x 25″ W x 71″ H |
| Weight | 244 lbs in box |
| Weight Capacity | 300 lbs |
| Warranty | 10-Year Frame Warranty, 2-Year Parts Warranty,1-Year Labor Warranty |
| Resistance Levels | Auto-adjusting silent magnetic resistance |
| Monitor | 14" Smart HD Touchscreen |
| Incline | 0% Decline to 20% Incline |
| Stats Tracked | Calories burned, time, heart rate, distance, pace, speed, resistance, incline |
Best Elliptical Machine Runner-Up: Sole E25
Good for: People who want a durable elliptical
For around $1,200, the Sole E25 is a serious force to be reckoned with. Both myself and Lindsay Scheele, expert GGR product tester, used this machine and agree that it's selling point is its affordable price and the fact that it's packed with high-end features. The elliptical is constructed using durable steel and comes with cooling fans, Bluetooth speakers, 10 preset workouts and oversized foot pedals.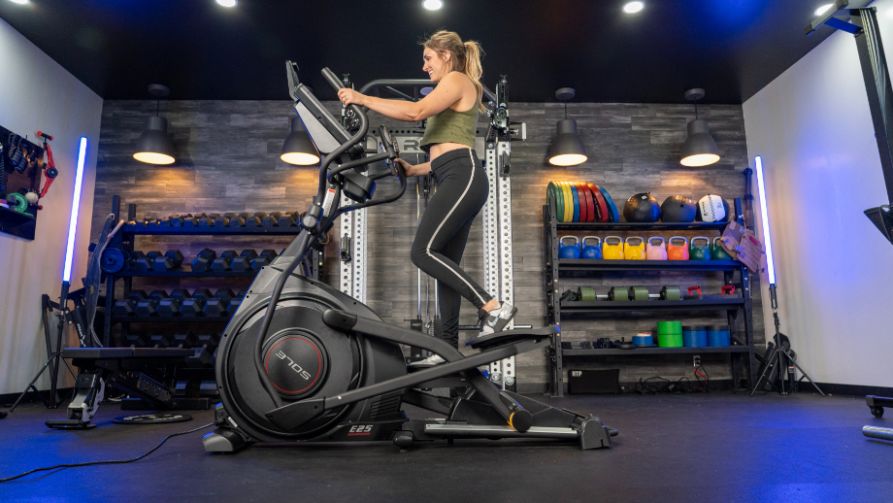 Not only do you get a lifetime frame warranty, but you also get three-year parts, and one-year labor warranty. Sole Fitness also offers an unbeatable return policy and money-back guarantee. If you're not satisfied with your machine within 30 days of purchase, you can return it for a full refund. They'll even pay for the return postage, which is virtually unheard of.
RELATED: Sole F65 Treadmill Review
The actual workout experience on the E25 is very pleasant for the price. There is slight shaking when in use, probably due to the lack of floor stabilizers, which means it got a 4.5 instead of a 5 out of 5 for durability. It definitely wasn't a dealbreaker for me, but it is worth noting.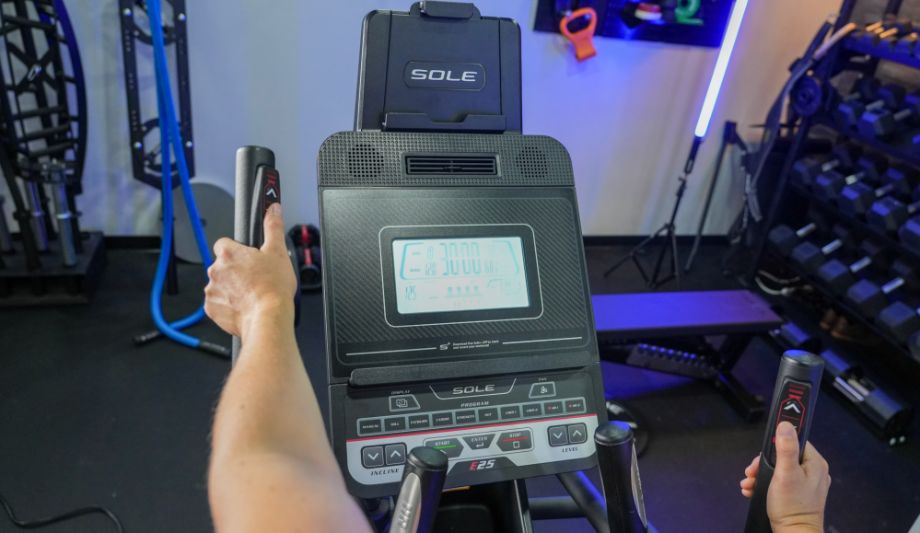 This is a simple monitor; since you're not paying top-dollar, you can't expect a fancy touchscreen. And if that's okay with you, you'll still get a variety of information shown on the LCD screen like time elapsed, calories burned, and pace. I usually prefer more advanced technology, but something about the simplicity and easy-to-use functionality of the E25 stood out to me.
My big callout with the E25 is the difficult assembly. When we first ordered this machine, white glove assembly wasn't an option. Now, two years later, you can pay a whopping $350 for assembly in the room of your choice. If you have the money, I say spend it: the poorly written instructions and difficult-to-follow pictures let to a 2+ hour assembly for me (and I've assembled many commercial-grade treadmills, bikes, and ellipticals much quicker than that).
For more, check out my full Sole E25 review.
| | |
| --- | --- |
| Dimensions | 71" H x 70" L x 24" W |
| Weight | 209 lbs. |
| Weight Capacity | 350 lbs. |
| Warranty | Lifetime: Frame and brakes. Components: 2 years. Labor: 1 year. |
| Resistance Levels | 20 levels |
| Monitor | 6.5″ LCD white back-lit |
| Incline | 1-20 |
| Stats Tracked | Calories burned, pulse, speed, and incline |
Best Elliptical for Comfort: Bowflex Max Trainer M6
Good for: Someone looking for a quality machine with guided programming
Ellipticals are inherently a low-impact cardio option, but the Bowflex Max Trainer M6 makes it even more low-impact with the addition of large, cushioned pedals, padded grips, and an adjustable media rack. So yeah, you'll be sweating, but at least you'll feel good doing it.
I had this machine in my small apartment for a full year, hopping on it about once a week for a sweat-inducing workout. Even my kids enjoyed it from time to time! We all agreed this gets a 5 out of 5 for a butt-kicking workout.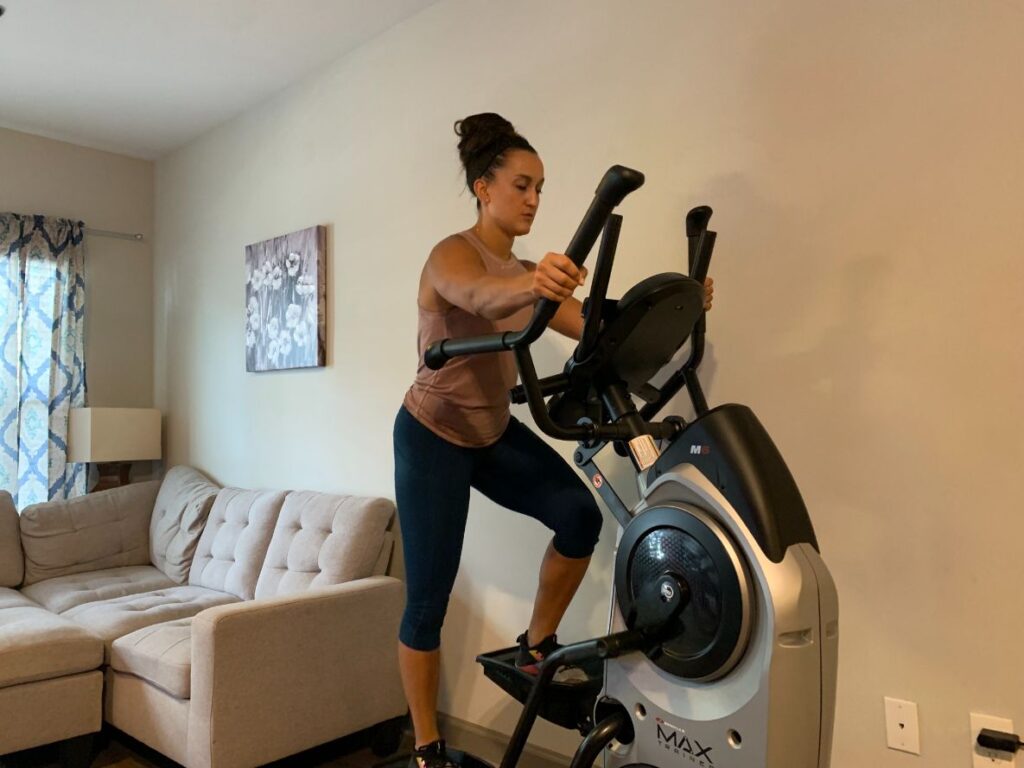 Over the years, Bowflex has put out a number of Max Trainer ellipticals, each one building on the last. Today, they have the M6, the M9 and the Max Total. The biggest difference, other than a jump in price, is that the M9 and the Total have a large, 10-inch color touchscreen, and a few additional resistance levels.
If you're looking for a full gliding machine, this isn't it. The entire Max Trainer line is more of a stair stepper with just a small stride. It will still make your quads burn and leave you breathless, make no mistake about that. But it won't simulate running the way some ellipticals do.
I recommend the M6 because I like the price point at under $1,500, and you still get nearly all the benefits as the more expensive machines. You have to use your own tablet or phone to sync your workout with the JRNY app, which gives you endless options for workouts. JRNY actually customizes your workouts based on your performance, so the fitter you get, the more advanced the workouts become.
The M6 has many of the conveniences you want: water bottle holder, Bluetooth capability for a heart rate monitor, and even a USB charging port so if you use your own smart device, you don't have to worry about it dying. From a footprint perspective, the M6 is only 46 inches long, which is nearly half the size of many other ellipticals. I had no problem moving it around my small space, thanks to the front transport wheels.
I'm disappointed that the warranty on this machine is just two years. Most machines have at least a five to 10-year warranty.
Check out the full Bowflex M6 review.
| | |
| --- | --- |
| Dimensions | 46"L x 26"W x 64.2"H |
| Weight | 148 lbs. |
| Weight Capacity | 300 lbs. |
| Warranty | Two years |
| Resistance Levels | 16 |
| Monitor | Backlit LCD screen |
| Incline | N/A |
| Stats Tracked | Distance, heart rate, calories burned, and time |
Best Elliptical for Knee Pain: ProForm Hybrid Trainer
Good for: People who want a 2-in-one machine that is easy on the joints
The Proform Hybrid Trainer combines a recumbent exercise bike with an elliptical, which means your legs are in front of you. This puts less stress on your knees, reducing the impact they receive during a workout.
Both Coop Mitchell, founder of GGR, and I used this machine for a few workouts, both on the elliptical and on the recumbent bike. It got a near-perfect score of 4.8 out of 5 for ergonomics because of its large, cushioned pedals, comfortable seat, and adjustable screen the flips up or down depending on if you're on the elliptical or on the bike.
Recumbent bikes are great for people who need an ergonomic seat and the ability to get their legs moving. They won't give you much of a cardio workout. But, on this hybrid trainer, that's what the elliptical is for.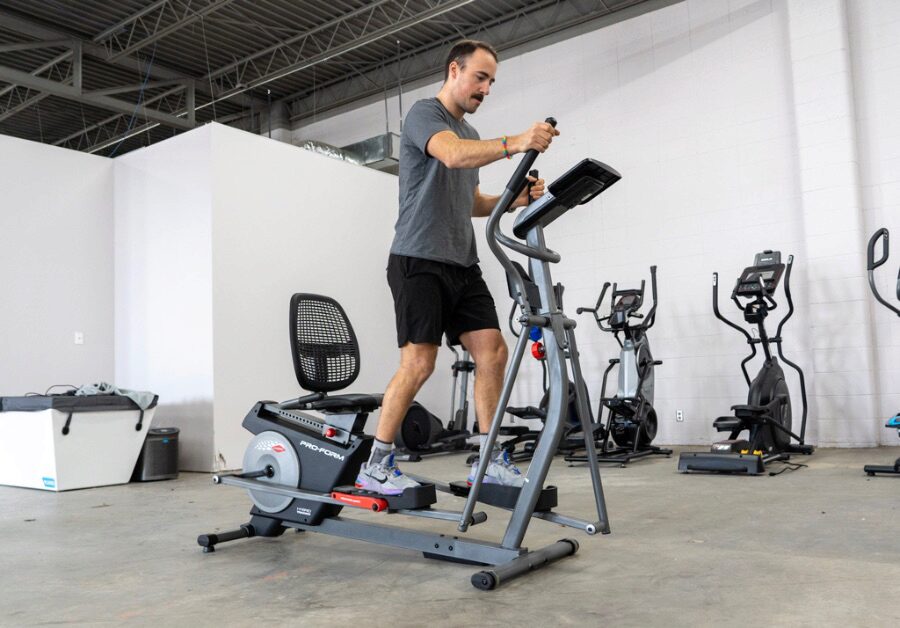 The console on this machine is a very basic LCD display. And there is no media shelf where you can put a phone or a tablet to watch a show, no cooling fans, no Bluetooth speakers. However, the LCD display does rotate down for easy access when you're biking, and up for when you're using the elliptical.
Also, there are 14 preset workouts – 7 elliptical, 7 bike – you can access. You get a 30-day free trial of iFIT with your purchase of the Hybrid Trainer. I was able to connect my iPhone to the machine to launch iFIT, and the app automatically adjusted resistance settings during the workout.
This is still a very basic machine. The assembly gave me no issues, as ProForm has clear instructions. All in, it only took me an hour to put together this machine. Although the footprint itself is big (70.5 inches long and 24.5 inches wide), the Hybrid Trainer features transport wheels on the front that made it very easy to move.
Read the full ProForm Hybrid Trainer review.
| | |
| --- | --- |
| Dimensions | 60.5″ H x 24.5″ W x 70.5″ D |
| Weight | 117 lbs. |
| Weight Capacity | 250 lbs. |
| Warranty | 5-year frame, 90-days parts, and labor |
| Resistance Levels | 16 |
| Monitor | Backlit LCD screen |
| Incline | N/A |
| Stats Tracked | Mileage, speed, calories burned, heart rate, and duration |
Best Elliptical for Small Spaces: NordicTrack FS10i
Good for: People living in small spaces who want a compact elliptical
Ellipticals take up a lot of space. They mimic running, so the stride length of the pedals alone will take up a few feet. This could limit people who live in small spaces to getting compact stair steppers. However, with the NordicTrack FS10i, you get the perks of a large-sized machine in a much more compact space.
This is a center-drive elliptical, which means that the resistance mechanism is in the middle of the machine, as opposed to having the flywheel in the front or back. That means that the overall footprint of the FS10i is smaller than a traditional elliptical.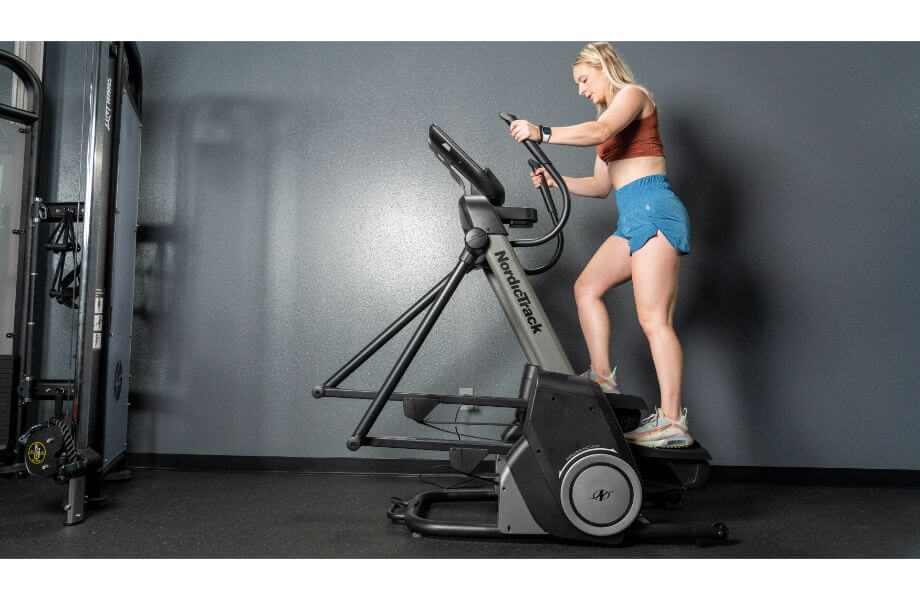 It also means, however, that the movement pattern is a little different from the traditional elliptical movement. In fact, it's more of a 3-in-1 machine: a stair stepper, and elliptical, and a treadmill.
"I got on the machine and started using it like a traditional elliptical, which was no problem," our product tester reports. "I then tried to do a stepping motion, which was harder than I thought it would be. It almost felt like the oversized pedals didn't want to transition with me."
In terms of customizations, the FS10i scores a 5 out of 5 with us, as it has up to a 10% incline as well as 24 levels of digital resistance. It is equipped with a 10-inch touchscreen that streams iFIT, should you choose to subscribe to that programming (which we love, as evidenced in our iFIT review).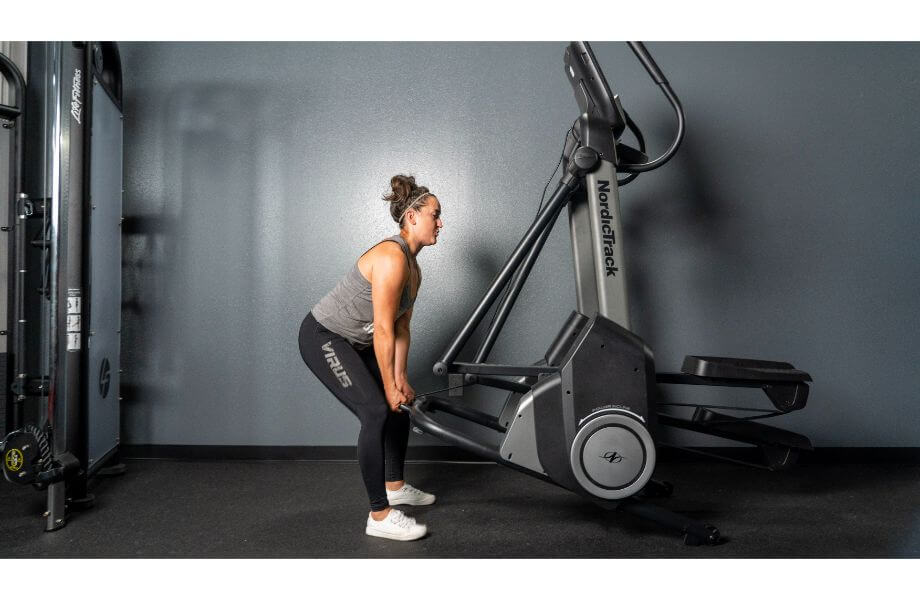 RELATED: Best Compact Exercise Equipment
We ordered the FS10i with white glove assembly to see how NordicTrack handles putting a machine together for the customer. Halfway through, the build was haulted due to missing parts. The builders had no information on how to get the parts, so we reached out to NordicTrack to send them. The downside for the buyer when this happens is the white glove serves does not come back out, so we had to finish the build ourselves.
In terms of portability, you definitely can move this machine, but it's heavy at 284 pounds. I personally lifted it to move it, and even with the wheels on it, it was a difficult job.
For more, check out our NordicTrack FS10i review.
| | |
| --- | --- |
| Dimensions | 58.5″ L x 29.5″ W x 74″ H |
| Weight | 284 lbs |
| Weight Capacity | 375 lbs. |
| Warranty | 10-year frame, 2-year parts, 1-year labor |
| Resistance Levels | 24 digital resistance levels |
| Monitor | 10-inch HD touchscreen |
| Incline | 0-10% |
| Stats Tracked | Distance, heart rate, calories burned, incline and time |
Best Elliptical for Beginners: ProForm Carbon EL
Good for: People new to fitness looking for guided workouts
One of the hardest things about starting an exercise program is knowing where to start. If you're new to the scene, then buying fitness equipment with built-in exercises is a must. The ProForm Carbon EL includes a free 30-day trial of iFIT programming, which is interactive, trainer-led workouts for all fitness levels. As you get more fit, the program makes adjustments to your workouts to help you progress.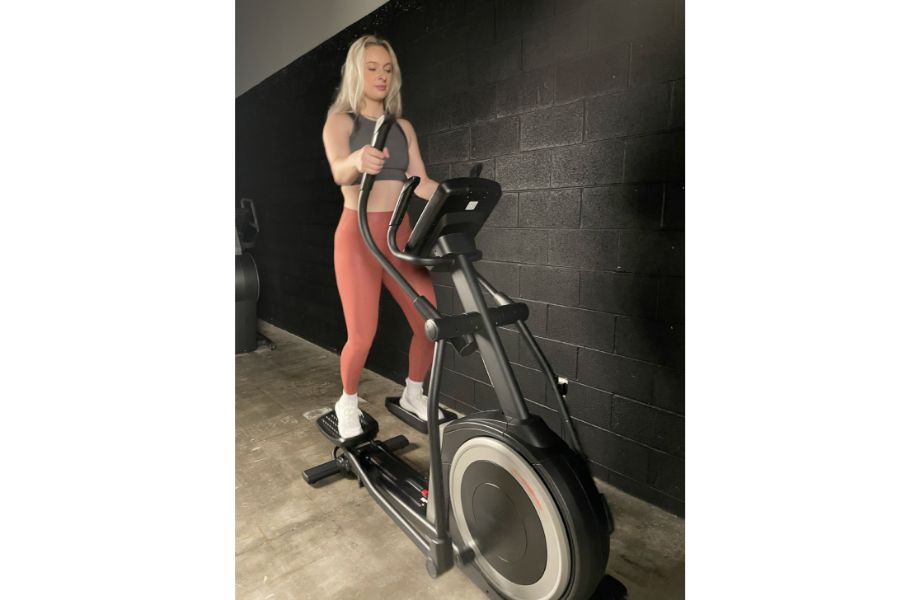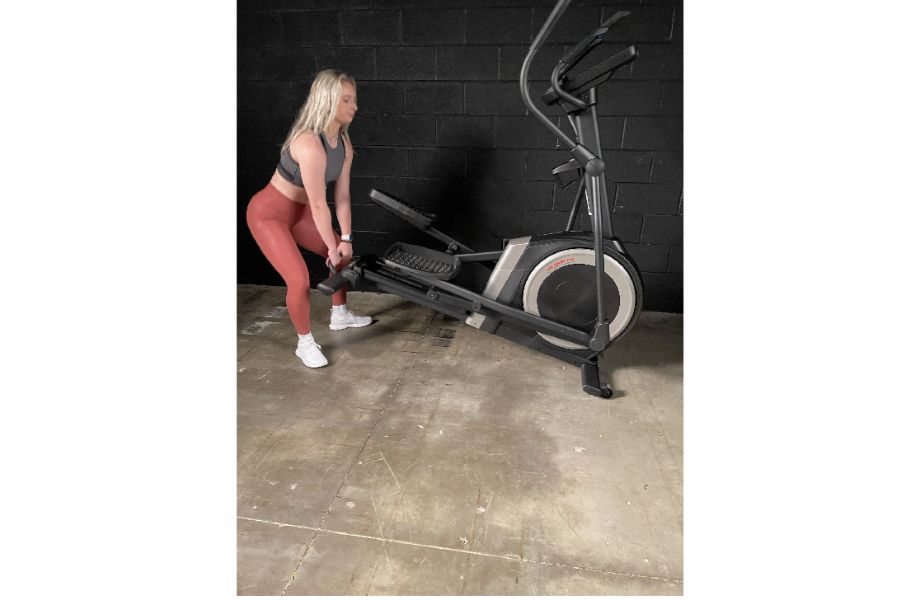 Another reason this is a great machine for beginners is because it's affordable. It is priced at under $800, which may be a little more palatable for beginners compared to high-end ellipticals. If you're just starting out, you may not be prepared to make a sizable investment.
One feature we love about the EL is that it is an extremely quiet machine. Our testers used it for several workouts, and found that the silent magnetic resistance translated to a very quiet workout. We also rated it high — a 4 out of 5 — for customizations and ergonomics because it has an adjustable stride length to accommodate most users as well as 18 levels of resistance. You'll also find a 20-degree adjustable ramp, adding incline to your workouts.
At 202 pounds, this is a heavy machine. We were able to move it around our space, but we still recommend assembling this wherever you're going to use it so you don't have to move it up or down stairs. Speaking of assembly, if you choose to do it on your own, grab a friend: There are a lot of pieces and a lot of steps, and having someone else there to help with the heavy lifting will come in handy.
Read more in our ProForm Carbon EL review.
| | |
| --- | --- |
| Dimensions | 68.5" L x 25" W x 76.75" H |
| Weight | 202 lbs. |
| Weight Capacity | 275 lbs. |
| Warranty | 10-year frame; 1-year parts; 1-year labor |
| Resistance Levels | 18 levels of magnetic resistance |
| Monitor | 5" High-Contrast Multi-Color Display |
| Incline | None |
| Stats Tracked | Distance, heart rate, calories burned, and time |
Best Budget Elliptical: Horizon Fitness EX-59
Good for: Someone looking to get the most out of an elliptical at a reasonable price
Horizon Fitness does a great job of giving you a lot of features at an affordable price. I see this, especially in their treadmills and their ellipticals. We used to have the brand's 7.0 AE in this spot, but it was discontinued in the summer of 2023. Fortunately, we have also used and tested the EX-59, and at around $600, this was a shoe-in for our favorite budget elliptical.
Lindsay Scheele, lead reviewer for GGR Everything, used the EX-59 and rated it a 4 out of 5 for overall value because she says it's at a good price for what it offers.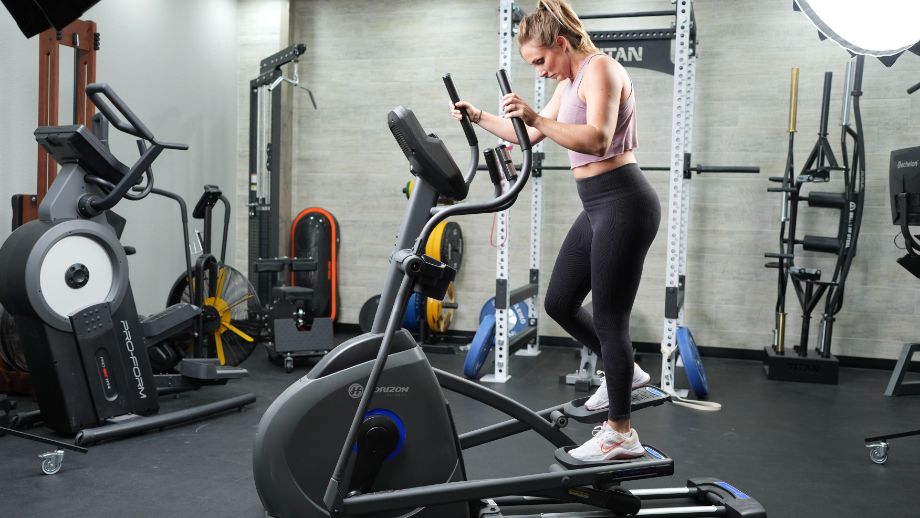 So, what does it offer?
Lindsay rated this machine a 4 or higher in several categories, including conveniences. The EX-59 comes with three water bottle holders, a large shelf to place your smart device, a USB charging port, built-in speakers, and an audio jack for headphones. She also gave this machine a 4 out of 5 for ergonomics, because you'll find fixed and moving handlebars as well as large foot pedals.
When it comes to her actual workout, Lindsay gives the EX-59 a 3 out of 5. "It is a very basic machine with basic programming," she says. It's true: You won't find interactive workouts streaming from a fancy touchscreen on this machine. Instead, there are four programs: calories, weight loss, distance, intervals.
If you're shopping for a budget elliptical, you can expect some budget aspects. On this machine, it's the display. This is a very basic console, but it gives you everything you need in terms of tracking your metrics.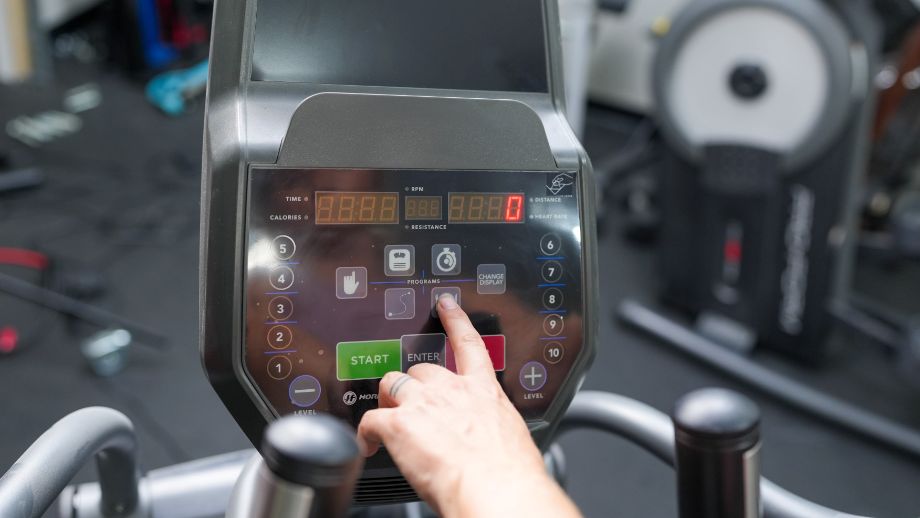 Lindsay says that this machine is easy to move around. It weighs 145 pounds, considerably less than higher-end ellipticals. "One person can easily move it," she says.
Horizon claims it takes 30 minutes or less to assemble the EX-59. For more, read our in-depth Horizon EX-59 elliptical review.
| | |
| --- | --- |
| Dimensions | 74″ L x 25″ W x 64.5″ H |
| Weight | 145 lbs. in box |
| Weight Capacity | 300 lbs. |
| Warranty | Lifetime frame and brake warranty, 3 years on parts, 1 year on labor and flywheel |
| Resistance Levels | 10 levels of magnetic resistance |
| Monitor | Backlit LCD console |
| Incline | N/A |
| Stats Tracked | Distance, heart rate, calories burned, and time |
Best Adjustable Elliptical Machine: Diamondback Fitness 1280ef Adjustable Stride Elliptical Trainer
Good for: Those who want an adjustable elliptical that has streaming capabilities
The Diamondback Fitness 1280ef Adjustable Stride Elliptical Trainer is a go-to choice for anyone in a mixed-height household due to the adjustable stride length, which starts at 17 inches for shorter people and goes up to 22 inches for taller folks.
Our 6 feet, 3-inch tall expert product tester Anthony O'Reilly can use this with the same amount of comfort and ease as those more than a foot shorter than him—which can't be said for many cardio machines, especially ellipticals. That's why this earned a near-perfect score on our adjustability and ergnomics rating.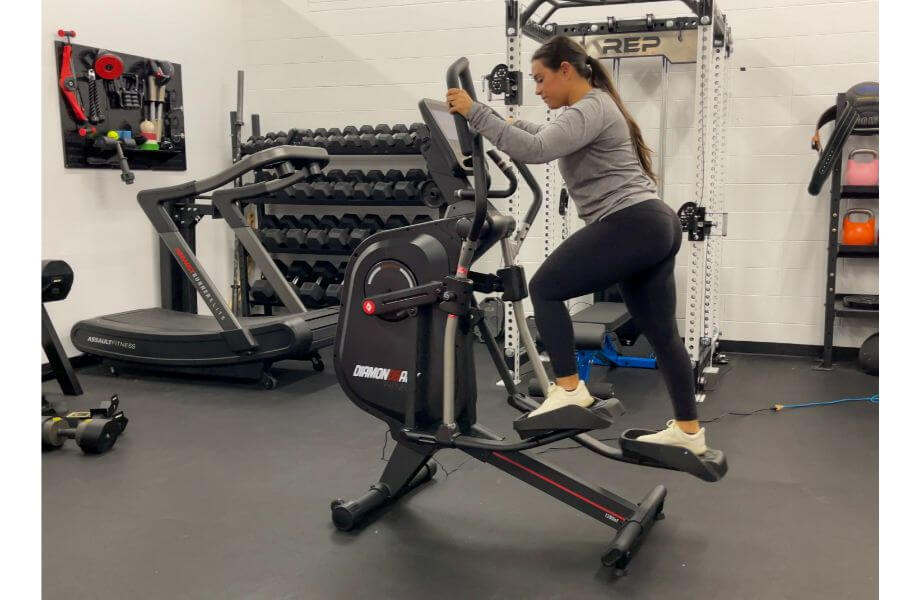 Another favorite feature is its wide streaming capabilities, with Netflix and Spotify being included in the 10-inch touchscreen display. Diamondback products typically connect to various fitness apps, but the only ones I found on this machine were Kinomap and iRoute, two interactive workout apps that allow you to view trails during your cardio session. The good news is whatever app you're using on this machine won't be disrupted because the elliptical has whisper-quiet magnetic resistance.
Customer reviewers, however, say the top feature is the elliptical's compact footprint. At only 36 inches in width and 50 inches in length, you'll have an easier time fitting the Diamondback Fitness 1280ef Adjustable Stride Elliptical Trainer in your home gym than most other machines. Despite its small nature, it's still quite sturdy when in use and has an impressive 350-pound weight capacity.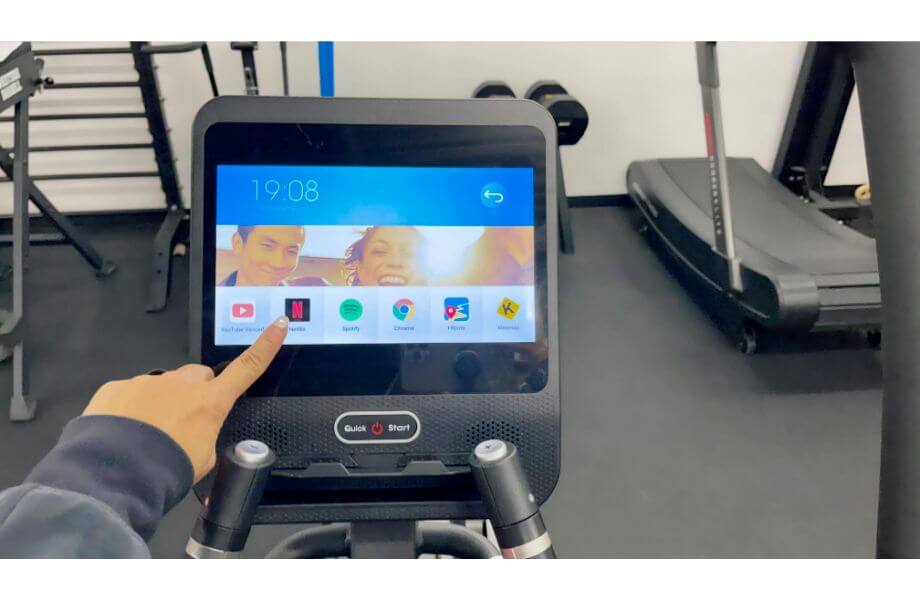 The dual handlebars are covered in a comfortable foam and can be adjusted to your height preference.
While Diamondback offers professional assembly services customers have said the machine is quite easy to assemble and should take no longer than an hour.
This Diamondback Elliptical 1280ef review has our full thoughts.
| | |
| --- | --- |
| Dimensions | 50″ L x 36″ W x 66″ H |
| Weight | 187 lbs. |
| Weight Capacity | 350 lbs. |
| Warranty | 5-year frame and brakes, 3-year parts and electronic components, 1-year labor warranty |
| Resistance Levels | 16 levels of magnetic resistance |
| Monitor | 10" touchscreen display |
| Incline | N/A |
| Stats Tracked | Calories burned, pulse, speed |
Best Under-Desk Elliptical: Cubii Move
Good for: People who want to pedal while they work
Before you go any further, let me warn you: The Cubii Move isn't your traditional elliptical. It's more of a small pedaler you can keep under your desk, allowing you to move throughout the day.
We have used and reviewed the Cubii JR, which is no longer in production and has been replaced by a line that includes the Move, the the Go, and the Total Body+. We chose the Move for the best under-desk elliptical because it's the most affordable on the list, and it offers much of what the rest of the line does (though the Total Body+ has handles if you want a full-body workout, but most of us need our hands to type, which is why we don't necessarily think that's the best for under-desk movement).
RELATED: Cubii JR Review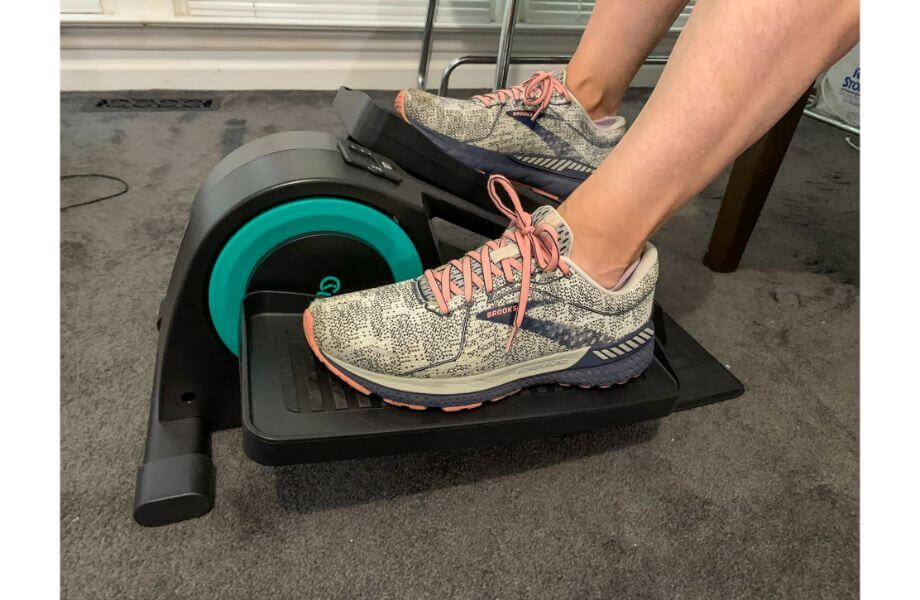 In our experience with the Cubii JR, which is almost identical to the Move, is great for just about anyone. Our product tester, Caroline Lubinsky, says she likes to use it throughout her workday. "My grandfather routinely uses his Cubii while sitting in his easy chair and can use it without fear of falling," she says.
It features eight levels of resistance, which you control by turning a knob. The display is very simple, tracking your workout time, stride count, mileage, and calories burned.
We rated the Cubii JR highest for assembly (as there is basically none) and gave it a perfect 5 out of 5 for portability, because it weighs less than 20 pounds.
You can download the Cubii app to track your progress over time, though you have to manually enter your workout information because there is no Bluetooth connectivity on this machine.
| | |
| --- | --- |
| Dimensions | 21.7 in L x 19.7 in W x 9.7 in H |
| Weight | 17.6 lbs. |
| Weight Capacity | 250 lbs |
| Warranty | 1-year limited warranty |
| Resistance Levels | 8 levels |
| Monitor | LCD |
| Incline | N/A |
| Stats Tracked | Workout time, stride count, mileage, and calories burned. |
Best Elliptical Under $1,000: NiceDay Elliptical Machine
Good for: People who want a lot of conveniences for less than $1,000
Since this machine costs under $600, I wasn't expecting much from it but I was quickly surprised by how good it felt during my testing period. I did a 15-minute interval workout, rotating through all the resistance settings, pedaling forward, and pedaling backward.
My verdict: This is a machine that is largely just okay, but it's excellent if you want a basic and very quiet elliptical.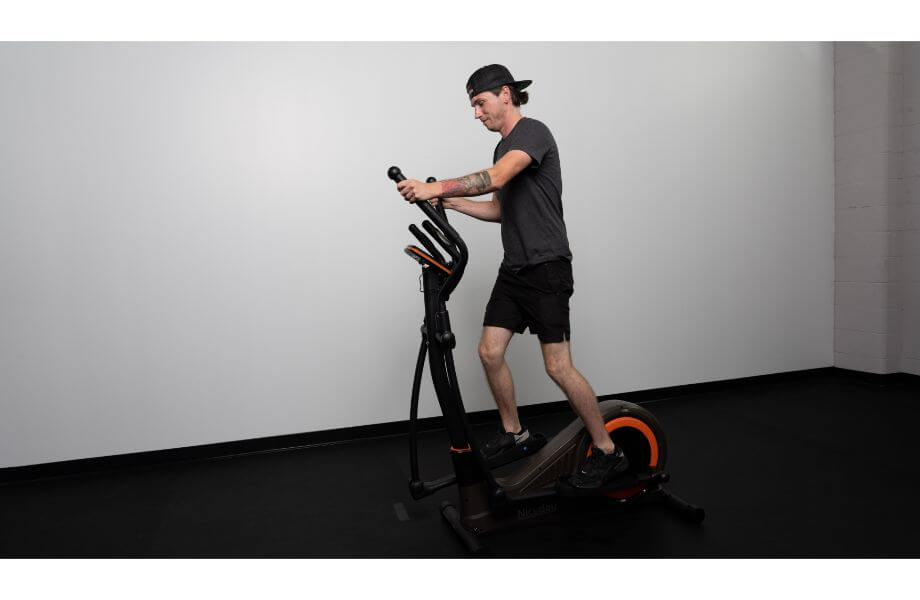 For one, it's made with steel instead of plastic (which is what you see on most budget cardio equipment), which not only makes it more stable than other budget ellipticals but more durable as well. It also has a fantastic weight capacity at 400 pounds. However, I only gave it a 3.5 out of 5 for durability because there is quite a bit of shifting side to side while you exercise.
It also comes with magnetic resistance instead of friction resistance, which, again, you'll often see on budget equipment in an attempt to cut down costs. The steel construction and magnetic resistance mean you'll be able to keep this machine in your home gym much longer, giving you much more bang for your buck.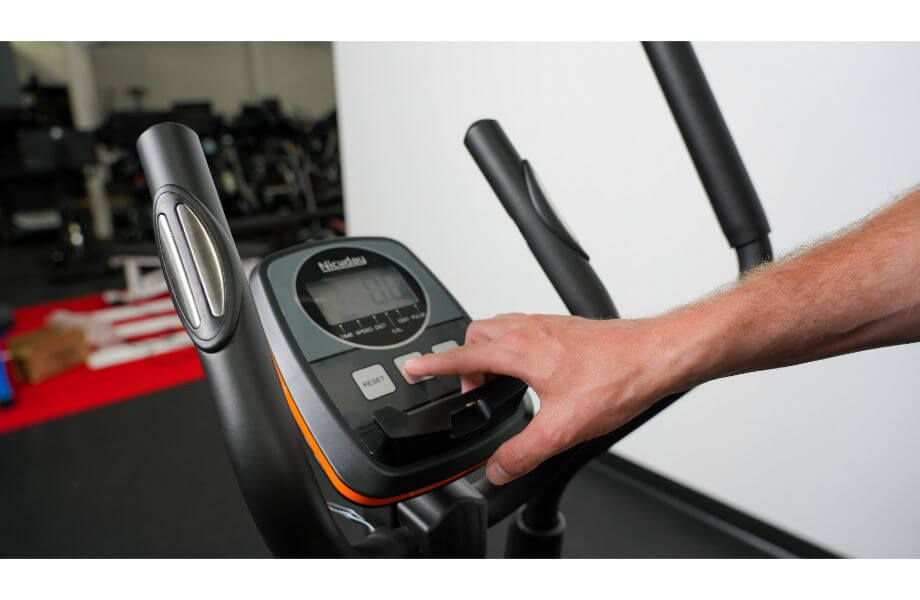 But is it worth buying in the first place? Honestly, if you just need an elliptical and aren't looking for anything fancy then we'd say yes. Yeah, you'll only get a basic LCD display, won't have any water bottle holder, and the flywheel is only 16 pounds, but there's also a lot to like about this machine.
This machine doesn't require any electricity and has 16 resistance levels. There are ellipticals that cost twice as much as this one that don't have half of those features. In other words, it's not one of the best ellipticals but as I like to say it will get the job done (and then some).
I should note that it is a little shaky during use, but nothing that's going to make you feel unsafe.
Check out the full NiceDay Elliptical Machine review for more information.
| | |
| --- | --- |
| Dimensions | 62″ L x 24.4″ W x 48″ H |
| Weight | 106 lbs. |
| Weight Capacity | 400 lbs. |
| Warranty | 1 year |
| Resistance Levels | 16 |
| Monitor | Backlit LCD screen |
| Incline | N/A |
| Stats Tracked | Mileage, speed, calories burned, heart rate, and duration |
Best Elliptical Under $500: Sunny Health & Fitness Magnetic Elliptical Machine
Good for: People on a budget who don't want a machine that feels cheap
It can be hard to find good budget fitness equipment that still is of great quality. I have been on cheap cardio machines, and it's awful. They don't feel sturdy and they break down easily.
The Sunny Health & Fitness Magnetic Elliptical Machine surprised me with how smooth the workout was. It's a rear-drive elliptical, which means the wheel is in the back of the machine as opposed to the front. Rear-drive machines tend to have a more natural feel than front-drive machines, but most people barely notice a difference.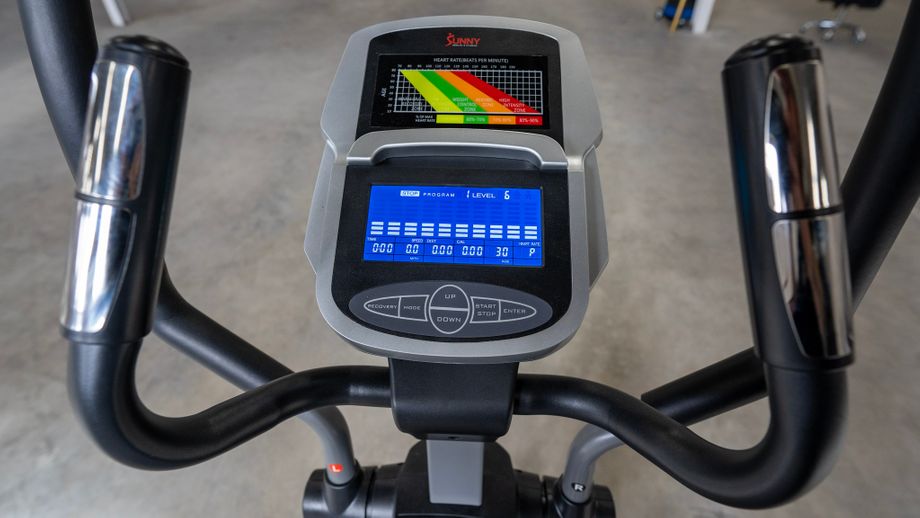 Of all the best ellipticals on the market in this price range, I like this one the most because it has 24 built-in workouts, which is a lot for a machine that doesn't have an accompanying app. Also, it's lightweight at 105 pounds but still has a weight capacity of 330 pounds.
However, this is a motorized elliptical, as opposed to having a flywheel. The issue here is that a motor may be more susceptible to breakdown or require more maintenance. But, you get what you pay for.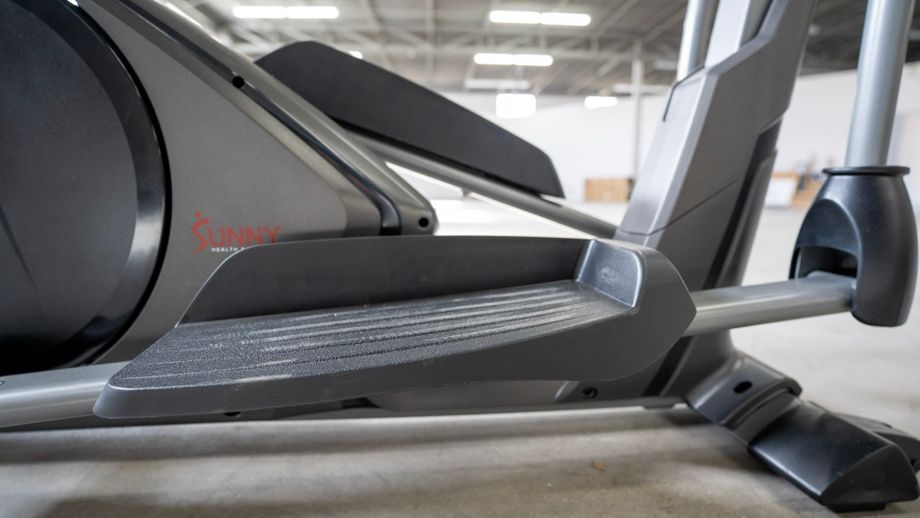 I put this machine together myself, and the instructions weren't the greatest, which is why it got a 3.8 out of 5 on our assembly rating. This is one of those companies that tries to put three assembly steps into one, so you really have to pay attention to the drawings to make sure you go in order. It took me a little over an hour to do on my own. Doable, but again, not the easiest process.
RELATED: Sunny Health & Fitness Magnetic Elliptical Machine review.
| | |
| --- | --- |
| Dimensions | 55″ L x 23″ W x 64.5″ H |
| Weight | 104.8 lbs. |
| Weight Capacity | 330 lbs. |
| Warranty | 3-year structural frame, 180 days other parts and components |
| Resistance Levels | 16 |
| Monitor | Backlit LCD screen |
| Incline | N/A |
| Stats Tracked | Speed, RPM, time, distance, odometer, calories, watt, heart rate, target heart rate, program, level |
Other Elliptical Machines That We Tested and Researched
There are quite a number of elliptical machines on the market today, but not all are worthy of being named one of the best ellipticals. Here are a few others we have tested or researched.
Stamina Inmotion Elliptical: If you're one of those people who are looking for the best ellipticals that can be used under a desk, my choice goes to this one. I haven't tried it out for myself yet, but at $150 and more than 500 5-star Amazon reviews, it seems like a good option. I just wouldn't stand up on it as you can see a woman doing in one of the photos.
Sole E35: This is the souped-up version of the Sole E25, and it's a fine machine but it costs $600 more than its sibling. Is it worth it? Really, only if you're a bigger person who needs an elliptical with a large weight capacity (the E35 can hold up to 375 pounds, compared to the E25's 350). It also has a slightly larger screen and an additional two years on the warranty.
Bowflex Max Trainer M9: The Bowflex Max Trainer M9 comes with more tech capabilities and resistance levels than the M6, but it's also nearly $2,000. We think most home gym owners will be fine with the M6.
Horizon EX-59: At under $500, this looks like an incredible value: A nice screen, Bluetooth speakers, water bottle holder, and 10 levels of magnetic resistance. It does have only a one-year warranty plan.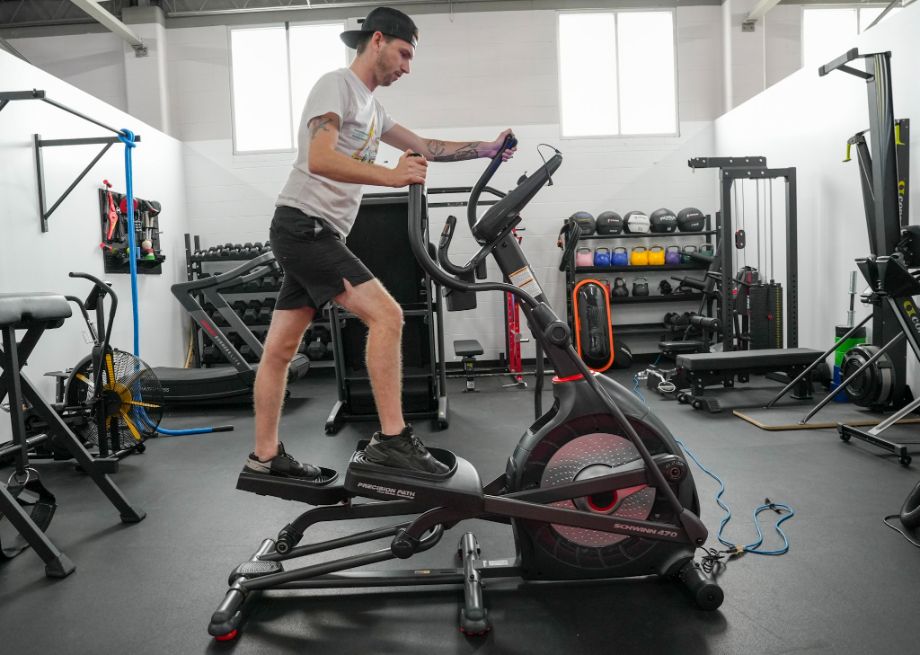 How We Picked and Tested The Best Elliptical Machines
The GGR fitness equipment testing methodology was developed by our team along with a group of fellow home gym owners who happen to be certified personal trainers, nutrition coaches, weightlifting instructors, and professional triathletes. Here are the major factors we took into consideration when testing and picking the best elliptical machines.
Assembly
How easy are the instructions to follow? Are all the pieces labeled clearly? How long did it take me to set up? Will you need more than one person to assemble? Are there extra tools needed that aren't included? To give you the most complete picture in preparation for assembly, I take plenty of notes while setting up. I make sure to include the ease of assembly and if it would be best completed with a helper.
Price
Comparatively speaking, how competitive is the pricing? Is it worth the money or a good value? I've said it before and I'll say it again: I'm not always looking for the cheapest option. I want to see what performs best for the money. If it is a more expensive machine, I'll want to know if the features included make it worth the price.
Included technology
What tech features make this special? Does the included technology always work? Technology is great when it works, but a pain in the butt when it doesn't. I want to make sure the tech on a product is consistent before singing its praises.
We look for features like Bluetooth capabilities, WiFi connectivity, and a great monitor that tells you performance metrics.
Adjustability
What on this machine is adjustable? What heights can this machine support? Machine adjustability is important for me to look at when reviewing an elliptical. I can't recommend an elliptical as the best overall if it can't adjust to accommodate a variety of heights. Specifically, I take into account stride length and if the handles move or not.
Durability
How heavy is the machine? What is the overall weight capacity? Has anything felt loose or like it would easily break? Is the machine wobbly or unstable? Are the materials used quality?
We favor ellipticals that have a weight capacity of at least 300 pounds.
Resistance levels
How many resistance levels are there? How does this compare to the average treadmill? Is this both easy enough for a beginner and challenging enough for someone advanced?
Built-in workouts
Are there any built-in workouts included? If so, how many are included? Is there a compatible app? Do you have to pay for the compatible app?
Ergonomics
How comfortable is this machine? Some ellipticals have padded foot pedals and grips on the handles. Are there extras that make this machine easier to use for a variety of people?
Portability
Can I easily move this machine from room to room? Can it be folded away and stored? Do I need another person to assist? Knowing everyone doesn't have unlimited space, this is an important thing to consider and report on.
Customer Service
How easy is it to reach customer service? What methods are available to get answers to my questions? How long does it take for them to respond? Do they go above and beyond typical customer service?
Warranty
What is the warranty? Is this warranty better or worse than the average elliptical? Is it a limited warranty? You'll want to shoot for at least 5-10 years of warranty on parts and 1 year on labor.
Customer Reviews
What have other customers had to say about this elliptical? Have I noticed any of the pros or cons mentioned within my own machine? Reading what others have to say as a whole can be beneficial to my review. Although I may have not run into a certain problem with my elliptical, plenty of others may have. It's best to include other's opinions (when appropriate) to give you the most honest information.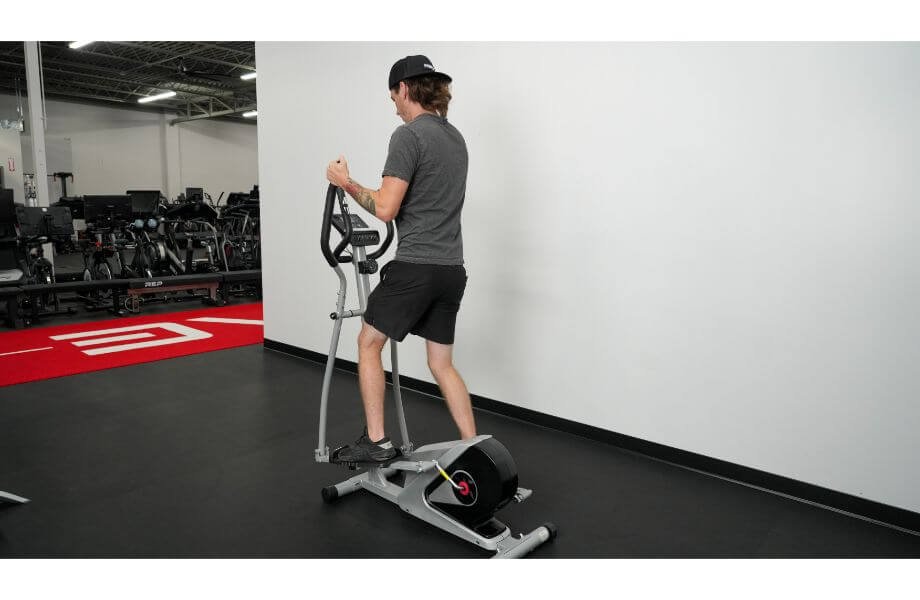 What to Consider When Buying an Elliptical Machine
There are countless ellipticals on the market that could be great for your home workout routine. However, an elliptical is really only good if you're actually going to use it.
Make sure you spend your money wisely by considering the following:
Price
There is a big price range on ellipticals, because you can go for cheap and basic, or expensive and overdone. The most affordable ellipticals are just a few hundred dollars on Amazon, but they are often cheaply made and break down easy. Stay away from those.
I find that the best ellipticals tend to sit somewhere between $700 and $2,000, just depending on what you really want out of your machine. The big companies, like NordicTrack and Bowflex, offer financing on their products, which make the big-ticket items a little easier to swallow and/or offers sales on holidays like Black Friday or Labor Day.
Workout Features
There are basically two adjustable workout factors on ellipticals, with the first being resistance. Resistance levels make pedaling harder, hence giving you a more intense workout. The more levels there are, the more variety you might have in your exercise. Typically, most machines have at least 12-15 resistance levels.
Incline levels are a bonus feature found on maybe just 20 to 30 percent of the machines out there. Pedaling on an incline is great because it recruits more muscle groups in your legs. Keep in mind that an incline usually indicates a separate motor in the machine, which could, in turn, require more maintenance.
Guided Workouts
Yes, you can just hop on a machine and get going, adjusting the resistance on your own. However, there are experts who put together workout modes that help you reach your fitness goals, such as fat burning programs that have you exercising at about 70 percent of your maximum heart rate. Quality ellipticals will come with at least a few built-in programs, ranging from interval programs to hill workouts to heart rate-based exercise. You can find machines that go the extra mile with interactive programming through apps, like NordicTrack's iFIT membership or the Bowflex JRNY app.
Durability
If you're going to make a sizable investment in an elliptical, then that machine should be built to last. Look for a heavy flywheel, at about 20 pounds or more. Heavy flywheels help keep the machine from rocking all over the place. Also consider the weight capacity of a machine. Cheap cardio equipment sometimes can't even accommodate a full-grown adult. Make sure the equipment you're buying can hold your weight.
Conveniences and Tech Capabilities
The price tag goes up with the more you add on, but some conveniences almost feel necessary. For example, having a water bottle holder and a console that shows workout metrics should be the bare minimum. On the higher end, you'll find 14-inch HD touchscreens and cooling fans. There are also machines that have:
USB port for charging your phone or device
Media holder or shelf
Bluetooth-enabled speakers
Folding designs
Transportation wheels for moving
Ergonomics
You don't really ever want to be comfortable in a workout, right? You should be at least a little outside your comfort zone. However, you also don't want a machine that puts your body in ergonomically unsound positions. On an elliptical, make sure that the stride length matches your height. Generally speaking, a 20-inch stride accommodates people between 5'3" and 6'5". If you fall outside this range on either end, you might look for either an adjustable stride or a different size.
Other ergonomic considerations:
Fixed handlebars, moving handlebars, or both?
Big footpads to accommodate larger feet
Cushioned foot pedals for comfort
Padded handlebars
Easy to read screen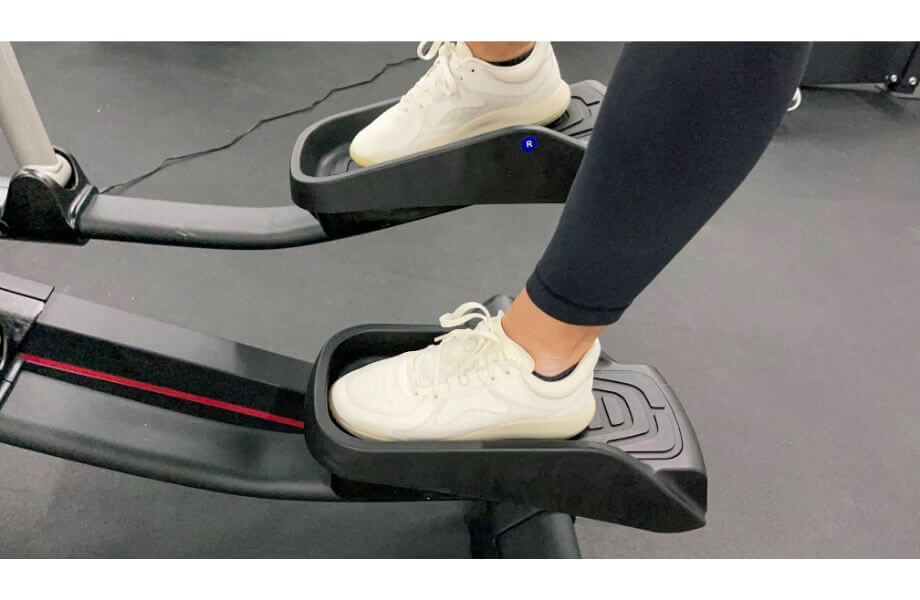 Best Ellipticals FAQs
What brand of elliptical is the best?
Is buying an elliptical worth it?
Absolutely! Ellipticals are a great low-impact cardio alternative, can help work your leg muscles, and improve your balance.
How much does a good quality elliptical cost?
You can get a good quality elliptical for under $1,000, or even under $500. For example, the Sunny Health & Fitness Magnetic Elliptical Machine is only around $430 on Amazon and is a great cardio machine with dozens of built-in workouts and a weight capacity of more than 300 pounds.
How do I choose an elliptical for home use?
You'll want to consider price, durability, conveniences, ergonomics, and workout features into consideration when looking for an elliptical for home use.
Are there disadvantages to using an elliptical?
The elliptical is fantastic for low-impact exercise, but it may not be the best cardio machine for everyone. For example, being on an elliptical does require some level of balance; therefore, people who have balance issues may have trouble with it.
Also, while the elliptical tends to mimic a running stride, it still isn't perfect, and the movement may feel unnatural for some people. It may take a little getting used to the stride before you feel comfortable.
What muscles does the elliptical work?
The elliptical provides a full-body workout when you have moving handles that you actively push and pull on:
– Muscles in the lower body are used during the stride motion, and they are further engaged if you can set the elliptical to an incline. These muscles include the quadriceps, hamstrings, calves, and glutes.
– Upper-body muscles engage as you push and pull on the handles. These include biceps, triceps, and muscles in the upper back.
– To an extent, muscles in your core, such as the abdominals and lower back, are used to keep you stable through the movement.
How do I know if I should get an elliptical or a treadmill?
If you're looking for a low-impact, full-body workout then you should get an elliptical machine. It's also a good choice for people with arthritis or anyone rehabbing an injury because it's a low-impact machine. If, on the other hand, you have specific fitness goals such as running quicker or completing a marathon, a treadmill might be the better option.