We test and review fitness products based on an independent, multi-point methodology. If you use our links to purchase something, we may earn a commission. Read our disclosures.
If you're spinning your wheels trying to find a good indoor exercise bike from a trusted brand, then I strongly recommend looking at NordicTrack bikes. These high-tech, feature-filled cardio machines are among the best exercise bikes on the market. And I would know; our team—including me—has used these bikes as well as dozens of others to assess their quality.
Here, we'll break down the best NordicTrack exercise bikes available on the brand's website to highlight the key features and warn you about potential downsides.
We Know NordicTrack
Since this site was founded, our team of expert product testers, certified personal trainers, cardio junkies, and endurance masochists have relished in putting treadmills, ellipticals, and bikes to the test. We have personally tested the best NordicTrack treadmills and the best NordicTrack ellipticals, even venturing to the brand's headquarters to learn the ins and outs of what makes these machines tick. We've conducted extensive multi-point testing and written half a dozen NordicTrack exercise bike reviews to illustrate the ups and downs of these popular products.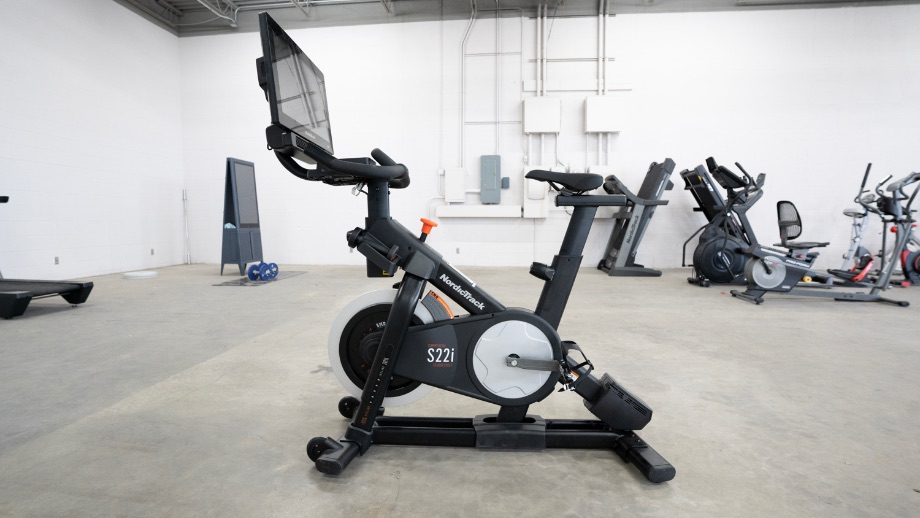 NordicTrack's Line of Exercise Bikes
Which NordicTrack Bike Should You Buy?
To narrow down your search, first choose from one of three NordicTrack bike lines:
Commercial Studio Series: Bikes you would typically see in a cycling class
Recumbent Series: Bikes with a well-padded seat that have back support
Upright Series: Bikes that feature a smaller footprint and put the body in an upright position
Keep reading to learn more about these categories and the specific products in each.
NordicTrack Exercise Bikes Comparison Chart
| | S27i | S22i | S15i | R35 | VU 29 | VU 19 |
| --- | --- | --- | --- | --- | --- | --- |
| Price | $2,799 | $1,999 | Free* with iFIT subscription | $1,499 | $1,299 | $999 |
| Bike Type | Studio cycle | Studio cycle | Studio cycle | Recumbent | Upright | Upright |
| Resistance | 24 levels of digital resistance | 24 levels of digital resistance | 22 levels of digital resistance | 26 levels of digital resistance | 24 levels of digital resistance | 24 levels of digital resistance |
| Incline | -10% to 20% | -10% to 20% | -10% to 20% | N/A | N/A | N/A |
| Footprint | 57" L x 28" W x 65" H | 61" L x 22" W x 58" H | 55.75" L x 22" W x 61" H | 68.22" L x 23.69" W x 53.42" H | 55.29 " H x 24.86″ W x 41.49″ L | 43.6″ L x 24.9″ W x 59.4″ H |
| Weight | 217 lbs | 205 lbs in box | 202 lbs in box | 192 lbs in box | 115 lbs in box | 115 lbs in box |
| Weight Capacity | 350 lbs | 350 lbs | 350 lbs | 350 lbs | 325 lbs | 325 lbs |
| Display | 27" rotating HD touchscreen | 22" rotating HD touchscreen | 14" rotating touchscreen | 14" HD touchscreen | 14" HD touchscreen | 7-inch HD touchscreen |
| Pedals | Caged + SPD hybrid | Caged + SPD hybrid | Caged | Adjustable straps | Adjustable straps | Adjustable straps |
| Adjustability | Handles adjust vertically; seat adjusts vertically and horizontally | Handles adjust vertically; seat adjusts vertically and horizontally | Multi-position handles; seat adjusts vertically and horizontally | Seat adjusts horizontally | Seat adjusts vertically and horizontally | Seat adjusts vertically and horizontally |
| Programming | iFIT | iFIT | iFIT | iFIT | iFIT | 32 preset workouts |
| Flywheel | Inertia-enhanced | Inertia-enhanced | Inertia-enhanced | 25-lb inertia-enhanced | 19-lb inertia-enhanced | 19-lb inertia-enhanced |
| Wi-Fi | Dual 2.4 GHz & 5 GHz Wi-Fi connectivity | Dual 2.4 GHz & 5 GHz Wi-Fi connectivity | WiFi-enabled | WiFi-enabled | WiFi-enabled | WiFi-enabled |
| Warranty | 10-year frame; 2-year parts; 1-year labor | 10-year frame; 2-year parts; 1-year labor | 10-year frame; 2-year parts; 1-year labor | 10-year frame; 2-year parts; 1-year labor | 10-year frame; 2-year parts; 1-year labor | 10-year frame; 2-year parts; 1-year labor |
| Extras | Ergonomic padded seat, 2 3-lb dumbbells included, dumbbell holder, transport wheels, workout fan, 2 30W Bluetooth speakers, 2 water bottle holders | Ergonomic padded seat, 2 3-lb dumbbells included, dumbbell holder, transport wheels, workout fan, 2 30W Bluetooth speakers, 2 water bottle holders | Ergonomic padded seat, leveling feet, 2 3-lb dumbbells included, dumbbell holder, transport wheels, workout fan, 2 Bluetooth speakers, 2 water bottle holders | Oversized seat with lumbar support, 2 Bluetooth speakers, workout fan, transport wheels, water bottle holder | Oversized pedals, oversized seat, workout fan, 2 Bluetooth speakers, transport wheels, water bottle holder | Oversized seat, workout fan, oversized pedals, 2 Bluetooth speakers, EKG grip heart rate monitor, transport wheels, water bottle holder |
Commercial Studio Series: S15i, S22i, S27i
Good for: Those who want the traditional bike feel with immersive interactive programming
NordicTrack S22i Studio Cycle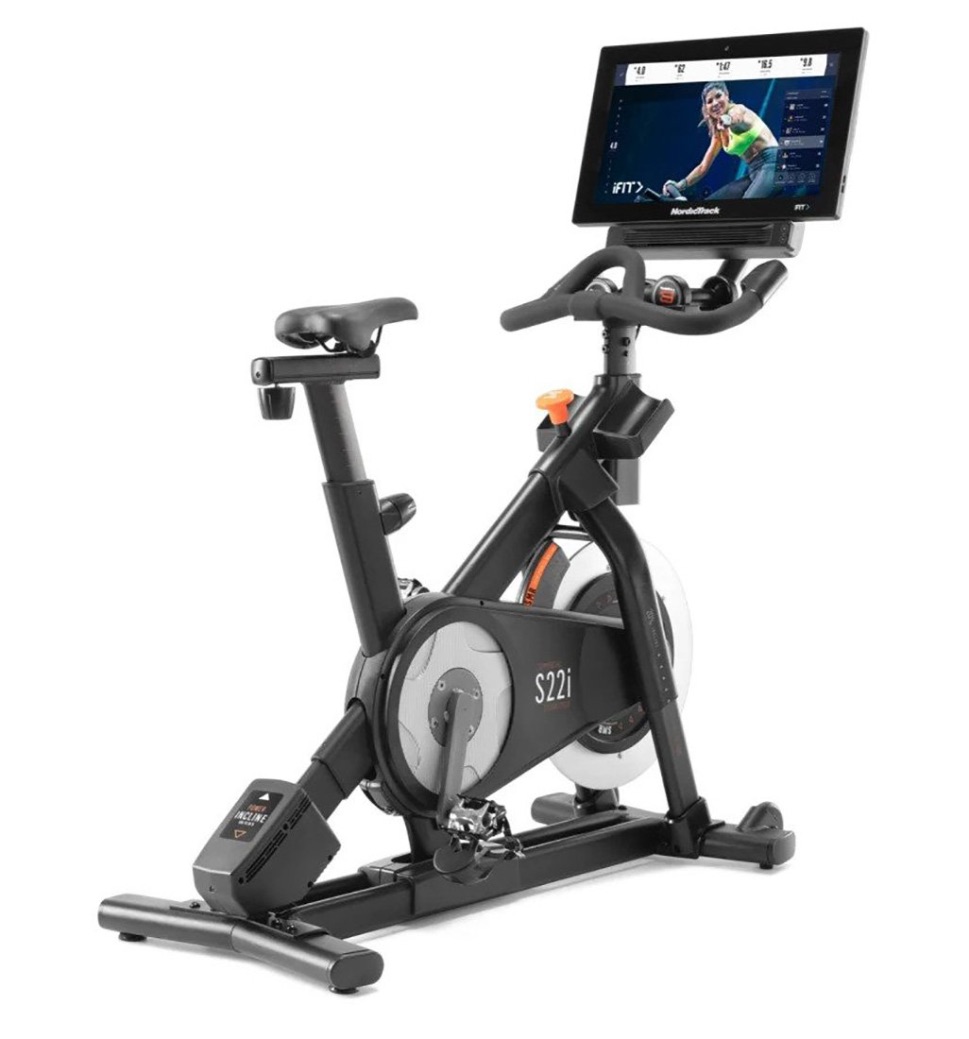 NordicTrack S22i Studio Bike
Join high energy studio classes, mountain bike rides in Moab, or ride a Tour de France stage all from the comfort of your home. Access on-demand classes with the world's best personal trainers for beginners or the hard-core cyclist. Interactive Personal Training comes to life as your personal trainer controls the incline, decline and resistance of your ride, a truly Interactive Experience.
Pros:
Large HD touchscreen that swivels
Interactive programming via iFIT
Incline and decline abilities
Enhanced speaker system
350-lb user weight capacity
Financing available
Cons:
Heavy and not easy to move
Expensive, starting around $1,800
Complicated assembly
Storing in your garage could void the warranty
If you're looking for a bike from NordicTrack that most closely resembles a road bike, then the Studio Series is your best bet. These bikes are similar to what you'd see in a cycling class and akin to products like the ever-popular Peloton Bike in a lot of ways: large touchscreens ranging from 14 to 27 inches; interactive programming via iFIT, sleek design.
However, one feature that I particularly loved when testing the NordicTrack Commercial S22i Studio Cycle is that the bike offers incline and decline training options. It truly feels like you are riding hills (well, as close to the real thing without being the real thing). All three bikes in this line boast a -10% to 20% range.
With the iFIT's "AutoAdjust" technology, the bike will change resistance and incline levels on its own along with iFIT programming. This was actually a little jarring to me at first, but I loved not having to worry about making those adjustments during my workout.
These bikes have a lot of creature comforts as well: dual water bottle holders, a padded seat (but not THAT padded; you may still get the cycling butt burn, I won't lie), a seat that adjusts horizontally and vertically, and they each come with two 3-pound dumbbells to be used with iFIT workouts.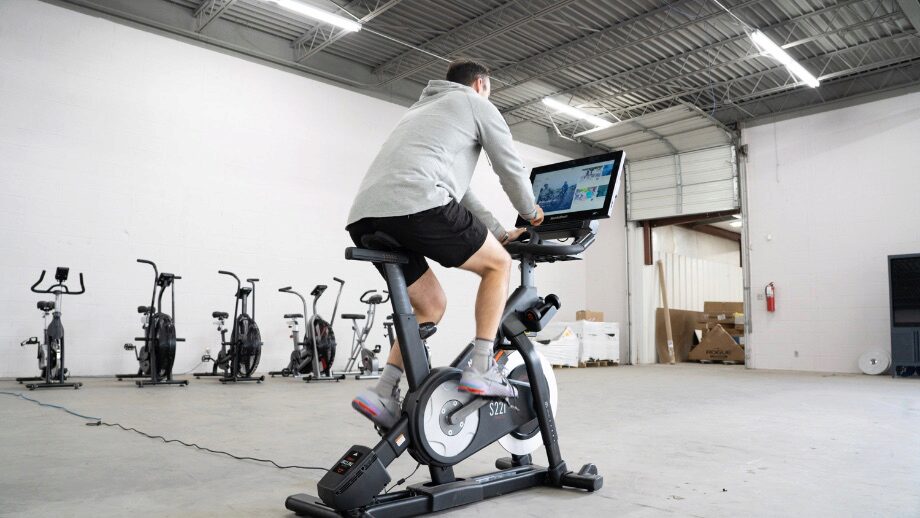 I have just a few words of caution if you're interested in this line. First, you get what you pay for, and this is a high-quality bike that comes with a high price. The S15i is, as of this writing, marketed as "free" with a four-year iFIT membership, which comes to around $1,800. Financing is available on all these bikes, and we do see at least one of them go on sale around the holidays.
The S27i is the most expensive in the line, priced at nearly $2,500. The only significant difference that sets this bike apart from its siblings is the 27-inch screen. I found the 22-inch screen on the S22i to be more than large enough, but if riding with a movie screen in front of you is your jam and you have the money, then you might find the S27i to be just peachy.
Also, I personally assembled the S22i, and it is quite the undertaking. The large screen requires two people to attach to the bike because you have to run wires and tighten screws all while holding a monitor. Expert assembly is available for an additional price—if you have the money for a $2K bike, you may as well spring for the pros to put it together for you.
NordicTrack Recumbent Bikes: R35 and VR25
Good for: Those looking for an easy-to-use, easy-on-the-body workout option
NordicTrack Commercial R35
NordicTrack Commercial R35 Exercise Bike
The R35 is a high-quality model in NordicTrack's line of recumbent bikes. It boasts some impressive features, including 26 levels of digital resistance, silent magnetic resistance technology, a 14-inch HD smart touchscreen display, and two 2-inch digitally amplified Bluetooth speakers.The combination of its 25-pound flywheel, 26 levels of resistance, and SMR technology results in a fluid, quiet, and smooth ride with plenty of variability in intensity. Additionally, SMR is a frictionless magnetic resistance which not only minimizes noise emission, but also reduces the wear-and-tear on the flywheel.Included in your purchase is a 30-day family membership trial which provides access to thousands of on demand professional trainer-led classes which range in length, type, and intensity.When using iFIT, riders have the option to utilize the automatic trainer control to adjust resistance or to override this feature for manual control. Beyond the 30-day trial, a paid membership is required to access classes. Unfortunately, there are no pre-programmed workouts on the R35.As most recumbent bikes do, the R35 carries a hefty footprint and, even with front transport wheels, its shape makes it cumbersome to move around. So you will want a dedicated spot for this machine.
Pros:
Large padded seat with lumbar support
Ergonomic pedals
Beginner-friendly
HD touchscreen
iFIT-compatible
350-lb user weight capacity
Step-through design
Financing available
Cons:
Large footprint
Priced above $1,000
Warranty is voided if you keep this in your garage
By and large, recumbent bikes are known for their comfort and ease of use. NordicTrack currently has two bikes in this lineup: the R35 and the VR25. The VR25 is listed on closeout as of this writing, and we aren't sure how much longer it may be available. Both bikes have very similar specs, with the main difference being that the R35 has a 14-inch touchscreen, and the VR25 has a 7-inch touchscreen.
Our team has tested and reviewed the NordicTrack R35. The first thing staff writer Caroline Lubinksy took note of when she used the R35 is how supportive the seat is. This is a mainstay in recumbent bikes, which are purposely designed to take pressure off the user's back. They feature a seat with back support and place the pedals in front of your body rather than under them.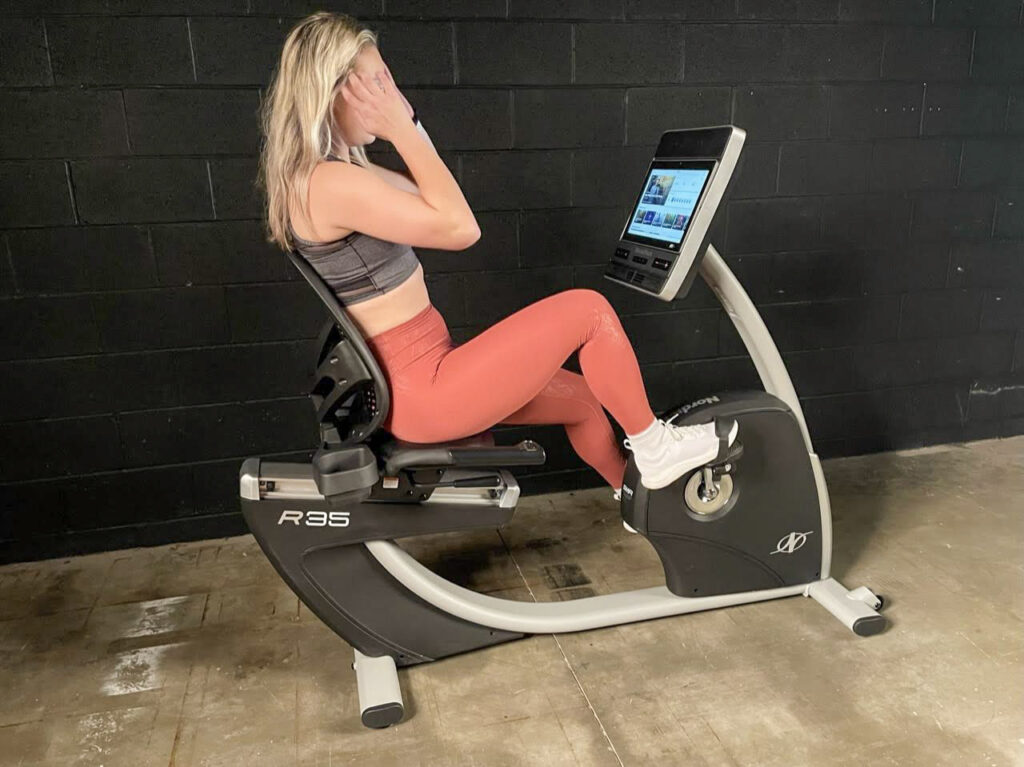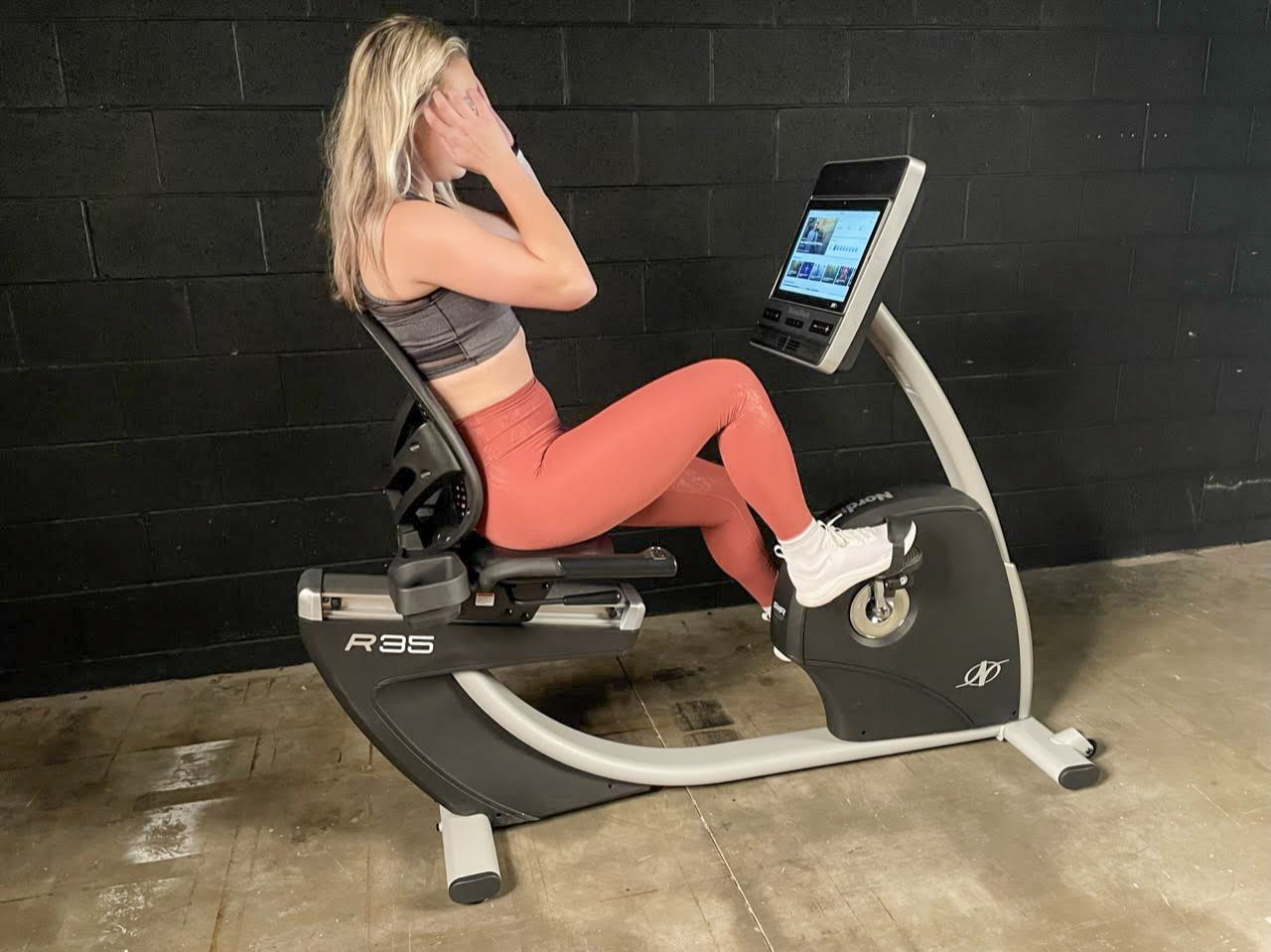 The NordicTrack line specifically has a padded seat that adjusts horizontally to accommodate users of just about any height. The pedals are touted as being ergonomic; rather than toe cages, they have straps that can be adjusted over the user's shoes.
Of course, a signature of NordicTrack cardio equipment is iFIT programming. Both the R35 and the VR25 are compatible with the app, which streams from the touchscreen and takes people through live and on-demand indoor cycling classes. iFIT also offers off-bike workouts in modalities like yoga, Pilates, and weight training.
The downside of many recumbent bikes is the large footprint. Because the pedals are in front of you, the length of recumbent bikes is significantly longer than what you'd find on a typical indoor cycling bike.
RELATED: Indoor vs Outdoor Cycling
NordicTrack Upright Bikes: VU 29 and VU 19
Good for: Those on a budget looking for a compact exercise bike with excellent functionality
NordicTrack Commercial VU 29
NordicTrack Commercial VU 29 Bike
The NordicTrack Commercial VU 29 is an upright exercise bike perfect for indoor use. It's equipped with an expansive workout library thanks to its iFIT compatibility, oversized cushioned seat and pedals, 24 resistance levels, and dual 2" amplified speakers.View an array of workouts on the 14" touch screen monitor as iFIT world-class trainers adjust your controls to give you a great workout. Get views from anywhere in the world with Google Maps™ workout technology.It features a 19-pound inertia-enhanced flywheel with silent magnetic resistance for a quiet ride.
Pros:
Compact footprint
NordicTrack's lightest bikes
iFIT-enabled
VU 19 has 32 on-board workouts
Ergonomic seat and pedals
NordicTrack's most affordable bikes
Financing available
Cons:
Handlebars do not adjust
Not ideal for serious cyclists
Flywheels are light
An upright bike is a close cousin of the studio-style bike. The main difference is that on an upright bike, the handles are raised much higher, putting your body into—wait for it—an upright position. This tends to be more comfortable for people who experience low back pain when using a bike where you are forced to lean over to reach the handles.
NordicTrack's two upright bikes are the VU 29 and the VU 19. They are the most affordable bikes the brand offers, with the VU 19 starting under $1,000. I wouldn't exactly call these budget exercise bikes, but if you're trying to save money, this line might have the best options for you.
The VU bikes are also the lightest from NordicTrack, weighing 115 pounds. This, coupled with the smaller footprint, means these bikes could be great for people living in small spaces who need a bike they can easily move around.
One thing I really like about the VU 19 is that it's compatible with iFIT and the live classes, or you can nix the extra cost and choose from a whopping 32 on-board programs. This is the only bike in NordicTrack's lineup to have that many preset workouts and that I could confidently say could be used to the fullest without an iFIT subscription.
There aren't many downsides to the VU bikes. They both have touchscreen displays, offer silent magnetic resistance, and have comfortable seats. The flywheel on each is just 19 pounds, which isn't very heavy, and that means you might experience some side-to-side wobbling when you exercise at higher speeds. Also, the handles do not adjust, which means you'll have to get comfortable in that upright position.
Closeout NordicTrack Exercise Bikes
As of this writing, the NordicTrack Commercial VR25 is listed as "on closeout" on the brand's website. There are two things that putting a piece of exercise equipment on closeout can mean. The first is that the product has been discontinued, and the brand won't be making more of that model. The second is that the model is about to get some kind of an upgrade, so the brand is looking to offload the soon-to-be-dated products. At this time, we can't say for sure what the VR25 going on closeout means, other than you might be able to get a great deal on a good bike.
What to Look For in NordicTrack Exercise Bikes
If you're in the market for a stationary bike, particularly from NordicTrack, here are a few factors to consider:
Type of Bike: Studio, Recumbent, Upright,
The easiest way to start narrowing down your search is to choose which type of exercise bike is best for your at-home workouts.
A studio bike may be the most recognizable of all home exercise bikes, thanks to the popularity of cycling classes and bikes like the Peloton. These can deliver high-intensity workouts thanks to an abundance of resistance levels as well as the leaning-over body position they demand, engaging upper-body and core muscles on top of the work your legs are doing.
A recumbent bike is often used for those who need a very low-impact workout. The pedals are in front of your body, which rests in a large, padded seat that has a high back for additional support. You can still get an excellent workout on a recumbent bike, though it may not be as intense as other bike options deliver.
An upright bike puts your body into a very tall, vertical position, with the pedals under you. This is great for people who want to engage their core muscles while riding without putting as much stress on the lower back than, say, a studio bike causes.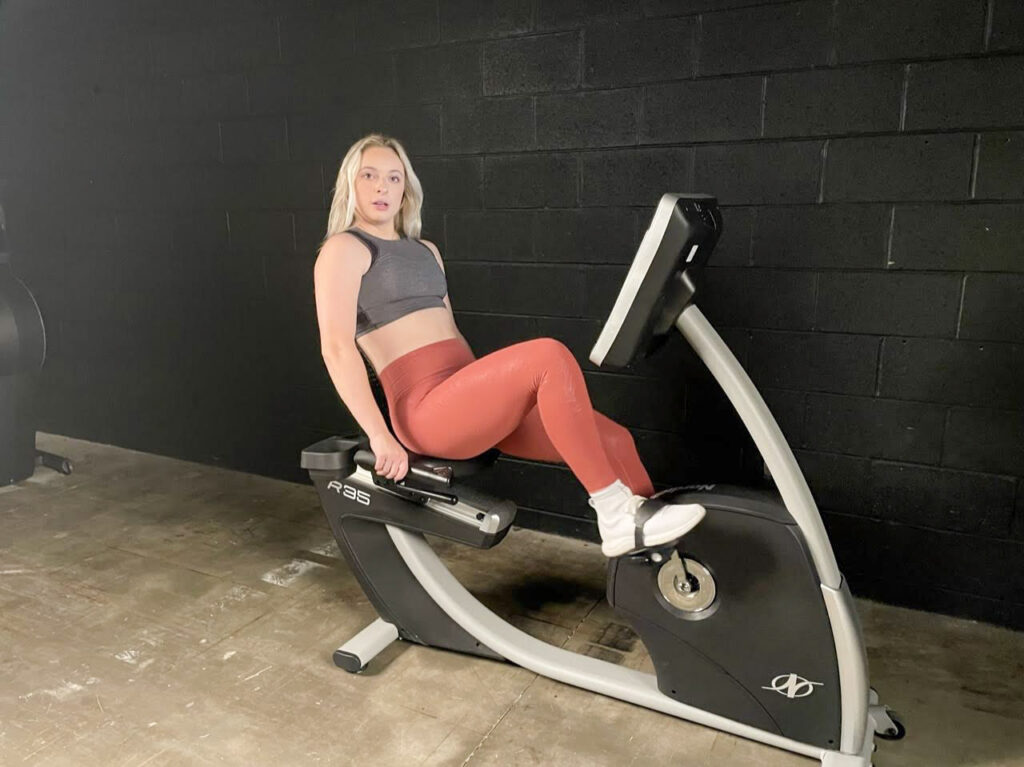 Resistance
Most home exercise bikes come with at least a handful of resistance levels. These can be digital, as in you can adjust the resistance with a button, or manual, which requires you to crank a knob. NordicTrack bikes use silent magnetic resistance, which is optimal compared to friction resistance. Bikes that use friction resistance feature padded brakes that wear down over time (and can be quite noisy). Magnetic resistance is near-silent and requires less maintenance.
Incline
If you are serious about training and want indoor fitness equipment that can help you meet your cycling goals, then finding a bike with incline is a near-must. The NordicTrack Studio Series has both incline and decline options, which is rare. It's also awesome, as it truly simulates riding up and down hills (your legs will feel it, I promise).
RELATED: The Best ProForm Exercise Bikes
Programming
You can hop on any old bike and pedal. If you're like me, however, you can get bored pretty quickly and want some variety. If that sounds familiar, then find a bike with some kind of workout programming.
Every NordicTrack bike on the website as of this writing is iFIT-enabled. iFIT features live and on-demand classes for cycling as well as treadmill workouts, weight training, yoga, and more. A monthly subscription is required, which is typically an additional cost outside of flash deals where the equipment is "free" with the purchase of a years-long iFIT membership.
NordicTrack usually offers a free 30-day trial of iFIT with your purchase. Afterward, you can expect to pay $396 for a one-year family membership or $180 for a yearly individual membership; or $39/month for a family membership or $15/month for an individual membership.
Don't want the membership? There are still some free iFIT workouts you may be able to access from your equipment, and you can always use your bike in "manual" mode. However, the selling point of NordicTrack bikes is easily the iFIT programming. If you don't want the subscription, you may be better off purchasing a cheaper bike for your home fitness.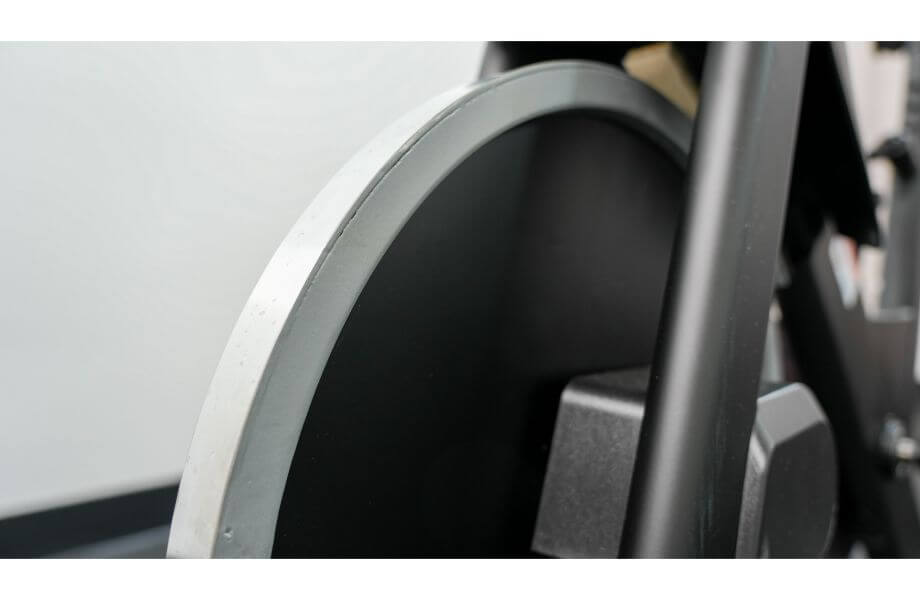 Durability: Weight Capacity and Flywheel
The weight capacity of a bike refers to how much user weight it can hold without suffering damage. NordicTrack bikes have inclusive capacity ratings at either 325 or 350 pounds. This is a good sign that the bikes are well-constructed.
The flywheel of a bike also lends itself to durability, as the weight of the flywheel helps to stabilize the bike. Typically, we like to see flywheels of 20 pounds or higher. Some of NordicTrack's bike's are listed as having "inertia-enhanced" flywheels. These flywheels are designed to have smooth movement instead of the jerkiness you might see in a flywheel that isn't weighted properly.
Technology
There is nothing wrong with basic LCD screens that spit out your performance metrics, but you won't find them on the NordicTrack bikes currently for sale. Each of these bikes with a screen offer interactive experience with smart HD touchscreen capabilities.
When it comes to other technology options, keep in mind that the more you want, the more you'll pay. NordicTrack bikes are pretty tricked-out in this area, touting just about all the high-end features you would expect to find in a higher price range. Here are a few considerations:
Wi-Fi capability
Bluetooth connectivity
Digital speakers
"One-touch" controls for resistance and incline
Heart rate monitors
Many people ask if you can use streaming services like Netflix on NordicTrack machines. The answer? No. If that's important to you, there is a bike with that functionality. Our team has tested the Bowflex Velocore, which uses the JRNY app that enables you to stream from programs like Disney+ and Hulu through the built-in screen.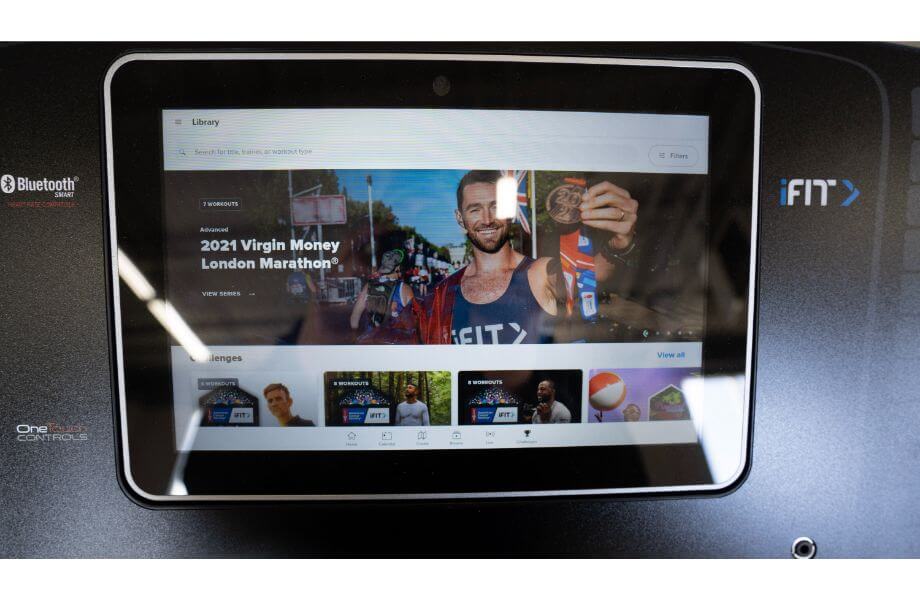 Conveniences
What do you like to have when you use cardio machines at home? Each NordicTrack bike has all or most of the following:
Water bottle holder
Fan
Dumbbell holders
Padded seat
Adjustable handles and seat
One notably missing feature on NordicTrack bikes is a tablet or device holder. The bikes come with a touchscreen, so perhaps the brand felt you wouldn't need a special tray to stream something from your own device? This is a bit of a letdown and something I'd like to see NordicTrack correct on future iterations of their machines.
RELATED: Echelon EX-8s Review
Brand Policies
A bike is only as good as the brand that stands behind it. NordicTrack has a solid reputation in the cardio industry; let's dig into their policies.
Warranty
The warranty on each of the bikes currently listed on NordicTrack's site is the same: 10-year warranty on the frame, two-year warranty on parts, one-year warranty on labor. I'd like to see a longer frame warranty, as you'd think bikes in this price range would be built to last until eternity.
Another important callout: NordicTrack (and its sibling company, ProForm) voids your warranty if you store your equipment in your garage. As a team dedicated to helping people build garage gyms, we take issue with this point.
Non-climate-controlled spaces that collect dust and debris may not be the ideal spot for fancy electronics and exercise equipment, but too many homeowners use their garages as gyms. This is an area where we'd like to see some wiggle room from a brand popular among home gym owners, especially considering many garage gyms do have climate control.
Returns
NordicTrack's return policy is fairly run-of-the-mill at first glance: You get 30 days from the delivery date to return your equipment. However, they will charge you $250 for the return, and they won't refund any of your shipping charges. If there is wear and tear on the machine, the brand reserves the right to charge you for that as well.
Financing
Currently—and in recent memory—NordicTrack has offered 0% financing over 48 months on just about all of its large equipment. The website says this is a limited time offer, and financing is otherwise 29.99%. However, we nearly always see the 0% offered, especially around holidays.
NordicTrack Bikes: Final Thoughts
Our team has always enjoyed testing cardio equipment from NordicTrack. The brand's bikes have nearly all of the technology, conveniences, and performance specs you might expect from machines that cost what these bikes do. More importantly: The bikes function well, as we have learned through countless hours of testing them.
Best NordicTrack Exercise Bikes: FAQs
Which NordicTrack bike is best?
Is NordicTrack a good exercise bike?
NordicTrack makes very high-quality bikes that we have rated highly for their durability, functionality, and trainer-led workouts via iFIT programming. They are more expensive than what you might find on budget-friendly lists or on sale on Amazon, but we believe they are worth the price tag for those who have the money to spend.
Is NordicTrack bike as good as Peloton?
The NordicTrack Studio Series line and the Peloton Bike and Bike+ are all extremely similar: large touchscreens, interactive programming, magnetic resistance, sleek design. 
One bike isn't inherently better than the other, it just depends on your budget and the features you want. As we outline in our NordicTrack vs Peloton comparison, the NordicTrack bikes offer incline and decline training, but cost thousands of dollars. The Peloton Bike (the OG version), has been priced as low as $1,200.