We test and review fitness products based on an independent, multi-point methodology. If you use our links to purchase something, we may earn a commission. Read our disclosures.
R-E-S-P-E-C-T. If you're like most people, you probably just sang that in your head (or out loud, I don't judge). And if we're talking about respected cardio brands, NordicTrack tops the list. After all, it has been around since 1975, and it is known for making some of the best treadmills on the market.
Say you've decided to purchase one of the best NordicTrack treadmills. Great. But if all of the machines are durable, technologically advanced options, which one do you choose? We have personally used every single one of the treadmills NordicTrack offers today, and we're here to help you find the right one for your home.
Best NordicTrack Treadmills
Best NordicTrack Treadmill Overall: NordicTrack Commercial 1750
Good for: Someone who wants an overall solid treadmill with great features
Out of all of the NordicTrack treadmills, the Commercial 1750 has my heart. It has so much going for it–a powerful motor, new heart rate tracking abilities, and a sizable touchscreen that rotates for off-the-treadmill programming.
GGR's head of content Kate Meier has also thoroughly tested the NordicTrack Commercial 1750 and was pleased with all the features.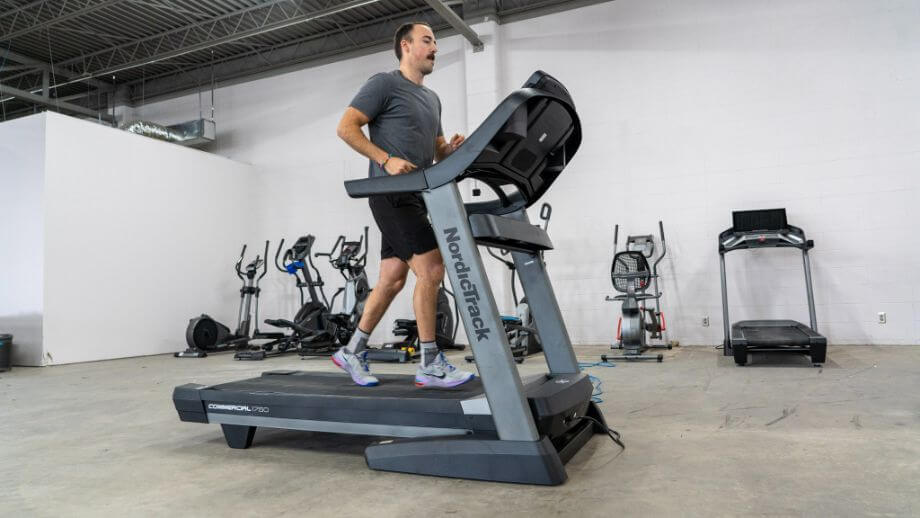 "This is a top-of-the-line treadmill with a slightly more expensive price tag, but not exactly high-end," Kate explains. "You get all the comforts and tech capabilities of some of the best treadmills on the market, but for under $2,000."
The 1750 has both incline and decline options for those who want to kick their training up a notch. Plus, the 22-inch-by-60-inch deck shines for those who are taller or enjoy frequent running.
The only real drawback to this machine is it isn't very portable and wouldn't be suitable for a small space. Although there are included transport wheels, Kate said this treadmill is especially difficult to tip to get onto the wheels. This doesn't surprise me since the 1750 weighs 340 pounds.
Check out our full NordicTrack Commercial 1750 treadmill review.
| | |
| --- | --- |
| Price | Around $2,500 |
| Display | 14" HD touchscreen |
| Footprint | 80" L x 38" W x 65" H |
| Weight | 340 lbs |
| Incline/Decline | -3% to 12% |
| Speed Range | 0 to 12 MPH |
| Weight Capacity | 300 lbs |
Best Budget NordicTrack Treadmill: NordicTrack EXP 7i
Good for: Individuals who want a NordicTrack-quality treadmill at an entry-level price
If you're looking for one of the best budget treadmills, the NordicTrack EXP 7i will likely not disappoint. At around $1,100, the EXP 7i is currently the least expensive treadmill NordicTrack produces. However, just because this machine is one of the best budget treadmills, doesn't mean it doesn't have a ton going for it.
Expect to see an above-average 3.0 horsepower motor, foldability, and adjustable cushioning. The adjustable cushioning is probably my favorite feature on the EXP 7i, especially if you're sharing this machine with others. I personally enjoy a well-cushioned deck, but some people would prefer a belt that feels more similar to pavement. With the adjustable cushioning feature, everyone can have what they prefer!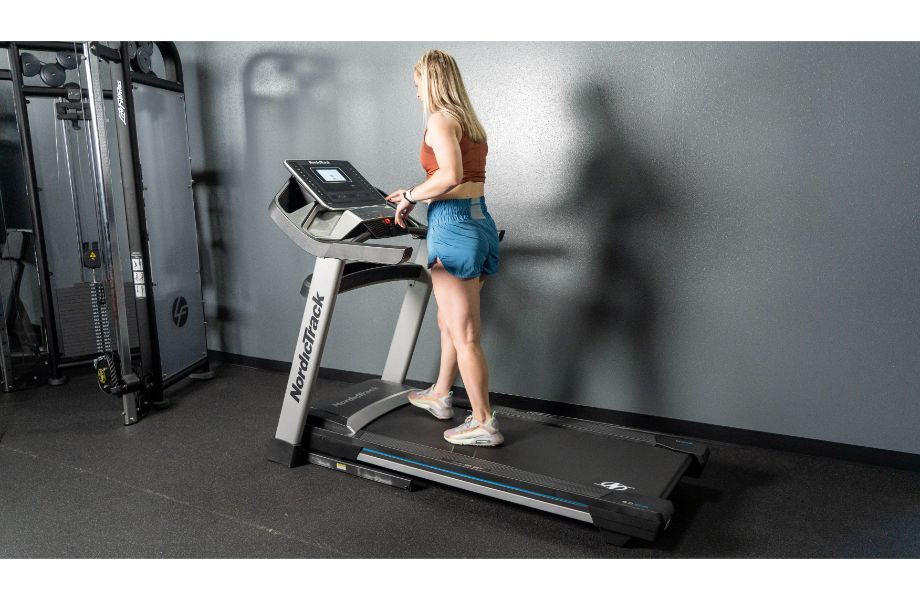 Out of all the NordicTrack treadmills, the EXP 7i is apparently the easiest to assemble. Our NordicTrack rep informed us that while this process would be best completed with another person, it shouldn't take more than two hours.
Although this machine does have a touchscreen, it is a small one. At just 7 inches, this touchscreen is only a few inches larger than a new iPhone. If you have eyesight problems, I would recommend checking out a different NordicTrack treadmill with a larger screen.
Read more in our NordicTrack EXP 7i treadmill review.
| | |
| --- | --- |
| Price | Around $1,100 |
| Display | 7" HD touchscreen |
| Footprint | 77.3" L x 35.3" W x 59.6" H |
| Weight | 222 lbs |
| Incline/Decline | 0 to 12% |
| Speed Range | 0 to 10 MPH |
| Weight Capacity | 300 lbs |
Best NordicTrack Treadmill for Runners : NordicTrack Commercial 1250
Good for: Those who want a great speed range as well as incline and decline options
If you're looking for one of the best home treadmills for running, this could be it. NordicTrack released the Commercial 1250 treadmill in early 2023, and we welcomed it with open arms. This commercial-grade treadmill clocks in just under $2,000, and it essentially has everything you could want, especially if you're a runner.
First, the tread belt is a spacious 20-inch-by-60-inch running surface, which we found in testing to be great for people of just about any height. The speed range is 0 to 12 MPH, so you can get in just about any kind of running workout! And what we really love about the C1250 is the -3% decline to 12% incline. You'll truly feel like you're running up and down hills.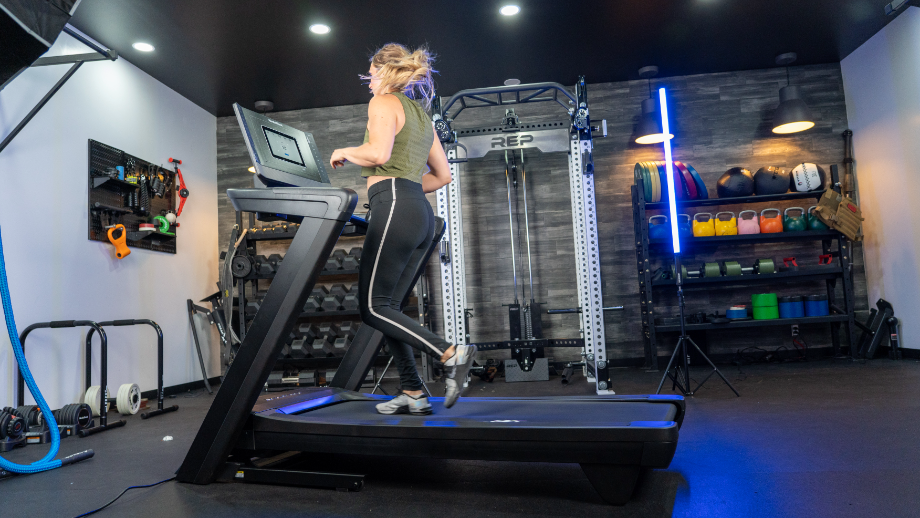 Like all other new NordicTrack treadmills, the C1250 syncs with iFIT. You can follow along to sprint workouts, long endurance runs, or even off-machine strength training. iFIT utilizes Google Maps as well, so you can literally run anywhere (virtually, of course).
"The 10-inch touchscreen is a little small compared to what you might find on other machines in this price range," says GGR expert product tester Lindsay Scheele.
Learn more at our NordicTrack C1250 Treadmill review.
| | |
| --- | --- |
| Price | Around $2,000 |
| Display | 10" HD touchscreen |
| Footprint | 78.5" L x 35.6" W x 64.7" H |
| Weight | 281.6 lbs |
| Incline/Decline | -3 to 12% |
| Speed Range | 0 to 12 MPH |
| Weight Capacity | 300 lbs |
Best NordicTrack Incline Treadmill: NordicTrack Commercial X32i
Good for: Those who want to take a serious hike
Want to really get your legs burning? How about climbing on a machine with an impressive 40% incline? The NordicTrack Commercial X32i has a range of a -6% decline up to a 40% incline. That's good for just about any incline treadmill workout you can think of.
GGR editor Nicole Davis was tasked with testing the X32i and it's safe to say she was impressed with the stability and durability.
"This thing is a tank," Nicole said. "Not even a hint of play while sprinting."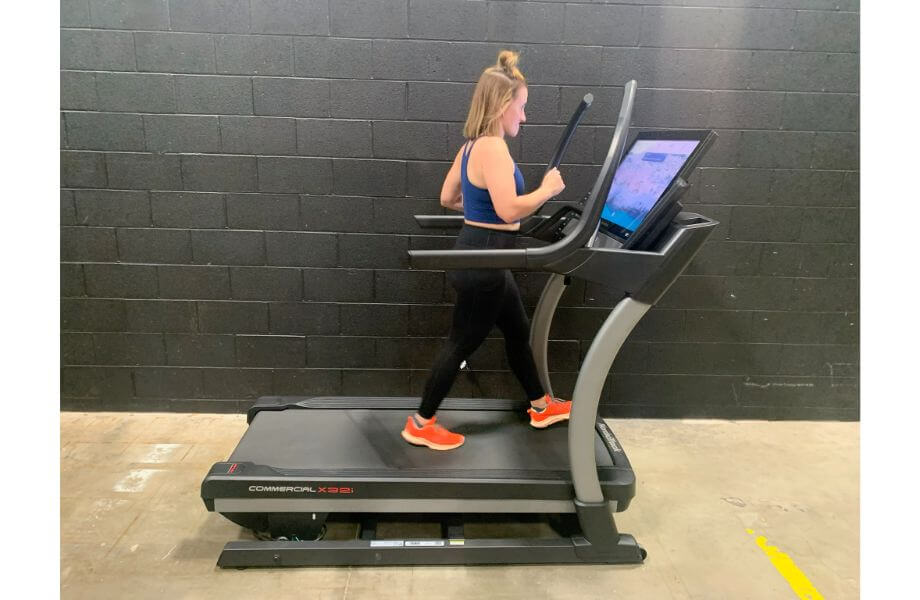 If you're going to run or sprint on a treadmill, having a stable machine is key to an enjoyable workout. Plus, the 22-inch-by-65-inch deck may be the lengthiest belt I've seen to date. If you're really tall or have long legs, you'll love giving your legs a chance to naturally stride on the X32i. For context, the typical walking or jogging treadmill is around 10 whole inches shorter.
RELATED: The Best Incline Treadmills
I was also very impressed by the 32-inch HD touchscreen, which is larger than most people's first television. A great screen, like the one on the X32i, can really bring interactive programming to life.
It is worth mentioning that the X32i cannot be folded, so it would work best for someone who has a designated home gym (not garage gym, since your warranty will be voided). Plus, at 462 pounds, the X32i will definitely require professional movers or a few really strong friends to help you move the machine around.
Learn more in our in-depth NordicTrack X32i review.
| | |
| --- | --- |
| Price | Around $4,000 |
| Display | 32" HD touchscreen |
| Footprint | 76.5" L x 40" W x 73" H |
| Weight | 462 lbs |
| Incline/Decline | -6 to 40% |
| Speed Range | 0 to 12 MPH |
| Weight Capacity | 300 lbs |
Best Foldable NordicTrack Treadmill: NordicTrack Commercial 2450 Treadmill
Good for: Individuals who need to store their machine when it isn't being used
You can't always get what you want in life, but the NordicTrack Commercial 2450 is challenging that notion. This decked-out treadmill features a 22-inch touchscreen, incline and decline, and is one of the best folding treadmills.
Most treadmills that have a massive screen or lots of features don't fold (looking at you, Peloton Tread). However, people who don't have a dedicated home gym can't always afford to leave out their treadmill 24/7, which is where the foldable 2450 shines.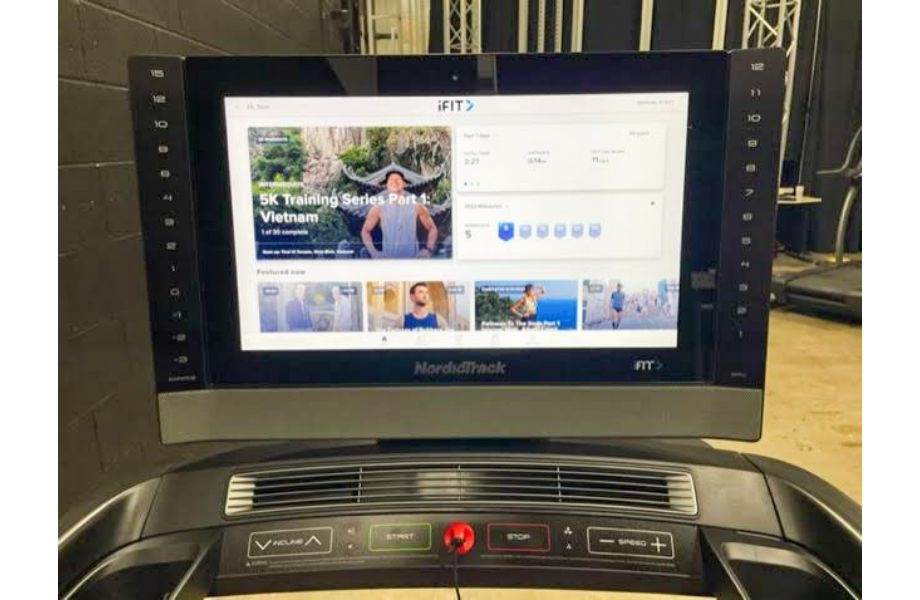 I personally love the incline and decline options on the 2450. Although the incline doesn't tap out at 40 percent like its overachieving older brothers (the X22i or the X32i), the 15 percent maximum works well for me. You're able to get a challenging incline workout without being at risk for snapping your knees and ankles like twigs.
If you're looking for cushioning that feels like stepping on fresh marshmallows right out of the bag, the 2450 has your number. The response from the belt to my feet hitting the deck was more of a bounce than a thud. If you're more into minimal cushioning, this might not be your best pick.
It is worth noting that the 2450 is pretty large and has an in-depth assembly process. If you're not a fan of putting lots of small pieces together (almost like an Ikea dresser), professional assembly might be the best option for you. Plus, at 353 pounds, you'll definitely need some assistance to get this up a flight of stairs.
For more, read our NordicTrack Commercial 2450 review.
| | |
| --- | --- |
| Price | Around $2,800 |
| Display | 22" HD touchscreen |
| Footprint | 81" L x 39" W x 59" H |
| Weight | 353 lbs |
| Incline/Decline | -3 to 12% |
| Speed Range | 0 to 12 MPH |
| Weight Capacity | 300 lbs |
Other NordicTrack Treadmills We Tried and Researched
NordicTrack EXP 10i: The EXP 10i is a solid machine, but the 10-inch touchscreen doesn't do it for me and my bad vision (especially for almost $1,500).
NordicTrack Commercial X22i: The incline series from NordicTrack includes the X22i, which we love. It is essentially the same machine as the X32i, but with a smaller touchscreen.
NordicTrack EXP 14i: I like the EXP 14i, but prefer the Commercial 1750 if you're looking for a machine with a 14-inch touchscreen.
NordicTrack T 6.5 S: Although we enjoy this budget-friendly treadmill, NordicTrack has unfortunately stopped producing it. Luckily, you can still purchase last year's model on Amazon for under $1,000.
NordicTrack Treadmills: The Competition
There are a lot of great brands that offer treadmills that rival NordicTrack. Let's take a look at some of them.
ProForm
ProForm and NordicTrack are sister companies; they both fall under the iFIT umbrella, and, as such, both brands feature machines compatible with iFIT. In fact, there are more similarities between the two brands than there are differences. Probably the biggest callout is that you'll find ProForm treadmills to be a little more affordable.
We dive into both brands in our extensive ProForm vs NordicTrack treadmills comparison.
Sole Fitness
Sole Fitness is a fantastic brand that offers affordable treadmills, ellipticals, and more. In our in-depth Sole treadmill reviews piece, we highlight current offerings and what you can expect to find when shopping from the brand.
We love Sole treadmills for their durability, affordability, and the many features you get with each machine. They don't have the tech capabilities of NordicTrack machines. Find out more in our comparisons like the NordicTrack Commercial 1750 vs Sole F85.
Horizon Fitness
Horizon Fitness is a budget-friendly brand, evidenced by their extensive line of affordable treadmills. The brand's machines are well-built, and many are compatible with the best running apps like Zwift. Compared to NordicTrack treadmills, Horizon machines don't have the fancy touchscreens, but they do fold, have decent speed ranges and have decent inclines.
Learn more in our Horizon vs NordicTrack treadmill comparison.
How We Picked and Tested the Best NordicTrack Treadmills
When deciding what machines will make a list, we ask ourselves specific questions in order to standardize our testing process. Check out some of the things we considered prior to writing this roundup:
Brand: Is it a NordicTrack treadmill?
Price: How expensive is the machine? Is the machine considered a budget, mid-range, or high-end treadmill?
Footprint: What is the footprint of the machine? Is this considered large or normal for a treadmill?
Speed: What is the max speed on the treadmill? How does this compare to industry standards?
Incline and decline: Does the treadmill have incline and decline?
Motor: What is the horsepower of the motor? Is this best-suited towards walking, jogging, or running?
Assembly: Can you pay for professional assembly? How much is professional assembly? If you assemble this machine yourself, how hard will it be? Are there a lot of pieces? Is it best to grab a friend or family member to help?
Tread belt: What size is the treadmill belt? Is this best treadmill for walking, jogging, or running? Would the size of the belt work for a taller individual?
Warranty: What is the warranty for the frame, parts, and labor? How does this compare to industry standards?
Display: What type of display does the treadmill have? Is it a smart HD touchscreen, LCD screen, or something else? What size is the display?
Step-up height: How tall is the step-up height? Would someone with balance issues struggle to mount and dismount the machine?
Portability: Can this machine be moved with just one person? How heavy is the machine? Does it have transport wheels?
Foldability: Is this a folding treadmill? Does it have a gas shock for safer folding?
Financing: Is there treadmill financing available? Who are they through? Do you have to qualify for the financing?
Extras: Does the machine have water bottle holders, heart rate monitoring, or Bluetooth connectivity? Does it have Google Maps or auto-adjust trainer control?
Programming: Does the machine have interactive programming capabilities? Do you get a free trial? How much is the subscription per month and per year? Is it live or on-demand programming?
Cushioning: How cushioned is the deck? Is the cushioning adjustable?
Benefits of a NordicTrack Treadmill
Curious why you should spend your hard-earned money on a NordicTrack treadmill? Certified personal trainer and GGR writer Anthony O'Reilly explains why they're a good buy.
"NordicTrack treadmills are top-of-the-line and some of the best cardio machines that feature some of the best motors, joint-friendly surfaces, and built-in workout programs," Anthony explains. "While there are more budget-friendly, and frankly better-value treadmills out there, these are the treadmills you want to go for if you're looking for the best-of-the-best."
Anthony isn't fibbing here–NordicTrack machines have all the extra features you could pretty much want on a treadmill.
"One thing I really like from a training perspective is the incline/decline capabilities of NordicTrack's treadmills," Anthony describes. "Not only do these settings challenge different lower-body muscles, but they simulate real-life situations like controlling your pace on a hill or ramp. It can also help to improve your posture and strengthen your posterior chain."
"NordicTrack is also one of the only fitness brands to be mentioned in an Eminem song," Anthony said with a smile.
Boom. As if you needed another reason to add a NordicTrack treadmill to your home gym.
NordicTrack Treadmill Buyer's Guide
Trying to determine which NordicTrack treadmill is right for you? Take a look at our handy-dandy buyer's guide:
Display
All currently produced NordicTrack treadmills have a touchscreen display. However, some are quite a bit larger than others. The smallest screen available is the 7-inch display on the EXP 7i while the largest option is on the X32i, which has a 32-inch screen.
RELATED: The Best Treadmills With TV Screen
Decide what type of display you're looking for before choosing a NordicTrack treadmill. If you have poor vision, I'd recommend picking a machine that has at least a 14-inch screen. If the programming is less important to you, choose a smaller screen to save some cash.
Deck Size
The deck sizes on NordicTrack treadmills don't vary a ton, but if you're especially tall, you'll want to check out the dimensions ahead of time. Some of the more expensive offerings from NordicTrack have an extra few inches added to the length of their deck, so that is something to keep your eyes peeled for.
Foldability
Surprisingly, not all NordicTrack treadmills are foldable. If this is a dealbreaker for you, make sure to check the product page for the wording "SpaceSaver Design with Easy Lift Assist". This will clue you into the fact that the machine can be folded and has an included gas shock for a soft-drop deck.
Incline
If you're someone who is particularly interested in exercising at an incline, make sure your potential NordicTrack treadmill has this component. While all NordicTrack treadmills currently produced do have incline options, not all of them have the same maximum. You'll find incline options anywhere from 12 percent to 40 percent on a NordicTrack treadmill.
RELATED: History of Treadmills
Best NordicTrack Treadmill FAQs
What NordicTrack treadmill should I buy?
Deciding which NordicTrack treadmill to purchase is a personal decision. My favorite overall is the NordicTrack Commercial 1750 because I think this is the best machine for the majority of people. However, if you're looking for a less-expensive offering from NordicTrack, I recommend the EXP 7i, which costs around $1,100.
Is NordicTrack the only brand that has iFIT?
NordicTrack isn't the only brand that carries treadmills with iFIT capabilities. iFIT is owned by Icon Health & Fitness and there are a variety of other brands that are also underneath Icon. Besides NordicTrack, ProForm, Weider, and Weslo also have machines that are compatible with iFIT.
Which is the best incline trainer from NordicTrack?
There are three treadmills within NordicTrack's incline range––the Elite, the X22i, and the X32i. My personal favorite is the X22i, which features a massive 22-inch touchscreen, 40-percent incline, and two sets of handlebars.
Which NordicTrack treadmill is best for home use?
Can you use a NordicTrack treadmill without iFIT?
Yes, you can. In fact, there are free workouts on iFIT-enabled machines, and you can also put the machine in manual mode. However, the value proposition of these treadmills is that they are compatible with iFIT; that's a lot of what you're paying for. If you don't wan the iFIT subscription, you may be better off buying a more affordable treadmill.