We test and review fitness products based on an independent, multi-point methodology. If you use our links to purchase something, we may earn a commission. Read our disclosures.
R-E-S-P-E-C-T. If you're like most people, you probably just sang that in your head (or out loud, I don't judge). And if we're talking about respected cardio brands, NordicTrack tops the list. After all, it has been around since 1975, which is pretty impressive if you ask me.
Say you've decided to purchase one of the best NordicTrack treadmills. Great. But if all of the machines are durable, technologically advanced options, which one do you choose? I'm here to help you make the tough decision about which treadmill you should add to your home gym.
Staying on Track to Help You Find the Best Treadmills
Unlike some NASCAR drivers on the last lap of the Daytona 500, we stay on track. After all, we're a dedicated bunch of fitness professionals who put a heavy emphasis on rigorously testing and reviewing the latest fitness equipment (like treadmills). With backgrounds in CrossFit, nutrition, personal training and more, our team is qualified to help you go all gas, no brakes on your next purchase.
Best NordicTrack Treadmills
Best NordicTrack Treadmill Overall: NordicTrack Commercial 1750
Good for: Someone who wants an overall solid treadmill with great features
Best NordicTrack Treadmill Overall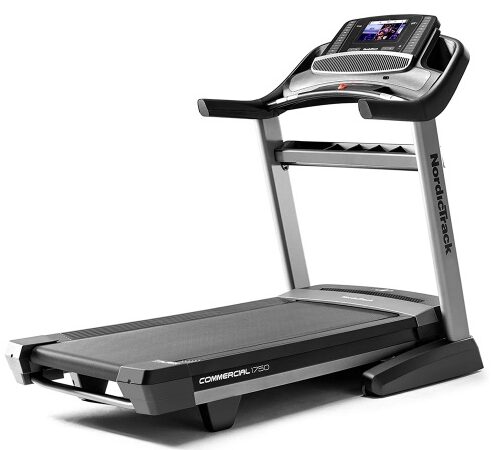 NordicTrack Commercial 1750
The NordicTrack 1750 treadmill features a 14-inch HD adjustable touchscreen with which you can stream iFIT programming on (sold separately). The under $2,000 machine can be financed through the NordicTrack website where you can get deals as low as $49 per month with 0% for 39 months.Models from 2013-2021 of the 1750 had adjustable cushioning, but the 2023 model no longer has this feature.iFIT workouts incorporate Automatic Trainer Control, which allows your trainer to digitally adjust your incline, decline, and speed. This is a nice feature to have because all you have to do is focus on the workout at hand versus frantically switching the controls.
Pros:
14-inch touchscreen that rotates
Incline and decline options
22-inch-by-60-inch deck
ActivePulse technology capabilities
3.5 CHP motor
300-pound weight capacity
Cons:
Heavy machine
Difficult to move solo
Not suited for most apartment residents
Out of all of the NordicTrack treadmills, the Commercial 1750 has my heart. It has so much going for it––a powerful motor, new heart rate tracking abilities, and a sizable touchscreen that rotates for off-the-treadmill programming.
GGR's head of content Kate Meier has also thoroughly tested the NordicTrack Commercial 1750 and was pleased with all the features.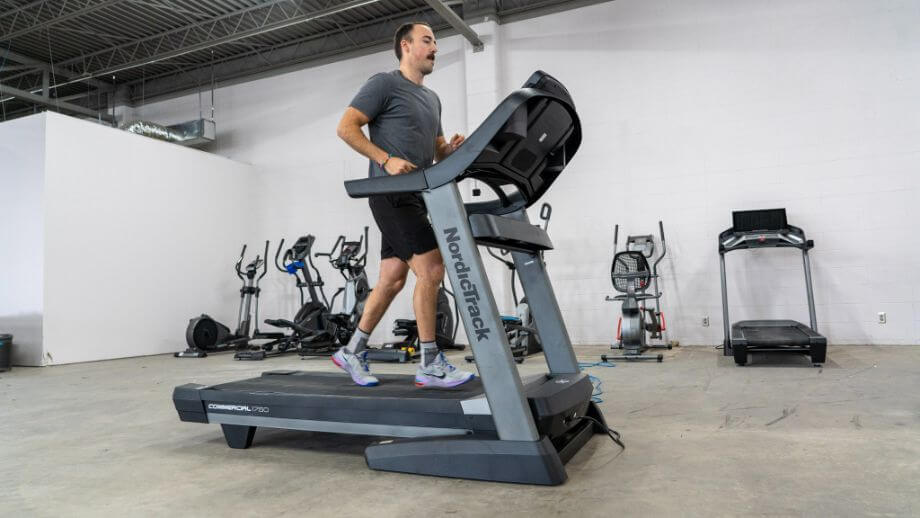 "This is a top-of-the-line treadmill with a slightly more expensive price tag, but not exactly high-end," Kate explained. "You get all the comforts and tech capabilities of some of the best treadmills on the market, but for under $2,000."
The 1750 has both incline and decline options for those who want to kick their training up a notch. Plus, the 22-inch-by-60-inch deck shines for those who are taller or enjoy frequent running.
The only real drawback to this machine is it isn't very portable and wouldn't be suitable for a small space. Although there are included transport wheels, Kate said this treadmill is especially difficult to tip to get onto the wheels. This doesn't surprise me since the 1750 weighs 340 pounds.
Check out our full NordicTrack Commercial 1750 treadmill review.
| | |
| --- | --- |
| Price | Around $2,000 |
| Display | 14" HD touchscreen |
| Footprint | 80" L x 38" W x 65" H |
| Weight | 340 lbs |
Best Budget NordicTrack Treadmill: NordicTrack EXP 7i
Good for: Individuals who want a NordicTrack-quality treadmill at an entry-level price
Best Budget NordicTrack Treadmill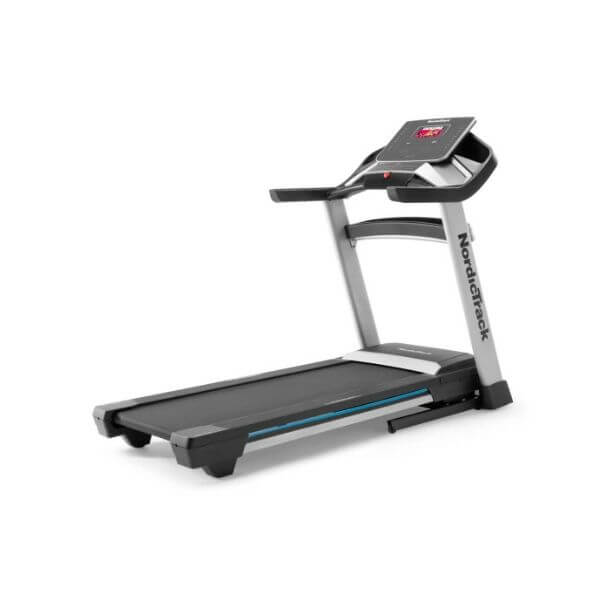 NordicTrack EXP 7i
The NordicTrack EXP 7i offers the reputable NordicTrack-quality build and virtual training experiences at an affordable price. Powered by a 3.0 CHP, the EXP 7i reaches speeds up to 12 miles per hour and supports incline ranges up to 12%. Featuring a folding design, compact footprint, cushioned running deck, and a 7-inch interactive touch screen, the EXP 7i could be a good option for those with limited space.The roomy 20-by-60-inch running deck has a FlexSelect cushioning to reduce impact to joints and back. Training for a road race? Simply turn off the cushioning for a road running experience. And, with membership to the iFIT training platform, you can mock any global terrain and immerse yourself in the virtual images. Or, choose from over 16,000 live and on-demand videos to be guided by elite personal trainers. AutoAdjust technology on the EXP 7i allows these trainers to virtually change your speed and incline so you can focus on your workout.There are also some added conveniences that add a nice touch to this treadmill. The console is equipped with two digitally amplified speakers, a console fan, and a storage tray. There is no tablet holder, but the storage tray has the capability to hold whatever you may need. Bluetooth connectivity makes it easy to sync headphones for a wirefree experience.The 7-inch screen does sit high on the console which may make it hard for shorter individuals to see it clearly. Some users have disliked the smaller screen size, but for the price and its capabilities, it is more than you would find on comparable treadmills.
Pros:
Around $1,100
3.0 CHP motor
Cushioning is adjustable
Foldable
Easy assembly
Bluetooth audio connectivity
Cons:
7-inch touchscreen is small
Doesn't have decline options
Fan isn't very useful for taller folks
If you're looking for one of the best budget treadmills, the NordicTrack EXP 7i will likely not disappoint. At around $1,100, the EXP 7i is currently the least expensive treadmill NordicTrack produces. However, just because this machine is a budget treadmill, doesn't mean it doesn't have a ton going for it.
Expect to see an above-average 3.0 horsepower motor, foldability, and adjustable cushioning. The adjustable cushioning is probably my favorite feature on the EXP 7i, especially if you're sharing this machine with others. I personally enjoy a well-cushioned deck, but some people would prefer a belt that feels more similar to pavement. With the adjustable cushioning feature, everyone can have what they prefer!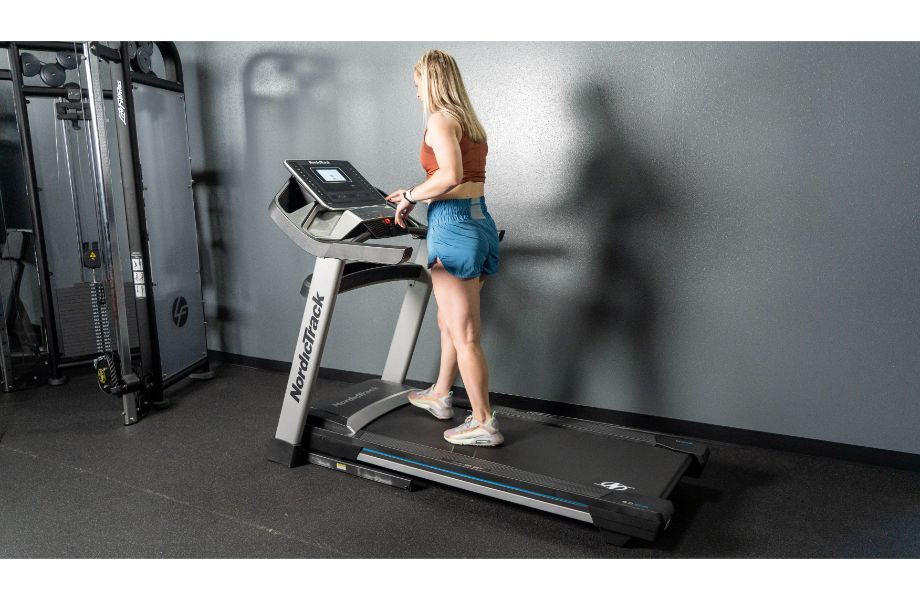 Out of all the NordicTrack treadmills, the EXP 7i is apparently the easiest to assemble. Our NordicTrack rep informed us that while this process would be best completed with another person, it shouldn't take more than two hours.
Although this machine does have a touchscreen, it is a small one. At just seven inches, this touchscreen is only a few inches larger than a new iPhone. If you have eyesight problems, I would recommend checking out a different NordicTrack treadmill with a larger screen.
Read more in our NordicTrack EXP 7i treadmill review.
| | |
| --- | --- |
| Price | Around $1,100 |
| Display | 7" HD touchscreen |
| Footprint | 77.3" L x 35.3" W x 59.6" H |
| Weight | 222 lbs |
Best NordicTrack Treadmill for Runners: NordicTrack Commercial X32i
Good for: Serious runners or people preparing for a race
Best NordicTrack Treadmill for Runners
NordicTrack Commercial X32i Treadmill
This high-tech treadmill features a 32-inch HD touchscreen, a steep incline range, and a super powerful 4.25 continuous horsepower motor to help you get the most out of your workouts.The ultra-wide 22-inch by 65-inch non-stretch tread belt is equipped with special cushioning, so you can push your workouts without worrying about unnecessary wear and tear on your joints.The Commercial X32i Treadmill also comes with a 30-day iFIT family membership where up to five people can enjoy iFIT personal trainers on their own profiles. Trainers can use the automatic controls to digitally adjust your incline and speed settings so everyone in the family can enjoy a personalized workout plan.
Pros:
Extra-large 22-inch-by-65-inch deck
32" touchscreen display
Very sturdy machine
Extremely cushioned deck
Maximum 40-percent incline
Cons:
Heavy machine at 462 pounds
Doesn't fold
Needs multiple people for assembly
A moment of silence for all the unwilling family members who get dragged to run half-marathons on Thanksgiving morning: I see you and I feel that anguish on a spiritual level. Okay, now that we've had that somber moment, we can discuss the X32i, which would be a great option for the people who willingly run on Thanksgiving.
GGR editor Nicole Davis was tasked with testing the X32i and it's safe to say she was impressed with the stability and durability.
"This thing is a tank," Nicole said. "Not even a hint of play while sprinting."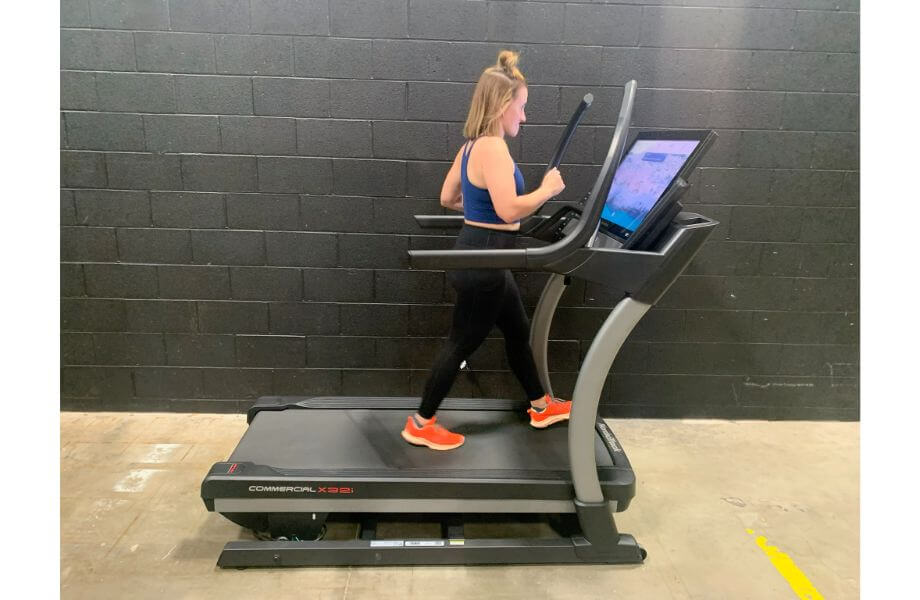 If you're going to run, jog, or sprint on a treadmill, having a stable machine is key to an enjoyable workout. Plus, the 22-inch-by-65-inch deck may be the lengthiest belt I've seen to date. If you're really tall or have long legs, you'll love giving your legs a chance to naturally stride on the X32i. For context, the typical walking or jogging treadmill is around 10 whole inches shorter.
I was also very impressed by the 32-inch HD touchscreen, which is larger than most people's first television. A great screen, like the one on the X32i, can really bring interactive programming to life.
It is worth mentioning that the X32i cannot be folded, so it would work best for someone who has a designated home gym (not garage gym, since your warranty will be voided). Plus, at 462 pounds, the X32i will definitely require professional movers or a few really strong friends to help you move the machine around.
Learn more in our in-depth NordicTrack X32i review.
| | |
| --- | --- |
| Price | Around $4,000 |
| Display | 32" HD touchscreen |
| Footprint | 76.5" L x 40" W x 73" H |
| Weight | 462 lbs |
Best Foldable NordicTrack Treadmill: NordicTrack Commercial 2450 Treadmill
Good for: Individuals who need to store their machine when it isn't being used
Best Foldable NordicTrack Treadmill
NordicTrack Commercial 2450 Treadmill
The NordicTrack Commercial 2450 is a great treadmill for all of your at home workout needs. With features like the 22" tilt and pivot HD touchscreen where you can stream on-demand video workouts directly to your equipment, you'll enjoy a high-end experience each time you run on the Commercial 2450.This treadmill also features a -3% decline and 15% incline, so you can simulate outdoor running. While you're working out you can also turn on your fan to cool off and listen to the workout in your headphones with the Bluetooth connectivity.Let your whole family join in on the fun with the free 30-day iFIT family membership, which is included at the time of purchase.
Pros:
Folds for easy storage
22-inch touchscreen
Incline and decline options
Step-up height is lower than other NordicTrack treadmills
Excellent sound system
Cons:
353 pounds
Lots of parts to keep track of during assembly
Screen was tough to move
You can't always get what you want in life, but the NordicTrack Commercial 2450 is challenging that notion. This decked-out treadmill features a 22-inch touchscreen, incline and decline, and is foldable.
Most treadmills that have a massive screen or lots of features don't fold (looking at you, Peloton Tread). However, people who don't have a dedicated home gym can't always afford to leave out their treadmill 24/7, which is where the foldable 2450 shines.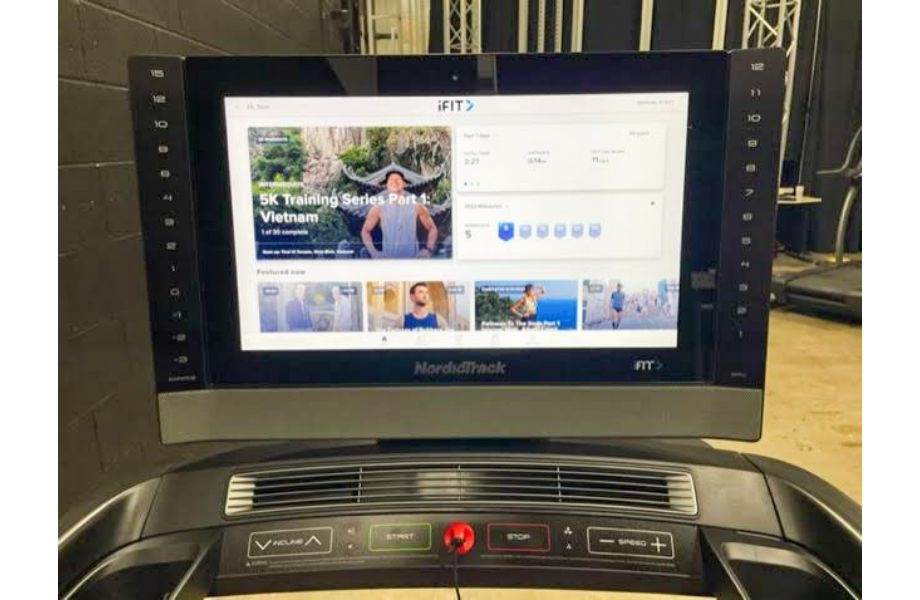 I personally love the incline and decline options on the 2450. Although the incline doesn't tap out at 40 percent like its overachieving older brothers (the X22i or the X32i), the 15 percent maximum works well for me. You're able to get a challenging incline workout without being at risk for snapping your knees and ankles like twigs.
If you're looking for cushioning that feels like stepping on fresh marshmallows right out of the bag, the 2450 has your number. The response from the belt to my feet hitting the deck was more of a bounce than a thud. If you're more into minimal cushioning, this might not be your best pick.
It is worth noting that the 2450 is pretty large and has an in-depth assembly process. If you're not a fan of putting lots of small pieces together (almost like an Ikea dresser), professional assembly might be the best option for you. Plus, at 353 pounds, you'll definitely need some assistance to get this up a flight of stairs.
For more, read our NordicTrack Commercial 2450 review.
| | |
| --- | --- |
| Price | Around $2,500 |
| Display | 22" HD touchscreen |
| Footprint | 81" L x 39" W x 59" H |
| Weight | 353 lbs |
Best NordicTrack Incline Treadmill: NordicTrack Elite Treadmill
Good for: Those who want a premium treadmill for home use
Best NordicTrack Incline Treadmill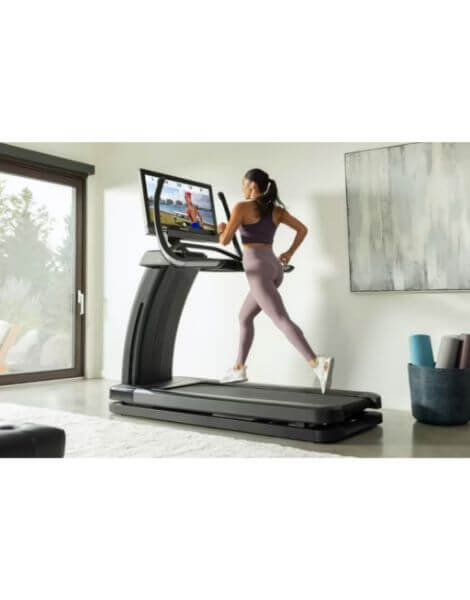 NordicTrack Elite Treadmill 32
The new NordicTrack Elite has the name for a reason. Enjoy the opportunity to intensify your at home workout with a -5% grade decline to a massive 40% grade incline, so you can take on any challenge your iFIT trainer throws your way.With a huge 32″ HD touchscreen that pivots, swivels, and can change height, you are able to see one of your iFIT workouts from every angle.Draw your own route on the integrated Google Maps™ anywhere in the world. And just like other NordicTrack treadmills, iFIT enables your treadmill to adjust to the speed and incline you or your trainer sets during your workout.Enjoy listening to your trainers instructions in your headphones via Bluetooth connectivity or through the pair of 30-watt speakers in the sound bar.
Pros:
-5% to 40% incline and decline options
Large touchscreen with iFIT capabilities
High-quality 30-watt speakers
3.6 CHP motor
Sizeable treadmill deck
Cons:
Expensive
Very heavy machine at 520 pounds
Doesn't fold
The Elite treadmill is currently NordicTrack's most expensive offering, but for good reason––this machine has it all. Although many treadmills have incline options, I can't think of other non-NordicTrack machines that have a maximum of 40-percent incline. And yes, 40-percent incline is just as aggressive as you might think. Picture yourself walking (or running if you're feeling crazy) straight uphill. Certainly not for the faint of heart (or the faint of ankles).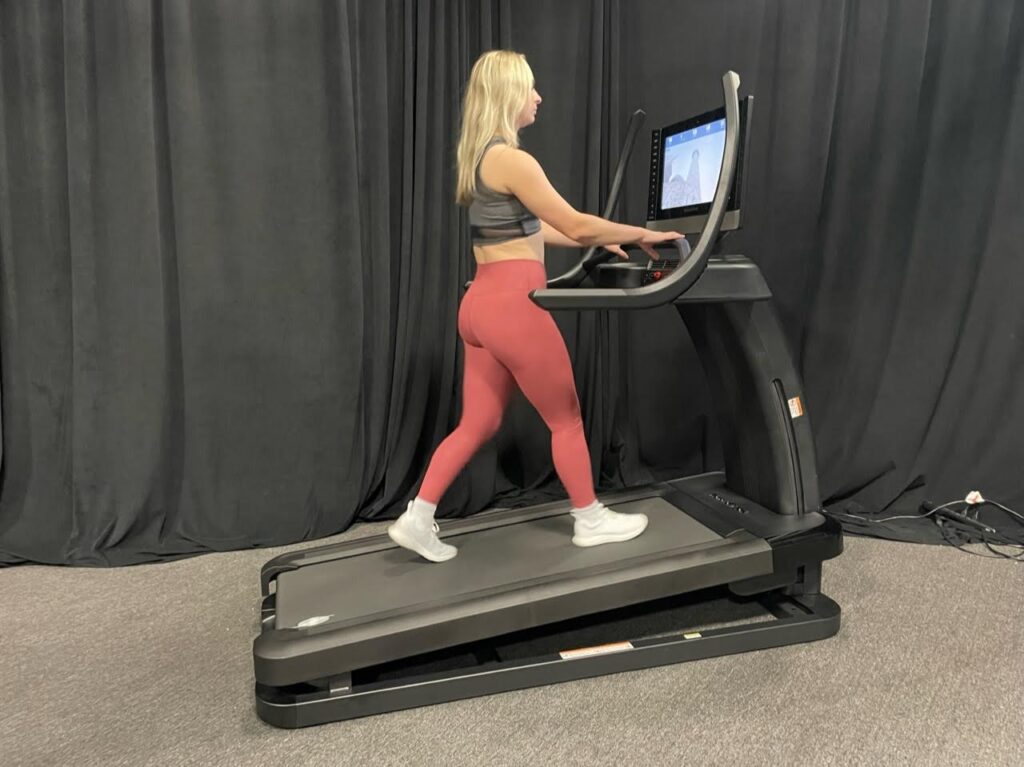 Technology enthusiasts will also love the opulent touchscreen on the Elite, which is available in both 22- and 32-inch sizes. When I was running on the Elite, I was shocked at how much more immersive iFIT felt than on other NordicTrack treadmills. The huge display a few inches from your sweaty face is definitely an experience in and of itself.
I'm also partial to the well-sized deck and powerful motor. The 22-inch-by-60-inch deck has the dimensions to support tall people or those who enjoy running. A 3.6-horsepower motor is above the 3.0 we'd expect to see on a typical running treadmill.
However, all these wonderful features come with a hefty price––be prepared to pay between $3,800-$4,500 (depending on the screen size you choose). Luckily, NordicTrack does offer financing through TD Bank, but you do have to qualify in advance.
It is also worth noting that this machine doesn't fold and weighs a whopping 520 pounds when it arrives at your doorstep. You'll either need to summon Batman through a Bat-Signal to assist or pay the additional $299 for professional delivery and assembly. Whatever floats your boat.
Learn more at our NordicTrack Elite Treadmill review.
| | |
| --- | --- |
| Price | Between $3,800- $4,500 |
| Display | Options of 22" or 32" HD touchscreen |
| Footprint | 81" L x 38" W x 80" H (32")81" L x 39" W x 76" H (22") |
| Weight | 520 lbs |
Other NordicTrack Treadmills We Tried and Researched
NordicTrack EXP 10i: The EXP 10i is a solid machine, but the 10-inch touchscreen doesn't do it for me and my bad vision (especially for almost $1,500).
NordicTrack Commercial X22i: The incline series from NordicTrack includes the X22i, which we love. It is essentially the same machine as the X32i, but with a smaller touchscreen.
NordicTrack EXP 14i: I like the EXP 14i, but prefer the Commercial 1750 if you're looking for a machine with a 14-inch touchscreen.
NordicTrack T 6.5 S: Although we enjoy this budget-friendly treadmill, NordicTrack has unfortunately stopped producing it. Luckily, you can still purchase last year's model on Amazon for under $1,000.
How We Picked and Tested the Best NordicTrack Treadmills
When deciding what machines will make a list, we ask ourselves specific questions in order to standardize our testing process. Check out some of the things we considered prior to writing this roundup:
Brand: Is it a NordicTrack treadmill?
Price: How expensive is the machine? Is the machine considered a budget, mid-range, or high-end treadmill?
Footprint: What is the footprint of the machine? Is this considered large or normal for a treadmill?
Speed: What is the max speed on the treadmill? How does this compare to industry standards?
Incline and decline: Does the treadmill have incline and decline?
Motor: What is the horsepower of the motor? Is this best-suited towards walking, jogging, or running?
Assembly: Can you pay for professional assembly? How much is professional assembly? If you assemble this machine yourself, how hard will it be? Are there a lot of pieces? Is it best to grab a friend or family member to help?
Tread belt: What size is the treadmill belt? Is this best for walkers, joggers, or runners? Would the size of the belt work for a taller individual?
Warranty: What is the warranty for the frame, parts, and labor? How does this compare to industry standards?
Display: What type of display does the treadmill have? Is it a smart HD touchscreen, LCD screen, or something else? What size is the display?
Step-up height: How tall is the step-up height? Would someone with balance issues struggle to mount and dismount the machine?
Portability: Can this machine be moved with just one person? How heavy is the machine? Does it have transport wheels?
Foldability: Is this a folding treadmill? Does it have a gas shock for safer folding?
Financing: Are there financing options available? Who are they through? Do you have to qualify for the financing?
Extras: Does the machine have water bottle holders, heart rate monitoring, or Bluetooth connectivity? Does it have Google Maps or auto-adjust trainer control?
Programming: Does the machine have interactive programming capabilities? Do you get a free trial? How much is the subscription per month and per year? Is it live or on-demand programming?
Cushioning: How cushioned is the deck? Is the cushioning adjustable?
Benefits of a NordicTrack Treadmill
Curious why you should spend your hard-earned money on a NordicTrack treadmill? Certified personal trainer and GGR writer Anthony O'Reilly explains why they're a good buy.
"NordicTrack treadmills are top-of-the-line cardio machines that feature some of the best motors, joint-friendly surfaces, and built-in workout programs," Anthony explains. "While there are more budget-friendly, and frankly better-value treadmills out there, these are the treadmills you want to go for if you're looking for the best-of-the-best."
Anthony isn't fibbing here––NordicTrack machines have all the extra features you could pretty much want on a treadmill.
"One thing I really like from a training perspective is the incline/decline capabilities of NordicTrack's treadmills," Anthony describes. "Not only do these settings challenge different lower-body muscles, but they simulate real-life situations like controlling your pace on a hill or ramp. It can also help to improve your posture and strengthen your posterior chain."
"NordicTrack is also one of the only fitness brands to be mentioned in an Eminem song," Anthony said with a smile.
Boom. As if you needed another reason to add a NordicTrack treadmill to your home gym.
NordicTrack Treadmill Buyer's Guide
Trying to determine which NordicTrack treadmill is right for you? Take a look at our handy-dandy buyer's guide:
Display
All currently produced NordicTrack treadmills have a touchscreen display. However, some are quite a bit larger than others. The smallest screen available is the seven-inch display on the EXP 7i while the largest option is on the X32i, which has a 32-inch screen.
Decide what type of display you're looking for before choosing a NordicTrack treadmill. If you have poor vision, I'd recommend picking a machine that has at least a 14-inch screen. If the programming is less important to you, choose a smaller screen to save some cash.
Deck Size
The deck sizes on NordicTrack treadmills don't vary a ton, but if you're especially tall, you'll want to check out the dimensions ahead of time. Some of the more expensive offerings from NordicTrack have an extra few inches added to the length of their deck, so that is something to keep your eyes peeled for.
Foldability
Surprisingly, not all NordicTrack treadmills are foldable. If this is a dealbreaker for you, make sure to check the product page for the wording "SpaceSaver Design with Easy Lift Assist". This will clue you into the fact that the machine can be folded and has an included gas shock for a soft-drop deck.
Incline
If you're someone who is particularly interested in exercising at an incline, make sure your potential NordicTrack treadmill has this component. While all NordicTrack treadmills currently produced do have incline options, not all of them have the same maximum. You'll find incline options anywhere from 12 percent to 40 percent on a NordicTrack treadmill.
RELATED: History of Treadmills
Best NordicTrack Treadmill FAQs
What NordicTrack treadmill should I buy?
Deciding which NordicTrack treadmill to purchase is a personal decision. My favorite overall is the NordicTrack Commercial 1750 because I think this is the best machine for the majority of people. However, if you're looking for a less-expensive offering from NordicTrack, I recommend the EXP 7i, which costs around $1,100.
Is NordicTrack the only brand that has iFIT?
NordicTrack isn't the only brand that carries treadmills with iFIT capabilities. iFIT is owned by Icon Health & Fitness and there are a variety of other brands that are also underneath Icon. Besides NordicTrack, ProForm, Weider, and Weslo also have machines that are compatible with iFIT.
Which is the best incline trainer from NordicTrack?
There are three treadmills within NordicTrack's incline range––the Elite, the X22i, and the X32i. My personal favorite is the X22i, which features a massive 22-inch touchscreen, 40-percent incline, and two sets of handlebars.
Which NordicTrack treadmill is best for home use?