We test and review fitness products based on an independent, multi-point methodology. If you use our links to purchase something, we may earn a commission. Read our disclosures.
If you're looking for a high-end treadmill, don't skip this review. The NordicTrack X22i is one of the most sumptuous treadmills we've ever had our hands (and feet) on, and we're stoked to tell you all about it. In our NordicTrack X22i review, you'll learn what, exactly, makes this gargantuan, extravagant cardio machine so special.
Hundreds of Treadmill Miles Under Our Belts
NordicTrack X22i Treadmill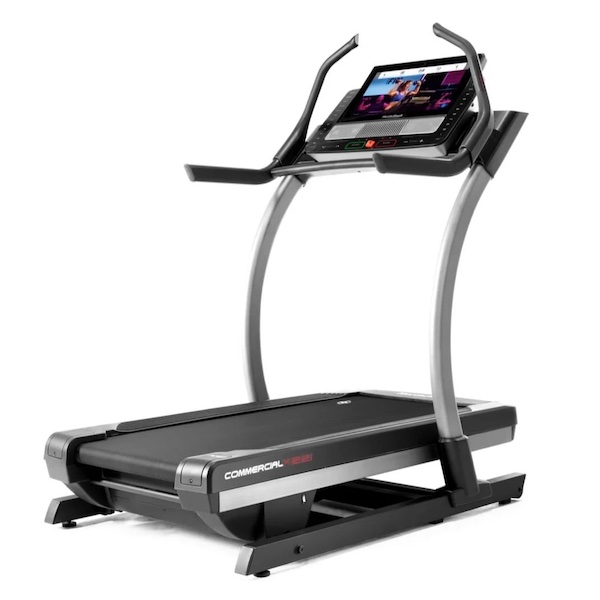 Product Highlights
Commercial-grade treadmill with a 4.0 CHP motor

Speeds up to 12 MPH

Impressive incline range of -6% to 40%

Fully rotating and tilting 22-inch HD touchscreen 

iFIT-enabled with 30-day free family membership

Integrated with Google Maps

Auto-adjust technology
Pros & Cons
Pros
Commercial-grade
4.0 CHP motor
Impressive range of incline and decline
Rotating and tilting HD touchscreen
Quiet
Upgraded Bluetooth connectivity
Free 30-day family membership to iFIT
Cons
Heart rate strap not included
Will need subscription to iFIT to access workouts
Large
Expensive
Bottom Line
If you have the budget and space, the NordicTrack X22i is a high-quality treadmill that offers a fully immersive experience and some impressive specs to boot.
A Quick Look at the NordicTrack X22i Treadmill
It is, in a word, splendid.
But of course, all of those first-rate features come at a first-class price. Ahead, learn more about the NordicTrack X22i and whether or not its many luxuries are worth the price tag.
My Tips
NordicTrack offers stellar financing options. Take advantage of them if you can!
I recommend paying for white-glove delivery with this one. It weighs more than 415 pounds in the box and it's massive. You will, at the very least, need a strong friend to help you out.
NordicTrack X22i Video Review
Is the NordicTrack X22i Worth It?
The X22i is a high-end treadmill, no doubt. The price tag won't be worth it for everyone, seeing as it nears $3,000, but for the right folks, the X22i incline treadmill is the move.
Take it from Caroline Lubinsky, GGR staff writer, who actually visited the iFIT headquarters to try this machine: "It is definitely expensive at around $3,000, but if you're looking for all the bells and whistles and don't mind spending the cash, you'll get an excellent machine. There are so many features, the machine is sturdy, and the touchscreen is responsive. I was definitely impressed."
Great for:
People looking for a commercial-grade treadmill with a powerful motor
Serious runners
Trainees preparing for mountain adventures that require uphill climbing
Not recommended for:
Casual runners and walkers
People with small gym spaces
Anyone who doesn't want to pay a monthly subscription fee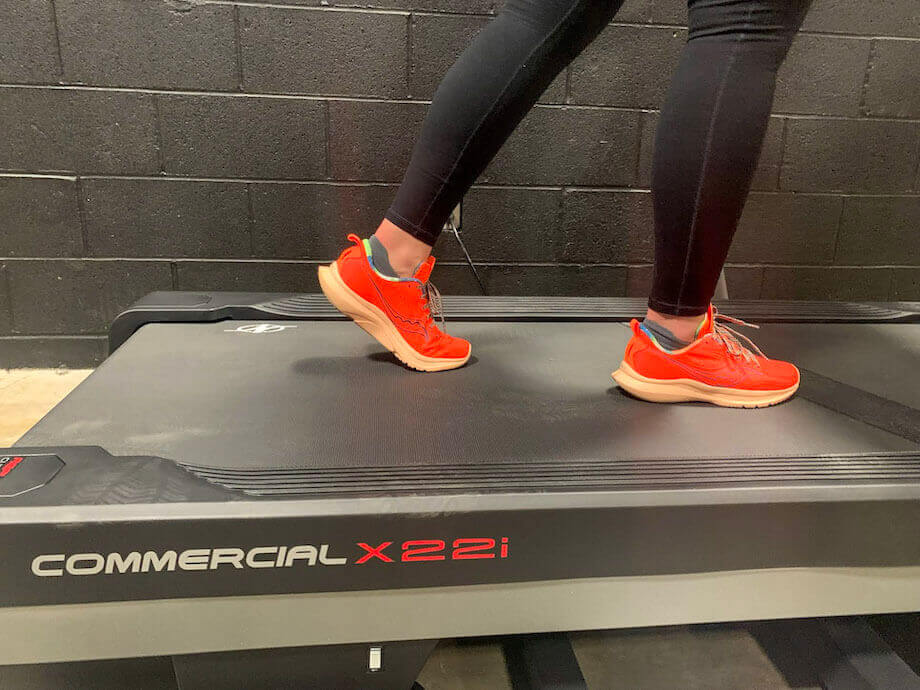 NordicTrack X22i Specs
| | |
| --- | --- |
| Footprint | 70" L x 39" W x 72.5" |
| Weight | 417 lbs in box |
| Max User Weight | 300 lbs |
| Connectivity | Bluetooth, WiFi, Google Maps integration |
| Speakers | Two 3" Digitally-Amplified Speakers |
| Motor | Self-cooling 4.0 CHP |
| Running Deck Size | 22" W x 60" L |
| Cushioning | Yes |
| Heart Rate Monitoring | Yes |
| Programming | iFIT membership required |
| Incline/Decline | -6% – 40% |
| Speeds | 0-12 MPH |
| Conveniences | Dual AutoBreeze™ fans, one-touch controls, water bottle holders, phone holder |
| Warranty | 10-year frame; 2-year parts; 1-year labor |
Workout Experience: Using the NordicTrack X22i
Put simply: This is a really high-end, sturdy machine.
"Even at a high incline, this machine did not shake for me," Caroline says. "Granted, I weigh nowhere near the weight capacity, so you might have a different experience if you're a heavier person."
Caroline really enjoyed the option to do the sled push at 1 MPH and the additional set of handlebars. "It makes you feel like you're getting a two-for-one with a manual and motorized treadmill," she says.
The 22-inch screen is huge and excellent for iFIT. It feels super immersive and really provides a boutique studio class experience. The quick-select buttons are great, located on the side, Caroline describes, and the incline, decline, and speed all change quickly. It's pretty quiet as far as treadmills go, although the fans are kind of loud. The fan hits Caroline's 5-foot-9 frame in the perfect spot, with cool air wafting toward her face, neck, and chest.
The top speed on the X22i is 12 miles per hour, which exceeds the industry standard of 10 MPH. But the incline levels are really where it's at: This treadmill can actually be classified as an incline trainer with its impressive range of up to 40% incline. It also declines down to a -6% grade. On this machine, each percentage equates to one level or one push of the button.
NordicTrack says that walking at the 40% incline can increase calorie burn by five times that of walking at the -6% decline. I'm not sure how sound their study was, but it's an interesting tidbit of information for those interested in weight loss.
This treadmill has two bottle holders which will hold slimmer bottles—probably not your 32-ounce Hydro Flask. There's a safety stop clip and stop button, two cooling fans, dual 3-inch speakers, and two small accessory/phone holders.
"My iPhone XR fit perfectly into the accessory holders," Caroline says. "I guess you could watch Netflix on your phone while you walk or run, but it doesn't make much sense since you have a giant iFIT-enabled screen in front of you."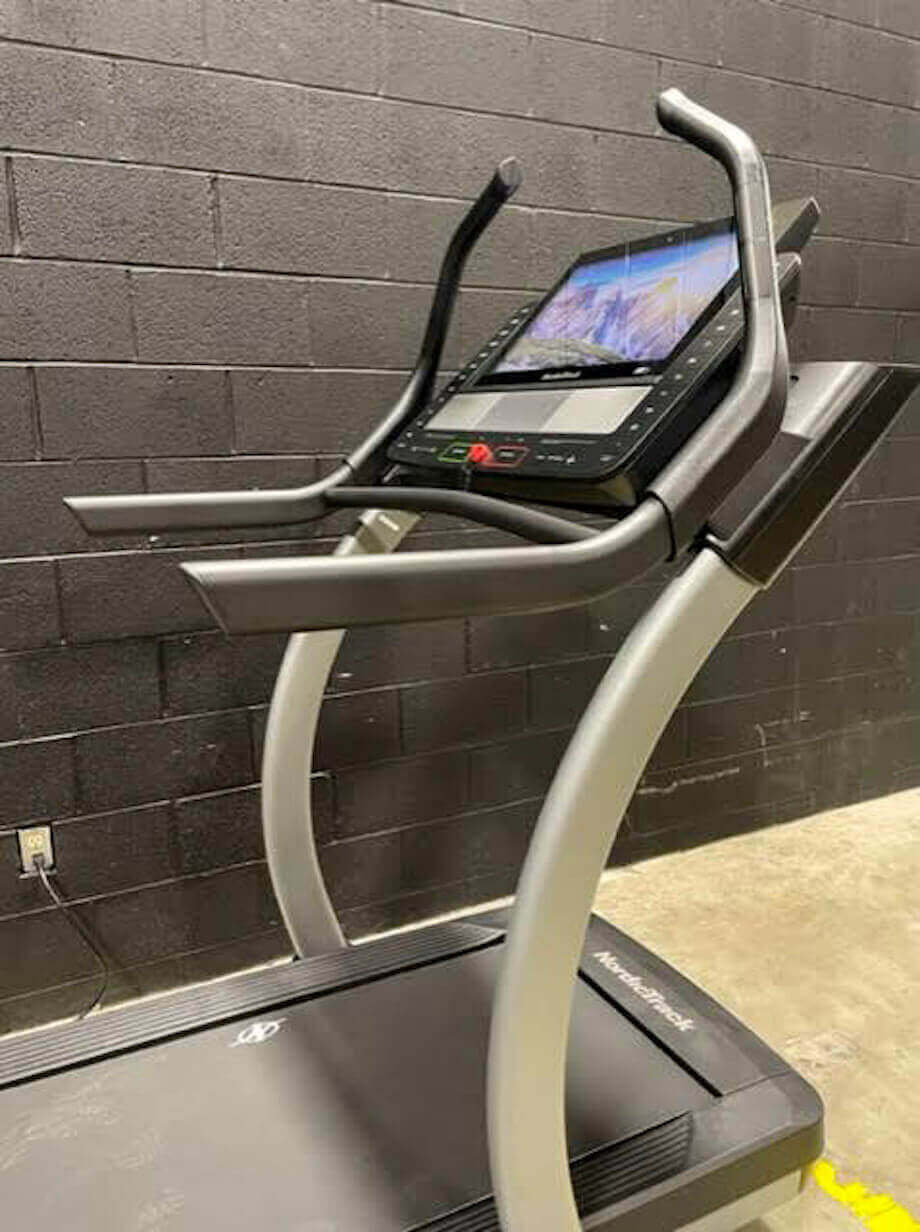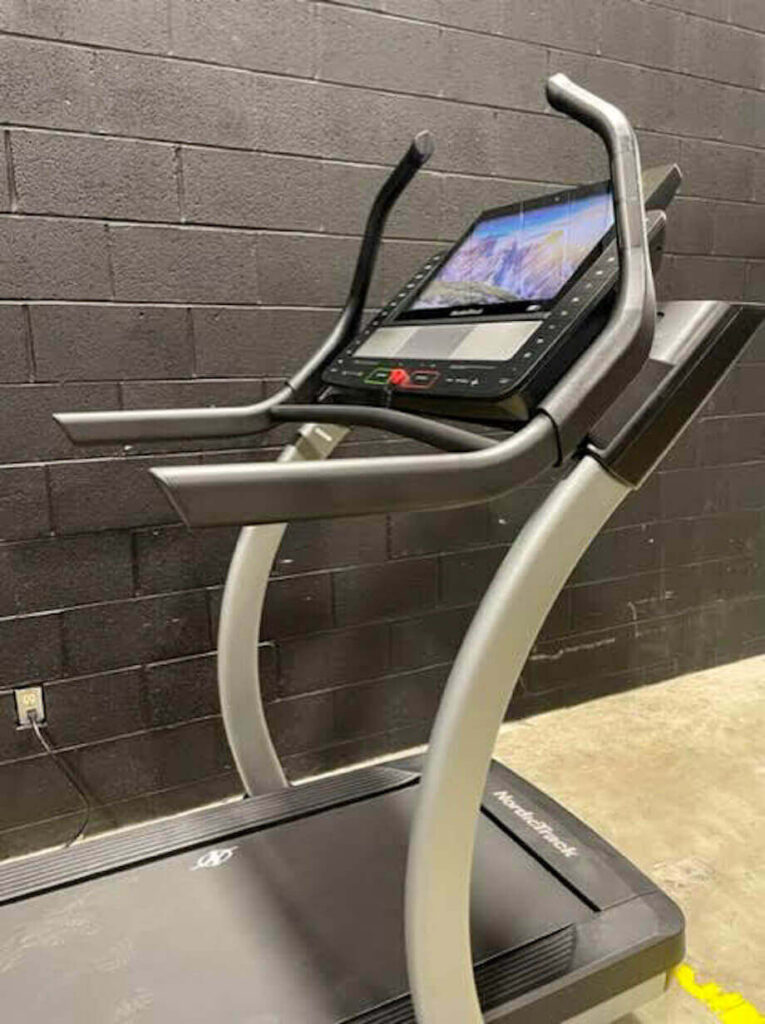 Footprint and Portability
This is a huge machine. It measures 70 inches in length, 39 inches in width, and 72.5 inches in height. It weighs 417 pounds in the box, so you'll definitely need at least two strong people to move and assemble it. Ideally, you'd have three people working together or a Strongman champion on speed dial.
After seeing the X22i in person, Caroline is not inclined to think it'll fit in an apartment, unless you have that penthouse lifestyle going on. It also doesn't fold, so it might be hard to fit in any type of home, unless you have a dedicated home gym space. (Do not store this machine in your garage, or the warranty is voided.)
Durability and Construction
According to Caroline, the X22i feels very durable and sturdy when it is being used.
"There was no uncomfy shifting or shaking at all when being used," she said. "The weight capacity is 300 pounds, which hits the industry standard of 300," she says, although for the size, weight, and power of this thing, we expected a bit more wiggle room with that.
The 4.0 CHP motor is excellent and above even what we'd recommend to support serious runners for a long period of time.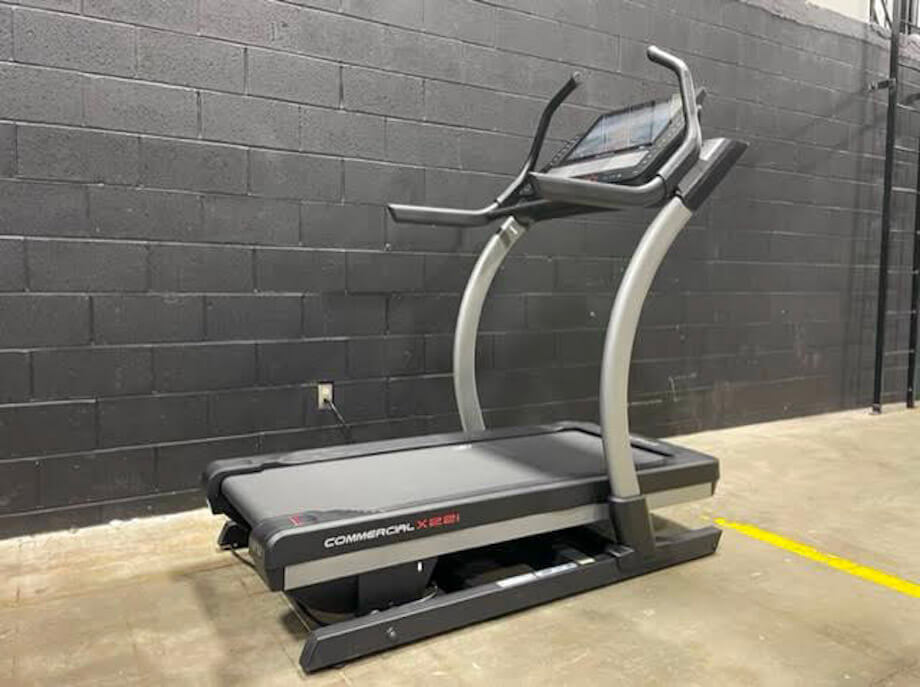 The Ergonomics
The X22i sports a 22-inch-wide, 60-inch-long commercial-grade tread belt. This is ideal for tall people, serious runners, and those with longer stride lengths. For a frame of reference, this falls well above the industry standard of 55 inches in length and 18 inches in width.
"The deck is well-cushioned and responsive," Caroline says. "As someone who had reconstructive ankle surgery, I appreciate a comfortable running deck that decreases pressure on the joints and makes running a more low-impact activity."
However, Caroline warns of the high step-up height. This treadmill sits very high off of the ground, which could be an issue for those with balance issues.
The X22i also features dual handlebars: There are the side rails like you'll find on most treadmills, and there's an additional handlebar up top. The front handlebar is designed to be there for you when you're walking at very high incline levels or when you're using the treadmill in manual mode to engage in the sled-push function.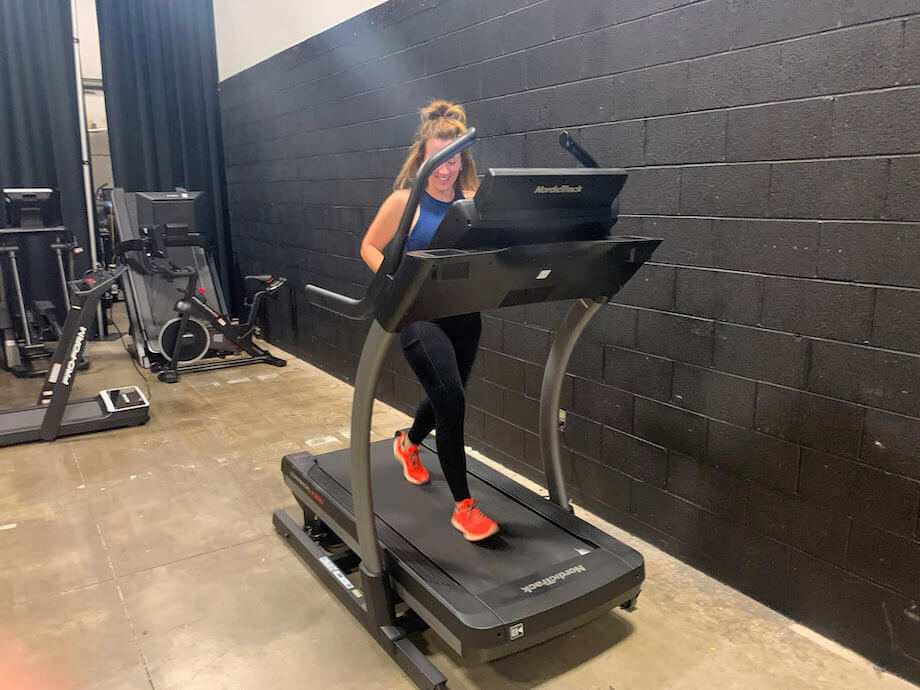 Tech Specs
This treadmill boasts all of the tech features you'd expect from a cardio machine with a four-figure price tag. It does, of course, utilize iFIT, as all NordicTrack treadmills do. iFIT requires a subscription, but it's worth it for all of the on-demand workout classes led by personal trainers.
You can use the treadmill in a manual mode, but that doesn't make a ton of sense since you'll have a 22-inch touchscreen in front of you.
The X22i has Bluetooth connectivity, WiFi, Google Maps integration, automatic stat tracking, heart rate monitoring capabilities, HD graphics, and AutoAdjust™ technology, which allows iFIT trainers to remotely control your incline and decline levels.
NordicTrack X22i vs NordicTrack X32i
NordicTrack Commercial X32i
NordicTrack Commercial X32i Treadmill
This high-tech treadmill features a 32-inch HD touchscreen, a steep incline range, and a super powerful 4.25 continuous horsepower motor to help you get the most out of your workouts.The ultra-wide 22-inch by 65-inch non-stretch tread belt is equipped with special cushioning, so you can push your workouts without worrying about unnecessary wear and tear on your joints.The Commercial X32i Treadmill also comes with a 30-day iFIT family membership where up to five people can enjoy iFIT personal trainers on their own profiles. Trainers can use the automatic controls to digitally adjust your incline and speed settings so everyone in the family can enjoy a personalized workout plan.
The NordicTrack X32i is the X22i's big sibling. It has all of the same features as the X22i—and then some. Most notably, the running surface on the x32i is even larger at 22" wide by 65" long. It also has an absolutely colossal touchscreen display of 32 inches.
Additionally, the X32i is outstandingly sturdy: "Not even a hint of play while sprinting at top speeds," says product tester Caroline Lubinsky. The running deck on this machine is more cushioned than the X22i, though, and the large screen did shake a little bit at sprinting speeds. (Probably just because it's SO big, Caroline points out.)
The incline, decline, top speeds, and user weight capacity, and tech specs are the same as what you'll find on the X22i.
RELATED: Nordictrack X32i Review
NordicTrack X22i vs NordicTrack Commercial 1750
NordicTrack Commercial 1750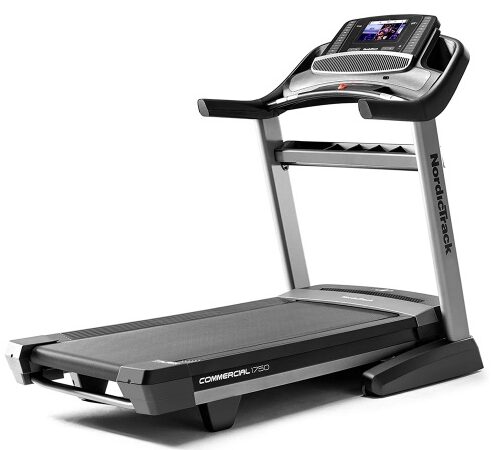 NordicTrack Commercial 1750
The NordicTrack 1750 treadmill features a 14-inch HD adjustable touchscreen with which you can stream iFIT programming on (sold separately). The under $2,000 machine can be financed through the NordicTrack website where you can get deals as low as $49 per month with 0% for 39 months.Models from 2013-2021 of the 1750 had adjustable cushioning, but the 2023 model no longer has this feature.iFIT workouts incorporate Automatic Trainer Control, which allows your trainer to digitally adjust your incline, decline, and speed. This is a nice feature to have because all you have to do is focus on the workout at hand versus frantically switching the controls.
The NordicTrack Commercial 1750 is in the brand's commercial line, but not its incline line of products. The Commercial 1750 is one of our favorite treadmills overall and regularly tops our lists of the best cardio machines.
We think it's a better fit for most people due to its more palatable price tag. It doesn't have quite as many high-end features as the X22i—the 1750 has a 14-inch display and the incline maxes out at 15%, just to name a few—but it costs less by $1,000 and it folds to save space when not in use.
Read our full NordicTrack Commercial 1750 review.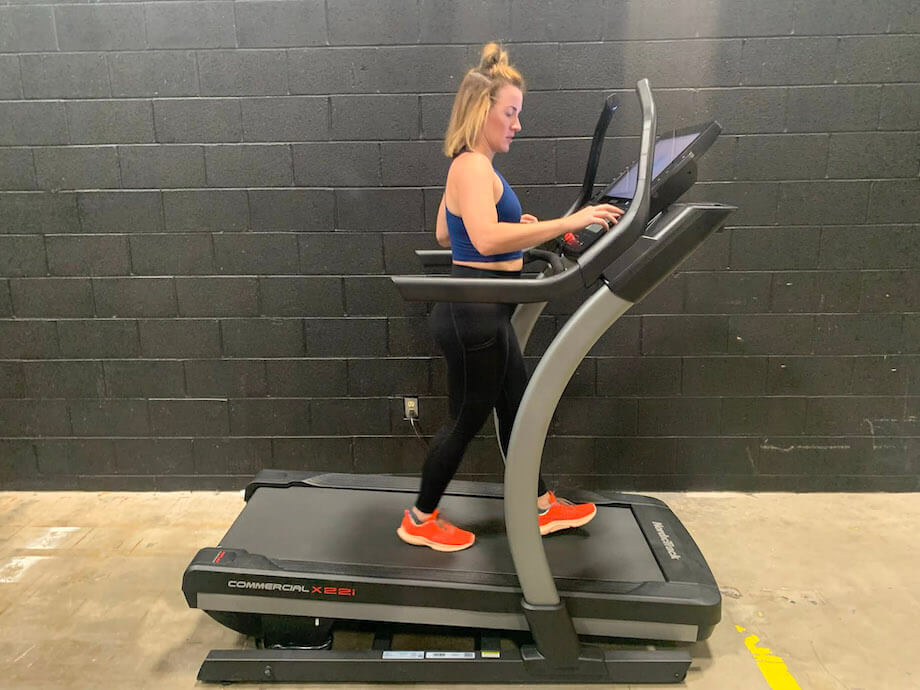 NordicTrack X22i vs Peloton Tread
Peloton Tread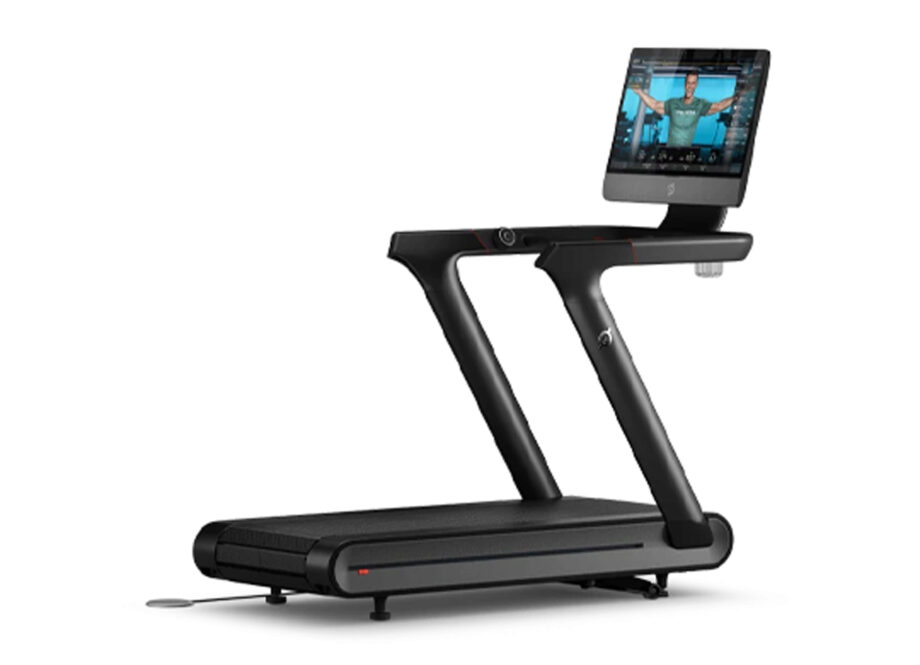 You do not simply go on a hunt for high-end treadmills without coming across the Peloton Tread. Though the company seems to always be clouded in controversy, we can't argue that the Tread isn't a good machine.
The Peloton Tread (not its recalled big sibling, the Tread+) features a slightly larger touchscreen than the X22i at almost 24 inches. It also has a high step-up height like the X22i, and Peloton interactive programming is a strong competitor to iFIT. However, you won't get the same incline and decline range, nor the AutoAdjust technology that comes with iFIT-powered treadmills.
Read our full Peloton Tread review.
Customer Experience
The warranty of all NordicTrack machines could be better, as you only get a 10-year warranty for the frame. The industry standard for commercial treadmills is 15 years to life. However, the financing options from NordicTrack are excellent and make this a more "affordable" option for more people. The company has a standard return policy of 30 days.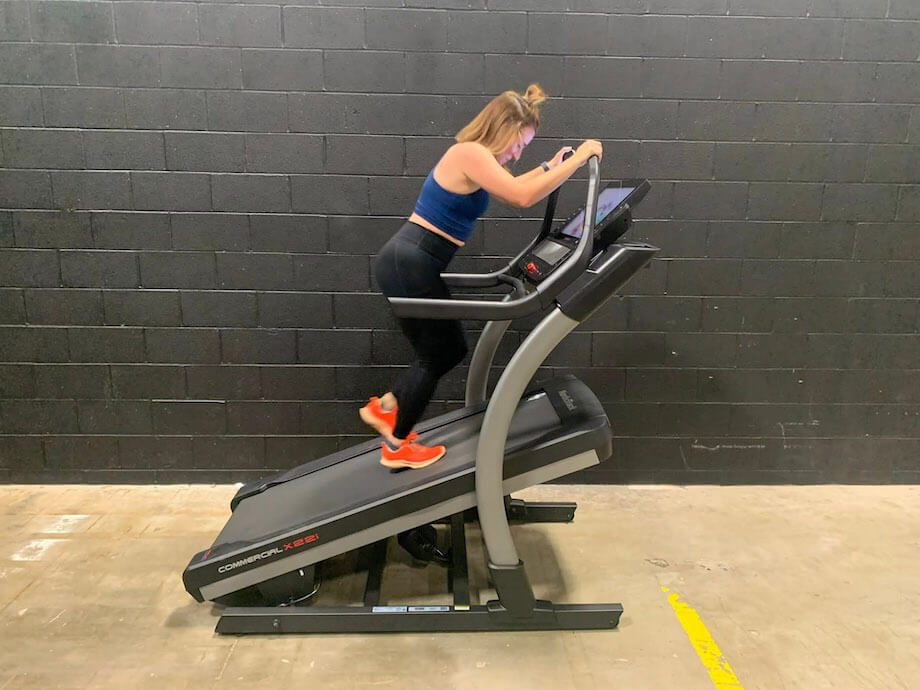 As for customer support, the live chat function is great for simple questions but they can't help much for tech issues. The email function is okay but they take almost a week to get back to you.
Ordering and Assembling the NordicTrack X22i
The base of this machine is really heavy; you'll need at least two strong people to move it. Once the base is in place, assembly is relatively easy: There are four main screws and a wire harness, over which you put the plastic cover. This should take about one hour for someone who knows what they are doing.
You'll need your own tools for this one. Professional assembly is offered for an additional price and might be a good choice for someone who wants to put the machine on an upper floor or who doesn't have anyone to help.
Customer Reviews
The NordicTrack X22i isn't sold on Amazon, so customer reviews are limited to what's on the website. The most recent reviews on the X22i are from early 2021, which strikes me as odd, but we'll work with what we can get.
The reviews are overwhelmingly positive, with buyers stating the treadmill has changed their workout routine for the better. Customers write things like: "Best purchase hands down!" and "Everything we wanted and more!"
It's safe to say that people who have bought the NordicTrack X22i seem very happy with their purchase, despite the price point.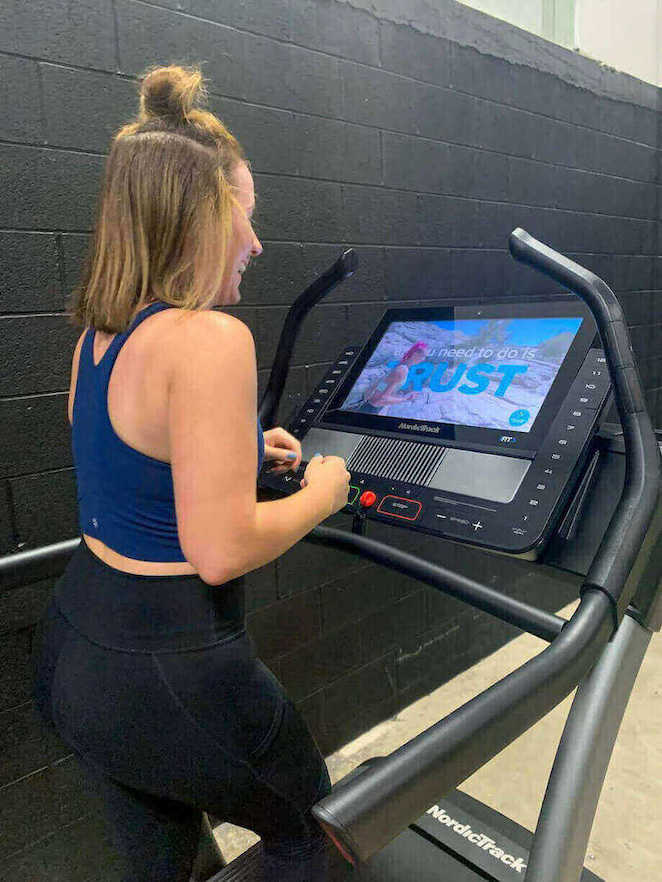 Final Verdict of Our NordicTrack X22i Treadmill Review
This is a luxury cardio machine and it shows in the nearly $3,000 price tag. For the right people, this machine is more than worth it. It makes cardio workouts a dream!
The X22i features a max decline of 6% and max incline of 40%, making it an incline trainer versus a simple treadmill.
It tops out at 12 MPH, which is two MPH over the industry standard of 10.
The 22-inch HD display streams iFIT workouts and is integrated with Google Maps for around-the-world running.
NordicTrack X22i Rating
NordicTrack X22i
The NordicTrack X22i is one of the most sumptuous treadmills we've ever had our hands (and feet) on, and we're stoked to tell you all about it. In our NordicTrack X22i review, you'll learn what, exactly, makes this gargantuan, extravagant cardio machine so special.
Product Currency: $
Product Price: 2999
Product In-Stock: InStock
NordicTrack X22i Review FAQs
Is the NordicTrack X22i a treadmill or incline trainer? 
Incline trainers are basically treadmills that have a greater incline/decline range than the average treadmill. Although NordicTrack lists the machine in its treadmill section on the website, you could call this the "X22i Incline Trainer" (and NordicTrack does, in the product's URL) since the -6% to 40% incline range is so vast.
How much does iFIT cost? 
To access iFIT workouts, you'll need to subscribe to the app. There are two ways to pay: monthly or annually. An iFIT family membership costs $396 per year or $39 per month. An individual membership costs $180 per year. However you look at it, this is still cheaper than most gym memberships. Although you can use NordicTrack machines in manual mode, I think having an iFIT coach on deck at all times is worth it. 
What are the best treadmills?