We test and review fitness products based on an independent, multi-point methodology. If you use our links to purchase something, we may earn a commission. Read our disclosures.
Let's face it: Trying to come up with your own treadmill workout can be tough (and downright boring). That's why I like to rely on interactive programming like Peloton and iFIT to do my dirty work for me. These subscription-based apps allow you to get started running or walking with the simple click of a button.
Finding the best iFIT treadmill on the market may seem tough, but luckily, Garage Gym Reviews is here to help. I'll guide you through everything from the best budget-friendly options to a super high-end pick you'll drool over. Let's get started.
Hundreds of Interactive Programming Classes Taken
Our team of expert product reviewers and testers are all for programming our own workouts—after all, quite a few of us are certified personal trainers—but it is nice when someone or something else can take the place of that on occasion. That's where interactive programming comes in. Amongst our team at Garage Gym Reviews, we've tested hundreds of different types of on-demand classes from programming services like Peloton, iFIT, JRNY, Studio, and more.
Best Treadmills with iFIT
Best iFIT Treadmill Overall: NordicTrack Commercial 1750
Good for: Runners, walkers, and joggers alike
Best iFIT Treadmill Overall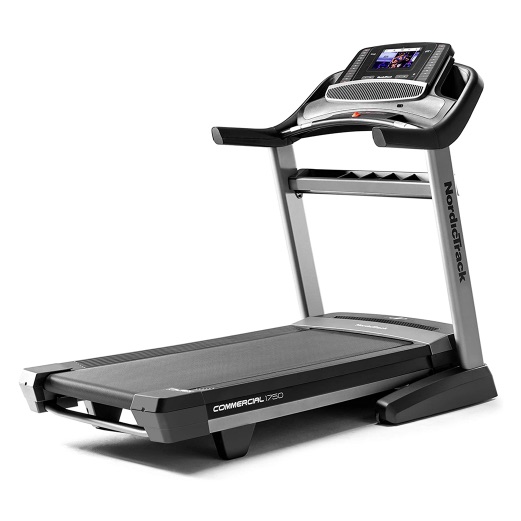 NordicTrack Commercial 1750
The NordicTrack 1750 treadmill features a 14-inch HD adjustable touchscreen with which you can stream iFIT programming on (sold separately). The under $2,000 machine can be financed through the NordicTrack website where you can get deals as low as $49 per month with 0% for 39 months.Models from 2013-2021 of the 1750 had adjustable cushioning, but the 2023 model no longer has this feature.iFIT workouts incorporate Automatic Trainer Control, which allows your trainer to digitally adjust your incline, decline, and speed. This is a nice feature to have because all you have to do is focus on the workout at hand versus frantically switching the controls.
Pros:
14-inch touchscreen
Both incline and decline options
Large treadmill belt
3.5 CHP motor
Financing options are available
Cons:
Very heavy machine
Big footprint
Warranty will be voided if you store this machine in your garage
The NordicTrack Commercial 1750 treadmill is one of my personal all-time favorite cardio machines. The 1750 comes equipped with a 14-inch HD touchscreen that can be moved and swiveled to accommodate iFIT workouts off the treadmill (as well as on, of course).
I personally really like the 3.5 CHP motor coupled with the 22-inch wide by 60-inch long deck. These are both important features to look for in a treadmill that can support all types of cardio—you want a motor of at least 3.0 CHP and a 20-inch wide by 60-inch long deck for frequent running or taller folks.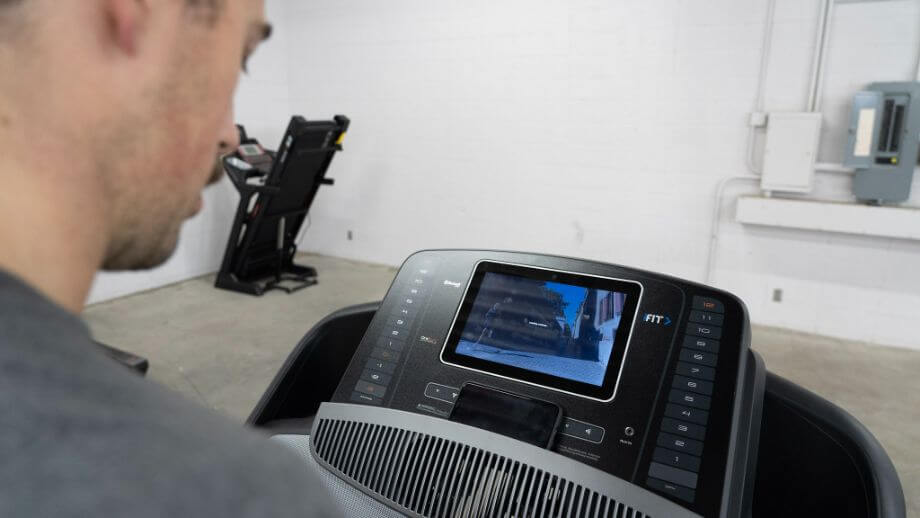 NordicTrack also offers great financing options, and the 1750 is no exception. You can take home this cardio machine for as little as $52 per month for 39 months (with 0% APR). No need to stress about paying for it all at once!
In terms of things to be aware of, the NordicTrack 1750 is incredibly heavy at 340 pounds in-box. If you can afford it, I recommend splurging for professional assembly so you don't injure yourself trying to move or assemble this machine. The 1750 also has a large footprint, but it can be folded when it isn't being used, so it's generally less of a concern.
Read our full NordicTrack Commercial 1750 treadmill review.
Price
Deck size
Display
Warranty
Around $1,900
22" W x 60" L
14-inch HD touchscreen
10-year frame, 2-year parts, 1-year labor
Best Affordable iFIT Treadmill: Weslo Cadence G 5.9i Treadmill
Good for: People on a budget who still want a treadmill compatible with iFIT
Best Affordable iFIT Treadmill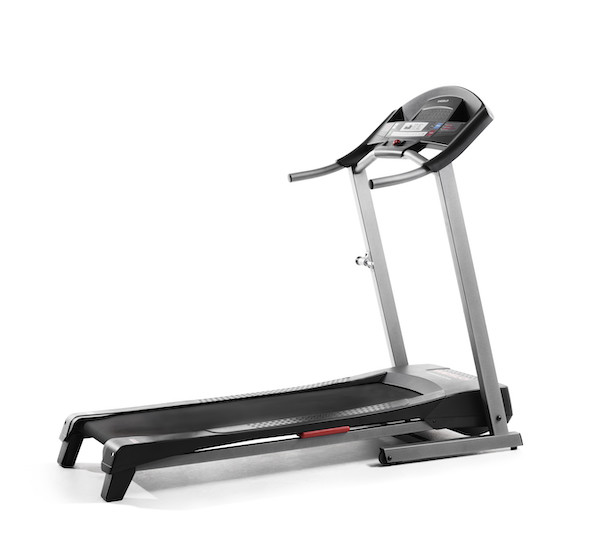 Weslo Cadence G 5.9i Treadmill
The Weslo Cadence G 5.9i treadmill is a budget-friendly, compact, and lightweight folding treadmill best suited for cardio newbies or those who plan to walk or jog. The G 5.9i is iFIT-enabled and comes with a 30-day free trial providing access to thousands of live and on-demand workouts that vary in length, style, and intensity. However, you will need a smart device to stream and connect to this treadmill to utilize iFIT treadmill workouts. When partaking in live workouts, take advantage of the auto-adjust technology for hands-free workouts.Powered by a 2.25 CHP, the G 5.9i supports speeds up to 10 miles per hour. If you plan on running hard or long, this may not be the treadmill for you. Additionally, with only two levels of manual resistance, you will not be able to mimic outdoor running. There are six pre-programmed workout options for those who prefer more traditional treadmill workouts over iFIT or simply do not want to pay for a membership. The G 5.9i weighs only 118 pounds and stamps out a relatively small footprint of 64.5 inches long, 29 inches wide, and 55.5 inches tall. It also has a folding design so you can move it out of the way and store it vertically when not in use. With the smaller footprint comes a smaller running deck. Although the deck has comfort cell cushioning, it measures 50 inches long by 16 inches wide so may feel constricting to those with larger strides.
Pros:
Inexpensive at around $300
Treadmill has the ability to be integrated with iFIT
Only 118 pounds
6 preset training programs
Foldable
Cons:
Small deck
Short warranty
275-lb max user weight capacity
Who says you can't find a budget-friendly treadmill that also comes with iFIT programming? Not us, that's for sure, and the Weslo Cadence 5.9i Treadmill is proof of that.
It doesn't have a built-in monitor, so you'll have to connect your smartphone or tablet via Bluetooth to follow any workouts. That's a minor inconvenience in the grand scheme of things, especially since most, if not all of us, have one or both of those that we can place on the treadmill's sturdy device stand.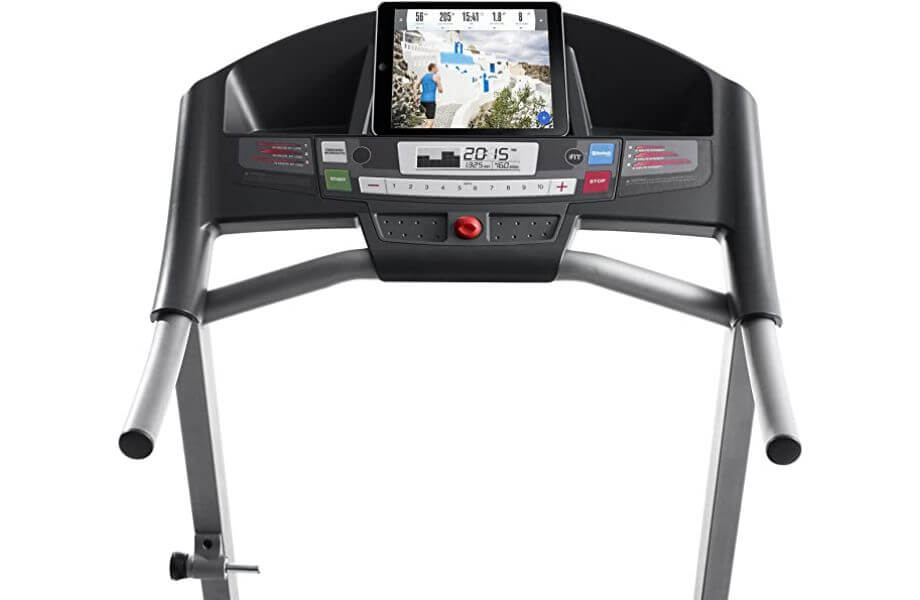 This is one of those cases where we haven't yet gotten our hands on this home treadmill, but the online reviews speak for themselves. People of all sizes and fitness levels say they've run and walked on this thing for several thousand miles, and they would walk several thousand more just to be the one to tell you to buy this treadmill.
We will say we're a little wary of recommending it for runners with longer strides since it only has a 50-inch running deck. Really, if you're over 6 feet tall you might have a difficult time getting into a proper running groove on this (though many reviewers say they're much taller than that and find it works for them just fine).
And if you're someone who's looking for compact exercise equipment, you'll be happy to know you can easily fold this treadmill for easy storage.
Price
Deck size
Display
Warranty
Around $300
16" W x 50" L
5-inch LCD display
1-year motor, 90-day parts and labor
Best iFIT Treadmill for Walkers: ProForm Carbon T7 Treadmill
Good for: Consistent walkers who want a touchscreen display
Best iFIT Treadmill for Walkers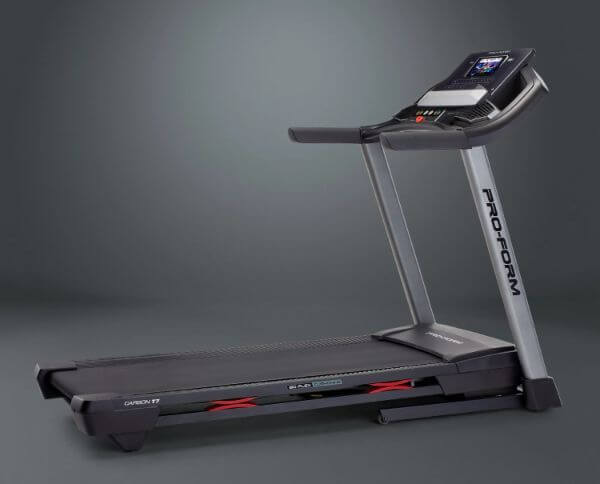 ProForm Carbon T7 Folding Treadmill
If you're someone who thrives off external motivation or training with a tribe, the ProForm Carbon T7 may be for you. Included in your purchase is a 30-day iFIT family membership, which provides exclusive access to thousands of on-demand and live-streaming classes led by world-class trainers. Users can also join various training programs or use the leaderboard as a source of motivation to hit their fitness goals.Alternatively, use the 7-inch touchscreen to gaze at vivid scenery from around the world as you run and listen to your favorite music via the built-in speakers. Unfortunately, the T7 does not come with any pre-programmed workouts so if you do not plan on continuing the iFIT membership past the 30-day trial, this treadmill may not be for you. The T7 is, however, an affordable, compact treadmill designed to save space. Its easy folding design allows users to conveniently store it out of the way when not in use. Featuring a patented flex cushioning, the running deck on the T7 is designed to reduce impact on joints decreasing the bodily wear and tear often associated with treadmill running. While the T7 boasts an impressive 300-pound user weight capacity, its 20-inch by 55-inch running deck may feel constricting for those above average height and weight.Powered by a 2.6 CHP motor, the ProForm Carbon T7 supports speeds up to 10 miles per hour, which can be controlled with a quick speed button, and incline grades up to 10 percent. These specs make this treadmill best suited for walking or light running but probably not sustained or intense running.  Check out our full ProForm Carbon T7 review.
Pros:
Comfortably sized deck for walking
Around $1,000
300-lb weight capacity
Can be folded for storage
Comfortable cushioning
Cons:
7" touchscreen is small
Can be loud when being used
2.6 CHP motor is below average
Cannot be stored in a garage or other non-climate-controlled space without the warranty being voided
Looking for a treadmill with iFIT that you can consistently walk on without issue? The ProForm Carbon T7 treadmill has your back! Although this deck is slightly smaller than what I would recommend for serious runners, it is the ideal size for walkers of all heights. At 20 inches wide by 55 inches long, the deck is appropriate for comfortably strolling or power walking without concern.
Besides the deck being well-sized for walking, it's also very comfortable. The cushioning is stellar, and I really enjoyed it as someone who has ankle issues and needs extra support.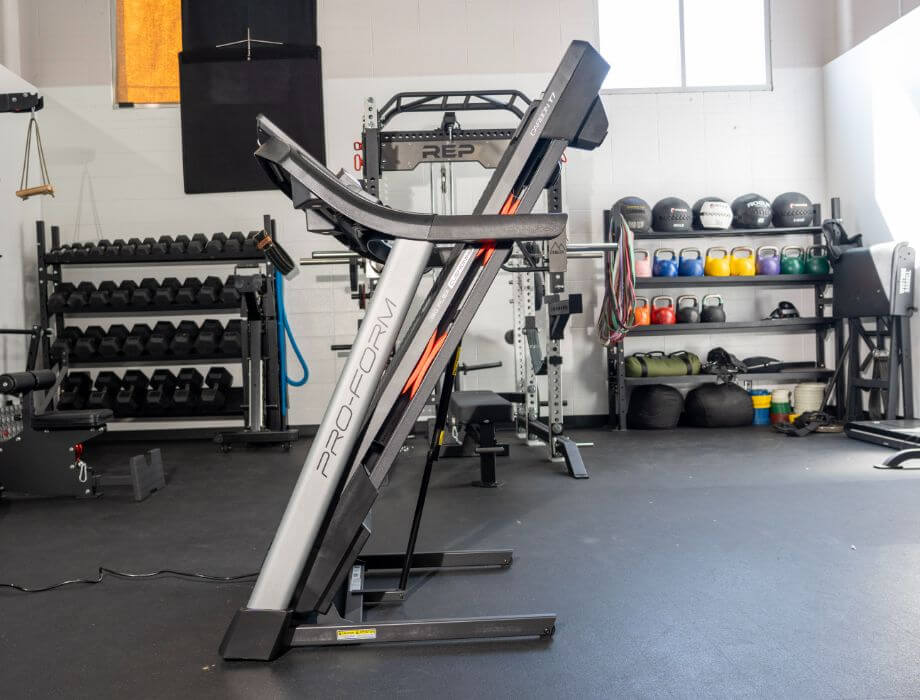 The Carbon T7 is foldable with a gas shock (woohoo) for convenient storage if you don't want to leave your treadmill out all the time. It is easy to unfold with a quick kick to the lever, and better yet, the deck doesn't slam on the floor like a stampede of turtles.
It is worth noting that the T7 isn't the quietest treadmill I've ever used. This isn't your best choice if you're looking for a machine that won't wake family members in the next room. It isn't obnoxiously loud, but you'll definitely know it's there.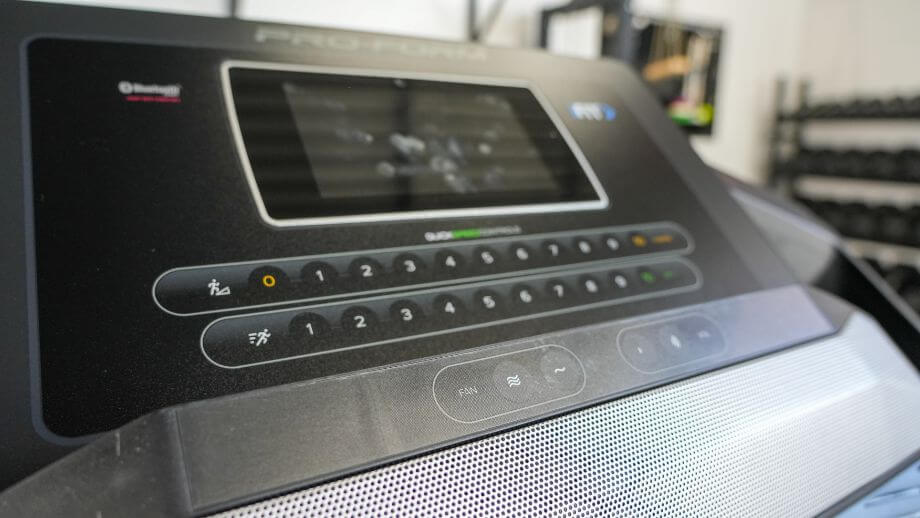 I'm also not the biggest fan of how small the touchscreen is–—it's just 7 inches. For those who find themselves constantly squinting at their phone to read a text or watch a video, you may want to select a treadmill with a larger screen, since it isn't much larger than your average iPhone.
Interested in learning more? Take a look at our ProForm Carbon T7 treadmill review.
Price
Deck size
Display
Warranty
Around $1,000
20" W x 55" L
7-inch HD touchscreen
10-year frame, 1-year parts and labor
Best iFIT Treadmill for Long Runs: NordicTrack EXP 7i
Good for: Distance runners who want a large deck with adjustable cushioning
Best iFIT Treadmill for Long Runs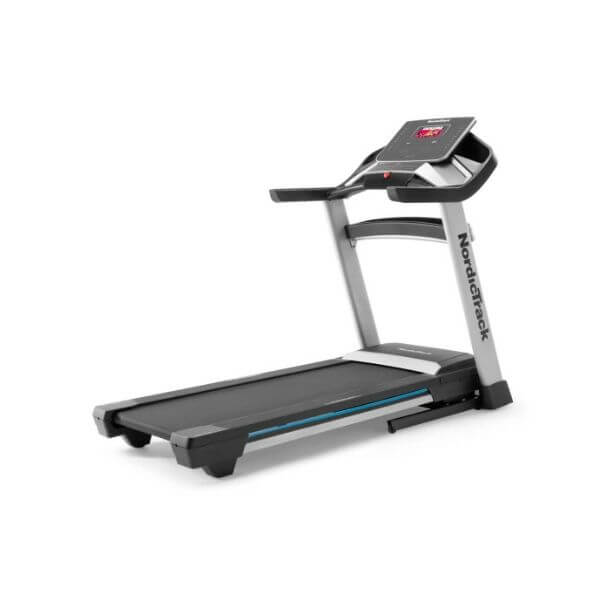 NordicTrack EXP 7i
The NordicTrack EXP 7i offers the reputable NordicTrack-quality build and virtual training experiences at an affordable price. Powered by a 3.0 CHP, the EXP 7i reaches speeds up to 12 miles per hour and supports incline ranges up to 12%. Featuring a folding design, compact footprint, cushioned running deck, and a 7-inch interactive touch screen, the EXP 7i could be a good option for those with limited space.The roomy 20-by-60-inch running deck has a FlexSelect cushioning to reduce impact to joints and back. Training for a road race? Simply turn off the cushioning for a road running experience. And, with membership to the iFIT training platform, you can mock any global terrain and immerse yourself in the virtual images. Or, choose from over 16,000 live and on-demand videos to be guided by elite personal trainers. AutoAdjust technology on the EXP 7i allows these trainers to virtually change your speed and incline so you can focus on your workout.There are also some added conveniences that add a nice touch to this treadmill. The console is equipped with two digitally amplified speakers, a console fan, and a storage tray. There is no tablet holder, but the storage tray has the capability to hold whatever you may need. Bluetooth connectivity makes it easy to sync headphones for a wirefree experience.The 7-inch screen does sit high on the console which may make it hard for shorter individuals to see it clearly. Some users have disliked the smaller screen size, but for the price and its capabilities, it is more than you would find on comparable treadmills.
Pros:
Stable while running
Good size deck
Adjustable cushioning
3.0 CHP motor
Cons:
Touchscreen may be tough to see for some
Heavy machine
Depending on your height, the included fan may not hit you at the right spot
Warranty will not be valid if stored in your garage or other non-climate-controlled area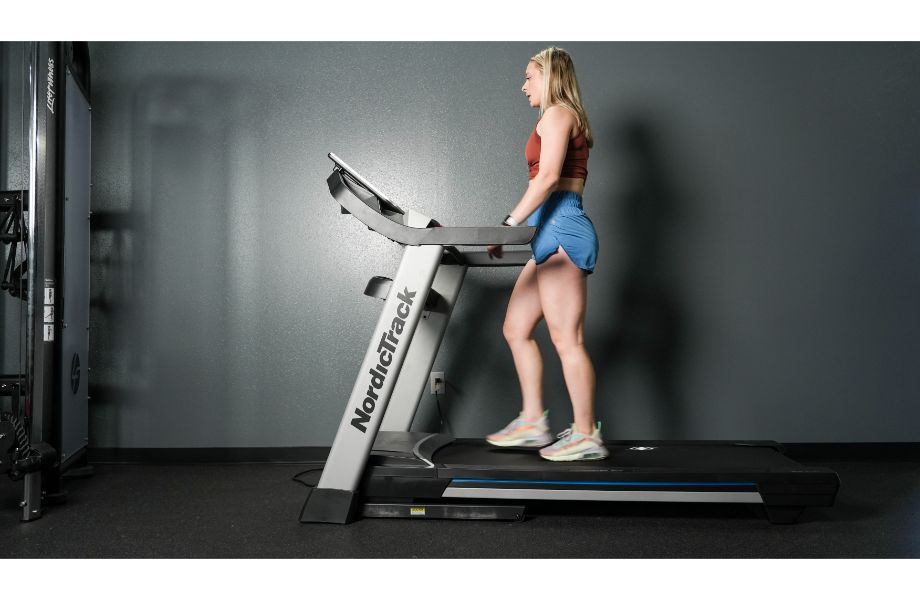 For a stable, mid-range treadmill you can count on, the NordicTrack EXP 7i is a great option. For only $1,100, you'll get iFIT programming connectivity and a super steady machine (that won't shake), which is excellent for a long distance run.
Plus, the 20-inch wide by 60-inch long deck is the ideal length and width for running, even if you're tall. The 3.0 CHP motor can accommodate frequent running or sprinting. I'm also a huge fan of the adjustable cushioning. If you're training for a road race and want your treadmill deck to simulate the outdoors, you'll be able to adjust the cushioning to feel thinner. If you have joint pain or knee issues, you can increase the level of cushioning to feel like you're running on a puffy cloud.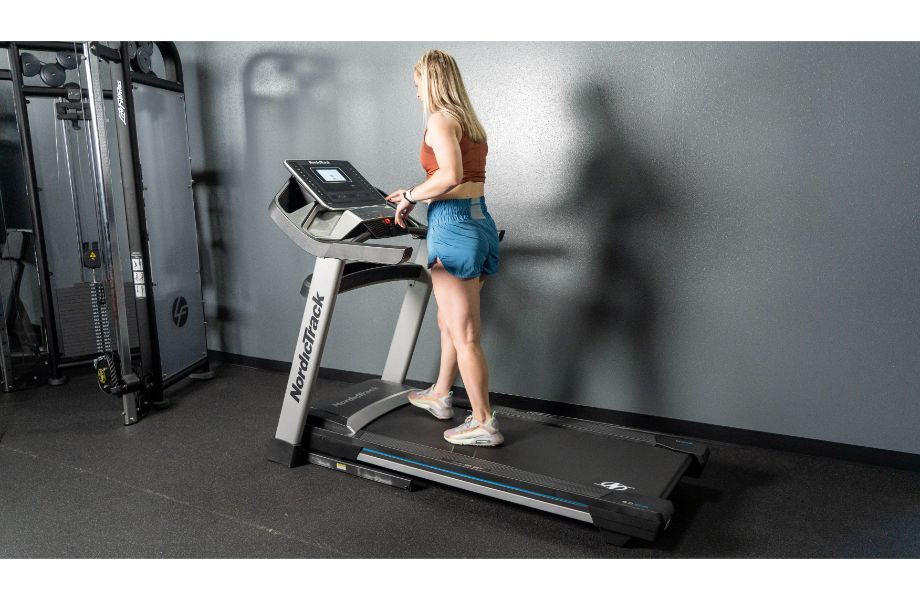 It is worth noting that the touchscreen included on the EXP 7i is rather small. At just 7 inches, this touchscreen may be difficult to see for those with bad eyesight. If you don't mind the size, it is a nice feature to even have a touchscreen at all on a semi-affordable treadmill.
If you're a card-carrying member of the garage gym gang (versus the home gym club), you'll want to be aware that your warranty will be voided if you store this machine in your garage. The same is true of all NordicTrack and ProForm machines, but it is a fact that needs to be said anyway (don't make the same mistake as one of our readers).
Read our entire NordicTrack EXP 7i treadmill review.
Price
Deck size
Display
Warranty
Around $1,100
20" W x 60" L
7-inch HD touchscreen
10-year frame, 2-year parts, 1-year labor
Best iFIT Treadmill with Incline Training: ProForm Pro 9000
Good for: Those who want to simulate going uphill or who like to incline train
Best iFIT Treadmill with Incline Training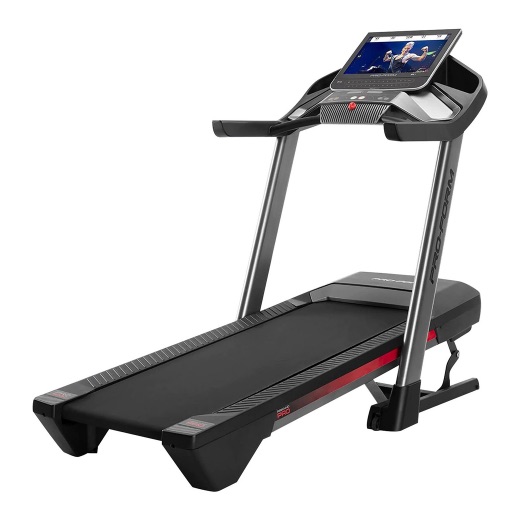 ProForm Pro 9000
Take your training to the next level with an iFit Family membership on the Pro 9000 treadmill. Engage in a whole new workout experience as streamed live and on-demand personal trainers lead you in studio classes and take you all around the world, automatically controlling your treadmill's speed, incline, and decline to give you a unique, hands-free workout.
Pros:
Both incline and decline options
Large touchscreen
Foldable
Powerful 3.6 CHP motor
300-lb weight capacity
Cons:
Heavy at 263 pounds
WiFi can be spotty
Cannot be stored in your garage––warranty will be voided if you do
The ProForm Pro 9000 is a great choice for iFIT enthusiasts who also enjoy incline training. The Pro 9000 has between -3% to 12% decline and incline available to vary your training. Plus, while doing a challenging hill workout with iFIT, your trainer can automatically control the level of incline and decline (this feature can also be turned off), so all you have to worry about is pushing yourself.
Besides the stellar incline and decline options, the Pro 9000 features a 22-inch touchscreen with a convenient cooling fan underneath. If you want to listen to your iFIT class in peace without it blaring over the dual speakers, you have the option to connect your headphones via Bluetooth. This is super useful, especially for those who want to be respectful of others in a shared space.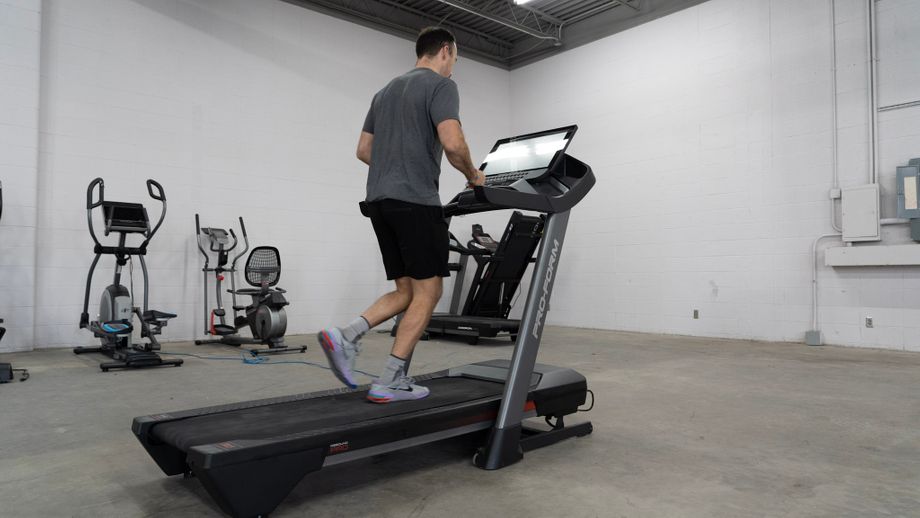 I also like that the Pro 9000 can be folded and stored away while it isn't being used. The included gas shock makes unfolding the 9000 a breeze (and safer) since it gently lowers the deck rather than crashing to the floor.
In terms of things I'm not crazy about, the weight of the Pro 9000 tops the list. At 263 pounds, the Pro 9000 is an absolute behemoth of a treadmill. Forget trying to move it up the stairs by yourself—either grab a few friends to assist you or hire a moving crew.
Want to learn more? Check out our full ProForm Pro 9000 treadmill review.
Price
Deck size
Display
Warranty
Around $1,800
20" W x 60" L
22-inch HD touchscreen
10-year frame, 2-year parts, 1-year labor
Best High-End iFIT Treadmill: NordicTrack Commercial X22i
Good for: People who want a luxury treadmill with all the bells and whistles
Best High-End iFIT Treadmill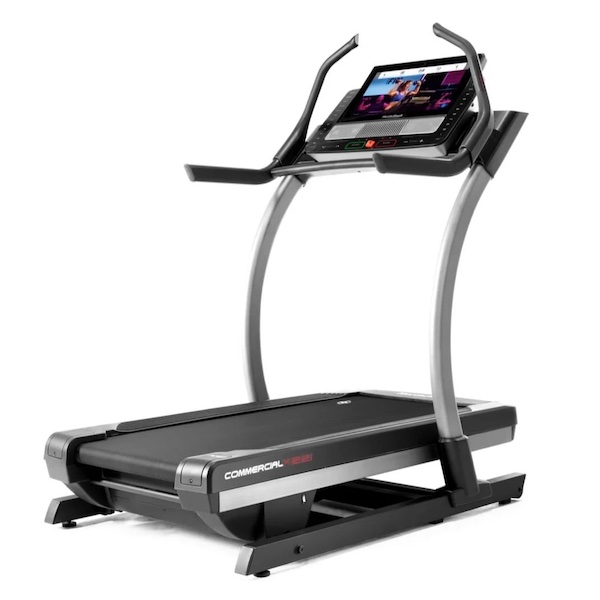 NordicTrack Commercial X22i Treadmill
If you're looking for an immersive training experience on a club-quality treadmill, the NordicTrack X22i may be a good fit for you. With a fully rotating and tilting 22-inch touchscreen and access to iFIT, you're able to choose from thousands of live and on-demand workouts that will meet the fitness needs of beginners and advanced athletes alike. The integration of Google Maps enables you to choose a location anywhere in the world to train. With an impressive incline range of -6% to a whopping 40% incline, you can mimic the terrain of any outdoor location you choose.The X22i features auto-adjust technology, which allows iFIT trainers to automatically adjust your speed and incline for a hands-free workout. Or, use your heart rate to guide your workout with the ActivePulse technology. With this, you can connect a Bluetooth heart rate monitor, which will automatically adjust incline or speed to keep you in your designated training zone. A heart rate monitor is not included. There are no pre-programmed workouts on the X22i and a membership to iFIT is required to access workouts.With this treadmill, rest assured that you are getting a high-quality and durable cardio machine. Equipped with a 4.0 CHP, the X22i supports speeds from 0 to 12 miles per hour on a fully cushioned, roomy 22-inch-wide by 60-inch-long running surface. Featuring an AutoBreeze fan, integrated console tray, upgraded Bluetooth technology, premium 30-watt speakers, one-touch controls, and a lower step-up height, the X22i is a solid choice for anyone with the space. It is large and heavy so requires a dedicated spot. Consider ceiling height as well if you plan on using the maximum incline. 
Pros:
Large touchscreen
22" W x 60" L deck size
-6% to 40% decline and incline options
Can also be used in manual mode
Cushioned belt
Cons:
Subpar warranty for the price
Does not fold
Expensive at around $3,000
Warranty will be voided if you store this machine in your garage
If you want the best of the best and don't mind shelling out the cash to get it, the NordicTrack Commercial X22i treadmill might be a great option for you. This $3,000 cardio machine features a massive 22-inch gleaming touchscreen with which you can view iFIT programming.
As you follow along with your iFIT trainer, the X22i can automatically adjust to match the incline, decline, and speed of the class you're taking. How cool is that?
Plus, the X22i has the highest max incline I have personally ever seen on a treadmill––40%. If you really enjoy hill climbs or are a 12-3-30 enthusiast, you'll love having the option to push yourself to the limit.
The X22i is also cool because you can turn the speed to one mile per hour and use it like a manual treadmill. There is an additional set of handles you can grip onto in order to get a better drive, which will activate more muscles.
You also won't be wanting for much when it comes to extras––expect to see features like Bluetooth connectivity, Google Maps, and two fans.
With so many cool features, there are bound to be some compromises made. One, this machine has a large footprint, and unlike other NordicTrack treadmills, it cannot be folded. This is important to note, especially for those in small spaces since the X22i will have to stay out 24/7.
For the price, I also wish the warranty was longer. NordicTrack usually offers a 10-year frame warranty across the board, but the industry standard is at least 15 years. For a $3,000 machine, you'd hope to have the included warranty meet the standard.
Price
Deck size
Display
Warranty
Around $3,000
22" W x 60" L
22-inch HD touchscreen
10-year frame, 2-year parts, 1-year labor
Other iFIT Treadmills We Researched
Most treadmills that come from NordicTrack or ProForm have iFIT capabilities. As someone who has tried a ton of NordicTrack and ProForm treadmills, there honestly isn't much to dislike about either––both brands make solid machines. This tracks, because they both are under the same parent company, Icon Health and Fitness, which also is associated with iFIT.
Still not finding what you're looking for? Check out some of our other treadmill roundups:
How We Picked and Tested
Curious how we chose the treadmills that made this list? Take a glimpse into how we picked each one:
Compatibility with iFIT programming: Is the machine compatible with iFIT programming?
Deck size: What are the dimensions of the deck? How does this compare to the industry standard? Will it support running, jogging, or walking best?
Warranty: What warranties are provided, if any? How does this compare to what we expect industry standard-wise?
Price: How expensive is the machine? Is it a budget option, mid-range, or high-end?
Incline and decline: Does the machine have incline and decline? If so, what percentage do each go up to?
Extras: What extras does the treadmill have? Does it have water bottle holders, Bluetooth connectivity, a cooling fan, or dual speakers? Does it come with a heart rate monitor? Can you also watch Netflix on the machine or view other workout apps?
Speed options: What is the speed range for the treadmill? What is the top speed?
Assembly: How easy is the assembly process? Is professional assembly available for an additional fee?
Display: Is there a touchscreen display? If not, what kind of display does the treadmill have?
Motor: What horsepower does the motor have? Is that best for walking, jogging, or running?
Specs: What do the specs say? How do they compare the industry standards?
Portability: Is the machine heavy? How much does it weigh? Can it be moved easily? Does it have transport wheels?
Foldability:Is it a folding treadmill? If so, does it fold easily? Does the machine have a gas shock for safe folding and unfolding?
Benefits of iFIT Treadmills
Still not sure why you should get an iFIT compatible treadmill? Garage Gym Reviews staff writer and certified personal trainer Anthony O'Reilly weighs in.
"iFIT is well worth the money in my opinion," Anthony says. "The countless programming options ensure you'll never get tired of doing the same workout over and over, and the leaderboards are a proven way to help motivate you to move (who doesn't like seeing their name climb in the rankings?)"
RELATED: Treadmill Benefits
Buying Guide: What to Look for in an iFIT Treadmill
Trying to figure out what to look for in an iFIT treadmill? Don't worry, we have you covered with the critical things you'll need to check out before purchasing:
Compatible with iFIT
If you want an iFIT treadmill, your new cardio machine will have to be, well, compatible with iFIT. Obviously, you can use iFIT on any treadmill (using your own device), but if you want a machine that will sync up with the programming you're doing, choose a treadmill that is specifically designed to be utilized with iFIT.
Large Deck
If you're going to use iFIT programming, chances are you'll be doing more than just walking. In that case, look for a larger deck with dimensions similar to 20" W x 60" L. This way, you'll be able to take full, natural strides without feeling like you're about to fall off of the deck.
Incline and Decline
The majority of nicer treadmills have incline options, but what about decline? If you want to simulate going downhill, finding a treadmill that offers decline options is critical. Quite a few of the NordicTrack treadmills offer significant incline and decline options, so be sure to check them out.
Warranty
The longer a warranty is, the better it is for you, the customer. Generally speaking, you want to see at least 10 years for the frame warranty, especially if you're purchasing a mid-range treadmill. However, I don't hold the same standard for budget-friendly options because it is unreasonable to expect cheaper machines to have a longer warranty.
Price
Only you can decide your budget, but the majority of the treadmills I've listed also offer financing options. If you're in love with a $2,000 treadmill but can't afford it all at once, consider financing the machine. Plenty of the financing options include 0% APR, which means you won't pay any extra for the benefit of breaking your payments up.
Speed Options
Depending on how fast you plan to run, make sure your treadmill can support it. Some speed demons need a machine that can run upwards of 14 miles per hour, but most treadmills generally cap out at 12.
Make sure your new machine can keep up with the pace you want to run. I also recommend checking to see if the treadmill has a quick select button, which is especially useful for those who do interval training. You don't want to waste valuable time changing the speed during your sets if you don't have to.
iFIT Treadmill FAQs
Is iFIT worth it for a treadmill?
If you're looking for interactive programming to do both on and off the treadmill, I'd recommend iFIT. There are a variety of classes to choose from—think walking, jogging, distance running, and HIIT treadmill workouts. Whether you're an entry-level fitness enthusiast or an advanced athlete, both can make iFIT programming work for them.
If you prefer to do your own thing or don't want to feel like someone is talking in your ear, it might not be the best choice for you. 
However, if you feel like you need preset workout programs or help tackling your fitness goals, iFIT can be a great resource for you.
Is iFIT only for NordicTrack treadmills?
Nope! iFIT is available on and compatible with a variety of treadmills. Even fitness equipment that isn't specifically designed to be used with iFIT can still be used to complete various iFIT classes. If you have the iFIT app on your phone, you can theoretically use it on any cardio machine—you just won't have the benefit of it streaming on a screen attached to the machine.
Is ProForm better than NordicTrack?
ProForm and NordicTrack are both part of the same company. However, both brands carry different treadmills that I enjoy, so I wouldn't say one is better than the other for home use.
How much is an iFIT membership?
You can choose an individual membership with one user for the iFIT app at $180 per year. There is also an option to get an iFIT subscription for your family, where you can have up to five different profiles for $39 per month or $396 per year.