We test and review fitness products based on an independent, multi-point methodology. If you use our links to purchase something, we may earn a commission. Read our disclosures.
Do I wish I was as rich as Elon Musk? Tesla yeah! Am I even remotely sniffing an amount in my bank account close to his? Heck no. If you're reading this, you probably aren't either. No sweat! I made a list of the best treadmills under $500 for your viewing pleasure. 
I'm here to help you find your best budget treadmill, even if your budget is the equivalent of Patrick Star from Spongebob saying, "I have $3." Okay, actually I can't get you an entire treadmill for $3, but we've tested dozens of the best treadmills and written the ultimate treadmill buying guide so I know what I'm talking about. Our product testing team is comprised of former collegiate athletes like myself, certified personal trainers, and competitive triathletes.
5 Best Treadmills Under $500
Best Overall Treadmill Under $500: Sunny Health & Fitness SF-T7603
Good for: Small spaces or those who enjoy light jogging and walking
If you're only going to spend around $300 for a treadmill for home use, I'd hands down pick the Sunny Health and Fitness SF-T7603. This brand makes exceptionally good cardio machines for this price point––we're also fans of their budget-friendly rower, the Sunny Health and Fitness SF-RW5801.
In terms of the treadmill, you won't be disappointed with the price. This machine has nine preset programs and is a great option for both walking and jogging. It feels more durable than other super cheap options I've tried, but obviously, it isn't a Peloton Tread by any means. 
If you're looking for a treadmill that will fold (and unfold) easily, you've found your match! The SF-T7603 has a gas shock to help the deck lower safely. Plus, since it's a folding treadmill, it can be stored in a closet or out of the way while not in use. With this, though, comes a small running surface; win some, lose some.
In terms of other things I'm not wild about, the 220-pound user weight capacity tops the list. Generally, I like to look for a 300-pound weight cap for a mid-range treadmill, but I am keeping in mind the price tag when making this statement.
The display of the SF-T7603 is on the primitive side–– expect to see standard buttons like program, mode, stop, and start. You'll also be able to view a few metrics on the small LCD display, like your current speed and heart rate (thanks to the pulse sensors on the handle bars).
Check out our full Sunny Health & Fitness SF-T7603 Treadmill Review.
| | |
| --- | --- |
| Price: | Around $300 |
| Footprint: | 62" L x 27"W x 47" H |
| Warranty: | 3-year frame, 180-day parts |
| Weight Capacity: | 220 lbs |
| Motor Horsepower: | 2.2 CHP |
| Speed | 0.5 – 9.0 MPH |
Best Under Desk Treadmill Under $500: GoPlus 2-in-1 Treadmill
Good for: Walking while working from home, watching TV, being on a phone call, or listening to music
So many of us spend our days working from home, with little movement to break up the day. Solve this problem by purchasing an inexpensive under-desk treadmill, like the GoPlus 2-in-1! This compact machine fits well under almost all standing desks, and folds flat when you want to store it after hours.
The assembly process is really simple, but be warned––if you install the included handrails for extra support, you won't be able to fold the machine quite as compactly. However, this may be an added safety step for you, which in that case, right on.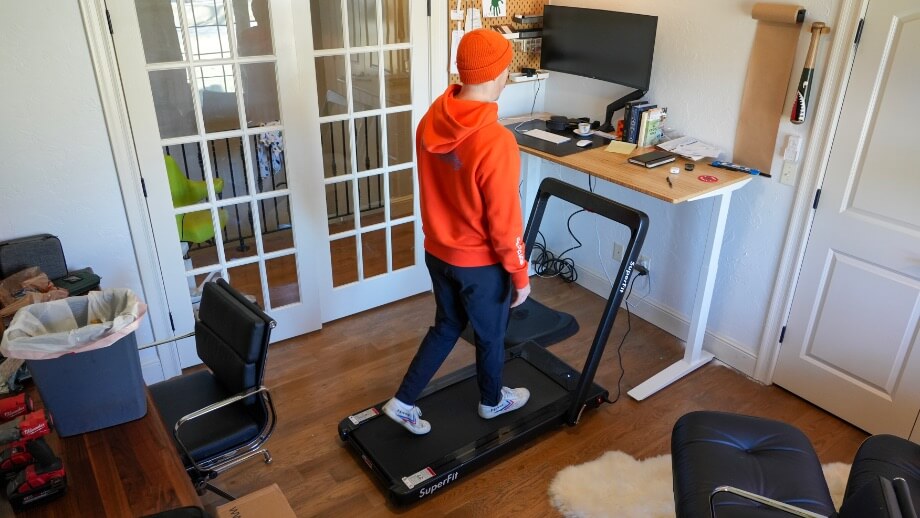 Pro tip: for the love of all things good––don't lose the freakin' included remote. You won't be able to change the speed or even turn the treadmill on. I'd recommend deciding on a dedicated spot for it so you never forget where it is.
The one thing I don't love about the GoPlus? The super short, three-month warranty. I mean come on, I know this treadmill is only $330, but I feel like that isn't even close to enough time for a warranty. Although this is worth noting, the founder of GGR, Coop, owns and uses this treadmill everyday, and hasn't had any issues with durability.
Take a look at our full GoPlus 2-in-1 Treadmill review.
| | |
| --- | --- |
| Price: | $330 |
| Footprint: | 49" L x 27" W x 42" H |
| Warranty: | 3 months |
| Weight Capacity: | 265 lbs |
| Motor Horsepower: | 2.25 CHP |
| Speed | 0.6 – 7.5 MPH |
Best Treadmill for Walking Under $500: XTERRA Fitness TR150
Good for: Beginners who want to regularly walk on a compact and budget-friendly treadmill
Ready to get a jump on your fitness and start putting one foot in front of the other (did you sing that part, or is that just me…)? The XTERRA Fitness TR150 is an excellent treadmill to help you achieve all of your personal walking goals. This cardio machine is user-friendly with large buttons and a simple LCD display, making it a great add to most home gyms.
Obviously, you won't find crazy interactive programming like iFIT, but you will find 12 preset programs to get your sweat on. Plus, this under-$400 machine has a lifetime frame warranty, which is almost unheard of on such an affordable treadmill.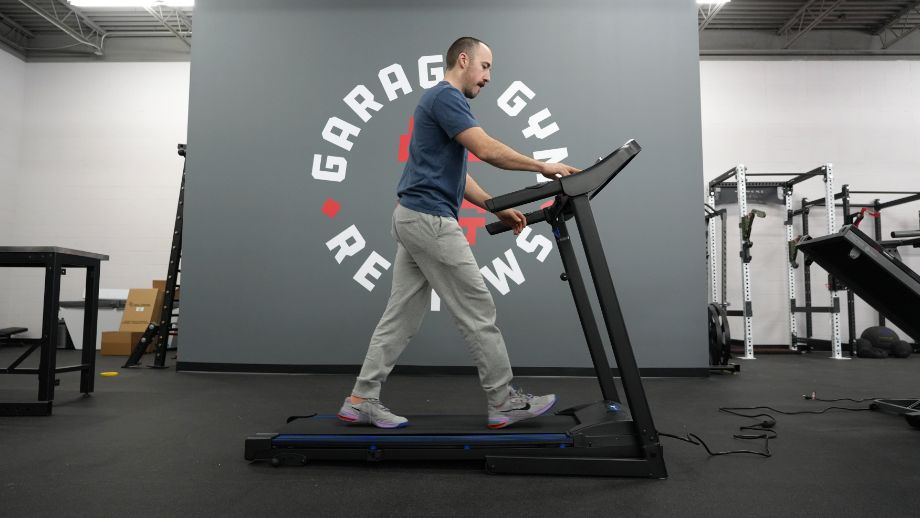 Although the XTERRA is foldable and is our choice for the best folding treadmill under $500, I recommend using this feature with caution. Since the TR150 doesn't have a gas shock on the deck of the machine, it doesn't softly come down when unfolded. This can be a major hazard for little hands, paws, and feet, so proceed with caution.
If you're someone who suffers from joint pain, I probably wouldn't choose this treadmill. Although the XTERRA has a lot going for it, cushioning and shock absorption is not one of those things. Compared to even mid-range treadmills, the XTERRA falls pretty flat in the cushy-deck department.
However, for a walking treadmill, especially with a lifetime frame warranty, the XTERRA gets the job done––and for a great price.
Read our full XTERRA Fitness TR150 review.
| | |
| --- | --- |
| Price: | $366 |
| Footprint: | 63.4" L x 28.75" W x 51.4" H |
| Warranty: | Lifetime frame, 1-year motor, 90-day labor, 90-day deck |
| Weight Capacity: | 250 lbs |
| Motor Horsepower: | 2.25 CHP |
| Speed | 0.5 – 10.0 MPH |
Best Treadmill Under $500 for Small Spaces: UREVO 2-in-1 Treadmill
Good for: Apartments, condos, small homes or shared spaces
Living in small spaces can be a real logistical challenge. Just ask GGR writer Anthony O'Reilly. The New York native lived in a 300-square-foot apartment with his cat and girlfriend during the height of the COVID-19 pandemic. Anthony mentioned he would have loved to have a convenient way to walk indoors, but didn't feel he had space for a treadmill. Ah, if only he had known about the UREVO 2-in-1.
This uber-small cardio machine can be folded almost completely flat. I personally tested its foldability, and was amazed that it fit against walls, under beds, and in closets without any issues. It's also simple to move solo, since it weighs just 59 pounds. Plus, when the UREVO arrives at your doorstep, you'll be ready to start walking in under 15 minutes, since the machine comes almost entirely pre-assembled.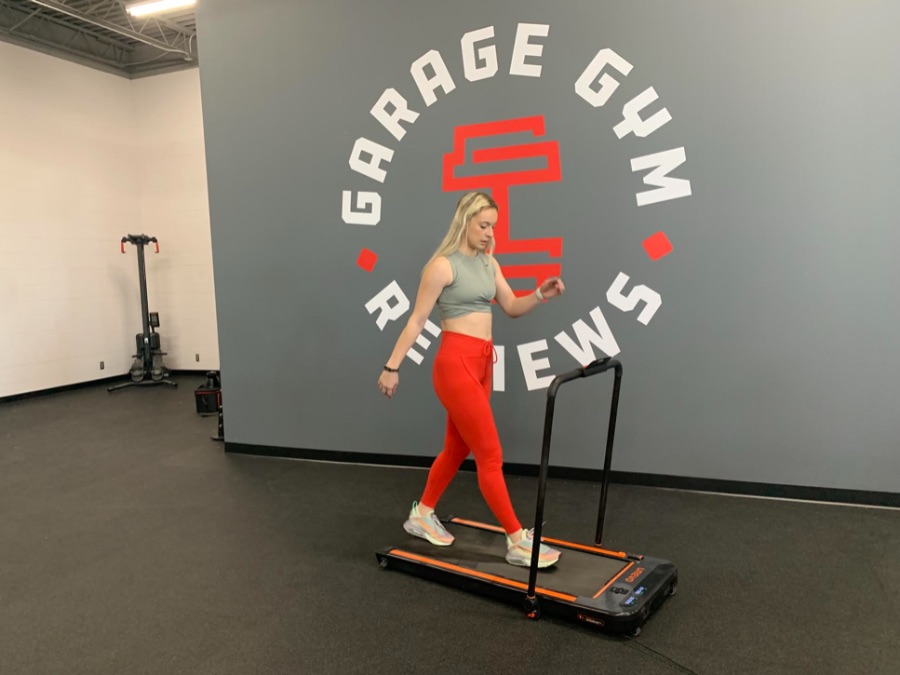 With so many benefits for such a cheap price, you know there are bound to be some negatives. Firstly, the UREVO doesn't have a long deck. Like at all. If you're over 5'9" like me, forget about running (and maybe even jogging). The length of the deck is only 42.9 inches, and the industry standard is around 50-55 inches.
It is also worth noting that there are no incline options on this machine. To be fair, the UREVO is supposed to be used for more gentle movement, like walking or light jogging, versus climbing a mountain.
Read our full UREVO treadmill review.
| | |
| --- | --- |
| Price: | $329 |
| Footprint: | 54.7" L x 26.4" W x 5.1" H |
| Warranty: | 1-year warranty |
| Weight Capacity: | 265 lbs |
| Motor Horsepower: | 2.5 CHP |
| Speed | 0.5 – 7.6 MPH |
Best Incline Treadmill Under $500: Egofit Walker
Good for: Those who want an affordable treadmill with an incline
Equipped with a 5% incline, the Egofit Walker is an affordable machine for anyone who's looking to prepare for hill climbs are simply wants a more challenging walking workout. GGR performance editor and expert product tester Anthony O'Reilly found during his testing that his legs, specifically his calves, were sore after walking on this machine for a while.
"You don't realize it until you step off of it but this is a hard workout to do for more than 10 minutes," Anthony says, "especially if you're using it while working on a treadmill desk."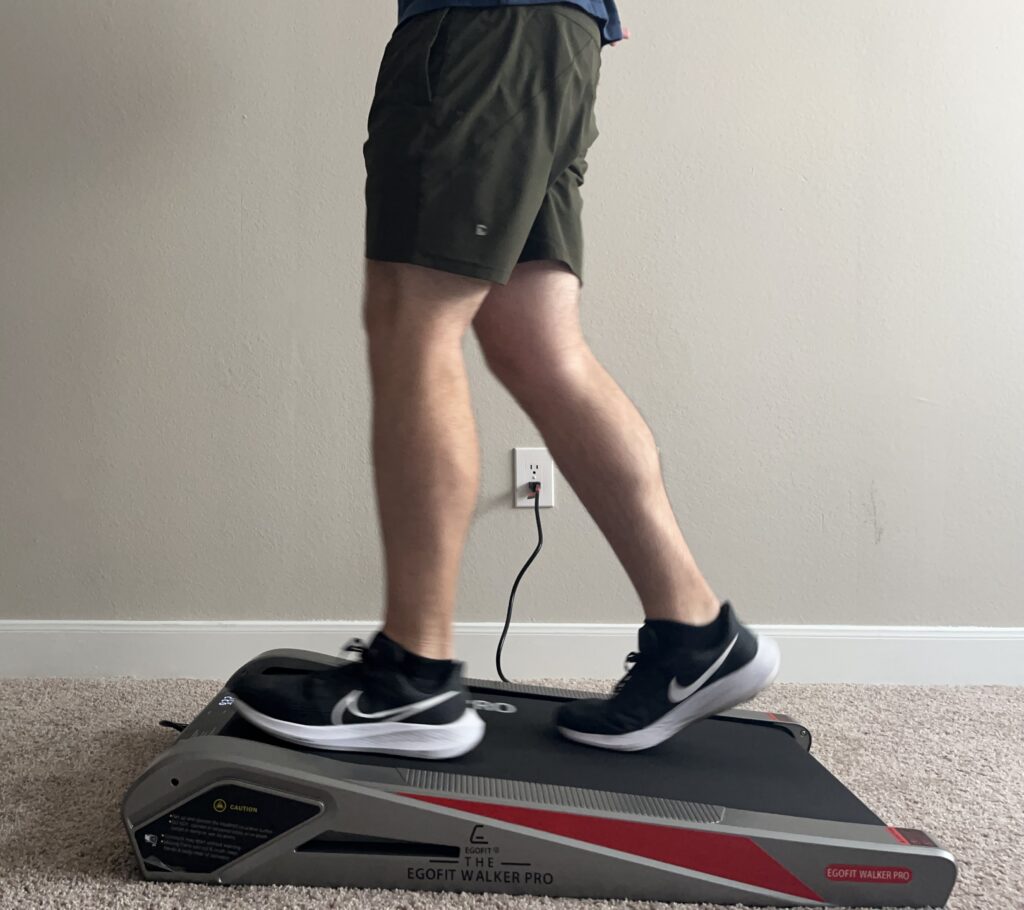 There are treadmills under $500 that have steeper inclines but they take up more room than the Egofit Walker.
It should be noted that this treadmill isn't good for tall runners or larger people due to the low 220-pound weight capacity and smaller engine (only 2 horsepower). Anthony is near the weight limit and said he noticed the engine struggling while he used it, though Kate Meier, GGR's head of content and product tester who's well below the 220-pound limit, said she's had no issues using it on a near-daily basis.
It comes with a remote control so you can adjust the speed while on the treadmill.
| | |
| --- | --- |
| Price: | $399 |
| Footprint: | 38.39″ D x 21.85″ W x 6.89″ H |
| Warranty: | 1-year warranty |
| Weight Capacity: | 220 lbs |
| Motor Horsepower: | 2 HP |
| Speed | 0. 5 – 3.1 MPH |
Other Treadmills Under $500 We Researched
Surprisingly, there are tons of home treadmills available for under $500, especially on Amazon. However, a lot of them just aren't that high-quality, plain and simple. Here are a few that didn't quite make the cut:
SereneLife Folding Treadmill: Although this machine is just over $300, it didn't quite make the cut on this list (even though the lovely reviewers of Amazon seem pleased enough). The SereneLife Folding Treadmill caps out at 6 MPH, and the running deck is just 15.7" x 39.3″. As Randy Jackson on American Idol used to say, "It's a no from me, dawg."
FondRun Upgraded Folding Treadmill: I'm impressed by the 3.25 CHP motor of the FondRun Folding Treadmill, but based on the reviews, the machine is low-quality and made with lots of plastic.
RUNOW Folding Treadmill: You won't exactly be sprinting on the RUNOW Folding Treadmill, since the machine caps out at just 8.1 MPH. However, the 280-pound weight capacity isn't horrible by any means.
How We Picked and Tested the Best Treadmills Under $500
When testing any type of exercise equipment for review, we carefully analyze many different factors. Here are the the things we took into consideration when choosing treadmills for this list:
Affordability: Is the treadmill under $500? Are there any financing options available?
Compactness: Is this a foldable treadmill? Can it be easily moved or stored? Is it space-saving or a compact treadmill?
Warranty: Is there a warranty in place? How long will it last?
Durability: What is the treadmill made of? Does it feel sturdy?
Weight limit: What is the maximum weight capacity for this product? Is this an inclusive option?
Assembly: Will the common person be able to assemble the product with ease?
Deck size: Is this treadmill better suited for walking or running based on the size of the running area?
Display: Does this machine have an LCD or LED display? Is there a remote control? Does the display show calories burned?
Belt: Is the running belt non-slip? Does it have shock-absorbing qualities?
Type of Treadmill: Is this an electric treadmill or manual treadmill?
Speed Range: What is the top speed of this treadmill?
Extras: Does the machine have a device holder? What about Bluetooth connectivity?
Benefits of Treadmills Under $500
So why the heck should you buy a treadmill under $500 anyway? Well, I'm glad you asked! Check out our top reasons for adding an inexpensive piece of cardio equipment into your fitness repertoire:
Price
Obviously, one of the biggest benefits of treadmills under $500 is that you're saving money. While these cardio machines aren't quite as nice as more expensive models, they still provide intense aerobic workouts.
RELATED: HIIT Treadmill Workout
Footprint
Since these treadmills cost several hundred dollars less than most on the market, they're likely to be smaller. That might not be good for most people, but for those in apartments or compact workout areas, it can be a huge benefit.
Improved Cardio Fitness
Just like treadmills of any other cost, these are going to increase your heart rate and help improve several health markers such as blood pressure and the amount of calories you burn in a day.
"Treadmills are one of the easiest ways to get more physical activity throughout the day," says certified personal trainer Anthony O'Reilly. "It doesn't have to be a fancy one with a big screen either, just as long as it forces you to move in a way that's challenging."
Buying Guide: What to Look for in Treadmills Under $500
There are several factors you should take into consideration before clicking "Add to Cart" with any treadmill under $500:
Affordability
It goes without saying, but make sure you can afford the treadmill. There's financing plans for many of them if you want to break them into monthly payments. However, some really cheap treadmills won't have financing options. Make sure to save up in advance for any large fitness equipment purchases.
Space
Check the dimensions of each treadmill to make sure it can fit in your workout area, whether that's a studio apartment or a garage gym. Most budget-friendly treadmills have a smaller footprint, but it is still wise to take a look at this before purchasing.
Durability
Look, no treadmill under $500 is going to last forever. That said, there are some that are a little more durable than others. You'll want to find one made with decent materials and maybe a few years' warranty. However, don't have unrealistic expectations for such an inexpensive cardio machine.
Motor
Again, a cheap treadmill is going to mean cheap parts. Look up what type of motor each treadmill uses and make sure it can handle the duration, amount, and type of workout you want to be able to do. Typically, you want a 3.0 CHP motor for running, but for walking, the HP matters less.
Weight Capacity
This is especially important for taller people, but you'll want to make sure the treadmill can support your weight or the weight of anyone else who plans on using it.
Best Treadmills Under $500 FAQs
Who has the best prices for treadmills?
I'm personally a big fan of looking on Amazon for treadmills under $500. With so many different brands available (plus frequent free shipping), it might not be a bad place to start. You'll notice a lot of the links to the treadmills in this roundup lead you to Amazon, as it is one of the most cost effective places for super-budget cardio machines.
What does a decent treadmill cost?
This all depends on what you think a decent treadmill consists of. Does this machine need to have Bluetooth capabilities, adjustable incline, workout programs, or even a touchscreen? Figuring out what you want in your new treadmill is important before deciding how much you're going to spend. In my book, as long as you're getting a good cardio workout in, it doesn't matter much about anything else.
What will come on a treadmill that only costs $500?
Generally speaking, you'll find things like an LCD display, three or four manual incline settings, a safety key,  possibly a soft drop folding mechanism, and a tablet holder. Others may (or may not) have transport wheels, pulse sensors, handlebars, or a heart rate monitor. More expensive treadmills have other extras, like a touchscreen or interactive programming you won't find on a cheaper pick.