We test and review fitness products based on an independent, multi-point methodology. If you use our links to purchase something, we may earn a commission. Read our disclosures.
Don't have room for a garage gym? There are many ways to get a great workout at home, and with new technology and smart home gym equipment, the experience can be just as good or better than leaving the house.
Fitness technology used to mean popping a VHS tape into a VCR and bouncing along with the Jazzercise instructor.
We've come a long way, baby.
Tech came, saw and conquered the fitness world. "Smart" equipment is everywhere: An exercise bike, a rower, heck, even a mirror hanging on the wall. And, as tech does, it has made once-humongous things very, very small–or at least, smaller. It used to be that you needed a 7,200-square-foot warehouse to get all the benefits of a gym; now, you just need about 5 to 10 square feet of floor space.
This is great news if you live in a small apartment or space where you simply don't have the room for building out a huge garage gym. Let's dig into what smart home gyms are, what the benefits are, and how to know if a smart home gym is a good choice for you.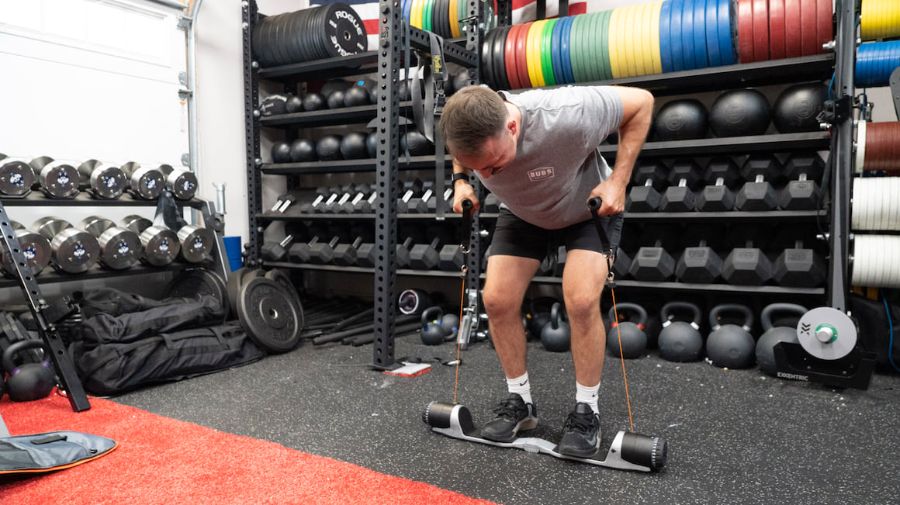 What Is a Smart Home Gym?
When you hear the term "home gym," it either means a) a place in your house where you have fitness equipment, or b) an all-in-one piece of equipment that serves as a total gym.
Right now, we are talking about the latter. I've personally used some of the greatest home gyms out there: cable machines, tricked out squat racks, and functional trainers.
But some of my favorite pieces are the "smart" home gyms. These are the ones that can automatically adjust your machine based on the workout, or that can read your heart rate via Bluetooth. They use cutting edge technology to assess your performance and give you feedback.
In many cases, it's like having a personal trainer right there in your home with you. But guess what? The trainer isn't actually there, so you can workout in your underwear if you want, because you're at home, and you make the rules.
Smart home gyms are known for:
High tech visuals, like on an HD touchscreen
Interactive programming
Personalized user profiles
Bluetooth and WiFi capabilities
Also, as we will dig into below, they are known for being, well, a little pricey.
Related: Check out our full CLMBR review
Benefits of Smart Home Gyms
At first, the thought of building out a gym in your own home is daunting. It either appears to be too expensive (you can build a gym on a budget, though), or you flat-out don't have the space.
But think again.
The home gym has evolved, people! It no longer means you have rusty old dumbbells collecting dust in a corner, or your parents' 30-year-old stationary bike that doubles as a place where you throw your dirty clothes.
Smart home gyms have so much more to offer:
Space-saving designs that work in nearly any home
Endless options for training: classes, personal training, on-demand workouts
Total body workouts that use resistance training
Programming you can put on your phone and do anywhere
Essentially, these teched-out equipment glamazons give you no excuse as to why you can't get in a good workout at home.
Smart Home Gym vs. Gym Membership
It's hard to give a ballpark range on how much a "smart" piece of home gym equipment is going to cost you. For example, the Max Pro Smart Connect is small, portable, and costs less than $1,000. But, it also doesn't come with all the bells and whistles of something like Tonal, which is a wall-mounted cable machine that serves as an all-in-one interactive home gym. Tonal costs around $3,500 (Pssst: Tonal coupon here).
Don't let that sticker shock you: let's think about these smart home gyms in another way:
According to Statistic Brain, the average cost of a gym membership is $58/month, which comes out to about $696/year. Yes, that's significantly less than a piece of smart home gym equipment.
However, a gym membership doesn't come with personal training and on-demand options, which you will find on products like the NordicTrack Fusion CST.
If you look up the cost of personal training, you'll find numbers that range from $40/hour to somewhere in the hundreds. We will go conservative and say a decent personal trainer will cost you about $60/hour. For three sessions a week all year long, you'd spend $9,360.
Bet that smart home gym equipment is looking a little more attractive now, huh?
Smart Home Gym Shopping Tips
If you've decided that going high tech suits your needs, you have to make sure you pick the right smart home gym equipment. Like I've been saying, it's an investment, so you want to pick something you're actually going to use.
Consider the following factors:
Type of workout: Do you want to do cardio, strength training, or both?
Space: Do you have room for a machine, or just enough space to put something on the wall?
Budget: Like we said, these can be expensive, but think of it in terms of your home gym vs gym membership.
Equipment needs: Some home gyms supply you with everything you need; some will demand you make additional purchases.
Subscriptions: Many start with free trials to their workout apps but eventually want your money to pay a small fee every month to keep going.
I've personally used dozens of different WiFi-enabled, Bluetooth-packing, touchscreen-having fitness tools, and I'm here to say that these are what I'd recommend:
Cardio
Cardio junkies, no longer will the rain keep you from a run, or a line at the gym prevent you from pouring sweat on your favorite elliptical. Technology and convenience had a baby, and that baby is smart home cardio equipment.
NordicTrack
I love that NordicTrack has consistently over the last few decades churned out cutting edge, top-of-the-line equipment. The NordicTrack Commercial S22i bike is basically like the Peloton Alternative, but, dare I say, even better? Its cousins, the NordicTrack Commercial 1750 Treadmill, and the NordicTrack AirGlide 14i, are just as advanced. Each comes with a free year of iFit, which is interactive programming that takes you on runs and rides through exotic scenes. Bonus: iFit also has strength training and yoga programs, so you truly can get a total body workout. As much as I love NordicTrack, be sure that you don't store any of their products in your garage, as they will not honor your warranty if you do.
Echelon
If you need something super space-saving, the Echelon Stride is a treadmill that folds up to be just 10-inches deep–skinny enough to slide under your bed. It's also a little more affordable than other equipped treadmills, because it connects with your tablet to stream workouts through Echelon's proprietary fitness app.
Strength Training
Interactive mirrors generally take up the least amount of space of any home gym. They are often mounted to a wall, and you just need enough space for a yoga mat. When not in use, they look like a full-length mirror or simply a screen on your wall, which is great for those who don't want home gym equipment hanging out in their living room.
Tonal
The Tonal Smart Home Gym is has extendable electromagnetic arms that offer up to 200 pounds of resistance. The accessory package includes everything you need, such as handles, a bar, bench, rope, mat, and foam roller. You can choose from a library of guided workouts that are updated regularly as part of your monthly subscription. It even offers real-time feedback on form and can automatically increase or decrease your weight.
Related: Read our full in-depth Tonal vs. Tempo comparison!
NordicTrack Vault
The NordicTrack Vault combines a reflective mirror, touchscreen technology, and interactive training to give you an immersive full-body workout. It has many attractive features, such as its space-saving design, storage area for all your dumbbells, bands and other equipment as well as a large touchscreen surface to stream a wide variety of iFit workouts. I like that that complete package includes premium dumbbells that range from 5 to 30 pounds; kettlebells at 20 and 30 pounds, and a 1-year iFit membership.
Coop's Takeaway
Personally, I can't wait to see what else is in store for fitness now that technology has really dug into the landscape. I'm forever a fan of a barbell and squat rack, but I love that computers have made working out even more accessible to people, no matter where you live or what your budget is.