We test and review fitness products based on an independent, multi-point methodology. If you use our links to purchase something, we may earn a commission. Read our disclosures.
As much as I love strength training with a traditional barbell and weight plates, I can't help but appreciate the new high-tech products on the market. Things like the Peloton, Ergatta, and Aviron were all once just a twinkle in a creator's eye, and I'm always eager to be amongst the first to try similar things as they become available. 
The machine I'm talking about today is no exception. In this CLMBR review, I'll go into detail about this low-impact, vertical climber and if I think it's really worth the price tag.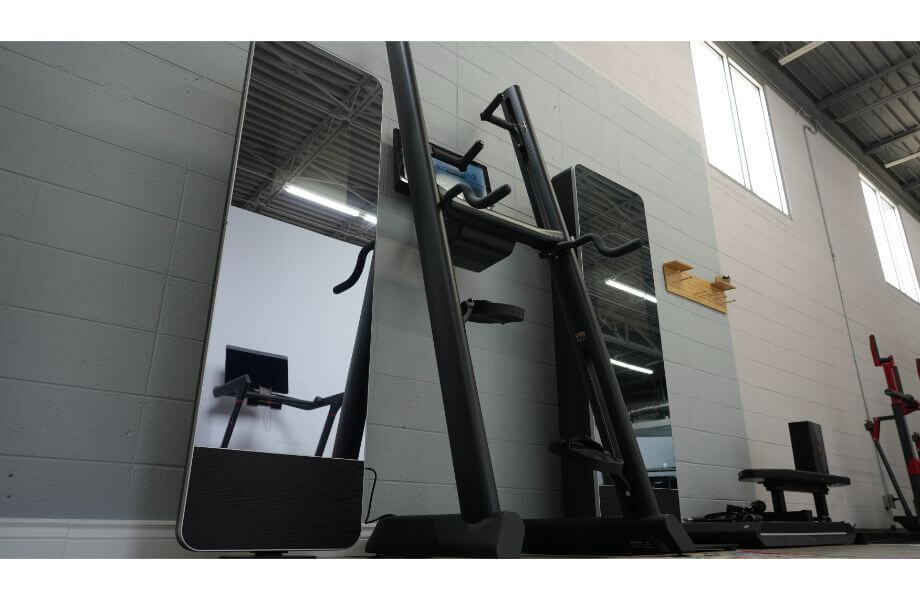 Over 200 Cardio Machines Tested
If you're looking for a cardio machine for your smart home gym but don't know where to start, we have you covered. Our team of expert product reviewers has tested well over 200 cardio-based machines, and we're here to give you the 4-1-1 on all things CLMBR. Our team consists of certified personal trainers, CrossFit L1 coaches, and Olympic weightlifters, so we know a high-quality machine when we see one.
CLMBR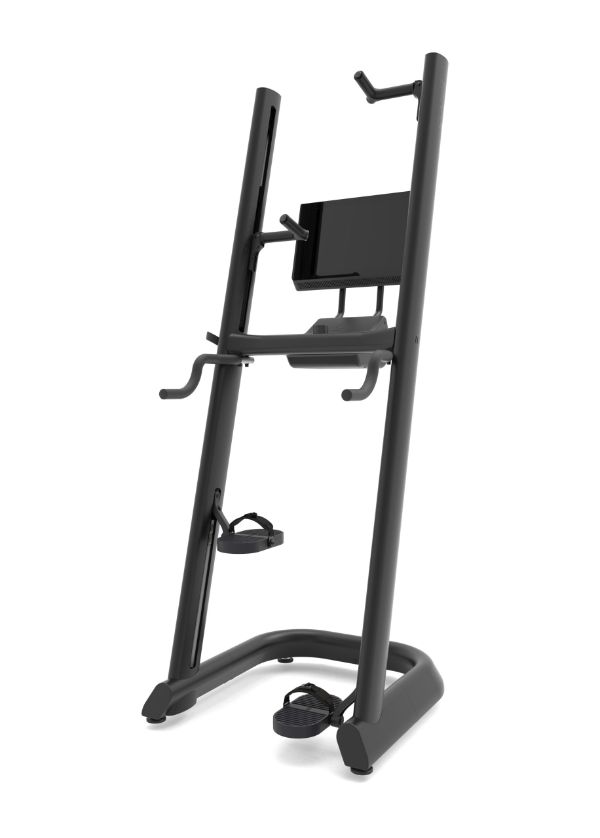 CLMBR
While vertical climbers have been around for some time, none on the market today can really compare to the CLMBR, which is the most immersive home vertical climber. This machine offers both a resistance strength session as well a high-intensity cardio workout that targets the entire body. In fact, CLMBR claims that one workout engages 86% of your muscles burning serious calories in a short time.A large interactive screen provides users with a truly immersive experience. Users can purchase a membership to their online fitness platform that provides exclusive access to on-demand workouts. What's more, when you're in an active climb, you can connect to the app through any Alexa-enabled device to start, pause, stop, or resume.Fully equipped with an integrative sound system, the CLMBR allows for multiple ways to stay entertained and connected throughout your workout. Set your own standard using your own fitness benchmarks and stay on track via the CLMBR app, which you'll pay a monthly fee for. This app records all your fitness metrics so you can analyze progress at any time. Offering three ergonomic grip positions, oversized, textured pedals, and caster transport wheels, the CLMBR is both convenient and efficient. It does, however, come with a large price tag and is available for purchase in three different bundles—Base, Peak, and Summit—with slightly different offerings. Additionally, the CLMBR only offers a one-year warranty, which is quite disappointing. It does have a 30-day return policy, but for the hefty price tag, you'd expect more in terms of warranty backing. 
A Quick Look at the CLMBR
CLMBR was founded in 2018, but the first prototype of the machine wasn't created until 2019. This vertical climber was designed in Denver, Colorado, and is backed by celebrities like Jay-Z, Novak Djokovic, and Pitbull. The CLMBR was designed to "activate the major muscles" in the entire body, according to a company spokesperson.
My Tips:
Use code GGR at checkout for $250 off of your CLMBR!
I really can't stress to you enough—pay the extra cash for white glove delivery and installation. Your sanity will thank you.
Pros:
21.5" HD adjustable touchscreen
Fun and engaging programming with popular music
Built-in speaker on monitor
Compatible with both Apple and Android products
Bluetooth connectivity
Financing options available
11 settings of magnetic resistance
Cons:
Extremely difficult assembly process
Very short 1-year warranty
Prices start at $3,495 and go up with more inclusive packages
Video Review
Is the CLMBR Worth It?
The CLMBR is a unique piece of cardio equipment that a lot of people will find very intriguing. However, it isn't the best option for everyone. Keep reading to see who I think should purchase this and who should look elsewhere.
Great for:
Technology enthusiasts
Heavier people
People who like unique ways to exercise
Not recommended for:
Super tall people
Those on a tight budget
Small spaces
CLMBR Specs
| | |
| --- | --- |
| Height | 88″ |
| Base Dimensions | 35″ x 32″ |
| Weight | 180 lbs |
| Compatibility | Android + Apple |
| Materials | Cast + extruded aluminum |
| Handles | 1.5″ increments with 3 grip positions: over, under + neutral; Available extender handles for users over 6'5″ |
| Power | Wired connection |
| Step Length | 20" |
| Resistance | Discrete magnetic resistance; 11 settings |
| Pedals | Oversized, textured |
| Max User Height | 7 ft |
| Reach Height | 20" |
| Max User Weight | 350 lbs |
Let's Get Real High (Climbing of Course)
The CLMBR is a piece of fitness equipment meant to deliver a high-intensity, full-body workout in a fun way. I was intrigued by the look of this machine (and the company's extensive marketing efforts), so I decided to give it a try.
First of all, I can see this machine being an easy way for beginners to enjoy working out. The classes are fun, and the CLMBR is different from the traditional cardio machines you might see in your local gym. However, the high price tag and short warranty may be deterrents in the end.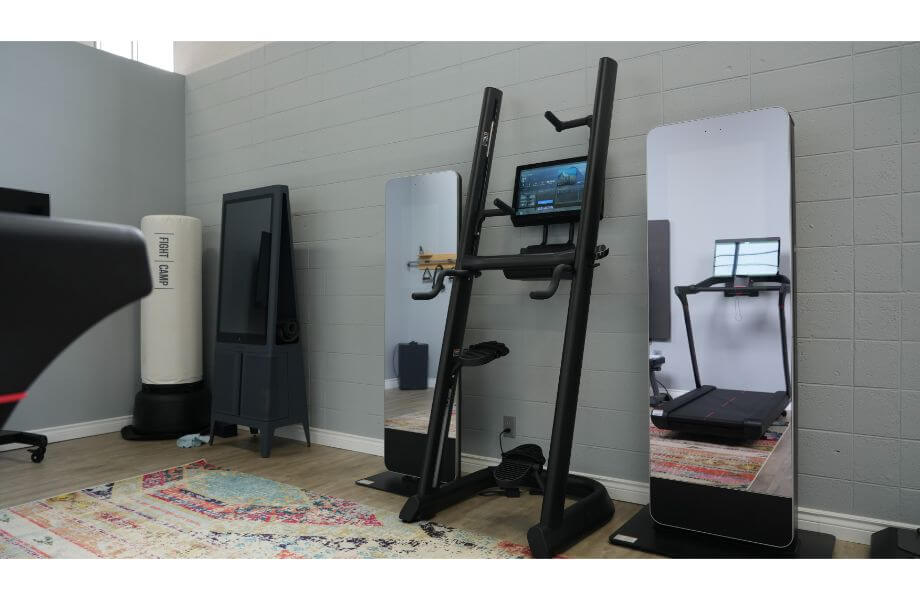 Wondering how a vertical climber works? Let me break it down. If you've ever been rock climbing before, you might be familiar with the similar body positioning–– one leg hiked higher than the other, with both arms mimicking this same placement. Essentially, a vertical climber will have you doing the motions you would if you were climbing something for real, except you'll be grasping onto handles and have your feet in oversized pedals.
"Vertical climbers are a great alternative to cardio equipment such as treadmills, exercise bikes, and ellipticals because they provide an opportunity for strength and cardio training at the same time, which ultimately will result in increased stamina," explains Amanda Capritto, CPT. "Vertical climbers also engage the entire body, as opposed to isolating one or two muscle groups, so they're great for people who are short on time and want to get in a simple full-body workout."
The Ergonomics
The handles on the CLMBR can be adjusted to accommodate various grip positions; neutral, underhand, and overhand. Prior to taking a class with the CLMBR app (subscription sold separately), they'll ask you to switch the handle to a pre-chosen position that goes with the aforementioned workout.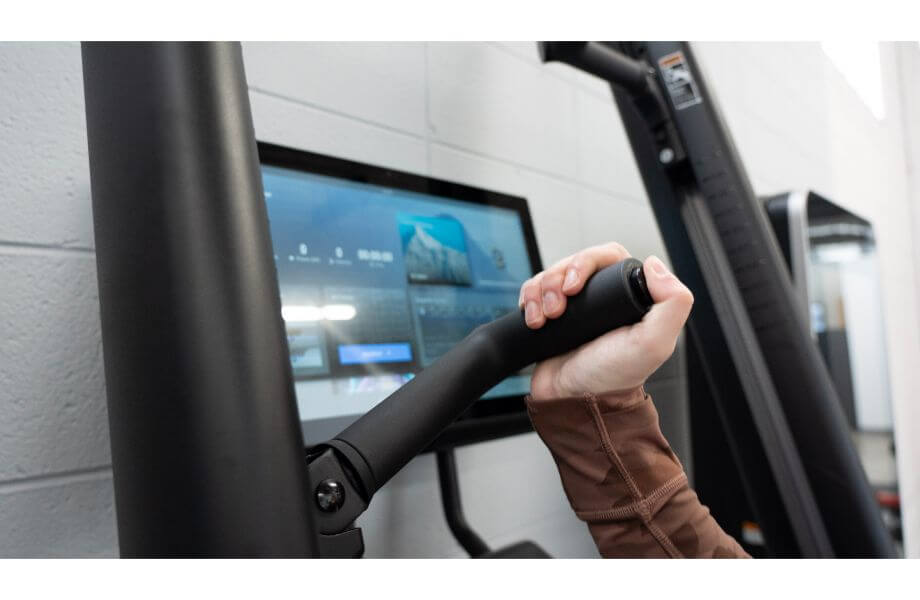 The pedals are slightly shorter than something like a traditional elliptical may have. Plus, there are adjustable straps to secure your feet to the pedals like you may see on a rowing machine.
Although the foot pedals were comfortable for me, a woman's size 9, you may feel differently if you have larger feet. Fellow product tester and GGR writer Anthony O'Reilly is a men's size 15, and his feet dwarfed the pedals in a comical way.
"I really wanted to like the CLMBR, but at the end of the day, I just found it to be too inconvenient," GGR writer Anthony O'Reilly explained. "The workouts themselves were challenging and the instructors were entertaining and thorough, I just would've liked to see them make it easier for taller people."
Technology Benefits and Conveniences
The CLMBR itself is very tech-driven, with a 21.5-inch HD adjustable touchscreen. The sound system is surprisingly booming for the size, and the instruction plus music are easy to hear.
The machine can be connected to additional Bluetooth-enabled devices, like smart phones, fitness trackers, and headphones. Before you start a class on the CLMBR, it will ask you if you'd like to connect anything via Bluetooth, which is a nice feature.
Grab your water bottle, sling it into the singular holder on the side of the machine, and let's get started.
CLMBR App
Although you can do a manual climb without guidance, the real draw of the CLMBR is the interactive programming. For $39.99 per month, this isn't a cheap subscription, but if you're willing to fork out the money for the nearly $3,500 machine, you likely don't mind. Plus, you'll be able to set up four separate user profiles within the app for other family members within one subscription, which is a nice value-add.
You do need to connect your machine via Wi-Fi to use your CLMBR subscription. This is so you're able to access the newest challenges, friend requests, and classes available. After a little confusion (I typed in the password wrong multiple times), I got it set up and was off to the races.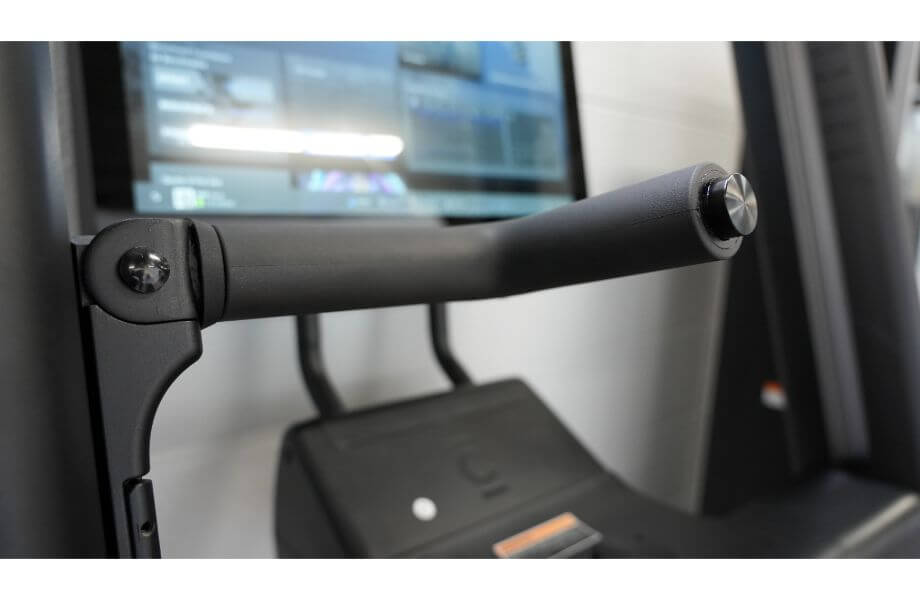 The workouts themselves are really engaging and remind me of Peloton classes I've previously taken. All of the climbs (at least the ones I took) are situated within a studio, with various high-energy instructors gabbing away to pass the time and guide you. You can choose from a variety of different types of classes like rhythm, bootcamp, interval, restorative movement, and strength.
Both the strength and restorative movement options are off the CLMBR and include stretching and guided massage gun content. Unless you purchase one of the pricier CLMBR bundles, you'll need to make sure you have your own dumbbells handy for the strength classes.
When taking climb-specific classes, you'll be able to view various helpful metrics on-screen. Check them out:
Average tempo
Distance traveled
Average reach
Average power
Total time
Average pace
Average heart rate
Calories burned
Besides being able to view CLMBR's programming on the large HD touchscreen, you're able to download the app, which is compatible with both Apple and Android products. Unlike iFIT or Peloton programming, you do need the main machine to utilize the majority of the classes available through the app. However, it is nice to be able to take the strength and restorative movement classes on the go with you. Perhaps in the future they'll add additional categories like yoga, pilates, and running.
Similarly to Peloton, CLMBR has clearly paid up to use popular artist's music in their classes. Choose from options like Ariana Grande, Linkin Park, and Madonna. Whether you have 10 minutes or 45, there is an option to fit your schedule. The CLMBR app is really solid, and I thoroughly enjoyed using it and the instructors the brand chose.
Footprint, Portability, and Durability
Firstly, you definitely need an actual place for the CLMBR to live. This isn't a foldable treadmill that you can shove under your guest bed when it isn't in use. I wouldn't recommend this machine for someone in an apartment, unless you live in a penthouse (in which case, just ignore me). At 180 pounds unboxed, the CLMBR isn't crazy heavy, but you likely won't be single-handedly taking it up a few flights of stairs.
The machine does have wheels, so it can be scooted from room to room, but that doesn't solve the overall space concerns.
While actually on the machine, I was surprised by how sturdy it felt. Although it is made of extruded aluminum, I wasn't expecting it to feel so durable. Especially considering the short one-year warranty, I thought it would feel quite a bit cheaper.
I do worry that issues will pop up over time. We haven't had the machine in our testing facility long enough for there to be problems yet, but other customers mentioned pieces failing here and there. It is worth noting that I have not experienced anything similar at this point, but if problems arise after the year mark, we are essentially screwed.
CLMBR vs. VersaClimber SM Sport Model
The CLMBR isn't the first vertical climber our expert product testers have tried. We also have had our hands on the VersaClimber SM Sport Model. I thought it would be interesting to compare the stats between these two unique machines. Check it out:
| | | |
| --- | --- | --- |
| Vertical Climber: | CLMBR | VersaClimber SM Sport Model |
| Price: | $3,495 | $4,590 |
| Product Weight | 180 pounds | 150 pounds |
| Footprint: | Base: 35″ x 32″, Height: 88″ | Base: 43″ x 46″, Height: 94" |
| Warranty: | 1-year warranty | 3-year limited warranty |
| Technology: | On-demand workout classes and HD touchscreen | Voice feedback and Bluetooth Compatibility |
| Weight Capacity: | 350 pounds | 350 pounds |
Celebrity personal trainer Gunnar Peterson is a fan of the VersaClimber himself, and actually has one in his Beverly Hills gym. While the VersaClimber SM Sport Model offers a tougher climb at a steeper angle, I think more people would enjoy using the CLMBR in their home gym. It's way more user-friendly and has fun, interactive programming (plus, it's cheaper).
Customer Experience
The warranty on the CLMBR is really below average. I'm not sure why they think a 12-month warranty for a $3,495 piece of equipment is acceptable, but it is not. If we're comparing this warranty to the industry standards expected of high-end ellipticals, treadmills, and spin bikes, this warranty is very disappointing.
We generally expect a 15-year to life warranty on the frame of nicer cardio equipment and over a year on pretty much everything except for labor. Such a short warranty makes me leery of future durability.
The refund policy is fairly standard, with the customer having 30 days to return their CLMBR if they are not satisfied with the purchase. I don't love that you'll be forced to pay an additional $350 for shipping the machine back on top of the $150 or $250 previously spent on shipping/ assembly costs. It is slightly more high stakes than we typically see, since you'll be out at least $500 if you choose to return your CLMBR.
Ordering and Assembling the CLMBR
The ordering process itself is simple. Choose a CLMBR bundle: Base, Peak, Summit, or Apex. Each of these includes a CLMBR (duh) and depending on the package you choose, various accessories as well. The prices for these packages start at $3,495 and go up. There is also the opportunity to finance through Affirm for as low as $70 per month.
Once you've selected the option you want, add it to your cart, add code "GGR" for $250 off, and enter your information. You'll have the option to choose between paying an extra $150 for just delivery or $250 for delivery and assembly. We chose just the delivery option to give you an accurate picture into the assembly process itself.
Let's get this out of the way—the CLMBR was easily one of the worst pieces of equipment our expert product assembler, Sam (who we call "asSAMbly") has ever put together. That is including countless exercise bikes, IKEA couches, and 300-pound treadmills, so you know it was bad.
A shipping company delivered the CLMBR, but they simply did a drop-and-go, which means they dropped the box off with zero assembly. We let the box sit for a week before assembling it (we're busy, too). The package itself is about 200 pounds and takes at least two people to move it, so keep that in mind if you're hell-bent on doing it yourself.
Sam was surprised by how bad the directions were for assembly. He is excellent at following instructions, but these did not make it an easy process for him. In the future, he hopes CLMBR includes a QR code you can scan to view a walk-through assembly video.
This entire build definitely needs two people. The average person does not need to be putting this together at all because you could be seriously injured if any part of this machine is not perfectly lined up by the assembler. You have to remove the plastic housing that surrounds the motor and gear system and align it while building your CLMBR, which can be a recipe for disaster if you even get one screw wrong.
Instead of starting to question your entire life, I'd really recommend paying the extra $250 for white glove delivery and installation. It really would be worth it in this case.
Customer Reviews
After looking at the CLMBR reviews on TrustPilot, the machine has a score of 3.5 out of 5 stars with around 85 reviews. Customers who were pleased with their purchase really liked the on-demand classes and concept of the machine.
Others complained about the assembly process and overall durability issues with various components from the CLMBR.
Final Verdict of Our CLMBR Review
All in all, the CLMBR is a fun machine with interactive classes that mirror the Peloton experience. However, the limited warranty, assembly issues, and lack of compatibility with taller folks leaves things to be desired. I think with some tweaks (and a more extensive warranty), the CLMBR can be a real competitor in the market in the future.
Related: Best Treadmill for Tall Runners
CLMBR Rating
CLMBR
Intrigued by all things technology-related? Check out our CLMBR review, where we'll dive deeper into the functionality of this cardio machine.
Product Brand: CLMBR
Product Currency: USD
Product Price: 2799.00
Product In-Stock: InStock
CLMBR FAQs
Is the CLMBR worth it?
If you're someone with extra money to blow and want something fun and unique, it is worth it. However, this isn't the machine for the casual exerciser who wants a long-lasting piece of equipment. With such a short warranty, I can't promise this machine will be in it for the long haul.
How much is a CLMBR?
A CLMBR starts at around $3,495 and goes up if you purchase a bundle. However, CLMBR does offer financing options through Affirm for as low as $70 per month.
Is a vertical climber a good workout?
Yes, a vertical climber is a great workout! If you're looking to burn calories and get your heart pumping, these are excellent machines.
What type of cardio workout will activate all my body's muscles in less time?
Plenty of cardio machines will activate a variety of muscles in your body, including rowers, the CLMBR machine, and ellipticals. However, I recommend incorporating strength training into your workouts in order to truly get the best workout possible.