We test and review fitness products based on an independent, multi-point methodology. If you use our links to purchase something, we may earn a commission. Read our disclosures.
Walking into Gunnar Peterson's Beverly Hills gym, something immediately struck me. The place was stuffed, absolutely filled to the brim with every kind of training and recovery equipment imaginable. Some people have a more minimalist style when setting up a gym, while others take a maximalist approach. Peterson is definitely the latter.
Ah. A man after my own heart. I'm swooning.
Peterson has been a go-to celebrity trainer for close to 25 years, with clients like the Kardashians, Jennifer Lopez, Hugh Jackman, and an unnamed super famous NFL quarterback.
To this day, Peterson isn't above loading barbells and leg presses alike for his trainees. If you train with Peterson, all you need to worry about is working hard. He's got the rest.
"You throw touchdowns, I rack weights," Peterson told that esteemed QB many years ago.
The people who train with him know he's committed to bringing them the best experience possible, even when that requires innovating to push a piece of equipment past it's supposed limits.
For example, the VersaClimber was created to stay at a certain angle. Peterson added his own attachment to make this piece of equipment even more challenging for the user by changing the angle. Consider me impressed.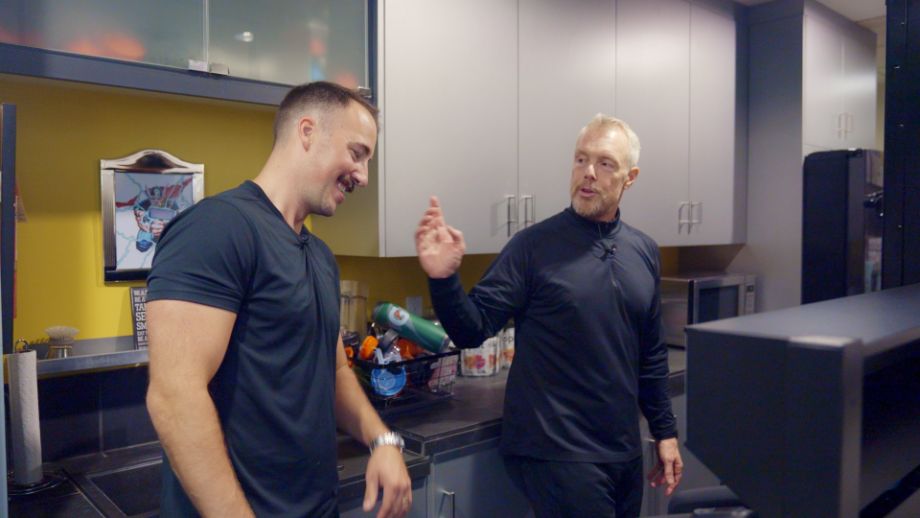 Versatile pieces of equipment that can do multiple things are a must for this space-savvy trainer. Sure, he loves the essentials (like a good dumbbell or sled) but he's all for incorporating the latest unique pieces of equipment into his gym to help his athletes train for life.
"Life's a sport, and you're an athlete. Don't tell me you're not an athlete because you are," Peterson said on his philosophy when training clients from all walks of life.
With as hard as Peterson pushes his clients, he makes sure they have the tools they need to successfully recover as well (with minimal effort on their end). For example, the giant automatic roller tucked in the corner of the gym is wonderful for getting the knots and kinks out of pretty much any area of your body. Sometimes I still have dreams about how wonderful it felt on my hamstrings. Anyway, moving on.
Another awesome perk about training with Peterson? You can take one of many Theraguns he has available home for recovery. Each of the Theraguns has a different attachment already on the massage gun.
While I wanted to touch and try everything in Peterson's gym (heck, can you blame me?) I was fortunate to be able to use a Strive functional trainer, the Dominator, and the Reax Run, which I was particularly excited about.
The Reax Run is a treadmill that changes inclines from side to side and front to back. It's supposed to simulate running or walking in an environment that's unpredictable, like a rocky trail. Even with a 30-second jog, I felt akin to a baby deer taking tentative steps. This sucker was challenging–and I loved it!
Gunnar Peterson's take-no-prisoners attitude and carefully thought out gym left me star struck. He is willing to push his clients to the max to help them achieve their goals.
An all-black American Flag hangs proudly at the entrance to Peterson's gym. He wants this to be the first thing you see before you begin your training session. The meaning behind it? An all-black American Flag is the opposite of a white surrender flag.
Shop Gunnar Peterson's Gym Equipment