We review free products that we receive and participate in affiliate programs, where we may be compensated for items purchased through links from our site.
See our disclosures page for more information.
Last year brought an onslaught of at-home workout demands. Consumers ran themselves ragged online in search of the best treadmills and fitness equipment. I have personally unboxed, assembled, researched, and tested countless running machines to bring you the best of what 2021 has to offer.
Whether you're new to exercise or a seasoned runner, there is a treadmill on the market for you. For each of our nine machines below, I'll let you know what I liked and what you should be aware of before you run head first toward such a sizable purchase.
RELATED: The best ellipticals for 2021
Top 11 Picks for Home Treadmills
My Top Pick: NordicTrack Commercial 1750
My Top Pick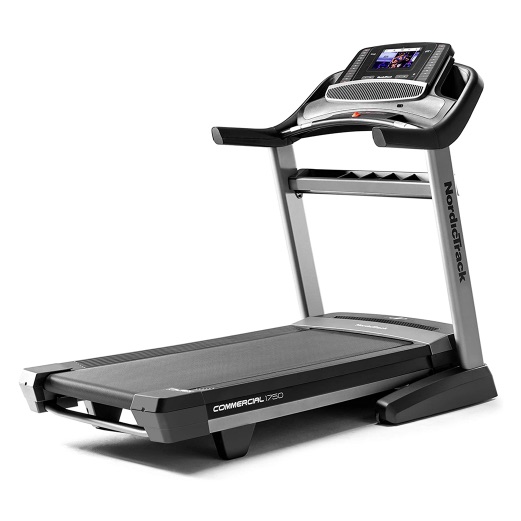 NordicTrack Commercial 1750
Your Commercial 1750 features the all new Quiet Drive Incline Tech. Experience a better workout experience with technology that realistically mirrors the terrain you're running on. Our Runners Flex cushioning allows you to customize your workout with a softer surface or a harder surface that mimics the feel of the road. iFit workouts incorporate Automatic Trainer Control, which allows your trainer to digitally adjust your incline, decline, and speed for you.
Good for: Runners and walkers looking for guided programming from a reputable manufacturer
My Favorite Things:
Interactive training with iFit, and a free year of iFit is included with purchase
Flex cushioning options for serious/not-so-serious runners
Downhill training options with a 3 percent decline
Conveniences: Water bottle holders, fan, storage tray, Bluetooth speakers
My Callouts:
Cost is just under $2,000
Assembly is long and complicated
It's a big, heavy machine: a whopping 339 pounds! But it does fold for easy storage
Without iFit programming, your options for preset workouts are limited
The NordicTrack Commercial 1750 is a serious machine packed with extras that benefit walkers and runners. Right away, you'll notice a 10-inch HD touchscreen loaded with iFit, which is NordicTrack's interactive training program. It has walking and running programs that take you all over the country, which I enjoyed as a welcome distraction to the burning in my legs.
The iFit program also automatically adjusts the speed of the treadmill as well as the incline and decline. Yes, this treadmill has a declining function, which is another reason it took my top pick. If you want to get closer to simulating a run outside, then running both inclines and declines is a must. Decline running also strengthens your leg muscles in a way that incline and flat running does not, so there's that added bonus as well.
Serious runners, listen up: The Commercial 1750 has cushioning options. You can actually turn on or off the cushioning on the running surface. You can mimic road running by turning it off or get more cushion for the joint pushin' by turning it on.
This is a big machine with a really intricate assembly. You need plenty of room for it, and you should carve out a few hours to put it together. Expert assembly for a NordicTrack treadmill isn't currently available due to COVID-19 precautions.
Read my full NordicTrack Commercial 1750 review.
Best Treadmill Under $1,000: Sole F63
Best Treadmill Under $1,000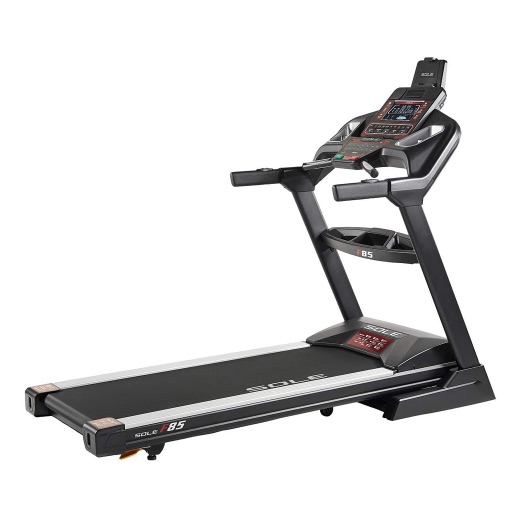 Sole F63
Named "Best in its Price Range" by Fit Rated, Run Reviews, Treadmill Reviews, and many others. Easy Assist Folding Deck Design makes storing your treadmill easy and convenient. High-end rollers create a static free motion leading to a long lifespan. Smoothest treadmill when making adjustments mid-workout. LCD screen provides real-time statistics to monitor progress towards goals
Good for: People who want a cardio machine without breaking the bank
My Favorite Things:
10 preset workouts
Heart rate chest strap included
Bluetooth speakers, USB port and cooling fan
Cost is less than $1,000
Folds fairly easily to save space
My Callouts:
Large footprint
Slight jostling during runs
Basic LCD screen
Delayed shipping due to high demand
I'll be honest: I don't expect much from treadmills that cost less than $1,000 (see my guide to the ultimate $1,000 budget home gym here.) The Sole F63 surprised me. It comes with a Bluetooth heart rate chest strap monitor (that actually works), it has Bluetooth speakers that rock, there is a large storage tray, a tablet holder, and a USB port to charge your device.
The F63 has a steel frame backed by a lifetime warranty. It's the base model from Sole but far from basic. The motor is 3.0 continuous horsepower, it has 15 incline levels and speeds up to 12 mph. Programming-wise, this guy has six standard programs, two programs that are heart rate-based, and two that are customizable.
Keep in mind, this is a treadmill that costs less than $1,000. My runs on the F63 weren't as smooth as workouts on higher-priced machines. It's the kind of jostling you would expect from a budget-friendly machine. While not a dealbreaker, it is something noteworthy. The LCD screen is pretty basic but still spits out all the metrics you'd want to know while exercising. Also, Sole notes that due to high demand, it could take up to 45 days to get your treadmill.
In my testing and research, I found many other budget-friendly treadmills, but few with all the features the F63 boasts. Its strong warranty, programming options, and conveniences make it my pick if you want a quality machine without forking over too many Benjamins.
For more on my experience with this machine, check out my Sole F63 Treadmill review.
Best Treadmill for Running: ProForm Pro 9000
Best Treadmill for Running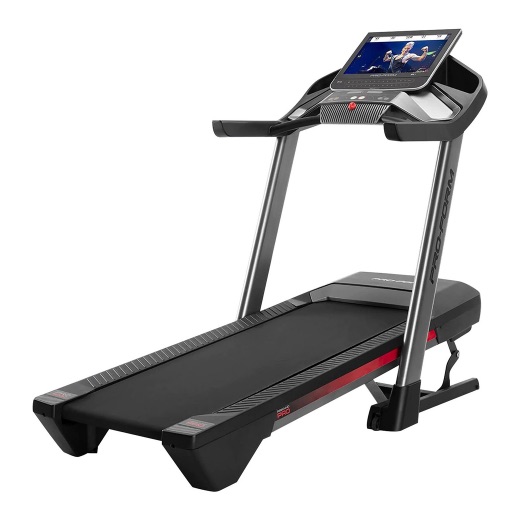 ProForm Pro 9000
Take your training to the next level with an iFit Family membership on the Pro 9000 treadmill. Engage in a whole new workout experience as streamed live and on-demand personal trainers lead you in studio classes and take you all around the world, automatically controlling your treadmill's speed, incline, and decline to give you a unique, hands-free workout.
Good for: People who want preset workouts and a durable machine
My Favorite Things:
Incline and decline settings
Cushioned deck to protect your joints
iFit programming free for a year
Fan, water bottle holder, 22-inch touchscreen
My Callouts:
Priced around $1,800
iFit requires a subscription; without iFit, there are few preset workouts available
Heavy machine with a big footprint
ProForm has long been a respected name in the running game, as the company formerly manufactured the official treadmill of the Boston Marathon. Its best cardio equipment today, in my opinion, is the ProForm Pro 9000. The powerful, 3.6 continuous horsepower motor is ideal for high-volume runners, as is the 20-inch by 60-inch running deck. Speeds go up to 12 miles per hour and the machine has both incline and decline settings.
There are two treadmills in ProForm's Pro Series: The 9000 and 2000. The 9000 is priced higher mostly due to its motor strength and its 22-inch HD touchscreen. ProForm is part of the ICON Health and Fitness family (just like NordicTrack), so the 9000 also comes with a full-year iFit membership. With iFit, you have access to countless running, interval, HIIT, speedwork, and other trainer-led programs.
In testing, I really liked the Bluetooth speakers to blast my music, and the fan to blast my face with cool air. Running on it feels stable as there is no jostling. The assembly took me about an hour, and I only really needed a second person to help me attach the console.
At 236 pounds, this machine isn't easy to move around and takes up quite a bit of room. It does have one-step folding to maximize your space. There are also wheels on the front so you can deadlift the deck and push the treadmill around if necessary.
Read my full ProForm Pro 9000 review.
Best Treadmill for Walking: Horizon Fitness T101
Best Treadmill for Walking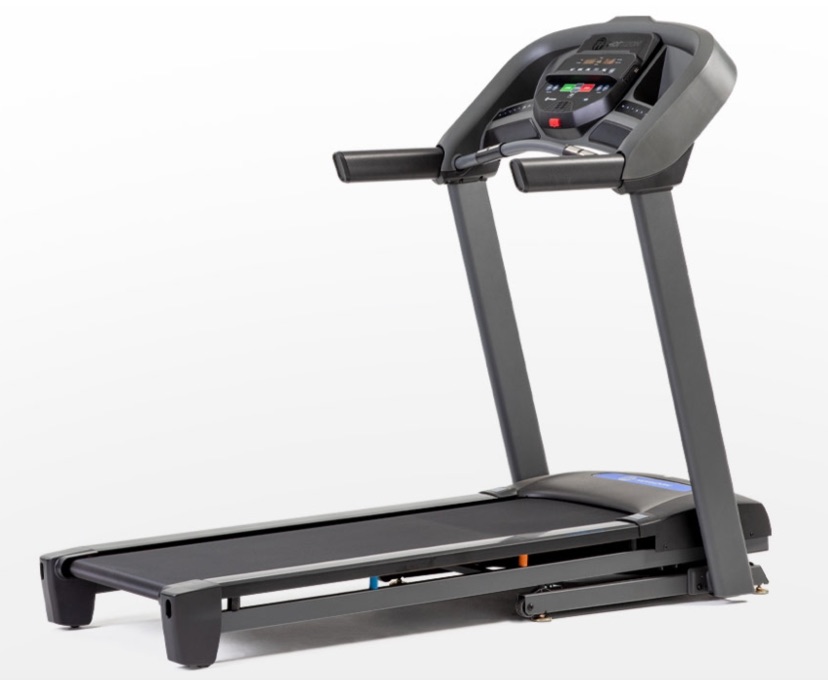 Horizon Fitness T101
Our best-selling and most-awarded treadmill. Quick setup, simple controls and reliable components make it easy to get started with an exercise routine. Hit the ground running with quick and easy setup in 30 minutes or fewer. Intuitive controls for no-nonsense workouts. Bluetooth speakers and a secure device holder let you work out with your fitness classes, music and entertainment. Ultra-quiet 2.5 CHP motor recalibrates with every footfall with no lags or surges. 55" deck with shock-absorbing 3-zone cushioning supports walking, jogging or running.
Good for: Anyone new to home cardio fitness who wants an easy-to-use machine
My Favorite Things:
Bluetooth speakers, USB port and tablet holder so you can stream while you walk
Preset workouts include calorie-based and distance-based options
Lifetime warranty on the frame
Priced under $700
Easy assembly and easy to move at just 180 pounds
My Callouts:
2.5 horsepower motor and 55-inch deck are geared more toward walking, not running
Display is just three small LCD windows
Speed goes up to 10 mph
The Horizon Fitness T101 is specifically designed for walkers or what I would call "light" joggers – someone who runs just a few miles a week. The motor is 2.5 continuous horsepower, which supports moderate amounts of running if you choose to do so, and is still powerful enough to give you a good workout.
The walking/running surface on the T101 is 55 inches long. This is ideal for shorter running strides, or most people's walking strides (Taller folks would typically need a 60-inch deck for running). The deck is also 20 inches wide, which is an industry-standard.
I like that the T101 is priced appropriately at just under $700. It may not have a lot of advanced features, but it is backed by a lifetime warranty and a 100 percent guarantee. Horizon Fitness states that if you don't like the treadmill, you can return it in 30 days for a full refund.
The T101 has some cool perks like Bluetooth speakers and a rapid-charge USB port so you can stream shows on your own device. There are a number of preset workouts including jogging/running workouts – but be advised that the speed limit on this machine is 10 mph.
Best Curved Treadmill: TrueForm Trainer
Best Curved Treadmill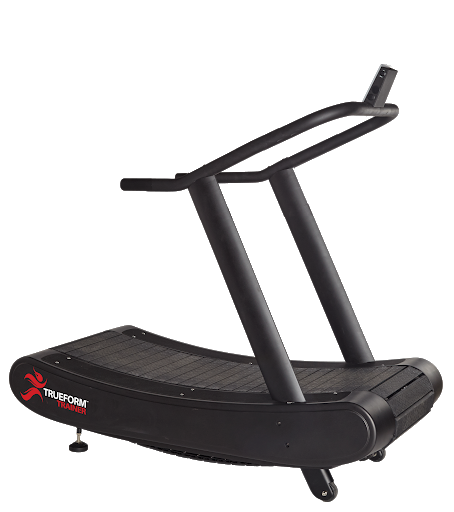 TrueForm Trainer
TRUEFORM Trainer is lighter weight and easier to use. The Trainer is an affordable, rugged, quality built solution for any commercial training facility or home gym. The included display keeps you informed on your pace, speed, distance, time. The display is compatible with Polar heart rate monitors. An optional Bluetooth display is available. TRUEFORM is the industry leading curved non-motorized treadmill. It's the least steep curve on the market, which promotes good form and allows you to easily control your speed. TRUEFORM is the most natural running surface when compared to running outdoors. The proprietary Responsive Belt Technology (RBT), reacts to every subtly in your movement; balance, posture, hip position, foot strike and more. The TRUEFORM requires no power. All the power comes from you, responding to your pace allowing you to go from a walk to a jog, to a sprint, to a stop. Instantly. You will feel when your body is not in the optimal position for running or walking. Long term use of the TRUEFORM will promote better movement patters improving overall health and wellness. TRUEFORM is proven to reduce impact stress which reduces the risk of injury. The simple design of this unique, non-motorized treadmill is also what makes it one of the most effective devices for developing proper running technique. Unlike standard electric treadmills, the TrueForm Runner from features an innovative curved deck that is controlled 100% by the movements and force of the user. There are no on/off switches or complex buttons and settings to worry about. It's a manually operated treadmill that helps train and reward technically-sound posture, balance, and cadence. Set your own limits or push right past them.
Good for: Runners looking to improve their form and performance
My Favorite Things:
Curved running surface to promote better form
Durable frame and hefty weight capacity
60 percent more affordable than the TrueFrom Runner
My Callouts:
Cost is around $3,000
Non-motorized treadmill – you're going to work hard
The monitor is as basic as they come
No preset workouts
The TrueForm Trainer is a non-motorized machine and is an industry leader. TrueForm offers three models of curved treadmills. The Trainer is my favorite of the three for most home gym owners because it offers the sound ergonomics of its big sister, the Runner, but at about 60 percent of the cost.
Unlike a motorized treadmill, the Trainer relies on you to move the belt. As a study published in the Journal of Science and Medicine in Sport reports, this means you work harder – around 27 percent harder – than if you were on a treadmill that uses a motor for power. The curved belt on the Trainer also pretty much forces you into running with better form (TrueForm is its name, after all). When you run on the Trainer, you are prompted to strike the ground midfoot to better keep the belt moving. This is what sets the TrueForm apart from other motorized and curved treadmills. The angle of the belt, as well as the lack of a flywheel, really forces you to run with better form. Better form means less unnecessary stress on your joints and also helps with injury prevention.
The Trainer weighs 270 pounds and has a weight capacity of 400 pounds. Its frame is a very hard plastic, which could be prone to cracking over prolonged use. However, there isn't much wobble when you're on board thanks to pegged, adjustable feet. The wheels on the front of the machine make it pretty easy to move around your space.
Big downside time: The monitor. It makes an abacus look sexy. TrueForm put all the effort into the bottom half of the machine and left the monitor to simply report pace, speed, distance, time and heart rate.
Read my full TrueForm Trainer Review
Best Non-Motorized Treadmill: AssaultRunner Pro
Best Non-Motorized Treadmill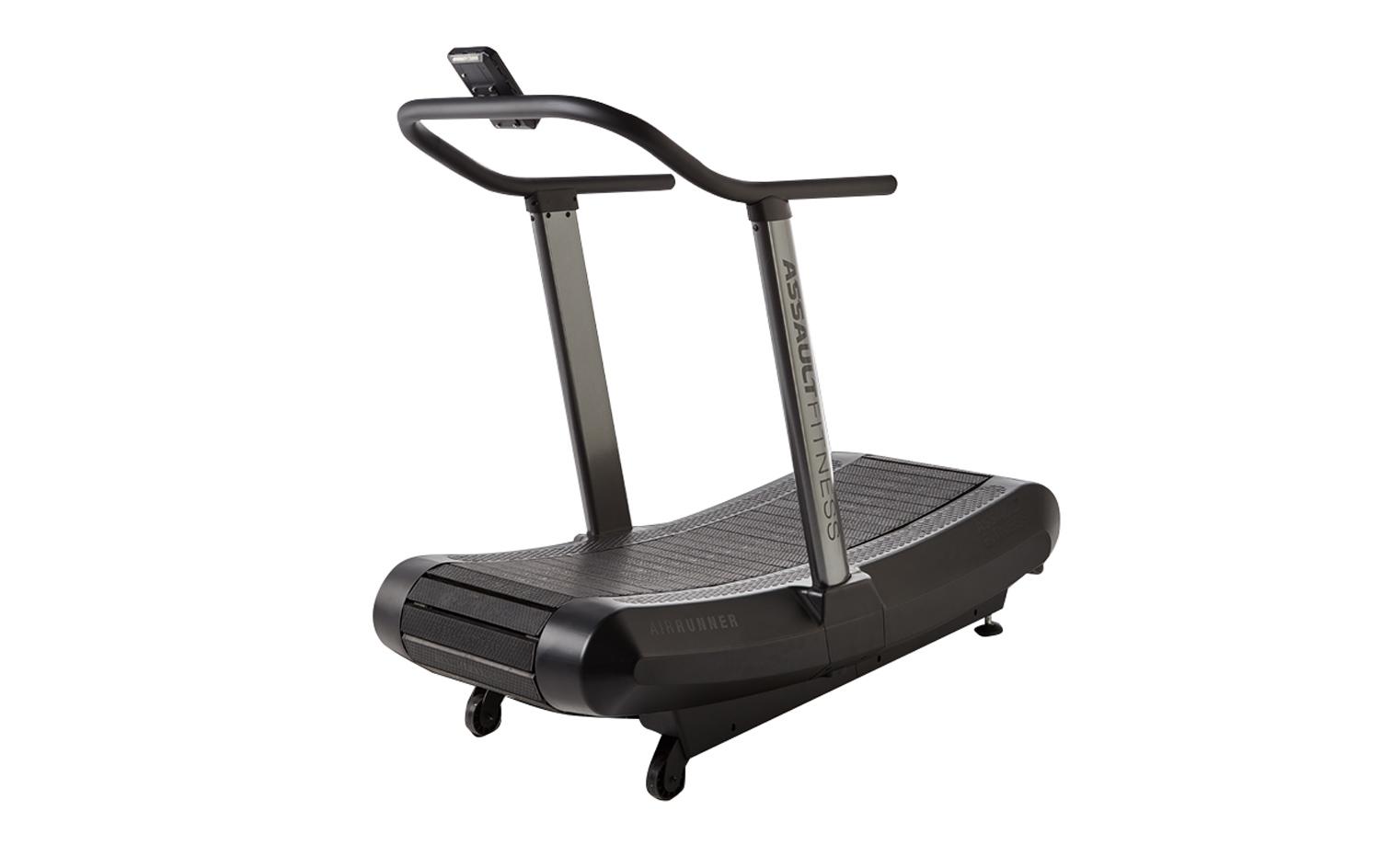 AssaultRunner Pro
The AssaultRunner Pro completely redefines the manual treadmill, offering superior steel construction, dependable stability, and no-limits functionality in a streamlined, energy-efficient design. Few high-performance running machines are as lightweight (280 LBS) and portable (built-in transport wheels) as the AssaultRunner Pro, and its compact footprint makes it adaptable to just about any type of training space. Because it's a motorless treadmill, the AirRunner uses no electricity, running instead on the energy produced by the user's own movement. Whether you're a beginner athlete or a competitor at the highest levels, the machine can instantly conform to your desired speed, even if you change your output randomly at will. There is no maximum speed setting—if you want to push your limits during a workout, the AirRunner will be uniquely up to the task. Assault's precision design includes not only a solid steel frame and handrails, but corrosion resistant hardware and a durable slatted running surface—built with HIIT (high intensity interval training) in mind. The included AirRunner console keeps you informed on your time, calories burned, distance, speed, watts, and pace, with a number of heart-rate and interval programs available. The absence of a drive motor and lift motor also makes this treadmill easier to clean and maintain than many comparable indoor running machines. Specifications Motor-Free Treadmill / Indoor Running Machine Steel Frame & Handrails + Corrosion-resistant Hardware Weight: 280LB / 127KG Built-In Handle and Transport Wheels Digital Console with HIIT and Heart Rate Programs Can be integrated into Queenax™ functional circuit training Uses no Electricity - low carbon foot print For All Skill Levels Color: Black
Good for: An easy-to-use manual treadmill with some built-in workouts
My Favorite Things:
Has some built-in workouts
Easier to get started on than the TrueForm
Long running surface
Better monitor than most manual treadmills
My Callouts:
Priced at $2,999
Plastic shrouds on the side may be prone to cracking
5 year frame, 3 year parts warranty
The AssaultRunner Pro (formerly known as the Assault Air Runner) is one of the most popular non-motorized treadmills in existence, and we have CrossFit to thank for that. It really got its start in the CrossFit world, and it is used in affiliates all over the world.
Just looking at it, it looks a lot like the TrueForm: curved deck, no-frills, etc. But it has one of the better monitors – when compared to other manual treadmills, that is. Also, it's a little easier to get started running on the AssaultRunner Pro than it is on the TrueForm. That's basically because the TrueForm forces you to run with good form, and the AssaultRunner really doesn't.
I personally like how long the deck on the AssaultRunner is at around 60 inches. That accommodates a long stride. The belt itself is very heavy, giving the running surface an almost flywheel effect. This is really useful if you're into over-speed training.
You don't have to plug in this machine to get it to work, as it is 100% athlete-powered. It weighs 289 pounds but I found it pretty easy to move, thanks to the bar on the back of the machine.
The plastic shrouds on the sides of the machine have been known to crack. And if you're looking for fancy programming, it ain't here. Although, the AssaultRunner does have several built-in workouts.
Best Budget Treadmill: Horizon Fitness T202
Best Budget Treadmill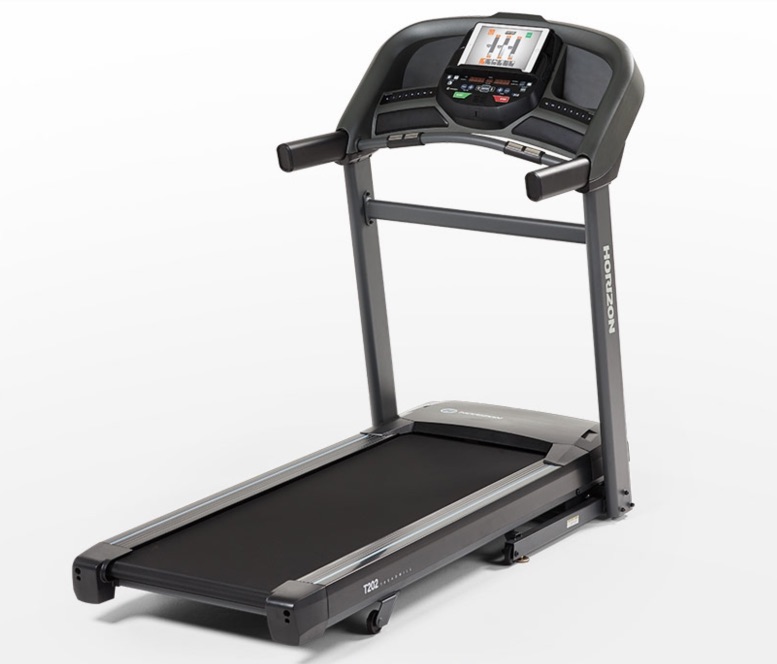 Horizon Fitness T202
Unbeatable durability, quality and value. Add more power to your workouts with an extended training range and larger motor. Bluetooth speakers and a secure device holder let you work out with your fitness classes, music and entertainment. Ultra-quiet 2.75 CHP motor recalibrates with every footfall for no lags or surges. Extended 60" deck with shock-absorbing 3-zone cushioning supports walking, jogging or running.
Good for: People who want a mid-range treadmill at a budget price point
My Favorite Things:
Priced under $800
Offers strong enough motor and speeds for runners and walkers
Has perks like Bluetooth speakers and preset programs
Folds easily
My Callouts:
Display is a set of LCD windows
No Bluetooth heart rate monitoring; contact grips only
Comes with a lifetime warranty
At under $800, the Horizon Fitness T202 treadmill is frills-free but doesn't sacrifice quality. I really like the Horizon brand because the company produces budget equipment that isn't cheap. If you want a gonna-fall-apart-after-10-miles-treadmill, I can point you to some on Amazon. See my guide on building a budget home gym on Amazon here.
But if you want something affordable that works, you go to Horizon. The company's T101 is my pick above for the best walking treadmill, and its T202 is great for people on a budget. The 2.75 chp motor on the T202 supports most activity levels. It also has industry-standard speed levels at up to 12 mph, and incline levels up to 12 percent.
When it comes to tech, the T202 folds, has Bluetooth speakers and a USB charging port. The basic LCD windows are far from top-of-the-line, but they are appropriate for this price range. Be advised that the heart rate monitoring is via contact grips only, which is usually not quite as accurate as a Bluetooth-enabled chest strap. And be sure to check out the best budget home gym equipment for 2021.
Best Folding Treadmill: Echelon Fitness Stride
Best Folding Treadmill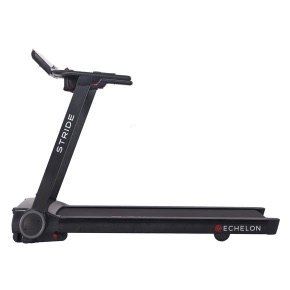 Echelon Fitness Stride
Functionality and technology meet intelligent design in the newest addition to the Echelon product family. Designed with convenience in-mind, the Echelon Stride features auto-fold technology to make heart-pumping workouts more accessible than ever before.
Good for: Someone looking for a space-saving design on a high-powered treadmill
My Favorite Things:
Auto-fold technology that takes the footprint to just 10 inches deep
Lightweight and easy to move
Super simple assembly and usability
Bluetooth connectivity to Echelon United
My Callouts:
Weaker motor isn't ideal for frequent, high volume runners
Short running surface of 55 inches may not work for taller people
Warranty is just one year
Foldable treadmills aren't really unique anymore, especially when it comes to equipment designed for consumers and not commercial gyms. Therefore, I can demand a lot from this category, where I feel the Echelon Fitness Stride takes the cake.
I first fell in love with the Stride because it comes assembled in its folded state. That's an amazing perk compared to some of these machines that take hours to put together. Folded, the Stride is just 10 inches deep. Whereas other foldable treadmills require a 200-pound deadlift as you raise the deck, the Stride folds with just a few buttons. A lever auto-folds the handlebars, and the machine is flattened to a pancake. Once it's folded, the Stride can be lifted into a vertical position, as there are wheels on the front of the machine so you can push it up against a wall or behind a door.
And those are just the folding benefits. The Stride uses Bluetooth connectivity for Echelon United, which is Echelon's interactive programming app. Without the app, there are still eight preset workout programs to guide your exercise.
Now, for some downsides. The motor on the Stride peaks at 2.5 horsepower, so very frequent running and advanced speed work aren't recommended. Also, the running deck is just 55 inches long, which may be a little short for taller users. Lastly, the warranty is just one year. One year! We would expect at least 10 years, especially given that it costs upward of $1,300.
Check out my in-depth Echelon Stride review here.
Best Value Treadmill: Bowflex Treadmill 10
Best Value Treadmill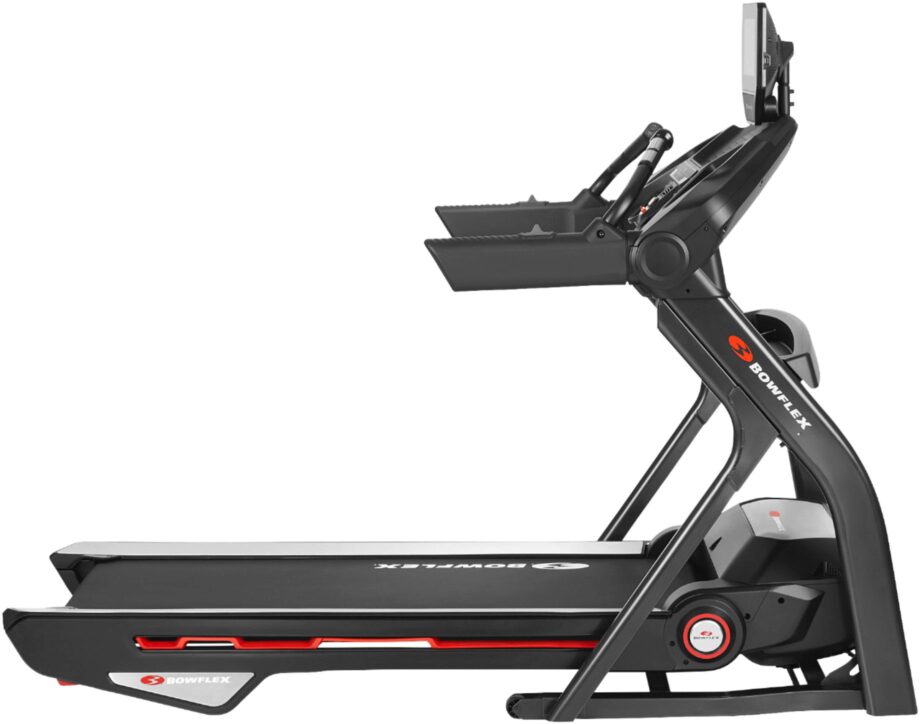 Bowflex Treadmill 10
Make a run for it with Treadmill 10, the adventurous cardio experience that challenges your best effort, entertains your escapist needs, and keeps you accountable for the long haul. Walk, jog, or mad dash from one daily challenge to the next…all from the comfort of home. Elevate your running experience with high performance incline. -5% to 15%.
Good for: People attracted to perks and a lower price point
My Favorite Things:
Interactive programming and streaming services
Incline and decline training settings
Foldable and portable
Bluetooth-enable heart rate monitor armband included
My Callouts:
Subscription to JRNY app is required for all the perks ($149/year)
Warranty is 15 years on the frame
Cost is around $2,000
High-end, expensive treadmills are great if money is no object for you. But for those of us who keep an eye on the bottom line, quality can come in more affordable packages, like with the Bowflex Treadmill 10 released last year. It's about half the price of the Peloton Tread+ (which starts around $4,000) but still has comparable perks.
With the Treadmill 10, you get interactive workout programs with the JRNY app (subscription required, but you get the first two months free). The app creates customized workouts tailored to your fitness, so they get harder as you get in better shape. The runs are scenic as the app takes you through destinations around the world, or you can do studio classes with a personal trainer. All of this is on a 10-inch adjustable HD touchscreen display (a 22-inch display available on the Bowflex Treadmill 22). You can also stream from Netflix, Amazon Prime Video, Hulu, and Disney Plus right on the machine.
This is another treadmill with decline training available, with a -5 percent decline to 15 percent incline settings. Speeds are standard at 0 to 12 mph, but the running deck is a spacious 22 inches by 60 inches. The Treadmill 10 has a soft-drop folding system, so you can lock it into place when you're done, and push a button that will gently lower the deck on its own when you're ready to run again.
As with a lot of these treadmills that have accompanying apps for programming, the Treadmill 10 doesn't offer much if you don't pay for the JRNY subscription. That cost is $149/year or $19.99/month. Also, while this is a fraction of the cost of high-end treadmills, it still clocks in around $2,000.
Best Compact Treadmill: Lifepro Pacer Folding Treadmill
Best Compact Treadmill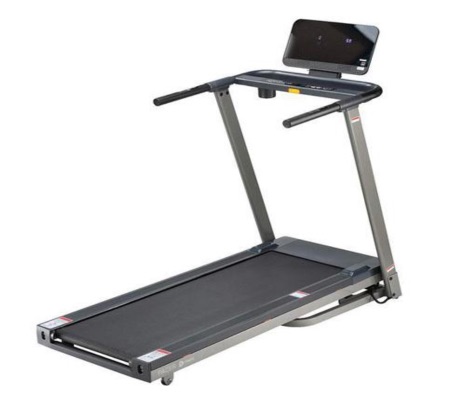 Lifepro Pacer Folding Treadmill
FOLDABLE TREADMILL: Cardio equipment for home use can be difficult to store, but our electric treadmill includes hydraulic folding mechanism for easier storage. Skip the gym with this home exercise machine that boasts a 1.75 HP motor, 49.2" L x 16.5" W running track, 9.9 mph speeds, 12 incline levels and 220 lb weight capacity. SMART FITNESS: Bluetooth connects to your favorite fitness apps, tracking your progress and goals. Listen to your favorite music or podcasts with built-in speakers. Calculate your BMI, check your heart rate with included chest belt, and monitor your pulse with handrail sensors. Backlit LCD displays show incline, distance, time, calories, pulse and speed. 40+ TRAINING PROGRAMS: Dozens of preset training programs, 3 customizable exercise programs, 3 heart rate training programs and unlimited manual programs provide you with workouts that fit your needs. Handrail controls allow you to easily adjust speed and incline while running. HEALTHY WEIGHT LOSS: Transform your physical and mental health by burning calories, reducing stress, improving core strength and regulating metabolism. Cardio training by running for just 15 minutes a day can boost your cardiovascular health, providing you with lifelong benefits. LIFETIME WARRANTY: We're always on your team. Home exercise equipment bearing our name undergoes rigorous scrutiny to make sure it delivers on power and efficacy, and our built-in lifetime warranty ensures LIVE support from our 'guiding angels'.
Good for: People in small spaces who want a home cardio machine
My Favorite Things:
Foldable design cuts space in half
Footprint is just 60 inches long and 27 inches wide
Lightweight at 115 pounds
My Callouts:
Running deck is small at 49 inches long, 16.5 inches wide
Motor is on the weaker side at just 1.25 chp
Max user weight is 220
Price tag is around $750
By nature, treadmills are large machines. However, not all are heavy-duty, steel monsters. The Lifepro Pacer Folding Treadmill is small and would work in even tight spaces like studio apartments. Its footprint is roughly 60 inches long and 27 inches wide. Folded, it basically cuts the length in half to just 32 inches long.
The Pacer's weight is a super light 115 pounds. Combine that with the folding and the wheels on the back, and you have yourself a super portable running machine. There are more than 40 preset workouts like interval training and heart rate programs.
Now, with the good comes to the considerations: A smaller treadmill typically doesn't have the capacity of a larger machine. The Pacer has a small running surface at just 49 inches long and 16.5 inches wide. That's tight! Doable, but tight. The user capacity is 220 pounds (most of today's treadmills support 300 pounds or more).
The Pacer motor is 1.25 continuous horsepower (chp), and 1.75 peak power, which will support runners but isn't suited for high frequency running. Also, the max speed on the Pacer is 9.9 mph, and there are 12 levels of incline.
All that said, this is about what you can expect from a compact treadmill. You have to make sacrifices to save space. Also, check out the 10 best budget home gym setups here.
Best User Experience: Peloton Tread+
Best User Experience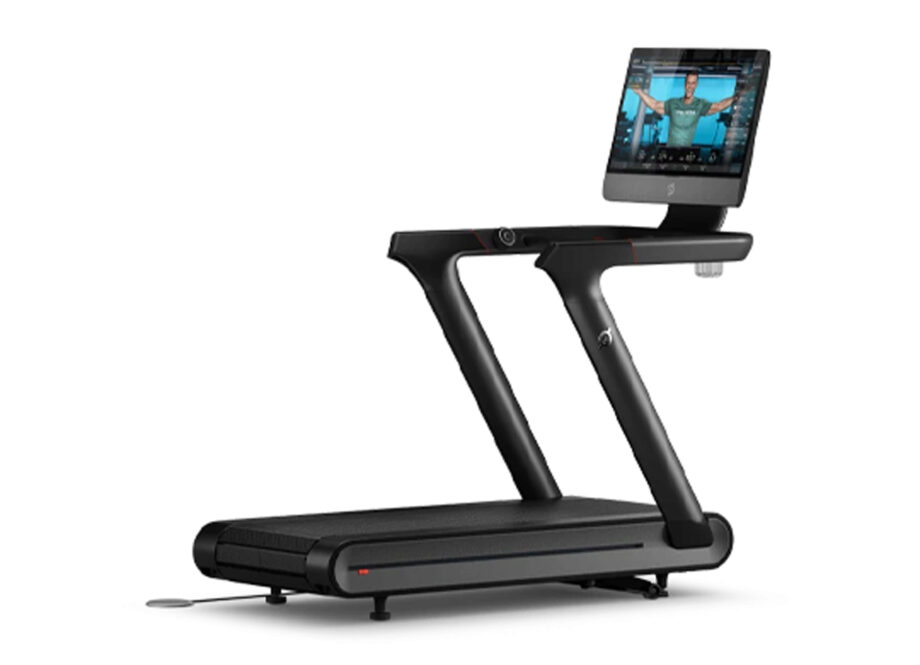 Peloton Tread+
The Peloton Tread+ (the big sister to the Peloton Tread) is an amazing machine. And it better be for $4,295 with an extra cost for the monthly subscription (the regular Tread is $2,495). The biggest asset on the Tread+ is the Peloton classes and overall user experience. Interactive personal training, live classes, on-demand workouts: it has everything. The screen on the Tread+ is a whopping 32 inches. Aside from being large and bright, the screen is incredibly easy to use.
Good for: People who can afford the fully interactive experience
My Favorite Things:
Immersive, personalized running experience
Huge, 32-inch touchscreen
Extremely stable machine
Built-in speakers with Bluetooth connectivity
30-day, full refund guarantee
My Callouts:
Cost starts at $4,295
Heavy at 455 pounds and very hard to move
Without $39/month membership, the machine doesn't do much
User capacity of 300 pounds
It's a Peloton. I don't really need to say more, but I will.
The Peloton Tread+ (the big sister to the Peloton Tread) is an amazing machine. And it better be for $4,295 with an extra cost for the monthly subscription (the regular Tread is $2,495). How many times have I said, however, that you get what you pay for?
The biggest asset on the Tread+ is the Peloton overall user experience. Interactive personal training, live classes, on-demand workouts: it has everything. The screen on the Tread+ is a whopping 32 inches – it's like nothing I have ever seen before! (The Tread still boats a 23.8-inch touchscreen). Aside from being large and bright, the screen is incredibly easy to use.
When I ran on the Tread, I noticed that the belt is similar to the Assault Runner's belt: thick, rubberized slats. The Tread has some noticeable cushion and was extremely comfortable to run on.
One cool feature is that instead of buttons to adjust the incline, the Tread and the Tread+ use knobs along with the handlebars that roll. Obvious safety hazard aside, these knobs are intuitive to use, and I honestly preferred them to buttons. I noticed that if you don't adjust the speed properly, the machine starts to vibrate a little.
Let's talk downsides. If you can get past the cost, my other big concern with the Tread and Tread+ is how heavy these machines are. The Tread+ is 455 pounds, so it's a good thing you can get home delivery and assembly. Make sure you set it up where you want it because you won't want to have to move it. Also, without the monthly subscription, the tread isn't all that great. It's comfortable to run on, but what you're really paying for is that big, beautiful screen and all the classes on it.
How I Tested the Treadmills
Before I get down to business reviewing a product or products, I like to have set criteria I'll use to judge the product. When I go to review a treadmill, I actually use it multiple times for a variety of workouts.
Here's what I used to bring you the most complete treadmill reviews possible:
Ease of Setup: How easy is it to set up? Is there an option to have it assembled by a professional for a fee? Do I need another person to help with assembly? Are there other tools I need for assembly that aren't included? Are all the parts clearly labeled? Were the instructions simple to follow? I take note of the instructions provided and if the parts they include are clearly labeled. I also am honest if the assembly wasn't the easiest. Sometimes (if you can afford it) I will recommend saving yourself the hassle and hiring a professional to put it together.
Adjustability: How accommodating is this treadmill? Will it work for a variety of heights? I take into account the adjustability of all the equipment I use. I love seeing if companies have included a height range to see how short or tall people can be and comfortably use the machine.
Compatible App: Is there a compatible app? Do you have to pay to use the app? What features does the app have?
Included Workouts: Are there any included workouts with the treadmill? How many workouts are there?
Technology: What technology is included with the treadmill? How easy is it to use? Does it a glitch or is it fairly consistent in operation? Some technology I look for includes touchscreens, easy-to-use buttons, a user-friendly interface, non-glitchy programming, and anything else that sets it apart from other treadmills.
Incline/Decline: Does the treadmill have incline and decline? If so, what levels are the incline and decline? Decent treadmills will offer incline, but not all offer decline. I also make sure to see what levels the treadmill I'm testing ranges between.
Durability: How much does the treadmill weigh? How much weight can the treadmill support? Does the treadmill shake or move around while in use? Durability is usually something you'll be able to tell better with time. However, you can see signs that the durability and longevity of the treadmill will be good or bad, based on the materials used and if the treadmill itself seems sturdy.
Portability: Is the treadmill easy to move? Do you need additional people to help move it? Can it be folded away for easy storage? I know not everyone has tons of extra space and the portability aspect of a treadmill may be important to them. I make sure to test moving it myself (to see if it's doable) or if I need to get assistance, I'll do that as well.
Price: How much does the treadmill cost? How does that compare to other treadmills? Is it worth the money? Is it a good value? Treadmills can cost as little as $300, but you generally get what you pay for. I'm not looking for the cheapest price but instead for great performance at a price that makes sense for what you're getting.
Warranty: How long is the warranty? How does the warranty compare to other treadmills? A typical treadmill warranty will generally be between 5-10 years for the motor and frame. A 1-year parts and labor warranty is also typical.
Extras: Are there any extras included with the treadmill? Things to look out for include cup holders, device holders, weights, speakers, a TV screen, and more.
What To Look For When Shopping For A Treadmill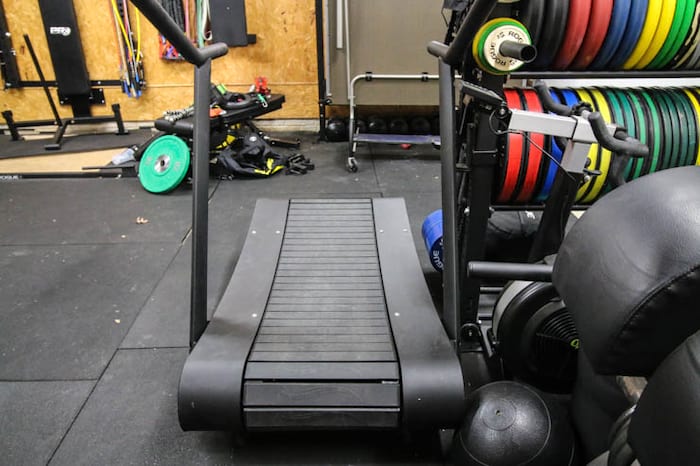 Before running all over the Internet to find the right treadmill for your home gym, get your priorities organized. Here are my tips for knowing which one is the right one:
Your Fitness Goals
What do you want to do with your treadmill? And be specific:
High-Volume Running: If you're logging upward of 20 miles or more a week on a treadmill, you need a machine that performs. Look for a motor of at least 3.0 continuous horsepower and a running deck that's 60 inches long.
Jogging: So, you want to take the treadmill for a spin a few times a week? You can look for a motor in the 1.75-2.5 horsepower range, as a more powerful motor will cost you more. Odds are you worry about your joints, so you might seek a cushioned deck.
Walking: Walkers have some freedom when it comes to treadmills because you can walk on anything. If you want to save money, you can opt for small motors (1.75 horsepower or less) and a short and narrow running surface (smaller than 55 inches long and 20 inches wide).
You can also monitor your progress toward your goals by using one of the best fitness trackers in the market.
Training Options
You know you want to run, but what kind of running matters to you? Consider the following options to enhance your training:
Incline, or hill, settings
Decline, or downhill, settings
Speed ranges (how fast do you need to be able to go?)
If you're training for an outdoor race on hills, I hope you pick a treadmill that can simulate those climbs. Similar to some of the best exercise bikes out there, you can compare the grade of the hills you'll be on with the maximum incline of the treadmill. Also, check out the speed settings on the treadmill. Some come with top speeds of just 9.9 mph – that's a 6:04 mile pace. People doing speed intervals likely want something faster.
Programming Choices
You can hop onto any quality treadmill and just start moving. That's a given. But what if you are ready to push yourself? And what if you need help?
Many treadmills today come with preset programs. Some of these are built into the machine itself, and some of them are through a streaming app. In most cases, the apps that accompany these machines – like iFit, JRNY and Echelon United – come with an additional price tag. Not only that, but the machines themselves aren't as attractive without the app.
Research your programming options with each machine well and factor the price of the app into the price of the treadmill.
Technology Capabilities
The options seem endless, really, but here are a few items you might deem important to your workout experience:
Bluetooth enabled speakers
HD touchscreen displays (or a basic LCD display)
Streaming services
Heart rate monitoring
Customized user profiles
Keep in mind that the more you want, the higher the price range of the treadmill.
Conveniences
Why not make your workout as enjoyable as it can be? Some things, like a water bottle holder, feel necessary, whereas other conveniences are just an added bonus. Here are a few options you might consider:
Media shelf or tablet holder
Cooling fan
Cushioned deck for shock absorption
USB charging port
Storage tray
Safety stop
Space
Lastly, a big thing to consider is space. What's your place like? Do you have room for a huge, commercial-sized treadmill, or do you need something compact that folds? Technology today means you can push a button and the treadmill folds in half on its own.
You might also look at the portability of the machine. If you know you will be moving the treadmill often, then getting wheels and a lighter weight machine might be necessary.
A treadmill of any size is still a large purchase. My advice is to figure out what you need in terms of price, space, and fitness goals. Thoroughly research the products you like, and give them a test run if you need to (many machines come with a 30-day guarantee!). Good luck, and have a great run.
Budget
It's best to begin with your budget; in general, the more money you can invest in a treadmill, the longer it will last. However, at under $1,500, many treadmills give the same degree of durability and usefulness as professional gym equipment.
Treadmill FAQs
Which treadmill is best for home use?

The best treadmill for your home is going to largely depend on your goals. You need to find one that matches your budget, your fitness goals, and your space demands, among other factors.
What is the best inexpensive treadmill?

The first thing is first: Inexpensive shouldn't mean cheap. You can find a lot of cheap treadmills out there, but they won't last long.
In the treadmill world, inexpensive would be something under $1,000. I like both treadmill lines from Horizon Fitness because they offer a lot, like a lifetime warranty, some nice tech features, and decent durability.
Are cheap treadmills worth it?

If you're looking to jog or run on a treadmill, paying a few hundred dollars for something off Amazon likely isn't worth it. You need a motor, deck, and frame to support your activity. Walkers can get away with lower-powered motors and a less durable frame simply because the machine doesn't need to work as hard.
Even still, you get what you pay for. Budget-friendly motorized treadmills are notorious for having issues with motors that need to be replaced, belts wearing out, and necessary adjustment to tension. There are good treadmills in the $700-$900 range that are friendlier to your wallet – and have financing options – and will last much longer than the $200-$300 options.
Is a home treadmill worth it?
There are countless benefits to using a home treadmill:
Improved cardiovascular fitness
Burning calories and fat
Getting to exercise whenever you want
Not worrying about the time limits commercial gyms sometimes place on machines
Wearing whatever you want
Watch a show or a movie while you exercise
Yes, treadmills can be expensive, but most come with financing options to help allay the cost.