We test and review fitness products based on an independent, multi-point methodology. If you use our links to purchase something, we may earn a commission. Read our disclosures.
A treadmill is a staple in just about any commercial gym, and for good reason: These versatile machines consistently deliver a heart-pumping cardio workout. The best treadmills offer home gym owners the opportunity to keep their fitness routine going regardless of inclement weather or unsafe outdoor running conditions.
Our expert product testers, which include marathon runners, triathletes, and certified personal trainers, have personally used more than 50 treadmills, putting them through walking, jogging, and running workouts. We have developed an in-depth ratings matrix through which we score machines on a scale of 1 to 5 on categories that include:
Durability: We look for weight capacity above 300 pounds, a strong motor, and minimal movement during use.
Speed and Incline Range: We assess whether the customizations will accommodate most users and their fitness goals.
Programming: We score a product on its ability to deliver quality workout programs to the user.
Ergonomics: We look for perks like cushioned decks and spacious running surfaces.
Features: We look at what special tech and other features—such as automatic trainer control—different treadmills offer.
Best Treadmill for Home of 2023
Best Treadmills for Home Use Video Review
Best Treadmill for Home Overall: NordicTrack Commercial 1750 Treadmill
The reason we aware the iFIT programming a 5 out of 5 is because it has a wide array of classes and instructors that are on the same level as some Peloton instructors. It also shows you how long each workout lasts, estimated calorie burn, and an "effort" scale (or how hard you'll have to push yourself.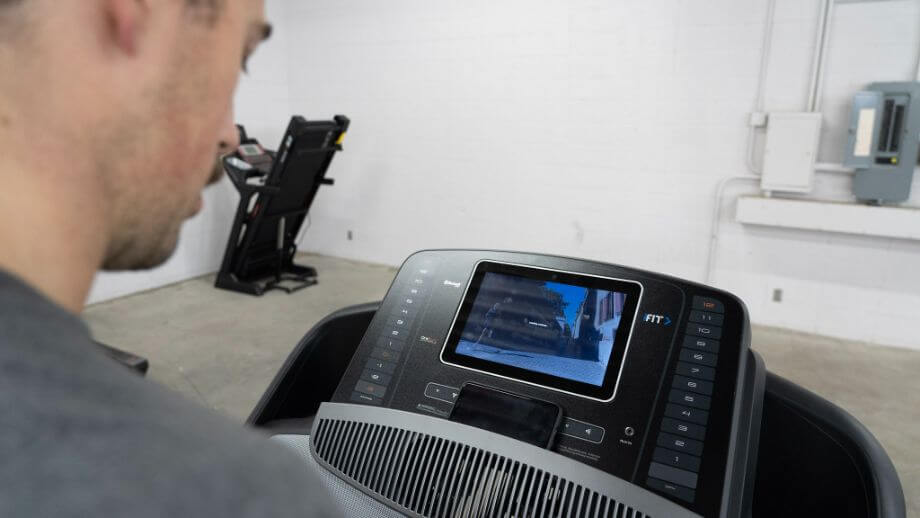 A 3.5 CHP motor and top speed of 12 MPH means you can do sprints on this treadmill without worrying about burning out the components. A treadmill motor of this size is capable of withstanding years and years of use from avid runners.
This is a big machine with a really intricate assembly. I personally put this machine together, and it took me about 90 minutes. If you choose to do this yourself, have a socket wrench handy. It sped up the process of tightening all the bolts for me. And you might want another person to help you attach the heavy, huge console, because it requires wiring as well.
You need plenty of room for the 1750. This is a big machine with a big footprint. Please also note that you should not put this in your garage if you want to be able to use the warranty at some point. Lastly, be warned that after your free trial of iFIT, you'll need to pay for the subscription, which is roughly $40/month for a family membership.
For more, check out our NordicTrack Commercial 1750 review.
| | |
| --- | --- |
| Footprint | 81.25"L x 39.25"W x 62.75"H |
| Tread Belt | 60" x 22" |
| Weight Capacity | 300 lbs |
| Speed | 0-12 mph |
| Incline/Decline | -3% decline to 15% incline |
| Motor | 3.5 CHP DurX Commercial Plus Motor |
| Display | 14" Smart HD Touchscreen |
| Warranty | 10-year frame, 2-year parts, 1-year labor |
Best Treadmill Under $1,000: Horizon Fitness 7.0 AT
Good for: People who want an affordable treadmill that still has durability and conveniences
It's actually hard to find flaws with the Horizon Fitness 7.0 AT Treadmill. Keep in mind, we're talking about one of the best treadmills under $1,000 (with free shipping!), so it won't have all the bells and whistles you'll find on a machine at twice that price.
However, there is a lot to love about the 7.0 AT. Our testers rated it a very high 4.5 out of 5 for workout experience. First, although it doesn't have a touchscreen, it is compatible with apps like Zwift, Peloton, and Studio. You can set your own device on the media shelf and stream workouts without paying the price of a commercial treadmill. Bluetooth connectivity means the machine syncs with these apps, so you can track and save your home workouts.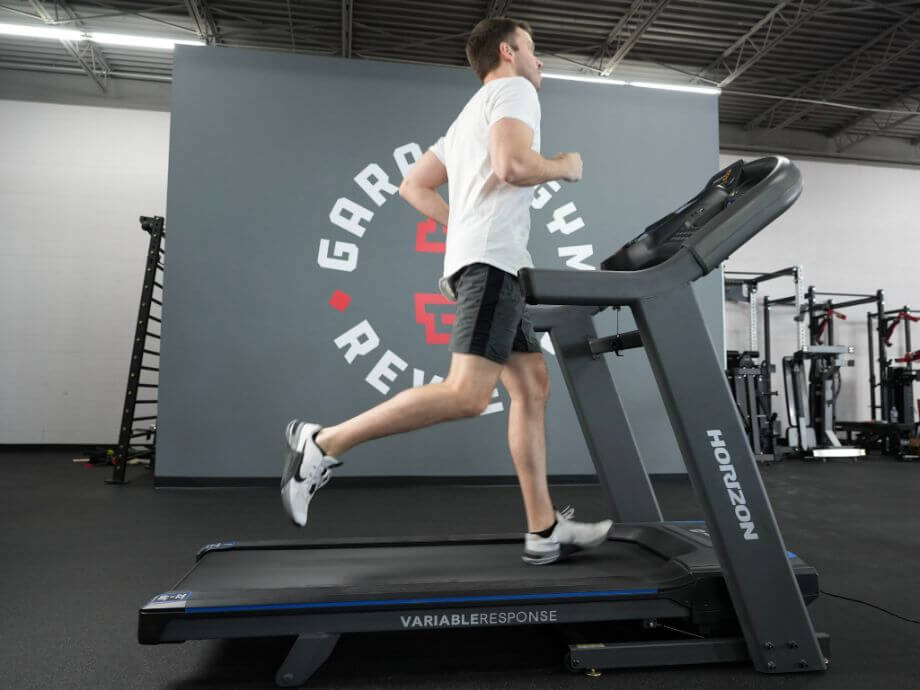 Another standout feature is the spacious running deck. Many budget treadmills skimp on size, but not this one. At 60 inches long and 20 inches wide, the 7.0 AT can accommodate people of all sizes. Plus, you'll get a generous incline range of 0-15% and a max speed of 12 MPH. We also tested the Horizon Fitness 7.4 AT, which is the 7.0's big sibling, and we loved the shared feature of the QuickDial buttons to change speed and incline quickly.
Horizon Fitness doesn't publish the motor that comes on the 7.0 AT. Our best guess is that it's around 3.0 horsepower, which is sufficient for serious runners to log serious miles.
To learn more about this machine, check out our Horizon Fitness 7.0 AT review.
| | |
| --- | --- |
| Footprint | 76″ L x 35″ W x 66″ H |
| Tread Belt | 60" L x 20" W |
| Weight Capacity | 325 lbs |
| Speed | 0.5-12 MPH |
| Incline | 0-15% |
| Motor | *Not disclosed |
| Display | 7.25″ LCD screen, 4 LED windows |
| Warranty | Lifetime frame and motor, 3 years parts, 1 year labor |
Best Treadmill for Walking: Echelon Fitness Stride
Good for: Someone looking for a space-saving design on a machine ideal for walkers
If you want a compact, folding treadmill ideal for walking, the Echelon Fitness Stride fits the bill. I have been using the Stride a few times a week for the last few months for my morning walks. In fact, I've probably logged a few hundred miles walking on it, and even some running ones.
For right around $1,000, the Stride comes with up to 12 MPH speed and up to 10% incline. However, I first fell in love with the Stride because it comes assembled in its folded state. That's an amazing perk compared to some of these machines that take hours to put together. Folded, the Stride is just 10 inches deep. Whereas other foldable treadmills require a 200-pound deadlift as you raise the deck, the Stride folds with just a few buttons.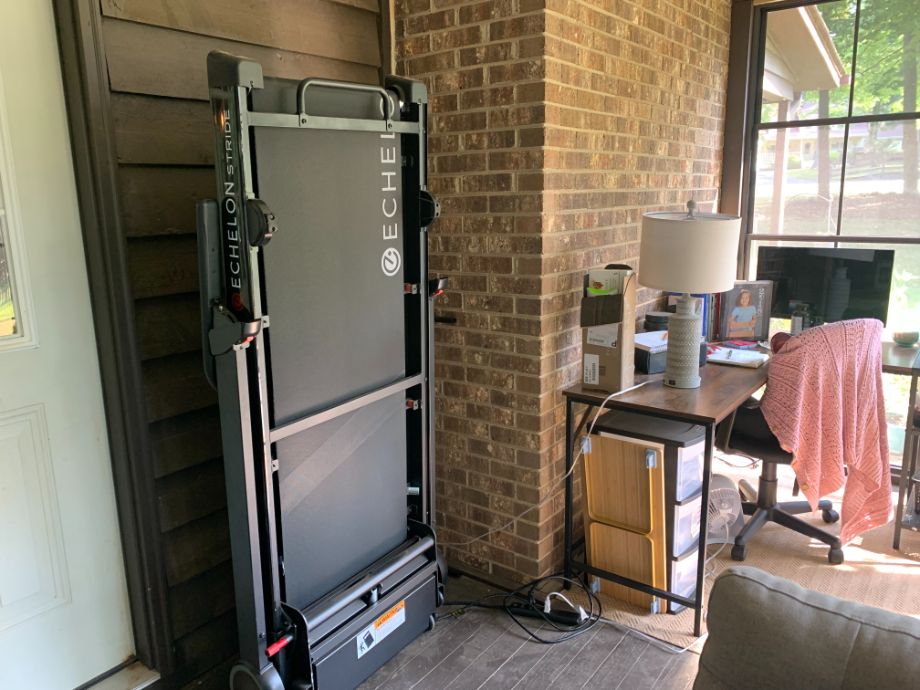 Folding this machine couldn't be easier. A lever auto-folds the handlebars, and the machine is flattened to a pancake. Once it's folded, the Stride can be lifted into a vertical position, as there are wheels on the front of the machine so you can push it up against a wall or behind a door.
RELATED: How to Move a Treadmill
The Stride uses Bluetooth connectivity for Echelon United, which is Echelon's interactive programming app that has live and on-demand classes. Without the app, there are still eight preset workout programs to guide your exercise. I typically keep the treadmill in manual mode and just walk, adjusting the incline and speed as I see fit. There are buttons on the handrails to make those adjustments, which is why it earns a perfect 5-out-of-5 score from me regarding adjustability and ergonomics.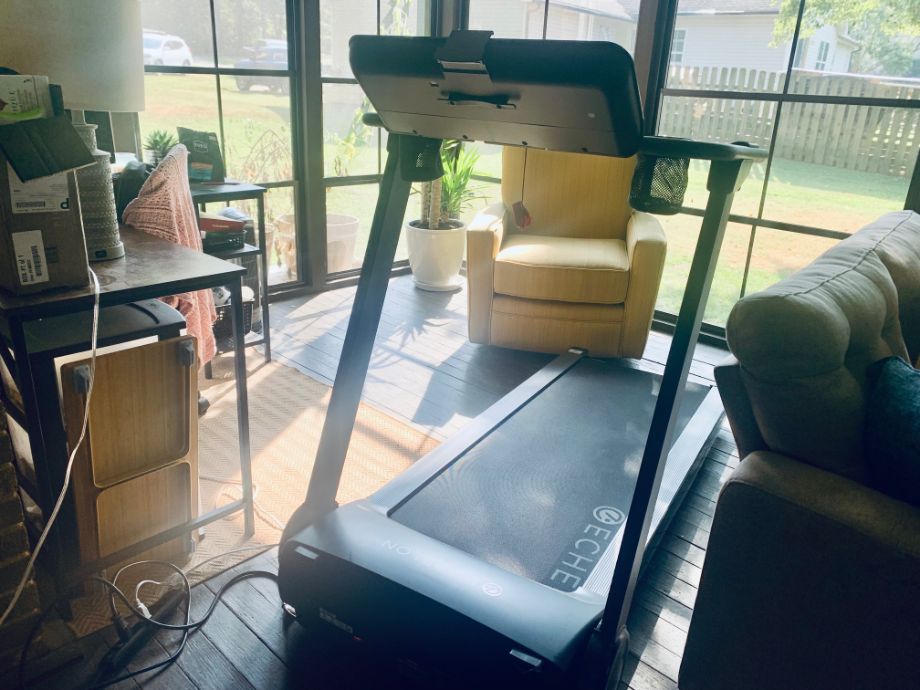 One major downside to the Stride is that the warranty is only valid for one year, which falls substantially short of the industry standard.
I also don't love it for running. This machine has a motor that peaks at 1.75 horsepower, so it isn't designed with runners in mind. And its 55-inch-long running deck is better suited for walking rather than running with a long stride. I notice it wobbles some when I run, and I'm about 150 pounds. I'm not sure how well it would do with heavier users running; but walking should be fine.
Check out our in-depth Echelon Stride review.
| | |
| --- | --- |
| Footprint | 69.3" L × 31" W × 49.2" H |
| Tread Belt | 20" W x 55" L |
| Weight Capacity | 300 lbs |
| Speed | 0-12 mph |
| Incline | 0-10% incline |
| Motor | 1.75 CHP |
| Display | Digital screen |
| Warranty | 1 year |
Best Home Treadmill for Running: ProForm Pro 9000
Good for: People who want preset workouts and a durable machine
ProForm has long been a respected name in the running game, as the company formerly manufactured the official treadmill of the Boston Marathon. We think that the best treadmill for runners is the ProForm Pro 9000, because it scored perfect marks in our testing for durability, customizations (like speed and incline ranges), and programming.
The powerful, 3.6 continuous horsepower motor is ideal for high-volume runners, as is the 20-inch-by-60-inch running deck. Speeds go up to 12 MPH, and the machine has both incline and decline settings.
There are two treadmills currently available in ProForm's Pro Series: The 9000, and its little sister, ProForm Pro 2000. The 9000 is priced higher mostly due to its motor strength and its 22-inch HD touchscreen.
ProForm treadmills fall under the iFIT umbrella, so you know this machine is compatible with the highly rated iFIT app. With iFIT you have access to countless running, interval, HIIT treadmill workouts, speedwork, and other trainer-led programs. Plus, the program auto-adjusts your machine as you move through different incline and speed ranges.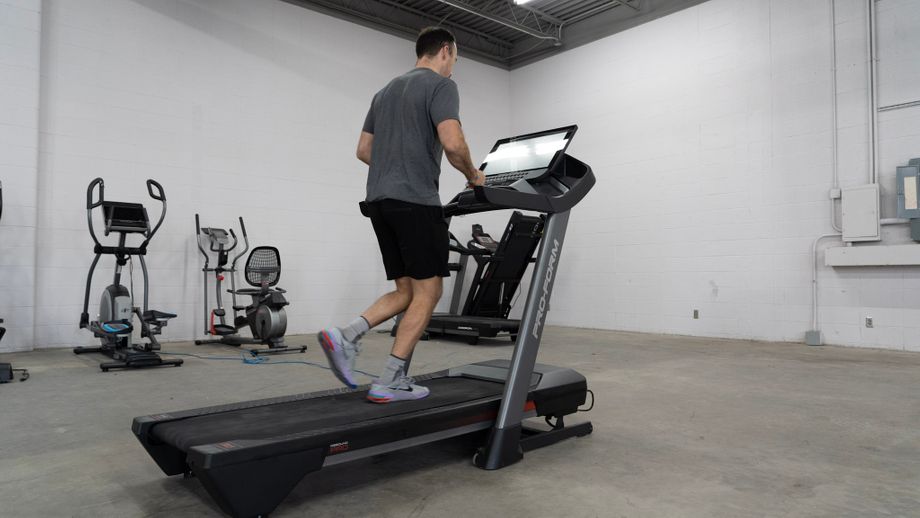 In testing, we really liked the Bluetooth speakers to blast music, and the fan to blast our faces with cool air. Running on this feels stable as there is no jostling. The assembly took me about an hour, and I only really needed a second person to help me attach the console.
At 236 pounds, this machine isn't easy to move around and takes up quite a bit of room. It does have one-step folding to maximize your space. There are also wheels on the front so you can deadlift the deck and push the treadmill around if necessary. However, this machine weighs hundreds of pounds. While I was able to move it, it isn't the easiest thing to do. I suggest assembling it where you plan on keeping it.
To get more information, read our full ProForm Pro 9000 review.
| | |
| --- | --- |
| Footprint | 77.3" L x 35.5" W x 59.6" H |
| Tread Belt | 20" W x 60" L |
| Weight Capacity | 300 lbs |
| Speed | 0 to 12 mph |
| Incline/Decline | -3 to 12% |
| Motor | 3.6 CHP Mach Z™ |
| Display | 22-inch HD touchscreen |
| Warranty | 10-year frame, 2-year parts, & 1-year labor |
Best Folding Treadmill: Sole F63
Good for: People who want a good cardio machine that folds to save space
The Sole F63 is a machine we have used for hours on end, and it's one of our favorites in its price range, which fluctuates around $1,000. First, this is a folding treadmill that provides an easy mechanism for lifting and locking the deck into place. Several of our product testers have done this without any issue.
This treadmill does still have a large footprint, and it does not fold flat. Instead, the running deck lifts and locks into place. It uses hydraulics to lower: You tap the upright with your foot to unlock the deck, which then slowly lowers to the ground.
On top of that, there are many great features you might not expect for a machine at this price. We gave it near-perfect scores in conveniences and tech capabilities. It comes with a Bluetooth heart rate chest strap monitor (that actually works), and it has Bluetooth speakers that rock. Plus there is a large storage tray, a tablet holder, and a USB port to charge your device.
I personally tested the Sole, and I was pleasantly surprised with the quality of the speakers and how easy it was to sync my phone with them. I expected the treadmill to be too loud to hear music coming from the speakers, but that isn't the case at all.
The F63 has a steel frame backed by a lifetime warranty. It's the base model in Sole treadmills, but far from basic. The motor is 3.0 continuous horsepower, and there are 15 incline levels and speeds up to 12 MPH. Programming-wise, this guy has six standard programs, two programs that are heart rate-based, and two that are customizable.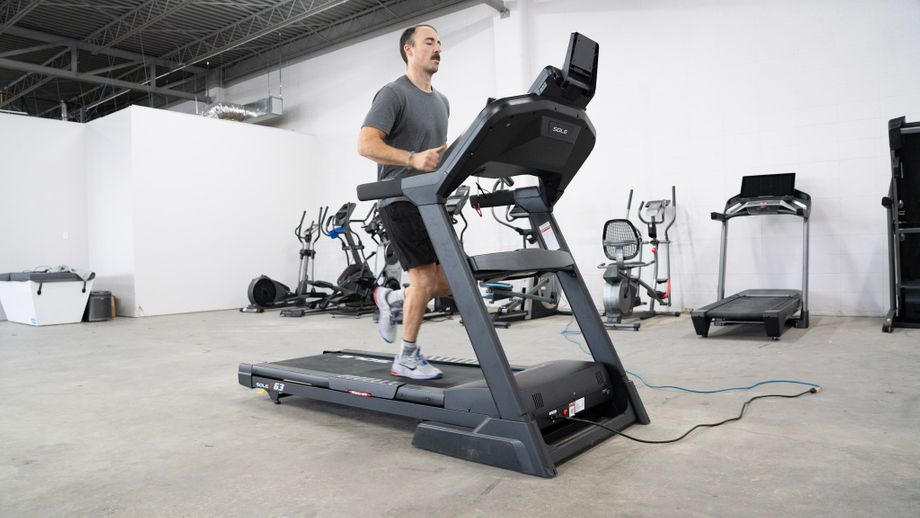 We will say that our top-speed runs on the F63 weren't as smooth as workouts on higher-priced machines. I noticed when I got up to top speeds, the machine shook a little. It's the kind of jostling you would expect from a budget-friendly machine. While not a dealbreaker, it is something noteworthy. The LCD screen is pretty basic but still spits out all the metrics you'd want to know while exercising like time, speed, and distance.
Sole treadmills are now also compatible with Studio, which is a third-party streaming workout app. We haven't gotten to use the app yet, and it does come with an added cost.
For more on our experience with this machine, check out our Sole F63 Treadmill review.
| | |
| --- | --- |
| Footprint | 66" H x 82" L x 35" W |
| Tread Belt | 20″ W x 60″ L |
| Weight Capacity | 325 lbs |
| Speed | .5-12 mph |
| Incline | 15 levels |
| Motor | 3.0 HP, DC Type |
| Display | Backlit LCD |
| Warranty | Lifetime warranty on steel frame and motor, 3 years for deck, electronics, and parts1 year for labor |
Best Compact Treadmill: WalkingPad Folding Treadmill
Good for: Those who need to be able to easily stow a treadmill when not in use
If you really want a small treadmill, the WalkingPad Folding Treadmill is a great option. It literally folds in half, as the deck will split and fold on itself. When folded, its length shrinks from 57 inches long to half that, which means you can slide it under a bed or tuck it away in a closet. It weighs 66 pounds, so you would need to be able to lift that in order to stow it.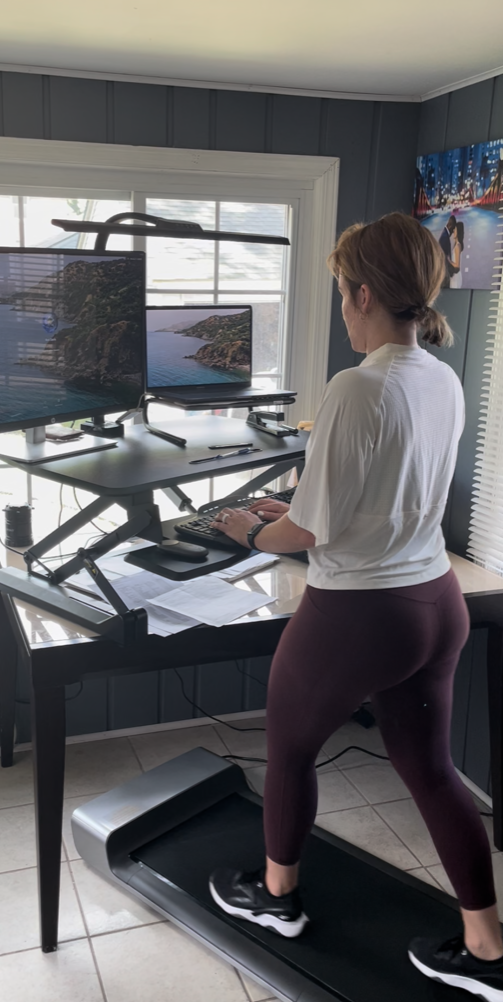 "It feels pretty sizable, although a bit slimmer than a regular treadmill," says Nicole Davis, GGR editor who has the WalkingPad in her home and uses it on occasion. "It's comfortable for me, but my husband has also used it comfortably, and he's 6 foot, 2 inches."
By all means, this treadmill doesn't rate very high according to our typical ratings metric simply because it's meant just for walking, so it doesn't have an impressive speed range (it only goes up to 4 MPH), and it doesn't have any incline at all. However, we did give it a perfect score on delivery and assembly: It ships free with Prime, and you just unfold it and plug it in to get going.
The WalkingPad works well under a desk, and it comes with a remote so you don't have to bend over to make speed adjustments. It also has sensors in the walking deck that allow you to adjust your speed as you walk; the brand claims that the belt will turn faster if you walk toward the front of the machine, and slower if you're walking toward the back.
"I used this, and it did seem to work," says Nicole, who is also a certified personal trainer. "However, I was more comfortable using it at a fixed speed because I was using my laptop while on it."
| | |
| --- | --- |
| Footprint | 57″ L x 20.3″ W x x 4.9″ H |
| Tread Belt | 47.24" L x 16.5" W |
| Weight Capacity | 220 lbs |
| Speed | 0.5 – 4 MPH |
| Incline | |
| Motor | 1 HP |
| Display | n/a |
| Warranty | 1 year |
Best Manual Treadmill: AssaultRunner Pro
Good for: People who want a top-of-the-line non-motorized treadmill
The AssaultRunner Pro is one of the best manual treadmills in existence. We have CrossFit to thank for that: Assault Fitness as a brand really got its start in the CrossFit world, and it is used in affiliates all over the world.
I've used it in several CrossFit gyms, and Coop has put the AssaultRunner Pro and the Elite to the test. The first thing you should know: It takes a little bit of effort to get the belt moving. You have to turn the belt yourself through walking or running (hence "manual treadmill").
The AssaultRunner Pro looks a lot like the TrueForm: curved deck, no-frills, durable build. But this has one of the better monitors compared to other manual treadmills. True, this isn't a fancy monitor that features interactive programming, but it will still give you the metrics you need to get in a good workout.
I personally like how long the deck on the AssaultRunner is at around 62 inches. That accommodates a longer stride than most treadmills, motorized or not. The belt itself is very heavy, giving the running surface an almost flywheel effect. This is really useful if you're into over-speed training.
As far as construction goes, this large machine weighs 289 pounds. However, thanks to a handle and transport wheels, both Coop and I found it pretty easy to move, thanks to the bar on the back of the machine.
The plastic shrouds on the sides of the machine have been known to crack, but the internal powder-coated steel frame is extremely sturdy.
Read more on our AssaultRunner Pro review.
| | |
| --- | --- |
| Footprint | 69.9" L x 31.7" W x 64.4" H |
| Tread Belt | 17" W x 62" L |
| Weight Capacity | 350 lbs |
| Speed | N/A |
| Incline | N/A |
| DriveTrain System | 100 precision ball bearings with 12 roller guides |
| Display | Backlit LCD |
| Warranty | 150,000 mile belt, 5-year frame, 3-year moving parts |
Best Budget Treadmill: Sunny Health and Fitness SF-T4400
Good for: Those looking for an inexpensive treadmill that is easy to use and store
Sunny Health and Fitness is known for making affordable cardio equipment, and the SF-T4400 definitely fits that bill. We don't often recommend treadmills under $500, but this is one we can stand by.
One of the first things our testers noticed when taking the SF-T4400 for a spin was the exceptional soft-drop system this folding treadmill uses. When the machine is locked upright, you simply tap a button with your foot, and the deck safely, slowly drops into place. It's also easy for just one person to lift and lock the running deck.
RELATED: 10 Best Budget Home Gym Setups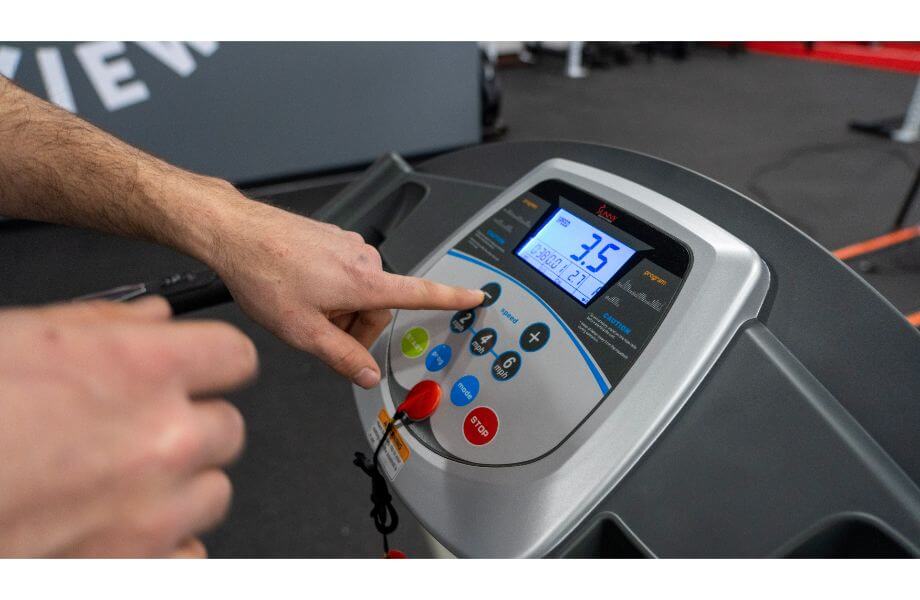 It's also incredibly compact. To give you an idea of its size, "It could easily fit into a car," says GGR expert product tester Anthony O'Reilly. In addition to the compact size, we like that this is a comfortable machine for walkers. The buttons on the handrail make changing your speed a breeze.
When you're talking about budget treadmills, you know you're going to see some sacrifices in technology. The SF-T4400 comes with a basic LCD display that tracks all the necessary metrics for your workout. The speed range is 0-9 MPH and the motor is a 2.2 peak HP, which doesn't quite lend itself to running.
We do like that this treadmill has a 0 to 4.3% incline, but these are manual adjustments. In other words, you can't push a button to make your workout steeper. You have to turn off the machine and move the deck into one of three incline positions. Anthony did this himself and said that because the treadmill is so light, he had no issue making the adjustments. However, it does interrupt your workout.
While this isn't a machine we would recommend for serious runners, it does accommodate people who want to be able to walk or jog at home.
Read our full Sunny Health and Fitness SF-T4400 review.
| | |
| --- | --- |
| Footprint | 62″ L X 25.5″ W X 50″ H |
| Tread Belt | 49″ L X 15.5″ W |
| Weight Capacity | 220 lbs |
| Speed | 0-9 MPH |
| Incline | 3 manual levels up to 4.3% |
| Motor | 2.2 Peak HP |
| Display | Backlit LCD |
| Warranty | 3 years frame; 180 days parts |
Best Treadmill With Incline: NordicTrack Commercial X22i
Good for: People who want a serious climb on an extremely durable machine
Get. Ready. To. Work.
The NordicTrack X22i has a serious incline range, going from a -6% decline to a whopping 40% incline. There aren't too many machines out there that can tout that kind of range. Our expert product testers have taken this machine for a spin, and in just one word, they noted that this machine is "impressive." Not only do you have this incredible climb, but this is one of the best incline treadmills, as it comes with a set of high handlebars ideal for mimicking a sled push.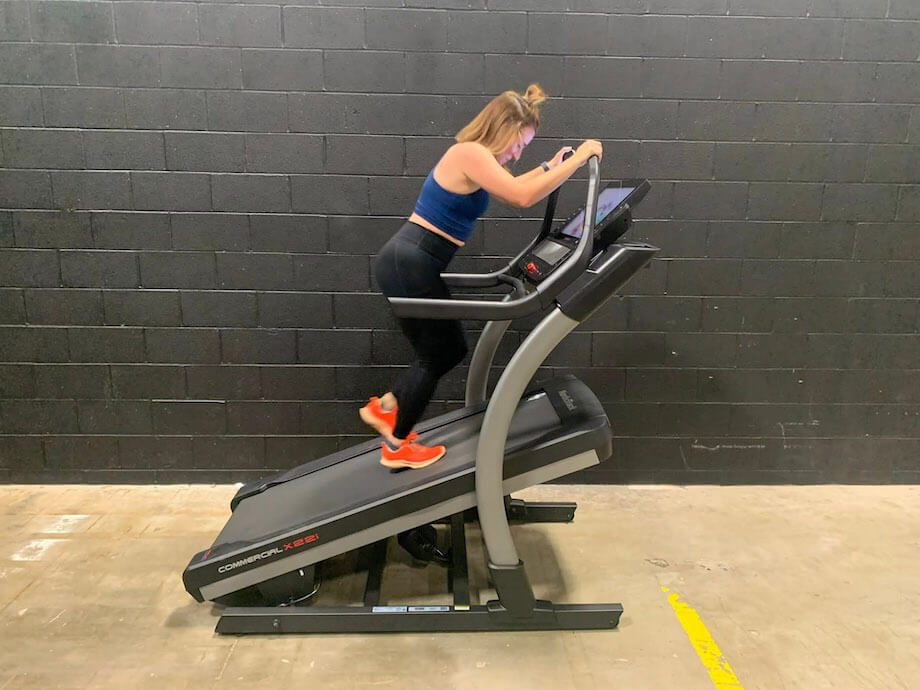 It's easy to see why. Aside from the steep incline guaranteed to blow up your legs and posterior chain, the X22i has just about anything else you could want from a treadmill: a 22-inch touchscreen that we found incredibly responsive; compatibility with iFIT programming; Bluetooth speakers; cushioned deck; top speed of 12 MPH; a powerful 4.0 CHP motor ideal for treadmill running; and two AutoBreeze cooling fans.
Without a doubt, this is a high-end treadmill, and it comes with a high-end price tag of around $3,000. NordicTrack does offer 0% financing over 39 months. However, if you plan on using iFIT in conjunction with this machine (which we recommend doing, big iFIT fans here), you'll have to add a monthly subscription cost.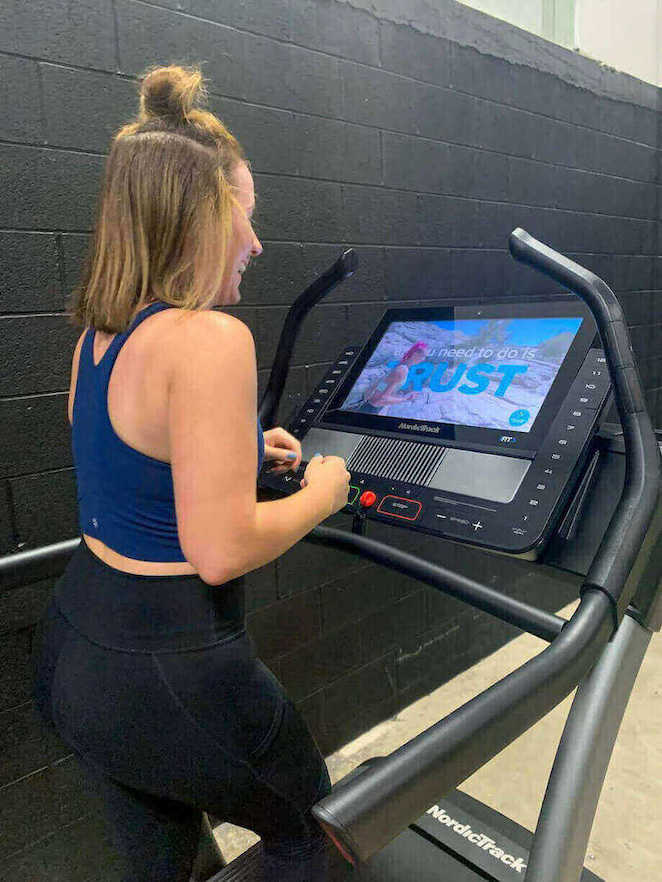 The juice is worth the squeeze with this one, as it scores a perfect 5 out of 5 for durability.. We put this through a full gamut of testing and found the 400-plus-pound X22i to be incredibly sturdy at even the highest speed on the highest incline. It also comes with a 10-year warranty on the frame, two years on parts and one year on labor, which isn't the best in the biz, but still decent enough to provide adequate coverage.
One important callout: In testing, we discovered that this machine has a very high step-up, which means you take a large step just to get onto the machine. Therefore, this wouldn't be ideal for someone with balance issues.
For more, check out our in-depth NordicTrack Commercial X22i review.
| | |
| --- | --- |
| Footprint | 70" L x 39" W x 72.5" H |
| Tread Belt | 60" L x 22" W |
| Weight Capacity | 300 lbs |
| Speed | 0-12 MPH |
| Incline | -6-40% decline to incline |
| Motor | 4.0 CHP |
| Display | 22" HD touchscreen |
| Warranty | 10-year frame, 2-year parts, 1-year labor |
Best Curved Treadmill: TrueForm Trainer
Good for: People who want a non-motorized treadmill to help optimize running form
The TrueForm Trainer is a non-motorized machine and, more importantly, is an industry leader. TrueForm offers three models of curved treadmills. The Trainer is our favorite of the three for most home gym owners because it offers the sound ergonomics of its big sister, the Runner, but at about 60 percent of the cost.
Coop Mitchell, Garage Gym Reviews founder and expert on all things fitness equipment, has personally used (and owns) both TrueForm models. "The feeling underfoot when you're running on the Trainer is very light and springy," he says. "It is designed to improve your running gait, and you can tell."
Unlike a motorized treadmill, the Trainer relies on you to move the belt. As a study published in the Journal of Science and Medicine in Sports1 reports, this means you work harder—around 27 percent harder—than if you were on a treadmill that uses a motor for power. The curved belt on the Trainer also pretty much forces you into walking and running with better form (TrueForm is its name, after all).
Whether you run or walk on the Trainer, the angle of the belt, as well as the lack of a flywheel, really forces you to move with good running form. Better form means less unnecessary stress on your joints and also helps with injury prevention.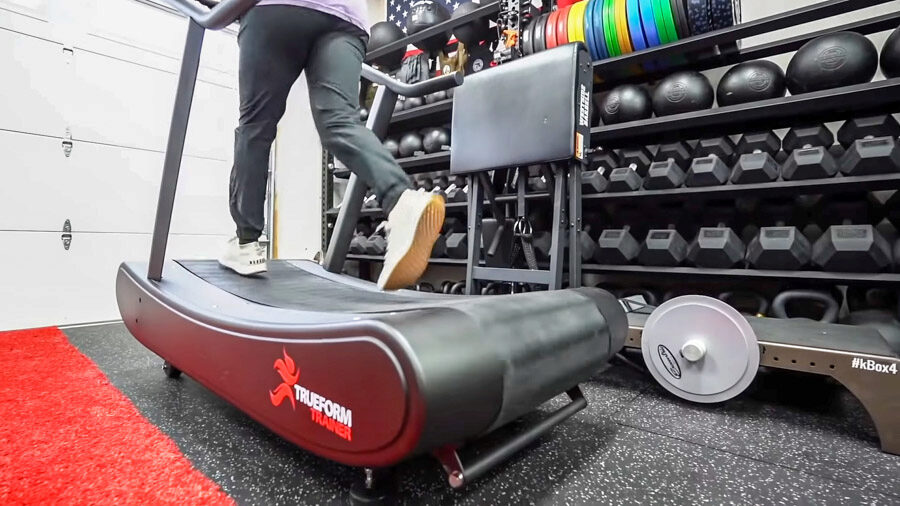 The Trainer weighs 270 pounds and has a weight capacity of 400 pounds, earning high marks in durability during our testing. Its frame is a very hard plastic, which could be prone to cracking over prolonged use. However, there isn't much wobble when you're on board thanks to the pegged, adjustable feet. The wheels on the front of the machine make it pretty easy to move around your space.
Downside time: The monitor. It makes an abacus look sexy. TrueForm put all the effort into the bottom half of the machine and left the monitor to simply report pace, speed, distance, time, and heart rate. But, of all things that could be wrong with a treadmill, this isn't that bad.
Dig into more details in our TrueForm Trainer review.
| | |
| --- | --- |
| Footprint | 64″ L x 31″ W x 63″ H |
| Tread Belt | 54" x 17" |
| Weight Capacity | 400 lbs |
| Speed | N/A |
| Incline | N/A |
| DriveTrain System | 112 sealed steel ball bearings with injection molded polymer pulleys |
| Display | Backlit LCD |
| Warranty | 5 years; 1 year for labor |
Best Under-Desk Treadmill: Sunny Health and Fitness WalkStation Slim
Good for: People who want to go for a walk while they work
Forget whistlin' while you work—how about walkin while you work? Post-pandemic, desk treadmills sky-rocketed in popularity as more and more people worked from home but still had the itch to move.
We tested nearly a dozen of the best under-desk treadmills, and we chose the Sunny Health and Fitness WalkStation Slim as the best. Priced at under $400, this extremely compact machine features specs that attract those looking for something portable to stow under a desk. It weighs just 55 pounds and has transportation wheels so you can easily move it around your home, earning a perfect 5-out-of-5 score on our portability rating.
One of the best features of the Slim is that it automatically shuts off if you step off the machine. We witnessed this in testing, and from a treadmill safety perspective, this is a fantastic addition to a treadmill that kids or pets may have easy access to.
The motor on this machine is small, but you don't need a large, powerful motor on a walking treadmill. With a 1.5 peak HP motor, the WalkStation Slim can go up to 3.75 MPH. That's the equivalent of a brisk walk, which is likely the most you can handle if you're looking to type or talk while you walk.
Another bonus is that there is no assembly required for this machine. You just plug it in and go. One major drawback we see to the WalkStation Slim is that it has a user weight capacity of 220 pounds, which could end up excluding many people who would like to get in their steps at work.
One factor our testers noticed while using the Slim is that the string on the emergency key is very short. Actually, it was too short for our 5-foot-10 walker. If you're tall, you may want to lengthen that cord to remain safe.
| | |
| --- | --- |
| Footprint | 50" L x 21.5" W x 6.5" H |
| Tread Belt | 39" L x 14" W |
| Weight Capacity | 220 lbs |
| Speed | 0.5-3.75 MPH |
| Incline | N/A |
| Motor | 1.5 peak HP |
| Display | Digital monitor |
| Warranty | 3 years frame, 180 days other parts |
Best Treadmill for Streaming Classes: ProForm Carbon T10
Good for: Anyone who wants to stream workout classes on their treadmill
Long gone are the days where you need to park your treadmill near a TV to follow a workout class. The ProForm Carbon T10 has a 10-inch screen that allows you to access live and on-demand iFIT running, walking, and jogging content. We rated it a 4 out of 5 for its great tech capabilities, and a 5 out of 5 for its compatibility with iFIT.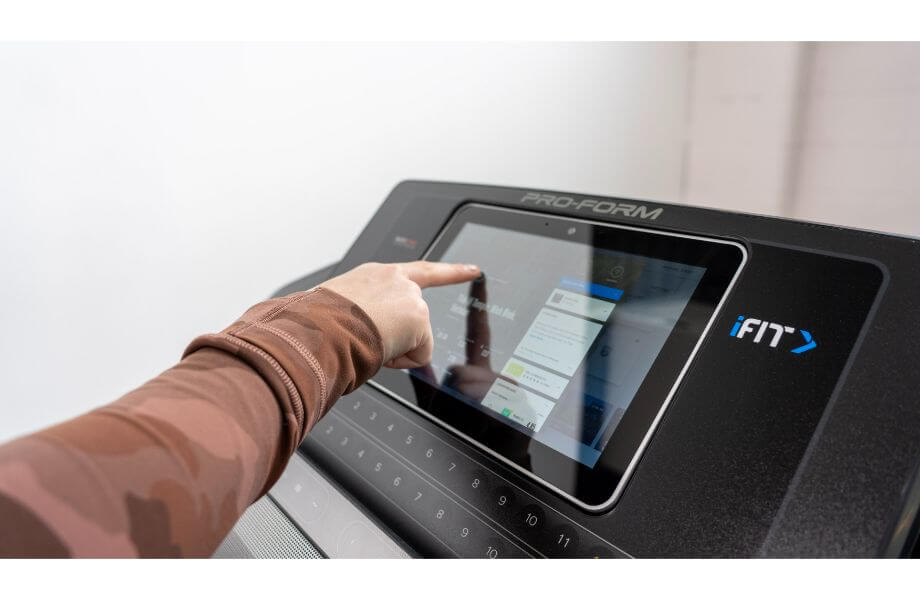 A great bonus of iFIT is the "Live Trainer Control," where the treadmill automatically adjusts the speed and incline to match your trainer's instructions. The first time a machine auto-adjusted with iFIT, I have to admit, I was a little thrown off. The belt starts to tilt, and you hear the whir of the motor, and you can see that you're climbing a hill on the screen. It's kind of like going to a 4Dx movie, only you're exercising instead of eating popcorn. After just a few minutes, however, I quickly adjusted and really enjoyed not having to make those adjustments myself.
The 10-inch screen is nice, and the graphics are easy to follow while you're walking or running. iFIT also has yoga, pilates, biking, and strength training that can be accessed on your smartphone via the app (it's $39.99 a month for a family membership that gives you access to multiple profiles on different machines).
As for the treadmill itself, it's pretty average. The 55-inch length is good for most people, but taller runners and those with long strides might find it a bit too short to get their money's worth. We had some of our taller testers try out the Carbon T10, and they agreed that while they could run, it wasn't the most comfortable for their long strides. At 223 pounds (it's a thick treadmill), it's not exactly portable. The bright side is it can easily fold and unfold, even if you're not the strongest person on the block.
Want to learn more about this machine? Check out our full ProForm Carbon T10 Treadmill review.
| | |
| --- | --- |
| Footprint | 35.24" W x 74.62" D x 64.39" H |
| Tread Belt | 20" W x 55" L |
| Weight Capacity | 300 lbs |
| Speed | 0 – 10 mph |
| Incline | 0 – 12% |
| Motor | 2.75 CHP |
| Display | 10" Smart HD Touchscreen |
| Warranty | 10-year frame, 2-year parts, 1-year labor |
Best Smart Treadmill: Horizon 7.4 AT Treadmill
Good for: Those who want a treadmill with built-in programming and Bluetooth connectivity
We know the Horizon 7.4 AT Treadmill may not look like a smart treadmill, though there's a lot more than meets the eye with this high-tech treadmill. We gave this a perfect 5 out of 5 when judging its tech capabilities. You get Bluetooth compatibility with some of the best running apps, including the Peloton app and Zwift, and the ability to import your running and health metrics from the treadmill to your app for easy tracking.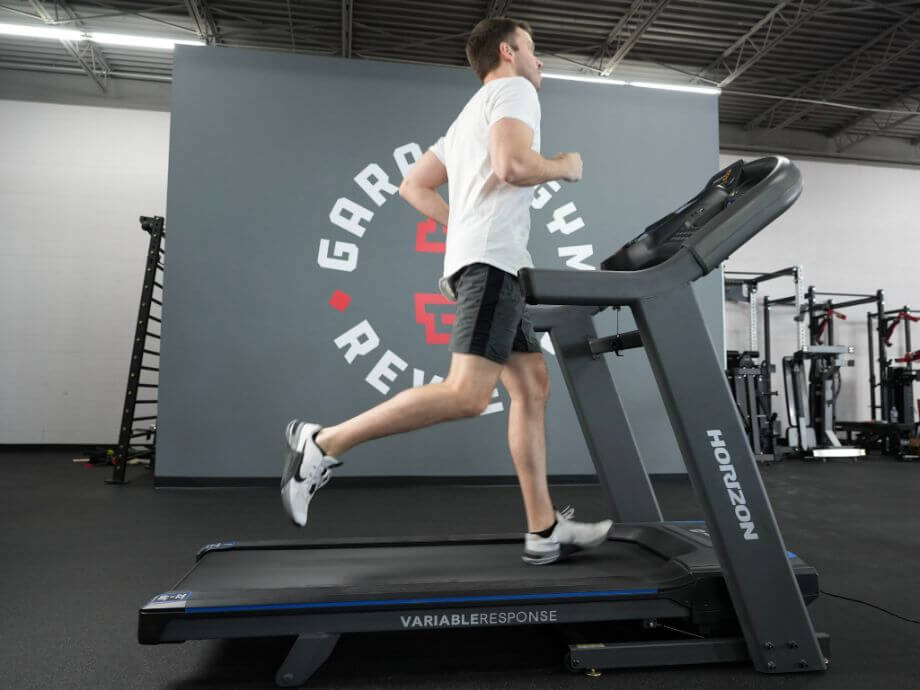 We don't mind the lack of a built-in screen because most of our testers have a smartphone or tablet they can use to stream running classes, and the treadmill has a sturdy media stand that can be used to hold your device. Not having a screen also allows this treadmill to be foldable, which is a big positive in our books no matter how big your home gym is.
In our opinion, the Horizon 7.4 AT treadmill is a perfect example of what the best smart home gym equipment should be—a high-quality exercise machine with some cool technology features. Manufacturers sometimes focus too much on technology, resulting in lower-quality workout machines.
That's not the case with this treadmill, which comes with a large 22-inch-by-60-inch running deck, quick-dial incline and speed controls, and responsive cushioning that can support short and long runs.
GGR expert product tester Anthony O'Reilly notes that this is a large machine. "Even folded, it takes up more than 3 feet in width, and close to 6 feet in height," he says.
Learn more in our Horizon 7.4 AT Studio Tread review.
| | |
| --- | --- |
| Footprint | 76″ W x 37″ D x 63″ H |
| Tread Belt | 22" W x 60" L |
| Weight Capacity | 350 lbs |
| Speed | 0 – 12 mph |
| Incline | 0 – 15% |
| Motor | N/A |
| Display | LCD console |
| Warranty | Frame and motor: Lifetime; Parts: 5 years; Labor: 2 years |
Best Commercial Treadmill: NordicTrack X32i
Good for: People who want the highest quality treadmill money can buy
Let's cut to the chase and address the $4,500 elephant in the room: Yes, the NordicTrack X32i costs a lot of money and it's not really something we'd recommend to most home gym owners. We would, however, recommend it to serious runners who are looking for one of the highest quality treadmills on the market or those who are looking to take their incline training to the next level (literally).
Let's talk about the 40% incline. Garage Gym Reviews Senior Editor Nicole Davis felt like she was walking the streets of San Francisco after testing this cardio machine's true incline capabilities, rating it a 4 out of 5 for its workout performance. Most treadmills have a maximum incline of around 12%, and while there are very few people who truly need a 40% incline it is a nice feature to have if you're someone who likes switching up their training routines.
"I have ankle issues and really appreciated the extra cushioned deck," she says.
The 32-inch touchscreen is a nice feature, though we noticed that it shook when we picked up the speed. Also, Nicole said the screen is situated in a way that she felt she was looking down, not up, during her workout.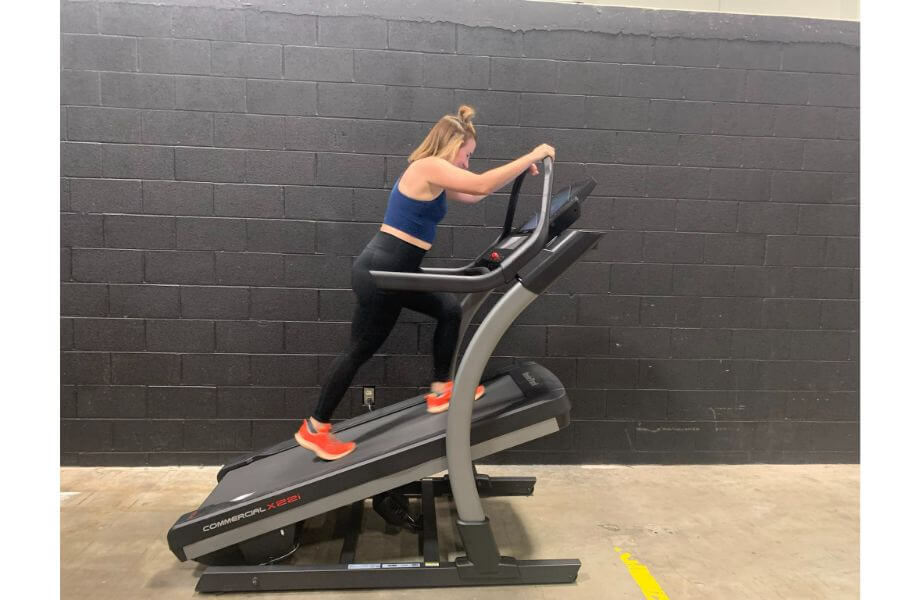 It also might have the most powerful motor we've seen on a cardio machine. The 4.25 CHP motor is similar to what you'd find on most small fishing boats—in other words, it's going to provide you with many miles of fun before it wears off on you.
Read our full NordicTrack X32i treadmill review for our full thoughts.
| | |
| --- | --- |
| Footprint | 76.5" L x 40" W x 73" H |
| Tread Belt | 22" W x 65" L |
| Weight Capacity | 300 lbs |
| Speed | 0 – 12 mph |
| Incline | -6% – 40% |
| Motor | 4.25 CHP DurX |
| Display | 32-inch HD touchscreen |
| Warranty | 10-year frame, 2-year parts, 1-year labor warranty |
Other Treadmills We Tested and Researched
There are far too many treadmills in the world for us to capture them all. However, the machines below are worth discussing, and we have used many of them in our Springfield, Missouri, testing center.
Smart Treadmills
There are a number of smart treadmills on the market now. In a previous version of this article, we chose the Peloton Tread+ as our pick for the best smart treadmill. However, that product has since been recalled and discontinued due to reports of safety hazards. We will never recommend a product that endangers you, your family, or your home, so despite our positive experience with the Tread+, we've removed it from our list.
The Peloton Tread is still available and there are no incident reports regarding Peloton's base model treadmill. It is known for its fancy, immersive display screens, and it's more affordable than the Tread+ anyway. We have used the Tread and agree that it's a fantastic product with a great app; we just can't get past the dangers of the other machine in this lineup.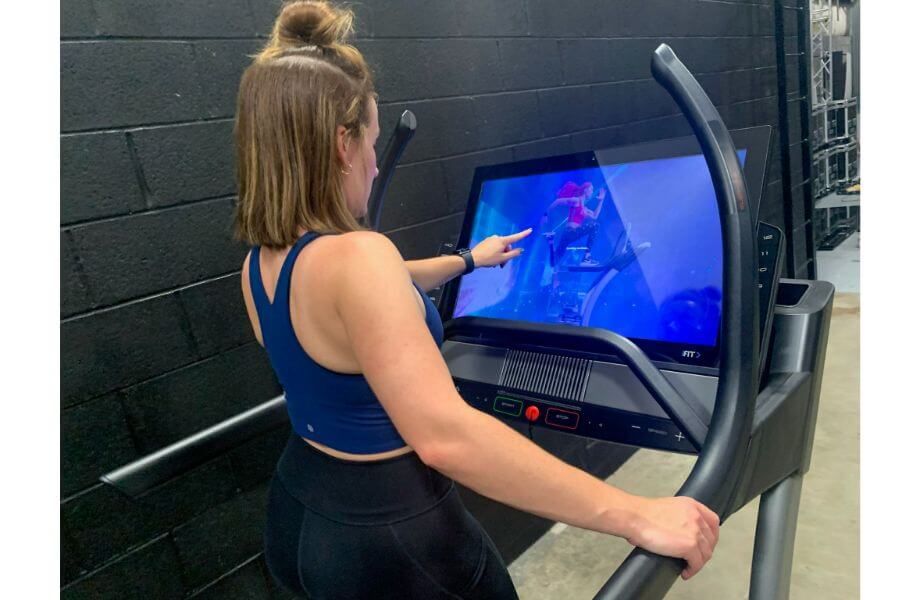 Treadmills With Incline
Sole F80: The entire Sole lineup is fantastic, if you're looking for lower-tech options that still have great speed, durability, and incline. The F80 features 15 levels of incline. However, at around $1,700, we'd expect a nicer screen.
Folding Treadmills
Horizon T101: Clocking in at $650, the Horizon T101 features exactly what you'd expect in an entry-level but high-quality treadmill. It has a 55-inch running deck, 2.5-horsepower motor, three-zone deck cushioning, and easy one-step hydraulic folding. I'm sure it's far from the most durable treadmill out there, but at its price point, it offers a wealth of features.
Horizon Fitness T202: A couple of hundred dollars more expensive than the T101, the T202 features a few more nice-to-haves. This treadmill has a 60-inch running deck with three-zone cushioning, a 2.75-horsepower motor, hydraulic folding, Bluetooth speakers, and compatibility with many fitness streaming apps.
Sunny Health & Fitness T-7603: Simple, compact, and affordable describe this folding treadmill from Sunny Health & Fitness. The running deck is quite short at 49 inches, but it is marketed as a space-saving cardio machine. Still, it has three levels of incline, wheels for easy transport, and nine built-in workout programs.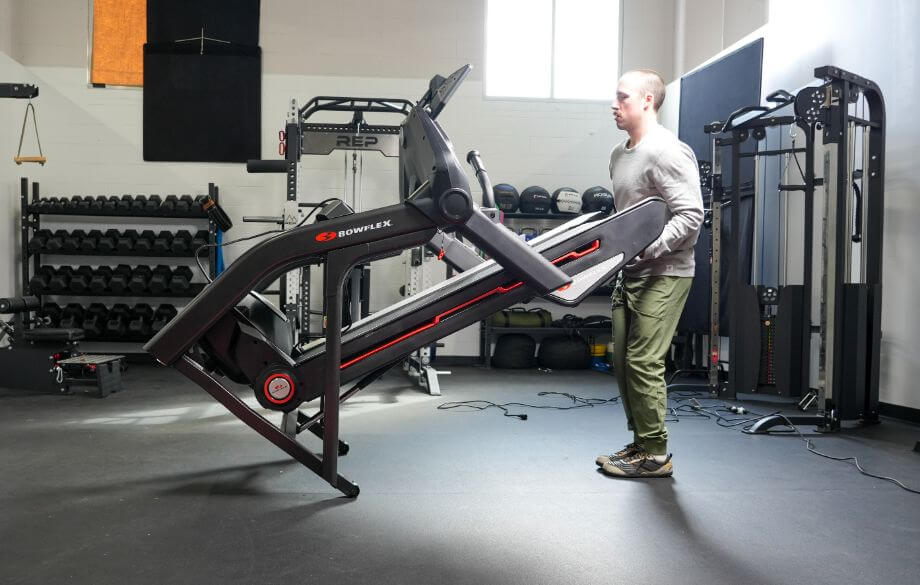 Treadmills With HD Screens
Bowflex Treadmill 10: This machine made our list of best treadmills with TV screens for a reason: You can stream Netflix, Disney+ and more on it. It costs around $2,000, and we just didn't like JRNY as much as we like iFIT to put this on our best-of list.
Bowflex Treadmill 22: The Bowflex Treadmill 22 strikes me as the Bowflex version of the Peloton Tread. It's big, sturdy, and has a gleaming 22-inch HD touchscreen display. It streams JRNY, a workout app available only on Bowflex and Schwinn equipment. The best part is that you can stream apps like Netflix and Disney+ on machines with JRNY, which is incredibly unique.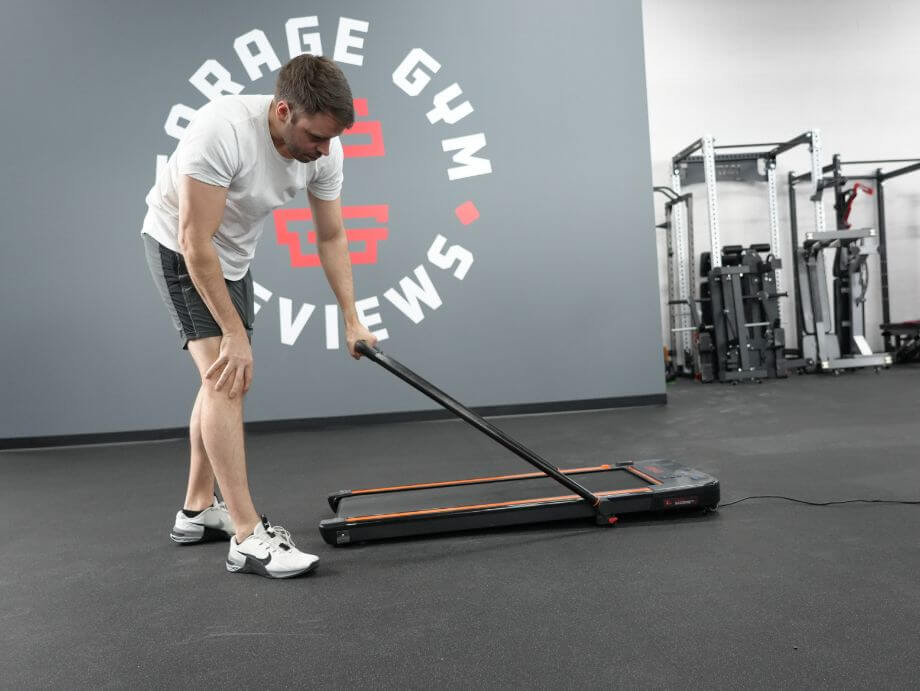 Under-Desk Treadmills
UREVO Treadmill: This simple treadmill doubles as a laptop stand, so you can walk while you work. It's extremely affordable as far as treadmills go, with a price point of about $350, and often goes on sale on Amazon. In our UREVO treadmill review, we discuss its compact footprint of 55.2 inches long by 27.8 wide by 5.1 inches deep, yet it has a 2.5 horsepower motor.
Manual Treadmills
Tru Grit Grit Runner: The Grit Runner is the cheapest manual treadmill available, and I mean that in terms of both price and construction. Non-motorized treadmills are generally very pricey, and in an attempt to make them more affordable, I fear Tru Grit has cut some corners in the manufacturing department. I've tested this treadmill and it works fine, but you'd notice the quality difference if you stepped foot on an AssaultRunner.
TrueForm Runner: I talked about the TrueForm Trainer in my top list of the best treadmills for home, and the Runner is very similar. However, I think the price increase of almost $2,000 is too high considering the small differences between the two 'mills.
AssaultRunner Pro: This is the original AssaultRunner treadmill (formerly called the Assault Air Runner). It's much like the AssaultRunner Elite but isn't quite as heavy-duty.
Types of Treadmills
Most people are probably familiar with one type of treadmill, but we'll break down the different types here.
Folding Treadmills
Folding treadmills, as their name suggests, can be folded when not in use to save space. Try to look for one with gas shock, which is especially useful when unfolding the treadmill because it lets the tread down without it banging on the floor.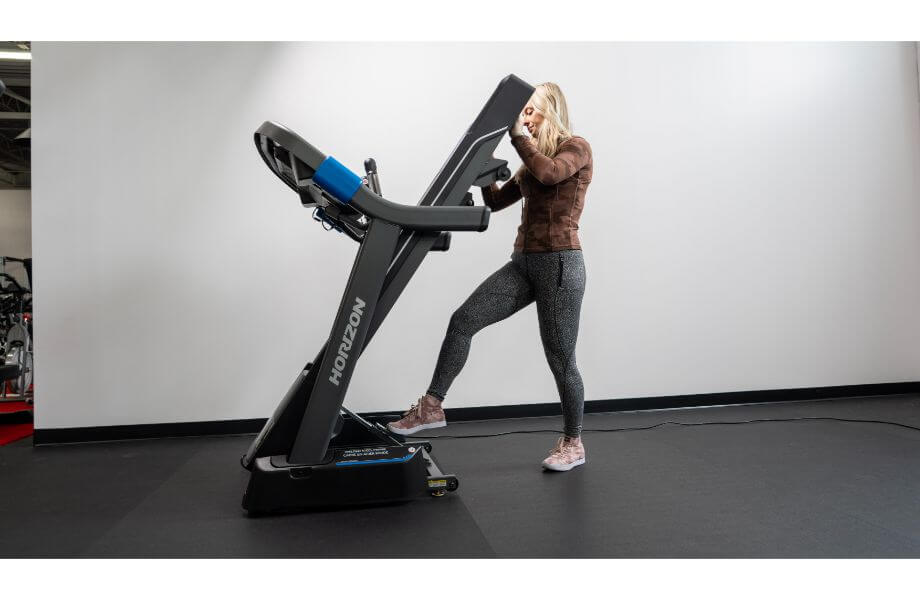 Manual Treadmills
The tread on a manual treadmill, like the AssaultRunner Elite, only rolls when the user is running, unlike a motorized treadmill. Speaking of which…
Motorized Treadmills
Motorized treadmills are the treadmills most people are probably familiar with. These are treadmills that have a motor that powers the tread, creating the desired speed set by the user.
Commercial Treadmills
A commercial treadmill is simply a treadmill that's designed for commercial-grade use, such as in a globo gym or health club. That doesn't mean they can't be used for home gyms, however.
Curved Treadmills
Most treadmills you see have a flat tread, but there are also treadmills that have a curved tread. Curved treadmills require more balance and stabilization, which results in more calories burned throughout the course of your run.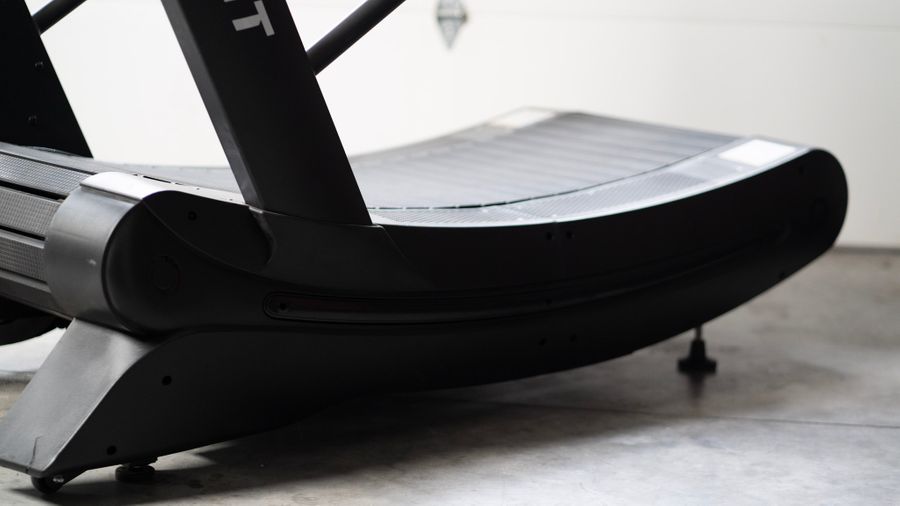 How We Tested the Best Treadmills
Before we get down to business reviewing products, we have set criteria we use to judge the product. When we go to review and choose the best treadmill, we actually use it multiple times for a variety of workouts. When it comes to choosing the best home treadmill, there are several variables to consider:
Ease of setup
Adjustability
Compatible app
Included workouts
Technology
Incline/decline
Durability
Portability
Price
Warranty
Extra features.
How easy is it to set up? We take note of the instructions provided and if the parts they include are clearly labeled. We are honest if the assembly wasn't the easiest. Sometimes (if you can afford it), we will recommend saving yourself the hassle and hiring a professional to put it together. We also take into account the adjustability of all the equipment we use. We love seeing if companies have included a height range to see how short or tall people can be and comfortably use the machine.
What technology is included with the treadmill? How easy is it to use? Does it a glitch or is it fairly consistent in operation? We look for touchscreens, easy-to-use buttons, a user-friendly interface, non-glitchy programming, and anything else that sets it apart from other treadmills.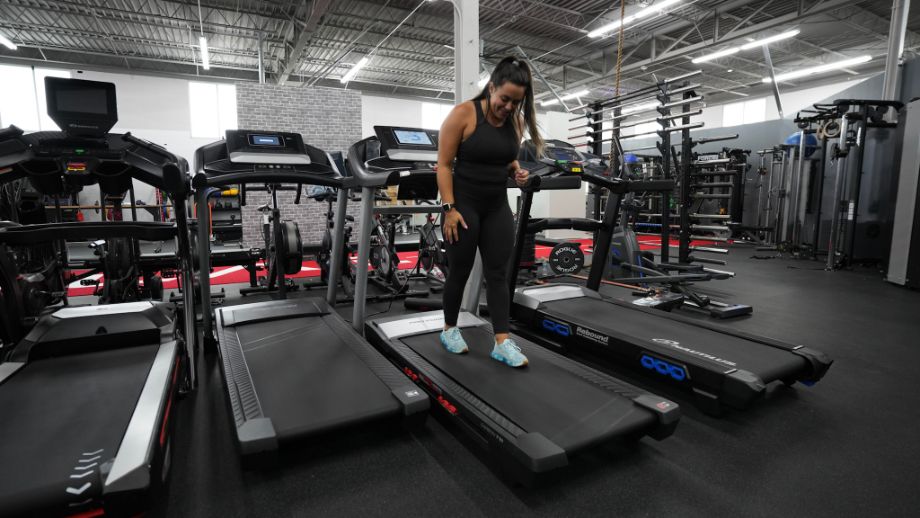 Durability is also usually something you'll be able to tell better with time. However, you can see signs that the durability and longevity of the treadmill will be good or bad based on the materials used and if the treadmill itself seems sturdy.
Not everyone has tons of extra space, and the portability aspect of a treadmill may be important. We test moving it ourselves (to see if it's doable) or if we need to get assistance. Treadmills can cost as little as $300, but you generally get what you pay for.
How to Choose the Best Treadmill
If you're looking for a new treadmill, here are some key points to assess.
Your Fitness Goals
What do you want to do with your treadmill? And be specific: Do you want to get fit, or are you looking for something that will help you train for a marathon? Your answer will help you determine how much you should spend on a treadmill and what features to look for.
High-Volume Running
If you're logging upward of 20 miles or more a week on a treadmill and doing high-intensity interval trianing, you need a machine that performs. Look for a motor of at least 3.0 continuous horsepower and a running deck that's 60 inches long.
Jogging
Want to take the treadmill for a run a few times a week? You can look for a motor in the 1.75-2.5 horsepower range, as a more powerful motor will cost you more. Odds are you worry about your joints, so you might seek a cushioned deck.
Walking
Walkers have some freedom when it comes to treadmills because you can walk on anything. If you want to save money, you can opt for small motors (1.75 horsepower or less) and a short and narrow running surface (smaller than 55 inches long and 20 inches wide).
Pro tip: Monitor your progress toward your fitness goals by using a workout tracker.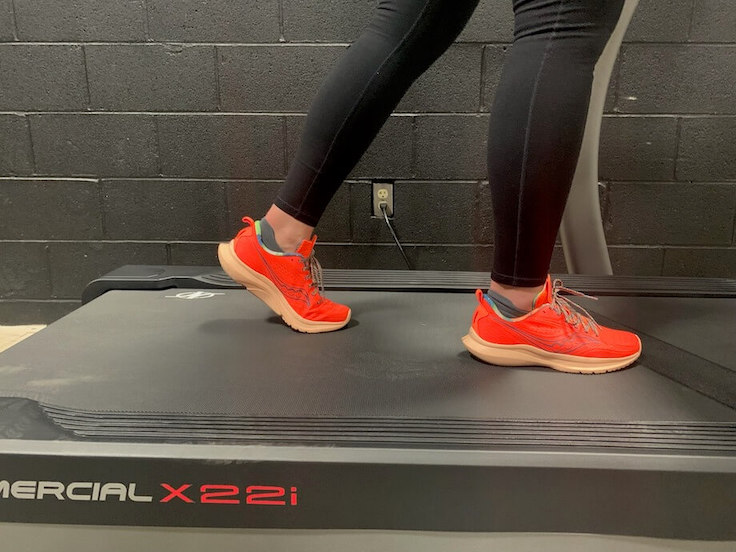 Training Options
You know you want to run, but what kind of running matters to you? Consider the following options to enhance your training:
Incline settings
Decline settings
Speed ranges (how fast do you need to be able to go?)
If you're training for a hilly outdoor event, choose the best treadmill that can replicate such ascents. You may want to compare the grade of the slopes you'll be on with the maximum inclination of the treadmill, much like you can with exercise bikes. Also, check out the speed settings on the treadmill. Some have peak speeds of only 9.9 mph, which equates to a 6:04 mile pace. People who do speed intervals are probably looking for something faster.
Programming Choices
You can hop onto any quality treadmill and just start moving. That's a given. But what if you are ready to push yourself? And what if you need help?
Many treadmills today come with preset programs. Some of these are built into the machine itself, and some of them are through a streaming app. In most cases, the apps that accompany these machines – like iFIT memberships, JRNY and Echelon United – come with an additional price tag. Not only that, but the machines themselves aren't as attractive without the app.
Research your programming options with each machine well and factor the price of the app into the price of the treadmill.
Technology
The options seem endless, really, but here are a few items you might deem important to your workout experience:
Bluetooth enabled speakers
HD touchscreen displays (or a basic LCD display)
Streaming services
Heart rate monitoring
Customized user profiles
Keep in mind that the more you want, the higher the price range of the treadmill.
Conveniences
Why not make your workout as enjoyable as it can be? Some things, like a water bottle holder, feel necessary, whereas other conveniences are just an added bonus. Here are a few options you might consider:
Media shelf or tablet holder
Cooling fan
Cushioned deck for shock absorption
USB charging port
Storage tray
Safety stop
Dimensions
Lastly, a big thing to consider is space. What's your place like? Do you have room for a huge, commercial-sized treadmill, or do you need more compact exercise equipment that folds so you can store it in your living room? Technology today means you can push a button and the treadmill folds in half on its own.
You might also look at the portability of the machine. If you know you will be moving the treadmill often, then getting wheels and a lighter weight machine might be necessary.
A treadmill of any size is still a large purchase. My advice is to figure out what you need in terms of price, space, and fitness goals. Thoroughly research the products you like, and give them a test run if you need to (many machines come with a 30-day guarantee!). Good luck, and have a great run.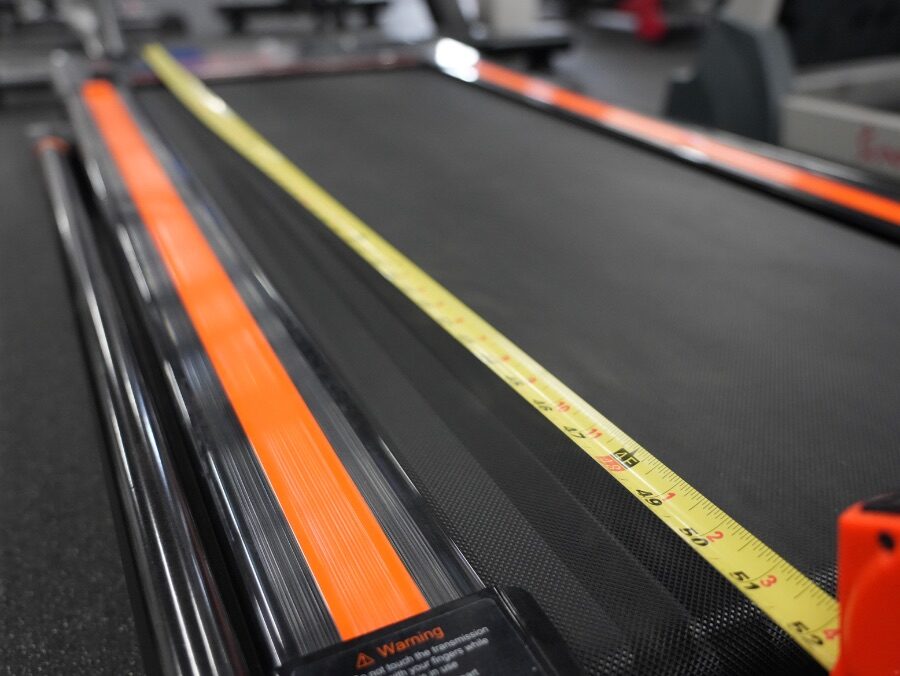 Budget
It's best to begin with your budget; in general, the more money you can invest in a treadmill, the longer it will last. However, at under $1,500, some treadmills give the same degree of durability and usefulness as professional gym equipment.
One thing you don't want to do is go too cheap, because then you risk getting a machine that will break, and it won't have a warranty to cover repairs.
Noise
All treadmills will make some noise, but if you're looking to reduce the chances of you waking up your partner or roommate you can look for treadmills that have sound-reducing capabilities. These usually come at a higher cost, however.
Power
Most treadmills will have to be plugged in, so make sure you have a spot where the cord can reach. Some treadmills may require a specialized kind of outlet, and some require just batteries.
Running Surface
Make sure you have enough space to get a full stride. The industry standard is 22 inches in width and 60 inches in length. More compact treadmills will have a smaller running surface. If you're on the shorter side, that isn't a dealbreaker, but tall runners may need to find longer decks.
Warranty
As with anything else, you'll want to see how long the frame, motor, and other parts are covered. The industry standard is 10 years to lifetime warranties on the frame and motor. Other parts are usually covered for just a year or two. If a machine only has a one-year warranty, look closely and consider your options wisely.
Speed
The treadmill's speed range is key if you do sprint training on the machine. Most machines offer top speeds between 10 and 12 MPH. A walking treadmill may only go up to between 4 and 8 MPH, which is fine, if all you want to do is walk.
Motor Size
You'll want a 1.5-horsepower motor regardless of what type of cardio you're planning to do on a treadmill, but if you're looking to log some serious miles you'll want to find one with at least a 2-horsepower motor to support your daily running. You can aim for an even better motor if you're a particularly fast runner.
Treadmill Safety
Treadmill injuries are an inevitable part of life, but there are ways you can reduce the chances of you or someone else being hurt by your treadmill.
Warm up thoroughly
Start with the treadmill off
Be mindful of intensity changes
Maintain good running form
Wear proper running shoes
Don't overdo it
Use the safety button or clip
Cool down properly
You'll also want to make sure your treadmill comes with safety features, such as a safety button or clip to stop the tread if needed and a guard to prevent people from falling under the treadmill.
Incline Options
Most treadmills for home gyms will top out at around 15% incline, though if you're looking for something a little more challenging there are options that go above that. Alternatively, there are some treadmills that offer no incline options. An incline isn't necessary but it is an easy way to shake up your training routine and prepare for real-life situations such as hikes.
Assembly
Be aware that some treadmills require assembly that can take up to an hour if you do it on your own. Treadmills with monitors or other smart home gym equipment may require you to connect your bike to your WiFi. Some companies offer professional installation, though that often adds a couple of hundred dollars to your final price, though some people think it's worth the extra money.
Treadmill Care and Maintenance
A treadmill is an investment in your health, and you want to make sure that investment pays off. Part of that is ensuring your treadmill lasts as long as humanly possible. We spoke with certified personal trainers and competitive runners who use treadmills on a nearly daily basis to find out how your treadmill can stay in tip-top shape for many year.s
Lubricate your treadmill belt: Competitive triathlete and certified personal trainer Amanda Capritto explains some treadmill belts may require periodic lubrication to ensure the deck and belt don't rub against each other and cause excess friction that could damage your machine. It's important to check your user's manual to find the best treadmill lubricant for your machine, or if you have a self-lubricating belt.
Clean your treadmill belt: Yes, it's your home gym and your germs but it's still important to clean the treadmill belt after every use and do a monthly deep cleaning (check your user's manual to see what type of products to avoid).
Tighten/loosen the treadmill belt: Certified personal trainer and GGR Head of Content Kate Meier explains your treadmill belt might lose tension over time. If you start slipping on it, it needs to be tightened, which normally requires tightening two bolts at the end of the treadmill deck. Your user manual should be able to tell you exactly how to do this.
Take care of the electronics: Make sure software is updated and batteries are replaced when needed.
Best Treadmill for Home FAQs
Which is the number one treadmill?
What is the best inexpensive treadmill?
The first thing is first: Inexpensive shouldn't mean cheap. You can find a lot of cheap treadmills out there, but they won't last long.
In the treadmill world, inexpensive would be something under $1,000. I like both treadmill lines from Horizon Fitness because they offer a lot, like a lifetime warranty, some nice tech features, and decent durability.
Are cheap treadmills worth it?
If you're looking to jog or run on a treadmill, paying a few hundred dollars for something off Amazon likely isn't worth it. You need a motor, deck, and frame to support your activity. Walkers can get away with lower-powered motors and a less durable frame simply because the machine doesn't need to work as hard.
Even still, you get what you pay for. Budget-friendly motorized treadmills are notorious for having issues with motors that need to be replaced, belts wearing out, and necessary adjustment to tension (How to fix a treadmill). There are good treadmills in the $700-$900 range that are friendlier to your wallet – and have financing options – and will last much longer than the $200-$300 options.
RELATED: Best Budget Treadmill
Is a home treadmill worth it?
There are countless benefits to using a home treadmill:
-Improved cardiovascular fitness
-Burning calories and fat
-Getting to exercise whenever you want
-Not worrying about the time limits commercial gyms sometimes place on machines
-Wearing whatever you want
-Watch a show or a movie while you exercise
Yes, treadmills can be expensive, but most come with financing options to help allay the cost.
RELATED: Treadmill Benefits
References
Schoenmakers, P, Reed, K. The physiological and perceptual demands of running on a curved non-motorised treadmill: Implications for self-paced training. Journal of Science and Medicine in Sport, Volume 21, Issue 12, 2018, https://doi.org/10.1016/j.jsams.2018.05.011