We test and review fitness products based on an independent, multi-point methodology. If you use our links to purchase something, we may earn a commission. Read our disclosures.
If you're the youngest in your family (guilty as charged), you may be used to living in your siblings' shadow, or having people write you off before getting to know you. It can be tough when the teacher lets out an exasperated sigh and says, "Oh, you're so-and-so's little sister." Not that I'm speaking from experience or anything…
Anyway, the same can be said for treadmills within the same family, like the Pro Series from ProForm, which features the overachieving Pro 9000, as well as the Pro 2000. We're here to give the Pro 2000 a fair shake at the spotlight though by giving you an in-depth, research-based ProForm Pro 2000 treadmill review. We didn't personally test the Pro 2000, but have tested the upgraded Pro 9000, so we feel confident speaking to the quality and useability of this machine.
Walk, Jog, or Run––We'll Make it Fun!
Our team of expert product testers and reviewers have confidently strided on over two dozen treadmills across various brands and price ranges. At Garage Gym Reviews, we know the treadmill industry standards like the back of our hand, and we're ready to compare our knowledge with the specs of any machine. We aren't just your everyday reviewers either––we're fitness experts, with certified personal trainers, nutrition coaches, and former NCAA D1 athletes on our team.
ProForm Pro 2000 Treadmill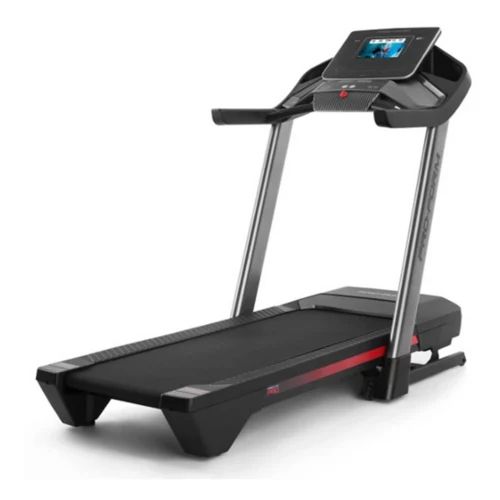 A Quick Look at the ProForm Pro 2000 Treadmill
There are two treadmills within ProForm's Pro Series––the ProForm Pro 9000 and the ProForm Pro 2000. Both are sleek cardio machines that have a touchscreen and iFIT connectivity. What more could you ask for?
My Tips:
Take advantage of the free month of iFIT programming included with your treadmill.
Check out our ProForm promo code to save extra cash on your new fitness equipment.
Do not store this machine in your garage––your warranty will be voided if you do.
Pros:
3.25 CHP motor
20" W x 60" L deck
Incline and decline options
Compatible with iFIT programming
Financing available
Cons:
Heavy at 262 lbs
Warranty will be voided if you store this machine in your garage
Screen may be too small for some
Is the ProForm Pro 2000 Treadmill Worth It?
Is the ProForm Pro 2000 treadmill a great option for you or should you select something else? I'll break down all my thoughts below on who the Pro 2000 will wow and who won't be impressed.
Great for:
Folks who enjoy interactive programming
Those who want a cushioned treadmill
Not recommended for:
Individuals who want to store their treadmill in their garage
People who want a simple cardio machine
ProForm Pro 2000 Treadmill Specs
Footprint
Weight
Weight capacity
Price
Tread belt
Motor
Display
Incline
Warranty
35.3" W x 77.3" L x 59.6" H
262 lbs
300 lbs
Under $1,500
20" W x 60" L
3.25 CHP
10" HD touchscreen
-3%-12%
10-year frame and motor, 2-year parts, and 1-year labor
Customer Reviews
The ProForm Pro 2000 treadmill is sold at a variety of places––Best Buy, Walmart, and Amazon are a few of the other retailers besides the ProForm website that carry this machine. Best Buy has the largest sample size with over 60 customer opinions, so that's what we'll focus on here.
As of July 2023, the Pro 2000 has a rating of 3.9 stars out of 5 total on the Best Buy website. Happy customers loved how sturdy the machine is, the folding mechanism, and the iFIT capabilities.
"This smart treadmill can auto adjust speed and incline/decline and it tracks your individual progress, making every workout a challenge," customer Steff W. explained. "You can auto adjust the incline/decline and speed as needed for a comfortable workout session. Easy to assemble, and comes with assembly tools. Very large treadmill, but can be lifted up to save space when not in use. Safety key ensures the treadmill will not move outside of workouts."
Displeased customers complained of a difficult assembly process, having trouble getting past iFIT programming to use the machine on manual mode, and the squeaky sounds the Pro 2000 made while in use.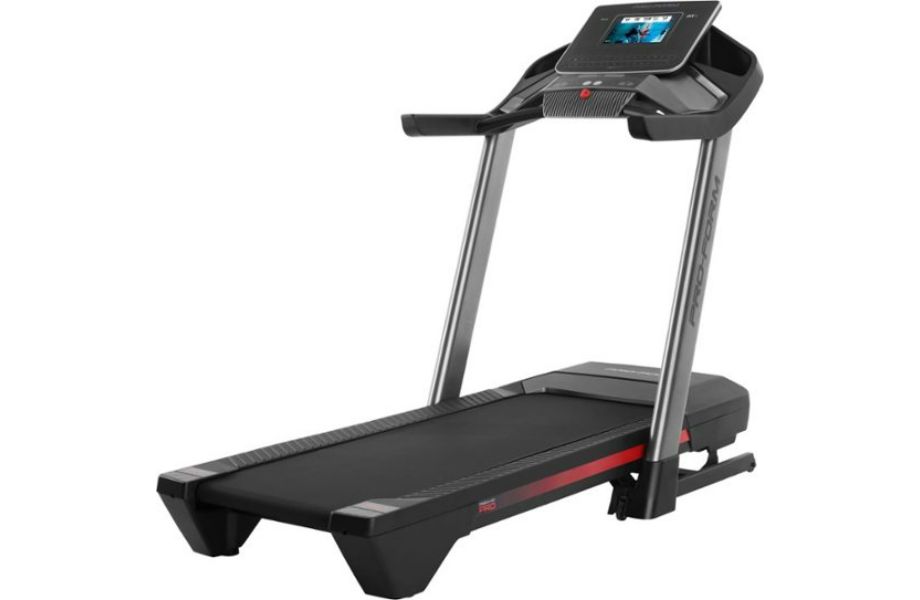 "The treadmill developed a loud squeaking within the first few months with minimal use. A sturdy and quiet treadmill are the most important factors to me," customer Kelly says.
"Also, if I had understood the need to bypass iFIT every time you want to use the treadmill manually I would have passed on this product. It requires you to select twice that you don't want to use iFIT to bypass the service all on a touchscreen that is not very responsive."
Workout Experience on the ProForm Pro 2000 Treadmill
Although I haven't specifically used the ProForm Pro 2000, I have personally used the ProForm Pro 9000, which is just an upgraded version of the 2000. Both machines have the exact same footprint and almost the exact same weight, which makes me think the Pro 2000 is essentially the 9000 with a smaller touchscreen and less powerful motor.
I can see the ProForm Pro 2000 being an excellent choice for people who enjoy running, as well as taller folks. This is due to the deck size of 20" W x 60" L, which is suitable for almost every activity you could want to do on a treadmill. Plus, the 3.25 CHP motor is powerful enough for HIIT workouts and long-distance running. I generally recommend a motor horsepower of at least 3.0 if you plan to consistently run on your new treadmill. If you're more of a walker, the motor's horsepower matters less.
Some reviews state that the belt starts to squeak after repeated usage, but that isn't uncommon. You should be doing regular maintenance on your motorized treadmill (manual treadmills generally require less maintenance) by lubricating it appropriately. Similarly to how you bring your car for regular tuneups, you should do the same with your cardio equipment, particularly your motorized treadmills.
If the Pro 2000's cushioning is anything like the Pro 9000's, you're in for a comfortable workout. I found the 9000's belt to be particularly well-cushioned and think it is conducive to a long run. For those who prefer a less cushioned experience akin to running on pavement, you won't find that with either of these ProForm models. If you want a machine where you can switch the cushioning around, try the NordicTrack EXP7i treadmill. The EXP7i has adjustable cushioning that can be switched on and off underneath the deck.
If you're doing HIIT or an incline workout, there are convenient quick jump buttons underneath the smart HD touchscreen. I love that the Pro 2000 has both incline and decline ranging from -3% decline to a 12% incline, as most mid-range treadmills do not have decline options. The Pro 2000 also has a pretty typical max speed of 12 miles per hour.
Functionality
Here's a closer look at the ProForm Pro 2000 Treadmill's functionality.
Incline/Decline
The ProForm Pro 2000 Treadmill has incline/decline features, which is great to see in a home gym treadmill as it allows the user to target muscles in a different way and train for real-life situations (think hiking up and down a steep mountain).
The decline feature goes to -3% and the incline goes to -12%.
Noise
The only noise you get is from the belt is the sound of the belt running. The running deck is cushioned, which hampers the noise of your feet hitting the deck, nd the motor is whisper-quiet.
Folding
The ProForm Pro 2000 is easily foldable and comes with shock-assist to make folding and unfolding a breeze.
Weight Capacity
The ProForm Pro 2000 has a 300-pound weight capacity, which isn't the best but it's better than most.
Construction
How well-built is the ProForm Pro 2000? Let's take a look.
Frame
Although the ProForm Pro 2000 Treadmill is the cheapest model in the Pro series, it's still a solid frame that's backed by a 10-year warranty.
Deck
The running deck is 20 inches wide by 60 inches long, which is great for people of all stride lengths.
Motor
The ProForm Pro 2000 is powered by a 3.25 continuous horsepower Mach Z motor that's super quiet.
Console
Here's a closer look at the ProForm Pro 2000's technology.
Display
The monitor display is a 10-inch hi-definition monitor that can be used to watch iFIT workouts.
Accessories
ProForm sells a number of accessories, from exercise mats and resistance bands to heart rate monitors.
Storage
The ProForm Pro 2000 has an accessory tray and oversized water bottle holders.
Footprint and Portability
The footprint of the Pro 2000 is fairly standard for a treadmill. You'll need to account for the space the machine will require when unfolded. Luckily, the Pro 2000 is foldable, so you'll be able to store the machine (if needed) while it isn't being used. It obviously doesn't fold completely flat, but it does fold enough to store it in a corner.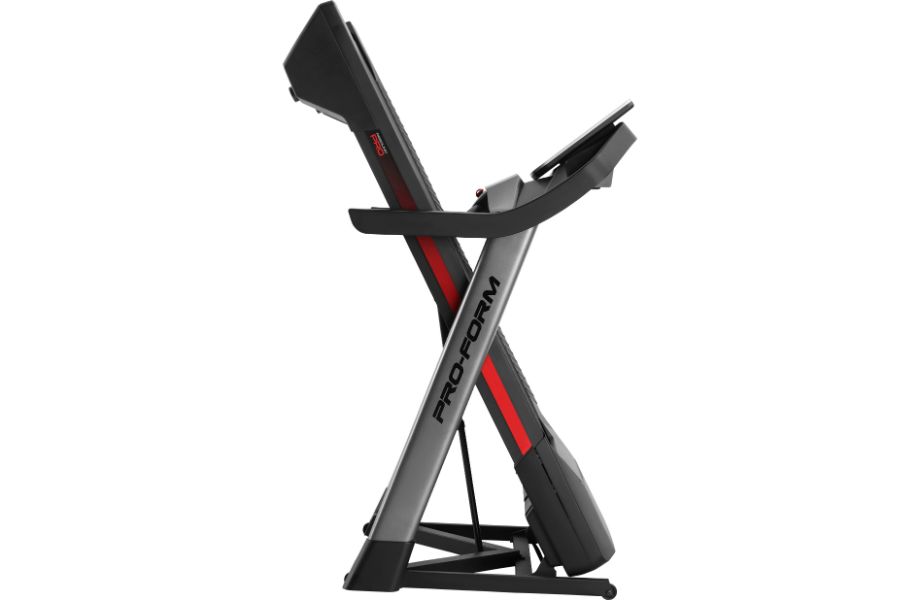 I do like that the Pro 2000 has a gas shock to allow the deck to come down slowly when being unfolded. Some foldable treadmills do not have this feature (looking at you, XTERRA TR150), which can be hazardous for kids, pets, and even yourself if you aren't careful. To unfold this machine, simply release the gas shock under the deck with your foot and watch the machine lower slowly.
It is worth noting that this machine is heavy. Like really heavy. At 262 pounds, you'll need a helper or two to get the Pro 2000 down the stairs. Most of you should be able to move it around a room (provided you are able-bodied) because there are dual transport wheels.
Technology Benefits and Conveniences
The ProForm Pro 2000 features a 10-inch touchscreen, with which you can view iFIT programming. I personally think a 10-inch screen is a bit small, especially if you have poor eyesight like me. For comparison's sake, an iPhone 11 Plus is about six and a half inches long, which makes the Pro 2000's screen just three and a half inches longer.
Currently on the ProForm website, you'll receive a free 30-day subscription to iFIT when you purchase the Pro 2000. I think this is a great way to see if you like the programming before committing to it fully. I will warn you––you'll have to add your credit card information ahead of time to utilize the trial. Don't worry, you won't be charged for anything until your 30 days are over. If you aren't enjoying iFIT, make sure to cancel prior to the end of the 30-day trial so you don't get charged for an additional month.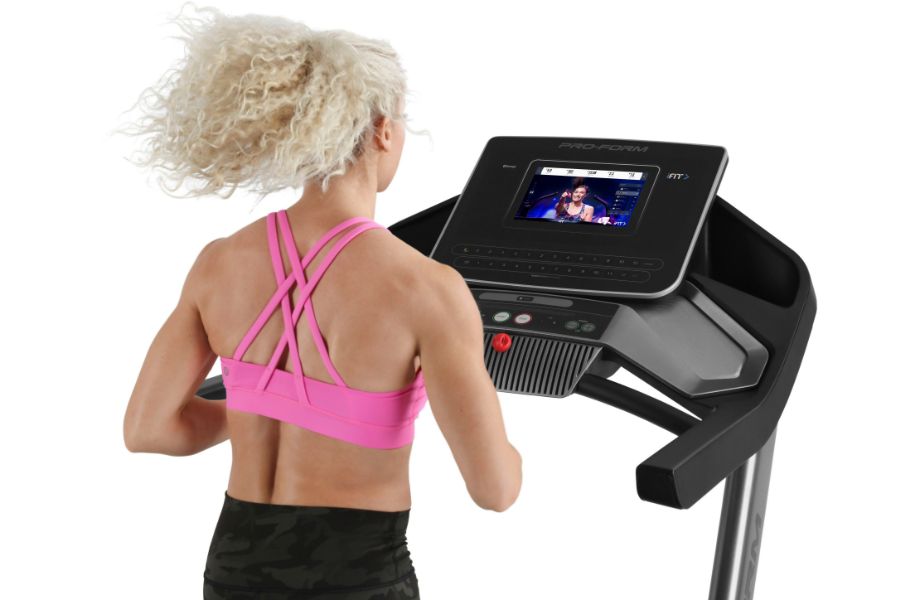 In my opinion, iFIT is a great interactive programming service, rivaled only by the Peloton app. Besides a bevy of on-demand treadmill workouts that include walks, runs, and sprints in scenic areas around the world, you'll be able to participate in dozens of other types of classes off the machine. Since the iFIT app can be downloaded onto any smart device (including your Android, iPhone, or tablet) you'll be able to take your workouts on the go.
You can enjoy pilates, strength training, and yoga studio classes (among plenty of other options) from the comfort of your own home on your own time.
You'll have the option to choose a family subscription plan with the ability to create multiple profiles or an individual plan with a single user profile. For a yearly family membership, you'll pay around $396 per year versus $180 per year for an individual membership.
Extras
Wondering what other bonuses will come with your new ProForm Pro 2000 treadmill? Check them out below:
A workout fan to keep you cool
Free 30-day iFIT family membership trial
Tablet holder
Two Bluetooth speakers
Two bottle holders
An 'Easylift Assist' gas shock to slowly unfold your machine
ProForm Pro 2000 Treadmill vs ProForm Pro 9000 Treadmill
I've referenced the ProForm Pro 9000 treadmill throughout this review, because it is the upgraded version of the ProForm Pro 2000. I decided to detail out all the specs so you could see just how similar these two machines really are.
Want to learn more? Check out my full ProForm Pro 9000 treadmill review to get all the details.
ProForm Pro 9000 Treadmill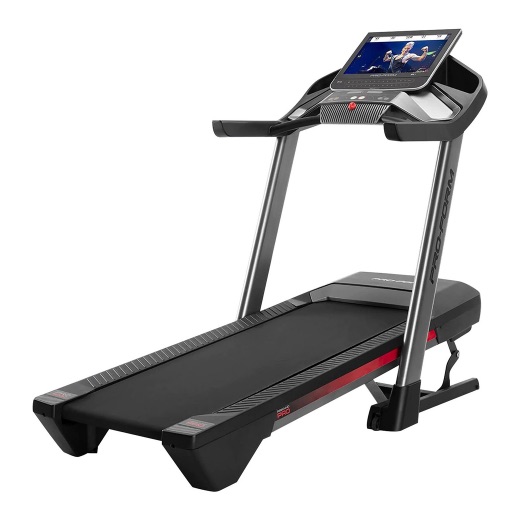 ProForm Pro 9000
Take your training to the next level with an iFit Family membership on the Pro 9000 treadmill. Engage in a whole new workout experience as streamed live and on-demand personal trainers lead you in studio classes and take you all around the world, automatically controlling your treadmill's speed, incline, and decline to give you a unique, hands-free workout.
| | | |
| --- | --- | --- |
| Treadmill | ProForm Pro 2000 | ProForm Pro 9000 |
| Deck | 20" W x 60" L | 20" W x 60" L |
| Weight | 262 lbs | 263 lbs |
| Cushioning | Rebound Pro Cushioning | Rebound Pro Cushioning |
| Weight capacity | 300 lbs | 300 lbs |
| Price | Around $1,500 | Around $1,800 |
| Display | 10-inch touchscreen | 22-inch touchscreen |
| Warranty | 10-year frame, 2-year parts, 1-year labor warranty | 10-year frame, 2-year parts, 1-year labor warranty |
| Footprint | 35.3" W x 77.3" L x 59.6" H | 35.3" W x 77.3" L x 59.6" H |
| Motor | 3.25 CHP | 3.6 CHP |
Customer Experience
The ProForm Pro 2000 has an average frame warranty of 10 years. I generally like to see 15 years-to-life for a treadmill frame, especially considering the almost $1,500 price. Ten years isn't horrible by any means, but I would like to see that number increase in the future for better purchasing confidence.
When checking out, you'll have the option to upgrade your warranty. For $239.95, you can get an additional three years of protection. If you'd rather have five years of additional coverage, you'll pay an extra $379.99.
ProForm's return policy states that you can return a product within 30 days of purchase, provided it is still in new condition with the original packaging. It is worth noting that you will be subject to a $250 fee in addition to a 15% restocking fee. I would honestly think long and hard about returning the product, since you'll also be responsible for the cost of shipping back a 262-pound treadmill. That certainly will not be cheap.
Ordering and Assembling the ProForm Pro 2000 Treadmill
The ordering process for the ProForm Pro 2000 is simple. Find the treadmill on the brand's site, click 'add to cart' and enter your information. You'll have the option of either free standard delivery or a fee of an additional $199 for professional assembly.
Since this machine is over 250 pounds, I would strongly recommend having an additional set of hands to help with the moving and assembly process. If this isn't feasible for you, I would splurge for the professional moving and assembly. Hurting yourself over moving a treadmill is absolutely not the move.
The almost-$1,500 price on the Pro 2000 can be a bit expensive for some, but luckily, ProForm has stellar financing options. If you qualify, you can pay as little as $39 per month for 39 months with 0% APR.
Final Verdict of Our ProForm Pro 2000 Treadmill Review
If you don't mind a smaller touchscreen, the ProForm Pro 2000 is a cheaper option than its more expensive counterpart, the ProForm Pro 9000. Based on the specs and having personally tried the Pro 9000, the Pro 2000 is a good option for a mid-range treadmill that can support runners and walkers alike.
ProForm Pro 2000 Treadmill Rating
ProForm Pro 2000 treadmill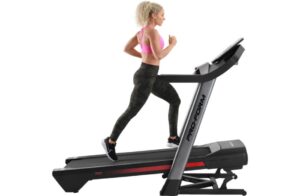 Check out our ProForm Pro 2000 treadmill review for an in-depth look at this cardio machine.
Product Brand: ProForm
Product Currency: USD
Product Price: 1499.00
Product In-Stock: InStock
ProForm Pro 2000 Treadmill FAQs
Is a ProForm treadmill worth it?
A ProForm treadmill is a good investment for your home gym. If you're looking for a reliable piece of exercise equipment, you likely won't be disappointed with a treadmill from ProForm. Whether you're excited to utilize the iFIT trainers or are looking to get more active for weight loss purposes, I think you'll likely enjoy a ProForm treadmill.
Can you watch Netflix on ProForm Pro 2000?
Currently, you cannot watch Netflix on the ProFrom Pro 2000. You'll only have access to iFIT. There are other cardio machines, like the high-quality Bowflex VeloCore exercise bike, that allow you to use Netflix while pedaling if that is a dealbreaker for you.
Can ProForm 2000 be used without WiFi?
Yes, the ProForm 2000 can be used without WiFi. However, if you don't plan to pay for or use iFIT, which requires WiFi, there are cheaper treadmills out there without a screen (like the Sole F63) that I would recommend.
How long do ProForm treadmills last
Most ProForm treadmills should last at least 10 years, if taken care of. The ProForm Pro 2000 is backed by a 10-year frame warranty.