We test and review fitness products based on an independent, multi-point methodology. If you use our links to purchase something, we may earn a commission. Read our disclosures.
Looking to add a treadmill to your home gym but don't know of any decent, affordable options? We've got you covered. In this XTERRA Fitness TR150 review, I'll go over my thoughts on this budget treadmills warranty, workout experience, foldability, and preset programming. Plus, I'll let you know if I think this machine, priced under $500, is a good buy and who I believe would enjoy using it.
Why You Should Trust Us
Our team at Garage Gym Reviews is full of fitness enthusiasts and equipment experts. Some of us live for cardio days, while others do daily CrossFit couplets, or Olympic Weightlifting. However you like to workout, we're here to give you the most in-depth reviews on the equipment you want to know about.
In terms of treadmills, we've tested more than two dozen of these machines, and researched well over 40. We have people on our team who have trained for marathons on treadmills, and people who walk on them during the work day. It's important to us to only recommend the best treadmills we'd be willing to consistently use ourselves.
XTERRA TR150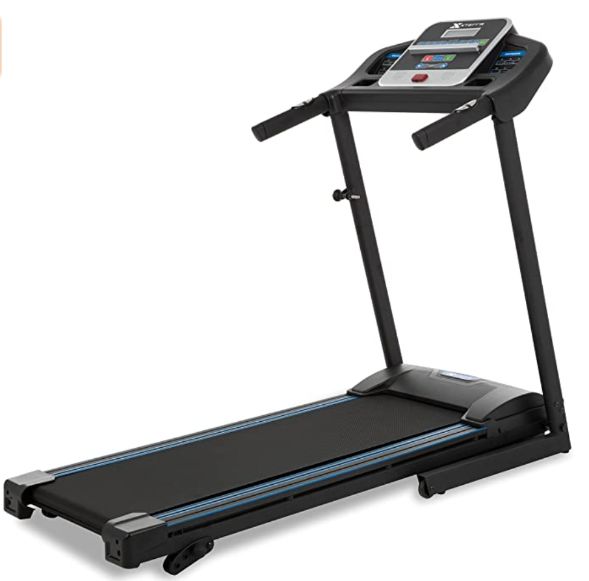 XTERRA Fitness TR150 Folding Treadmill
The XTERRA TR150 is a space-worthy investment best suited for beginner walkers to speed walkers. Featuring 12 preset programs, speeds ranging from .5 to 10 miles per hour, three manual incline settings, and an easy pull knob release for convenient storage, the XTERRA TR150 was developed with performance, comfort, and safety in mind. The 16-inch-by-50 inch walking surface is on the smaller size but is big enough to accommodate most users when walking or light jogging. The 5-inch LED display provides simple yet important stats during your workout including time, speed, distance and calories. The XTERRA TR150 is designed for convenience with an integrated bookrack and accessory holder to keep things like a remote control or phone close by. The hand grip pulse sensors are mounted on the side handlebars but users report that the heart rate readings are often inaccurate (as is often the case with grip sensors). The XTERRA also provides a soft cushioned deck intended to absorb impact and keep joints safe during workouts. If you are an avid runner looking to train hard, this is not the treadmill for you. With a 2.25 horsepower motor, the XTERRA TR150 is not intended for fast or sustained running.  Additionally, users report that the incline is almost unnoticeable. So, before you buy, be sure to know how you intend to use it!
A Quick Look at the XTERRA Fitness TR150
Look; you're not going to get stuff like Bluetooth connectivity or a cooling fan with this entry-level treadmill. If you're looking for a machine with a touchscreen display or incredible deck length, check out my picks for the best home treadmills for running.
If you're still here, you probably want a budget treadmill without all the extras, in which case you've come to the right place. Let's get started.
My Tips:
Do not unfold the treadmill with any pets or children around. The lack of gas shock when folding means the treadmill will slam to the ground.
The three incline levels must be manually adjusted, so don't expect to hop on the treadmill and adjust as you go.
My Favorite Things:
Under $400
Lifetime frame warranty
Easy to assemble
Pulse sensors on handlebars
My Callouts:
Unsafe folding design
Minimal deck cushioning
Semi-loose belt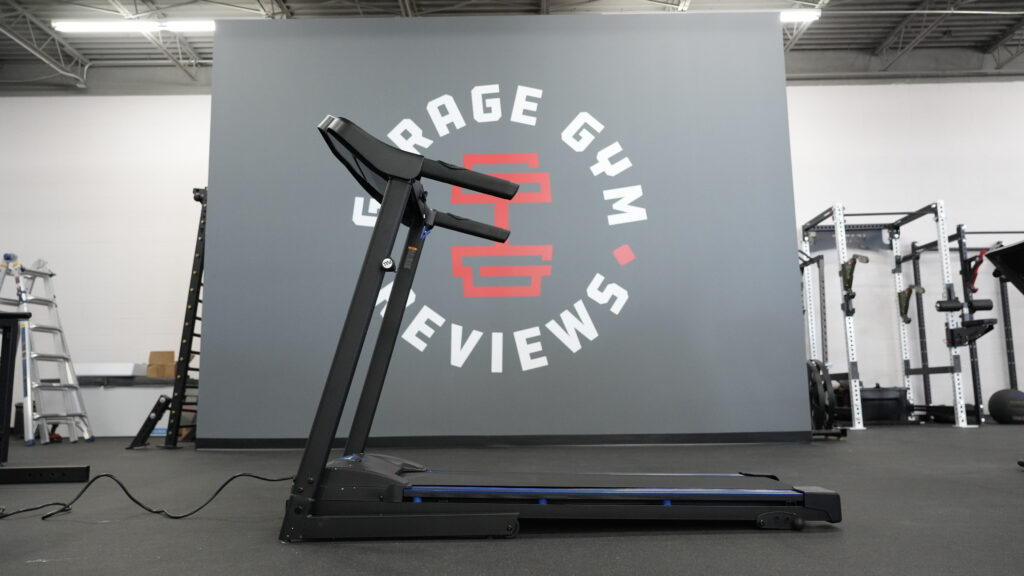 Is the XTERRA Fitness TR150 Worth It?
There are generally three camps: people who want all the frills of expensive smart home gym equipment, people who are willing to spend a little bit of money to get a quality-but-still-affordable machine, and people who just need something cheap and basic so they can work on fitness at home.
If you're a card-carrying member of the "I love all things fancy" club, then this just isn't the machine for you.
However, if you are looking for one of the cheapest treadmills on the market and don't mind getting what you pay for, then this could be a good option. You'll need to reconcile that if you don't want to spend more than $400 on a treadmill, then you're going to sacrifice on features, extras, and construction.
That said, here's who we think will like the TR150, and who should look into a different option.
Great For:
People who need a budget treadmill
Those needing a machine for just walking or light jogging
Beginners who want preset programs
Not Recommended For:
People who want interactive programing or classes
Exercisers who want to do running or sprinting
Those with small children or pets due to safety concerns
RELATED: Best Treadmill for Walking
XTERRA Fitness TR150 Folding Treadmill Specs
| | |
| --- | --- |
| Dimensions | 63.4 x 28.75 x 51.4 inches |
| Weight | 108 lbs |
| Weight capacity | 250 lbs |
| Horsepower | 2.25 HP motor |
| Price | Under $400 |
| Speed range | .5-10 MPH |
| Deck length | 50 inches |
| Display | 5-inch LCD display |
| Programs | 12 preset |
| Chest strap included | No |
| Transport wheels | Yes |
| Foldable | Yes |
| Incline | 3 levels |
| Heart rate capabilities | Within the hand grips |
| Warranty | Lifetime frame, 1-year motor, 90-days deck, 90-days labor |
Using the XTERRA Fitness TR150
I won't lie—my expectations for this machine were really low. After all, the XTERRA TR150 is the most inexpensive treadmill I've ever tested and reviewed at just over $350. I do believe you can get great budget home gym equipment, but quality can quickly go downhill with some of the cheaper products I've used.
Getting Started
After unboxing and a speedy assembly process, you're ready to get going. To get started with the TR150, simply plug the three-prong cable into a traditional outlet and hit the red switch on the bottom front of the treadmill.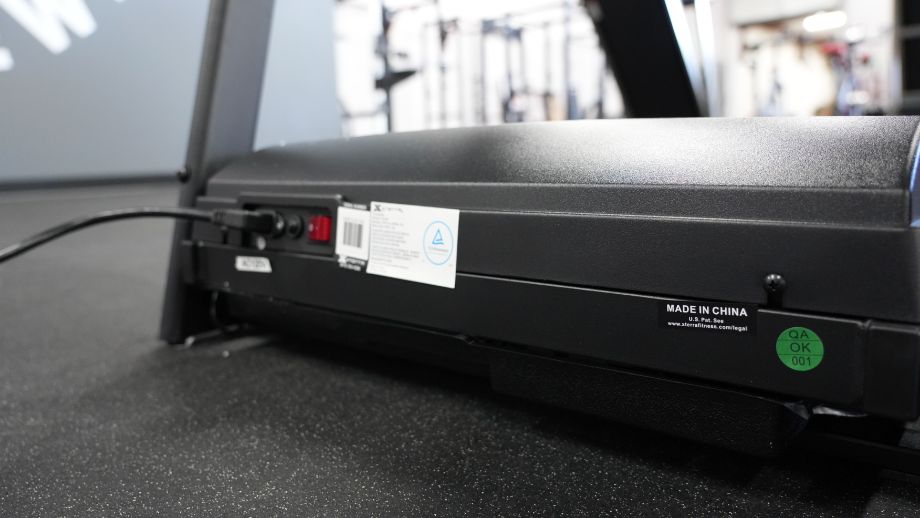 If you don't have the safety key inserted, the machine will show an error message and will not start. In my opinion, this is a somewhat reassuring feature because any small kids won't be able to just hit the start button and go, possibly getting hurt in the process.
Display
Looks-wise, the treadmill appears very ordinary, if not cheap. The display is plastic but does show a few different stats. While in use, you can view your distance traveled, speed, and time elapsed. There are also a few different buttons to press to jump around in speed, change your workout program, or start and stop the machine.
RELATED: Best Treadmill Workouts
To the right and left of the small display, you'll see 12 printed examples of different preset programs. These aren't anything fancy, but can be a good way for a beginner to get started on this treadmill. These workouts do not have specific names that would clue you into the type of workout it is, as they're all essentially numbered P1-P12. Some of the workouts feature steady increases in speed, while others have low speed periods with quicker high speeds to follow.
Workout Time
The TR150 has a 10 MPH speed maximum, which is slightly below average on what you'd hope to see for a treadmill you could easily run or sprint on. The deck of the treadmill itself is also below average at 50 inches long, but it is longer than other budget options I've seen that have 45-inch decks or shorter.
A 50-inch deck could support someone under 5'9" jogging on it, but an individual with a longer stride length may struggle to complete a long run or sprint session comfortably.
The running surface itself leaves something to be desired. After unboxing and assembling the TR150, I thought the belt seemed loose and already looked ragged around the edges, which isn't something you want to see right away. The XTERRA website does claim the belt features "xtrasoft cushioning," but I didn't feel like it was while actually using the machine.
With a 2.25 CHP motor, the TR150 is slightly less powerful than the average treadmill. It will take repeated use over time to see how this motor holds up, but it's working well for me thus far.
I'm not crazy about the 250-pound user weight capacity, as the standard for a good treadmill is at least 300 pounds. This does, unfortunately, make this machine a less-inclusive option.
Extras
Call me a silly little goose, but the "accessory holders" to the right and left of the display confuse me greatly. They aren't big enough to hold even a slim plastic water bottle, yet there are two of them? Make it make sense.
The only use for them is to store something tiny, like a single hair tie, your car key, or three pieces of popcorn. Otherwise, they're genuinely useless. It would've been way more helpful to combine the space of the two small slots and make one medium sized cup holder for a bottle of water. I'm wondering if XTERRA wants us to be dehydrated or something.
I do like the included heart rate monitor on the handles. This is a nice extra, especially for a budget option. Some of you fitness tracker friends out there may toss your nose up at this, but it's nice for those who don't own an Apple Watch or Fitbit.
There is a tablet holder as well that when in use, covers up the display on the TR150. XTERRA also suggests you use this as a book holder, but I'm 99% sure I'd vomit if I tried to read while on a treadmill.
Foldability and Portability
Although I'm normally a sucker for a folding treadmill, I have some safety concerns with the folding mechanism on the XTERRA TR150. Although it's useful to be able to fold and store your treadmill easily, the TR150 lacks a gas shock, which would allow the treadmill to unfold slowly. Since this treadmill doesn't have this feature, when you release the pin that lowers the machine, it slams to the ground. This is problematic for the safety of your pets, children, and even your own fingers and toes.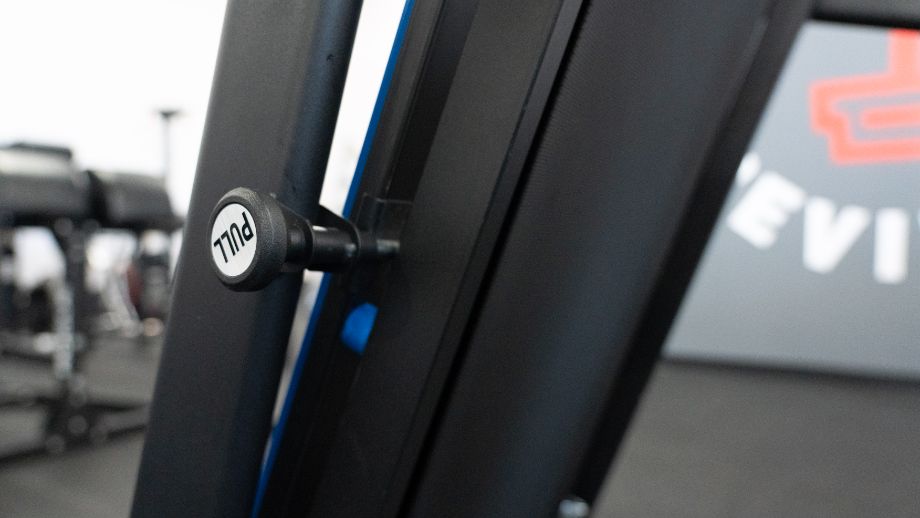 Even though the TR150 only weighs just over 100 pounds, it still would be horrific for this to fall on yourself or a loved one. Plus, the pin is at a height that a child could easily reach and pull out. I genuinely would not recommend folding this machine if you own a pet or have a kid due to safety concerns.
I'm also not a big fan of the wheels attached to the TR150 because they're honestly kind of useless. I think they'd have to be larger in order to help with the actual moving of the treadmill. Since you have to basically flip the treadmill and bear hug it to utilize the wheels, it's an overly complicated process that doesn't really help the situation.
Comparison to Sunny Health and Fitness (SF-T4400) Treadmill
After trying both the XTERRA Fitness TR150 and the similarly priced Sunny Health and Fitness (SF-T4400) treadmill, I was pretty torn. For me, both are really similar, and at under $500, don't necessarily have any extras that pull one ahead of the other. Here's a comparison chart between these two budget-friendly treadmill options:
| | | |
| --- | --- | --- |
| Treadmill | XTERRA TR150 | Sunny Health and Fitness (SF-T4400) Treadmill |
| Motor: | 2.25 CHP | 2.2 CHP |
| Deck: | 16″ x 50″ | 49" L x 15.5" W |
| Dimensions: | 63.4″ L x 28.75″ W x 51.4″ H | 62 x 25.5 x 50 inches |
| Speed: | 0.5 – 10 mph | 0.5 – 9.0 MPH |
| Display: | 5″ LCD display | LCD display |
| Warranty: | Lifetime frame, 1-year motor, 90-days deck, 90-days labor | 3 year structural frame / 180 days other parts and components |
| Incline: | 3 manual incline settings | 3 manual incline settings |
| User Weight Capacity: | 250 lbs | 220 lbs |
| Foldable: | Yes | Yes |
| Weight of Machine: | 108 lbs | 103 lbs |
Here are my two cents: if you want to actually be able to fold and store your treadmill safely, I'd go for the Sunny SF-T4400 because it has a soft drop feature that the XTERRA does not. If the folding mechanism isn't important to you, the XTERRA is slightly cheaper and has both a lifetime frame warranty and can hold someone 30 pounds heavier.
Comparison to the XTERRA TRX5500
After checking out the XTERRA Fitness Amazon page, I discovered the brand has seven total treadmills on the market, including the TR150, which is the cheapest option. The highest-priced option, the TRX5500 Treadmill, is almost $2,000. I thought I'd compare the specs between the TR150 and the TRX5500 below, just for reference:

| | | |
| --- | --- | --- |
| Treadmill: | XTERRA TR150 | XTERRA TRX5500 |
| Price: | $353 | $1,949 |
| Weight Limit: | 250 lbs | 350 lbs |
| Footprint: | 63.4" x 28.75" x 51.4" | 77.2″ x 35.5″ x 56.1″ |
| Motor: | 2.25 CHP | 3.25 CHP |
| Belt: | 16″ x 50″ | 20″ x 60″ |
| Incline: | 3 manual levels | 15 automatic levels |
| Product Weight: | 108 lbs | 223 lbs |
Customer Experience
The XTERRA TR150 has a surprisingly wonderful lifetime frame warranty. If you want to be able to utilize this (should you have issues with your treadmill's frame,) you'll need to register your product's serial number on the brand's website.
If you purchase your treadmill via Amazon, you get a full 90 days to return the TR150 in original condition. The general standard is 30 days, so it's nice you have extra time to decide if you'd like to keep the machine.
Ordering and Assembling the XTERRA Fitness TR150
The XTERRA Fitness TR150 can easily be purchased for just over $350 via Amazon. The treadmill will likely come within about a week of ordering as it did for many customers. Amazon offers four different options for delivery and assembly:
Free shipping for everyone with standard delivery (leaving it outside your front door)
Entryway delivery: $9.99
Inside a room of choice: $19.99
Inside room of choice and assembly: $89.00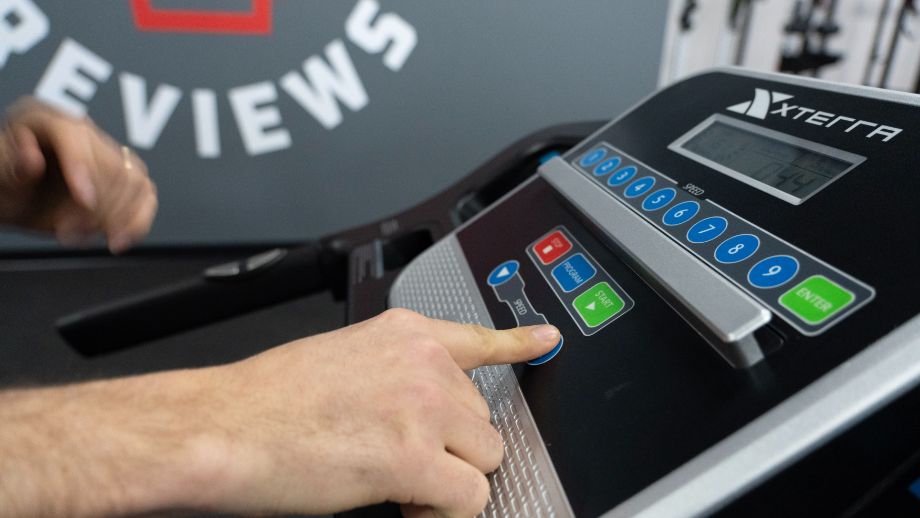 Although there are some treadmills I would genuinely recommend spending the extra money to get professionally assembled, the XTERRA Fitness TR150 isn't one of them. This machine was unboxed and set up in under 30 minutes. The eight included bolts allow you to attach the arms and monitor section pretty seamlessly. Everything else on the treadmill is already pre-attached.
I also wouldn't worry too much about how heavy the machine is when trying to bring the package into your home. At just 108 pounds, this machine isn't winning any Strongman contests (not that I mind). In my opinion, one individual should be enough to get it indoors, but you know your personal limits.
Customer Reviews
On Amazon, the XTERRA Fitness TR150 has over 13,000 reviews, which is a pretty insane amount to me. This budget treadmill has a rating of 4.4 stars out of 5; not too shabby. Customers enjoy the easy assembly, cheap price tag, and heart rate monitor attached to the handles.
However, there were some complaints. Buyers were less than thrilled about the unfolding mechanism (me, too, random Amazon customers) and the durability of the belt for more frequent running.
Final Verdict of Our XTERRA Fitness TR150 Review
For the price range, the XTERRA Fitness TR150 is honestly not bad. I do have some serious concerns about the safety of the folding mechanism, but if you were willing to leave the treadmill unfolded all the time, I would consider this a fairly solid buy for the money.
XTERRA Fitness TR150 Rating
XTERRA Fitness TR150
For the price range, the XTERRA Fitness TR150 is honestly not bad. I do have some serious concerns about the safety of the folding mechanism, but if you were willing to leave the treadmill unfolded all the time, I would consider this a fairly solid buy for the money.
Product Brand: XTERRA Fitness
Product Currency: $
Product Price: 344
Product In-Stock: InStock
XTERRA Fitness TR150 FAQs
Does the XTERRA Fitness TR150 have incline options and speed buttons?
This machine has three levels of manual incline settings to help you reach your fitness goals. The TR150 also has buttons for you to press in order to increase your speed in increments of one.
Where are XTERRA products made?
Based on the XTERRA website, the factory for XTERRA fitness equipment is in Jonesboro, Arkansas. Made-in-the-USA, baby!
Is XTERRA a good brand?
XTERRA makes affordable cardio equipment for the average exerciser. They are a good brand if you're looking for inexpensive treadmills, exercise bikes, or ellipticals that are made in the U.S.
What are the best treadmills on the market?