We test and review fitness products based on an independent, multi-point methodology. If you use our links to purchase something, we may earn a commission. Read our disclosures.
As you might know, I absolutely love finding budget home gym equipment. I was on the hunt for a reasonably priced treadmill when I ran across the Sole F63 for around $1,000 for both runners and walkers. I immediately knew I had to test it out. The Sole F63 treadmill is the base model treadmill out of the six in the Sole family, with all of them being pretty well-regarded by customers. In this Sole F63 Treadmill review, I'll give you the rundown on assembly, ergonomics, and my opinion on overall value.
Why You Should Trust Us
We're familiar with industry standards for the equipment we evaluate, and we take care to properly inspect each machine's characteristics. It might be difficult to choose the proper home gym equipment, so we're here to help you achieve your fitness goals by giving professional, in-depth product evaluations you can trust.
Still haven't figured out what you're searching for in a treadmill? To get a better understanding of what's available, check out our treadmill buying guide.
Sole F63 Treadmill
Sole F63
Named "Best in its Price Range" by Fit Rated, Run Reviews, Treadmill Reviews, and many others. Easy Assist Folding Deck Design makes storing your treadmill easy and convenient. High-end rollers create a static free motion leading to a long lifespan. Smoothest treadmill when making adjustments mid-workout. LCD screen provides real-time statistics to monitor progress towards goals.Plus, Sole has recently released its own version of Peloton-esque programming: STUDIO. You can access a variety of on-demand classes for just $19.99 per month.
Who Should Buy the Sole F63 Treadmill?
Great For:
People interested in tracking their heart rate while working out
Those who need to be able to fold their treadmill for storage
Not Recommended For:
Runners who don't want any movement from the treadmill
People who want tons of guided programming
Individuals who expect tons of tech conveniences
A Quick Look at the Sole F63 Treadmill
The Sole F63 is a great foldable treadmill available for around $1,000. The Sole F63 foldable treadmill has been updated to include a 60-inch running surface, a 3.0 CHP engine, and a new console with 10 training programs. Its powder-coated steel structure is designed to maintain stability at the track's peak speed of 12 miles per hour. The treadmill has a fan, however, it isn't as powerful as some other treadmills. The vents can't be adjusted downward because they're at the top of the console, which may be uncomfortable depending on the user's height.
Pros:
Included heart rate monitoring strap
Lifetime warranty on frame and motor
Cons:
Shakes slightly when running
Customer service is difficult to reach
Ordering, Delivery, and Assembly
As with a lot of exercise equipment during COVID, the Sole F63 treadmill had trouble staying in stock. With people working out at home more than ever, things like some of the best treadmills were back-ordered or took longer to ship. This is exactly what happened to me when ordering the F63 back in February from the Sole Fitness equipment website.
It took me almost a month to receive the treadmill in the mail, but that was to be expected due to shipping delays and stocking issues. I just feel fortunate to have received it at all when plenty of other equipment was out of stock for months.
Pricing and Financing
With the price of the Sole F63 treadmill being around $1,000, I was pleasantly surprised to see that there is still an option to finance the treadmill if you would prefer. Through Citizens Pay, you can finance the treadmill at 0% APR for the first 12 payments and 29.99% for the remaining 12 payments. Another plus? The free shipping on all orders within the United States.
Delivery
When ordering the Sole F63 treadmill, there are four different options to choose from in terms of delivery. The first option is curbside (which I chose) because it is free. The second option is delivering it into your garage for $59.
The other two options include delivering the treadmill into a room of choice in your home ($119) or having full assembly done ($239). The treadmill is heavy and comes in one unwieldy box. I would definitely recommend having one or two other people help you carry it inside if you opt-out of indoor delivery.
Assembly
Once the box itself is where you plan to have your treadmill, you may still need assistance to unbox the deck, which is the heaviest piece. Once that was out of the box, the rest was fairly smooth sailing from there. Assembly took me about an hour and wasn't overly complicated.
You can find assembly instructions in the treadmill's manual, which can also be found online.
The instructions were clear and had six steps to follow. Also in the box were useful tools such as two Allen Wrenches, a screwdriver, socket screws, and deck/belt lubricant. These were all clearly labeled and made assembly go off without a hitch.
RELATED: How to fix a treadmill
Footprint and Portability
Compared to treadmills like the NordicTrack Commercial 1750, the Sole F63 is considerably lighter and weighs just 254 pounds. Although it is kind of difficult to move on your own, it can be done since it is an easy assist folding treadmill and there are wheels attached to make for easier storage.
RELATED: NordicTrack 1750 Review Treadmill
Here's how to fold and unfold your F63:
To fold:
Make sure the treadmill is at the lowest incline
Lift the deck of the treadmill until it locks into the tube in the center
Easily roll away to move or store
To unfold:
With one hand, apply pressure on the deck
Pull down the lever to lower the deck to the floor
Once it reaches waist height, the remainder of the treadmill will lower on the floor
With a footprint of 66" H x 82" L x 35" W, the F63 is not a small treadmill. Although it can be folded and stored away, you'll need a big enough room or have to put it in your garage to make it an ideal setup.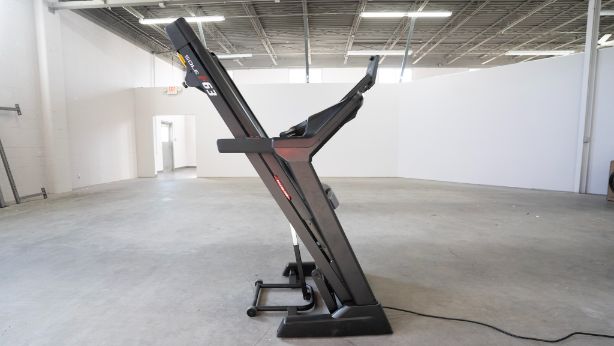 Weight Capacity
I appreciate that the weight capacity is more inclusive than other treadmills in a comparable price range. For example, the ProForm Pro 9000 has a user weight capacity of 300 pounds, compared to the F63's 325 pounds.
Any treadmill worth buying has a weight capacity of at least 250 pounds. Anything less than that could be a cause for concern and bring up issues of overall durability.
Running Surface
The running deck itself is a standard size for most treadmills – 20" W x 60" L. I like that the running surface is cushioned and Sole claims it "reduces impact by 40% on joints." This is a nice feature, especially in this price range. Since I'm not a medical professional, I can't tell you for sure that it actually reduces joint impact, but it does feel pretty nice to walk or jog on.
The belt on the F63 is 2-ply, which is what you'll want in a good treadmill. Cheaper treadmill belts are usually 1-ply, so this is an awesome upgrade for the price.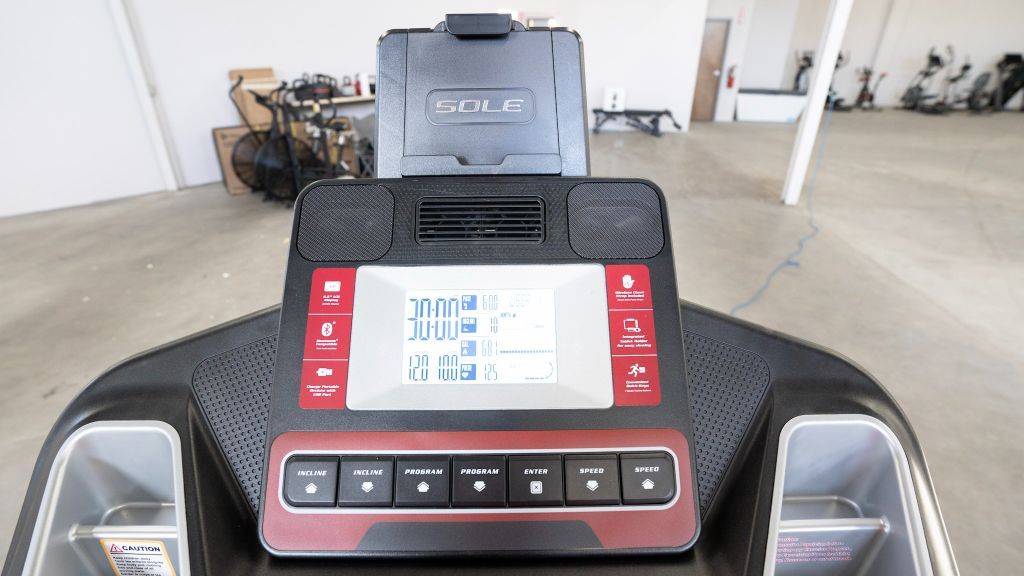 Let's Get Moving!
The Sole F63 is a treadmill I'd recommend for a beginner because it is easy to get started and use and a great start to some of the best cardio equipment. There aren't confusing stats or a busy screen to get distracted with. Here's how to quickly start the treadmill:
Make sure the safety key is in place
Plug the treadmill into the wall
Hit the start button and adjust the speed using the slow and fast buttons
When the workout is over, hit the stop button or pull the safety key
Incline/Decline Levels
The incline of the F63 clocks in at 15%, which is on par with what I'd expect. There is no option to go below 0% to simulate walking downhill, but that's a feature I'd only expect on a more expensive treadmill. There are also specific incline controls on the treadmill to bump the incline up or down during exercise.
Speed Range
The speed range for the F63 is between 1-12 mph. The slightly more expensive Sole F80 has the ability to start at .5 mph, which I don't think is that use of a feature. .5 mph is really slow, and not many people need that option. The 3.0 continuous-duty horsepower motor is pretty solid and has a lifetime warranty, which makes this treadmill more appealing. If you want to run on a treadmill, you generally want a powerful motor of 3.0 CHP or above.
RELATED: Sole F80 treadmill Review
Durability
Here's the deal – if you're an avid runner, you should be aware that this treadmill shakes slightly with heavy running. However, some jostling is to be expected for the price. It definitely wasn't a deal-breaker but it is something to be aware of if that kind of thing bothers you.
RELATED: HIIT Treadmill Workout
Noise Level
Due to the flywheel technology, this treadmill is quieter than expected. Although it is not completely silent, you could probably use it in the morning in a separate room without waking up a family member. Even though these machines don't have all of the extra bells and whistles, they still have great engineering. Because the F63 is near to the ground, it helps to absorb some of the noise. This treadmill is ideal for people who want to run quietly without bothering their surroundings.
Easy to Use
If you prefer simple technology, you'll appreciate the more standardized approach of the F63.
Display
Even though I'd choose an interactive screen, the 6.5 inch LCD monitor works for this treadmill. On the screen, expect to see your pulse, time elapsed, calories burned, distance traveled, incline, decline, program, and speed.
You can also press buttons in increments of two in order to quickly change your incline or speed. I found that the treadmill was a little slow to switch to my preferred number, but it wasn't a huge deal.
Workout Programs
Included in the Sole F63 treadmill are 10 different workout programs. The preset workouts assist the user with cardio endurance, fat burn, calorie burn, and muscle toning. There is also an option to add two separate user-profiles and two heart rate programs. These are useful if you don't want to manually adjust your speed and incline.
When I ran on this treadmill, I tested an endurance workout as well as an interval training option. There are preset speeds and inclines the machine adjusts to, but you can manually override those.
Plus, Sole has recently released STUDIO, which is an interactive programming membership for under $20 per month. With a subscription, you'll get access to tons of workout content on-demand.
Cushioning
The Sole F63 treadmill's deck comes with cushioning that does a good job of reducing impacts to your knees and feet.
Conveniences
Above the monitor, there are two fans that can be turned on and off using a switch in the middle. There are also speakers to the right and left that can play music. Simply plug your phone into the provided jack and start your music.
There is an included phone and tablet holder. Since there is no interactive programming with the Sole F63, this is a nice feature in case you want to play your own workout on your device.
The wireless chest strap that goes under your ribs is a great feature and is included with the treadmill. You can view your heart rate in the top left corner when wearing the strap.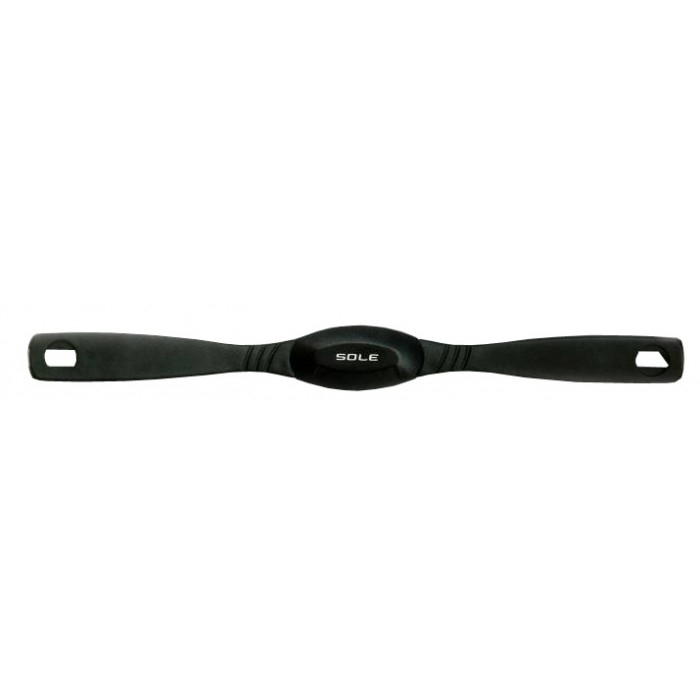 Sole F63 Treadmill Specs
Footprint
66" H x 82" L x 35" W
Weight
254 pounds
Speed
.5-12 mph
Incline
15 levels
Motor
3.0 HP, DC Type
Running Deck
20″ X 60″
User Capacity
325 pounds
Warranty
Lifetime warranty on steel frame and motor
3 years for deck, electronics, and parts
1 year for labor
Customer Experience
The customer service from Sole isn't the worst I've seen, but it is not the best either. There is no obvious chat function to ask quick questions. You can email them at service@soletreadmills.com if you have questions but expect a few business days for them to respond. You can also call 866-697-6531 between 8:00 a.m. to 5:00 p.m. MST Monday-Friday. On the website, you can also submit an online form for other miscellaneous questions.
Warranty
For this price point, I am super impressed by the lifetime warranty for both the frame and motor. The deck, electronics, and parts all have a three-year warranty. Labor has a single year.
Return Policy and Money Back Guarantee
With the F63, you have a free 30-day trial to make sure you're completely satisfied with your purchase. Here is the best part: they don't make you pay shipping or a restocking fee for returning the treadmill. This is a huge deal compared to other big-name retailers of treadmills that usually put the shipping cost on the returner.
Shipping a treadmill is not cheap, so this saves a few hundred dollars. This shows how confident Sole Fitness is in its products, which definitely makes me more willing to purchase other things from them in the future.
Customer Chatter
Generally speaking, customers of the F63 seemed to love the price point, the overall quietness of the machine, and the great warranty.
The few cons I saw included the fans not blowing hard enough, shipping took a while, and that it was generally very heavy when in the box.
Final Verdict of our Sole F63 Treadmill
Overall, I was impressed with the Sole F63's overall value. I think this is a great option for beginners or those who want a no-frills machine. It is one of the best treadmills for people on a budget.
Our takeaways:
Great budget option for around $1,000
Doesn't have interactive programming
Can fold and be stored away with the attached wheels
Heavy and will require assistance to unbox
RELATED: Best Budget Treadmill
Sole F63 Treadmill FAQs
Is the Sole F63 or the F80 better?
The Sole F63 treadmill and the F80 are surprisingly similar, even with the almost $600 price increase of the F80. They both share the same levels of incline, a top speed of 12 mph, and 10 pre-programmed treadmill workouts. Also similar are the cushioned running deck and Bluetooth-connected speakers.
The differences are fairly minor. The motor of the F80 is more powerful at 3.5 CHP compared to the 3.0 CHP motor of the F63. The F80 also has a 9-inch LCD display and can slow down speed-wise to .5 mph. The running deck is also two inches larger than that of the F63. I personally don't think these minor adjustments make the F80 a better buy than the F63, but both are high-quality treadmills at comparatively reasonable prices.
Can you run on the Sole F63 treadmill?
Yes, you can run on the Sole F63 at speeds up to 12 mph. The treadmill does shake slightly when running hard, so that is something to be aware of.
RELATED: Best Home Treadmill for Running
Is the Sole F63 treadmill foldable?
How long does the Sole F63 last?
The frame and motor are covered for life, while the components, deck, and electronics are covered for three years and labor is covered for one year.
Is the Sole F63 loud?
The treadmill is quite quiet between 1-6 MPH due to the smaller motor's low noise output. The fans don't create a lot of noise, but this isn't owing to any inherent noise-canceling abilities. They add practically little noise to the treadmill's motor noise because they are modest fans.
How much does the Sole F63 weigh?
The Sole F63 treadmill weighs 254 lbs
Full Rating
Sole F63 Treadmill
As you might know, I absolutely love finding budget home gym equipment. I was on the hunt for a reasonably priced treadmill when I ran across the Sole F63 for under $1,000. I immediately knew I had to test it out. The Sole F63 is the base model treadmill out of the six in the Sole family, with all of them being pretty well-regarded by customers.In this Sole F63 review, I'll give you the rundown on assembly, ergonomics, and my opinion on overall value. I rigorously test all the equipment that comes through my garage gym to help the community make the best buying decisions on things like treadmills, barbells, and dumbbells.
Product Brand: Sole Fitness
Product Currency: $
Product Price: 1799.99
Product In-Stock: InStock