We test and review fitness products based on an independent, multi-point methodology. If you use our links to purchase something, we may earn a commission. Read our disclosures.
As you might know, we absolutely love finding the best budget home gym equipment. The Sole F63 treadmill wavers around the $1,000 mark; we've seen it for just under $1,000, and it has gone up to around $1,200. In any case, this is a machine ideal for both runners and walkers.
The Sole F63 treadmill is the base model treadmill out of the six in the Sole F series, with all of them being pretty well-regarded by customers. In this Sole F63 Treadmill review, we'll give you the rundown on assembly, ergonomics, and our opinion on what we regard as one of the best treadmills.
We Know Treadmills
I and several team members here at Garage Gym Reviews personally used the Sole F63 for several running and walking workouts; I even assembled this treadmill myself. Collectively, at Garage Gym Reviews, we have researched hundreds of treadmills and personally tested more than 50 machines, including several from Sole Fitness.
The F63 was the first in Sole's lineup that we got our feet on, and we put it through rigorous evaluation across 14 metrics to rate it on factors such as programming, durability, overall workout experience, and ergonomics.
RELATED: Our Comprehensive Treadmill Buying Guide
Sole F63 Treadmill
GGR Score: 4.3
Community Score: 3.2
Product Highlights
Folding treadmill
Costs around $1,000

Heart rate chest strap included

Bluetooth speakers, USB port, and cooling fan

Powerful 3.0 HP motor
Pros & Cons
Pros
Financing is available
Bluetooth speakers
USB port
Device holder
15 different levels of incline
Cushioned deck
20" W x 60" L belt
325-lb weight capacity
Lifetime frame and motor warranty
Cons
Heavy machine
No touchscreen
Bottom Line
The Sole F63 Treadmill is an affordable option for people who want a powerful, reliable machine without breaking their budget.
A Quick Look at the Sole F63 Treadmill
The Sole F63 is one of the best folding treadmills available for around $1,000. It features a 60-inch-long running surface, a console with 10 on-board training programs, and a powerful 3.0 CHP motor suitable for running workouts.
We originally tested the Sole in 2021. In 2023, Sole updated the F63 to include and integrated tablet holder. Its powder-coated steel structure is designed to maintain stability at the track's peak speed of 12 MPH. The treadmill has a fan, however, it isn't as powerful as some other treadmills. The vents can't be adjusted downward because they're at the top of the console, which may be uncomfortable depending on the user's height.
Before You Buy
Look into Studio, the interactive programming Sole partners with to give you access to countless workouts. Be aware that there is an additional cost for the subscription.
Sole charges a whopping $350 for assembly; while the assembly of this machine isn't the easiest process, we still don't recommend paying that much for assembly.
Sole F63 Treadmill Video Review
Is the Sole F63 Treadmill Worth It?
When we first received the F63 in 2021, it was priced at $999, making it our pick for the best treadmill under $1,000. Since then, the price has slowly climbed to as high as $1,199. Even there, this is still a pretty reasonable price for such a durable machine.
When the price of a treadmill dips much below $1,000, you'll start to see sacrifices in key areas like user weight capacity, durability, and warranty. Another treadmill in this price range is the Horizon 7.0 AT Treadmill, which we have also used and reviewed. Both have similar features, though the F63 is a little more expensive and features a bigger console.
After several of us have used this machine, we do think the price fits the treadmill's overall value. Still, there are people who may want to consider other options:
Great For:
People interested in tracking their heart rate while working out
Those who need to be able to fold their treadmill for storage
Not Recommended For:
Runners and walkers who want decline options
People who want tons of guided programming
Individuals who expect tons of tech conveniences
Sole F63 Treadmill Specs
Footprint
66" H x 82" L x 35" W
Weight
254 pounds
Speed
.5-12 mph
Incline
15 levels
Motor
3.0 HP, DC Type
Running Deck
20″ X 60″
User Capacity
325 pounds
Warranty
Lifetime warranty on steel frame and motor
3 years for deck, electronics, and parts
1 year for labor
Our Experience With the Sole F63 Treadmill
The Sole F63 is a treadmill we'd recommend for a beginner because it is easy to get started and use and a great start to some of the best cardio equipment. There aren't confusing stats or a busy screen to get distracted with. Here's how to quickly start the treadmill:
Make sure the safety key is in place
Plug the treadmill into the wall
Hit the start button and adjust the speed using the slow and fast buttons
When the workout is over, hit the stop button or pull the safety key
Overall, I gave this machine a 4.5 out of 5 for my workout experience. It performs exactly as it should, minus some slight shaking I noticed when getting to top speeds on higher inclines. This isn't any kind of shaking that made me feel like the treadmill wasn't safe; but it was noticeable.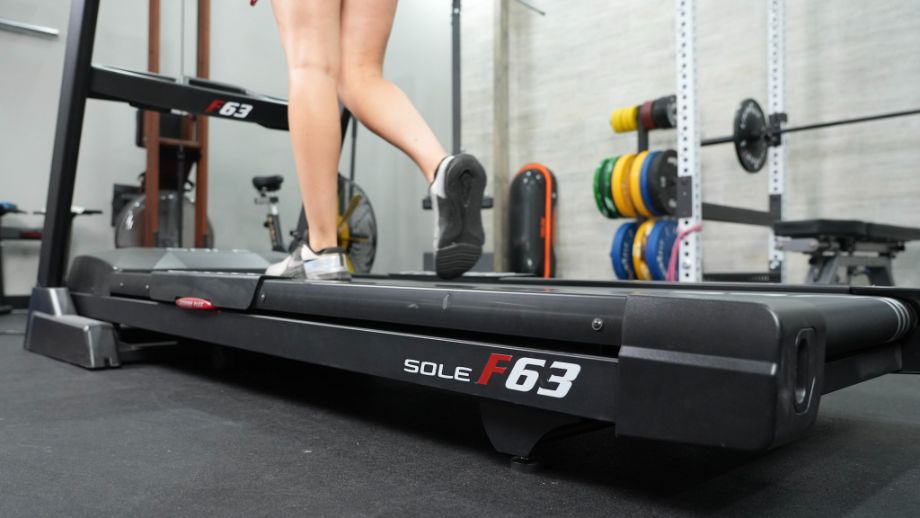 Incline/Decline Levels
The incline of the F63 clocks in at 15%, which is on par with some of the best commercial treadmills. There is no option to go below 0% to simulate walking downhill, but that's a feature reserved for more expensive treadmills. There are also specific incline controls on the treadmill to bump the incline up or down during exercise.
You adjust the incline or decline on the console itself; there are no "quick change" buttons on the handles, like you'll find on some other higher-priced machines. There are, however, quick change buttons on the console so you can jump to inclines at 1, 3, 5, 7, 9, 11, 13, and 15% instead of having to keep pushing a "+" button. The deck does move up and down smoothly and fairly quietly; I did notice a slight hum of the motor, but nothing disturbing.
Speed Range
The speed range for the F63 is between 1-12 MPH, which is the industry standard for the best home treadmill for running. The slightly more expensive Sole F80 has the ability to start at .5 mph, which I don't think is that useful of a feature. A speed of .5 MPH is really slow, and not many people need that option.
There are quick change speed dials on the console so you can jump to 2, 3, 4, 5, 7, 9 , or 12 MPH. This process is pretty seamless, and none of us had any issues in our testing here.
The 3.0 continuous-duty horsepower motor is pretty solid and has a lifetime warranty, which makes this treadmill more appealing. If you want to run on a treadmill, you generally want a powerful motor of 3.0 CHP or above.
RELATED: Sole F80 treadmill Review
Running Surface
The running deck itself is a standard size for most running treadmills with a spacious 60 inches long by 20 inches wide. This should accommodate most users. We had testers as tall as 6 feet on this machine, and they were able to run comfortably.
The belt on the F63 is 2-ply. Cheaper treadmill belts are usually 1-ply, so this is an awesome upgrade for the price.
Durability and Weight Capacity
We gave the F63 a 4 out of 5 on durability because if you're an avid runner, you should be aware that this treadmill shakes slightly with heavy running. However, some jostling is to be expected for the price. It definitely wasn't a deal-breaker, but it is something to be aware of if that kind of thing bothers you.
The weight capacity of the Sole F63 is 325 pounds, which is a good signal that the machine's motor and construction can support most people.
RELATED: HIIT Treadmill Workout
Noise Level
As we found in our testing, this treadmill is quieter than expected. You will absolutely hear the hum of the incline motor as the deck ramps, but it isn't very loud. Otherwise, the turning of the belt is on par with how most other treadmills sound. You can also use one of the best treadmill mats to dampen any noise.
Cushioning
The Sole F63 treadmill's deck comes with cushioning, though the brand doesn't specify anything other than the deck is cushioned. We did find that our workouts on the machine felt good, though I couldn't really tell you if this was any more or less cushioned than other treadmills I have been on.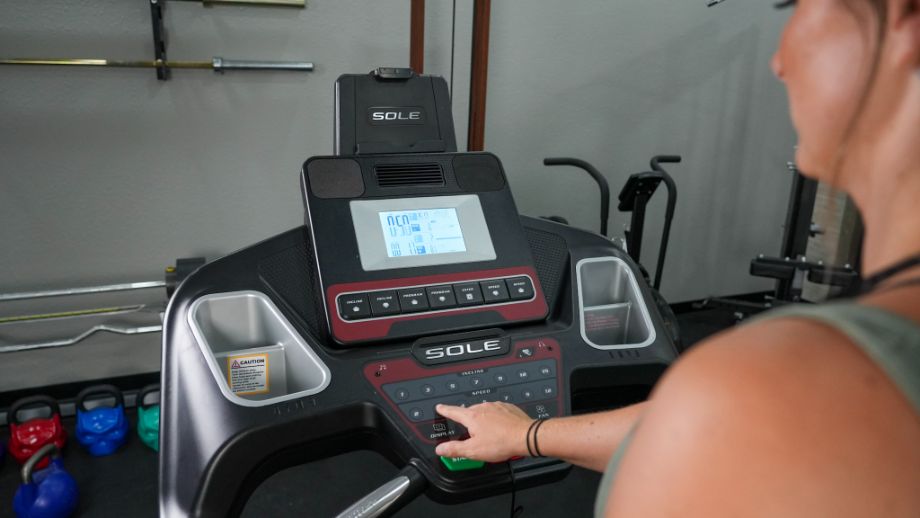 Technology and Display
There is a 6.5-inch LCD monitor works for this treadmill. On the screen, expect to see your pulse, time elapsed, calories burned, distance traveled, incline, decline, program, and speed. It's a pretty standard readout, with a quarter-mile track as well as a "peak-and-valley" LCD graph to visually show your progress during your workouts.
Other tech features include:
Bluetooth speakers: I found these to pair seamlessly with my phone, and I could use my own playlist. I was impressed with how good the sound was.
Heart rate monitoring: There are pulse grips to get a read on your pulse
USB Port: This can be used to charge your phone as you exercise.
We gave the tech on this machine a 4.3 out of 5. When we ordered the Sole F63 in 2021, it arrived with a Bluetooth-enabled heart-rate monitoring strap. However, it seems Sole no longer offers this with the F63 or any of its other models. It is, however, Bluetooth-compatible, so your own device should sync with it. We had no issues syncing the strap Sole sent us when we tested this.
Workout Programs
Included in the Sole F63 treadmill are 10 different workout programs. The preset workouts assist the user with cardio endurance, fat burn, calorie burn, and muscle toning. I personally did the hill climb workout and the HIIT workout; they were very standard treadmill workouts. There are preset speeds and inclines the machine adjusts to, but you can manually override those.
There is also an option to add two separate user-profiles and two heart rate programs. These are useful if you don't want to manually adjust your speed and incline.
In 2022, Sole partnered with Studio, which provides an interactive programming membership for under $20 per month. With a subscription, you'll get access to tons of workout content on-demand. You could also use your own device to stream Peloton workouts or iFIT workouts as well.
Conveniences
The F63 has a few extras that we enjoyed. Above the monitor, there are two fans that can be turned on and off using a switch in the middle. However, I should point out that the fan isn't very strong. Also, I'm on the short side at 5-foot-4, and I felt the fan was positioned too high for it to have too much of an effect on me.
You'll also find:
Phone/tablet holder
2 cup holders
Large storage tray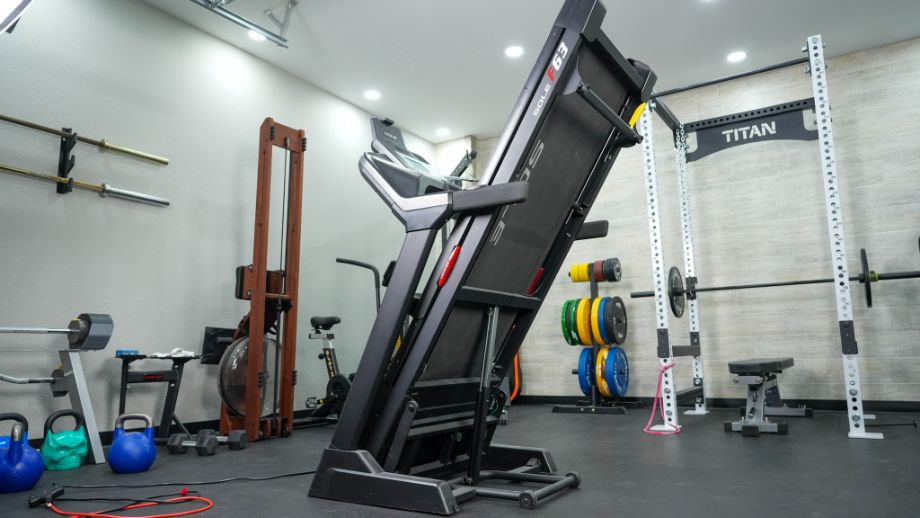 Footprint and Portability
This gets a 4 out of 5 in this category for us for a few reasons. First, it's a rather large machine at 82 inches long by 35 inches wide by 66 inches high. In other words, you won't be able to store this under your bed.
Compared to treadmills like the NordicTrack Commercial 1750, the Sole F63 is a little lighter, though it still weighs 254 pounds. Although it is kind of difficult to move on your own, it can be done since it is an easy assist folding treadmill and there are wheels attached to make for easier storage.
Here's how to fold and unfold your F63:
To fold:
Make sure the treadmill is at the lowest incline
Lift the deck of the treadmill until it locks into the tube in the center
Easily roll away to move or store
To unfold:
With one hand, apply pressure on the deck
Pull down the lever to lower the deck to the floor
Once it reaches waist height, the remainder of the treadmill will lower on the floor
With a footprint of 66" H x 82" L x 35" W, the F63 is not a small treadmill. Although it can be folded and stored away, you'll need a big enough room or have to put it in your garage to make it an ideal setup.
Ordering, Delivery, and Assembly
When we ordered the F63 in February 2021, there were stocking issues (as was the case with a lot of the best home gym equipment during the Covid 19 pandemic). It took us almost a month to receive the treadmill in the mail, but that was to be expected due to shipping delays and stocking issues. I just feel fortunate to have received it at all when plenty of other equipment was out of stock for months.
Pricing and Financing
With the price of the Sole F63 treadmill being around $1,200, it's good to see that there is still an option to finance the treadmill through Affirm, with rates dependent on your application.
Delivery
When ordering the Sole F63 treadmill, there are three different options to choose from in terms of delivery. The first option is curbside (which we chose) because it is free. Be aware the the box is large and heavy—almost 300 pounds.
The other two options include delivering the treadmill into a room of choice in your home ($199) or having full assembly done ($350). The treadmill is heavy and comes in one unwieldy box. I would definitely recommend having one or two other people help you carry it inside if you opt-out of indoor delivery.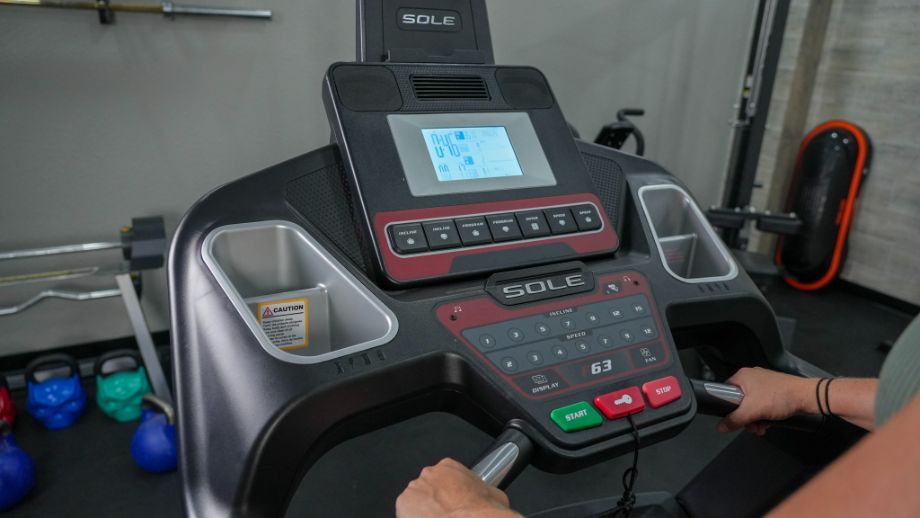 Assembly
Once the box itself is where you plan to have your treadmill, you may still need assistance to unbox the deck, which is the heaviest piece. Once that was out of the box, the rest was fairly smooth sailing from there. Assembly took me about an hour and wasn't overly complicated.
You can find assembly instructions in the treadmill's manual, which can also be found online.
The instructions were clear and had six steps to follow. Also in the box were useful tools such as two Allen Wrenches, a screwdriver, socket screws, and deck/belt lubricant. These were all clearly labeled and made assembly go off without a hitch.
RELATED: How to Fix a Treadmill
Sole F63 vs Horizon 7.0 AT
Horizon 7.0 AT Treadmill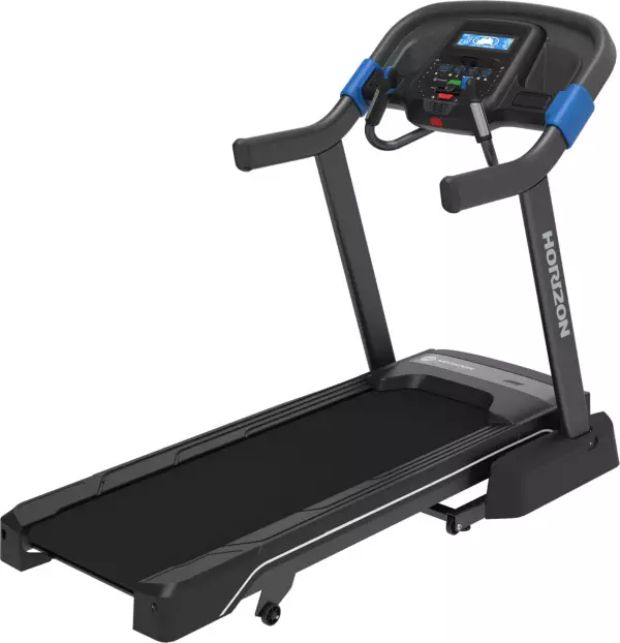 GGR Score: 4
Product Highlights
Priced under $1,000
Spacious 60-inch running deck
Bluetooth connectivity
QuickDial controls for both the speed and incline
Pros & Cons
Pros
60" running surface
3.0 CHP motor
Bluetooth connectivity with apps like Zwift, Peloton, and Nike Running Club
325 lb weight limit
Cons
Heavy machine at over 250 lbs
No included touchscreen
3-year parts warranty and 1-year labor warranties are less than the Horizon 7.4 AT Treadmill
Bottom Line
For under $1,000, the Horizon 7.0 AT is a great option for people who want to use their treadmill to run.
The Horizon 7.0 AT is one of the best budget treadmills out there. Spec for spec, it matches the Sole F63 in just about every single category. They both have spacious running decks, they both have weight capacities of 325 pounds, they both have up to 15% incline and up to 12 MPH.
Our biggest complaint with the 7.0 in our testing was simply that there is no interactive programming on it, which is similar with the F63.
The Sole is slightly more expensive, but it has free shipping. The Horizon 7.0 has an automatic $99 delivery fee, which takes the price to almost exactly what the Sole F63 is.
If you're trying to decide between the two, you really can't go wrong with either. And we know from our experience that both brands discount these machines around the holiday, so I would price compare and pick the option that saves you the most money.
| | | |
| --- | --- | --- |
| | Horizon 7.0 AT | Sole F63 |
| Price | $999 | $1,199.99 |
| Deck Size | 20" W x 60" L | 20″ W X 60″ L |
| Weight | 253 lbs | 254 lbs |
| Weight Capacity | 325 lbs | 325 lbs |
| Display | 7″ LCD Screen | 6.5″ LCD Screen |
| Warranty | Lifetime on frame and motor, 3 years on parts, 1 year on labor | Lifetime on frame and motor, 3 years on deck, electronics and parts, 1 year on labor |
| Dimensions | 76.5″ L x 36″ W x 59″ H | 82" L x 35" W x 66" L |
| Foldable | Yes | Yes |
Customer Experience
The customer service from Sole isn't the worst I've seen, but it is not the best either. There is no obvious chat function to ask quick questions. You can email them at service@soletreadmills.com if you have questions but expect a few business days for them to respond. You can also call 866-697-6531 between 8:00 a.m. to 5:00 p.m. MST Monday-Friday. On the website, you can also submit an online form for other miscellaneous questions.
Warranty
For this price point, I am super impressed by the lifetime warranty for both the frame and motor. The deck, electronics, and parts all have a three-year warranty. Labor has a single year.
Return Policy and Money Back Guarantee
With the F63, you have a free 30-day trial to make sure you're completely satisfied with your purchase. Here is the best part: they don't make you pay shipping or a restocking fee for returning the treadmill. This is a huge deal compared to other big-name retailers of treadmills that usually put the shipping cost on the returner.
Shipping a treadmill is not cheap, so this saves a few hundred dollars. This shows how confident Sole Fitness is in its products, which definitely makes me more willing to purchase other things from them in the future.
Customer Reviews
Sole doesn't have any reviews of the F63 on its own website. There are customer reviews on Amazon; however, Amazon lumps all Sole treadmill reviews together, so it's hard to say which exact model people were reviewing.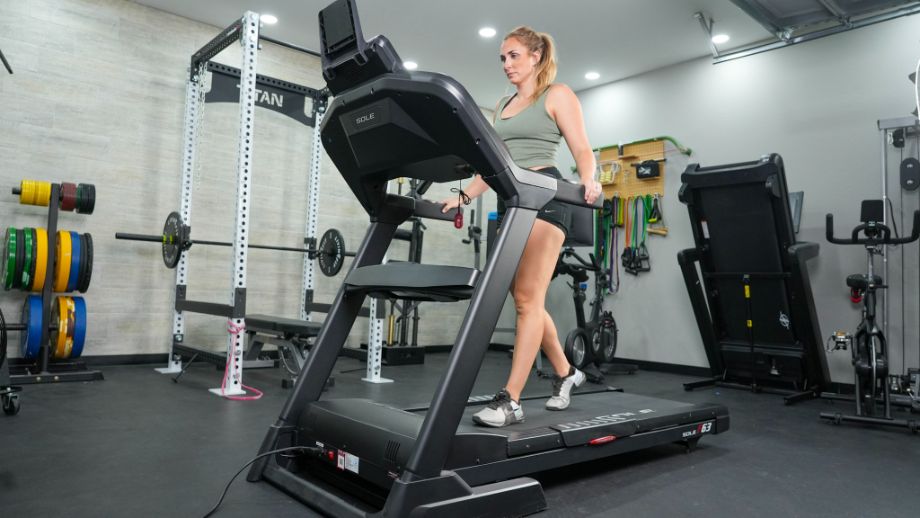 Final Verdict of our Sole F63 Treadmill
Overall, I was impressed with the Sole F63's overall value. I think this is a great option for beginners or those who want a no-frills machine. It is one of the best treadmills for people on a budget.
Our takeaways:
Great budget option for around $1,000
Doesn't have interactive programming
Can fold and be stored away with the attached wheels
Heavy and will require assistance to unbox
RELATED: Best Budget Treadmill
Full Rating
Sole F63 Treadmill
As you might know, I absolutely love finding budget home gym equipment. I was on the hunt for a reasonably priced treadmill when I ran across the Sole F63 for under $1,000. I immediately knew I had to test it out. The Sole F63 is the base model treadmill out of the six in the Sole family, with all of them being pretty well-regarded by customers.In this Sole F63 review, I'll give you the rundown on assembly, ergonomics, and my opinion on overall value. I rigorously test all the equipment that comes through my garage gym to help the community make the best buying decisions on things like treadmills, barbells, and dumbbells.
Product Brand: Sole Fitness
Product Currency: USD
Product Price: 1799.99
Product In-Stock: InStock
Sole F63 Treadmill FAQs
Is the Sole F63 or the F80 better?
The Sole F63 treadmill and the F80 are surprisingly similar, even with the almost $600 price increase of the F80. They both share the same levels of incline, a top speed of 12 mph, and 10 pre-programmed treadmill workouts. Also similar are the cushioned running deck and Bluetooth-connected speakers.
The differences are fairly minor. The motor of the F80 is more powerful at 3.5 CHP compared to the 3.0 CHP motor of the F63. The F80 also has a 9-inch LCD display and can slow down speed-wise to .5 mph. The running deck is also two inches larger than that of the F63. I personally don't think these minor adjustments make the F80 a better buy than the F63, but both are high-quality treadmills at comparatively reasonable prices.
Can you run on the Sole F63 treadmill?
Yes, you can run on the Sole F63 at speeds up to 12 mph. The treadmill does shake slightly when running hard, so that is something to be aware of.
RELATED: Best Home Treadmill for Running
Is the Sole F63 treadmill foldable?
How long does the Sole F63 last?
The frame and motor are covered for life, while the components, deck, and electronics are covered for three years and labor is covered for one year.
Is the Sole F63 loud?
The treadmill is quite quiet between 1-6 MPH due to the smaller motor's low noise output. The fans don't create a lot of noise, but this isn't owing to any inherent noise-canceling abilities. They add practically little noise to the treadmill's motor noise because they are modest fans.
How much does the Sole F63 weigh?
The Sole F63 treadmill weighs 254 lbs