We review free products that we receive and participate in affiliate programs, where we may be compensated for items purchased through links from our site.
See our disclosures page for more information.
The
Prime Fitness RO-T8 Handles and other attachments
are some of the most engineered cable attachments ever created. After using the entire RO-T8 family over the course of 45 days, we can confidently give a high recommendation for anyone doing cable work. Not only are they incredibly versatile, but they are also comfortable and easy to use.
Prime Fitness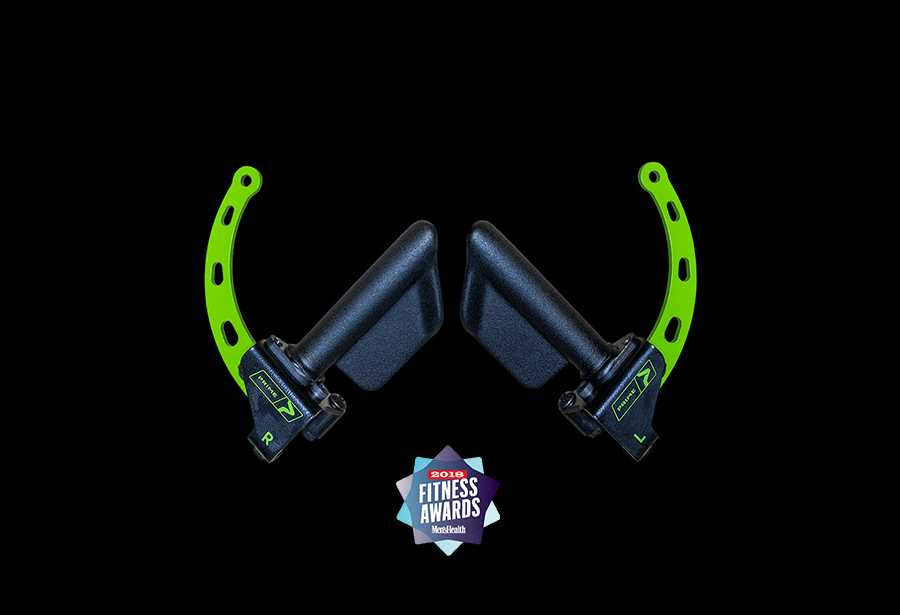 Prime RO-T8 Handles
The handles that changed the game. The unique swivel design of these handles yields a drastic increase in output potential. The ergonomically enhanced grip of the RO-T8 handles reduce grip fatigue, allowing for optimal exercise efficiency-perfect for use with our Functional Trainer. • Available in PRIME Green and Black.
Prime Fitness RO-T8 Handles In-Depth Review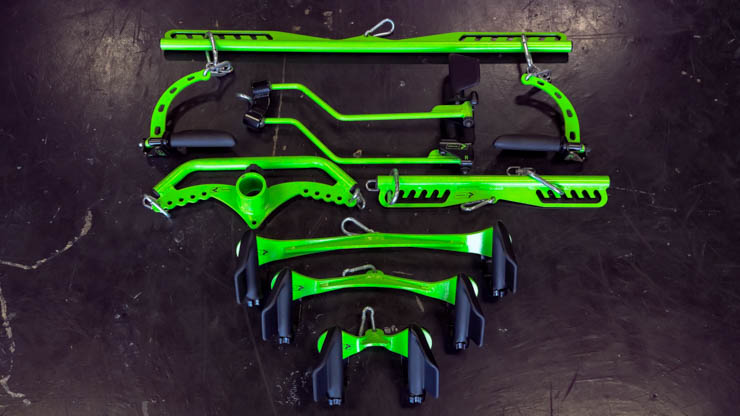 The Prime Fitness RO-T8 Handles are pretty unique in an already unique category.
Cable machines seem to continually go in and out of favor. Depending upon the popularity of "functional fitness" and how that community views machines with cables determines how many lat pulldowns, functional trainers, and cable crossovers you find on the used market.
Whatever the general consensus on cable machines is at any point in history, they can be effective for increasing muscle mass, strength, range of motion, and just about any other goal you'd like to achieve physically with the help of gravity. The phrase, "we don't use machines, we are the machines" is a cute moniker, but a barbell could still be considered a machine by its definition.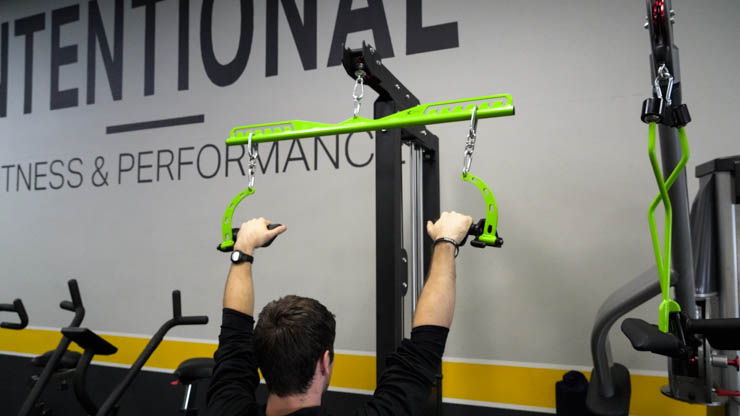 Regardless, in order to use cable machines, for as long as I've been alive, you've had to have things to attach to the end of the cable to use the machine. Head into any big box gym like a YMCA, Planet Fitness, or Lifetime Fitness and you'll find a wide array of metal handles, lat pulldown bars, ropes, and other very specific attachments. Although there's a various amount of gadgets and gizmo's available, none, in my opinion, are very comparable to the Prime Fitness RO-T8 Handles.
Prime Fitness, for those unaware, are a rebrand of STRIVE Fitness. STRIVE, at one time made some of the best (in the minds of most) fitness machines ever created. Their marketing, colorways, and timing certainly could have been better when they were at their peak, but it seems that they've been reinvigorated with the reformation into Prime Fitness. Prime is taking a lot of the older designs and updating them to appeal to the modern gym and consumer.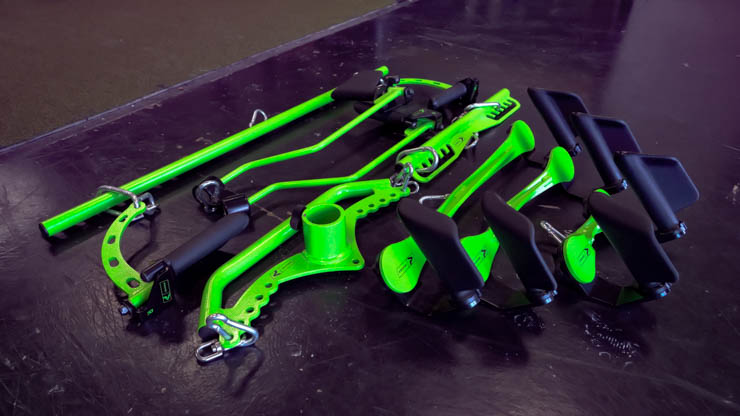 There are few who would argue against the idea that Prime is making incredible equipment, but what has been getting the most traction from my standpoint are their recent line of cable attachment handles. The RO-T8 Handles take the engineering minds behind theiroverbuilt machines and use it to create the most complex cable attachment handles ever designed.
They offer quite a few different handles that I'm going to go in detail on, but before I do, I'd first like to discuss their overall quality and design.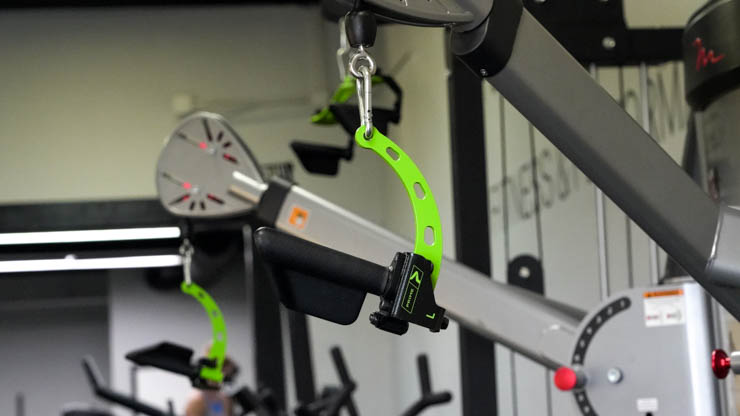 The Prime RO-T8 line of handles is marked by a black and lime green silhouette. It's obvious, whether up close or from a distance who makes the handles thanks to the colors. Personally, I really like the colors, it's significance reminds me of Ferrari Red or Apple's Space Grey, it just exudes their brand. This said, Prime is starting to offer the various handles in other colors like black and blue that have been popular on social media.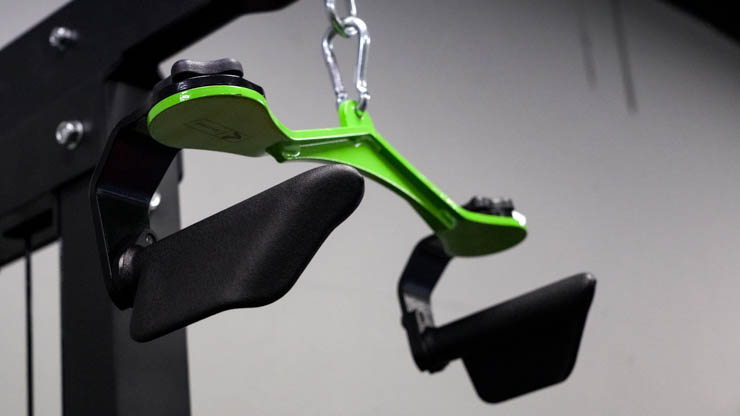 The other feature that is constant across the lines is the swiveled rubberized paddle handles. These are what make the Prime Handles so special and are by far the most comfortable gripping surface I've used for pulling. The paddle handles allow your full hand to grip versus just your fingertips on a standard handle.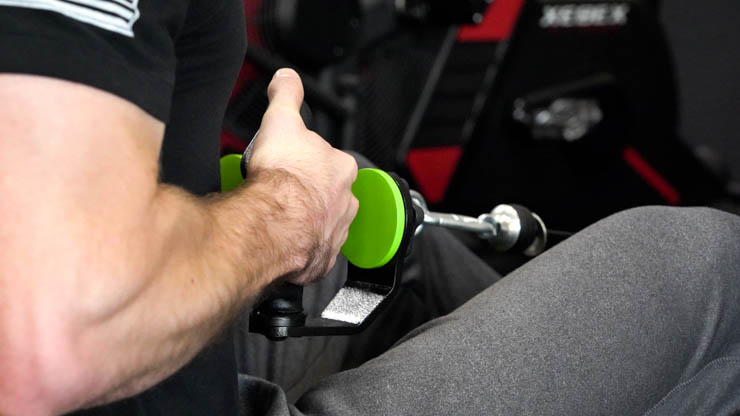 The RO-T8 Handles are ideally designed for pretty much all pulling movements where grip strength may be a limiting factor. Although they can be used for pushing and pressing movements, they're not necessarily designed for that purpose. Due to the paddle handle, the ability to grip them with your palm allows most people to move more weight. In fact, we've been using the handles with some of the older clients at our gym and seen some awesome results simply because they were unable to handle the traditional style handle.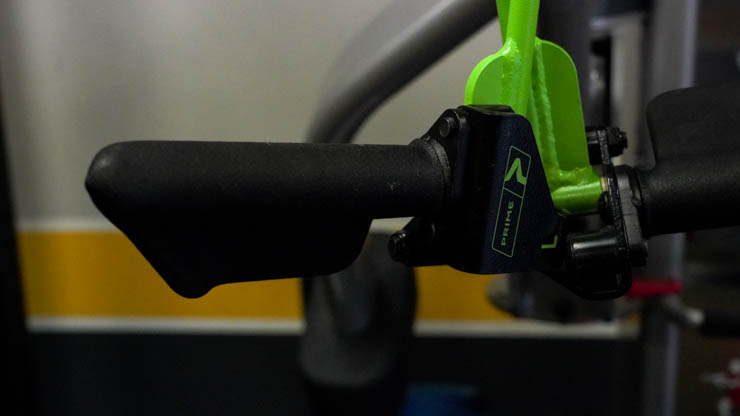 One unique part of the RO-T8 Handles is the fact that they are directional, i.e there's a right and a left handle. This can be a bit annoying when supersetting, but it's necessary due to the design of the handle. They're meant to be gripped with the thumb on the outer edge and when held like this, they feel incredibly natural.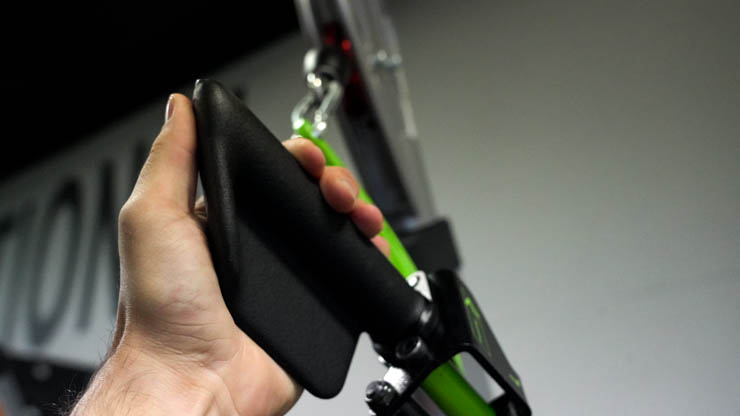 Each paddle features a rubberized coating that is thick and grips quite well. Although I'd love to see them knurled, I don't believe that would be possible with the design, and this is the best option I could foresee. It's certainly not a cheap or thin coating, so it should last for quite some time.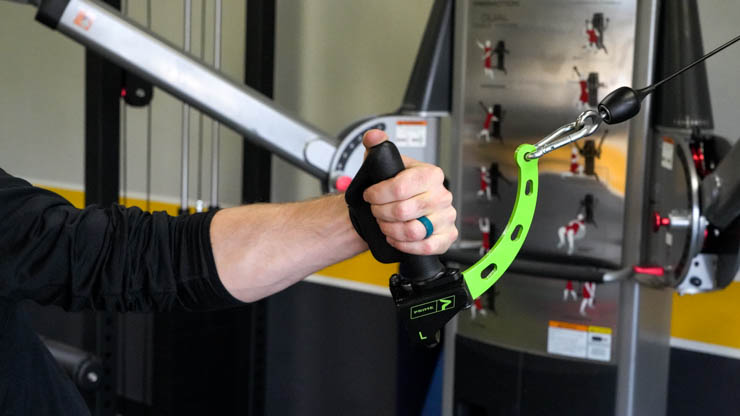 An additional benefit to the handles is the ability to follow any motion or grip angle you'd like on an exercise if used with separate cables. So, if you're using a functional trainer or cable crossover with the handles, you'll be sure to enjoy using two at a time. After using the various handles over the past 45 days, I've found myself using them more than any other handles I have (and I have quite a few different unique options.) They're comfortable, easy to use, and if using them for hypertrophy work, I feel a better contraction.
Now, let's get into the individual pieces.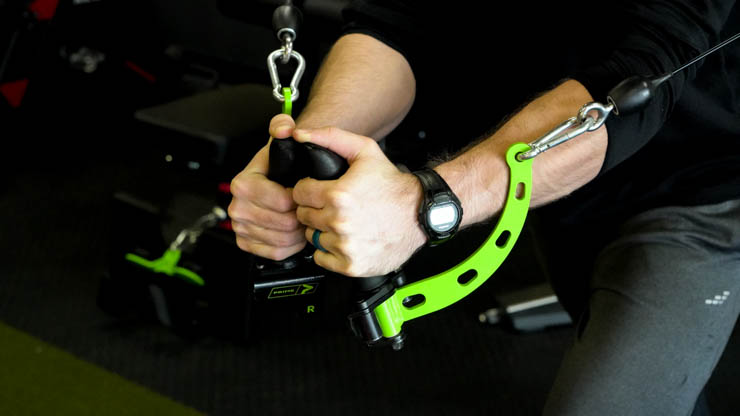 These are by far the most popular handle option Prime Fitness sells. They were the first design they came out with and they're the most versatile. If you're going to buy just one set, these are the ones I'd suggest. You can use them in a variety of ways and they can attach to some RO-T8 Bars that I'll detail shortly that greatly extend their usage.
These are, without question, the best cable handles I've used. They're expensive, but they're also Made in the USA, overbuilt, and use high-end materials. They even have plastic bushings to prevent scratching while the handle swivels. It's little details like these that make them stand out and, in my opinion, worth the price if you do a lot of cable movements.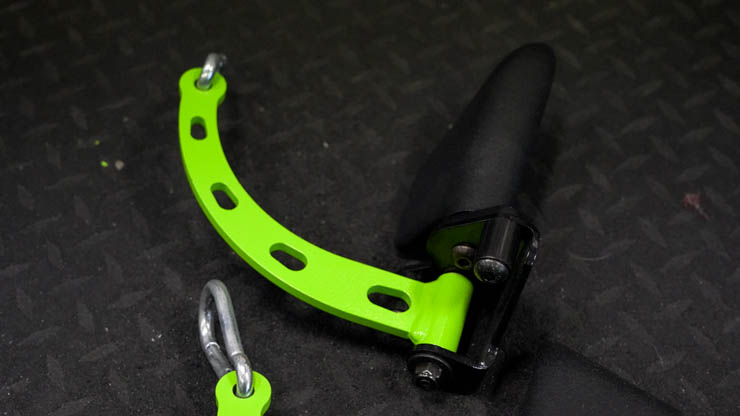 Prime has recently added cutout along the green attachment piece that allows the carabiner to be placed at different places to target different movements. A small, but nice touch.
If you do a lot of cable work and want the best handles currently being made, grab these. Just trust me on this one.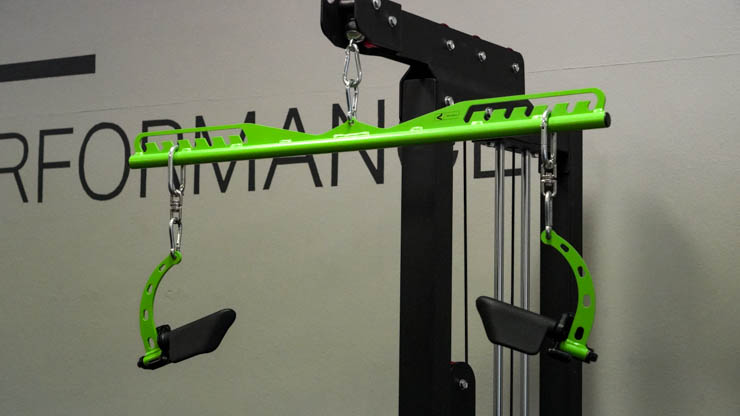 The Prime RO-T8 Handles have a lot of functionality on their own, but one easy way to extend their functionality is by picking up one of these long or short bars. The bars turn the RO-T8 Handles that are designed for separate cables, to be used on things like low rows and lat pull downs. In my opinion, these are pretty much essential if you pick up a set of RO-T8 Handles.
Having the ability to use the RO-T8 Handles on a single cable machine opens up a lot of possibilities that having just the handles don't allow. The cutouts in the bars allow the handles to remain in place and are easily interchangeable.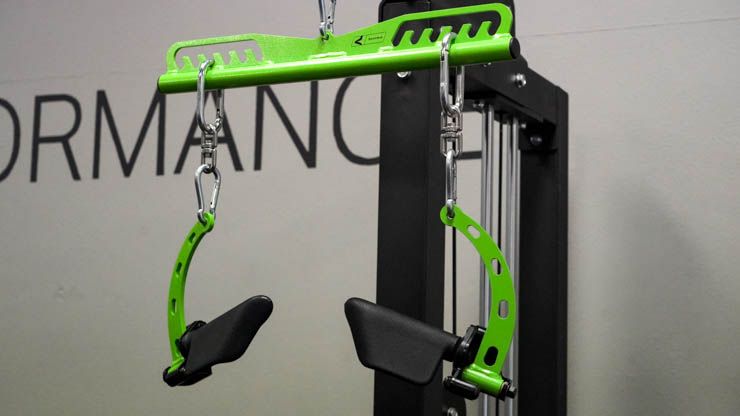 There are a couple of things I'm not a big fan of with the bars though. One is the center attachment point is cut a bit too shallow, not leaving enough material to give me a lot of confidence for the longevity of the bars. The second is that due to the handles having to have the ability to swivel and the use of two carabiners for attachment, the handles hang down pretty low on most lat pulldown machines. This will keep some from getting as much stretch as they'd like, but it may be the only option available if you want your handles to swivel.
All in all, though, I would recommend getting at least the long bar if you're going to pick up the handles.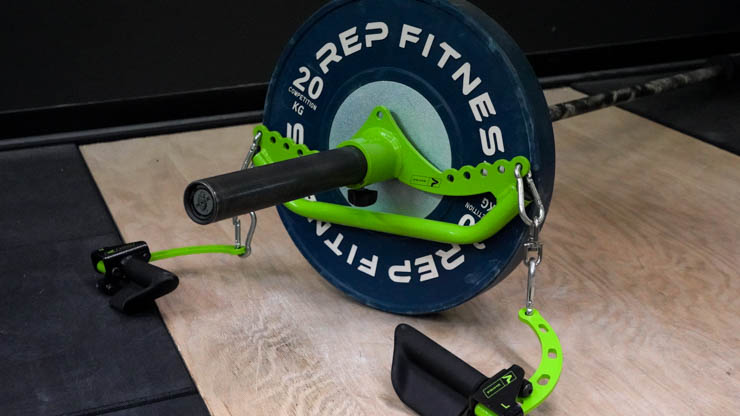 The RO-T8 Landmine attachment allows you to use the RO-T8 Handles with a barbell for rows. It's a good idea, that again, extends the functionality of the handles. Although I don't love using the handles for landmine rows (mainly because of how long they are, I can't keep my back as parallel to the ground as I'd like) people who are taller or use a platform would probably really like using the Landmine attachment.
It's built well, just like all of the Prime Fitness attachments, although I do wish there was some sort of plastic on the barbell sleeve to protect a barbell. But, for landmines, I'd suggest using a beater bar anyways.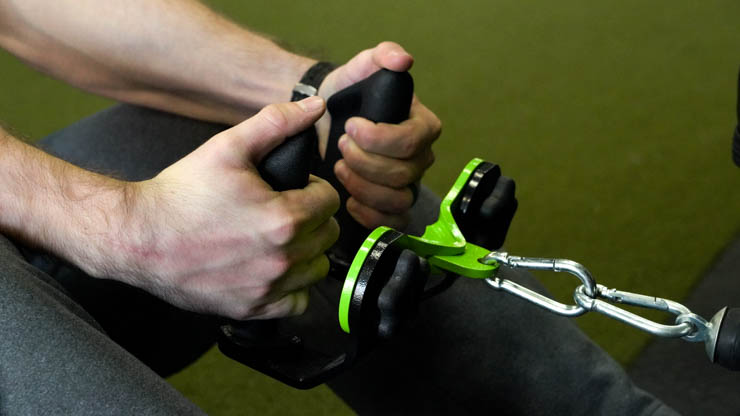 The Prime RO-T8 3N1 Handles take the paddle handles from the popular RO-T8 Handles and fix two of them together in an adjustable platform that although not as versatile, are excellent for their purpose.
Outside of the individual handles, I've been using the 6" 3N1 Handles the most. They are absolutely awesome for close-grip low rows and I've attached them to a pull-up bar quite a few times for close grip pull-ups.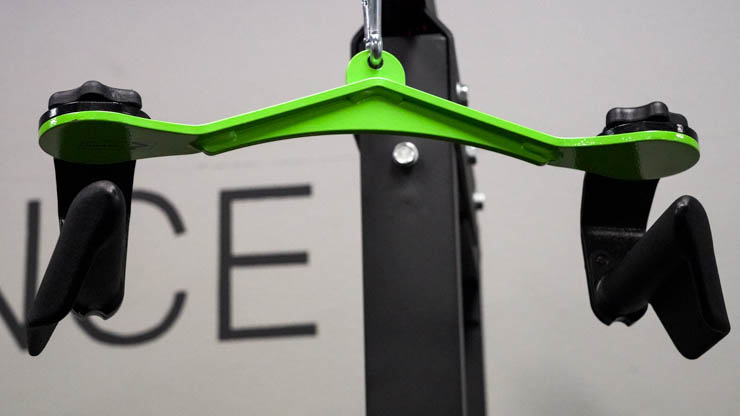 The 14" handles are great for lat pulldowns and low rows.
One of the unique features of the 3N1 Handles and the reason for their name is the ability to adjust the handles to three different angles. They're easy to adjust thanks to a plastic screw cap (I would have liked to see this be machined steel like the rest of the attachment) that locks the handles in place. This increases the versatility of the handles and therefore will allow you to use them more. I like them, but they are definitely secondary to the original RO-T8 Handles.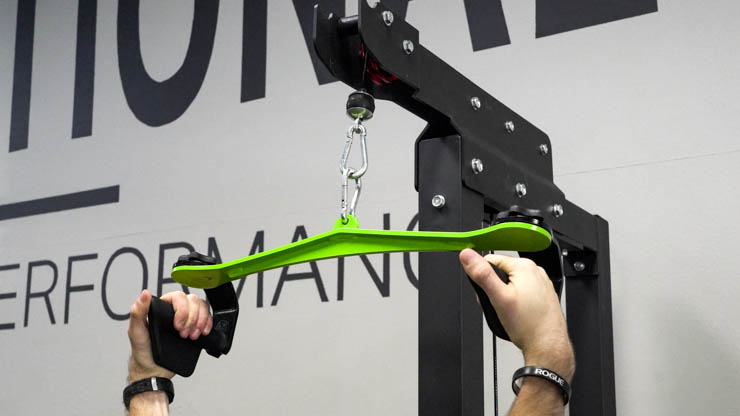 The Prime RO-T8 4N1 Handles are pretty much the same as the 3N1 Handles but allow the handles to turn one more angle. This means you can do full pronation, semi-pronation, neutral grip, and semi-supination. These Handles are my favorite of this style of handle that Prime Fitness makes due to its versatility and 20" width being pretty much ideal in my opinion.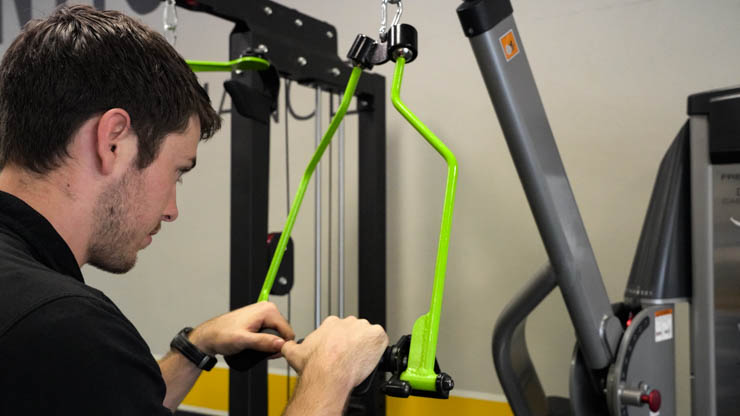 The Prime RO-T8 Spreader Bar takes the paddle handles and attaches them to a single attachment. The Spreader Bar looks pretty weird and I was a bit skeptical when I began using it, but simply put, it performs extremely well.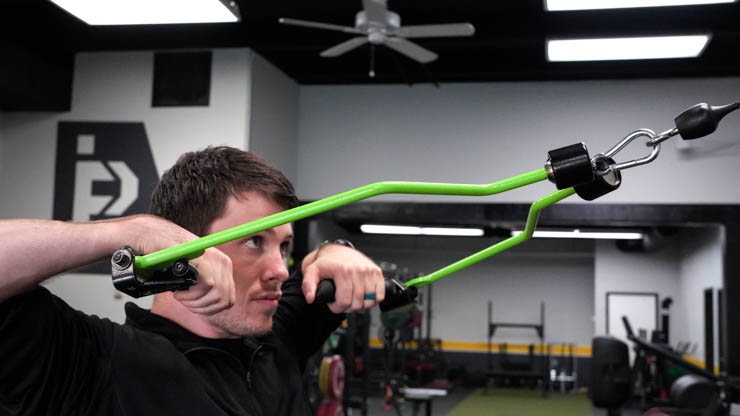 The Spreader Bar can be used for all sorts of movements like tricep pushdowns, pulldowns, curls, pull aparts, and many others. This is honestly one of the most versatile attachments in the RO-T8 lineup and it's largely due to the unilateral ball joint design that allows the handles to spin 360° while under load. This allows movements to feel extremely smooth and increases the versatility available with the attachment.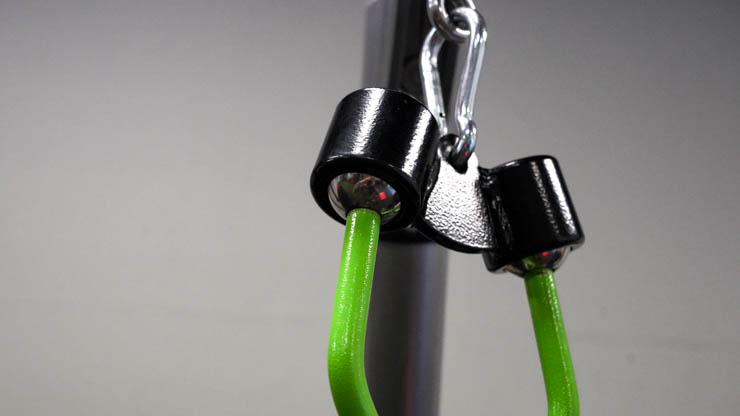 To summarize, the RO-T8 Handles and other attachments are well-engineered, overbuilt, and quite versatile. They are expensive, but this is a situation where you get what you pay for. I suggest starting with a set of the RO-T8 Handles, seeing how you like them, and then deciding if you want the other options. These definitely get our recommendation.
Suggested Improvements
Although we're big fans of what Prime is doing with their handles, there are some minor things that could be improved.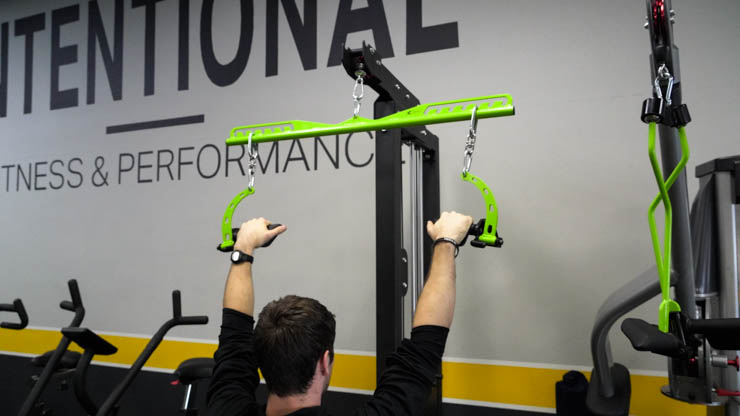 First is the way the handles are attached to the long bar. The way it's currently done with two carabiners and a swivel is a novel idea, except that for most lat pulldown machines and most people, it's too lengthy to get much of a stretch, which shortens the range of motion. I don't have a suggested fix for this other than some sort of quick attach system, but it would vastly improve the use of the bars.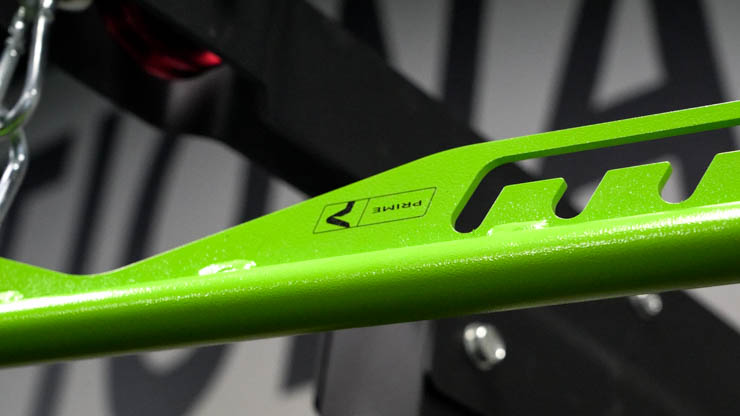 Second, the logos on some of the pieces are actually upside down. This is minor, but something that is easily fixable.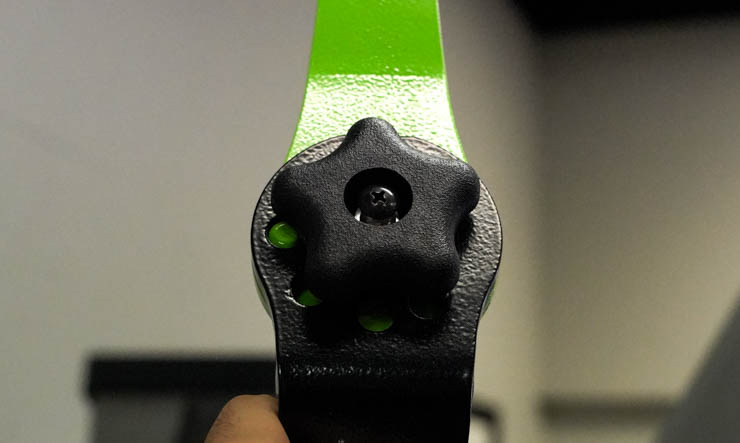 Next, the screw caps on the 3N1 and 4N1 Handles are plastic. It's a hard plastic, but compared to the other materials, they just seem out place. Would have liked to seen a heavier duty screw cap.
Another improvement we'd like to see is with the included carabiners. These accessories are top of the line, but the carabiners that are included are a bit cheapy. They don't all fully close and they don't match at all with the attachments in their looks or build. Would love to see some heavy-duty black anodized carabiners to go along with the aesthetic of the attachments.
Finally, I love these handles and I want a way to store them and show them off. Prime Fitness needs to make some sort of stand or wall hanging unit to make this happen. Seriously, this would be AWESOME!
Full Rating
Where to Purchase
Prime Fitness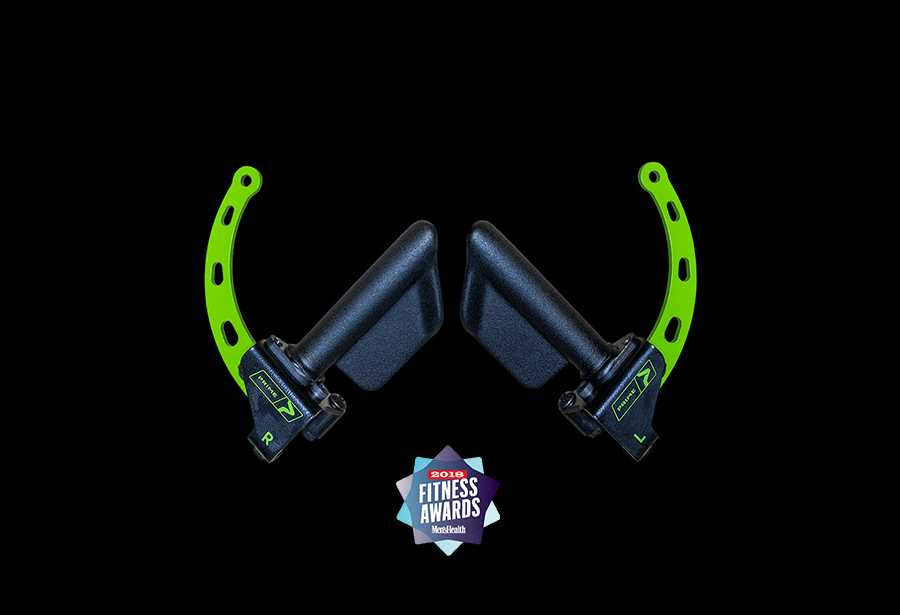 Prime RO-T8 Handles
The handles that changed the game. The unique swivel design of these handles yields a drastic increase in output potential. The ergonomically enhanced grip of the RO-T8 handles reduce grip fatigue, allowing for optimal exercise efficiency-perfect for use with our Functional Trainer. • Available in PRIME Green and Black.