We test and review fitness products based on an independent, multi-point methodology. If you use our links to purchase something, we may earn a commission. Read our disclosures.
I'll be very honest with you up front: Dietitians do not like the word "clean." The reason we don't care for it is that it's so widely used, but so rarely defined. Thus, it can be confusing for people who are just trying to find the right supplements and choose the right foods for their diet. To make it simple, let me just tell you that there is no official definition to what food or supplements are classified as "clean."
However, for our purposes, we're defining the word "clean" in this piece as it applies to protein powders to mean protein powder supplements that contain minimal amounts of unnecessary junk and ingredients that are just not backed by enough evidence to justify their inclusion. Clean protein powders are ideal because they can be better digested, contain higher quality protein, and have minimal allergens, which can only help you achieve your goals.
Our team of dietitians, personal trainers, and other health and fitness professionals only give you our honest opinions on supplements after actually trying them for ourselves. We are on a mission to be the supplement authority figures and guide you on your search for which protein powders are the cleanest, but also the science behind their formulations and our sincere experiences with the products themselves.
RELATED: Best Organic Protein Powder
So, let's take a look at what our team tested and selected to crown the best clean protein powders on the market today.
Medical disclaimer: This article is intended for educational and informational purposes only. It is not intended as a substitute for medical advice. For health advice, contact a licensed healthcare provider.
Best Clean Protein Powder
Best Clean Whey Isolate Protein Powder: Transparent Labs Whey
Good for: People who want to know exactly how much of each ingredient they are getting
With a high protein ratio compared to weight, one of the highest protein-to-weight ratios in the industry, a serving of Transparent Labs whey protein isolate is 82% protein. Sourced from 100% grass-fed cows, this protein is free of hormones, pesticides, artificial sweeteners, dyes, gluten, or preservatives.
This is one of the purest clean whey isolate protein powders available, and it's from a reputable brand. Transparent Labs also pays homage to its name by showing the weight of each ingredient right on the label, which is very uncommon for similar protein powders.
RELATED: Best Whey Protein
It is important to recognize that there hasn't been any evidence that supports the claim that the amino acids in grass-fed whey are superior to those in regular whey, which is understandable since it hasn't been proven that a cow's diet affects the quality of its milk protein.
However, whey protein that is grass fed is an attractive asset if you're looking for a clean whey protein isolate and care about sustainable sourcing and animal welfare. This is because grass fed means the dairy has not come from factory farmed cows, does not contain hormones, and has a smaller carbon footprint.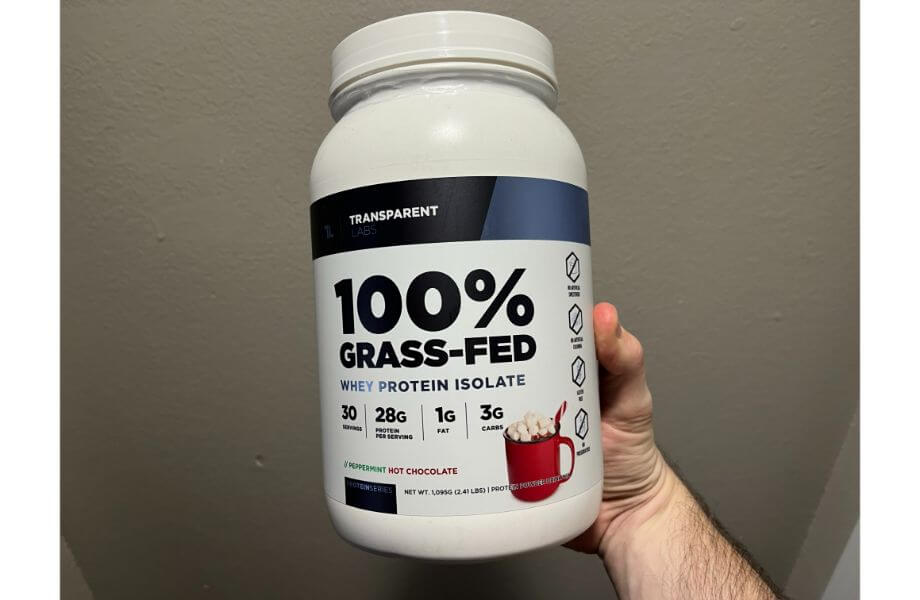 Finally, it comes in a nice variety of flavors while keeping the list of ingredients short throughout all the options, though it should be noted that the product contains Himalayan rock salt as a flavoring agent, which increases the sodium content slightly.
Anthony O'Reilly, GGR performance editor and expert product tester, is a big fan of this protein powder. "I haven't experienced any stomach or digestive issues after drinking it as I sometimes do with other whey protein powders—several customer reviewers said the same thing. It mixes incredibly well with milk or water, and I can say that I feel full for quite a while after downing a protein shake."
Check out our full Transparent Labs Protein review for a more in-depth look.
| | |
| --- | --- |
| Price Per Serving | $2.00 |
| Flavors | Milk chocolate, chocolate peanut butter, french vanilla, strawberry, mocha, vanilla peanut butter, cinnamon french toast, oatmeal chocolate chip cookie |
| Main Protein Source | Grass-fed whey protein isolate |
| Protein Per Serving | 28 g |
Best Plant-Based Clean Protein Powder: Ritual Essential Protein 18+
Good for: Anyone who follows a plant-based lifestyle and wants protein on hand at all times
We'll be honest: One of the big reasons why we chose Ritual Essential Protein 18+ as our favorite clean plant-based protein powder is that it tastes much better than other plant-based powders we've tried—and we've downed more than two dozen of the best vegan protein powders.
"Even just with water, this has a nice taste," says GGR Head of Content and competitive weightlifter Kate Meier, who tried the Vanilla flavor. "It's not super plant-y or hemp-y like some plant-based proteins are. Mixed in a smoothie, the taste is definitely detectable, but not overly strong."
Kate awarded it a 5 out of 5 on taste and solubility, saying, "This has a shockingly great consistency. It's not thick, but it's not watery like some proteins are."
The formulation earns Ritual yet another 5 out of 5 with each scoop providing 20 grams of protein, minimal carbs and fat, and a short and no-nonsense ingredients lists.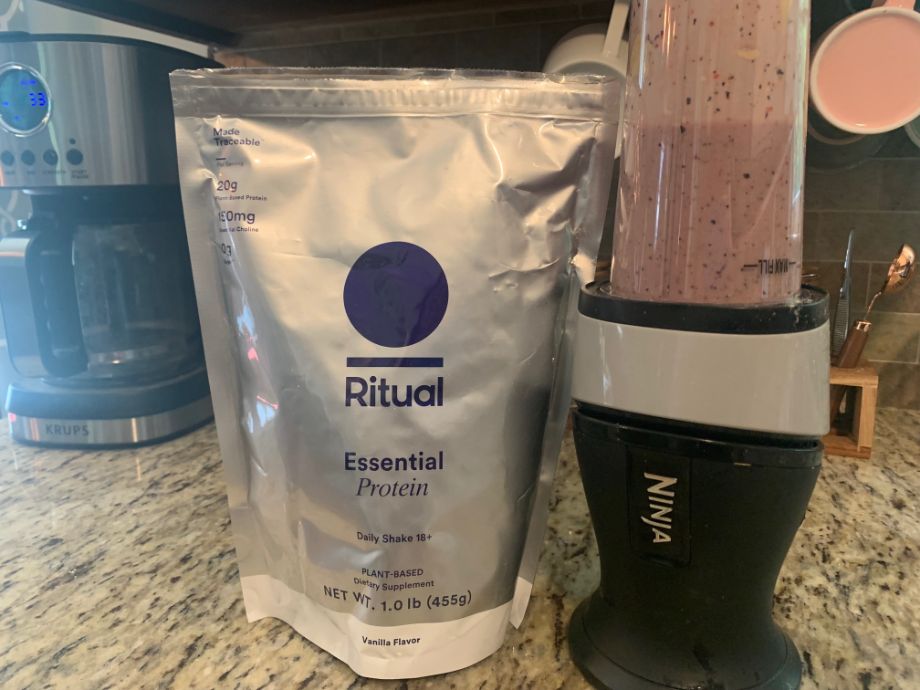 Ritual uses pea protein for its plant-based protein powder, which is a somewhat controversial choice. Yes, it contains all nine essential amino acids needed for muscle growth but it's low in methionine and cysteine. This shouldn't be too much of a problem so long as you're eating other foods high in these amino acids, such as nuts, seeds, and grains.
Also, Ritual is a subscription-based company and you only get 15 servings per container.
| | |
| --- | --- |
| Price Per Serving | $2.67 |
| Flavors | Vanilla |
| Main Protein Source | Pea protein |
| Protein Per Serving | 20 g |
Best-Tasting Clean Protein Powder: Legion Whey+
Good for: People who want a clean, tasty protein powder
Certified personal trainer and GGR performance editor Anthony O'Reilly said Legion Whey+'s Cinnamon Cereal flavor tastes like the bottom of a bowl of Cinnamon Toast Crunch. "It's almost exactly like what the milk tastes like when you've let the cereal sit for a while and the flavor seeps into the milk," says Anthony, who awarded the taste a 5 out of 5. "I've also used it to make a protein French toast recipe that you can find in my Legion Whey protein review."
With more than 17 flavors available, you're bound to find one that will satisfy your taste buds.
Legion takes every step possible to ensure they're producing a clean protein powder that tastes good and is good for you. It has a Truly Grass-Fed certification, which means the cows that produce the dairy are free to graze on grass as nature intended; has a third-party testing certification by Labdoor, guaranteeing that it's free from harmful toxins and banned substances; and is free of artificial growth hormones and GMOs (genetically-modified organisms).
Let's touch on the grass-fed certification for a second. While the term has become a bit of a buzz word in the fitness community there are studies that show grass-fed cows produce milk that's higher in antioxidants than dairy from grain-fed cows, according to registered dietitian Laila Ouldibbat.
Legion also uses whey protein isolate, which is a type of protein that's had most of the lactose removed from it—making it a good option for people with dairy sensitivities.
The nutritional content varies by flavor, but you're getting at least 20 grams of protein no matter which one you pick and a moderate amount of carbs and fat.
| | |
| --- | --- |
| Price Per Serving | $2 |
| Flavors | 17 |
| Main Protein Source | Whey protein isolate |
| Protein Per Serving | 20-24 g (varies by flavor) |
Best Clean Vegan Protein Powder: KOS Vegan Protein Powder
Good for: People looking for a nutritionally similar, plant-based substitute to whey protein
Competitive triathlete and certified personal trainer Amanda Capritto says this is one of the few vegan protein powders that she'll reach for over some whey-based protein supplements, which is saying a lot. Aside from the 20 grams of protein per serving, it has a complete amino acid profile that closely mimics whey thanks to the combination of organic chia seed protein, organic pea protein, organic flax seed protein, organic pumpkin seed protein, organic quinoa protein
This is huge considering vegan athletes have to be extra careful to get in all the essential amino acids they need.
"It's pretty rich, which I feel is rare with plant protein powders," Amanda says of the chocolate flavor, which she gave a 3.5 out of 5. "Even with water the taste is decent."
RELATED: Best Protein Shakes
KOS has a longer ingredient list than you might see on most clean protein powders but we assure you there's no cause for concern. It has a Superfood and Vitamins and Mineral blend, both of which provide a good amount of vitamins and minerals needed by vegan athletes and plant-based people to support training and everyday activities.
There's also a digestive blend enzyme, which Amanda says may have helped in reducing digestive discomfort that's sometimes felt with plant-based protein powders.
You can learn more in Amanda's KOS vegan protein review.
| | |
| --- | --- |
| Price Per Serving | $2 |
| Flavors | Blueberry muffin, chocolate, chocolate chip mint, chocolate peanut butter, salted caramel coffee, vanilla, unflavored |
| Main Protein Source | Organic chia seed protein, organic pea protein, organic flax seed protein, organic pumpkin seed protein, organic quinoa protein |
| Protein Per Serving | 20 g |
Best Clean Collagen Protein Powder: Transparent Labs Grass-Fed Collagen Hydrolysate
Good for: People who want a protein supplement with multiple functions
Transparent Labs Grass-Fed Collagen has two types of collagen—types I and III—both of which have been linked to healthier skin, reduced muscle aches and decreased joint pain. Each scoop provides 11 grams of collagen and 10 grams of protein, though it should be noted that collagen is not a complete protein source since it's low in the essential amino acid tryptophan. Tryptophan is used by the body for energy regulation.
Certified sports nutrition coach and GGR senior staff writer Amanda Capritto says this collagen supplement tastes good when mixed with just about anything other than water—unless you like the taste of watered-down chocolate milk. The flavor is a 5 out of 5 when mixed with almond milk or greens powder.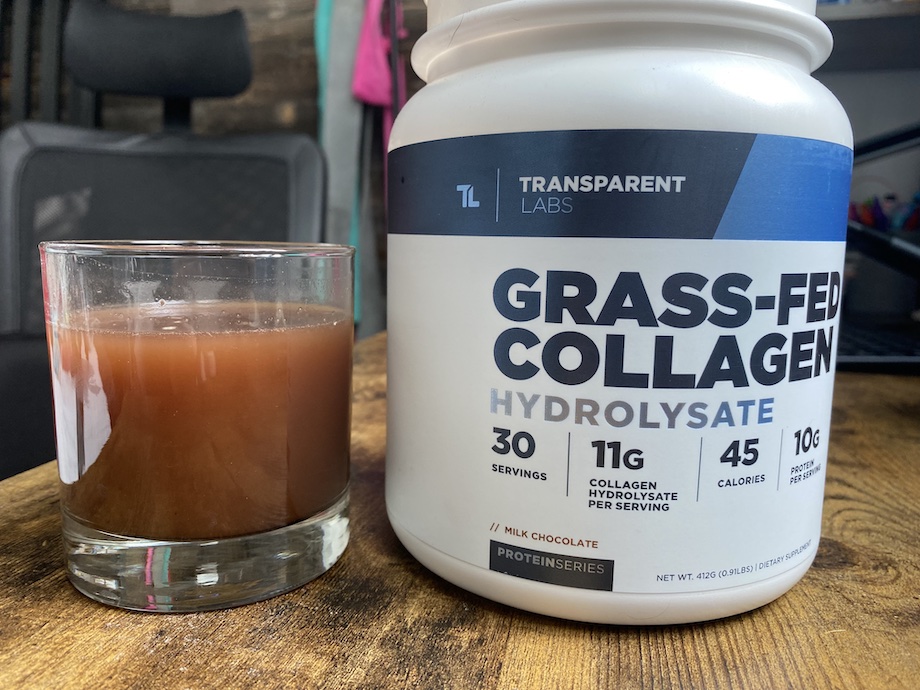 The mixability earns another 5 out of 5, though Amanda says it's "a little scary" at how well this mixes into just about any liquid. "The stuff is virtually unnoticeable when mixed with another powder, like protein powder," she says.
Transparent Labs collagen follows the company's mission of providing high-quality supplements with minimal ingredients and maximum transparency. Other than collagen the only other ingredients are natural flavors, stevia, and cocoa powder. Heck, they even tell you the weight of all their ingredients right on the bottle.
RELATED: Best Low-Carb Protein Powders
| | |
| --- | --- |
| Price Per Serving | $1.17 |
| Flavors | Chocolate |
| Main Protein Source | Grass-fed bovine with types I and III collagen |
| Protein Per Serving | 10 g |
Best Clean Protein Powder for Athletes: Klean Athlete Klean Isolate
Good for: Athletes who need a third-party tested and versatile way to supplement their protein intake
At $2.87 per serving, this is another one of the more expensive supplements on our list, but it comes with a strong reputation, as Klean is a high-quality health supplement brand that is highly respected in the world of serious athletes.
It also only contains two ingredients: whey protein isolate and sunflower lecithin to help with mixability. This gives Klean isolate an impressive protein-to-weight ratio as a single scoop is 22 grams and 20 grams of that is whey protein. For the price, I would have liked to have seen a slightly higher protein content per serving, but at least you know you're not paying for fillers.
The unflavored option also gives it a lot of versatility in that it can be added to pretty much any food or beverage including smoothies, yogurt, oatmeal, coffee, soup—the list goes on! Klean promises it'll boost your protein intake without messing with the flavor of your food.
GGR staff writer, Olympic athlete, and expert product tester Caine Wilkes said, "I mixed it just with water to see how unflavored it was, and it's probably the most unflavored protein I've had. I could tell it wasn't just water I was drinking, but it didn't add anything but a slight protein taste. Perfect for mixing with shakes and smoothies."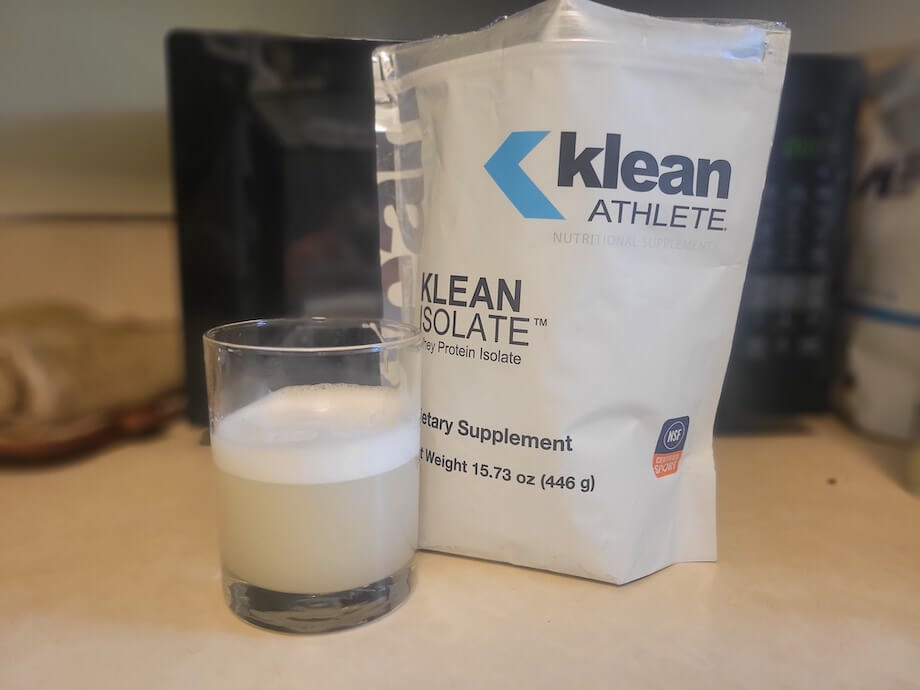 Klean Isolate is tested and certified by the NSF Certified for Sport program which makes it a prime option for athletes. What also makes it convenient for athletes specifically is that athletes tend to have to eat a lot of high-protein food and snacks along with taking several supplements throughout the day to build muscle.
So, if they have one less thing to worry about due to the ability to add Klean Isolate to pretty much anything they already planned on eating, it can save some effort put forth to meet their daily protein requirements and allow athletes to focus more on their training.
| | |
| --- | --- |
| Price Per Serving | $2.87 |
| Flavors | Unflavored, vanilla, chocolate |
| Main Protein Source | Whey protein isolate |
| Protein Per Serving | 20 g |
Best Clean Grass-Fed Protein Powder: Momentous Essential Grass-Fed Whey
Good for: Those who want a simple protein powder that is sustainably sourced and easily digested
Momentous' grass-fed whey is cold-pressed, which is a way of processing that prevents the protein from denaturing and preserves more amino acids and nutrients from the milk product. According to Momentous, this allows the protein to be digested more efficiently.
Speaking of digestion, Momentous also includes a compound called Prohydrolase in its protein powder. Prohydrolase is a blend of digestive enzymes called proteases which function to break down protein molecules during digestion.
This means that Prohydrolase, when taken along with whey protein, can increase the levels of BCAAs (branched chain amino acids) in the blood faster and allow the muscle to uptake these amino acids quicker. It can also support smoother digestion of your protein supplement.
These findings seem to be supported by a study conducted in 2020, which gave ProHydrolase to a group of males who engaged regularly in strength training. It was concluded that ProHydrolase did, indeed, increase the blood levels of amino acids more quickly compared to the placebo that didn't include digestive enzymes7.
Studies conducted on the efficacy of ProHydrolase recommend the clinically effective dose of 10 milligrams of ProHydrolase for every 1 gram of protein, so you can't say this protein powder isn't evidence-based! Finally, Momentous' protein powder is third-party tested by two different labs: NSF for Sport and Informed Choice.
| | |
| --- | --- |
| Price Per Serving | $2.70 |
| Flavors | Unflavored, vanilla, chocolate |
| Main Protein Source | Grass-fed whey protein isolate |
| Protein Per Serving | 20 g |
Best Personalized Clean Protein Powder: Gainful
Good for: People interested in a protein customized to their fitness goals
I've never heard of anyone selling customized protein powder before, which makes Gainful a very interesting brand. According to Gainful, by asking the same types of critical questions that dietitians use when designing individual nutrition plans, they blend nutrition science with individual nutrition considerations.
RELATED: Orgain protein powder review
They do this by gathering information from you before you purchase their whey protein and tailor your protein needs based on your weight, activity type, duration, and intensity level. This is done with the justification that they want their protein powder to fit your unique fitness and wellness goals. You'll also be assured there are no extra and unnecessary ingredients that don't necessarily fit what you're trying to get from your supplement.
It is because every individual's body responds differently to different combinations of nutrients, and every diet is highly personal, individual, and complex, that a personalized protein powder makes sense! No matter what formulation you end up with when your assessment is complete, you can be assured that each protein blend contains all nine amino acids and at least 19-27 grams of protein.
You can also be assured, and this is my favorite part, that your formulation has registered dietitians involved who will even give you suggestions on your eating habits. Why is it so clean? Gainful promises that any given protein formula they make will contain seven ingredients or less with some protein blends containing as little as two.
Nicole Davis, GGR senior editor and expert product tester, was not impressed by how clump it was, but was impressed with the customizable flavors. "This is good! I like that you can control how much flavor you want in each shake via the packs, and even mix them, like chocolate and vanilla for instance," she said. "I mixed it with milk as suggested on the instructions and all flavors have tasted good—even Sea Salt Caramel, which is not something I'd normally choose."
| | |
| --- | --- |
| Price Per Serving | Varies by formulation |
| Flavors | Strawberry cream, madagascar vanilla, rich chocolate, caffè mocha, cookies & cream, chocolate peanut butter, cinnamon toast, and sea salt caramel |
| Main Protein Source | Varies by formulation |
| Protein Per Serving | 19-27 g |
Best Clean Casein Protein Powder: Naked Nutrition Casein
Good for: Individuals looking to optimize muscle recovery and hunger control
There's no way we could make a list of clean protein powders without including Naked Casein which has only one ingredient: Micellar casein. That's it! No flavors, no emulsifiers, no sweeteners, nada. What you do get at a surprising low price, however, is 26 grams of high-quality protein.
Casein protein is also a sneaky device that can be used to assist in muscle recovery. Since it is a slow-digesting protein, studies have shown that when casein is taken before bed, it provides a steady dose of amino acids to the muscles through the night to prevent muscle soreness and catabolism4. This slow digestion can also help with hunger control, which can make casein useful on a weight loss journey.
Now, the key difference between whey and casein (aside from the speed of digestion) is their composition. Whey is made when milk has been heated, the curds are skimmed off and the liquids that are left are dried and powdered. With casein, the protein is derived from those curds.
That said, the lactose content is higher in casein, so many people with milk sensitivities may not tolerate it in the tummy as well as they would whey. However, this varies from person to person, but basically, if you tend to eat dairy free products, tread lightly with casein protein. At the very least, with Naked, you don't have to worry about superfluous ingredients messing with your digestion.
Amanda Capritto, GGR staff writer and expert product tester, likes to mix it with chocolate syrup. She also says, "it makes for a FANTASTIC chocolate mug cake!"
| | |
| --- | --- |
| Price Per Serving | $1.66 |
| Flavors | Unflavored |
| Main Protein Source | Casein |
| Protein Per Serving | 26 g |
Best Budget Clean Protein Powder: Earth Fed Muscle Ca-Cow Whey
Good for: Chocolate lovers who want an affordable, grass-fed protein powder
At $1.86 per serving, Earth Fed may not be the cheapest protein powder on the market but it's easily one of the most affordable clean protein powders. Most of our other top picks were closer to $2 per serving.
One serving of Earth Fed whey contains only four ingredients (Truly Grass Fed Whey Protein Isolate, Organic Cocoa Powder, Organic Stevia, and Sunflower Lecithin), but 22 grams of protein, 119 calories, 3 grams of carbs, and 2 grams of fat.
The protein contains no hormones, no artificial sweeteners and no added sugar, but is sweetened with non-GMO stevia to give it its great taste without the fillers and flavors. Our testers noted that not only is this protein easy to mix, but it has a great 5 out of 5 taste.
GGR Head of Content Kate Meier has been using Earth Fed Muscle protein for about five years. "This is probably the cleanest-tasting protein I've ever had," she said. "You can tell there isn't a bunch of crap in it. Also, even blended with water, this protein has a very smooth, rich taste. I can drink just this and water and be a happy camper!"
RELATED: Best-Tasting Protein Powders
Finally, despite their claim that their whey isolate is widely consumed by athletes, it does not appear that Earth Fed whey is third-party tested at this time. Third-party certifications are especially important for athletes, as they ensure the product doesn't contain banned substances.
| | |
| --- | --- |
| Price Per Serving | $1.86 |
| Flavors | Chocolate |
| Main Protein Source | Grass fed whey isolate |
| Protein Per Serving | 25 g |
Other Clean Protein Powder We Researched
Isopure Protein Powder Zero Carb
Thorne Whey Protein Isolate
How We Picked and Tested the Best Clean Protein Powder
Our goal when selecting protein powders for this list is that we wanted to offer something for everyone. Theoretically speaking, everyone would like their protein powder to be clean, but finding the products within that category that fit your specific needs and goals is arguably more important. Our team selected the brands on our list based on the following criteria:
Additives and Artificial Ingredients
This one is obvious. There's plenty of junk that doesn't serve much functional purpose in improving body composition, performance, or wellness in most commercial protein powders. However, the ones that can proudly call themselves clean keep the additives and synthetic ingredients to a minimum, so the product can be stripped down to what we are truly trying to consume: protein!
Protein Source
One other thing that non-clean (dirty protein?) powders have in common is they will sometimes throw in incomplete protein sources with a weak amino acid content as a filler just because those ingredients happen to be cheaper. So, they use subpar sources to pad the weight of the powder. See above with fillers. We wanted to select protein powders that give an adequate dose of the essential amino acids and BCAAs we need to perform optimally and support a healthy level of muscle mass.
Trusted Brands
We wanted to commit to recommending brands that are not only well known in the world of sports nutrition, but are also trusted in their integrity to make the best protein powders. The companies on this list we have either used personally in our practice as dietitians (I'll raise my hand there), trainers, athletes, or in other capacities. We've seen them work first hand! So, we would be remiss if we didn't pass off this information by name dropping the best in the industry of protein powders.
Benefits of Clean Protein Powder
Hunger Control
As mentioned earlier, protein like casein protein is slow-digesting. This means it hangs out in the stomach for a decent amount of time and can keep you feeling fuller for longer. So, thinking outside of using protein powder as a post-workout recovery tool, it can also be used as a weight loss tool to prevent overeating—and this applies to whey and plant-based products, too!
With this goal in mind, choosing a clean protein powder for these purposes can mean that, due to a low number of ingredients and extraneous fillers, the calories in clean protein powders tend to be low which can also help with maintaining a calorie deficit.
RELATED: Best Protein Powder for Weight Loss
Supports Faster Recovery
A clean protein powder may absorb faster than one with extra ingredients that gives the body more to sift through during digestion. Either way, science has shown that protein powder, specifically whey, absorbs faster than whole food sources of protein which results in better performance.
A study conducted in 2019 found a moderately positive effect on power and strength in athletes who took a protein supplement after training, rather than the athletes who only consumed beef or carbohydrates8.
Safer for Athletes
If you are an athlete who is drug tested either on a schedule or regularly, it's always a good idea to choose a clean protein powder that is third-party tested. In order to ensure that their protein powders are safe, brands that produce clean protein powders are usually tested by an outside lab to ensure that they do not contain any banned substances, even by accident (which does happen!).
Dosing and Interactions
When taken as directed, whey protein is likely to be safe for most adults. Several side effects can be experienced with high protein doses, including bowel movement changes, acne, nausea, thirst, bloating, sleep issues, and headaches. Generally, unless you have sensitivities to whey or milk, protein powder with these sources are generally very safe.
However, collagen-based protein powder has more potential for interactions. The use of collagen peptides is not recommended for anyone with a history of calcium oxalate kidney stones. Among collagen's components is hydroxyproline, which is converted into oxalate by the kidneys which significantly increases the chances of forming a stone for those who are prone to them.
Third-Party Testing
In order to be classified as "clean," protein powders do not need to be tested by a third party, but these certifications can provide you with an extra level of assurance.
Protein powder brands proudly bearing the seal of third-party testing are also letting you know an unbiased source has cleared the protein powder of containing heavy metals, banned substances, and other harmful ingredients that may have been accidentally added during processing or even put there intentionally.
Seriously, I've seen athletes lose out on draft placements because they were taking a protein powder that lacked third-party testing and ended up containing a banned substance which caused them to fail a drug test. This harmless mistake can be catastrophic for a college or professional athlete's career.
So, while third-party testing isn't a requirement for most people just trying to find a healthy protein product, I always tell my athletes to exclusively choose third-party tested protein powder to protect themselves. Luckily, there are plenty on our list to choose from.
Buying Guide: What to Look for in Clean Protein Powder
Number of Ingredients
Supplements on this list have been carefully selected to contain the fewest ingredients possible. Additives and fillers make protein powders dirty and that's the opposite of what you're here for if you're reading this! If you're looking for a clean protein powder, this should be the number one thing you look at on the nutrition label.
Cost
The dirty truth of the sports supplement industry is most—that's right, I said most—budget protein powders contain low-quality protein, not enough protein, or tons of cheap fillers to help the company save a buck. Therefore, clean protein powders tend to be a little more costly because the company values purity and is willing to incur the costs of production to give their consumers the cleanest product they can.
Nevertheless, there are a few on this list whose costs are comparable to those available at the store with a longer ingredient list. Our advice is to just make sure that if you're paying a premium price, you're getting a premium product. Start by looking at the amount of protein per gram and compare it to the grams in a serving of a scoop.
Carbohydrate and Fat Content
I think I've hammered you over the head enough that you're well aware that artificial ingredients, fillers, and additives do not equal "clean." A high carb and fat content don't not equal clean, but they are something to note when you're shopping around. It is ideal to have the protein in your protein powder as isolated as possible because, after all, you're paying for a protein supplement, not a carb or fat supplement. Unless you're trying to put on some muscle mass and need the extra calories, this is something to consider.
FAQs About The Best Clean Protein Powder
What is the cleanest form of whey?
When speaking about formulation, the fewer ingredients a protein powder is, the cleaner it tends to be. If you're looking for a purer protein powder, look for whey hydrolysate which is 99% protein, more than whey protein isolate or whey protein concentrate.
How do I know if my protein powder is clean?
Look at the ingredients list on the nutrition facts label and ask yourself if all of the ingredients serve a purpose, whether it be extra performance-based ingredients like creatine, natural sweeteners, or compounds to help with mixability like sunflower lecithin. If there's an excess of ingredients you don't recognize or the label does not explain why it's there, it's probably not clean.
Is clean whey protein good for you?
Clean whey protein can be great for people who have trouble digesting lower quality protein powder. Most protein powders that are properly sourced and thoughtfully formulated can be good for you, provided you are supplementing with it correctly.
These statements have not been evaluated by the Food and Drug Administration. This product is not intended to diagnose, treat, cure, or prevent any diseases.
References