We review free products that we receive and participate in affiliate programs, where we may be compensated for items purchased through links from our site.
See our disclosures page for more information.
The Rep Fitness AB-5000 ZERO GAP Adjustable Bench
is, put simply, one of the best adjustable benches for the money on the market. Featuring a variety of unique features including a wider pad, sliding seat, stainless steel wear guards, a variety of angles, and just an overall high-end fit and finish, this bench is one of our favorites that we've ever tested.
Rep Fitness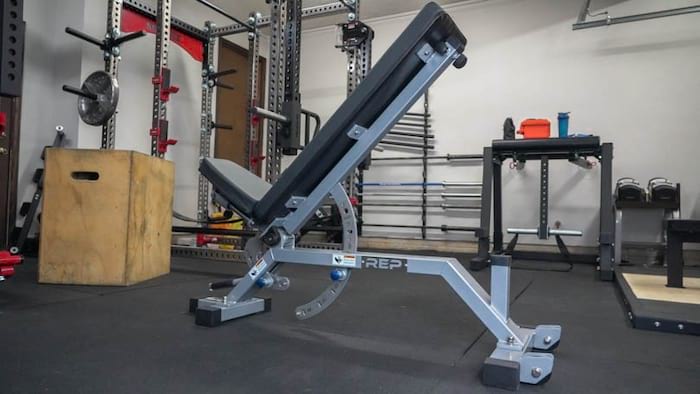 Rep AB-5000 ZERO GAP Adjustable Bench
The REP AB-5000 ZERO GAP Adjustable Bench is the best adjustable bench, period. Commercial grade paint, steel, vinyl, and padding is combined with rock solid stability. Our flagship adjustable bench incorporates a unique patent-pending adjustment mechanism for zero pad gap in all positions. The seat is able to slide along the frame and completely eliminate the traditional annoying seat gap found on virtually all competing products. 11 gauge steel frame with a 1,000 lb capacity 7 back pad adjustments and 4 seat pad adjustments with laser cut degree markings on a stainless steel wear guard 17.5″ to top of pad in flat position. Footprint is 21" x 57" 12" Back Pad Width Unique pop-pin and bearing system adjustment for zero gap between seat and back pad. Adjusts in 1 second Urethane grip handle and wheels for easy maneuverability Simple 20 minute assembly with a wrench and allen key (provided). 4 bolts attaching the base to frame, and 10 bolts attaching pads to frame. Everything else is pre-assembled
Unboxing
The Rep AB-5000 Adjustable Bench showed up in front of my garage (my UPS guys don't even bother bringing things to my door anymore) after much anticipation. Rep Fitness has been hyping this bench for sometime and it was finally in.
The box was branded well, a cool touch I always like, and upon opening, I was pleasantly surprised to find it partly assembled and well protected to prevent much damage.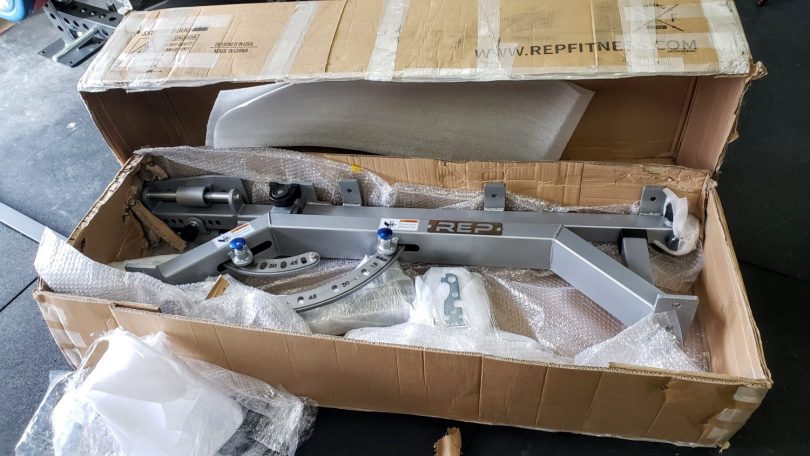 Due to the bench being partly assembled, assembling the rest of the bench took hardly any time at all. It's actually nice to assemble equipment as it allows me to see various features and build components that can be fully appreciated when you receive the equipment already assembled.
One thing is for sure, Rep Fitness took quite a bit of time designing this and I'm happy they did.
When assembled, I decided to take some beauty shots.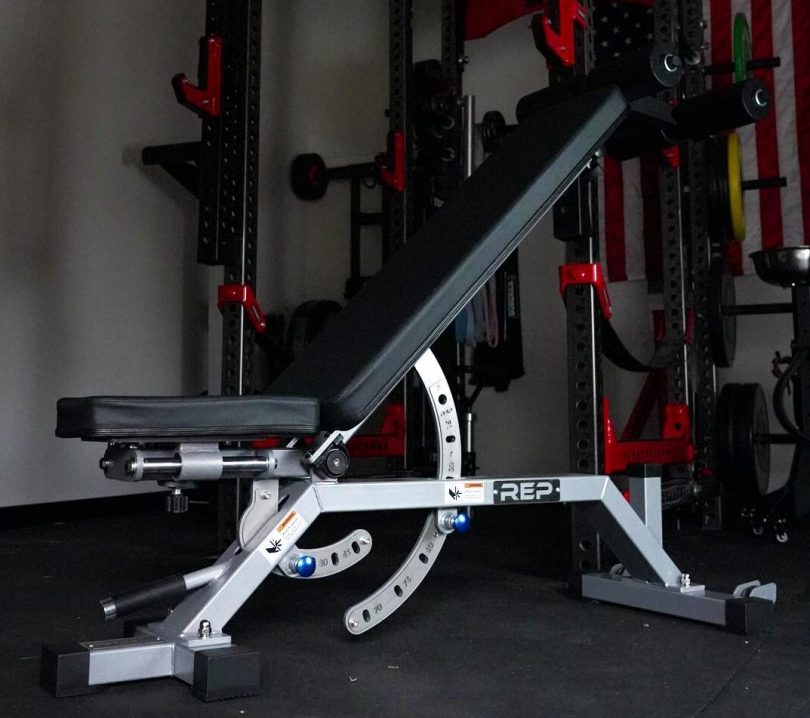 Now time to actually put it into use.
Rep Fitness AB-5000 ZERO GAP Adjustable Bench In-Depth Review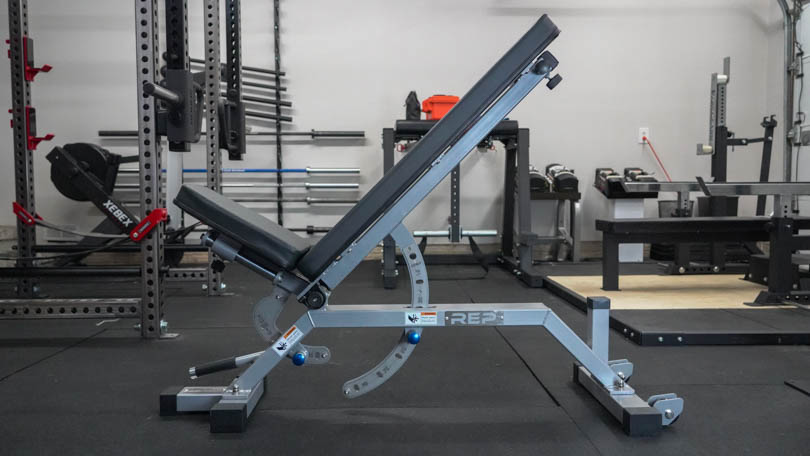 Rep Fitness is no stranger to the adjustable bench market.
We've reviewed their other benches in the past including the bench we previously recommended as the best adjustable weight bench, the Rep AB-3000 FID Adjustable Bench.
The Rep FID Bench, although a great bench for the price, certainly left some room for wants. It didn't use a selectorized pin, had a slick and somewhat cheap bench top, and lacked some of the refinement you find on benches thriceits price…but then again the benches are two to four times its price and in all reality, does pretty much the same functions.
But, here was the big issue previously faced, you either went with a bench in the $300 range like the Rep AB-3000 or…you upgraded all the way up to a bench like the Rogue Adjustable Bench 2.0 for near $600 or the AB-2/AB-3 for $800+. That's a BIG difference when we're talking about an item that gives you a solid platform to press against.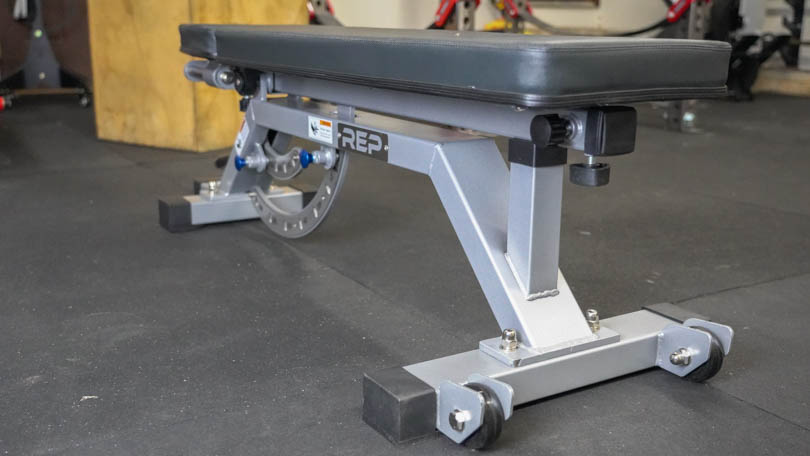 With about as dramatic of an entrance that can be made (Rep began teasing this bench over 6 months ago) the Rep Fitness AB-5000 ZERO GAP Adjustable Bench and it's cheaper sister, the AB-5100 bench we're revealed at sub $500 price-points. Rep knew what they were doing in pricing these benches the way they did as they will now pretty much own the in-between market for anyone looking to buy a high-quality adjustable bench without having to drop more on their bench than they did on their rack.
And here's the best part, even though the Rep AB-5000 Bench is priced rather economically (in comparison to its quality and features) it's as good or better than many benches twice its price. That's a value item we can get behind.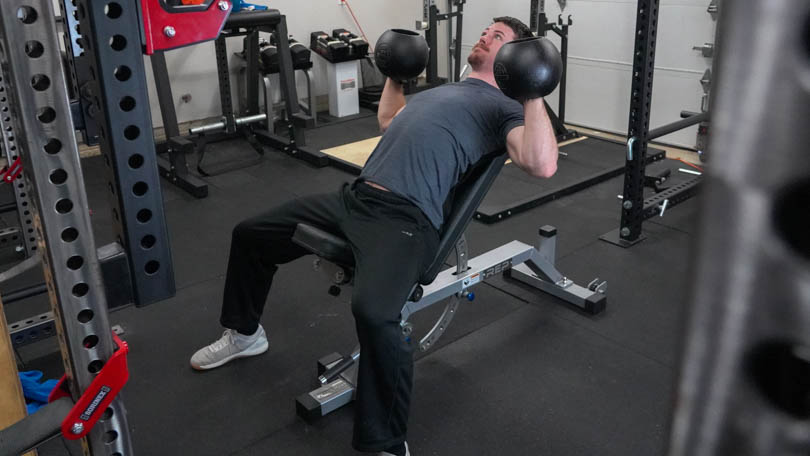 Let's dig into the benches features and build quality.
11 gauge steel frame with a 1,000 lb capacity
7 back pad adjustments and 4 seat pad adjustments with laser cut degree markings on a stainless steel wear guard
17.5″ to top of pad in flat position. Footprint is 21" x 57"
12" Back Pad Width
Unique pop-pin and bearing system adjustment for zero gap between seat and back pad. Adjusts in 1 second
Urethane grip handle and wheels for easy maneuverability
Simple 20-minute assembly with a wrench and allen key (provided). 4 bolts attaching the base to frame, and 10 bolts attaching pads to frame.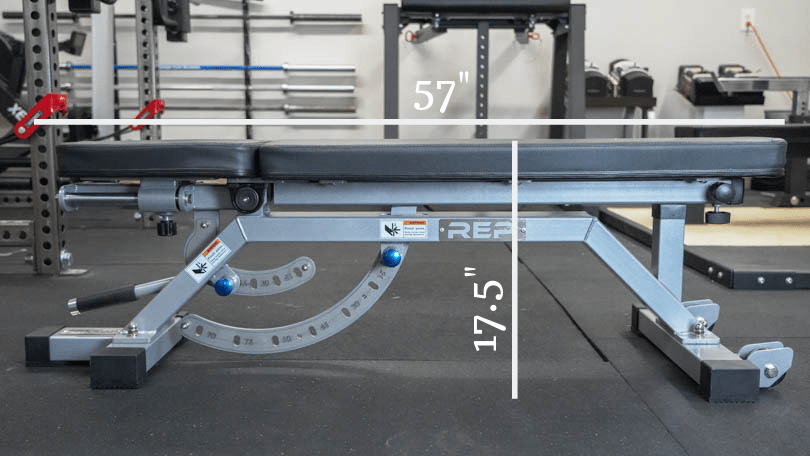 As the specs indicate, the top of the bench pad to the floor is 17.5". That's a .5" shorter than the competitor Rogue AB-2 Bench, which although small, is incredibly noticeable during flat benching for someone, like myself, who is under 6'. Rep Fitness has noticed some of the mistakes that Rogue has made with their benches (for instance, the Rogue Monster Utility Bench with Fat Pad is nearly 20" tall) and try to correct them with their products. The height of a bench is incredibly important and anyone who actually trains knows this.
The bench is 57" long which is actually pretty long, although the length of a bench is never much of an issue in my experience. The reason for the extra length of the bench is to prevent it from tipping backward when using the leg attachment (more on that in a moment.)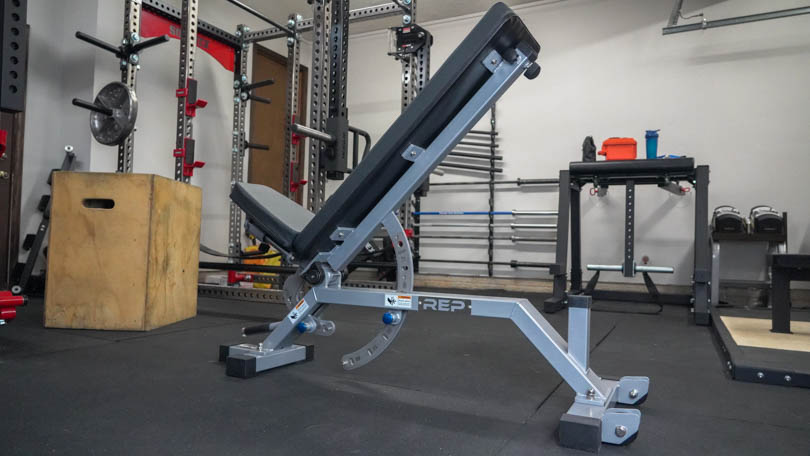 The pad sits upon an 11-gauge steel frame (likely the same gauge as your rack) and features a 1,000 lb capacity. Now, it seems like every bench these days has a 1,000 lb capacity; I don't know how they test this, but I can assure you this bench can hold up to much more than a 1,000 lb, not that you'll need it to. The 11-gauge, 2"x3.5" steel frame provides much-needed rigidity and gives the bench a clean look from the side.
The back of the bench frame uses a perpendicular 2"x3.5" steel piece to increase the stability of the bench which is needed as this bench will be used for ab work in addition to pressing.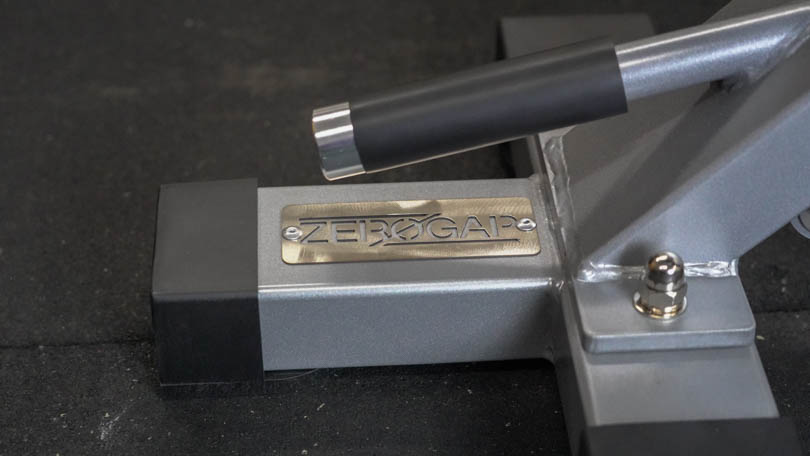 The front of the bench frame uses a unique foot that juts out to the side and the front. At first, I wasn't sure why they decided to add the extra piece in the front of the bench, but when you jump on the bench for decline or sit-up work, you realize that extra foot out front does a lot in preventing the bench from tipping backward. Thankfully, it doesn't interfere too much with my bench setup, although I don't foresee many serious powerlifters using an adjustable bench for flat benching when a stand-alone utility bench can be bought for so cheap. Each foot has a rubber cap that prevents the bench from slipping on the ground.
This said, there are no issues with using the AB-5000 bench as a flat bench, and one of the major reasons for that is the Zero Gap feature that I believe is the first time being brought to market.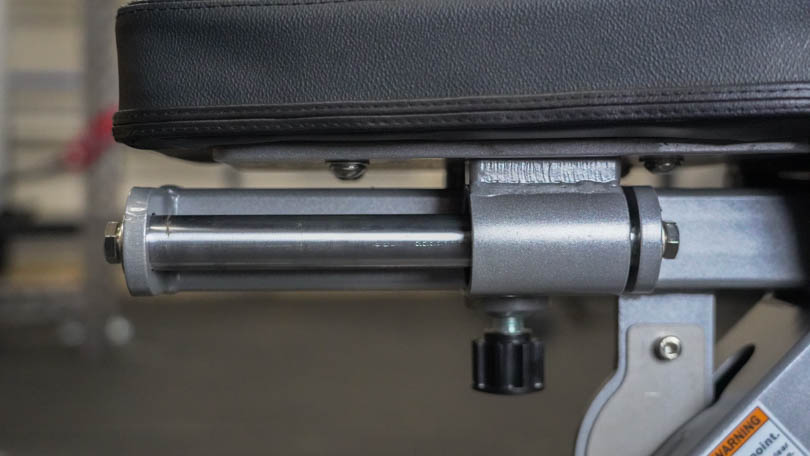 Far and away, the separator for this bench from the AB-5100 is the sliding bench seat. Rep Fitness absolutely knocked it out of the park with this feature. I was really worried that the slider would lead to a lot of play in the seat, not slide smoothly, not line up with the back pad, and just be a nice idea on paper, but not practical in the real world. However, I couldn't have been more wrong. The Zero Gap feature works so well, I foresee many companies copying the idea.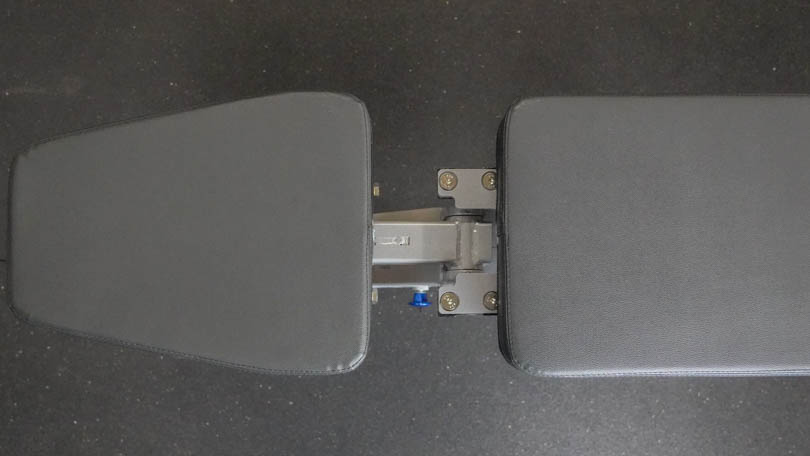 The seat sits on two guide rods, similar to what you'd find with a lat pulldown, and sandwiched between the seat and guide rods is a thick steel plate that allows the seat pad to always feel solid. Maneuvering the seat pad is pretty simple, unscrew and pull out the pin, slide the seat to your preference, push the pin in and screw it down. You now have zero gap between the seat and back pad at any angle, including zero degrees. I love this feature including the way it was done. They even made sure the guide rods don't stick out farther than the seat pad which could have been easily overlooked and quite a nuisance.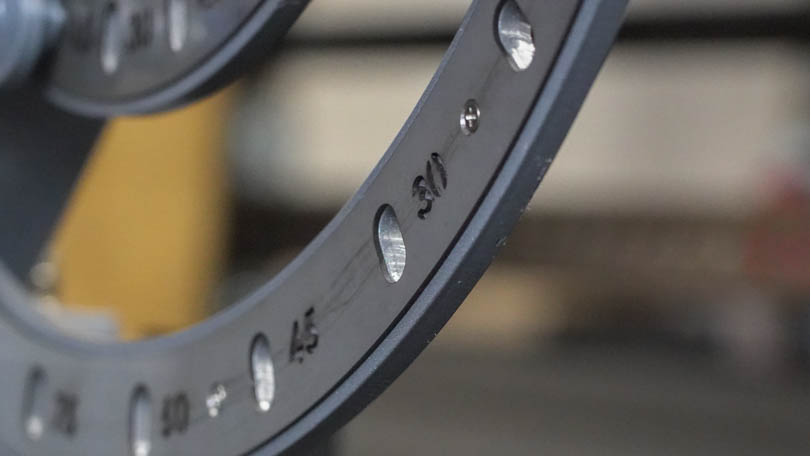 The seat pad features four adjustment angles including dropping down to clear room for decline work. The back pad has seven adjustment angles from 0-90 degrees. When flat, the bench rests on a vertical post that is yet another feature to increase the stability of the bench. I love how little side to side play there is, especially compared to the Rep AB-3000, and this bench isn't even that much more expensive than it.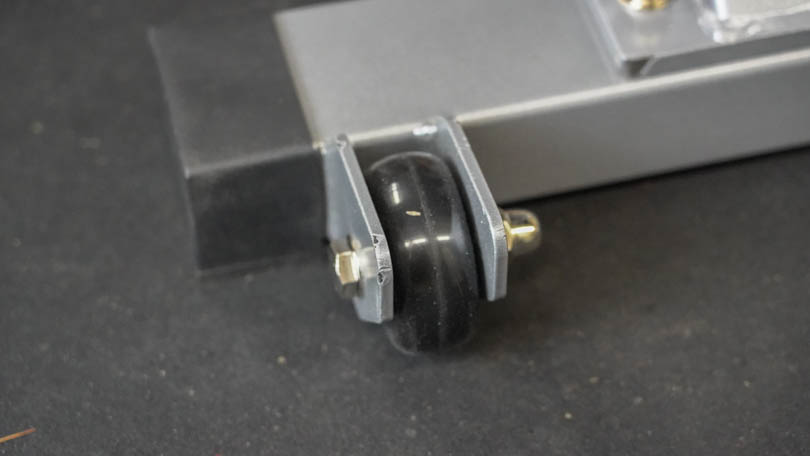 The bench features inline wheels on the back of the bench and they are shielded by two metal pieces that can also double as platforms for spotting on.
The adjustment piece that allows the bench to be sturdy while upright features a stainless steel wear guard with laser cut numbers. It looks and feels premium and should ultimately look that way for years to come thanks to the material used.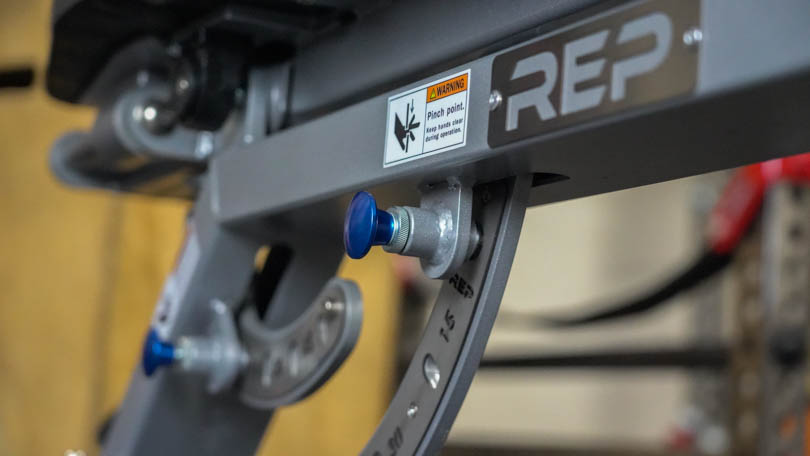 The mechanism that holds the bench in place at various angles is a steel pop pin with blue aluminum handles that provides some color contrast to the bench and works well. These are featured on both the back and seat pads.
The bench we received for review is the silver. I love the color options as adjustable benches typically just come in the standard black, unless you shell out a bunch of cash for a custom option. I foresee many people going with the red option, and looking back on it, I probably should have to as it matches the rest of my garage.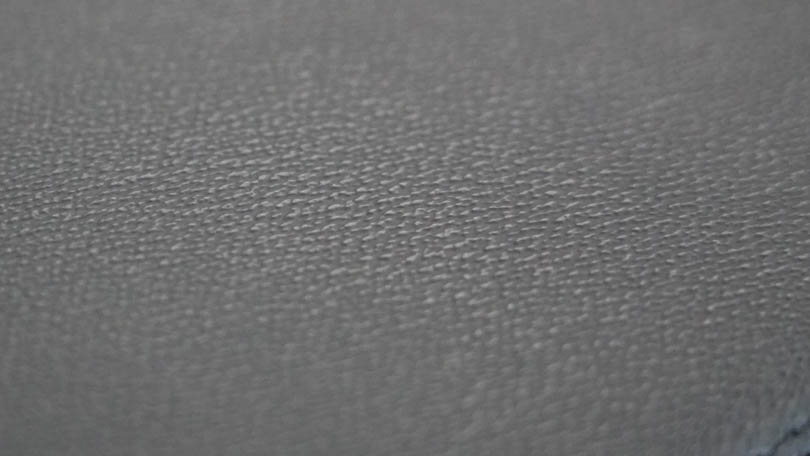 Now, there is one part of the bench I would have liked to see improved and that is the vinyl used on the seat and back pads. The vinyl is definitely a step up from what Rep uses on their AB-3000 Adjustable Bench, however, it's still slick. So slick in fact that during testing I took my shirt off while doing flat bench press because I kept sliding backward when my hoodie and shirt were on. The most annoying part of this is that the Rep FB-5000 Bench, our favorite flat bench has an awesome, grippy vinyl, but for the AB-5000 and AB-5100 they used a vinyl that is textured, but still slick.
Keep in mind that most of the time when using this bench it will be at an angle so that won't be much of an issue, but something to be aware of while it's flat. This certainly isn't a deal breaker for me as it's not hard to fix with some tacky spray, but I did want to point it out.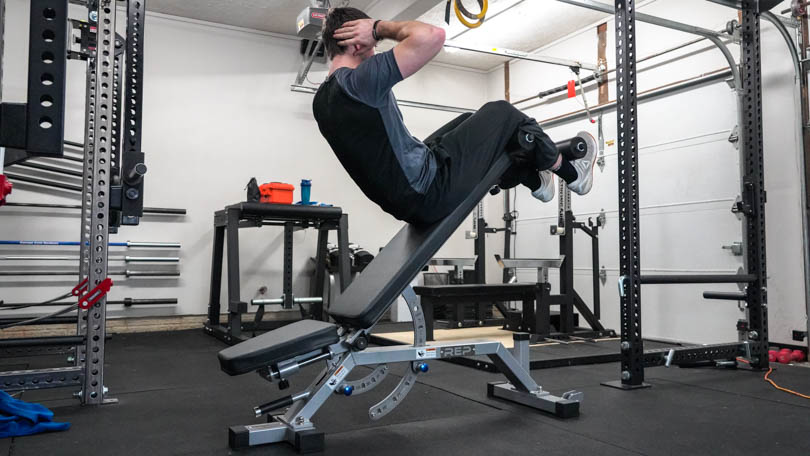 In use, the AB-5000 Bench is just about as good as you'd want an adjustable bench to be. It even has an optional leg attachment that allows the bench to be used for decline pressing, sit-upwork, and even Nordic curls.
I've had multiple people over to use the bench and get their opinions on it and many even preferred it over the Sorinex Adjustable Bench I have in the garage, which is saying a lot considering the price difference.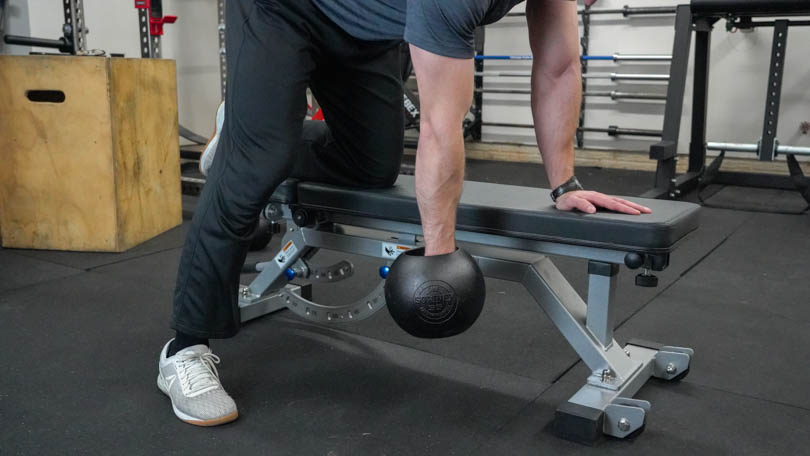 Overall, we highly recommend the Rep AB-5000 ZERO GAP or AB-5100 Bench to anyone that wants a high-quality bench at a reasonable price. In buying things for your garage gym, we typically suggest buying the best you can afford the first time. This time, we recommend buying this bench even if you can afford more because in reality, there's not much of a reason to spend more.
Suggested Improvements
The only improvement we'd like to see for the bench is having the option for a different vinyl covering. It's too slick in my opinion and in the opinion of others who have tested it.
Full Rating
Where to Purchase
Rep Fitness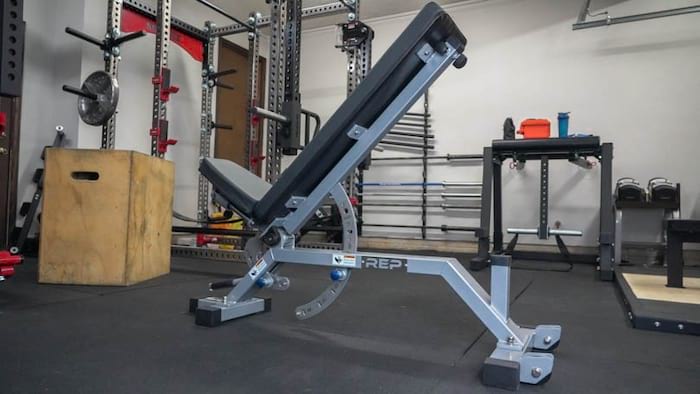 Rep AB-5000 ZERO GAP Adjustable Bench
The REP AB-5000 ZERO GAP Adjustable Bench is the best adjustable bench, period. Commercial grade paint, steel, vinyl, and padding is combined with rock solid stability. Our flagship adjustable bench incorporates a unique patent-pending adjustment mechanism for zero pad gap in all positions. The seat is able to slide along the frame and completely eliminate the traditional annoying seat gap found on virtually all competing products. 11 gauge steel frame with a 1,000 lb capacity 7 back pad adjustments and 4 seat pad adjustments with laser cut degree markings on a stainless steel wear guard 17.5″ to top of pad in flat position. Footprint is 21" x 57" 12" Back Pad Width Unique pop-pin and bearing system adjustment for zero gap between seat and back pad. Adjusts in 1 second Urethane grip handle and wheels for easy maneuverability Simple 20 minute assembly with a wrench and allen key (provided). 4 bolts attaching the base to frame, and 10 bolts attaching pads to frame. Everything else is pre-assembled