We test and review fitness products based on an independent, multi-point methodology. If you use our links to purchase something, we may earn a commission. Read our disclosures.
The REP Fitness AB-5000 Zero Gap Adjustable Bench is simply one of the best adjustable benches for the money on the market. What sets it apart from many other adjustable benches is the patented zero-gap feature that made it the first on the market to eliminate the gap between the seat pad and back pad.
There are a lot of other things we love about the Zero Gap: patented sliding seat, stainless steel wear guards, a variety of angles, back pad adjustments, and an overall high-end fit and finish. This REP Fitness AB-5000 Bench review details why it is one of our favorite benches that we've ever tested.
Why You Should Trust Us
When it comes to garage gym equipment, benches are one of my specialities. I have tested more than 100 benches, and I have also compiled a comprehensive guide for the best weight benches for home gyms.
I test adjustable benches for weeks–sometimes months–before deciding if they will get the Coop Stamp of Approval (trademark pending). I repeatedly put the REP Fitness AB-5000 Zero Gap to the test on bench presses, rows, step-ups, and many other exercises to assess how versatile and stable it is and have been doing so for more than two years.
REP Fitness AB-5000 Bench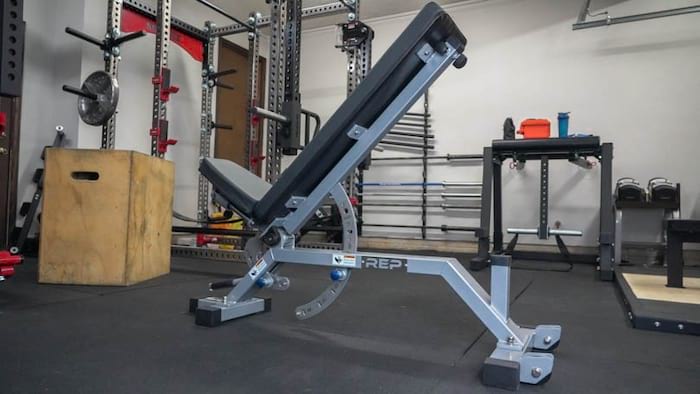 REP AB-5000 ZERO GAP Adjustable Bench
The REP AB-5000 ZERO GAP Adjustable Bench is the best adjustable bench, period. Commercial grade paint, steel, vinyl, and padding is combined with rock solid stability. Our flagship adjustable bench incorporates a unique patent-pending adjustment mechanism for zero pad gap in all positions. The seat is able to slide along the frame and completely eliminate the traditional annoying seat gap found on virtually all competing products.11 gauge steel frame with a 1,000 lb capacity 7 back pad adjustments and 4 seat pad adjustments with laser cut degree markings on a stainless steel wear guard 17.5″ to top of pad in flat position. Footprint is 21" x 57" 12" Back Pad Width Unique pop-pin and bearing system adjustment for zero gap between seat and back pad. Adjusts in 1 second Urethane grip handle and wheels for easy maneuverability Simple 20 minute assembly with a wrench and allen key (provided). 4 bolts attaching the base to frame, and 10 bolts attaching pads to frame. Everything else is pre-assembled
A Quick Look at the REP Fitness AB-5000 Zero Gap Adjustable Bench
The REP Fitness AB-5000 Zero Gap Adjustable Bench is made from 11-gauge steel and comes in four different commercial-grade paint choices. This $600 bench and its cheaper sister, the REP Fitness AB-5100 Adjustable Bench, proves that REP knew what it was doing in pricing these benches. They will now basically own the "in-between" market for anyone looking to buy a high-quality adjustable bench without having to drop more on their bench than they did on their rack.
This is a value item that we can get behind.
Coop's Tips
Add the optional leg attachment to make it a full FID bench.
Don't be afraid to go heavy,this bench has a claimed 1,000lb capacity, but could in reality go much higher.
Wait until the bench is assembled to tighten all of the bolts.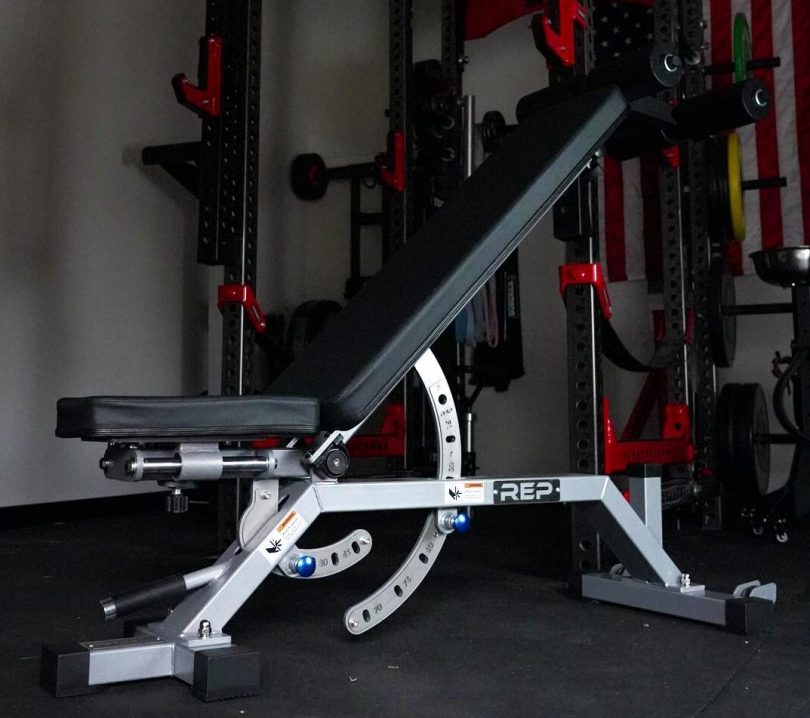 My Favorite Things:
There is truly zero gap between the seat and back pad at any angle, including zero degrees
Arrives partially assembled and sets up in about 20 minutes
High-quality for price
Made from 11-gauge steel
Sliding bench seat
My Callouts:
Not the cheapest adjustable bench on the market
This bench is heavy and therefore can be difficult to move around the gym for some.
Is the REP Fitness AB-5000 Zero Gap Adjustable Bench Worth It?
Absolutely! The REP Fitness AB-5000 Zero Gap Adjustable Bench is one of the best adjustable benches for the money on the market. It is where high quality meets affordability.
In buying items for your garage gym, we typically suggest buying the best piece of equipment you can afford. This time, we recommend buying this bench even if you have a bigger budget because there are very few reasons to spend more.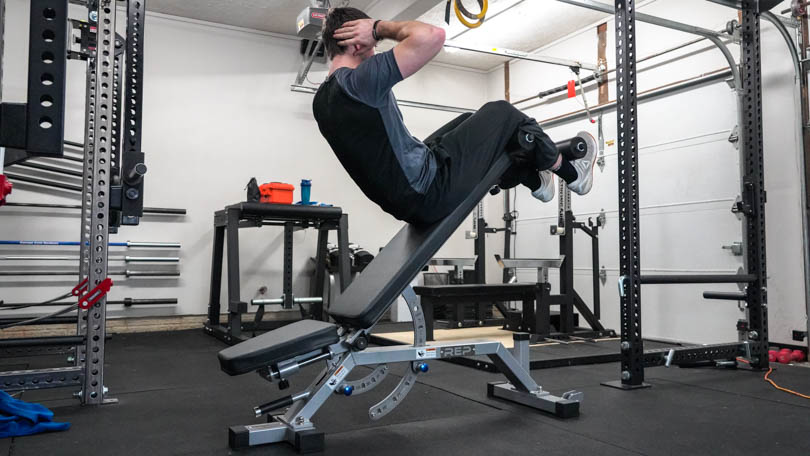 That said, we know this won't be the best fit for everyone.
Great for:
Anyone wanting a high-end bench that is moderately priced
Users under 6'
Those who will often need to move the bench
REP Fitness AB-5000 Adjustable Bench Specs
| | |
| --- | --- |
| Length | 57" (with feet) (total pad 53.5"; seat pad 15") |
| Back Pad Length | 38.5" |
| Back Pad Width | 12.25" |
| Seat Pad Width | 12" tapers to 8" |
| Height | 17.5" |
| Weight | 125lbs |
Using the REP Fitness AB-5000 Zero Gap Bench
It doesn't matter if your workout includes a barbell, dumbbells or kettlebells, or if you need to use it in decline positions or as an incline bench, the REP Fitness AB-5000 Zero Gap is a great bench. It even has an optional leg attachment that allows it to be used for decline pressing, sit-up work, and Nordic curls.
Stability
The front of the frame has a unique "foot" that juts out to the side and the front. Initially, I wasn't sure why they added the front foot. However, when you jump on the bench for decline or sit-up work, you realize that the front foot helps prevent the bench from tipping backward. It also helps the bench stay in place and not wobble when in use.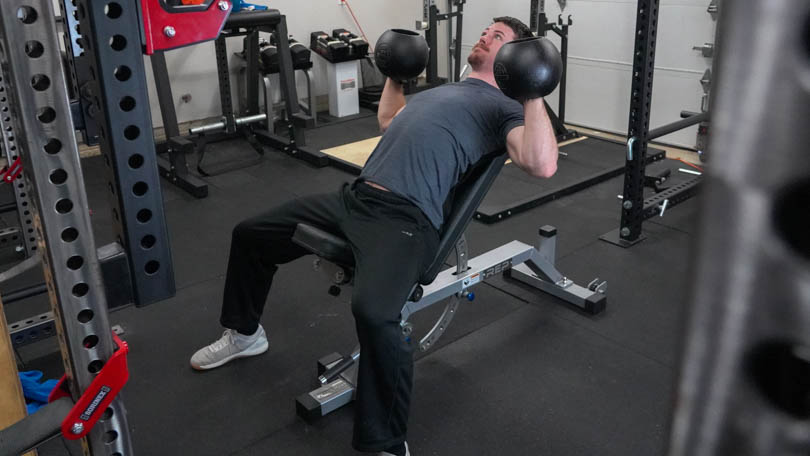 The back of the bench frame uses a perpendicular 2-inch-by-3.5-inch steel piece to increase the stability for movements like ab work. Each foot has a rubber cap that prevents the bench from slipping on the ground. Thankfully, this addition didn't interfere too much with my bench setup.
The bench is 57 inches long. While this is fairly lengthy, in my experience, it's not usually an issue. The reason for the extra length of the bench is to prevent it from tipping backward when using the leg attachment.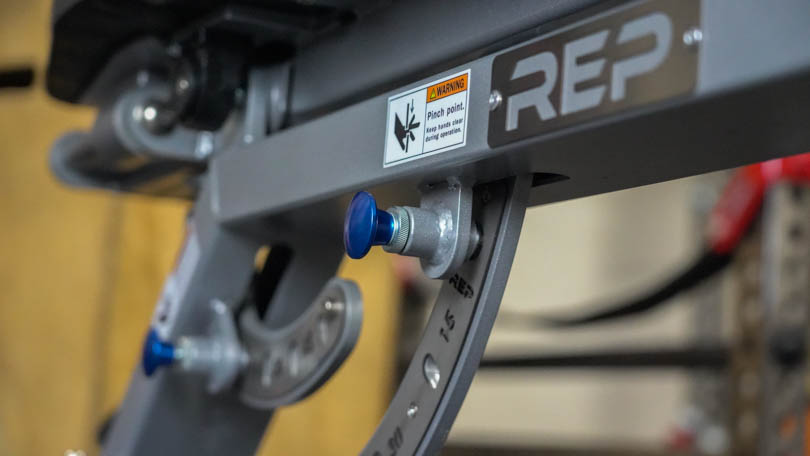 The stainless steel wear guard allows the bench to remain rock solid while in the upright position. REP used quality materials and laser cut numbers on the guard, giving it a long-last quality look and feel.
I love how little side to side play there is, especially compared to the REP Fitness AB-3000, especially since the AB-5000 isn't that much more expensive.
Using the AB-5000 Zero Gap as a Flat Bench
There are no issues with using this adjustable bench as a flat bench. One of the major reasons for that is the zero pad gap feature (I believe this is the first time the zero gap adjustable bench has been brought to market).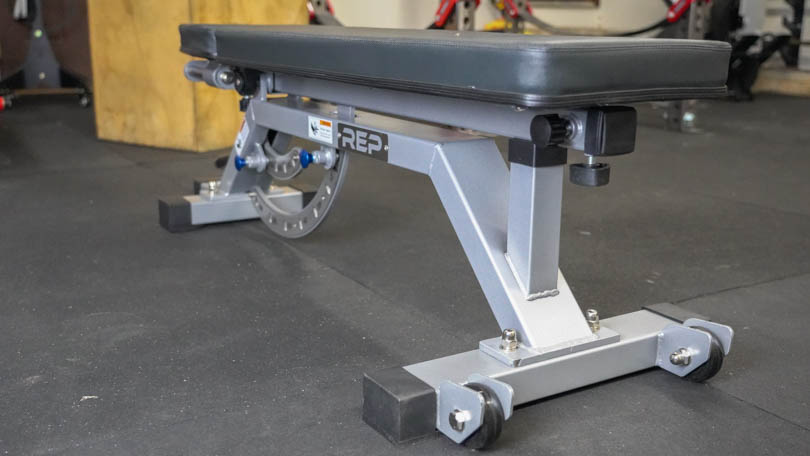 REP Fitness AB-5000 Zero Gap Adjustable Bench Construction
One of the reasons I love and recommend this bench is because of its solid construction.
The height of a bench is especially important to shorter athletes. REP Fitness noticed some of the mistakes that Rogue has made with their benches (for instance, the Rogue Monster Utility Bench with Fat Pad is nearly 20 inches tall) and has tried to correct them with their products. The top of the AB-5000 pad to the floor is 17.5 inches. That's 0.5 inches shorter than the Rogue Fitness's AB-2 Bench. Although it is a small difference, it is noticeable during flat benching for people under 6 feet, like me.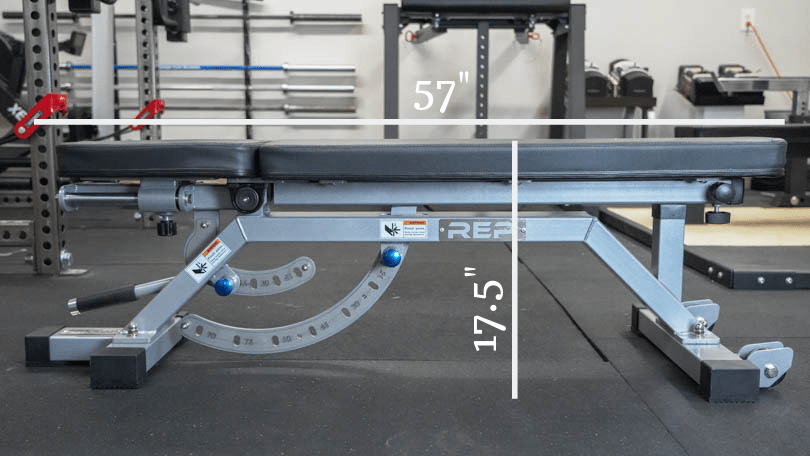 The 17.5-inch height also meets International Powerlifting Federation (IPF) standards for use in the flat position (16.5 inches-17.5 inches). However, I don't foresee many serious powerlifters using an adjustable bench for flat benching when stand-alone utility benches are considerably cheaper.
Frame
The frame is made from 11-gauge steel (likely the same gauge as your squat rack) and features a heavy duty 1,000-pound weight capacity. Nowadays, it seems like every quality bench has a 1,000-pound capacity. I don't know how a bench's capacity is tested, but I can assure you that this bench can hold much more than 1,000 pounds–not that you'll need it to. The 11-gauge, 2-inch-by-3.5-inch steel frame provides much needed rigidity and gives the bench a clean look from the side.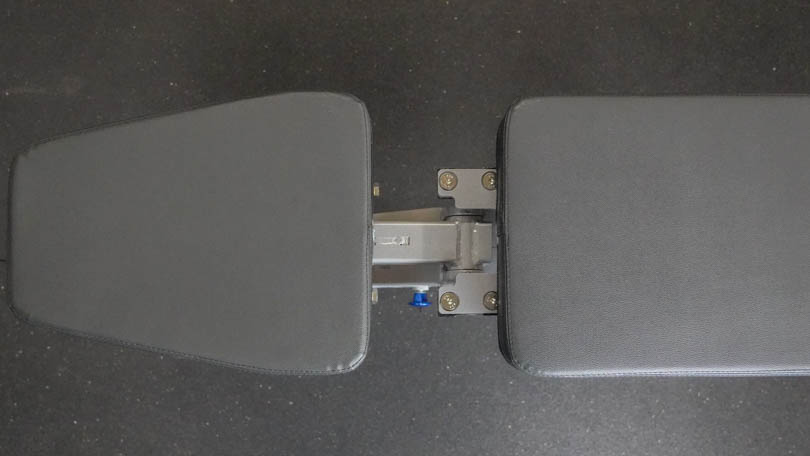 Creating Zero Gap
Far and away, the feature that separates the AB-5000 from the REP Fitness AB-5100 is the sliding bench seat. REP Fitness absolutely knocked it out of the park with this feature. I was really worried that the sliding seat would be a nice idea on paper, but that it wouldn't be practical in the real world. I was concerned that this feature would lead to a lot of play, that the seat wouldn't slide smoothly, and that it wouldn't line up with the back pad. However, I couldn't have been more wrong. In fact, the zero gap feature works so well, I foresee many companies copying the idea.
The seat sits on two guide rods, similar to what you'd find with a lat pulldown. Sandwiched between the seat and the guide rods is a thick steel plate that allows the seat pad to always feel solid.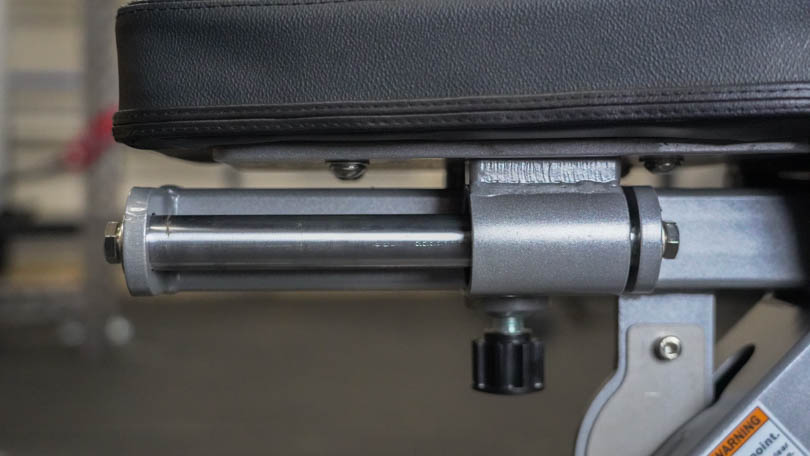 Maneuvering the seat pad is pretty simple (it adjusts in one second) thanks to the unique pop-pin and bearing adjustment mechanism. Zero gap between the seat and back pad at any angle, including zero degrees, is accomplished by unscrewing and pulling the pin, sliding the seat to your preference, pushing the pin in, and screwing it down.
I love this feature, including the way it was done. They even made sure that the guide rods don't stick out farther than the seat pad, which could have been easily overlooked and quite a nuisance.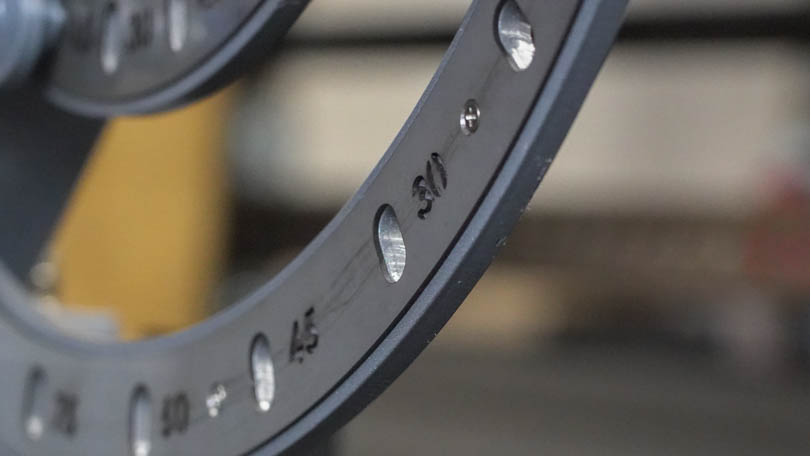 Adjustability
The AB-5000 Zero Gap features four seat pad adjustment angles including dropping down to clear room for decline work. The back pad has seven adjustment angles from 0-90 degrees. The laser cut degree markings on a stainless steel wear guard make the adjustments easy to see as well as easy to remember for where your preferred setup is.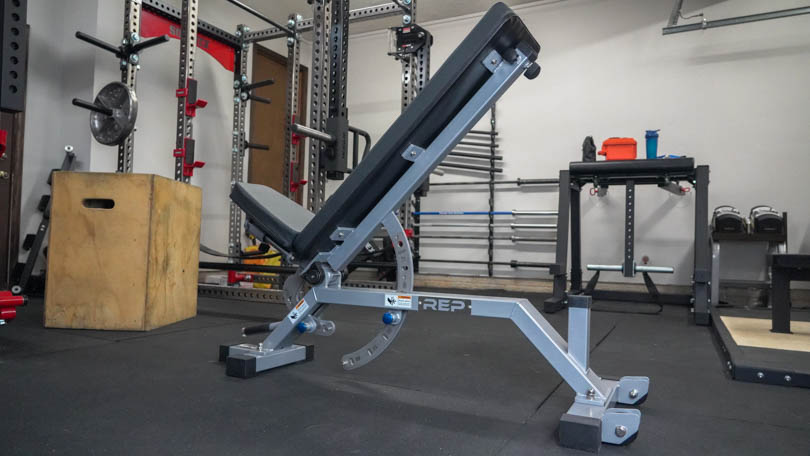 Additional Features
The bench we received for review is silver. I love that REP Fitness offers four color options: metallic black, matte black, red and blue. Adjustable benches typically only come in the standard black unless you shell out a bunch of cash for a custom option. I foresee many people going with the red option. Looking back on it, I, too, probably should have gone with red, as it matches the rest of my garage.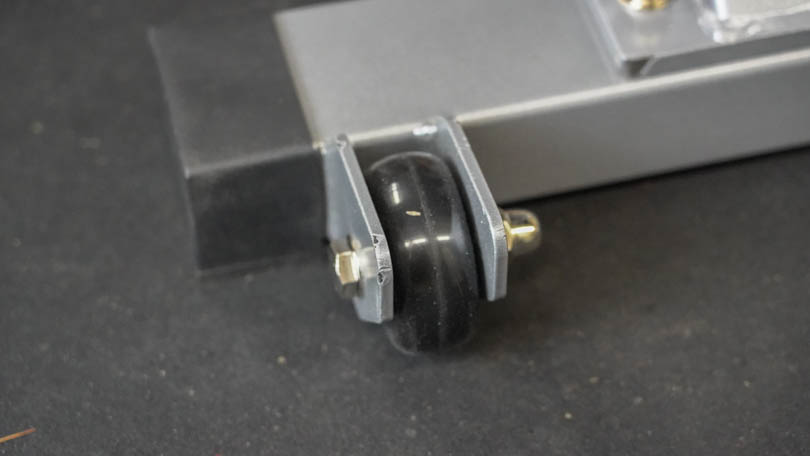 The bench's in-line wheels and urethane grip handle allow for easy maneuverability. The wheels are shielded by two metal pieces that can also double as platforms when a spotter is being used.
The bench is held in place at various angles by a steel pop-pin with blue aluminum handles. These are featured on the back and on the seat pads. I like the color contrast that the handles bring to the bench.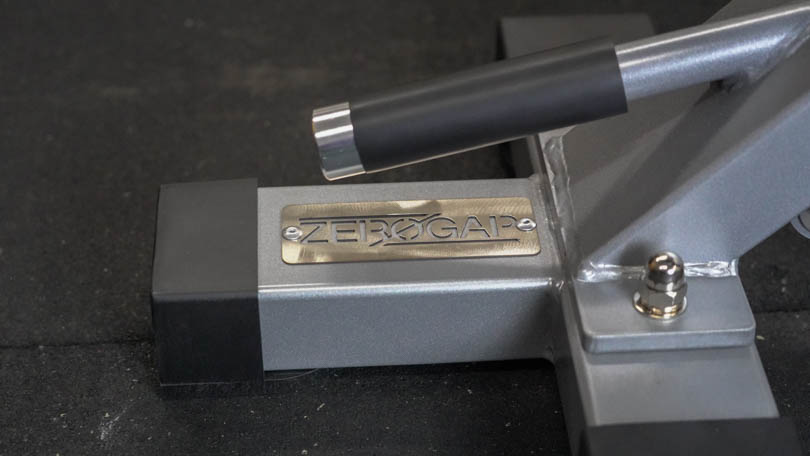 Vinyl Covering
When we initially reviewed this bench, we had major gripes about the vinyl. It was slick. In fact, it was so slick that when I was testing it, I had to take my shirt off while doing flat bench presses because I kept sliding backward with my shirt on.
We knew that the REP FB-5000 Competition Flat Bench, one of our favorite flat benches, had an awesome, grippy vinyl, and couldn't understand why this wasn't on the AB-5000. Fortunately, since we published this review, REP upgraded the vinyl to be the same grip-tastic material we know and love.
A Look at REP Fitness Adjustable Benches
REP has identified the quality and affordability issues in the adjustable bench market and seems to be working diligently to address them. REP Fitness was founded in 2012 by two brothers who saw a need for quality home gym equipment at an affordable price, and that is exactly what the REP AB-5000 Zero Gap offers: quality and affordability.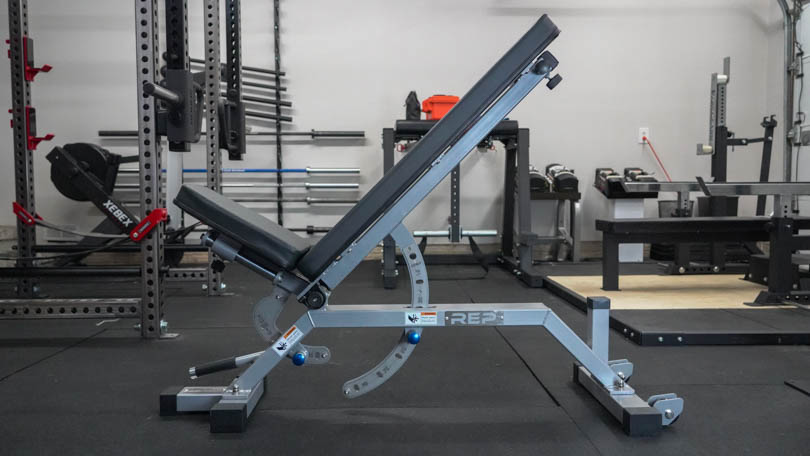 In the past nine years, REP has become a player in the adjustable bench market. We've reviewed some of their other benches in the past, including the bench we previously recommended as the best adjustable weight bench, the REP AB-3000 FID Adjustable Bench.
While the REP AB-3000 FID Adjustable Bench is great for the price, it certainly left room for some improvements. REP AB-3000 FID Adjustable Bench didn't use a selectorized pin, and it had a slick and somewhat cheap bench top. REP's FID bench lacked some of the refinement that you find on other more expensive benches.
The price gap of benches also has been a big issue. You either went with a bench in the $300 range like the REP Fitness AB-3000, or you upgraded to one like the Rogue Adjustable Bench 2.0 coming in around $850 (plus $250 for the Decline Retro Fit Kit). Considering that we're talking about a piece of equipment that's main function is to give you a solid platform to press against, that's a big difference in price.
| | REP Fitness AB-5000 Adjustable Bench | REP Fitness AB-3000 FID Adjustable Bench | REP Fitness AB-5200 |
| --- | --- | --- | --- |
| Price | $600 | $300 | $500 |
| Total Height | 17.5″ | 18″ | 18″ |
| Weight | 125lbs | 95lbs | 125lbs |
| Weight Capacity | 1000lbs | 1000lbs | 1000lbs |
| Frame | 11-Gauge Steel | 11-Gauge Steel | 11-Gauge Steel |
| Back Pad Adjustments | 7 | 7 | 7 |
| Seat Pad Adjustments | 5 | 3 | 3 |
Rep AB-5000 vs. Rogue 3.0
The REP Fitness AB-5000 Zero Gap Bench's quality is comparable to another bench that I think highly of, the Rogue Adjustable Bench 3.0. While both benches are well-built and provide comfort and stability for your bench exercises, what sets the REP Fitness AB-5000 apart from the Rogue AB 3.0 is the zero gap seat. The sliding seat on the AB-5000 allows it to become a flat bench with no gap between the back pad and seat pad. This said, there is very little gap on the AB 3.0 from Rogue and the adjustment system on the Zero Gap does take extra time to put into place.
The biggest determining factor between these benches for most of you is likely going to be price. The Rogue bench is $100 more than the REP model, doesn't feature the optional leg attachment for decline work, but is made in the USA. For most people, I think the REP AB-5000 is a better option, largely due to the lower price point.
Unboxing and Assembling
I was pumped when the REP AB-5000 Zero Gap Adjustable Bench showed up in front of my garage (my UPS guys don't even bother bringing things to my door anymore).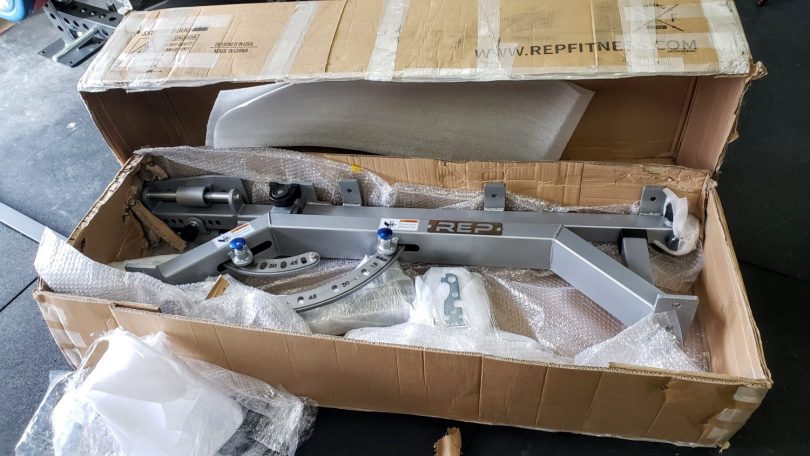 The REP Fitness box was branded well, a cool touch that I always like. When I opened it, I was pleasantly surprised to find the bench partly assembled. It was also well protected to prevent damage.
Since the bench arrived partially constructed, it only took about 20 minutes to assemble the rest of it using the wrench and allen key that was included. In total, there were four bolts that attached the base to the frame and 10 bolts that secured the pads to the frame.
I actually really like assembling equipment. I get to see all the various features and build the components, which adds to my appreciation for the product. Getting equipment already assembled is time-saving, but there's just something to be said for rolling up your sleeves and doing the work yourself.
It was evident that REP Fitness took quite a bit of time designing this bench, and I'm happy that they did.
Customer Experience
The REP Fitness AB-5000 Zero Gap is not offered on Amazon, but the company offers free shipping, as well as a limited lifetime warranty. If a customer deems a product unsatisfactory for any reason, they may return the product within 30 days of receipt for a refund or credit.
Make sure that you hold on to the box as there is a 15% restocking fee for items that are used and not in their original packaging. Also, REP requires photos and/or videos are required to process returns.
Customer Reviews
On the REP Fitness website, there are more than 200 reviews averaging 4.9/5 stars.
Final Verdict of Our REP Fitness AB-5000 Bench Review
The REP Fitness AB-5000 Adjustable Bench is one of the best benches that we have ever reviewed at any price point. It is sturdy and durable, and the zero gap feature on the seat is a game changer. There is no reason to spend more on an adjustable bench now that this is on the market.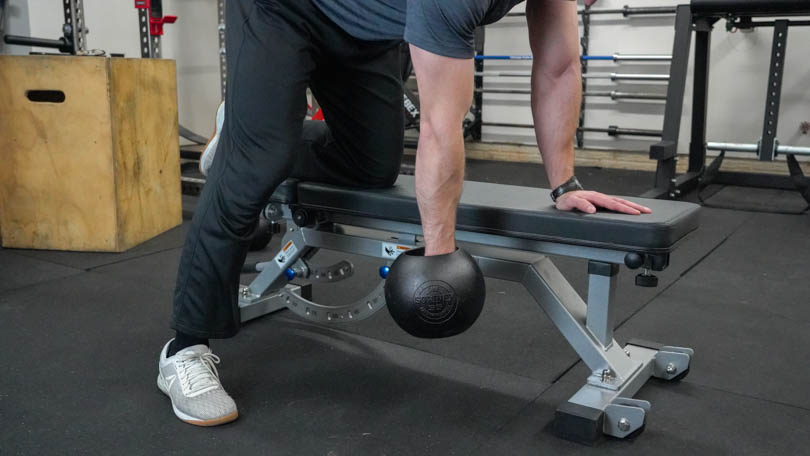 REP Fitness AB-5000 Zero Gap Adjustable Bench Rating
REP Fitness AB-5000 Zero Gap Adjustable Bench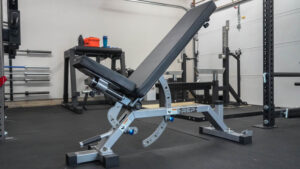 The REP Fitness AB-5000 Zero Gap Adjustable Bench is one of the best adjustable benches on the market, thanks to its solid construction, mid-range pricing, and its patented design to ensure there is no gap when moving from an incline to a flat bench.
Product Brand: REP Fitness
Product Currency: USD
Product Price: 599
Product In-Stock: InStock
REP Fitness AB-5000 Bench FAQs
Is a zero-gap bench worth it?
The REP Fitness AB-5000 Zero Gap Adjustable Bench is one of the best adjustable benches on the market. The Zero Gap seat sets it apart from its competitors. I recommend buying this bench even if you can afford a more expensive one. 
What is a zero-gap bench?
A zero-gap bench means it is one with an adjustable seat that has zero gap between the front pad and the back pad. It allows the user to use their adjustable bench as a flat bench. 
How much is the REP AB-5200?
The REP AB-5200 is $500 (about $100 cheaper than the AB-5000).