We test and review fitness products based on an independent, multi-point methodology. If you use our links to purchase something, we may earn a commission. Read our disclosures.
The Rogue Adjustable Bench 3.0 is, without a doubt, one of the best benches out there, and it rivals top performers like the REP Fitness AB-5200. It's an incredibly well-built bench that provides comfort, stability, wide adjustability (especially for a ladder-style bench), and the high quality we've come to expect from Rogue.
But, there's also nothing too remarkable about this bench. That's to say I'd absolutely recommend it to anyone, and it is incredibly well built, but you could potentially get all or most the same features out of many similar models for less money.
Benches just happen to be one of my specialities—not only have I tested more than 100 of them, but we've also compiled the most comprehensive guide for the best weight bench for a home gym. Trust me, I know what to look for in a good adjustable weight bench.
Related: Check out the Rogue Monster Lat Pulldown Seat.
Rogue Adjustable Bench 3.0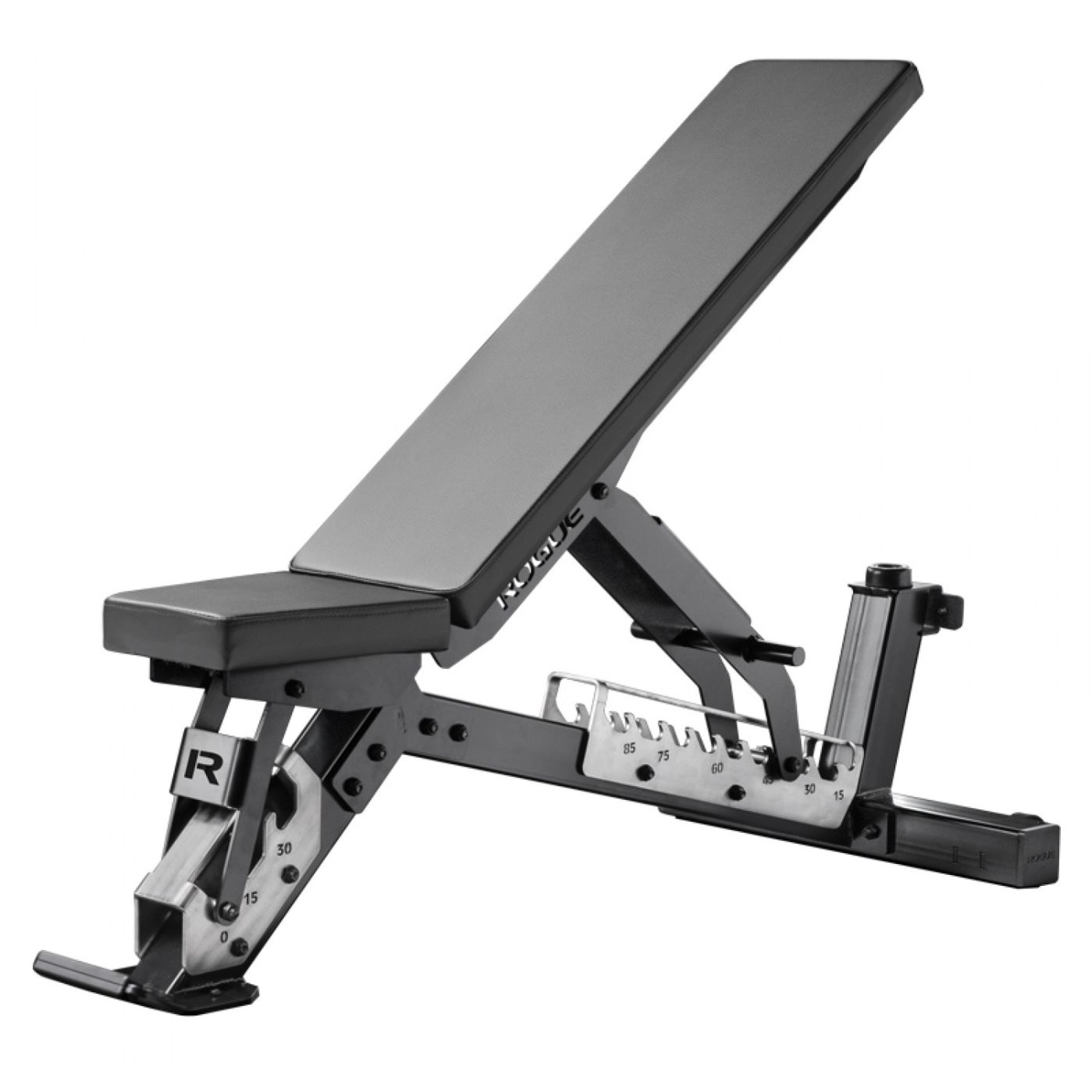 A Quick Look at the Rogue Adjustable Bench 3.0
This is easily Rogue's best adjustable bench to date, and there are some aspects that separate it from the competition. At $650 for the premium model with stainless steel and upgraded caster wheels—$585 for the standard model—plus $45 shipping and handling; it's competitively-priced for an American-made bench. And because it's well-built, it's going to last a while in your home gym.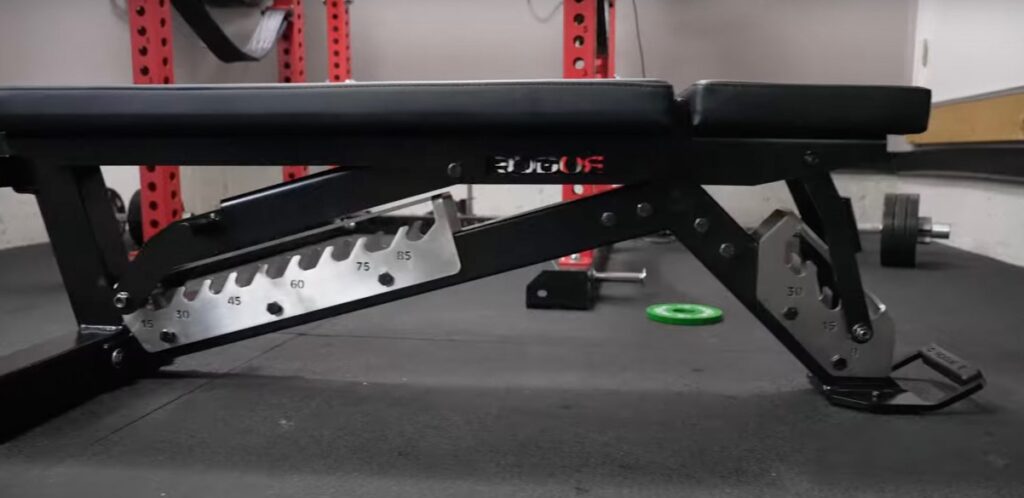 Coop's Tips:
Do your research—you might find a better value for your home gym elsewhere.
If you buy one, go for the stainless steel option with upgraded caster wheels (trust us, it's worth the extra $65).
My Favorite Things:
A lot of adjustment options for a ladder-style bench
There's barely a pad gap at most angles, and sometimes there's none
Very stable and portable
Made in the USA
Heavy duty and made to last
My Callouts:
All the parts are in separate boxes, so assembly can take a while
Other benches, though maybe not quite as good, may provide a better value
Not an FID bench as there is no decline position
Is the Rogue Adjustable Bench 3.0 Worth It?
If you're a stickler for the little things, or cost is no issue for you, then this bench is certainly worth its price tag.
There's hardly any pad gap at most angles, and sometimes none, and it has a lot of adjustment options for a ladder-style system (not quite as many as a pop-pin system, but more compared to others of its kind).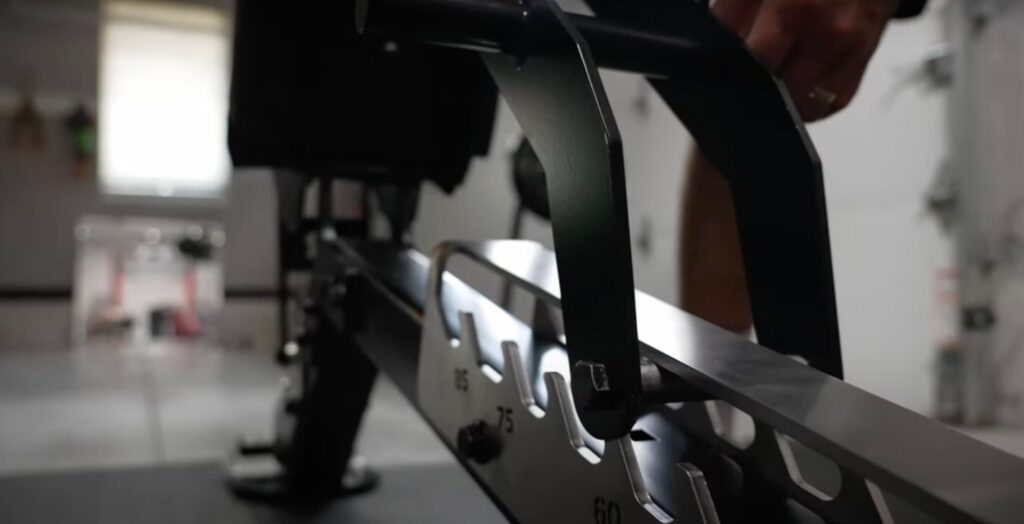 And this is one of those cases where we'll actually convince you to go for the premium model over the standard. The upgraded rubber caster wheels are smooth and allow for easy transport—combined with the stainless steel adjustment mechanism, it's well worth shelling out an additional $65.
Rogue has also created a bench that's stable without sacrificing portability. I felt safe and secure while training on it, but I was also able to move it around the gym with ease.
Like I have said, you can find something similarly for less money. For example, the REP AB-5200 is about the same size and gives you similar quality and functions while only setting you back $499 (excluding shipping).
Great for:
People who are tight on storage space and need something that easily stows away
Anyone looking for a heavy duty, long-lasting bench
Not recommended for:
Garage gym owners on a budget
People who need a bench with a lot of adjustment options
Working Out With the Rogue Adjustable Bench 3.0
Weight benches is one category where Rogue, in my opinion, has sat on their hands in recent years and allowed other companies to surpass them. REP Fitness is just one example. But that changed with the Rogue Adjustable Bench 3.0.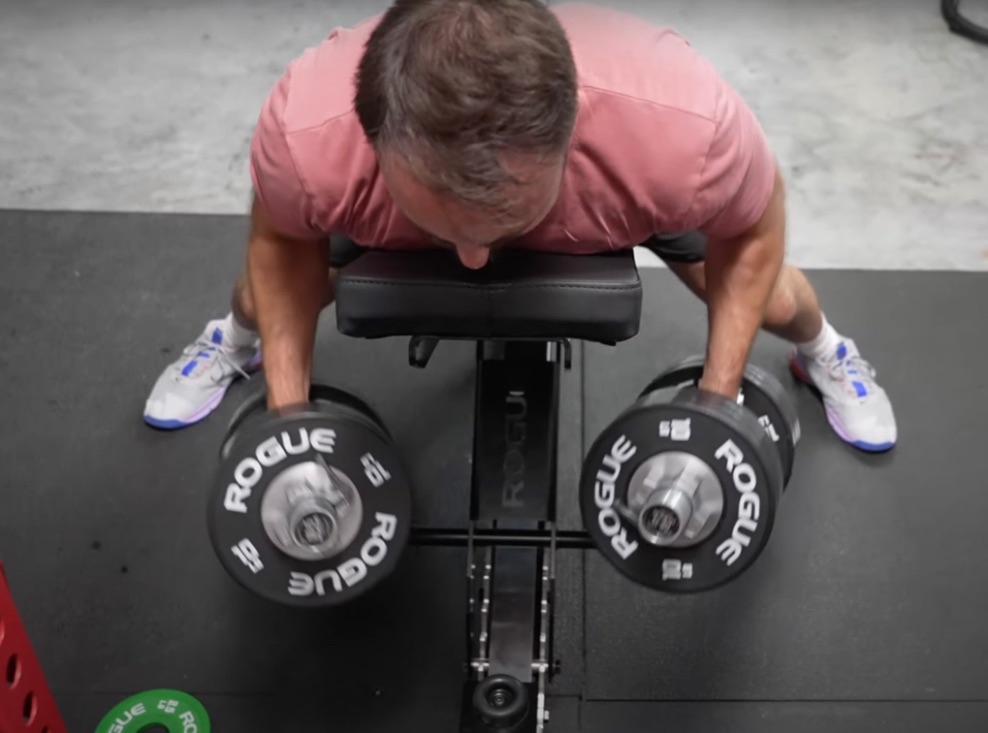 It felt great as I was using it, and the stability and lack of rocking was consistent throughout exercises. The bench pad width is a bit narrow for some, though I personally don't mind it. It would be cool to have optional pads to change out for different widths or thicknesses.
Adjustability
The Rogue Adjustable Bench 3.0 has 10 back pad adjustment options, and three for the seat position. That's some of the highest incline position options available in the industry for a ladder bench, though still not quite as much as a pop-pin style bench. Rogue has also etched some numbers into the seat adjustment points to give you an idea of your backrest angle (15 to 85 degrees). I do like that the adjustment rails have the classic Rogue powder coat.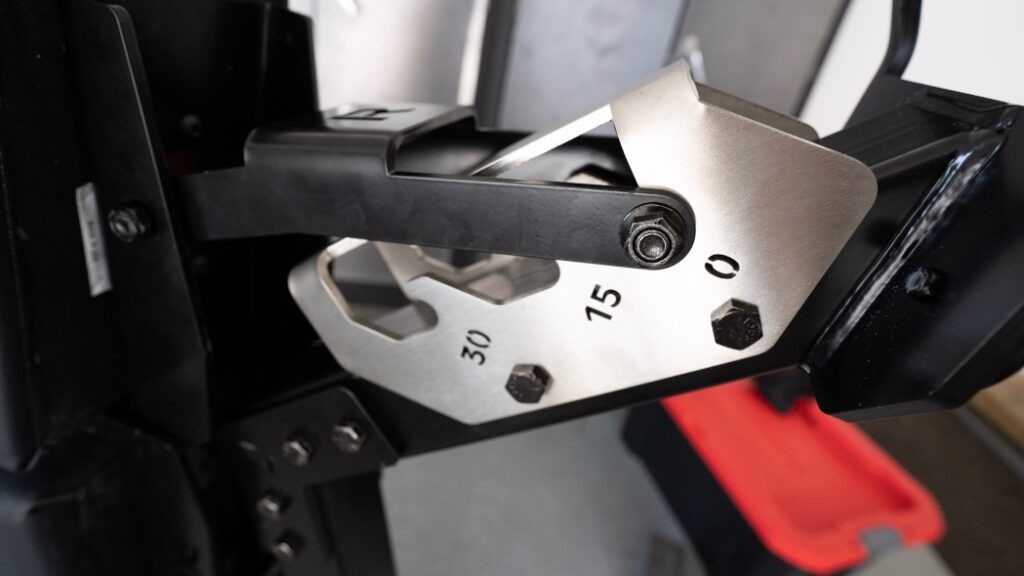 At 17.5″ from floor to top of the bench, it's great for an adjustable bench (the ideal height is 17″, which is the IPF standard).
Pad Gap
There are few things worse than working out on a bench with a large gap between the back pad and seat. Luckily, that's not a concern for the Rogue Adjustable Bench 3.0. That's to say, you know it's there but it's an extremely thin gap that disappears at some angles (the vinyl will touch, but it's durable enough where it won't leave a mark).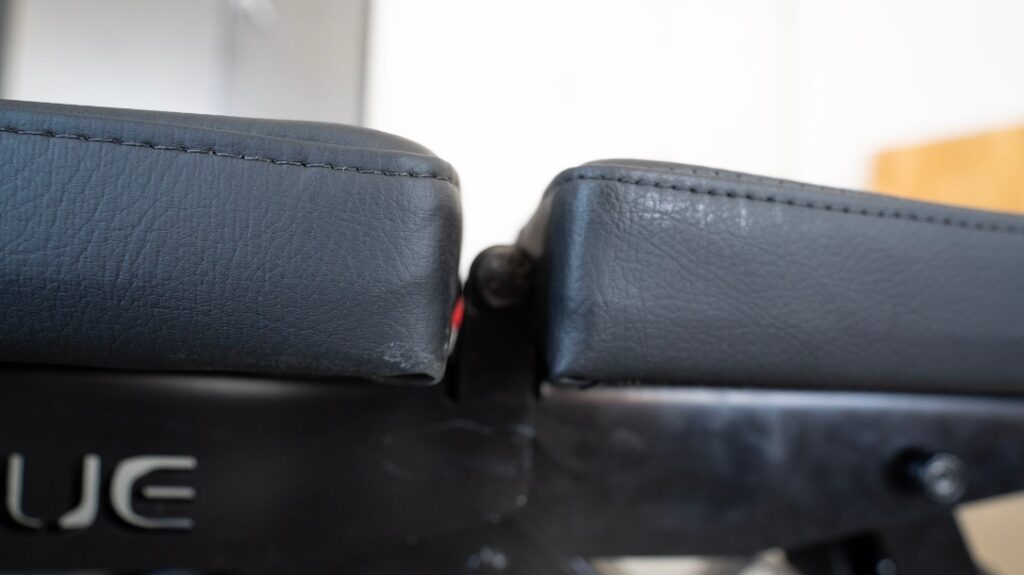 The only adjustable bench I've used that has less of a gap is the REP AB-5000 ZERO GAP, which has a special mechanism to make that happen. Rogue knocked this feature out of the park.
Rogue Adjustable Bench 3.0 Construction and Materials
The Rogue Adjustable Bench 3.0 feels better than its competitors, but it should since it costs more than them. And on top of being a highly functional incline bench, it's also very good looking and offers three color options and a cool laser-cut Rogue logo on the side.
For the upgraded model, I love the contrasted look of the stainless steel adjustment mechanism and think it's one of the things that make the premium well worth the extra few bucks.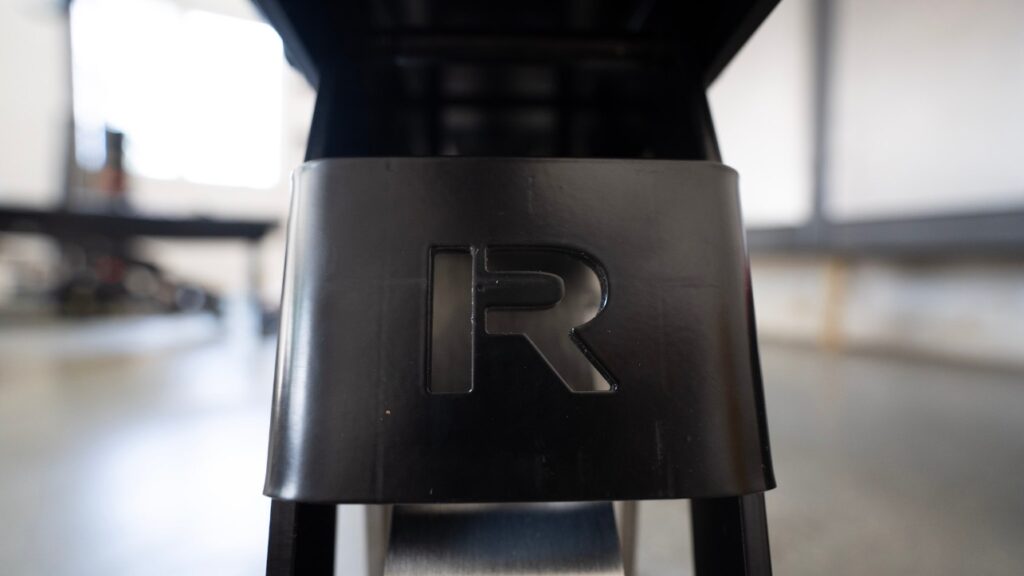 A big improvement the 3.0 has over the Rogue Adjustable Bench 2.0 is the addition of a 3×3 11-gauge steel frame. That just screams rock solid durability. That's the same steel used on quality power racks with significantly higher weight capacities than a bench typically has.
The vinyl on the seat pad is thick and grippy like most Rogue products, but I wish the vinyl and bench pad covering had something closer to what's on the Rogue Thompson Fat Pad. The foam is firm with nice edge control, but not so firm it doesn't allow you to sink into it. At the same time, it's not so soft you feel unstable.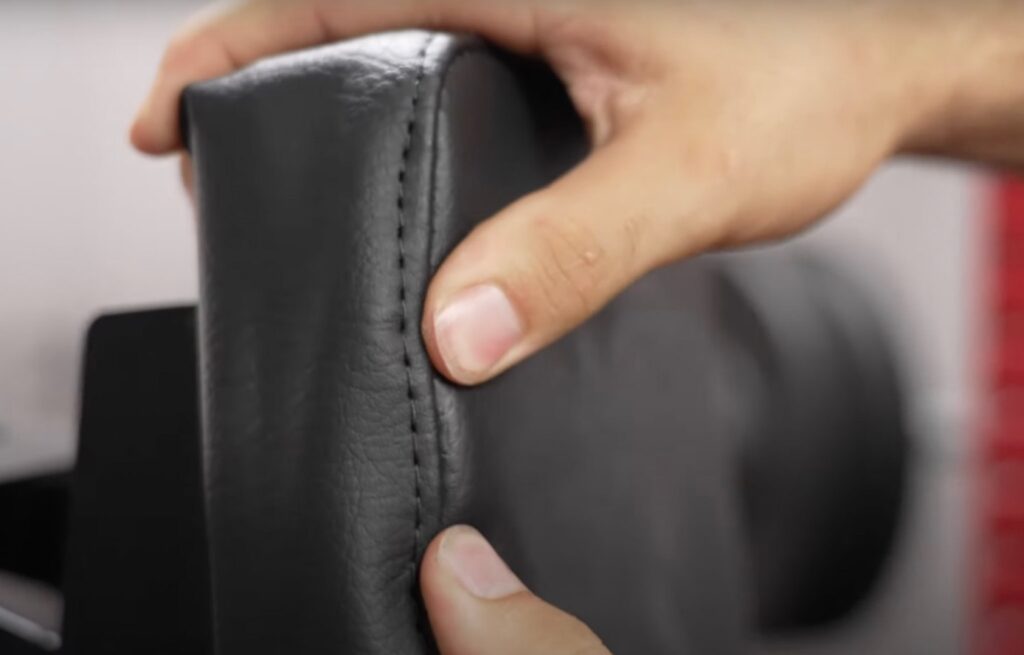 It's also extremely stable, thanks in part to the rubber feet that come standard. Also, I found it surprisingly stable for only having a single front foot, which allows you to tuck your feet. The wider back foot, at 24.75", also creates more stability but would still allow room for a spotter. That does mean it's going to take up more space, but I think it's worth it for the extra stability. Plus, it's still easily portable despite its size and weight.
Stowability
One of the most attractive features is the upright storage. You can stand the bench upright and stow it away instead of leaving it in the middle of your squat rack. And again, this is another reason where the upgraded model kicks the standard's butt. The casters on the premium are fantastic and smooth, and the basic ones aren't bad either. UHMW plastic on the back foot helps to protect the bench and your gym floor.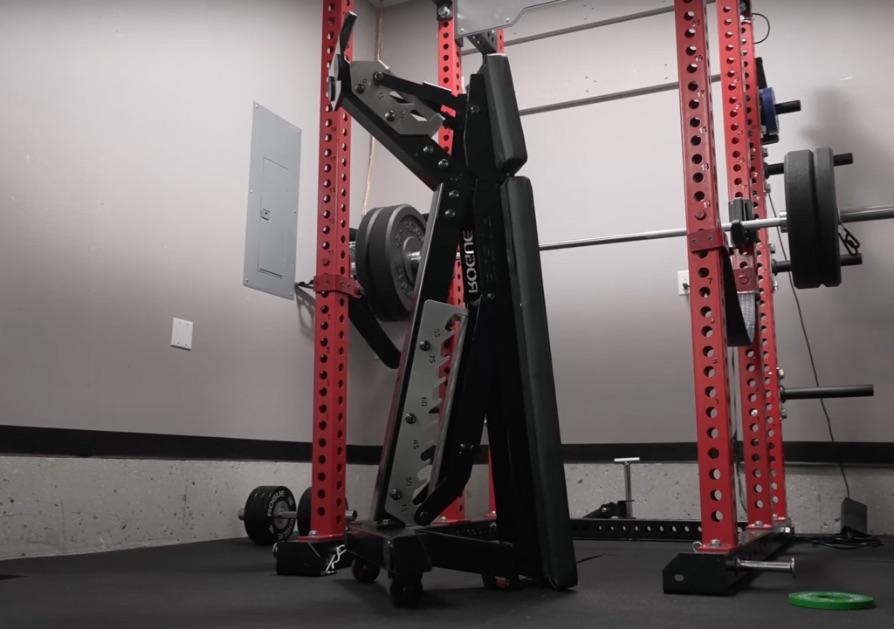 The ladder style isn't quite as sturdy as a lock pin, but it's still very stable when stored upright, and there's little reason to worry about it falling over and injuring someone.
Rogue Adjustable Bench 3.0 vs REP AB-5200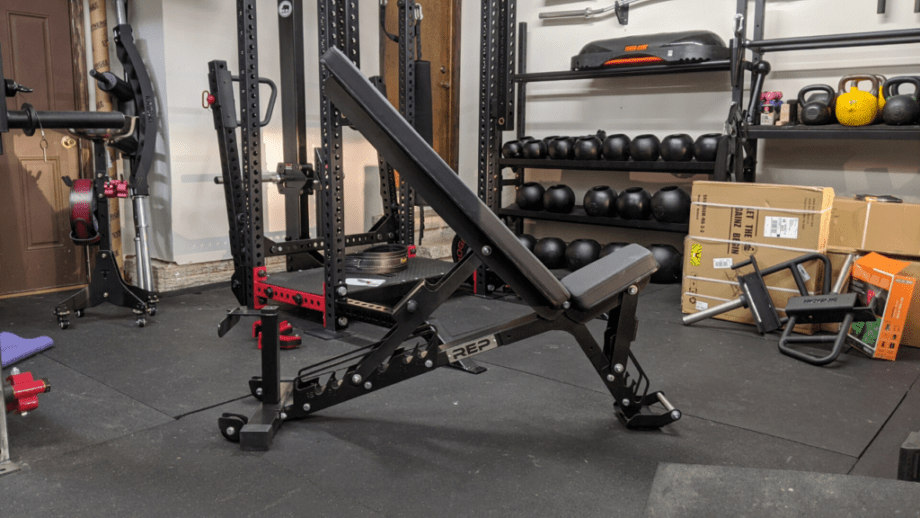 The Rogue Adjustable Bench 3.0 and the REP AB-5200 are two of the best adjustable benches on the market, and which one you should go for ultimately boils down to preference. Both have minimal pad gaps, great adjustability, and provide ample comfort while in use. And they're roughly the same size (Rogue's is a little smaller and lighter, but not by very much).
Rogue's also has 9 back pad angles and six seat angles, whereas REP's seven back pad angles and three for the seat (both are ladder-style adjustment).
One of the biggest differences is cost: as of this writing, the Rogue Adjustable Bench 3.0 retails for $595 ($705 for the stainless steel version), and the REP AB-5200 is selling for $499.99. That's not a tiny difference, and in my mind Rogue's bench isn't that much better. If budget is no concern for you then Rogue is a great choice, but if you're looking for the best bang for your buck, I'd say go for REP in this category.
Read my full REP AB-5200 review here
Ordering and Assembling the Rogue Adjustable Bench 3.0
Ordering the Rogue Adjustable Bench 3.0 was easy, and its flat $45 shipping fee is considerably less than some of its past models or other pieces of gym equipment. Delivery was fantastic, with parts having extra protection and the inside of the boxes was sprayed with a special red coating that helps prevent breakage of the box.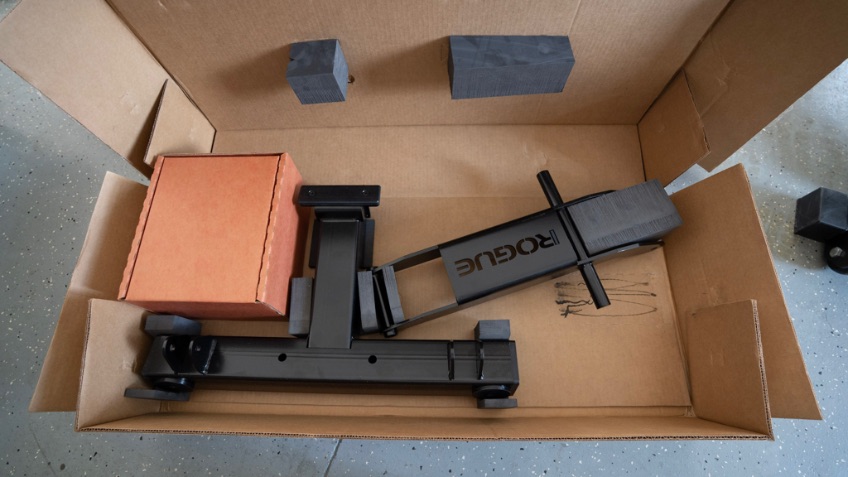 Good packaging aside, the bench comes in three separate boxes due to its bolt-together design. Putting together all the parts did take some time. It's not quite as bad as some Ikea products and it would've been nice if it came a little more assembled, but the time commitment was the only negative about the assembly process. Rogue provides step-by-step instructions that are very in-depth for everything down to the size of each socket. You will need a wrench to assemble the bench.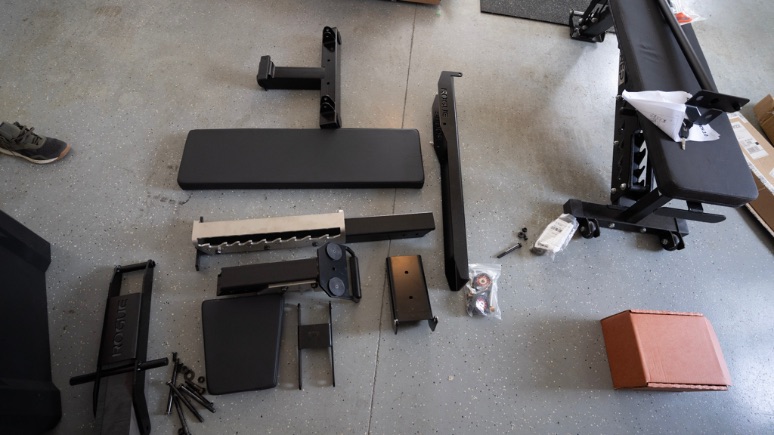 Rogue Adjustable Bench 3.0 Specs
| | |
| --- | --- |
| Length | 56.5″ at base, 52" overall pad length |
| Width | 24.75″ at rear foot, 11.25" pad width |
| Height | 17.5″ Flat , 55.75″ at 85 degrees |
| Pad material | Vinyl |
| Weight | 125 lbs. |
| Made in USA? | Yes |
Customer Experience
Rogue's customer service is unparalleled. You can reach its customer service team by phone or email, though due to their popularity it might sometimes take a while for them to get back to you. They may be more expensive than the discounted brands, but I wrote a guide on how to save money on Rogue equipment.
Returns
If you open it, you bought it for good. That's been Rogue's policy for everything it sells, and the Rogue Adjustable Bench 3.0 is no different. You can return unopened items within 30 days of delivery, but opened and used ones will likely be denied a refund.
Customer Reviews
The Rogue Adjustable Bench 3.0 is one of the best on the market, but don't take my word for it. Every one of the four reviews currently on Rogue's website gives it five-out-of-five stars. They love it so much they still gave it five stars despite noting the long assembly time.
Reviewers especially seem to appreciate its stability and easy stowability.
Final Verdict of Our Rogue Adjustable Bench 3.0 Review
Several companies have surpassed Rogue when it comes to weight benches in recent years, but the Rogue Adjustable Bench 3.0 is a return to glory for the king of strength and conditioning equipment.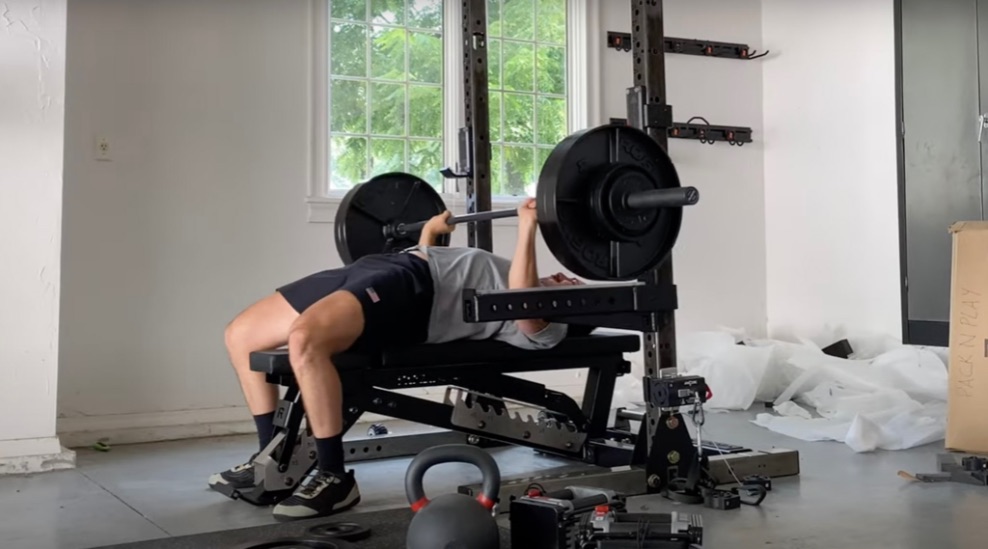 That's a discussion you need to have with your checking account to determine if it's the best value for your home gym. I'll personally be putting it in my home gym, but if you're OK with something with a little less quality you might decide to go for something different.
My Takeaways:
The Rogue Adjustable Bench 3.0 is fantastic, but because there's nothing incredibly innovative about it, there might be better value out there for less money.
Save up for the upgraded model with stainless steel and upgraded casters.
For a ladder-style bench, there's lots of adjustment options but not as many as available on many pop-pin style benches.
The assembly is a bit time-consuming, so if that's an issue then maybe consider another bench.
Rogue Adjustable Bench 3.0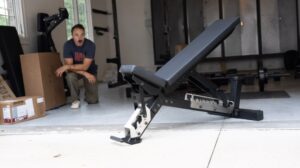 This is absolutely a fantastic bench that feels great, can be moved around easily, and is firm without sacrificing stability. But again, you can find all that in a bench that costs $100 less (or more). I've done a video bench review comparing this bench to the REP Fitness AB-5200, so you can tell for yourself whether it's worth the extra few bucks.
Product Brand: Rogue Fitness
Product Currency: $
Product Price: 950
Product In-Stock: InStock
Rogue Adjustable Bench 3.0 FAQs
Is the Rogue Adjustable Bench 3.0 worth the price?
It's a good value on its own, in that it's a high-quality product that feels good and is an attractive addition to any gym. And while it's of a higher quality than other benches, it should for its price, there's nothing unique about it that you can't find anywhere else.
Is the Rogue Adjustable Bench 3.0 easy to assemble?
It's not difficult to put all the parts together, as Rogue provides top-notch instructions. It does come in several boxes and you're basically assembling the entire thing by yourself.
Is the Rogue Adjustable Bench 3.0 good for smaller home gyms?
Yes! The back foot is 24.75", a little wider than other benches but it's worth it for the extra stability you get. You can also stand and stow it away upright for when you need it out of the way. I loved doing bench press, rows, flies and all other kinds of exercises on it.