We test and review fitness products based on an independent, multi-point methodology. If you use our links to purchase something, we may earn a commission. Read our disclosures.
Whether you're a casual user looking to boost your fitness or an experienced lifter, you might be thinking about adding an FID (flat-incline-decline) bench to your home gym. Yet, with so many to choose from, which one should you go with?
Today, there are tons of FID benches on the market, but after significant testing, we can declare that one of the best adjustable benches you can find at an entry-level price point is the REP Fitness AB-3000 2.0. This bench has been designed to put the user's comfort at the forefront while also recognizing that ease of use is essential.
Below, we'll explore some of the features that set the REP AB-3000 2.0 apart from its competitors and hear first-hand from users about some of the benefits of opting for this piece of exercise equipment. As Coop, founder of Garage Gym Reviews notes, even though this product is labeled as the 2.0, it's actually REP's third version of this bench and, in his opinion, far and away the best of the three.
Garage Gym Reviews Testers Know Benches
Whether it's a flat bench, decline bench, or out-of-this-world bench, chances are, our Garage Gym Reviews testers have tried it. Thanks to the experience of our team of weightlifting coaches, exercise specialists, personal trainers, and more, we can give you an authentic bench review.
Coop personally tried out the REP AB 3000 2.0 in his own home gym, putting it to the test with barbell exercises, dumbbell exercises, and more. This extensive REP AB 3000 2.0 review will give you even more clarity on if this is a suitable bench for you.
REP AB-3000 2.0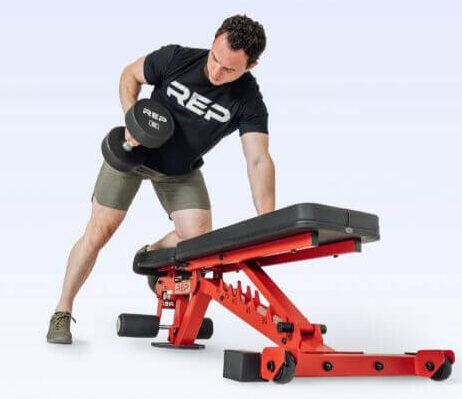 GGR Score: 4.7
Product Highlights
Adjustable FID bench for home gyms

Comes in 5 different colors

Built-in rollers for storage

8 pad angles
Pros & Cons
Pros
Incline and decline capabilities
Seat pad has 5 different angles
Comes with rubber covers on the base to protect your floors
Seat pad is reversible
High-quality vinyl
Easy to adjust
Cons
Can't be stored vertically
More expensive than some others on the market
2.1" pad gap
Not as aesthetic as others
Bottom Line
The AB-3000 2.0 is a well-received FID bench for home gyms that comes with updated features like eight pad angles, five seat angles, an adjustable seat pad, and more.
A Quick Look at the REP Fitness AB-3000 2.0
REP has more than 10 years of being at the forefront of the fitness equipment sector and currently employs more than 100 people out of its Denver, Colorado, headquarters. The brand was founded by fitness enthusiasts who believe that fellow fitness lovers deserve to have innovative products at affordable prices. This focus on accessibility is clear, and it can be seen through the attractive price points that REP sells its products at.
As you might imagine, one of the brand's most consistent top sellers has been its AB-3000 adjustable weight bench. The AB-3000 2.0 offers all of the traditional benefits of its predecessor, the AB-3000 FID Adjustable Bench, as well as a range of new innovations.
Uncomfortable back pads and supports are one of the things that stop many consumers from using an FID bench. Recognizing that one of their customers' top complaints about the original AB-3000 was these back pads, the engineering team revamped the system and now offers eight back pad angles that prioritize customer comfort.
"Previously, REP had a tendency to use off-the-shelf products and simply add their name to the finished product," Coop says. "Today, REP is much more focused on pushing the innovation envelope, such as with its Ares line of products."
Another hiccup with many FID benches on the market is that they are unwieldy. This often means that the equipment is hard to adjust, and it can be cumbersome to move between incline and decline exercises. REP solves this problem by using a ladder-back adjustment system that allows the person exercising to seamlessly change the angle of their workout bench, as well as a pop pin system to adjust the seat pad.
As we know, many people are operating with a small footprint in their home gym. This version of the bench comes with wheels and a newly designed handle, but it's still heavy and difficult to move. It also doesn't have the same vertical storage options that some competitors' products offer.
Before you buy:
If the style is important to you in your home gym, this FID bench comes in several attractive colors.
Think about your storage space. Do you have room to store a piece of equipment that cannot be stored vertically?
REP Fitness AB-3000 2.0 Video Review
Is the REP Fitness AB-3000 2.0 Worth It?
We're sure you've heard the old saying, "What's good for the goose is good for the gander," but is that really true? When it comes to home gym equipment, It's important to remember that purchasing decisions are highly personal. Therefore, what works for one person doesn't necessarily work for another.
Regarding the REP Fitness AB-3000 2.0 specifically, most trainees feel it's definitely worth the price tag, which is around $300.
"This new version keeps some of the features people have always liked about the REP product but upgrades the functionality in multiple ways," Coop says.
Great For:
Anyone who wants a bench that offers a wide range of positions
Those who want a comfortable bench
People looking for a bench that easily adjusts
Those looking for a great value bench
Not Recommended For:
Someone who only needs a flat bench
Those who need a bench that stores vertically
Someone who wants a zero-gap bench
Someone who wants a bench made in the USA
RELATED: Rogue Adjustable Bench 3.0: The Brand's Best Adjustable Bench Yet
REP Fitness AB-3000 2.0 Specs
| | |
| --- | --- |
| Footprint | 56.6" L x 25.8" W x 17.1" H |
| Material | 11-gauge steel |
| Back Pad Dimensions | 36" L x 11.8" W |
| Seat Pad Dimensions | 15" L x 15" W |
| Pad Gap | 2.1" |
| Back Pad Adjustments | -12, 0, 15, 30, 45, 60, 70, 85 degrees |
| Back Pad Width | 11.8" |
| Seat Pad Width | 15" |
| Seat Positions | 0, 5, 10, 15, 20 degrees |
| Leg Roller Positions | 6 |
| Adjustment Style | Ladder-style |
| Color Options | Metallic Black, Red, Blue, White, Matte Black |
| Weight | 89.3 lbs |
| Weight Capacity | 1,000 lbs |
| Warranty | 10-year warranty on the frame |
The REP AB-3000 2.0: Standout Features
So when it comes to the AB-3000 2.0, what exactly makes it unique compared to other brands? Here's what we found in our testing:
Improved Stability
According to Coop, one of the most prominent standout features is that REP focused on upgrading the bench's stability. This happened by widening the back of the equipment, providing a wider footplate, and adding rubber covers to the front and rear bases.
This is incredibly important for those who like to do exercises in a decline position, but assists on incline and flat position exercise as well. The last thing you want to do is hold a set of dumbbells while exercising at a decline and feel like you're unstable. You should be able to do a bench press with confidence.
Comfortable Back Pads and Seat Pads
Frequently, what gets in the way for some of us when we're doing exercises on a bench, especially at a decline, is that the pads on the bench cut into our back. We may not notice this immediately, but by the end of a workout, we often notice aches, pains, and twinges. Luckily, with the REP AB-3000 2.0, people are likely not going to notice any of this. In fact, the pads are extremely comfortable.
"The foam in the back pad is dense and high quality," Coop says. "It's also firm, which is helpful as the weight you're lifting increases."
RELATED: REP Fitness AB-5000 Zero-Gap Review
As an added bonus, these back pads were very easy to clean off due in large part to the upgraded vinyl covering. It might not be the best vinyl on the market, but it's in the top two or three.
The seat pad is also adjustable and can be flipped around, which may improve comfort during decline exercises. Coop noted that it's easy to flip it back and forth.
Better Workout Versatility
We also loved the fact that there are eight back pad angles that a user can select from, as well as five seat pad angles. The back pad angles, as Coop demonstrates, range from -12 to 85 degrees. Coop noted that 85 degrees is the ideal upright position for most people because of restrictions in range of motion at a full 90 degrees.
Coop found it seamless to move between these settings, especially since REP now laser cuts the settings in the ladder, so people know exactly where they are setting the machine. This is a feature that most similarly priced pieces of equipment don't have. The adjustment mechanism also uses rubber to reduce the metal-on-metal grind.
The five seat pad adjustments can boost stability and versatility during decline exercises, too. Unlike the back pads that are adjusted via a ladder-style mechanism, the seat pads are adjusted via a convenient pop pin.
Footprint and Portability
Many of us are operating with relatively small home gyms, so size matters. The REP AB-3000 2.0 packs a lot of punch in a size that works in most settings. The bench measures just over 17 inches in height and clocks in at 56.6 inches in length and 25.8 inches in width.
The length, however, could be problematic for taller lifters, and there's also a potentially uncomfortable gap between the two pads. These measurements give it a total footprint of just under 10 square feet. The bench weighs a relatively substantial 89.3 pounds but is still somewhat portable, thanks to its added handles and wheels.
Construction
This heavy-duty bench has an 11-gauge steel frame and an impressive 1,000-pound weight limit. Looking at the product in person, there is no reason to anticipate that it will not hold up to substantial use. Also, many of the smaller component pieces are high-quality, based on Coop's review.
The Ergonomics
What really sets this new version of the AB-3000 apart from its predecessor is that the 2.0 version is the number of back and seat angles. This means that the equipment will work for a variety of body types and a wide range of exercises, even if it does not have the negative 15-degree declination seen in some commercial gym equipment.
Ergonomically, the new version of the bench has an adjustable leg roller. However, Coop found that this mechanism is not as user-friendly as it should be, and that it would potentially be easy to lose this pin. There are also no markings on these increments.
Another important ergonomic issue is the change in where the product's handle is. In the 2.0, the handle is now a horizontal bar on the leg attachment rather than a more standard vertical bar.
REP AB 3000 2.0 vs PRx Folding Incline Bench
PRx Folding Incline Bench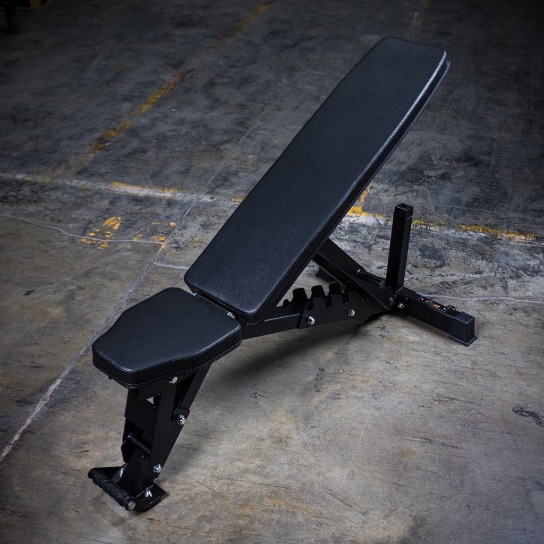 GGR Score: 4.0
Product Highlights
12 total positions
Can be stored upright
Fits with PRx racks
Made in the USA
Made in USA
Pros & Cons
Pros
12 total adjustment increments
Stores upright against the wall when not in use
Made in the USA
Cons
Bench edges are sharp and could use some edging or padding to avoid possible injury
Expensive compared to other benches
Average vinyl; the quality doesn't match the price
Bottom Line
This is great for lifters who don't mind paying a premium for their benches or those looking for a bench compatible with a PRx rack.
The PRx folding incline bench is a close competitor to the REP AB-3000 2.0, and this makes sense because both products pack a lot of fitness benefits into a relatively small piece at an attractive price (even though we would argue that the PRx is overpriced looking at its vinyl quality). As Coop notes, REP's vinyl is much nicer and doesn't have a pleather-y look or feel to it.
But, there are some things that differentiate the two products.
For example, the REP product offers one more potential adjustment for users, and its padding is much better than the somewhat skimpy padding on the PRx product. In fact, if you tend to experience back discomfort after your workouts, we would say that this alone would be a reason to steer clear of the PRx and invest in the REP AB-3000 2.0.
But, there are also undeniable benefits to the PRx product, especially for people working in a very small space. The PRx bench collapses and then can be stored vertically inside a squat rack, which is not an option for the REP AB-3000 2.0.
Customer Experience
REP has always prided itself on offering unparalleled customer service to its dedicated client base. This also helps explain why it has been able to grow so quickly over the last decade, with positive word-of-mouth fueling its sales. REP also offers a loyalty program that allows customers to recoup cash benefits on points. The brand is also committed to showing its appreciation to active duty military, veterans, and first responders, offering a 5% discount to these customers.
Warranty and Returns
REP does provide a 10-year warranty on the bench frame. In addition, if you receive the product and aren't a fan of it, the brand offers a 30-day money-back guarantee. Before returning the REP Fitness adjustable bench, you must contact the company and obtain a return authorization. In addition, if the bench has been used and isn't sent back in its original packaging, they may add a 15% restocking fee.
On Amazon, some customers rave about their shopping experience. For instance, one person said they reached out to REP directly for extra padding before placing their order, and they added it. Therefore, customer satisfaction is extremely important to them.
Ordering and Assembling the REP AB 3000 2.0
It's easy to order the FID bench directly from REP's website, which is clear and straightforward. REP understands that many of its customers are operating on a limited budget and, thus, offers several financing options. People, if they qualify, can make monthly payments on Affirm (if their total order is $650 or more). Another financing option is PayPal's Pay-in-Four program.
Most customers note that REP does a great job of writing clear instructions and that the equipment is easy to assemble. However, REP also recognizes that not everyone has the time or inclination to put together their own exercise equipment. Therefore, REP has now partnered with Kandu. Kandu representatives can come to your home gym and assemble the REP AB-3000 2.0 from the ground up.
Customer Reviews
The reviews on REP's website show a substantial number of satisfied customers, with more than 250 reviews averaging 4.9 stars. One recent reviewer, Tiju, notes that it is an "amazing and greatly made product. Easy to put together." Luis commented that it is "high quality and looks awesome. I am very happy with the product."
Final Verdict of Our REP AB 3000 2.0 Review
The REP AB-3000 2.0 is an excellent quality bench, especially for trainees who emphasize their own comfort above any other shopping considerations.
This product offers:
Some of the best value of any bench product that is on the market;
State-of-the-art padding and support that will keep everyone comfortable throughout their workout;
User-friendly design that allows the angle of the bench to be easily adjusted based on your workout;
Durable design at a very attractive price point.
REP AB 3000 2.0 Rating
REP AB 3000 2.0
When it comes to powerlifting, sit-ups, and more, what's the best bench to go with? Learn if the REP Fitness AB-3000 is the best FID bench on the market today.
Product Currency: $
Product Price: 320
Product In-Stock: InStock
REP Fitness AB-3000 2.0 FAQs
What Are The Angles On The REP AB-3000 2.0?
For the back pad, the angles are -12, 0, 15, 30, 45, 60, 70, and 85. For the seat pad, the angles are 0, 5, 10, 15, and 20.
What Can You Do With An FID bench?
If you're new to using workout benches, you might be surprised to learn that you can do a lot with them. Some examples include incline bicep curls, shoulder presses, bench dips, and tricep extensions. 
How Do I Adjust My REP Fitness Bench?
The steel ladder-style back adjustment lets you easily pick your angle using the number along the ladder.