We review free products that we receive and participate in affiliate programs, where we may be compensated for items purchased through links from our site.
See our disclosures page for more information.
I'm a big fan of the PRx brand. I love a good success story, and who doesn't love to see a company that was once on Shark Tank make killer products? I've tested quite a few pieces of gym equipment from PRx that I've enjoyed including their Profile Squat Rack, Competition Kettlebells, Fractional Plates, Strength Wraps, and Talon Barbell Collars.
The PRx Incline Bench was heavily anticipated (and in the works for years!) so I knew I had to immediately make a review for my GGR fam. There were lots of things to like and some things I wasn't crazy about. Stick around to find out my final thoughts on price, overall workout experience, and adjustability.
Why You Should Trust Us
I've tested a ton of different benches – competition flat benches, utility benches, incline benches, and adjustable benches. I've even made a round up with some of thebest weight benches I've tested. I know the important things home gym owners want to see in a high quality, durable bench they'll have for years. You can trust that I'll give my honest opinion every time so you can make the best buying decision for you.
PRx Incline Folding Bench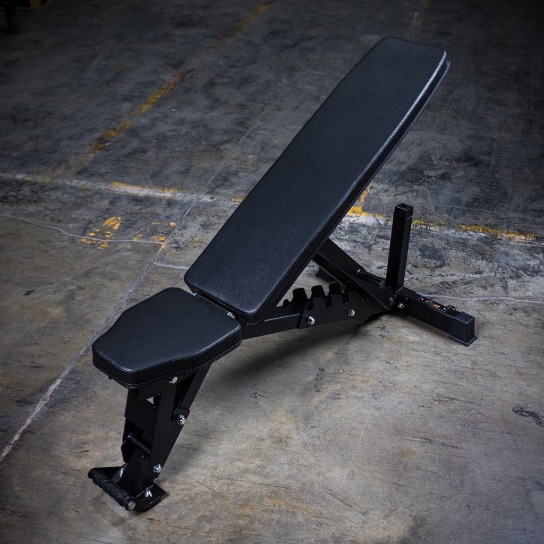 PRx Incline Folding Bench
This is the bench you need for the space you have. The PRx Profile® Incline Folding Bench can adjust to 12 total positions, covering everything from flat to the military press position. Engineered to fit perfectly within all of our wall-mounted racks,* the Incline Folding Bench will line up with your rack, so you can get straight to your lift without fuss, no matter the incline position.
A Quick Look at the PRx Incline Bench
I received a beta version of the PRx Incline Bench to try before it was released to the public. Some things will be slightly different between my edition and yours (if you choose to purchase) but I'll be sure to detail any changes.
Coop's Tips:
Purchase sooner rather than later because the pre-order price is cheaper than it will be in the future
Make sure the bench is fully locked in because one side can unlock without the other
Hold onto the handles when folding the bench so you don't let the bench just fall and crush your fingers
My Favorite Things:
12 total adjustment increments
Stores upright against the wall when not in use
Made in the USA
My Callouts:
Bench edges are sharp and could use some edging or padding to avoid possible injury
Expensive compared to other benches
Average vinyl; the quality doesn't match the price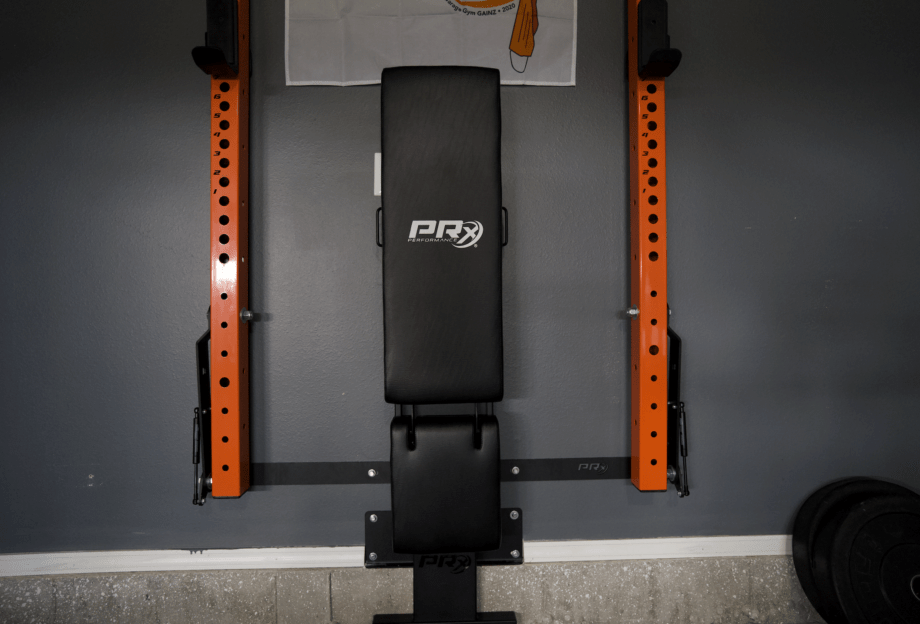 Is the PRx Incline Bench Worth It?
Great for:
Lifters that don't mind paying a premium for their benches
Individuals that are trying to fit exercise equipment in a compact space
People that already own a PRX rack (compatible with each other)
Not recommended for:
Home gym owners on a tight budget
People who don't want or need lots of adjustment options
People who don't want or can't bolt their workout bench to the wall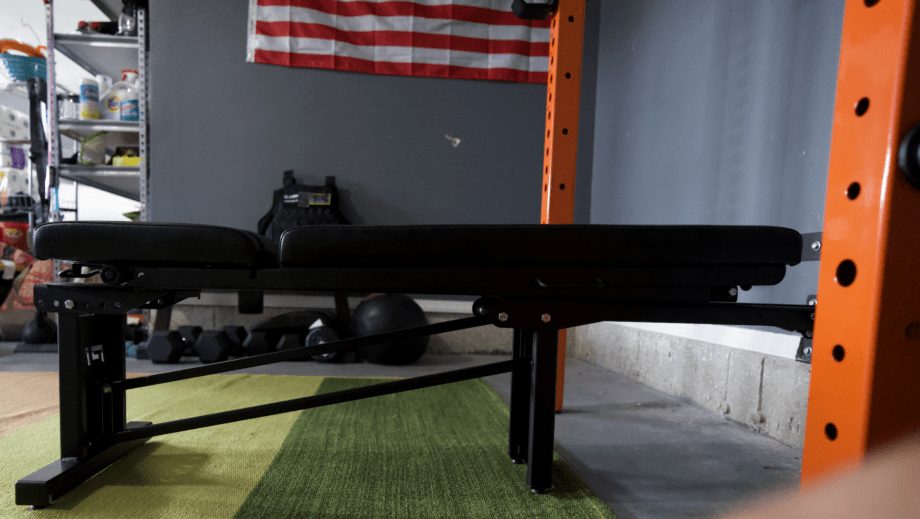 Using the PRx Incline Bench
The first thing that really excites me about the PRx Incline Bench is how it is made to be bolted to your wall and easily folded. Even though I have tons of fitness equipment (and benches), having the ability to fold and store the bench makes all the difference to me.
The PRx brand was actually started because the founders wanted to make great products that could be easily stored within your garage since it gets so cold in their home state of North Dakota. Being able to have your car parked in the garage and have a foldable incline bench too?! Genius.
In terms of options for strength training exercises, an incline bench is very versatile and this edition is no exception. I did skull crushers, chest supported dumbbell rows, and barbell bench presses.
If you have the PRx Profile Pro Squat Rack, you'll probably love this incline bench. The bench was designed to be the ideal complement to the various power racks or half racks from PRx because you can easily rack/unrack your bar without having to move the seat further. In my opinion, it's one of those things that makes your workout go so much smoother.
There are 12 different options for adjusting the bench from a flat position and increasing by 10 degrees each time. The amount of adjustment options is a real bonus. For reference, an inexpensive bench you might get from Amazon like the Marcy Adjustable Utility Bench has only six adjustment settings. My beta version didn't have quite as many adjustment options as the one you can purchase, but I still found it to be ideal for my purposes.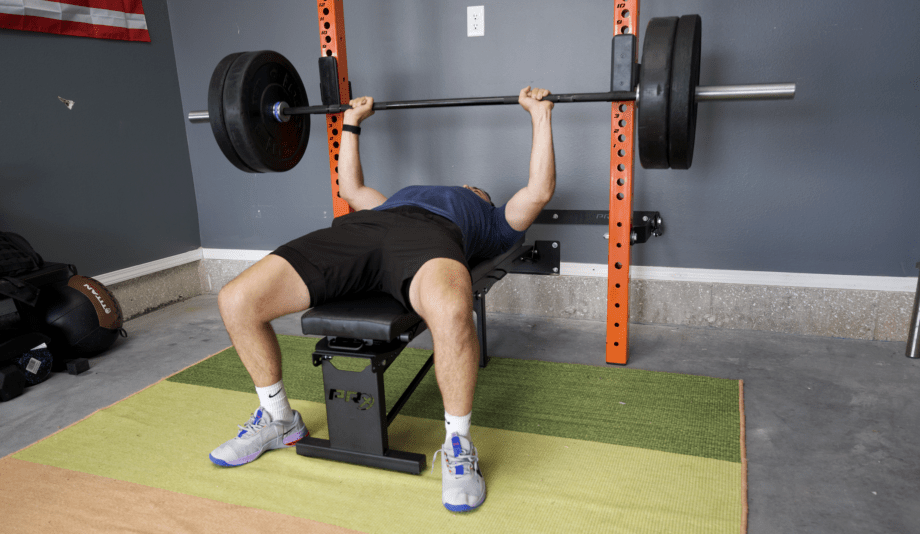 Ordering and Assembling the PRx Incline Bench
The PRx Incline Folding Bench isn't exactly a cheap buy. Comparable incline benches like the REP Fitness AB-5200 Adjustable Bench will run you around $500 with free shipping. The Titan Fitness Adjustable Bench is under $300 including free shipping. The PRx Incline Folding Bench is around $850 plus an additional $160 in shipping costs.
Luckily, there are two different financing options if you don't want to pay all at once.
4 interest free payments of $212.25 every two weeks for six weeks total
Monthly payments over time (depending on your credit score; starting at 6.99% APR)
I do like that the PRx Folding Incline Bench comes pre-assembled. It makes the process so much smoother and all you need to worry about is mounting the bench to the wall. Luckily, PRx also includes all the mounting hardware you need to do so and the process is pretty seamless.
Footprint, Portability, Durability, Construction
The PRx Incline Folding Bench has a footprint of 18" x 18" x 65.25" when fully out and ready to be used. This is slightly larger than theRogue AB-2 Adjustable Bench, which is 18" x 12" x 52". However, the PRx bench is able to be folded and stowed away against the wall when not in use, which is unique.This makes it a practical option for people tight on space in their home or garage gym.
Construction
I appreciate that the PRx Incline Folding Bench is made in the USA. It makes me feel somewhat better about the aggressive price tag because you'll be supporting American businesses in the process.
The 11 gauge steel construction is heavy duty and durable. It can even withstand up to 1,000 pounds in capacity. I didn't feel nervous about the bench collapsing or being unstable while working out. I did notice a slight bit of play side to side probably due to all the small parts but it wasn't a huge deal. Plus, you have to remember that the bench is bolted into the wall. It won't be moving much.
The actual covering was a little disappointing to me. For the price, it just felt okay and like a bit of an afterthought. I did like the laser cut logo on the front of the steel. It added a little something extra.
The bench does use high-density foam with nice edge control. There is a slight amount of give but it had a good overall firmness on the backrest and seat.
The steel is nicely powder coated and the bolts are high grade. I felt that the handles were a little small but I didn't feel they would bend.
Portability
In terms of portability, you will not be able to easily pick up and move this bench since it is not free standing. Prior to receiving the bench, I'd suggest mapping out exactly where you plan to put it since it would be a pain to move the mounting multiple times.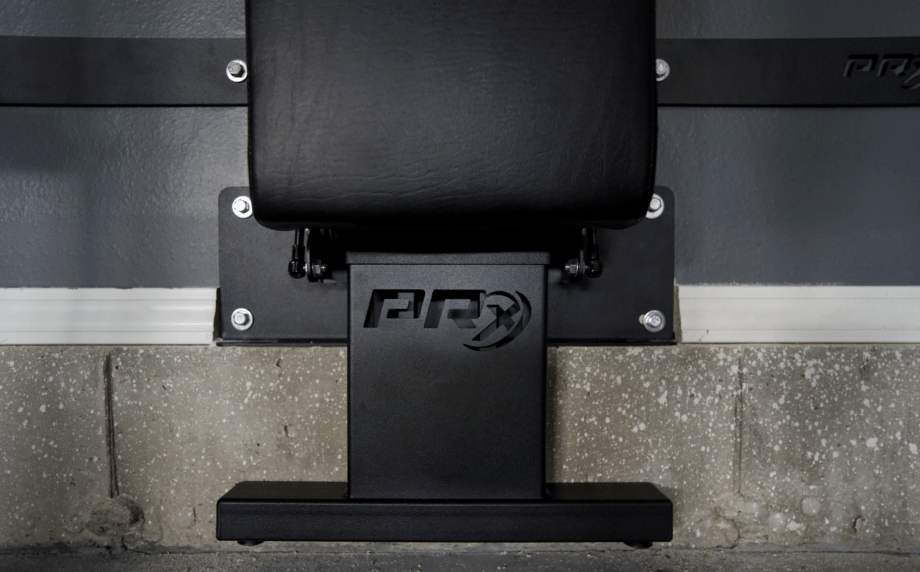 PRx Incline Bench Specs
Stowed Footprint

63.18" x 18" x 8" (HxWxD)

Weight

85 pounds

Weight Capacity

1,000 pounds

Color and Finish

Black powder coat

Frame Material

11 gauge steel

Pad Material

Vinyl-covered foam, 2" thick

Height

18" from floor

Position Angles

0°, 20°, 30°, 37.5°, 45°, 50°, 55°, 60°, 65°, 70°, 75°, 85°

Deployed

Dimensions

18" x 18" x 65.25" (HxWxD)

Made in

United States of America
Customer Experience
If you purchase the PRx Incline Folding Bench and you're not happy with it, you have 30 days from the date of delivery to return it. You'll need proof of purchase and to return everything in its original packaging.
Unfortunately, you'll have to pay return shipping (which won't be cheap in all honesty) plus a 10% restocking fee. C'est la vie (that's life for all you non-French speakers out there). This is pretty common practice amongst fitness brands when returning items.
Warranty
I haven't seen specific information about a warranty for this product. However, PRx has other products like the Profile plus PRO Racks and the Barbells which have a lifetime warranty.
Contacting PRx
If you want to contact PRx for any reason, there are a few options to do so. There is a 'Contact Us' box under one of the tabs on the website where you can add your message, name and email address.
They can also be contacted via 704-566-0452 or by emailingsales@prxperformance.com between 8 a.m.- 5 p.m. CST Monday through Friday. I have found that they are very responsive during regular business hours.
Final Verdict of Our PRx Incline Bench Review
Overall, I liked the concept of the PRx Folding Incline Bench because it's space-saving and feels well made. I'm not crazy about the price tag and how one side of the bench can be unlocked when trying to adjust, which could cause injuries if you're not careful. If you're someone who already owns a PRx Profile Rack, this bench might be a great buy for you since the two are compatible.
Full Rating
FAQs
Here are a few of the most asked questions about the PRx Incline Bench:
How many adjustment settings are available for the PRx Incline Bench?
There are 11 different adjustment settings on the PRx Incline Bench. It can go from completely flat to folded against the wall.
How much space do I need for my PRx Incline Bench?
Here are the space requirements for the PRx Incline Bench: 65" x 50" x 66" (HxWxD).
How do I mount my PRx Incline Bench?
The bench mounts into two 16" studs which are ideally between a compatible rack.
What is the difference between weight lifting on a decline bench vs. incline bench?
Both incline and decline benches can be used for a variety of purposes and lifts. Generally speaking, doing the same lift on an incline versus decline bench will target different muscle groups.