We test and review fitness products based on an independent, multi-point methodology. If you use our links to purchase something, we may earn a commission. Read our disclosures.
Olympic barbells, dumbbells, and squat racks will undoubtedly help you achieve great strength gains, but if you're looking to take your strength training to the next level, then we have the product for you. We're talking about something that can be loaded with tons of weight, is versatile and heavy-duty, and used by one of the strongest people on Earth.
Our REP Fitness Oxylus Yoke review gives you an in-depth look at a piece of equipment frequently used by professional Strongmen, and tells you why an everyday strength training athlete might want to consider adding it to their home gym.
All Hail The Gods of Home Gym Equipment Reviews
Alright, that's just a yoke (get it?). While we might not sit high on Mount Olympus like the Oxylus Yoke's namesake, we're one of the top names on the internet for home gym equipment reviews. That's because we actually take the time to personally test each piece of equipment, even if it's something that's usually reserved for people three times our size.
And as certified personal trainers, CrossFit L-1 coaches, and competitive weightlifters, we have a deep understanding of how strength training equipment works for people chasing all sorts of fitness goals.
Oxylus Yoke
REP Fitness Oxylus Yoke
REP Fitness has put a spin on the traditional yoke used in Strongman competition. This multi-functional yolk has several configurations, allowing it to function as a squat rack, sled, and deadlift carry. Constructed with heavy-duty 3-inch-by-3-inch uprights with 11-gauge steel, this is one of the sturdier yokes you will find on the market.What also makes this unit stand out is its compatibility with REP attachments such as the 5000 series dip, landmine, utility horn, spotter arms, J-cups, and leg rollers. In addition, it has its own attachments which allow you to use the structure for deadlifts or farmer carries. Three different handle grips enable you to recruit different muscles when performing the same exercise.Plastic liners are sold separately but are a good idea as they protect the yoke from damaging floors while maintaining a smooth glide. The cross brace is also adjustable and can be mounted between the uprights or behind the base for stabilization when functioning as a squat rack. This heavy-duty structure supports an impressive max load capacity of 2,500 pounds, one of the highest numbers you will see on a yoke. It is one of the pricier units available, but its versatility and strong construction makes it stand out among competitors.
Video Review
A Quick Look at the REP Fitness Oxylus Yoke 
The REP Fitness Oxylus Yoke is a customizable piece of fitness equipment that can be used to help further one's strength training or conditioning goals. For those who don't know, a yoke is a large metal frame (it sort of looks like a half rack) that comes with a thick crossbar and four plate storage posts.
Strongman competitors will hoist that crossbar onto their shoulders and carry the frame, loaded with hundreds of pounds of weight, during training and competitions. You have the option of adding a pull-up bar or a carry attachment to the yoke.
Be warned: This thing is heavy. The 77-inch-tall version weighs 230 pounds (with weight horns included) and the 92-inch version weighs 240. It's constructed with 3-inch-by-3-inch 11-gauge steel, making it a durable piece of equipment, and comes with one-inch holes that are compatible with other REP attachments (such as its dip bars, j-cups, leg rollers, low row, landmine, and spotter arms).
My Tips
Want to save a little money? Of course you do! Try looking for a REP Fitness discount code.
If you want to protect your floors, you'll have to buy the separately sold UHMW liners ($54.99)
Pros:
Constructed with heavy-duty materials
Available in two height options
Incredibly versatile piece of equipment that can be used for more than just Strongman training
Weight horns can be removed if you just want to use it as a squat rack
Comes with 1-inch holes for use with other attachments
Can hold up to 2,500 pounds
Cons:
Expensive, starting at around $850 for the base model
Liners to protect your floors are sold separately
Some attachments require multiple people for assembly
Is the REP Fitness Oxylus Yoke Worth It?
Let me start off by saying this: The REP Fitness Oxylus Yoke is not just for professional Strongmen. Used correctly, it can be an incredible conditioning tool and may be a great fit for those looking for compact exercise equipment due to its versatility.
But that doesn't mean it's right for everyone. Here are some people who we think would enjoy the REP Fitness Oxylus Yoke, and who may not get their money's worth out of it.
Great for:
People who want to lift very heavy weights
Home gym owners with multiple REP Fitness attachments
Anyone looking for a versatile piece of equipment
Not recommended for:
People who don't want to lift heavy weights
Smaller trainees
Those on a budget
REP Fitness Oxylus Yoke Specs
Footprint
59.6" L x 52.2" W x 77" or 92" H
Weight
77": 230 lbs
92:: 240 lbs
Weight capacity
2,500 lbs
Materials
3"x3" 11-gauge steel
Crossbar diameter
3"
Carry attachment
Adds 100 lbs
Pull-up bar
Adds 30 lbs
Hole diameter
1"
Training with the REP Fitness Oxylus Yoke
If you've never seen a yoke carry before, here's a clip of REP Fitness athlete and the "World's Strongest Gay" Rob Kearney making light work of not one, but two of them during the 2019 World's Strongest Man competition.
By the way, the person he bested during this contest is none other than Hafþór Júlíus Björnsson, better known as "The Mountain" from Game of Thrones.
If you just get the base model, which is the 11-gauge steel frame along with the weight horns and the crossbar, you have a piece of equipment that can be used as a half rack and a yoke. For now, we'll focus on the latter.
Garage Gym Reviews founder and expert product tester Coop Mitchell took the yoke for a spin, and while he's no Strongman, he is a strong man. He noted that the cross brace is three inches in diameter, the perfect size for stability and comfort.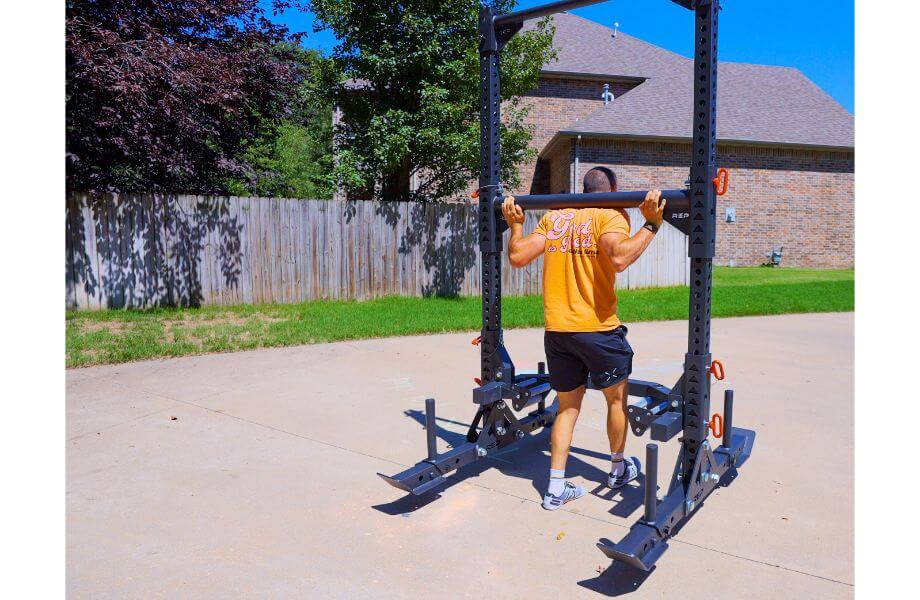 "It's the right size so that it feels comfortable on your traps, but not so big that it falls off," he says. "It's nice for thick-grip pull-ups as well."
Not a fan of hoisting this frame on your shoulders? You can add a carry attachment that comes with aggressively knurled handles that allow you to deadlift it, as well as sled posts for pushing and pulling. Be warned that the carry attachment adds an additional 100 pounds to an already heavy frame (and that's before you add any weight plates to it).
Because Coop is Coop, he tested the carry attachment and the additional pull-up bar and gave both his stamp of approval. "REP continues to provide killer value," he says, "and though this isn't a piece I'd drag out to my cul-de-sac often, it's very well done."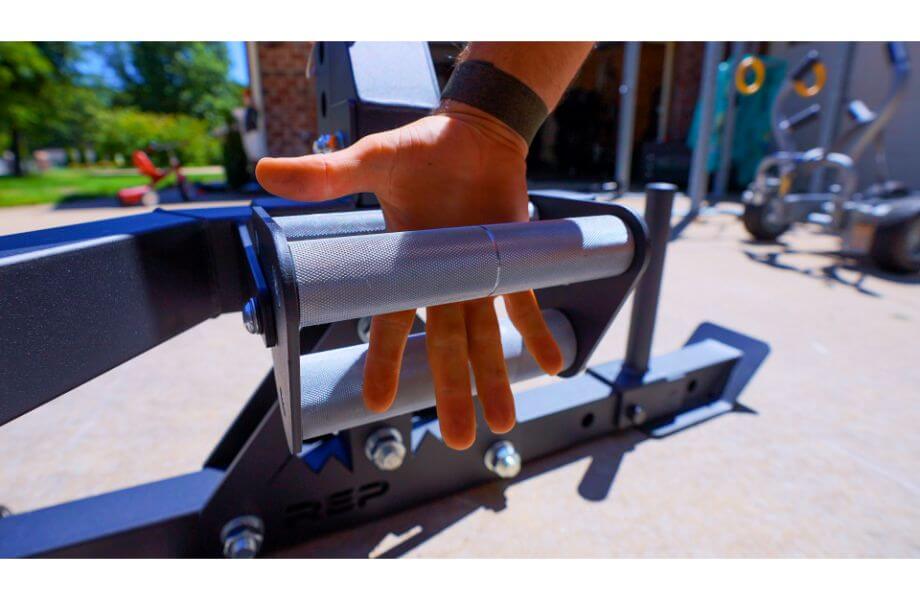 Speaking of which, if you're going to bring this outside you should know that it doesn't come with any protective liners. So if you don't want your homeowners' association to send you a sternly worded letter, we recommend purchasing the separately sold UHMW liners to prevent any loud screeching or scratching.
Why Buy the REP Fitness Oxylus Yoke?
Aside from the fact that it doubles as a rack, there are two main reasons why someone who's not interested in Strongman training might want to consider the REP Fitness Oxylus Yoke, or something like it.
The first reason would be if you're looking to improve your conditioning. Seriously, just try lifting a 230- or 240-pound frame onto your shoulders and taking a couple of steps. The first time you might get winded after a yard or two, but over time you'll be able to cover longer distances with ease.
The second is its functionality. Because REP utilizes one-inch holes that are compatible with its other attachments, the possibilities for this yoke are nearly endless. If you already have a rack in your garage gym this might not be as enticing, but it could be a great buy for people who are just starting to build theirs out.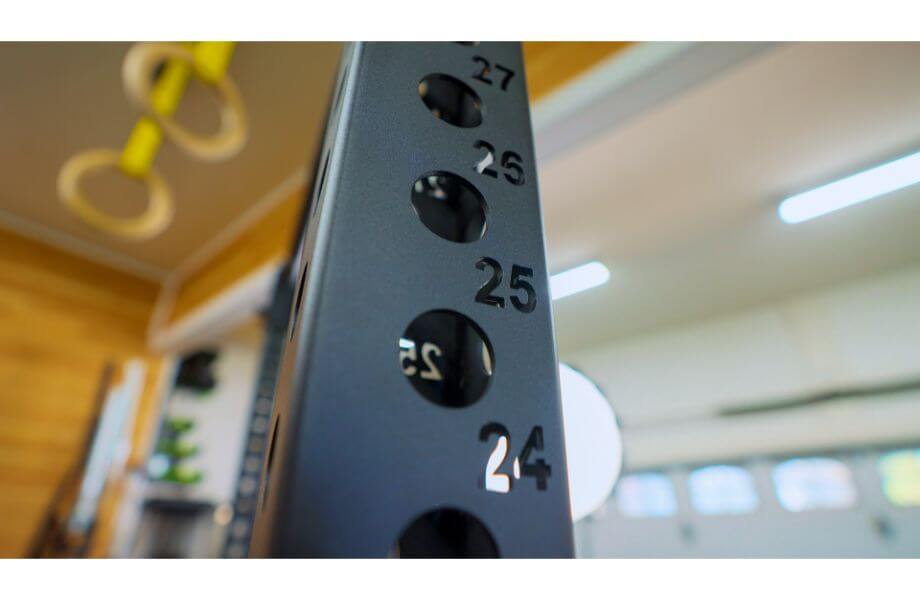 Construction and Durability
The REP Fitness Oxylus Yoke is made with three-inch-by-three-inch 11-gauge steel, which is pretty tough. Then again, it has to be if people like Kearney are taking it for a ride in their home gym. We have no doubt that it will hold up to whatever you put it through.
Footprint
The REP Fitness Oxylus Yoke comes in two height options: 77 or 92 inches tall. Both are 59.6 inches long and 52.2 inches wide, which is about the size of a half squat rack. One advantage of the yoke is that the weight horns can be removed if you just want to use it as a rack for a while, which cuts the length down by 52 inches.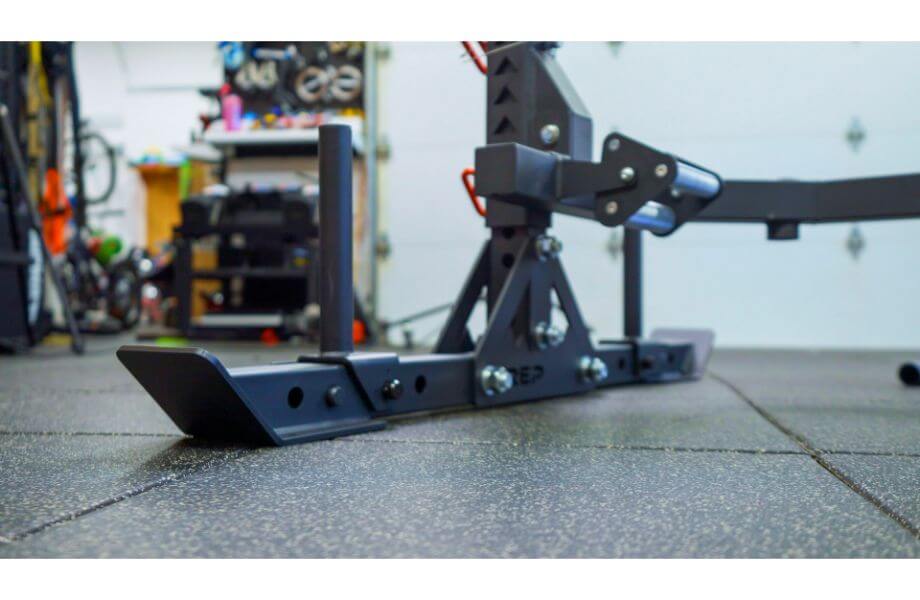 REP Fitness Oxylus Yoke vs Titan Fitness T-3 Series Yoke
Titan Yoke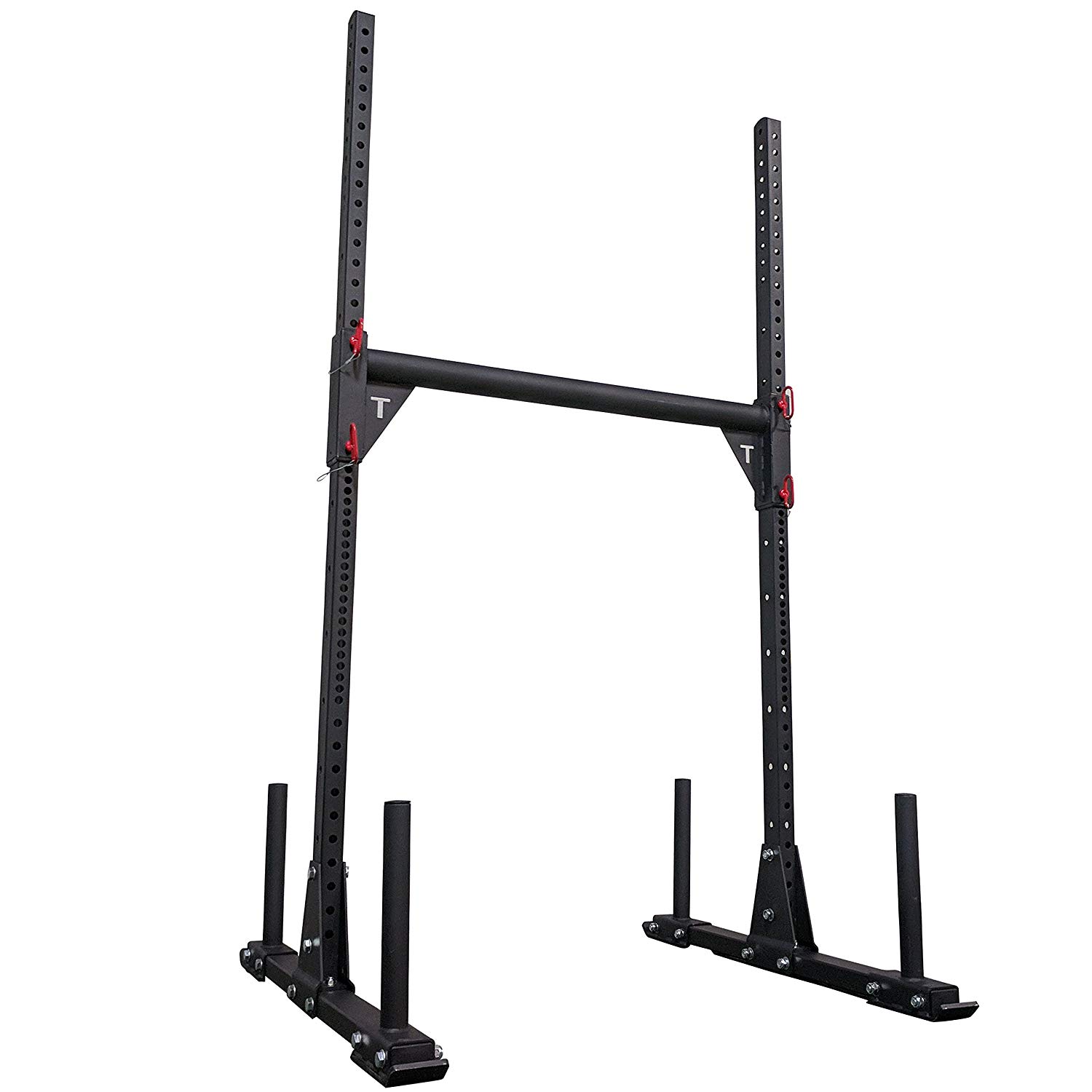 Titan T-3 Series Yoke
Whether you are training for Strongman competitions or looking for an all-in-one home gym solution, look no further than the Titan Yoke. Clear out all the clutter in your gym. The Titan Yoke can replace or work with your existing Power Rack to add extra squat and bench press space, plate storage, as well as a Strongman Yoke. Available in 92" and 72" models to fit your needs.Features: - Great alternative to a Power Rack - Serves the same purpose and adds function! - Use as a Squat / Press Stand, Push or Drag Sled, or Yoke. - A staple for Strongman training. - Adjustable crossbar to custom fit your height. - Integrated vertical plate storage. - 2" hole spacing on uprights | 1" Westside spacing through the bench zone. - 92" design makes for an ideal pull up bar height. - 2.95" Crossbar diameter. - Now compatible with competition plates!Specifications: - Weight: 178 LB - Height: 92" - Inside width: 45" - Footprint: 51" x 52" - Uprights: 2"x3" 11 gauge steel - Weight capacity: 750 LB
Perhaps I'm reading too far into this, but I think someone in REP Fitness' marketing team is a big fan of Greek mythology. The company has started naming some of their latest equipment after Olympian Greek gods—you have the Ares cable attachment, Athena functional trainer, and now the Oxylus Yoke (Oxylus was one of Ares' many sons).
OK, you probably made those connections but here's where it gets interesting: One of the Olympians' fiercest battles was for control of Mount Olympus against the older generation of gods known as the Titans, a name we see quite often in the home gym equipment industry.
Coincidence or clever marketing?
Either way, the winner in this round of the Titanomachy depends on what type of battle is being waged. The Titan T-3 Series Yoke is $470 for the 72-inch model and $500 for the 92-inch model, whereas the Oxylus starts at $845 for the 77-inch model. So Titan wins on price.
Titan's, however, only has a weight capacity of 750 pounds and uses slightly less durable 2-inch-by-three-inch 11-gauge steel (there's a small difference between that and three-inch-by-three-inch 11-gauge steel, but not much).
Due to the nature of the exercises one does with a yoke, I'd personally recommend going for a more heavy-duty piece of equipment, which in this case would be REP's. If you're looking to just do some "light" yoke walks, Titan's would be fine. It all depends on your training intensity.
REP Fitness Oxylus Yoke vs Rogue Fitness Y-2 Yoke
Titan Yoke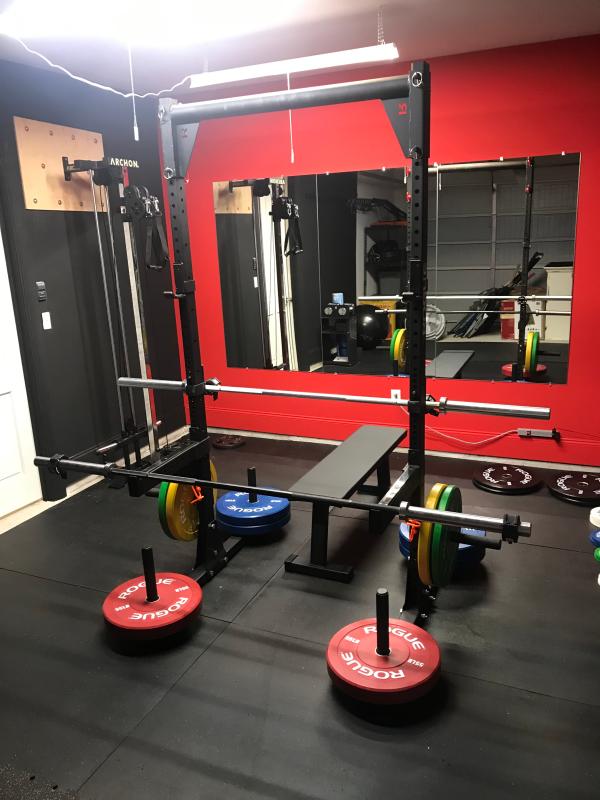 Rogue Y-2 Yoke
We've equipped the Y-2 Rogue Yoke with 2x3" 11-gauge steel uprights, a 750-pound plate storage capacity, and durable skid feet designed to handle sled pushing and dragging exercises. At nearly two feet taller than the Y-1 model, the Y-2 also features an adjustable crossbar that will work not only for a classic yoke carry or Zercher carry, but for fat-grip pull-ups and ring exercises. With additional functionality as a bench press and squat stand, the American-made Rogue Yoke could serve as an all-in-one option for a new home gym or as a versatile addition to a full-scale pro or collegiate weight room. Y-2 Rogue Yoke Specifications:Made in the USAHeight: 92" with baseTotal Weight Capacity: 750+ lbs (two side storage and four corner-post weight storage options)Applications: Strongman Yoke Training, Pushing, Pulling, Carrying, Zercher, Squat, Press, etc.(2) Uprights: 2x3" 11-gauge steel(2) Bases and (4) Skid/Storage FeetAdjustable Crossbar: 3" OD(2) J-Cups
Take everything we just said about the Titan Fitness T-3 Series Yoke and apply it to the Rogue Fitness Y-2 Yoke (minus all the mythology stuff). Rogue's yoke also comes with 2-inch-by-three-inch 11-gauge steel and a 750-pound weight capacity, and unlike the REP Fitness Oxylus Yoke, doesn't come with a carry attachment.
Rogue's yoke is made in the U.S., which might matter to some people, and comes in at $650 (though shipping and handling may bump it up to the same price as REP's, which comes with free shipping).
Financing, Warranty, Returns
The REP Fitness Oxylus Yoke can be financed through Affirm, with plans starting at $77 a month.
As of this writing, there is no specific warranty information available for the REP Fitness Oxylus Yoke. We've reached out to REP to get more information, and will update this review when they respond to us.
You have 30 days from the date of purchase to return the REP Fitness Oxylus Yoke for a full refund, minus a 15-percent restocking fee.
Ordering and Assembling the REP Fitness Oxylus Yoke
The REP Fitness Oxylus Yoke ships in multiple boxes, and if you just get the base model assembly it's as easy as connecting the uprights to the legs and cross brace.
The difficulties come when you order the carry attachment, with this warning coming straight from REP's website: "This isn't a quick and easy pin pop. To assure safety and durability, it will require a little time and effort to install the attachments on the Yoke, especially the Carry Attachment. We recommend using two people to fix on the carry attachment."
Customer Reviews
The REP Fitness Oxylus Yoke is a new item, and as of this writing there are no customer reviews published on REP's website.
Final Verdict of Our REP Fitness Oxylus Yoke Review
If there's one thing we love at Garage Gym Reviews, it's versatility. The more things a single piece of equipment can do, the better, and perhaps that's the main reason we're such big fans of the REP Fitness Oxylus Yoke. To only label it as a Strongman or powerlifting training device would be to devalue just how multifunctional it can be in most people's home gyms, from replacing a rack to fitting multiple attachments, and being used as a strength and conditioning tool.
Does everyone have the ability or desire to lift a 200-plus pound frame? No, and that's alright. But for those who fall into that category we highly recommend the Oxylus yoke. Again, just be sure to buy the UHMW liners to protect your home gym flooring.
REP Fitness Oxylus Yoke Rating
REP Fitness Oxylus Yoke FAQs
Where is REP Fitness equipment manufactured?
REP Fitness has most of their fitness equipment imported from factories in China.
Are REP Fitness weights good?
REP Fitness makes some of the best high-value weights on the market, providing people on a budget with access to heavy-duty strength training equipment.
Can you use a yoke as a squat rack?
As long as the yoke has holes that can fit an Olympic barbell and an adjustable cross brace, then yes it can be used as a squat rack.