We test and review fitness products based on an independent, multi-point methodology. If you use our links to purchase something, we may earn a commission. Read our disclosures.
Weight plates are an essential piece of home gym equipment. With weight plates, you can perform virtually any exercise you can think of. The best weight plates will resist damage, have minimal to no bounce, fit snugly on an Olympic barbell, and look good while you're smashing PRs left and right.
In truth, the "best" weight plates will be different for everyone and which plates are the best for you depends largely on your training style and goals, and your budget. This guide to weight plates should help you make a smart decision based off our multi-point rating system that looks at things like:
Durability: Can these plates last a long time?
Size: Will they crowd a barbell or can you easily stack them for heavy lifts?
Weight accuracy: Are the stated weights accurate or is there a discrepancy? Will the company replace them if there's a large difference?
There are a lot of weight plates out there and we highly doubt any other guides to the best weight plates are written by people who have tested as many weight plates as we have. We've tested literally hundreds of weight plates, including all of the bumper plates, iron plates, steel plates, and competition plates available.
We've done the research on pricing, shipping, warranty, and construction; and we've done squats, deadlifts, and Olympic lifts with these plates—and dropped them from overhead when appropriate—to create this comprehensive guide to the best weight plates for you.
The Best Weight Plates for 2023
Best Weight Plates Video Review
Best Budget Weight Plates: REP Fitness Old School Iron Plates
Good for: Anyone who wants some good-looking metal weight plates for a good price.
REP Fitness Old School Iron Plates are similar to the Rogue Deep Dish Plates. Like the Deep Dish Plates, the REP Old School Iron Plates are single-sided with one deep lip. They're solid cast iron coated with a matte finish and raised silver lettering to complete the classic vintage look.
Since they're bare metal plates, they also cost less than the urethane-coated REP Equalizer Plates we love. All in all, they're a solid choice that comes at a great price point. There's nothing inherently special about these weight plates in terms of construction or function, but if you're looking for value, you've found it.
While the REP Old School Iron Plates may not seem like a budget item on the surface, once you factor in shipping costs, these come out less expensive than the Deep Dish Plates and a lot of other iron plates. REP's free shipping really comes in clutch here.
Just like REP's standard iron plates, the Old School Iron Plates feature a complete cast construction. There are no machined or precision-drilled parts, so expect some minor discrepancies between plates you receive. I don't think small imperfections are anything to worry about, but it's worth noting.
Unfortunately, REP Fitness only warranties these iron plates for one year. This doesn't make me feel super confident in the product, but then again, most bare metal plates don't have a fantastic warranty.
RELATED: Best Budget Home Gym Equipment
Best Urethane Weight Plates: Titan Fitness Urethane Bumper Plates
Good for: Fans of bumper plates who want something a bit more durable and with less bounce.
I love a good urethane weight plate. Urethane is an ultra-durable type of rubber that makes for solid, dense weight plates that resist bouncing and skipping.
Titan Fitness lists the weight tolerance as plus/minus 1%, which I have found to be accurate in my usage of these plates. Constructed of virgin urethane rubber, a solid cast iron core, and a hard chrome center hub with a chamfer, the Titan Fitness Urethane Bumper Plates are sure to bless your garage gym for many years.
My main complaint: Because of the lipped, squared-off design, these weight plates are very hard to pick up from the ground if they're lying flat. It's just tough to get a finger under the plate to lift it up.
You should also know that urethane is universally slippery, so expect these weight plates to be more grip-averse than most rubber weight plates.
One of my favorite things about these weight plates is their vibrant color. Pictures don't do them justice and I have a hard time explaining just how shockingly bright these plates are. I might've enjoyed unboxing these plates as much as I enjoy using them to this day: They are a standout addition to any home gym.
Best Rubber Weight Plates: Rogue Echo Bumper Plates
Good for: Anyone who needs bumper plates in any capacity.
If you're looking for a durable, classic set of black bumper plates, look no further than the Rogue Echo Bumper Plates. These sturdy bumpers are constructed of virgin rubber with a stainless steel center ring—two factors that automatically boosted these weight plates to the top of our list.
Although the Echo bumpers are imported and we'd prefer to see them made in the U.S., we know that would jack up the price. We also don't think the quality is subpar at all despite being imported.
With a Shore A Durometer rating of 88, you can rest assured that the Echo Bumper Plates will withstand drops from the overhead position as well as ego bar slams after hitting a personal record. The 450-millimeter diameter and 50.6-millimeter collar opening meet the International Weightlifting Federation (IWF) specs and Rogue's promise of a +/- 1% weight tolerance means you can confidently train with these bumper plates and hit the same numbers in competitions.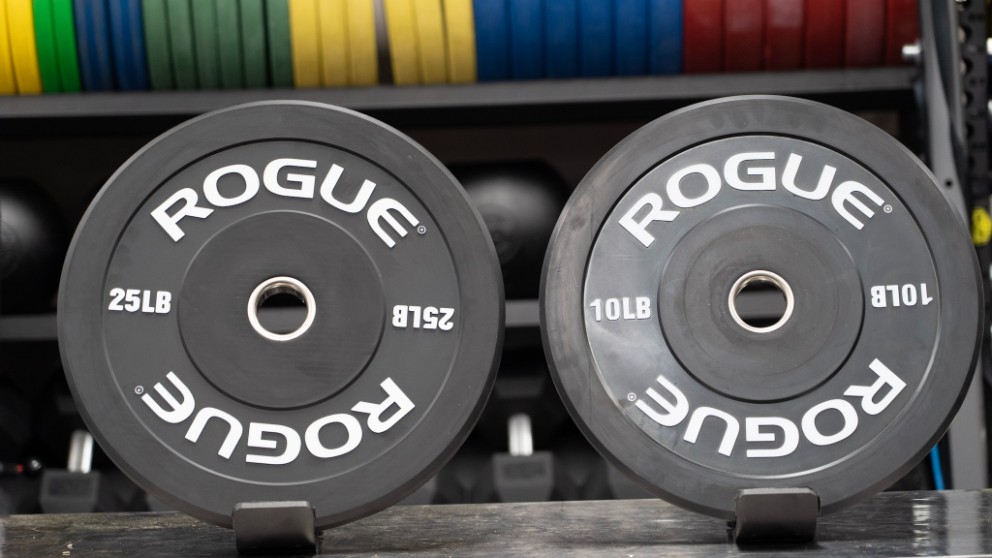 I love the dead bounce on these plates, and it's something you won't often see in an economy-priced weight plate. I also think these are some of the cleanest-looking bumper plates out there with a smooth matte black finish and stark contrast with the raised white lettering.
Based on the number of reviews on the Rogue website, the Echo Bumper Plates are Rogue's best-selling bumpers. These also happen to be Rogue's least expensive bumper plates. When you factor in Rogue's exceptional shipping prices and the three-year warranty on the 25-, 35-, and 45-pound plates, you have the best bumper plates for the best price right here. I will say I'm not a fan of the measly 90-day warranty on 10- and 15-pound Echo bumpers, but other than that, these are a win-win in my book.
Most Durable Bumper Plates: Living.Fit Bumper Plates
Good for: Functional fitness fanatics who regularly drop and slam a loaded barbell.
You might think that the most durable bumper plates should be our top pick for the best overall weight plates. But that's simply not the case: Durability is just one factor you should consider when looking for weight plates, albeit an important one. There are many other things you should consider, of course, such as price, warranty, shipping, diameter, width, and more.
However, if durability is the primary driver behind your ultimate buying decision, definitely go with these Living.Fit Bumper Plates. Not only do these bumper plates look and feel great during use, but they also come with one of the best—if not the very best—warranty I've ever seen on weight plates.
All of the Living.Fit Bumper Plates have been tested to withstand more than 150,000 drops with heavy weight without causing damage to the plates. All plates, regardless of weights, are also covered by a four-year home warranty (only one year for commercial use). That's one of the best warranties we've seen on any type of plate.
One component that adds to the durability is the anchored steel center hub. Most bumper plates use a pressed-in hub, which is more likely to come loose over time and even fall out completely. An anchored center hub, like the kind used in the Living.Fit Bumper Plates, is embedded in the rubber and thus is less susceptible to wear-and-tear.
Another plus is that Living.Fit promises the plates will arrive within 1 percent of their stated weight—and if they don't, they'll replace it for free. That's customer service.
I would've liked to see a stated Durometer rating, which scores how durable the rubber is, but after extensive testing I'm pretty sure these will last for many years.
Best Crumb Rubber Plates: PRx Crumb Rubber Bumper Plates
Good for: Those who want crumb rubber plates instead of plates made with virgin rubber
Crumb rubber plates are made from recycled rubber and creates a more durable plate than those made with virgin rubber (brand-new rubber) and provides a high bounce for CrossFitters or Olympic lifters who are looking for that type of thing (sorry powerlifters, you're going to have to look at our other options). We've tried more than 10 crumb rubber plates and the PRx ones are our favorite to date.
Lindsay Scheele, home gym equipment and Garage Gym Reviews Everything host, uses these for her CrossFit-style workouts and is "obsessed" with them, saying it makes her workouts much more fun.
"I'm a big fan of the flaky look on the plates," she adds.
While these are indeed durable the 10- or 15-pound plates are so thin and flexible that dropping them may cause the steel insert to pop out and cause damage to the plates and your barbell. Good thing these are sold individually so you can skip those two weights if you want.
Best Competition Bumper Plates: Rogue Competition Bumper Plates
Good for: Olympic weightlifters who want tried-and-true competition plates.
Many think competition Olympic bumper plates are the same as regular training bumper plates. This is not so. Competition bumper plates utilize a steel center plate instead of just a center ring; are thinner so you can fit more weight on the bar; are made to IWF specs (including color), and have tighter weight tolerances than standard bumpers.
The Rogue Competition Bumper Plates in particular feature a chrome-plated steel center plate, a gloss-matte-gloss finish in IWF colors, raised white lettering, and official IWF branding. The 450-millimeter diameter meets IWF specs. With a 50.4-millimeter collar opening, these competition bumpers fit an Olympic barbell very snugly and may not fit cheaper barbells that aren't made to spec.
Tight weight tolerance of just +/- 15 grams of the stated weight means competitors can confidently train with these Olympic weight plates and match their lifts in competitions. Rogue Competition Bumper Plates have an insanely high Shore A Durometer rating of 94, making these some of the densest bumper plates available. No matter how much or how little weight you have on the bar, you will receive a dead bounce when you drop these weight plates.
I love that Rogue added a raised flange around the metal disc to prevent direct metal-to-metal contact when loading multiple plates on your barbell. This prevents premature scuffing and rusting of the steel beneath the chrome coating; however, scuffing and rusting is still always a possibility, especially if you don't take proper care of these weight plates.
The saying "you get what you pay for" rings true with these plates. Rogue Competition Bumper Plates are not a budget product—I'd go as far as to say they're a luxury. They're simply too expensive for most people, and I honestly wouldn't recommend them for people who have no plans to compete. If you do compete in weightlifting, however, this is the best plate set option for you.
Best 10-Pound Bumper Plates: Fringe Sport Black Bumpers
Good for: Beginners and experienced lifters alike looking for solid training bumpers that won't bend and break.
Not all 10-pound bumper plates are created equal. If you're going to pay extra attention to any of your weight plates, make it the 10-pounders. These are the most vulnerable weight plates in your collection of bumpers, so make it a point to get good ones and take good care of them.
As all bumper plate enthusiasts know, 10-pound bumper plates are prone to bending, flexing, cracking, and deforming. Making 10 pounds of rubber fit a 450-millimeter diameter is no simple task. But Fringe Sport has done a pretty darn good job.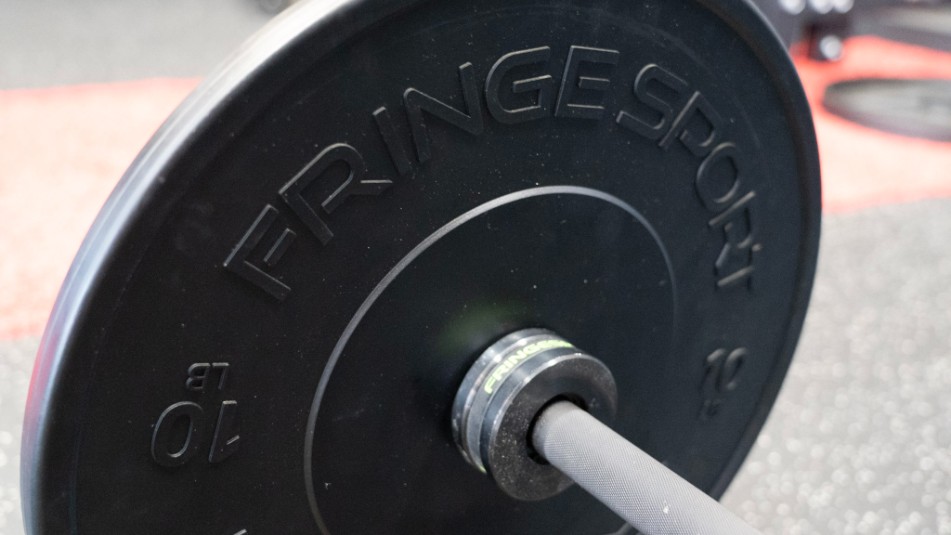 Fringe Sport's 10-pound bumpers are the best we've tested. The Shore A Durometer rating of 90 is higher than that of Rogue's Echo 10-pound bumpers, so naturally, the Fringe Sport ones don't bend or flex as easily. The hooked stainless steel center hub adds to the durability.
Plus, Fringe Sport offers a one-year warranty on their 10-pound black bumper plates, which is almost unheard of. For comparison, the warranty on the Rogue Echo 10-pound bumper plates is just 90 days. We have no problem recommending a full set of Echos—minus the 10s—and heading over to Fringe Sport for your 10-pounders. This might irk some home gym owners who get nit-picky about having cohesive sets of equipment, but I truly think it's the right choice.
Or, if you're just looking to add a set of 10s to your existing collection, we urge you to try these out. Our biggest complaint with the Fringe Sport 10-pound bumper plates is that the diameter is ever so slightly smaller than the diameter of the rest of the plates in this collection: The 10-pound plates are 17.5 inches in diameter while the rest of the collection meets the IWF standard of 17.7 inches. It's a small difference and probably unnoticeable for most people, but we think it's worth calling out.
RELATED: Best CrossFit Equipment
Best Cast Iron Plates: Rogue Deep Dish Plates
Good for: Powerlifters looking for accurate and aesthetically pleasing metal weight plates.
If you love vintage fitness culture, you gotta get your hands on the Rogue Deep Dish iron plates. These bad boys just scream Arnold Schwarzenneger at Muscle Beach in Venice. The gunmetal e-coat finish; the clang of cast iron; the extra surface area. It all harkens back to the golden age of weightlifting.
Aside from being straight-up sexy, these cast iron weight plates are highly functional too. They differ from Rogue's standard iron plates in that they're extra-wide and single-sided with a deeper lip. As Rogue calls out on the website, the increased width is for a reason: Back in the day, when cast iron plates were still used for Olympic weightlifting, the extra surface area reduced damage to the plates and wooden platforms.
These days, iron weight plates aren't the best option for Olympic lifts with so many great bumper plates out there. However, if you mainly do powerlifting or bodybuilding-style workouts, you can get away with the Rogue Deep Dish plates as your main mode of moving weight.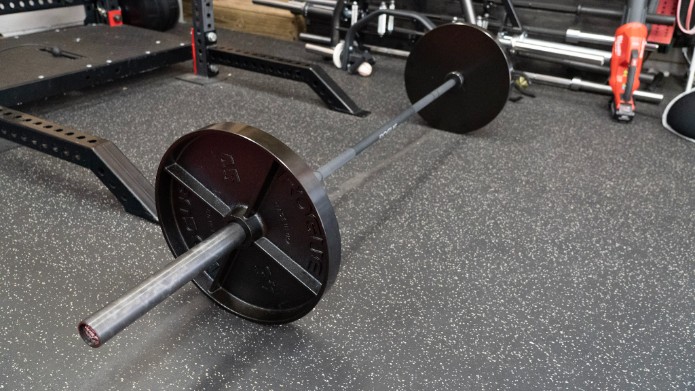 In addition to traditional barbell exercises, deep-dish plates have other applications thanks to the extra room for grip. You can use these for farmer's walks, halos, or even reverse curls with the right grip.
The Rogue Deep Dish Plates together nicely on the bar, but due to the width, you'll only be able to stack a maximum of five 45-pound plates on an Olympic barbell sleeve (450 pounds total on the bar). Without barbell collars, you can probably smash some change plates on there, too. This isn't ideal for elite powerlifters, to say the least. But for the average home gym owner, it's more than sufficient.
Despite how much I love these plates both for the aesthetics and functionality, I do have to say I was a bit disappointed in the quality when they arrived. When I unboxed mine, I noticed several dings and scratches on many of the plates. This could be attributed to Rogue's struggle to keep up with the demand at the time—I ordered these back in the height of the COVID-19 pandemic when all gym equipment was flying off of shelves. I'd like to think Rogue got a better grip on production and quality assurance since then.
To get more information on these, check out my Rogue Deep Dish Plates review.
Best Weight Plates on Amazon: CAP Barbell Olympic Grip Plates
Good for: Home gym owners looking for affordable weight plates with relatively fast shipping.
CAP Barbell is known for its budget-friendly pricing and availability at big box stores like Academy Sports & Outdoors and Dick's Sporting Goods. However, you can also get a lot of different CAP products on Amazon. I'll be the first to say I wouldn't normally recommend CAP Barbell weight plates over other brands, but if you're set on ordering gym equipment from Amazon, these are your best bet.
RELATED: Best Budget Home Gym Equipment on Amazon
CAP has been around for a long time and makes decent, but not great, fitness equipment. These plates are solid cast iron with a semi-gloss enamel painted finish. They feature oversized grips for easy loading onto the bar and clearly marked weight indications in silver.
I agree with the primary sentiment on Amazon: These plates are what they are. They're run-of-the-mill iron weight plates you can use for general strength training. There's nothing extraordinarily good or extraordinarily bad about them.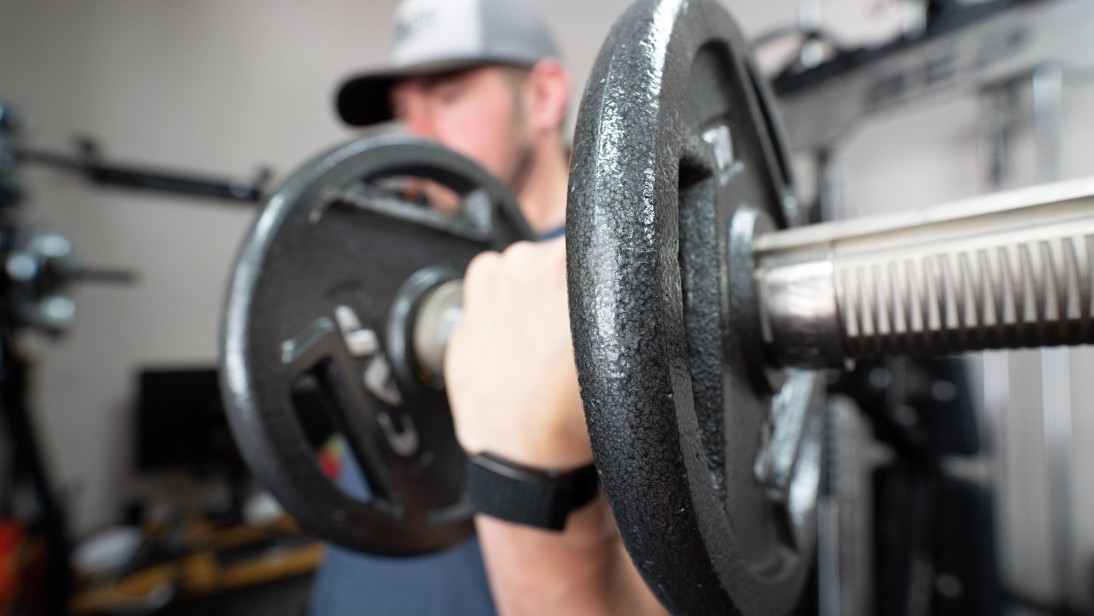 There are, however, some minor imperfections you should know about these plates. First of all, they aren't made to IPF specs, so skip them if you care about that. (We aren't worried about IWF specs, since we hope you aren't planning to snatch or jerk with these.) The diameter of the 45-pound CAP plates falls short of the IPF specification of 17.7 inches. These measures about 16.75 inches, which only really matters when you're deadlifting—just something to keep in mind.
If you search these online, you'll see a lot of good reviews and a lot of bad ones. It seems to me that all of the people who left good reviews had the right expectations and understood what they would get out of a budget weight plate they ordered on Amazon. People who left bad reviews seemed to think they were ordering from Rogue Fitness or Eleiko. Set your expectations correctly and you'll enjoy these weight plates just fine.
As one reviewer said on Amazon: "This is a 45-lbs weight with a 2-inch hole in it. Not much to go wrong. It's heavy and I can pick [it] up and put it back down again to get stronger."
Well, there you have it.
Best Calibrated Steel Weight Plates: Rogue Calibrated Steel Weight Plates
Good for: Powerlifters who compete and want to be sure they're training with accurate weight plates.
If you see "calibrated" in the name, expect a high-quality product. If you see Rogue in the name, double your expectations. These are by far the best steel weight plates I've ever had the pleasure of using.
When a plate is calibrated, it means the actual weight is less likely to deviate from the stated weight. Some weight plates, for example, might state 45 pounds. But if you weigh it, you could get an actual weight of anywhere from 40 to 50 pounds (typically, inaccurate plates are lighter, not heavier). Calibrated weight plates are machined to precision.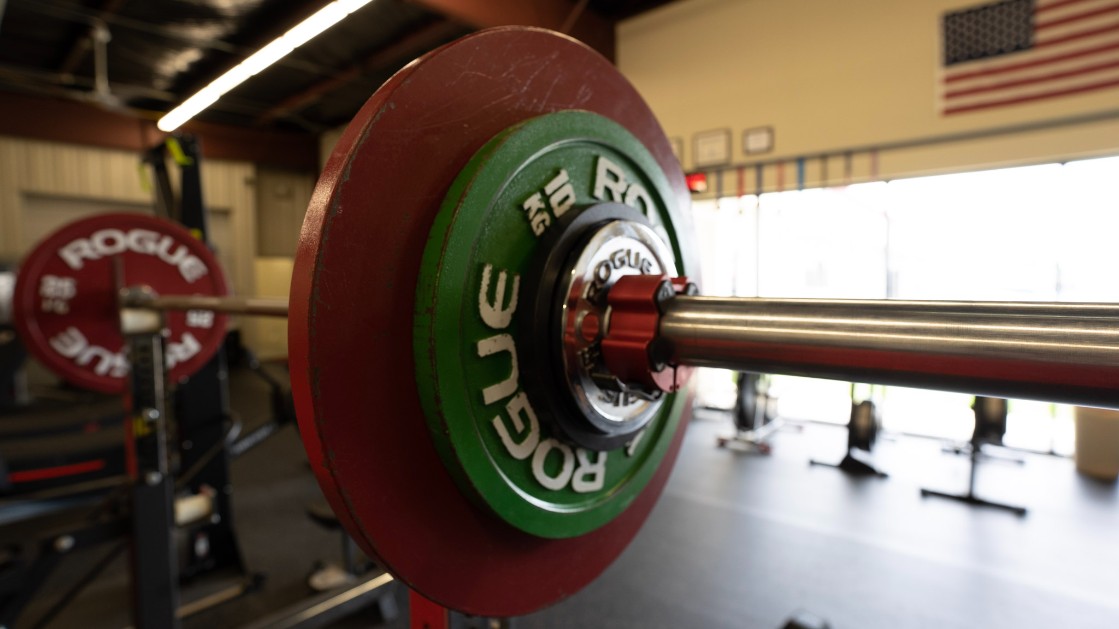 Available in both kilos and pounds and made to IPF specs, these Rogue Calibrated Steel Weight Plates have a tight weight tolerance of just 15 grams more or less than the stated weight. The 50.4-millimeter center opening fits Olympic barbells snugly and, like others with a tight center hub, may be a struggle to fit on cheaper bars that don't fully conform to IPF specifications.
These plates are extremely thin and probably the absolute best weight plate option for powerlifters on this list. The 55-pound plates are barely over an inch in diameter, so on a standard Olympic barbell, you can load more than 1,000 pounds on the bar.
I will note that the coating on these plates isn't the best. The paint chips easily and although we haven't used these plates as much as we've used some others, they look more worn than they should. They do look smooth when the paint is new, though.
Best Weight Plates With Handles: REP Fitness Equalizer Urethane-Coated Iron Olympic Plates
Good for: Powerlifters or bodybuilders looking for plates that make loading the bar easy and efficient.
This type of weight plate is most often found at big-box commercial gyms. This is for good reason: Cast iron weight plates are an economical choice, yet they'll last for ages. The six-hole design in these REP Fitness Equalizer Plates also makes them much easier to grip and move around than other types of plates, which means members are theoretically—emphasis on theoretically—less likely to drop weights on their toes.
Anyway, REP's Equalizer Urethane-Coated Iron Olympic Plates are a great pick for anyone who hates bothering with bumpers or metal plates that feel nearly impossible to pick up from the ground. We've all been there: Trying for five minutes to finagle a finger underneath a plate lying flat on the ground or stacked on one of those mobile plate poles; eventually asking for a buddy to help or accepting the pain that is smashing your fingernail between two 45s. But I digress.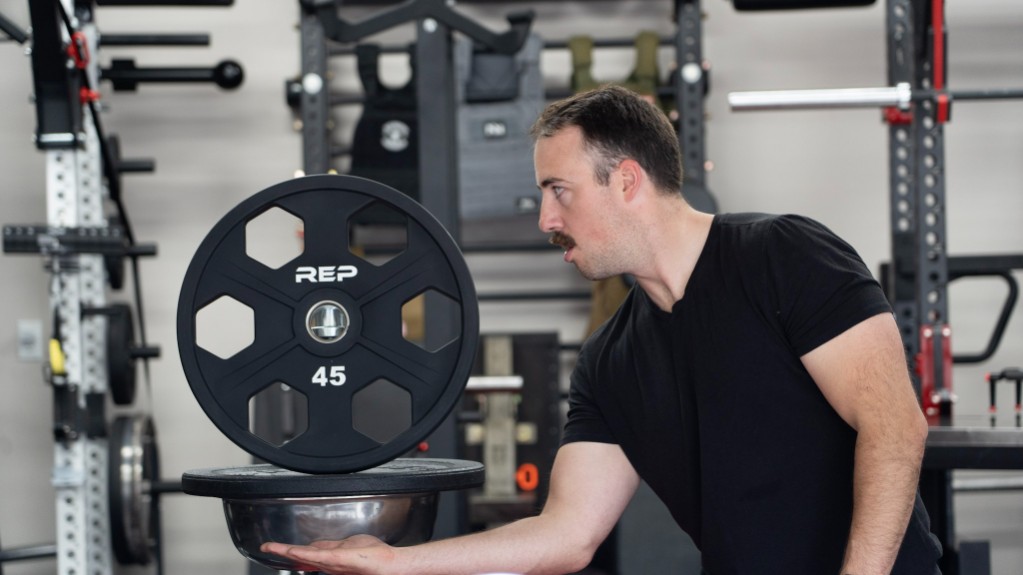 They're super easy to load onto bars, and thanks to the thin width (45s clock in at just 1.8 inches), you can load up to eight 45-pound plates on each barbell sleeve and still have room for collars. We're looking at 720 pounds on the bar, making these a solid choice for a powerlifting bar. If you're using a 15-kilogram bar like the Bella Bar, note that the barbell sleeves are shorter, so you won't be able to fit as many plates.
Compared to bare steel or iron weight plates, rubber-coated ones like these have increased durability, so they should resist damage longer. Over time, the thin rubber coating may start to peel, but by that point, you've had many years of use without even touching the metal underneath.
Just remember: These are not bumper plates. Despite the rubber coating, you can't drop these from overhead, from the front rack, or from anywhere. While REP does offer a lifetime warranty on these plates, they aren't warrantied for dropping. So don't drop 'em.
In addition to a weight tolerance no greater than +/- 2% of the stated weight, these plates feature a machine-drilled center hole—not cast—for a super tight fit on the barbell sleeve.
For a closer look at these, check out my REP Equalizer Iron Olympic Plates review.
Why Your Home Gym Should Have Weight Plates
Weight plates are a staple for any home gym. With a barbell and some weight plates, you can do 99% of the exercises you need to do to get stronger and fitter. If you can only choose one type of equipment to get for your home gym right now, make it a barbell and a set of plates, even if it's just one pair of 45s. This will do you better than all the dumbbells or cardio equipment in the world.
With a barbell and plates, you can do back squats, front squats, deadlifts, overhead press, bench press, clean and jerks, snatches, rows, lunges, and some of the best back exercises. You can also do accessory work such as biceps curls, Romanian deadlifts, good mornings, skull crushers, and so much more.
A good barbell and some durable weight plates—whether you choose bumpers or metal plates—can last a lifetime with proper care and maintenance. You'll have a better gym and become a better athlete with these basic but important pieces of gym equipment.
RELATED: Barbells vs Dumbbells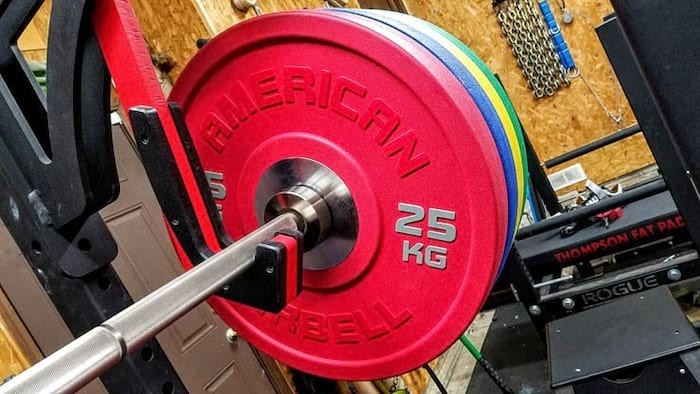 Bumper Plates vs. Metal Plates
In the fitness community, you'll often hear people argue over whether metal plates or rubber plates are best. The truth is, neither is inherently better than the other. They just have their own places and their own uses. Choosing the right type of plate for your facility and your training style is what's important.
Bumper plates are best for Olympic lifting and functional fitness-style training. If you'll be dropping your barbell at all from overhead, from the front-rack position, or even from the hang, you should get bumper plates. Why? Because bumper plates are made primarily of rubber: A thin iron or steel core is coated with a thick, protective layer of rubber to create accurate yet durable plates.
Metal plates, on the other hand, don't have a protective rubber coating. This means you should not drop them from any position, so it limits the types of lifts you can do with them. If you have no intention of doing Olympic lifts or CrossFit-style training, iron or steel plates are a good option for you. They can get noisy, though, especially on heavy deadlifts or simply while re-racking the bar.
Keep in mind that some metal plates have a thin rubber outer layer, such as the American Barbell Iron Olympic Plates, but this doesn't make them bumper plates. You still shouldn't drop these or similar plates from any position. If you're after metal plates, the kind with a thin rubber coating reduces noise, which is a good option if you live close to your neighbors.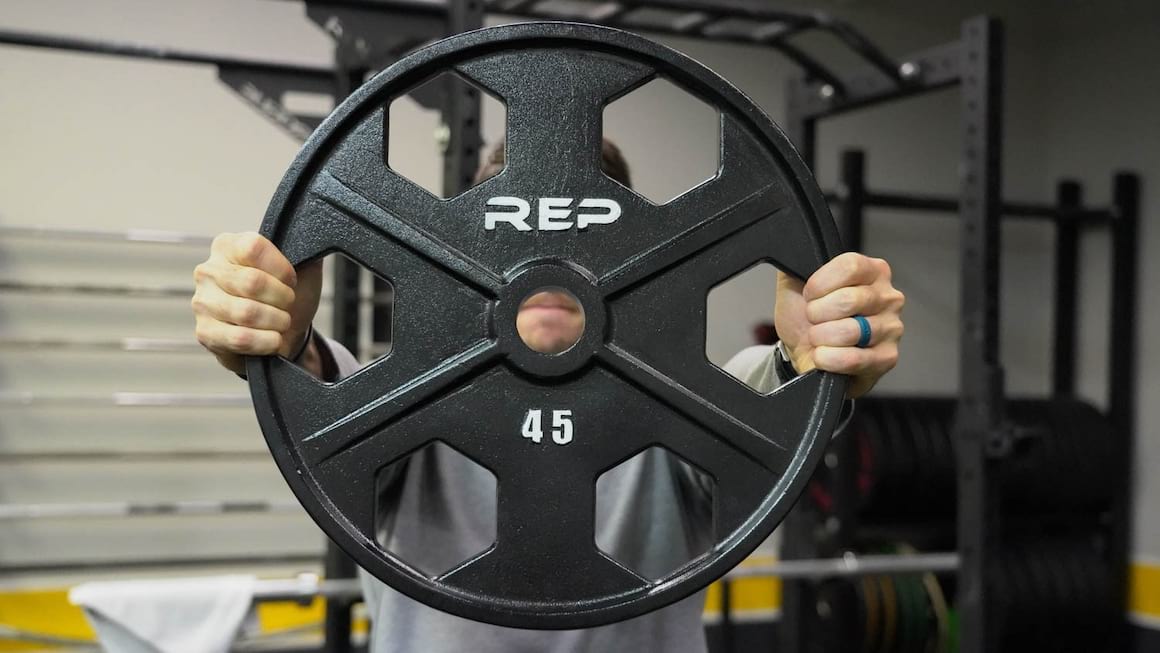 How to Choose the Best Weight Plates for Your Garage Gym
Weight plates, like all other home gym equipment, are subjective. The best weight plates for you may not be the best weight plates for someone else. (That's why we have so many categories of weight plates in this roundup.)
To choose the best weight plates for your home gym, consider the following factors and buy the weight plates that best fit your needs for each category.
Materials and Construction
Rubber or metal? That is the question—the initial question, at least. Much more goes into weight plates than just "rubber or metal," but to narrow down your options, that's the first thing you should consider. Do you need bumper plates or will metal plates suffice?
Once you determine that, consider what subcategory of materials you need. If you're going with bumper plates, will recycled rubber types such as crumb rubber work for you? Or do you need something with a higher density and less bounce, such as urethane rubber? If you're going with metal, research the differences between cast iron plates and steel plates. Look for calibrated metal plates if you're a competitive powerlifter.
Make sure to also look at what the center ring is made of on any weight plates you're interested in. A stainless steel center ring is best for durability and longevity. Any version of finished steel, such as zinc-coated steel, will scuff over time and potentially rust if not in a climate-controlled environment or if not cared for properly. Some center hubs are made of brass, which is soft and can scuff easily.
Your Training Goals
This goes hand-in-hand with materials and construction. The way you train and your fitness goals will largely dictate which weight plates are the best for your home gym. As mentioned above, rubber weight plates are best for people who do Olympic lifting, functional training, or otherwise have any chance of dropping barbells. Metal plates will work for powerlifters and anyone else who has no intention of dropping weights.
Durability
Once again, we circle back to materials and construction. As you would expect, pricier plates generally (but not always) prove to be more durable than less expensive weight plates. For example, urethane rubber plates are more expensive than crumb rubber plates; urethane is far more durable than crumb rubber and will hold up for many more years. As for metal plates, it's worth paying more for ones that are powder-coated, e-coated, or rubber-coated to delay scuffing and rusting.
Your Home Gym Setup and Location
Think about things like flooring and insulation when choosing weight plates. If you live in a townhome and your garage backs right up to your neighbors' on both sides, consider getting high-quality bumper plates to keep bounce and noise to a minimum. If you happen to have 10 acres of land and a barn-turned-gym, however, who cares how much noise your iron plates make?
Working out on unprotected floors, like bare concrete? First of all, I recommend getting some inexpensive horse stall mats from your nearest Tractor Supply Company store, but if that's not an option at the moment and you're ready to buy plates, bumpers are likely to be better for your floors (and they'll hold up better than bare metal plates on bare concrete floors).
Calibrated vs. Uncalibrated Weight Plates
If you compete in powerlifting or Olympic lifting, you should consider buying calibrated weights. For powerlifters, calibrated iron or steel weights are the best options. For Olympic lifters, competition bumper plates are the best. Regardless of your sport, look for plates that deviate no more than 15 grams from the stated weight.
Budget
Your budget, of course, ultimately determines which weight plates you can buy. More money will get you better weight accuracy, improved durability, and higher quality materials. A tighter budget means you'll have to sacrifice some elements of a good weight plate, such as weight accuracy or, when it comes to bumper plates, minimal bounce.
FAQs About Weight Plates
What are the best weight plates for powerlifting?

Because powerlifting consists of slower lifts—squat, deadlift, and bench press—and you won't be dropping any barbells from overhead, you can really use any type of weight plate you like. Many powerlifters reach for cast iron or steel weight plates. If you compete in powerlifting, it's a good idea to purchase a calibrated or machined weight set in kilogram weight increments for accuracy.
What are the best weight plates for Olympic weightlifting?

Competition bumper plates are by far the best weightlifting plates for Olympic lifting. You'll probably want to get them in kilograms, not pounds since Olympic lifters use kilos for competition. Competition bumpers offer better weight accuracy than many standard rubber plates; they're thinner to allow for more load on an Olympic bar, and they're safe to drop from overhead or the front rack position.
What are the best weight plates for CrossFit?

Regular ol' bumper plates are your best bet for CrossFit. If you're going to be dropping your barbell (or perhaps even throwing it—who knows? It's CrossFit), urethane bumpers have minimal bounce compared to Hi-Temp or other crumb rubber plates.
Can you drop metal weight plates?

You definitely shouldn't drop metal weight plates, even if they have an outer rubber coating. Not only might you damage your flooring, but you can damage your barbell and the weight plates themselves. Also, it's just super loud and annoying when metal weight plates clang, so your nosy neighbors might file a complaint about your super awesome garage gym. And we don't want that.
How accurate are weight plates?

The accuracy of weight plates varies greatly among brands and depends largely on whether the weights are calibrated or not. Price is also an indicator of accuracy: The cheaper the plate, the bigger the weight tolerance range. If you can't fork out the money for higher end plates, expect a weight tolerance range of up to 5%. Pricier weight plates generally have a weight tolerance range of 1 to 2%. Competition plates should deviate no more than 15 grams below or above the stated weight.
How much do weight plates cost?
Weight plates can vary in cost depending on their weight tolerance, construction, and durability. For example, our budget pick, the REP Fitness Old School Iron Plates, cost $160 per 45-pound pair, whereas the Rogue Competition Plates cost $334 per 20-kilogram pair (roughly 45 pounds).
What material is best for weight plates?
If you're a bodybuilder or someone who doesn't plan on slamming weights often, go for iron or steel weight plates. Powerlifters or CrossFitters, on the other hand, should lean toward rubber or urethane plates because they can be bounced on the floor and take little to no damage.
The Competition
There are hundreds of options out there for weight plates. It would be impossible to cover all of them in-depth, but we did put together a list of all of the plates we've tried or, at the very least, thoroughly researched. Here's a look at some other options for bumper plates, competition bumpers, iron plates, and steel plates compared to our top picks above.
Bumper Plates
Rogue Fleck Plates: These are very similar to the Vulcan Alpha Bumpers V2.0. I haven't been able to use them yet, so I will withhold a complete comparison. That said, these are pretty similarly priced, but they are thinner than Vulcan plates. It's worth noting that Vulcan offers a longer warranty.
Rogue Training 2.0 Plates: We have multiple sets of these in both black and color. They were the same plates that Pendlay/MuscleDriver USA used to sell. After using the Training 2.0 plates for a few years, I can confirm that they're okay plates, but there are many more we'd suggest above them today.
Fringe Sport Savage Bumper Plates: I love the way these plates look—they're probably one of our favorite designs, however, we know not everyone will love this design, so we recommend the same plate in a more simple style: the Fringe Sport black bumper plates.
Fringe Sport Black and Color Bumper Plates: These are the same as the contrast plates that we've recommended in different styles and price points. Choose your favorites.
XMark Hi-Impact Bumper Plates: I think these are good bumper plates for the price, and they come with a good three-year warranty. However, they are a bit more expensive than some of the other offerings.
XMark Go Green Crumb Rubber Bumper Plates: These are decent crumb rubber bumpers, but I don't like that they're imported and I really don't like that they have a nasty odor. If you're going to get recycled car tire crumb rubber bumpers, just go with Hi-Temp.
X Training Equipment Premium Color Bumper Plates: These are highly reviewed on Amazon, but the colors are completely off. For instance, the 45-pound plates are red instead of blue. 'Scuse me? If this were fixed, for the price, these are actually a decent value.
HulkFit Color Coded Rubber Bumper Plates : These are high-density rubber colored plates with a unique hub. They're priced pretty well, but their colors are off and we question their long term durability due to the unique hub design. They also have been known to crack.
Synergee Bumper Plates: I think these are just too pricey for being so similar to so many other options
Eleiko XF Bumpers. These are great bumper plates, but I think they're too expensive for most home gym owners in the US. Eleiko equipment is always cheaper in Europe since that's where the headquarters is. Regardless, these plates have great sound suppression although they're a bit thick for my liking. They now offer these in pounds as well as kilos.
Eleiko Sport Training Discs: These plates are a great option if you want Eleiko plates on a semi-budget. They're still hella expensive though. If you're going to spend this much on plates, you might as well buy their IWF plates.
Titan Fitness Urethane Bumpers: From what I can tell, these are the exact same as both the Rogue urethane bumpers and the American Barbell urethane bumpers. Like I mentioned in my review of the American Barbell urethane bumpers above, urethane plates are slippery and known to crack, although the latest versions of urethane bumpers have been very durable.
Titan Fitness Black Bumper Plates: An economy plate, Titan's basic black bumper plates are great for the home gym owner who needs to stock up with a ton of plates. However, Titan is still having some supply chain troubles and these plates are often out of stock.
American Barbell Sport Bumper Plates: I don't have these on-hand, but I'm told they're made in the same factory as the Rogue HG 2.0 Plates, so I would assume they're just as good. I'd say these are some of the best bumper plates in the industry if price wasn't a factor; they've always been priced higher than Rogue's for no apparent reason.
Competition Plates
Rogue Hi-Temp Competition Training Plates: These are decent plates for being crumb rubber, but they don't come in a 55-pound version and I've noticed they chip easily (as do most crumb rubber plates).
REP Fitness Competition Bumper Plates: We actually really like these plates and have reviewed them in-depth. They're a good value competition plate and have proven very durable in our gym. However, the pricing feels off to me: At the time of writing this, they weren't very budget-friendly, but they weren't high enough quality to outrank other competition bumpers. They're good competition bumper plates, but they're not better than Rogue's and not priced as low as Titans. If you want full colored plates they're a great option, however.
Fringe Sport Competition Bumper Plates: These are the exact same as the REP Fitness plates above at a similar price point. Keep an eye out for sales at Fringe Sport, and these can be had for less.
Vulcan Absolute Competition Bumper Plates: I haven't held these in my hands, so I can't currently rank them. They do have a great five-year warranty though.
DHS Competition Bumpers: These are great bumpers but they come at a high price. I would like to see more reviews and spend more time with them to decide if they're truly worth it.
Uesaka Competition Bumpers: These are some of the most well-known and used bumpers among Olympic weightlifters that we've talked to. I actually have Uesaka Warriors in my garage. They're camo, extremely cool bumpers, but they're priced too high to recommend, in my opinion. They're also very soft and I worry about chipping.
Eleiko IWF Weightlifting Competition Discs: A more calibrated version of the Eleiko Training Discs, I still don't think these are worth the price for anyone but an elite competitor.
Iron Plates
Titan Fitness Cast Iron Olympic Plates: Titan has redesigned the mold since I last tested these, so I need to try them out again. When I tested them, I enjoyed them, but they're totally different plates now.
Rogue Olympic Plates: These are just like all other standard barbell plates. Nothing special to report here.
American Barbell Rubber Coated Iron Olympic Plates: I used American Barbell Rubber Coated Iron plates in a commercial gym not too long ago. They're designed for the commercial setting and are priced as such. They're excellent plates with a great coating, but again, priced pretty high and not really designed for the home gym owner in mind.
Steel Plates
Titan Fitness Calibrated Steel Weight Plates: These are new and we haven't had the chance to test them yet, but we're on it!
Rogue Six Shooter Urethane Grip Plates: Rogue Six Shooters have a great urethane coating and feel exactly like REP's urethane equalizers. They're a bit quieter than bare steel and they're a great looking plate. The holes are great for gripping and moving.
Synergee Standard Metal Weight Plates: I don't have experience with these plates, but our staff writer Amanda Capritto does, and she says they're just like the Rogue Olympic Plates and REP Fitness standard iron plates—just a typical iron weight plate. When it comes to this type of plate, price, shipping, and warranty are the most important factors.