We test and review fitness products based on an independent, multi-point methodology. If you use our links to purchase something, we may earn a commission. Read our disclosures.
If you're on the hunt for a good home treadmill at an affordable price, Horizon Fitness is a brand worth a look. Known for its budget-friendly prices, Horizon has a line of running machines that are all under $1,100: the Go Series.
Here, we'll be taking a look at one of those machines, the Horizon T202. While we haven't gotten our feet on this machine just yet, we know enough about the brand and treadmills to provide an in-depth Horizon T202 Treadmill review.
We Know Budget Treadmills
Our team of expert product testers has run (and jogged, and walked!) on more than a dozen of the best budget treadmills on the market as well as countless additional running machines at higher price points.
We know that you can't expect an affordable treadmill to have all the features and performance of machines two and three times their price; but we also know that going too cheap on the manufacturing ends up hurting you, the consumer, in the end. Our unbiased reviews weigh price point, functionality, durability, user experience, and more to paint a clear picture of what you can expect before you buy.
Horizon T202 Treadmill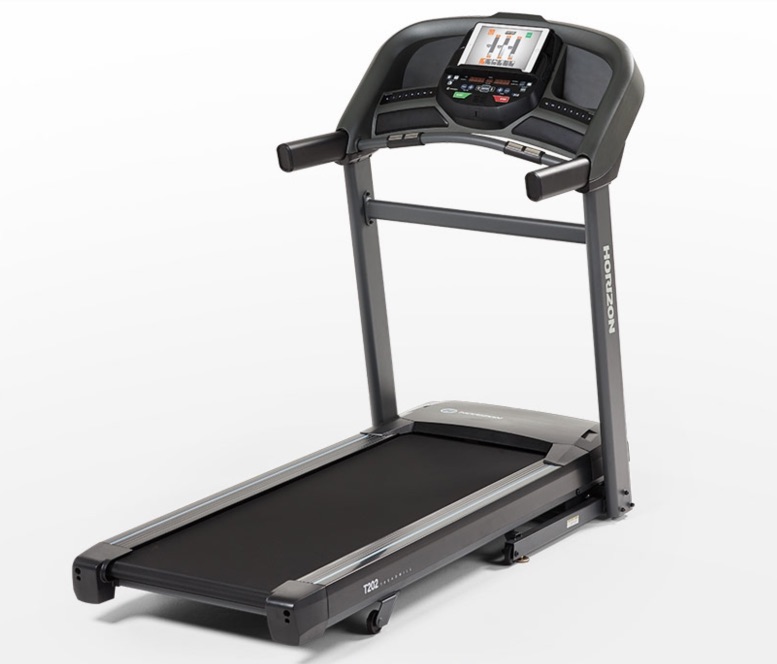 Horizon Fitness T202
With a clean, simple and sleek design, the Horizon Fitness T202 Treadmill is one of the best folding treadmills on the market for its price point. With attributes like integrated Bluetooth speakers, one-touch keys, console fans and an extended 60-inch running deck, Horizon really stands out among competitors. The T202 utilizes a one step hydraulic folding system to easily store your treadmill. Weighing 187 pounds, transporting it for storage is reported to be fairly easy.The T202 provides five on-board workouts programs and provides basic data on its backlit LCD display: calories, distance, heart rate, incline, speed, and time. It also includes a free app to control your workout and sync fitness data with your favorite fitness apps. Plus, the Bluetooth speakers make it possible to listen to your favorite playlist while working out. The 12 incline and 12 miles per hour max speed also give the T202 an edge, providing users with a wider range of workouts than many other budget treadmills. That said, the 2.75 horsepower motor will not support heavy running. Where the Horizon T202 falls short is the one-ply, 1.4-millimeter belt, which is not as durable as those seen on other models. However, a three-zone cushion technology makes for a comfortable running surface.
A Quick Look at the Horizon Fitness T202 Treadmill
The T202 is the second in Horizon's Go Series, sandwiched between the super-affordable T101 and the top-of-the-series model, the T303. Horizon also offers the Studio Series, which includes the Horizon Fitness 7.4 AT Treadmill, which we have tested and reviewed.
Our experience with Horizon treadmills and ellipticals is how we know that the brand makes budget-friendly home fitness equipment that might sacrifice a little in the way of technology but doesn't eschew quality.
Here's what we can tell you by looking at the T202:
Pros:
Priced just under $800
Spacious 60" L x 20" W running deck
Speed range of 0.5-12 MPH
Incline up to 12%
Foldable
Bluetooth-enabled speakers
Energy-saver mode
Device holder and USB charging port
Max user weight capacity at 325 lbs
Lifetime frame and motor warranty
Cons:
No fancy touchscreen
Only 6 on-board workout programs
Limited compatibility with fitness apps
Is the Horizon T202 Worth It?
As a treadmill under $1,000, the T202 offers a lot of perks. First, you don't always find reasonably priced machines that offer large running surfaces and generous speed and incline ranges. Also, there are some nice add-ons, like a fan, device holder, and USB charging port.
Where the T202 lacks is in technology. It doesn't have a native streaming app like iFIT treadmills do, and it doesn't have a pretty touchscreen to look at. Also, the 2.75 CHP motor might not sustain your workouts if you're an advanced runner.
Here's who we think might love the T202, and who might want to look elsewhere:
Great for:
People on a budget
Recreational runners/joggers (even tall people!)
Heavier users
Those looking for incline training
Not recommended for:
Serious runners
People who want lots of variety with on-board streaming workouts
Those who prefer a touchscreen
Horizon T202 Specs
| | |
| --- | --- |
| Price | $799 |
| Footprint | 76″ L x 34″ W x 57″ H |
| Folded Footprint | 48″ L x 34″ W x 62″ H |
| Weight | 187 lbs |
| User Weight Capacity | 325 lbs |
| Motor | 2.75 HP |
| Walking Belt | 60" L x 20" W |
| Display | 7″ LCD screen and 3 blue LED windows |
| Incline | 0-12% |
| Speed | 0.5-12 MPH |
| Programs | 6; Calorie, Distance, Fat Burn, Hill Climb, Intervals, Manual |
| Warranty | Lifetime warranty on frame and motor; 1-year warranty on parts and labor |
Customer Reviews
The Horizon T202 has a 4.5-out-of-5-star rating based on 405 reviews on the brand's website. Most people find the machine to be a great addition to their home gym based on ease of use and the ability to connect their own devices to the Bluetooth speakers.
Reviewers who rated the machine unfavorably mostly complained about the limited technology or mechanical breakdowns. It does appear, however, that Horizon is very responsive to any negative reviews on the website, reaching out to customers in an effort to help resolve issues.
Breaking Down the T202
We haven't yet used the Horizon T202 Treadmill, but there is a lot we can already assume based on our extensive knowledge of treadmills as well as our own experience with Horizon machines.
Motor
We don't know exactly what kind of treadmill motor is on the T202 because Horizon does not disclose that information. However, based on our research, it appears that there is a 2.75 CHP (continuous horsepower) motor on this machine. That's just shy of the 3.0 CHP we like to see on a machine built for frequent use. Weaker motors tend to need more maintenance more often, or they may not support the level of activity you need.
That said, if you aren't planning on using the T202 to train for a marathon, or you won't have multiple users on it daily, a 2.75 CHP motor should support your activity just fine. If you want a machine from Horizon built better for runners, check out our Horizon 7.0 Treadmill review.
Keep in mind that there is a lifetime warranty on the motor on the T202. Now, if you use the treadmill in a way it isn't intended, you could void that warranty. However, if the motor wears out over time, its replacement should be covered.
The brand also claims that this is an "ultra-quiet" motor. We haven't personally been able to verify this, though many customer reviews suggest it's true.
Running Surface
With a belt that measures 20 inches wide and 60 inches long, the T202 is an ideal treadmill for running. It meets the standard for what we look for when evaluating whether taller athletes would be able to use the machine, given their longer stride.
The running tread on the T202 is 1.4 millimeters, which means that it falls short of being a 2-ply belt. Having a thinner belt could mean that it will wear faster or be more susceptible to becoming misaligned. While this isn't really a deal-breaker, it may be worth noting if you plan on using this machine frequently.
RELATED: How to Adjust a Treadmill Belt
Speed and Incline Ranges
It's impressive that a machine that costs less than $800 has an incline range of up to 12% and a top speed of 12 MPH. Those are the specs we see on some of the best treadmills in higher price ranges on the market.
One feature on the T202 that we have used on the Horizon 7.4 AT Treadmill are the "EasyDial" knobs near the handles that enable you to easily change either the speed or the incline of the machine. Our testers stated that the machine responds quickly to the adjustments.
In other words, whether you're doing speedwork or incline training, you're all set here.
Workout Programs
There are only six on-board workout programs on the T202, including a "Manual" mode in which the user controls speed and incline. The other programs are Distance, Calories, Heart Rate, Incline, and Speed. For the Heart Rate program, you can use the pulse sensors on the handles, or connect a Bluetooth-enabled chest strap.
I think only having six on-board workouts is a little limiting. However, thanks to Bluetooth connectivity on the machine, you can stream workouts on apps like Zwift, Peloton, and iFIT as you use your treadmill.
Note: These fitness apps will not control your machine the way they might on, say, the Peloton Tread or the NordicTrack Commercial 1750. However, you would still get a guided workout.
Size and Portability
The T202 is not a compact machine. It's a little over 6 feet long and 3 feet wide, so you'll need plenty of space for it. Keep in mind that for safety concerns, you should tack on about 24 inches to the width of the machine and a few feet to the length. This gives you room to get on and off the treadmill.
This is a foldable treadmill that uses one-step hydraulic folding to lift and lock the deck into place. We have tested this exact feature on the Horizon 7.4 AT, and our reviewers noted that it is an easy and smooth process.
At 187 pounds, the T202 is on the heavier side. It does have transport wheels to make it a little easier to move the treadmill. We do love the 325-pound user weight capacity. You don't often see that high of a weight limit on machines in this price range.
The Ergonomics
Horizon uses what it calls a "3-zone variable response cushioning system" on its treadmills, and we had the chance to feel this out when our team tested the Horizon 7.4 AT. Our reviewers reported that the running deck did feel comfortable while in use.
Technology and Conveniences
The display on the T202 is a backlit LCD screen that shows your workout progress, along with three smaller windows that display metrics like time, distance, and speed. There are built-in speakers that are Bluetooth-compatible, so you can connect your own smart device, place it on the tablet rack, and go.
This treadmill does have the capability to push your workout data to certain apps like MyFitnessPal. Another feature the T202 has that may be handy for home gym owners is the "energy-saver mode," which will shut off the treadmill if you happen to leave it on accidentally.
The other extras you'll find on the T202 include the following:
Water bottle holder
Device holder
Bluetooth speakers
Fan
A "rapid charge" USB port
Heart rate monitoring via pulse grips in the handles
Horizon T202 vs LifePro Pacer Folding Treadmill vs ProForm City L6
LifePro Pacer Folding Treadmill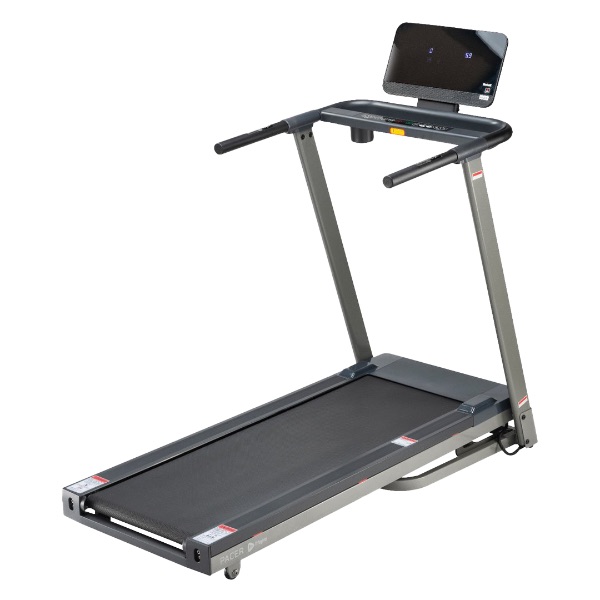 Lifepro Pacer Folding Treadmill
The Lifepro Folding Treadmill has a lot going for it, but it won't be the best option for everyone. If you're tight on space, but want a reasonably priced treadmill you can fold to store away, you'll love the Lifepro. However, if you're a serious runner or someone with a particularly long stride, you likely won't be thrilled with this treadmill. The running deck is small at just 49.2" L x 16.5" W. Plus, with a motor HP of just 1.75, this treadmill is hitting below the industry standard for a motor that can handle serious amounts of running. It is also worth noting that the Lifepro is only 115 lbs, which can be both a blessing and a curse. Since it is so lightweight compared to comparable treadmills, it can more easily be moved from room to room, which can be a big plus for those tight on space. However, with the light weight of the treadmill comes a low weight capacity at just 220 pounds. This makes the Lifepro not a particularly inclusive option.Something that really stands out to me on this treadmill is the lifetime warranty. Even if this more budget-friendly option has issues down the road, it is clear that Lifepro stands behind their products. 
ProForm City L6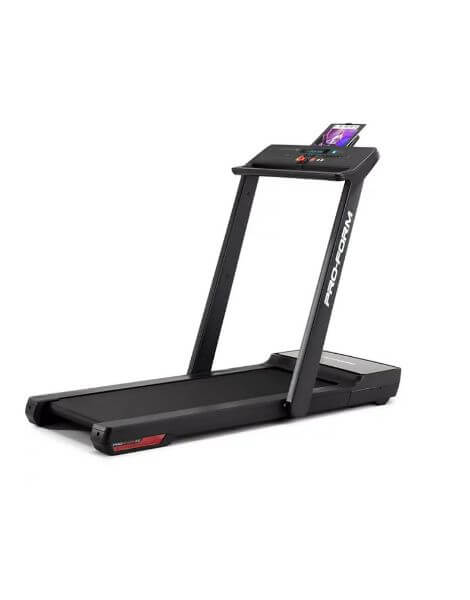 ProForm City L6 Folding Treadmill
The ProForm City L6 Folding Treadmill is the currently most affordable treadmill offered by ProForm. The L6 does not come with a built-in screen, instead it has a device holder for your table or phone. Similar to the other ProForm models the L6 utilizes iFIT programming with trainer-controlled speed, but you will have to stream classes from your phone or tablet.The L6 has a tread belt size of 17.5 by 45 inches, which is on the smaller side, but this treadmill is built to be compact. The overall footprint of this treadmill is 29 inches wide by 70.25 inches long and 44.5 inches tall. The treadmill handlebars fold down so it can be stowed away. The 1.6 CHP motor can achieve speeds of 0-8 miles per hour.There are limited online reviews of the L6 treadmill. Most users had positive experiences, enjoying the quick and easy assembly and compact design. One user did have the treadmill arrive broken and had difficulty with customer service. At the time of publishing, there are no user reviews about using iFIT with the L6 treadmill.
It's worth taking a look at other treadmills in this price range to see how the T202 stacks up. The LifePro Pacer Folding Treadmill and the ProForm City L6 are priced very similarly, but as you can see in the chart below, don't offer quite the caliber of features the T202 does.
However, the best machine for you really depends on your fitness goals. For example, as we note in our ProForm City L6 review, the L6 is compatible with iFIT, which means you get hundreds, if not thousands, of streaming workouts you can do on and off the machine (if you're willing to pay the subscription, that is).
We have an in-depth Lifepro Pacer Folding Treadmill review in which our testers note that this is an incredibly lightweight machine that is great if you just want to walk, as the running surface might be too short for most runners to get into a full stride.
If you are someone who wants to work out at higher speeds with a good incline range on a very durable machine, then the T202 is the way to go.
| | | | |
| --- | --- | --- | --- |
| | Horizon T202 Treadmill | LifePro Pacer | ProForm City L6 |
| Price | $799 | $749 | $599 |
| Footprint | 76″ L x 34″ W x 57″ H | 59.4" L x 27.2" W x 53.1" H | 70.25" L x 29" W x 44.5" H |
| Folded Footprint | 48″ L x 34″ W x 62″ H | 32.1" L x 27.2" W x 54.5" H | Not available |
| Weight | 187 lbs | 115 lbs | 125 lbs |
| Weight Capacity | 325 lbs | 220 lbs | 250 lbs |
| Motor | 2.75 HP | 1.75 HP | 1.6 CHP Mach Z |
| Running Area | 60" L x 20" W | 49.2"L x 16.5" W | 45" L x 17.5" W |
| Display | 7″ LCD screen and 3 blue LED windows | Backlit LCD display | Small digital screen |
| Incline | 0-12% | 0-12% | None |
| Speed | 0.5-12 MPH | 0-9.9 MPH | 0-8 MPH |
| Programs | 6; Calorie, Distance, Fat Burn, Hill Climb, Intervals, Manual | 36 preset training programs | iFIT-compatible |
| Warranty | Lifetime warranty on frame and motor; 1-year warranty on parts and labor | Lifetime warranty | 10-year frame, 1-year parts and labor |
Customer Experience
Here's a quick look at Horizon's policies.
Warranty
The warranty on the T202 is probably one of the best in the industry, as you have a lifetime frame warranty and a lifetime motor warranty. Also, there is a 1-year warranty on parts and labor. There is an option to get an extended warranty if you want longer coverage on parts and labor, with those options ranging from about $120 to $150.
Returns
We have evaluated many cardio-machine return policies and can confidently say that Horizon has a great one. You are allowed to try out the machine, and if you don't like it, you can return it within 30 days for a full refund, though you may have to pay a restocking fee. By comparison, most big brands only accept returns of unused equipment.
Financing
Even though Horizon's treadmills are affordable, you may still choose to finance the treadmill with Citizens Pay. Your options include six-, 12-, 18-, and 24-month plans.
Ordering and Assembling the Horizon T202
You can purchase the T202 directly from Horizon, which offers free shipping on cardio machines. This is a huge plus. The cost of shipping a product that weighs hundreds of pounds is daunting.
However, keep in mind that free shipping means that the treadmill will be delivered outside your home, not in it, and the shipping weight of the T202 is over 200 pounds. If you want, you can opt for Horizon's white glove assembly, which means someone will put the treadmill in the room you want it in and assemble it for you. However, this costs an additional $300.
According to reviewers, doing the assembly on your own is possible and may take around an hour, if you have help. Keep in mind that this is a heavy machine, so tackling it yourself will require quite a bit of lifting.
Final Verdict of Our Horizon T202 Treadmill Review
The T202 is a really great treadmill that offers durability and great functionality for recreational runners. For the price, you get a lot of value. If you want something more technologically advanced, keep in mind that the price tag will increase by hundreds of dollars, at the very least.
Horizon Fitness T202 Treadmill Rating
Horizon Fitness T202 Treadmill
Our Horizon T202 Treadmill Review takes an in-depth look at this affordable, high-quality machine.
Product Currency: $
Product Price: 1299
Product In-Stock: InStock
Horizon T202 Treadmill FAQs
How much does a Horizon T202 treadmill weigh?
The Horizon Fitness T202 weighs 187 pounds.
What size motor is on the Horizon T202 treadmill?
Horizon actually does not disclose on its website what size the motors in its treadmills are. However, our team has done some research to find that the T202 has a 2.75 CHP motor.
Is the Horizon T101 treadmill good?
As noted in our in-depth Horizon Fitness T101 Treadmill review, it's a quality, entry-level machine. The T101 is not designed to handle frequent, high-speed workouts over a long period of time, and is instead better suited for recreational runners and walkers.