We test and review fitness products based on an independent, multi-point methodology. If you use our links to purchase something, we may earn a commission. Read our disclosures.
Horizon Fitness is another in a line of brands producing smart cardio equipment that does not require a native streaming app to access workouts.
Instead, Horizon products, such as the Horizon 7.4 Studio Tread, are compatible with several third-party apps, including Peloton and Zwift. That's one of many reasons we like this treadmill. In our Horizon 7.4 Studio Tread review, we'll cover additional upsides as well as what we're not so enthused with.
Why You Should Trust Us
Several of our product reviewers and writers tested the Horizon 7.4 Studio Tread in our fitness testing facility in Springfield, Missouri. We walked, jogged, and ran on the treadmill to get a sense of how it would hold up to different fitness levels and uses.
Additionally, our team has reviewed a slew of other treadmills and put together a list of the best treadmills for home use after months of deliberating over features like LCD screens and incline levels.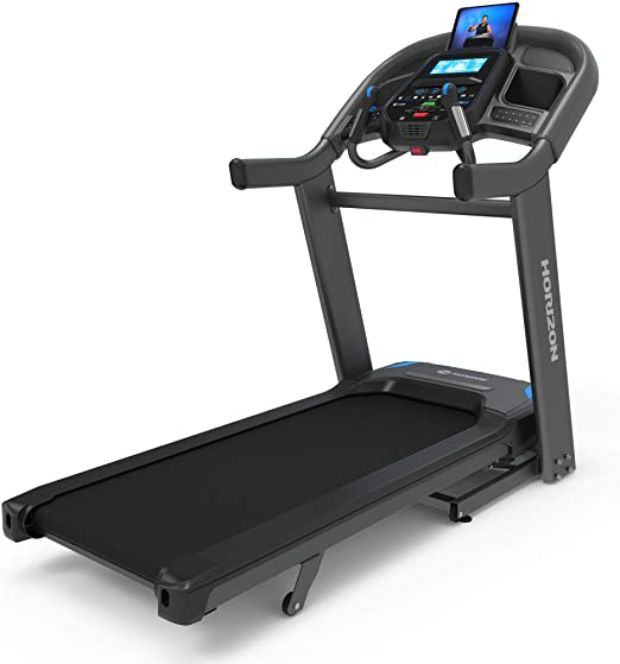 Horizon 7.4 AT Treadmill
The Horizon 7.4 AT treadmill is a workhorse. It isn't a Peloton Tread, nor does it claim to have all the bells and whistles that a technology based treadmill might offer. However, with a 3.5 CHP motor, you'll be able to do pretty much any type of cardio your heart desires. If you're in the mood for some all out sprints, the 7.4 can accommodate you with maximum speeds up to 12 mph. Want to feel like you're climbing a mountain? The 7.4 can help you there too with a 15% incline. Plus, if you're into regular steady state cardio, the 7.4 has a XL running deck of 60 inches, so you can stride without the fear of falling off.Plus, the warranty on this treadmill is stellar. You get a lifetime warranty on the frame and the motor, plus two years on parts and one year on labor. What more could you ask for?
A Quick Look at the Horizon 7.4 Studio Tread
The Horizon 7.4 Studio Tread, or the Horizon 7.4 AT Treadmill (they are one and the same), is the mid-tier option in the Studio Series from Horizon Fitness.
It has all the usual features you'd expect in a quality treadmill: a continuous horsepower motor, incline, a max speed of 12 miles per hour (MPH), hydraulic folding, Bluetooth connectivity, pre-programmed running workouts, speakers, and conveniences like a fan and bottle holder.
My Tips:
Try it without a subscription first. You may like the 10 built-in programs enough and not feel the need to pay for an app.
Don't buy a heart rate monitor! This treadmill comes with one.
Enlist a friend to help with setup or pay for expert assembly; at 318 pounds, this thing is hard to move.
My Favorite Things:
Connects to multiple fitness streaming apps so you can choose your favorite one
QuickDial™ controls for smooth incline/decline and speed transitions
Highly responsive motor changes speed quickly for interval training
Less expensive than other smart treadmills
Heart rate monitor included
My Callouts:
Rather large and not meant for compact spaces
LED console requires use of your own device (no built-in HD display)
Weighs over 300 pounds; hard to move
Is the Horizon 7.4 Studio Tread Worth It?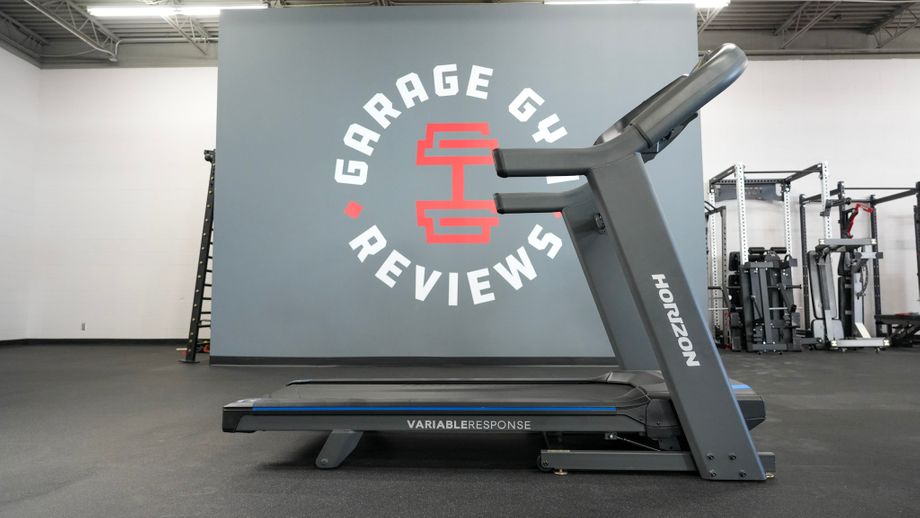 The Horizon 7.4 AT Treadmill is a phenomenal smart treadmill option for people who want smart features without being locked into a single subscription (a la Peloton Tread).
Because this treadmill doesn't require a subscription for use, you have a few options: make up your own workouts, use the built-in programming, or stream an app like Peloton, Zwift, Nike Run Club (a personal favorite), or Studio.
Great for:
People who want a less expensive smart treadmill
Runners who want a large running deck
Trainees who use many different fitness apps and want more compatibility
People who don't want to pay for a subscription
Not recommended for:
Runners who want a treadmill with an HD touchscreen attached
Home gym owners who are tight on space
Horizon 7.4 Studio Tread Specs
| | |
| --- | --- |
| Footprint | 76" L x 37" W x 63" H |
| Folded Dimensions | 42" L x 37" W x 71" H |
| Weight | 318 lbs |
| Running Surface | 60" L x 22" W |
| Workout Programs | 10 |
| Heart Rate Compatible? | Yes |
| Bluetooth? | Yes |
| Speed Range | 0.5 – 12.0 MPH |
| Incline Levels | 0 – 15% grade |
| Weight Capacity | 350 lbs |
| Warranty | Frame and motor: lifetime; parts: 5 years; labor: 2 years |
Using the Horizon 7.4 Studio Tread
I really enjoyed using this treadmill, which is saying a lot, because I despise running on treadmills. In my head I call them "dread-mills" because I feel insufferable existential dread every time I'm on one for more than 10 minutes.
The Horizon 7.4 AT Treadmill, however, has enough bells and whistles to keep me occupied and slightly farther from a death of boredom.
It's also quite comfortable to run on, thanks to what Horizon calls the 3-Zone Variable Response Cushioning, which is a fancy way of saying the amount of flex and support in the running deck varies based on where you are in your stride.
Streaming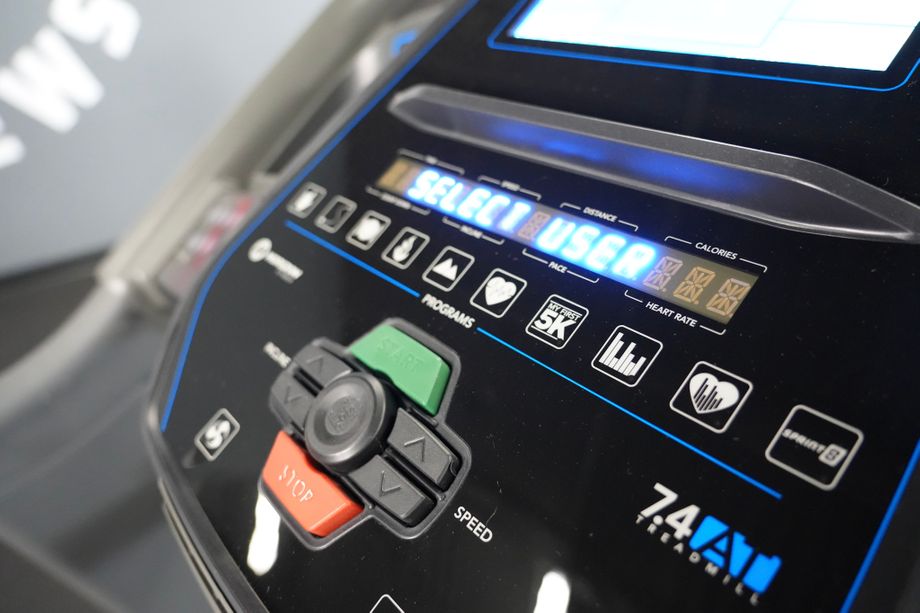 Horizon Fitness does not require a subscription to use its cardio equipment, unlike other brands such as Peloton or Hydrow. The Horizon 7.4 treadmill operates similarly to NordicTrack and ProForm equipment: The NordicTrack Commercial 1750 treadmill, for example, performs ideally when using an iFIT subscription, but doesn't require one to turn on and move.
RELATED: How to move a treadmill
However, this Horizon treadmill differs because it's compatible with not just one, but many fitness streaming apps: Peloton, Zwift, Nike Run Club, Daily Burn, Studio, and more.
While our testers didn't stream anything while using the treadmill, I did place my phone in the console while running and walking to see how sturdy the setup is. I felt confident I could stream a HIIT treadmill workout without my phone falling out, and a larger tablet would probably be even more secure.
RELATED: Best Treadmills for Walking
Pre-Programmed Workouts
In addition to streaming options, the Horizon 7.4 Studio Tread also offers 10 built-in programs: 5K, calorie, custom, custom HR, distance, fat burn, heart rate, hill climb, manual, and Sprint 8.
These are all the usual suspects. Sprint 8 is Horizon's interval training program, which includes a 3-minute warm-up and 2.5-minute cool down that sandwich eight rounds of a 30-second sprint followed by a 90-second recovery interval. This is a pretty basic but effective workout.
Manual Mode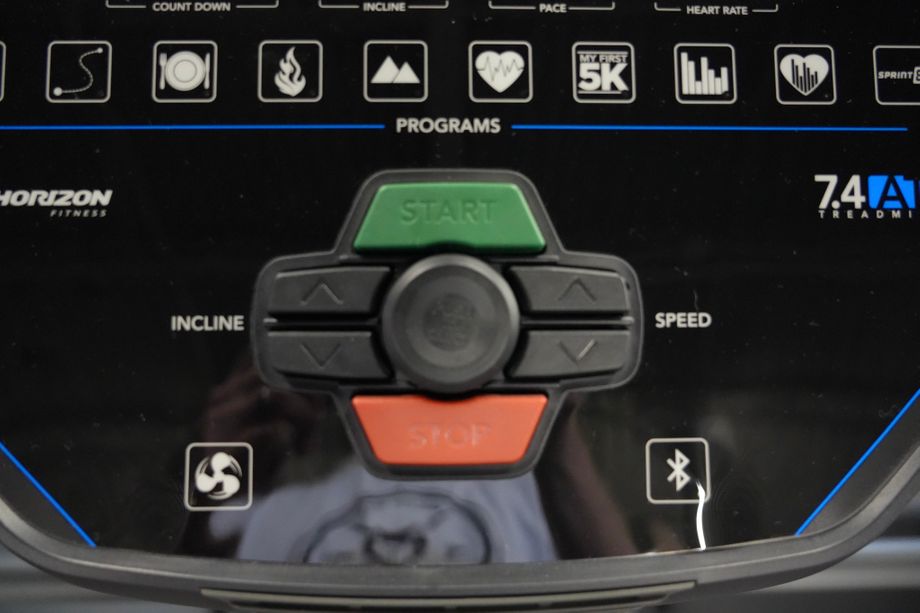 If working out in manual mode or designing your own workouts, you'll enjoy a maximum speed of 12 miles per hour (MPH) and incline ranges from 0 to 15%.
This treadmill offers QuickDial controls, which are the small blue dials found on the handles on the 7.4 AT. These dials allow for quicker changes compared to pressing an up/down button.
This feature is great for HIIT-style workouts and makes customizing your workout a breeze. Custom interval keys are also great for designing your own workouts.
We really have no complaints here, but for the money you're paying for this thing, that should definitely be the case.
The Ergonomics
Man, this thing is nice to run on. The flex cushioning makes every stride feel nice, although I will say this feature isn't for everyone.
As someone who generally prefers to run on the road or trails, it took some getting used to. It just feels super cushion-y, and runners who are used to hitting the pavement will notice that right away. (If this is you, check out the NordicTrack Commercial 1750 treadmill, which allows you to turn deck cushioning on and off for a more realistic road feel when you want it.)
All of the controls on the 7.4 AT are within less than an arm's reach, as are the accessories, like the bottle holder and fan.
Footprint and Portability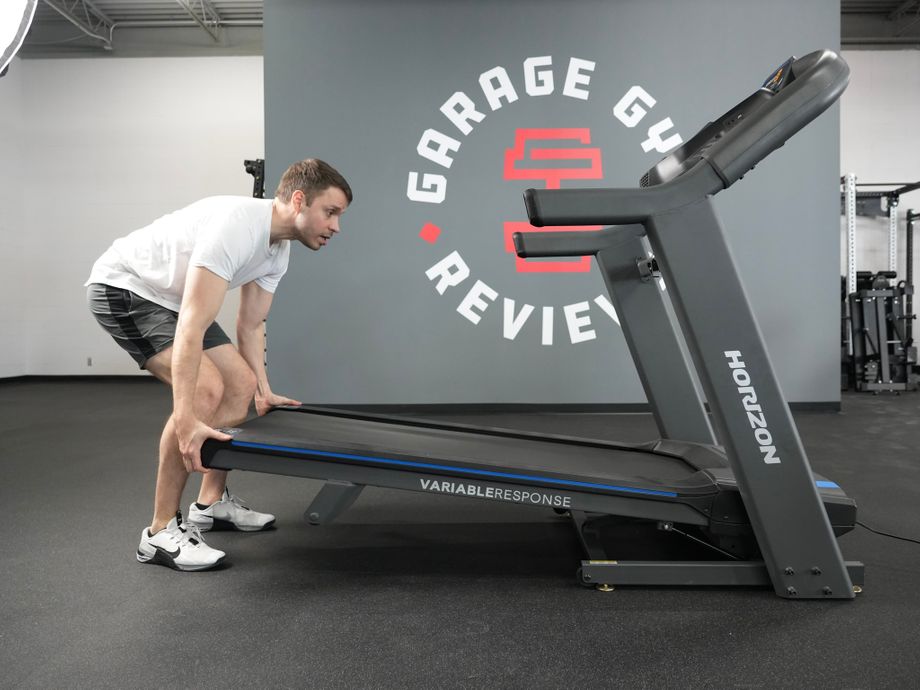 The 7.4 AT Treadmill is not meant for small home gyms. This one actually comes with a running area that's 2 inches larger than Horizon's similar models (it's 22 inches compared to the brand's normal 20-inch wide deck). Even when folded, it takes up more than 3 feet in width, and close to 6 feet in height.
It also weighs more than 300 pounds, so I wouldn't call it easy to move, even though it does have wheels. Hydraulic folding makes it easy-ish to store if you plan on just folding it up and keeping it where it's at.
Related: Best Folding Treadmills
Construction and Durability
The frame on the 7.4 AT treadmill is durable and rugged, although there is a good amount of plastic used. When testing the treadmill, I didn't feel as if the use of plastic would impair longevity or durability, but it's worth pointing out.
This treadmill operates with a 3.5 continuous horsepower (CHP) DC motor. Continuous horsepower motors are the best choice for treadmills used for running because they can sustain a powerful output for much longer than a peak duty motor, which peters out more quickly.
RELATED: Best Home Treadmill for Running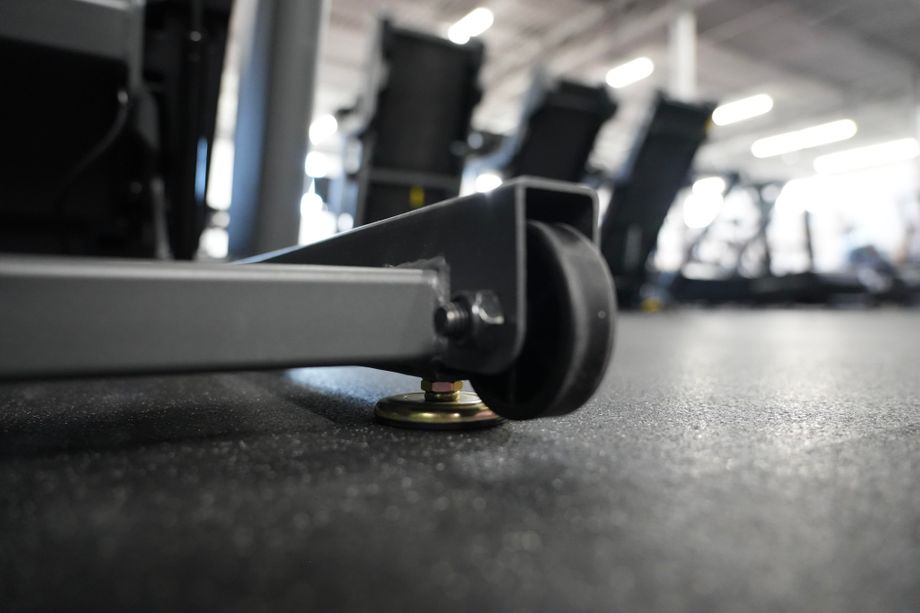 The Rapid Sync drive system makes the already powerful motor even more impressive: This system allows the machine to adjust incline grades and speeds up to 33% faster than other similar treadmills, according to the Horizon Fitness website.
What this means for you is that your transition from work intervals to recovery intervals feels more seamless, and you don't feel like you're going to trip as you slow down from a full sprint to a full stop.
The weight capacity on the 7.4 AT is 350 pounds, which is in line with other treadmills in this price range. It should withstand frequent use even if multiple people run on it.
Technology Benefits and Conveniences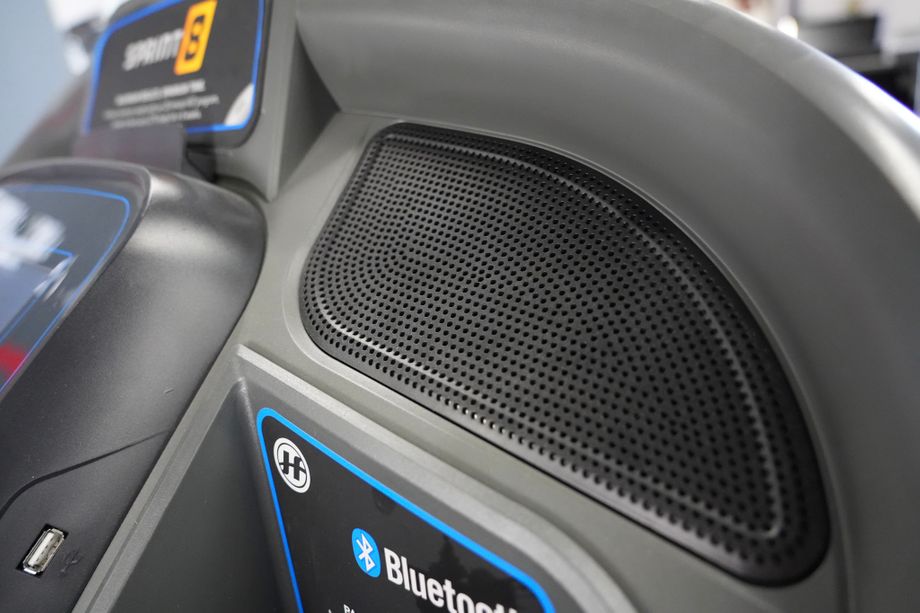 Tech is the selling point of this treadmill. It's essentially a Peloton Tread or NordicTrack Commercial 1750 without the massive HD display—and without the higher price tag. Instead, the multi-position tablet holder takes advantage of equipment you probably already own for streaming.
The 7.4 AT Treadmill is engineered to support various fitness apps via Bluetooth connectivity, including non-running-specific ones such as Daily Burn, FitBit, and MyFitnessPal. You can also just as easily connect to the Bluetooth speakers or use the audio in/out jack to listen to your favorite podcast or watch Netflix.
As for the act of running itself, QuickDial technology makes incline adjustments super easy and fast, which is a great perk for anyone trying to emulate outdoor hill training during their indoor workouts.
Tech aside, the 7.4 AT Treadmill comes with a lot of fun stuff. For starters, your purchase includes a Bluetooth heart rate chest strap that's compatible with the treadmill itself and the various apps the treadmill supports.
It also has all the usual accessories: water bottle holder, tablet holder, hand grips, metrics displayed on the LED console, a fan, and USB port charging.
Ordering and Assembling the Horizon 7.4 Studio Tread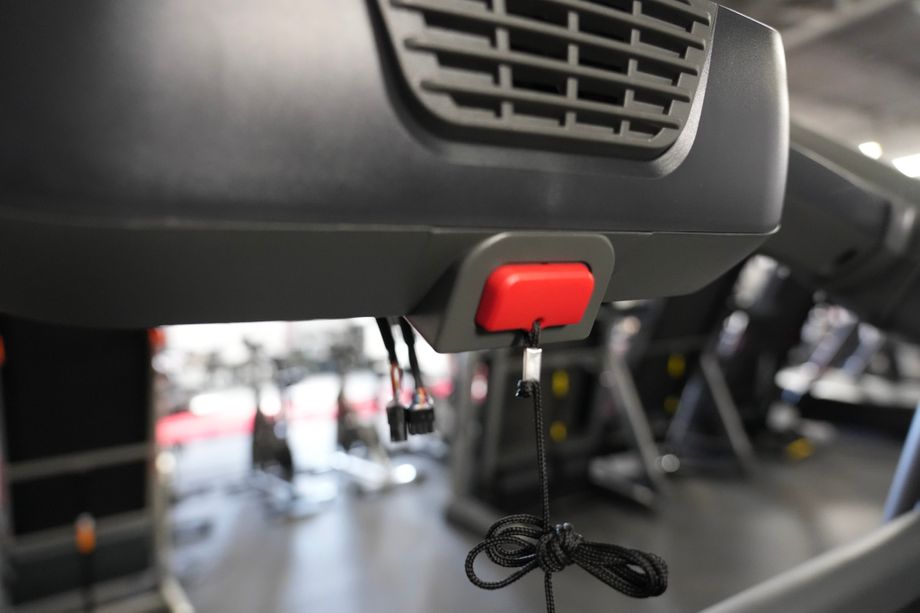 The 7.4 AT Treadmill came as one would expect: in a massive cardboard box. Setup was relatively easy, but it took over an hour. The parts are heavy, so we recommend having a minimum of two people assemble this treadmill.
You can opt for white-glove assembly at checkout, but it'll cost you an additional $299. Our team generally thinks expert assembly is worth the price if you don't have someone to help you assemble something heavy like a treadmill.
Horizon 7.4 Studio Tread vs. Echelon Stride
The Echelon Stride is a similar Bluetooth- and WiFi-enabled treadmill without a fancy schmancy display. While these two 'mills have a lot in common—they're both bring-your-own-screen smart treadmills—they're far from one and the same.
The Stride, for example, operates at a fraction of the power of the 7.4 AT: The Echelon Stride uses a 1.75 CHP motor, which is weak in comparison to the AT's 3.5 CHP motor. Additionally, the Stride weighs just 156 pounds compared to the AT's monstrous 318 pounds.
We think the Echelon Stride is suited to walkers and more casual runners, whereas the Horizon 7.4 AT Studio Tread is built for serious runners who plan to put their treadmill through high-volume and high-speed training.
In our full Echelon Stride treadmill review, you can learn more about how this treadmill performs.
Customer Service

Customers can contact Horizon customer service through phone, email, online chat, or social media. I didn't see any customer reviews complaining about Horizon's service, which is always a good sign.
The warranty on the 7.4 AT treadmill is as follows: Lifetime frame and motor; 5-year parts; 2-year labor. Horizon also offers a 30-day money-back return policy, although you may be on the hook for a restock fee. Whether or not you pay the restock fee is up to Horizon's discretion and depends on the reason for the return. For example, manufacturers generally do not require restock fees for dysfunctional equipment.
You may be eligible for financing through Horizon's partnership with Citizens. The Horizon financing program offers 6-, 12-, 18-, or 24-month 0% APR plans to eligible customers, and36-month plans are available on machines $999 and up only.
Customer Reviews of the Horizon 7.4 Studio Tread
For the most part, Horizon 7.4 Studio Tread reviews seem favorable. Many reviews praise the treadmill's sturdiness and customizability, especially for families with multiple runners.
Some reviewers point out that they've had great success streaming free YouTube workout videos instead of paying for an online workout program.
Most complaints deal with app Bluetooth connectivity issues, which is, to me, a big deal for a company that prides itself on being smart and tech-focused.
Final Verdict of our Horizon 7.4 Studio Tread Review
I personally don't think a treadmill needs this many bells and whistles, and $1,600 is a lot of cheddar to stack. However, it's not the most expensive smart treadmill out there.
Although the lower cost probably comes from the lack of an integrated HD touchscreen display, I see it as a way to avoid investing in something you probably already have—a tablet, which is what those displays are anyway.
Our takeaways:
The 7.4 AT performs well, but again, it should at this price point.
You need an app to get the full benefits, which costs more money, but you don't need one to get a lot out of the tread.
While impressively built and fun to use, the 7.4 AT is not ideal for small spaces.
Full Rating
Horizon Fitness 7.4 AT Studio Tread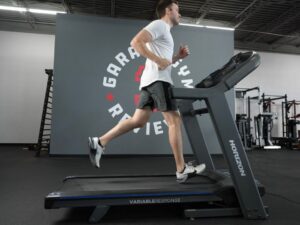 The Horizon F7.4 Studio Tread is a smart treadmill from Horizon Fitness. It's compatible with several fitness streaming apps, so you're not locked into any one subscription, although you do need your own device to use as a display screen.
Product Brand: Horizon Fitness
Product Currency: USD
Product Price: 1599
Product In-Stock: InStock