We test and review fitness products based on an independent, multi-point methodology. If you use our links to purchase something, we may earn a commission. Read our disclosures.
It's wild to think about how far the fitness industry has come. iFIT workout classes streamed to your iPhone or smart device?! We'd have to pick up our great-grandparents' jaws off the floor because they'd be so shocked at the innovation. To be fair, they'd probably also be shocked that I'm a woman who lifts weights, but that's beside the point.
If you're looking for iFIT reviews, you've come to the right place. I'll detail what you can expect if you sign up for this interactive programming service, including answering the overall burning question: Is it worth your hard-earned money and is it the best personal training app?
We Know iFIT Programming and Machines
Not only do our product experts at Garage Gym Reviews love to test fitness equipment, but we also enjoy using high-quality online workout programs. As a big fan of Peloton-esque programming, I was excited to take an in-depth look at the classes, the app, and the overall value iFIT presents. 
This isn't our first rodeo by any means; probably more like our 40th when it comes to trying out programming. At this point, we should probably win a gold or ten in steer roping (wait, do they get medals for winning rodeos?).
iFIT
Product Highlights
Over 16,000 live and on-demand

classes

More than 60 types of workouts

Immersive experience

Classes filmed worldwide

Live races and events

World-class trainers

Syncs with Nordictrack and ProForm equipment
Pros & Cons
Pros
At-home training
World-class coaches
Immersive training experience
Vast library of workouts
Record and track workout metrics
Individual and family memberships available
Free trial
Cons
Pricey for some
No true path for progression
Bottom Line
iFIT offers fitness lovers versatility with machine-based classes and classes that do not require anything more than a towel or mat. Anyone looking for a home-exercise program will be hard pressed to find a more technology forward, expansive and inclusive platform than iFIT.
A Quick Look at iFIT
iFIT is actually the name of two things: The parent company of brands like NordicTrack and ProForm (formerly known as ICON Fitness), and it's also the name of a virtual training program. In this review, we are looking strictly at the training program, which can be used in sync with treadmills, exercise bikes and more, as well as off-machine for strength and yoga classes.
According to the iFIT website, there are over 6.4 million members that utilize the app and its classes. Clearly, iFIT must be doing something right to have so many people enchanted. Let's get the skinny (as my dad always says) on iFIT and why it's so popular.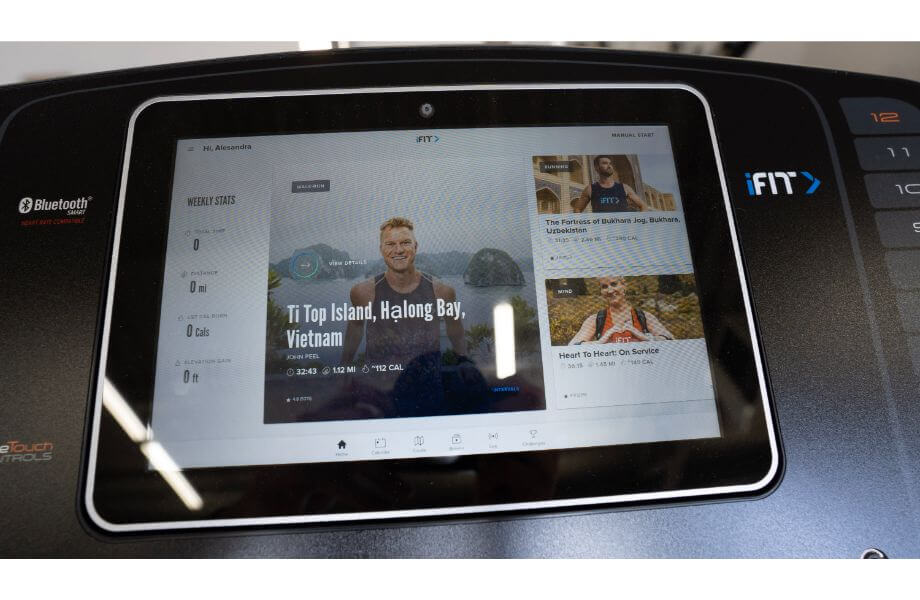 My Tips:
If you have purchased a NordicTrack or ProForm machine (with a free trial of iFIT), be aware that you still have to add your credit card into the system if you want to access programming. After the free trial is over, your credit card on file will be automatically charged.
Check out our NordicTrack promo code page for the best deals on equipment to use with iFIT programming.
Take part in one of iFIT's fun challenges! New ones are added frequently and include strength, yoga, HIIT, and meditation series.
Pros:
Wide variety of classes to take on-demand
Quality instructors
Compatible with NordicTrack and ProForm machines
Classes can be taken with or without equipment
Cons:
App is occasionally glitchy
Costs $39 per month for a family membership
Customer service gets backed up
Is the iFIT Worth It?
iFIT programming delivers a fun way to get your sweat on for most exercisers. However, it isn't the best choice for everyone, as it costs about $39 per month if you want a family membership. Read on to see who I think should give it a whirl and who should try something else.
Great for:
Frequent travelers
Time crunched individuals
Not recommended for:
People who need accountability
Those who like to make their own workouts
Individuals who don't want to pay a monthly subscription fee
iFIT Specs
| | |
| --- | --- |
| Price | Family plan is $39 per month or $396 per year; or $15 per month individual plan or $180 per year |
| Types of workouts | Cycling, treadmill, HIIT, rowing, strength training, yoga, pilates, bodyweight |
| Owner | Icon Health |
| Accessible on | Phone app, iPad app, compatible rowers, treadmills, ellipticals, spin bikes, fitness mirrors, cross trainer machines, functional trainers |
| Wearable needed | No, a tracker is not necessary |
| Extra programs | Cooking classes and iFIT Mind |
| Live Workouts | Only live races; live classes were discontinued as of May 2023 |
| Google Maps | Yes |
| Number of personal trainers and iFIT coaches | Over 180 |
| Family of brands | NordicTrack, ProForm, Weider, Free Motion, 29029, and Sweat |
| Leaderboard | Yes |
| Heart rate monitoring | ActivePulse via an arm strap |
| Adjustability | SmartAdjust |
iFIT Setup
iFIT interactive programming is integrated with various brands of exercise equipment, including NordicTrack, ProForm, FreeMotion, Weider, and Matrix. This essentially means that various treadmills, rowing machines, ellipticals, fitness mirrors, and spin bikes have the capacity to automatically connect and pair up with iFIT (provided you pay for a subscription or have a free trial).
Although I do have access to plenty of compatible cardio machines, I like that I can also take iFIT on the go with me via an app. This is really similar to Peloton, where you can use the app on your bike or tread's touchscreen, but also take it with you out and about. Plus, both Android and Apple users can download this app to their phones. This may sound like a small thing, but even Future programming (which I love) is only compatible with iOS.
The app was simple to download onto my phone and in minutes I was signed in. The home screen has a slightly overwhelming amount of information that makes me want to look everywhere at once. You'll be able to view your most recent milestones, featured workout challenges, and iFIT news. iFIT will also use previous classes you've taken to create a list of recommended workouts and series.
If you're a previous user of the app but want to connect a new cardio machine, I found the process to be really easy. In the top left hand of the app, you can click "pair device." Provided both the machine and Bluetooth are on, the app will integrate seamlessly with your new machine.
If you are new to a machine and iFIT, the setup is fairly simple. GGR Head of Content Kate Meier assembled four machines, the NordicTrack Commercial 1750, the NordicTrack AirGlide 14i, the ProForm Hybrid Trainer, and the ProForm Pro 9000.
She had no issue connecting iFIT with the NordicTrack machines, whose touchscreen walked her through the entire process. The ProForm Hybrid doesn't have a touchscreen, but she was able to easily pair the machine by using the app on her phone.
Live Workouts
As of May 2023, NordicTrack has discontinued the live class feature, sans live races. I'm disappointed because this was a way for iFIT to directly compete with Peloton's model of frequent, live classes. However, you can still join the occasional live races that iFIT has on their schedule. To find the live races coming up, click the home button and scroll down to " The Latest from iFIT" category. You'll be able to check out whats coming up soon and add it to your calendar.
Related: NordicTrack Vault review
Settings and Types of Classes
With a dizzying array of classes to choose from, it can be slightly overwhelming to sort through the library of iFIT workouts. Some of the classes are set within a typical workout studio; think boutique spin class in SoHo, while others are in various destinations around the world. I think for some people, this is a very enticing factor, but here's my hot take: I actually prefer the studio classes.
I know I'm likely in the minority here. I mean who doesn't want to be distracted pretending you're biking in Iceland when really you're on a stationary bike in Nebraska? Me, for some odd reason. However, if you're intrigued by taking a workout class in an interesting location, you'll probably really be thrilled by a lot of iFIT's "global workouts."
RELATED: Stationary Bike Benefits
Curious about the types of classes you can take with the iFIT app? Wonder no further, fellow exerciser:
Runs
Walks
Strength
HIIT
Cycling
Rowing
Elliptical
Yoga
Pilates
Mindfulness
Barre
Taking iFIT Classes
iFit can be used with compatible equipment as well as via the downloadable app. Here's our take on using iFIT both on-machine and off-machine.
Off-Machine Classes
The off-machine classes are plentiful – choose from options that require no equipment at all, like "Quick Core," grab your resistance bands for a miniseries, or use your Olympic barbell to practice lifts with instructor John Peel.
When checking out the library of iFIT classes, you can sort by type of equipment used, duration, trainer, type of workout, intensity, target area, and class environment to find your ideal match.
Before taking a class, make sure to check the required equipment list in the description. I made the mistake of not looking and had no idea what to grab specifically because the instructor jumped right into teaching without reviewing what was needed.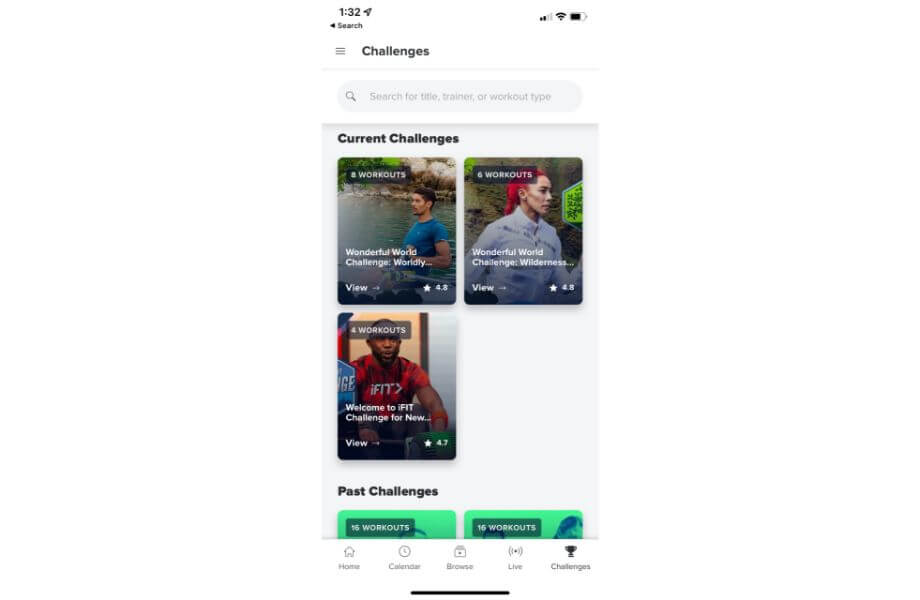 Something I don't like about the iFIT app is the inconsistency when it comes to announcing the weight needed for various strength classes. I understand that everyone isn't at the same level, so suggesting only one type of weight might be silly. However, I think suggesting a range of weight is useful for the participants. This is something I believe iFIT can improve upon in the future.
On-Machine Classes
Our expert testers have used iFIT with a variety of compatible machines. iFIT offers classes that work in tandem with specifically branded treadmills, functional trainers, rowing machines, ellipticals, and fitness mirrors. Even cooler, the programming controls these machines to mimic the classes being taken.
"When I was on the NordicTrack Commercial 1750, I remember I did one beach run with a trainer, and the first time the machine started adjusting when we were climbing the hill, I was like "whoa!" – I knew it was going to happen, but I still somehow wasn't ready for it. It isn't jarring in the sense that I wasn't afraid of falling off the machine or anything," Kate explained.
Essentially, the classes can adjust things like your machine's incline, decline, and speed so all you need to focus on is giving the workout your all.
Another cool thing about iFIT? You can pick classes based on if you want to be in the studio or outdoors. For example, you can choose to row with your instructor on a waterway in the French Polynesia or in a more traditional setting inside.
Instructors and Music
Music-wise, I was very impressed with iFIT. Similarly to Peloton, they actually use good music and pony up for the usage rights. As soon as I heard "High" by the Chainsmokers, I was hooked.
Other programming like JRNY has very subpar music, so this is a major point in iFIT's favor. Plus, if you don't like the music they automatically play, you're able to easily switch to a different "station" to play what you like.
I'm used to Peloton's way of music where each class has a different vibe. For example, some instructors would do Beyonce-themed spin classes or Justin Beiber runs. I'm a big fan of this because the instructor would often be jamming along with you. This is more of a personal preference, but even though iFIT does use good music, I like the preset options from Peloton best.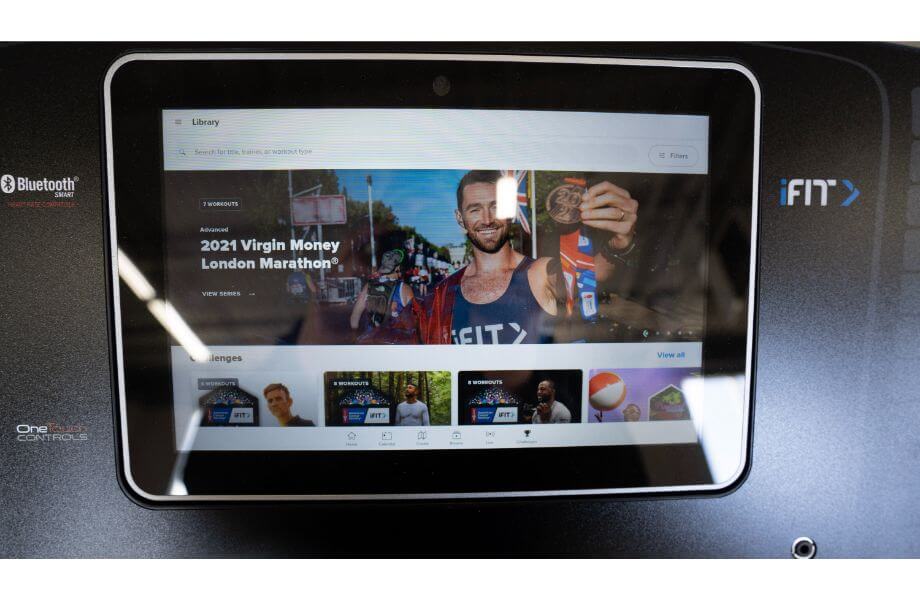 When picking a class or series from iFIT's library, I like how they show you estimated calories burned, the time it'll take you to complete the workout, and an estimated effort score. iFIT bases the effort score on classes you've previously taken to help you determine how challenging they'll be for you.
Another cool feature? Other iFIT users can rate each class out of 5 stars, so you have a bit of an idea of what you're getting yourself into.
The iFIT trainers vary in overall quality. Some of them were great about previewing the workout, while others just dove right in without so much as a hello. Over time, you'll likely establish which instructors you like best and tend to stick to their workout classes.
Pro tip: Take a run with Tommy Rivs! He's an awesome instructor with a clear passion for what he does.
RELATED: NordicTrack AirGlide 14i Review
Comparison to Peloton Programming
In my opinion, Peloton and NordicTrack are some of the most well-known cardio-focused brands on the market. It's no surprise they have interactive training that's a cut above the rest when it comes to overall quality, diversity in classes, and fun music. Check out this quick breakdown of two very popular programming apps:
| | | |
| --- | --- | --- |
| Program: | iFIT | Peloton |
| Price: | Individual: $15 per month or $180 per year | $12.99 for basic monthly membership; $39 per month all-access |
| Types of Classes: | Running, cycling, rowing, elliptical, yoga, strength, mind, pilates | Strength, boxing, running, cycling, yoga, meditation, stretching, walking, bike bootcamp, tread bootcamp, pilates, barre |
| Live Classes: | Only live races | Yes |
| Challenges/Series: | Yes | Yes |
| Number of Classes On-Demand: | Over 16,000 | Over 10,000 |
| Instructors: | Over 180 | Over 50 |
"I do think that iFIT has emerged as a true Peloton competitor. Everyone raves about the instructors on Peloton; I always did the outdoor runs/rides when I tested iFit, so the person is working out right there with you. I thought they were great," Meier explains.
Related: Why You Should Join A Fitness Community
Customer Experience
If you utilize a free iFIT trial at any point, it is worth noting you have to put a credit card on file. If you don't remind yourself to cancel before your free trial is over, you'll get charged for the next cycle.
Similarly to the regular NordicTrack website, iFIT has a variety of ways to contact customer service. In the bottom right corner of iFIT.com, you can live chat with a real representative with questions you may have. Be warned: They may be a bit slow to answer. I waited close to 15 minutes for a response via the chat function, so you likely won't get immediate gratification.
Customer Reviews
With over 33,000 reviews on the Apple app store, iFIT has a score of 4.7 out of 5 stars. Most customers seemed to love the workout instructors and felt the classes themselves were high quality.
On the other hand, others complained about the lag the app frequently has and the organization of the classes. However, iFIT was pretty quick to respond to most of the questions or concerns people had, which I think is a good thing.
Final Verdict of Our iFIT Review
Overall, I would recommend giving iFIT a try. For only $15 a month, you get access to tons of different classes to satisfy your need for workout variety. The instructors are solid and there are fun challenges to complete. My only real gripe? They need to be clearer in the beginning of a class about the equipment you'll need and the weight range they expect the typical exerciser to use.
iFIT Rating
iFit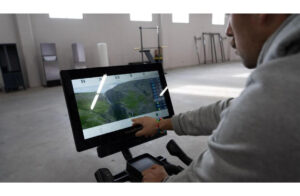 Interactive programming is a dime a dozen, but is this ever-popular app a standout? Find out in these in-depth iFIT reviews what we really think.
Product Brand: iFit
Product Currency: USD
Product Price: 15
Product In-Stock: InStock
iFIT FAQs
Is iFIT worth the money?
I think an iFIT subscription is definitely worth the money. You get thousands of on-demand classes at your disposal to change up your home workout routine with ease. Plus, it can be a useful tool to achieve your fitness goals.
Is iFIT better than Peloton?
Depending on what you're looking for, both can be great options for working out at home. If you prefer classes that are themed or in a studio setting, you'll likely enjoy Peloton more. For those who want to follow along to a workout set in an exotic location, you may prefer iFIT.
Is it hard to cancel an iFIT membership?
No, it is not hard to cancel an iFIT membership. Simply log in to your iFIT account, click the "membership plan" button, and tap the "end membership" button. The brand will generally ask a few times during this process if you're sure, and then want a reason behind your cancellation. After cancellation, you will not be charged for the next billing cycle. 
Do I need Wi-fi to use iFIT programs?
If you're accessing iFIT via something like a NordicTrack treadmill or a ProForm treadmill, you'll need to use Wi-fi to connect your machine to the internet. If you're accessing the iFIT fitness app via your phone, you'll be fine without Wi-Fi (as long as your phone has data).